The JNCO denim silhouette is one of the most recognizable in fashion history—due in large part to the era that they were popularized in where "baggy" and "cool" were synonymous with one another. While current denim sensibilities suggest that skinny jeans and slimmer cuts aren't going anywhere, the introduction of joggers and tapered sweatpants into the marketplace suggest that being comfortable and unencumbered by denim's often rough caress means there might actually be room for a JNCO revival.
Whether you like it or not, JNCO is making a comeback like other popular brands from the '90s like FUBU and Cross Colours who both managed to capitalize off the effect music had on fashion. News of an official return was solidified by WWD in February. Soon after, JNCO themselves once again said "hello" to the marketplace at the Liberty Fairs tradeshow in Las Vegas in 2015.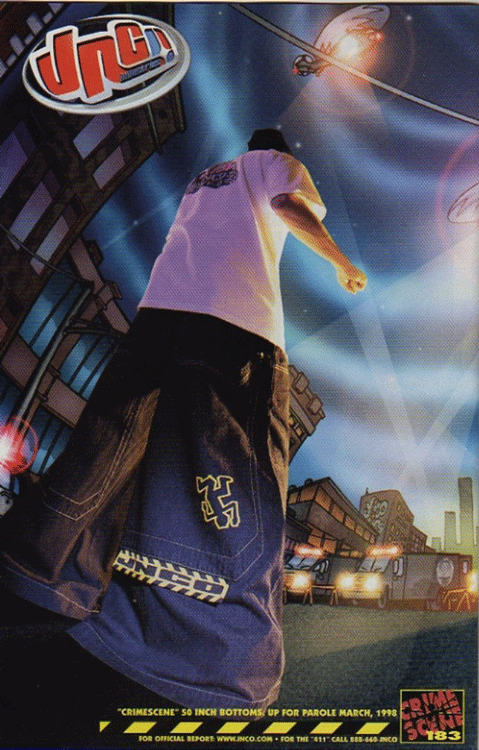 Photo
:
esquire.com
While some assumed the "JNCO" name and signature crown logo would be the only thing recognizable from the past, a company exec promised a heritage, high-waisted jean with 20″ to 23″ leg openings—slightly smaller than the original 20" to 36" openings—in addition to more contemporary styles like knit jeans and joggers with zip bottoms and drawstring waists. If anything, it cemented the brand's notion that their success stemmed from their designs, not merely "the times."
"Eventually, you can only make pants so wide. That became our Achilles' heel."
Prior to hitting it big with JNCO, Moroccan-born, French-raised brothers Haim Milo and Jacques Yaakov Revah operated a parent company, Revatex—a private label business—who designed clothes for various retailers like mall chain, Merry-Go-Round, who then put their own branding and tags on the garments.
JNCO, as the public knows it, was founded in 1985 with $200,000 USD in savings. United under the acronym which meant, "Journey of the Chosen Ones" or "Judge None, Choose One," the brothers' business model and work ethic were inspired by their father—a sales rep whose business was driven by denim. Aesthetically, the style of denim drew imagination from the streets of East Los Angeles where the brothers had noticed the jean choices of Latin men.
Photo: latinpost.com
According to The Los Angeles Times, "Revatex recruited graffiti artists—including some with arrest records—to design print advertising and deployed crews to paint murals wherever teenagers congregate, such as outside the South Gate High School cafeteria. Joseph Montalvo, a graffiti artist known as Nuke who has risen in the art world, designed JNCO's logo, a four-pronged crown."
Having earned his stripes with graffiti crews Societies Dare Devils, as well as UTI (Using The Imagination), Nuke instantly brought credibility to the brand.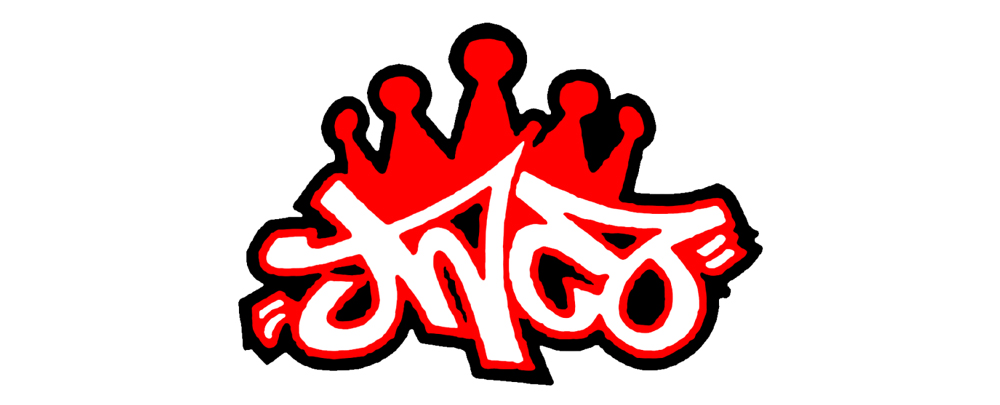 The trend-setting candy raver crowd eager for an alternative to traditional five-pocket jeans were one of the first subsets of popular culture to embrace JNCO's products, with skate and extreme sports subcultures following suit. Having previously forged a relationship with mall chain Merry-Go-Round in the past, it seemed only natural to use the store as one of the key retailers which would ignite the brand. In turn, the influx of young people into Merry-Go-Round—which was founded in the late '60s as a jeans shop in Baltimore, Maryland—created a trendy hangout for teens pining for a location to share their love of fashion and music.
JNCO enjoyed steady success for a decade. Thanks to distribution at Merry-Go-Round's 1,500 stores nationwide, the product was available for seemingly anyone who wanted to try out the hottest thing in fashion. However, the rapid growth for Merry-Go-Round proved to be too much. By January of 1994, the company filed for bankruptcy. Months later, it closed all 1,500 of those locations, making it one of the largest retail bankruptcies in history.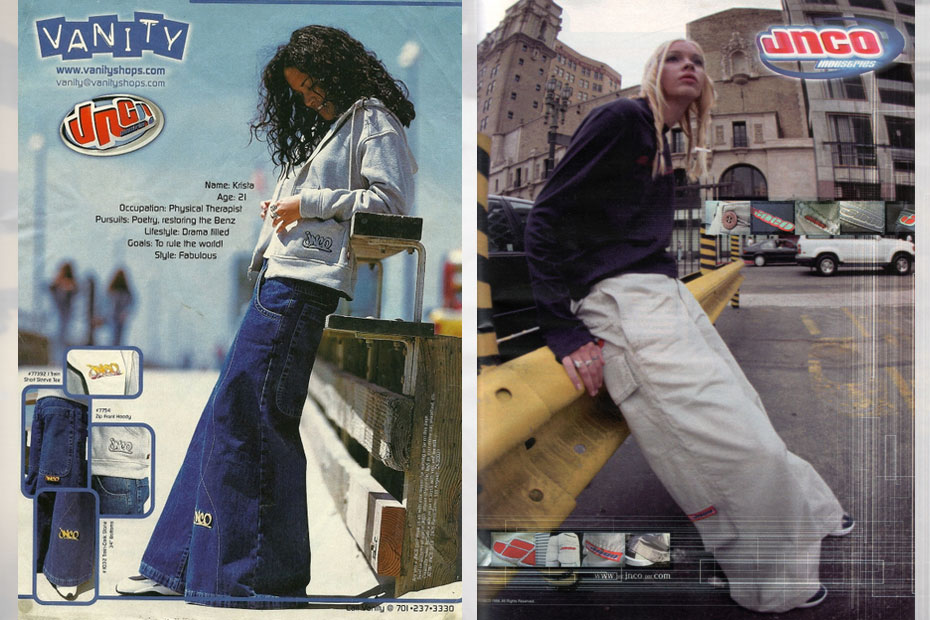 Photo: tumblr.com
According to Racked, "The Revahs got out before Merry-Go-Round's last call in 1996, calling on retail sales vet Steven Sternberg to realign JNCO with skate and surf brands like Billabong and Quiksilver. The New York-based Sternberg had made his name making B.U.M. Equipment a mallrat favorite, and he thought he could do the same for JNCO."
One of the key switches in strategies for Sternberg was to deny the inclination to try and repeat the success of FUBU and Cross Colours who had relied on a decidedly urban approach. "We would not sell to stores that carried FUBU or Cross Colours," Sternberg recalled. "We retooled JNCO from being an urban line to being strictly a suburban line."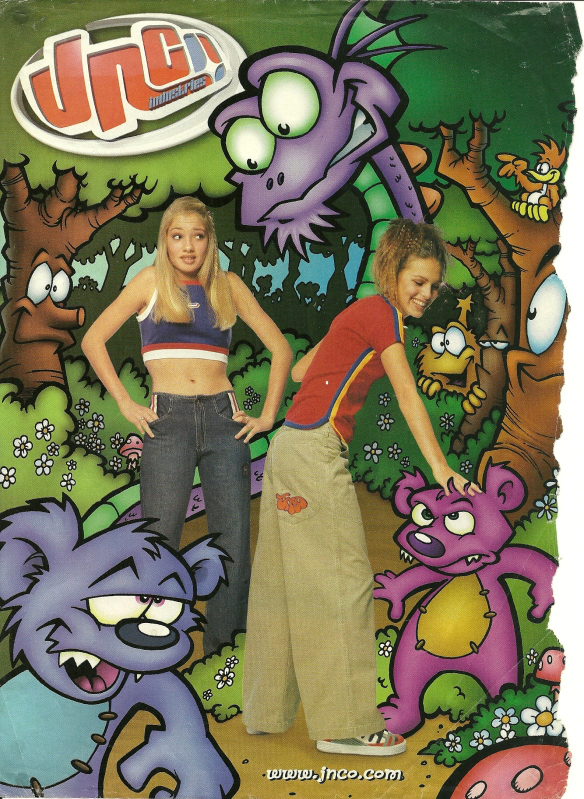 JNCO began to market their brand towards a suburban demographic. Photo: tutusandtinyhats.com

With the Revahs on board with his strategy, JNCO rebounded from the collapse of Merry-Go-Round by getting a major push at stores like The Buckle, Pacific Sunwear (now PacSun), and Hot Topic.
By 1998, JNCO had $186.9 million USD in sales—up nearly $150 million USD in just three years since exiting Merry-Go-Round. At the time of their success, another prominent brand, Mossimo, had found shares in their company plummet from $50 USD to $4.75 USD.
As kids returned to school that fall, many institutions had put JNCO's wide leg offerings on a list of banned items that didn't meet various dress codes. According to The Los Angeles Times, "One trend that has been growing, literally, for seasons is the ever-widening pant leg favored by fans of electronica music and picked up by the mainstream. The extremes in this style come from Los Angeles-based manufacturers Kikwear and JNCO, which boast legs up to 69 inches in circumference. Most sold are a mere 33 to 40 inches, still plenty of yardage to hide feet and, as some school officials fear, weapons."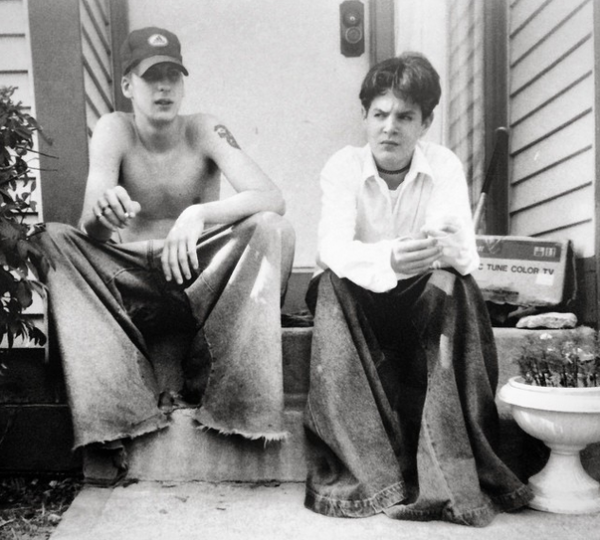 An example of the feet-hiding JNCO silhouette. Photo: 90smixtape.wordpress.com
Whether it was the crackdown by schools, or the sudden shift in fashion tastes by kids, by 1999, JNCO's sales fell to $100 million USD. A year later, they were forced to shut down their Los Angeles manufacturing facility—resulting in many of its 250 workers losing their jobs—and the eventual shift of production to facilities abroad.
Cindy Levitt, merchandise manager for Hot Topic, talked to The Los Angeles Times about removing JNCO from their 266-store chain stores, saying,"You still see JNCO at raves. But it's a little uncool for our customer. It's at too many doors in the mall."
Although JNCO officially existed as a working company throughout the new millennium, the Revahs had both turned their interest to other projects—including men's apparel manufacturer Flamehead Inc, as well as real estate endeavors. In 2009, interest from China brought JNCO back from a state of dormancy.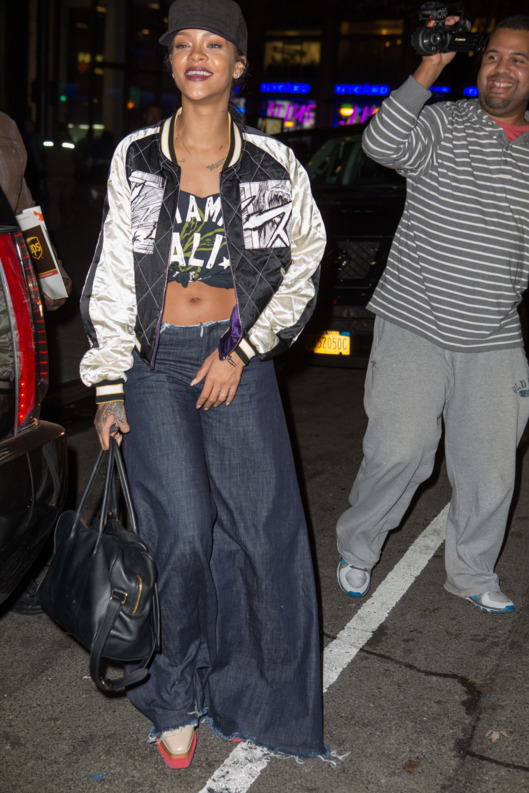 Rihanna wearing wide-leg denim trousers that emulate the JNCO style. Photo: nymag.com
When JNCO was acquired by China's Guotai Litian Group, the company installed Andrew Jacovou as the president and CEO of Guotai Litian USA based off the strength of past client interactions with the likes of Target, Ralph Lauren, Saks Fifth Avenue and Macy's.
"We felt that there was so much passion behind the brand, and so much that the public continued to request, that it was worth the time, energy, and money to bring it back," Jacovou told Racked.
With a new infrastructure in place, Jacovou turned to a JNCO veteran, Steven Sternberg, to return to the brand to help prepare for their reintroduction into the marketplace at Liberty Fairs in Los Angeles. "Back then, we never created a core business. We were a one-trick pony," Sternberg said. "Eventually, you can only make pants so wide. That became our Achilles' heel."
A perusal of their current "heritage offerings" reveals a contemporary JNCO that doesn't boast as dramatic a silhouette as they once did during their heyday. While the 20" leg openings are double the size of current "skinny" jean cuts, it feels like a safe approach. With a rumored pop-up shop in the works on Fairfax in Los Angeles, the strategy would suggest that the "new" JNCO sees themselves as a cousin to streetwear culture than an offspring of the counterculture rave scene that embraced them in the past.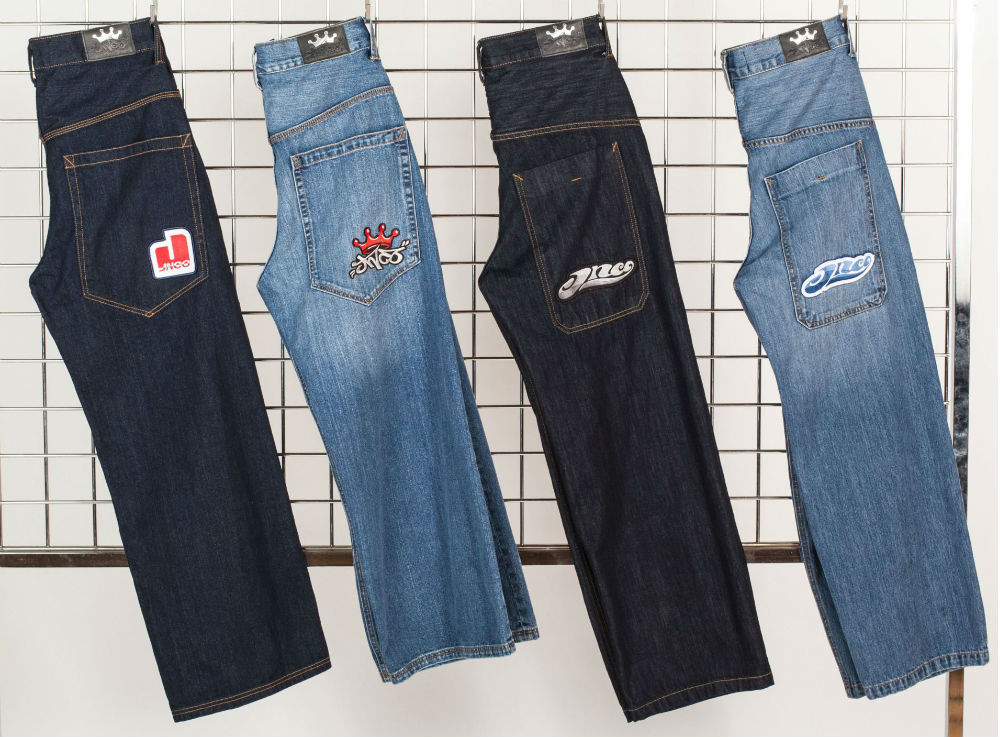 New JNCO offerings. Photo: thetailoredapp.com
In recent years, fashion icon/musician FKA Twigs has embraced JNCO—both through reclaimed heritage pieces and newer silhouettes alike. As Vogue noted in their Lollapalooza "how to steal the look" piece, "try a belly-baring crop top, JNCO-wide pants, an eye-catching sandal, and a pair of retro circle shades."
Much like FUBU and Cross Colours' resurgence, JNCO's comeback has been met with little notice apart from the news of their return. Perhaps JNCO played it too safe. But if that's the case, they have something up their billowing pant legs. "I don't think we'll go crazy right away," Sternberg told CNN. "But I think at some point we might go crazy, for the attention we might get from the press."
***