In November, LA Weekly—an alternative weekly paper founded in 1978—was purchased by a mysterious company named Semanal Media. The majority of editorial staffers were laid off immediately. Everyone was scrambling to figure out what had exactly happened, and who was taking over, namely the shady investors behind it all. Suddenly, Brian Calle, who was a chief opinion writer for Southern California News Group, was taking over editorial management of the alt-weekly, and it was soon revealed that the new owners were men with ties to both the Republican party and Orange County. Almost overnight, LA Weekly ceased to exist and became something new, strange, and different—and it didn't sit well with Jeff Weiss.
Weiss is a nationally acclaimed music critic who has written for publications including Billboard, Pitchfork, The Washington Post, and of course, LA Weekly. Born and raised in Los Angeles, Weiss has always read and appreciated the importance of an alt-weekly like LA Weekly, which he tweeted, has "chronicled [LA's] complexity like no other publication," introducing readers like him to the locales and figures that define the city's history and culture.
This is one of the most difficult and depressing evenings of my journalistic career, so forgive the imminent tweet storm. (1/)

— Otto Von Biz Markie (@Passionweiss) November 30, 2017
For years, LA Weekly has been known for the kind of journalism that defined the spirit of an alt-weekly, delivering stories that larger publications might not have pursued, and digging into the corners of the city that deserved the type of local reporting LA Weekly provided. As a result, per Julia Wick of CityLab: "LA Weekly has won more awards than any other outlet in the country from the Association of Alternative Newsmedia; in 2007, it became the first paper in the country to receive a Pulitzer Prize for restaurant criticism."
But the new LA Weekly under its current management has done nothing but enrage local journalists and readers. Steve Mehr, one of the new investors of the publication, suggested shortly after the acquisition of LA Weekly that Los Angeles was something of a cultural backwater, telling the Los Angeles Times that Los Angeles didn't have a cultural scene on par with New York and San Francisco. Soon after firing most of its editorial staff, new management started looking for unpaid contributors online. In the meantime, the quantity, and more importantly, the quality of journalism at LA Weekly has dipped.
For all of these reasons, it prompted Weiss to start an aggressive online campaign against LA Weekly in the past few months, where he's continued to highlight every misstep of the new ownership group, successfully pushing the initiative to have sponsors boycott the paper, which also led to the cancellation of the paper's annual Sips & Sweets event in December. What started as a local, grassroots campaign has caught the attention of many people nationwide. Seth Rogen, Mark Ruffalo, and Ava DuVernay have all since offered their support.
I too grew up on LA Weekly. They carried us through the AIDS crisis in the 80's with dignity and solid cutting edge information. They were the beautiful alt voice to Reagan's and Bush's hateful propaganda and war rhetoric. Whoever has bought them must show themselves. https://t.co/wEOGEGPEqO

— Mark Ruffalo (@MarkRuffalo) December 4, 2017
The ongoing controversy with LA Weekly is emblematic of a growing trend on the shuttering of alt-weekly publications nationwide. Last year, Village Voice and Houston Press ceased print publication. Baltimore City Paper closed its operations in 2017 after 40 years. It's one of the reasons Weiss has been so passionate about this; he wants to create a blueprint for journalists to be able to speak out and not have their voices silenced.
While the fight continues, there have been some encouraging signs. In February, the Los Angeles Times was reacquired by local ownership for the first time in 18 years, after Patrick Soon-Shiong purchased the paper from its parent company Tronc. Last week, it was announced LAist would return after a consortium of public radio stations banded together to bring several publications—including Gothamist, DCist, and DNAInfo—back. Weiss is hoping LA Weekly is next.
Yesterday, Weiss shared a new Boycott LA Weekly website, with several ways to help take action, including contact info for the paper's advertisers, a link to donate to the campaign, and other methods to help spread the word on social media about the movement. Recently, we spoke with Weiss about this and why the battle for LA Weekly means so much to him.
The interview has been edited and condensed for clarity.
Whether you know it or not, the #BoycottLAWeekly movement affects you. This is a stand for local media, the the free press, and the idea that we must resist manipulation by cynical interests who seek to foment dissent, chaos & Plutocracy. Our manifesto is below. pic.twitter.com/aw95vnyiKy

— Otto Von Biz Markie (@Passionweiss) March 7, 2018
WONG: What did LA Weekly mean to you growing up?
WEISS: When I was growing up, it was the place to discover a new rapper, a new band, a revival movie that was playing at a theater, or to even discover the theater itself. It was the place where Jonathan Gold wrote in the first food review section that highlighted dishes and restaurants that weren't four-star Michelin star restaurants.
The editorial focused on small hole-in-the-wall restaurants that illustrated the diversity of Los Angeles. There were Cambodian restaurants in Long Beach, northern Thai specialty in East Hollywood, or a sushi place in a strip mall in Monterey Park, even something like the best taco stand in the city—it was very valuable information to know. LA Weekly was the best at it for decades.
There's a civic responsibility that comes with any local publication. [Journalist] Christine Pelisek of LA Weekly caught The Grim Sleeper, who was terrorizing South Central as a serial killer for 30 years. Gold was the first person to profile N.W.A. I wrote about DJ Quik, Tyler, the Creator, and Freddie Gibbs for the paper. That civic responsibility is gone now.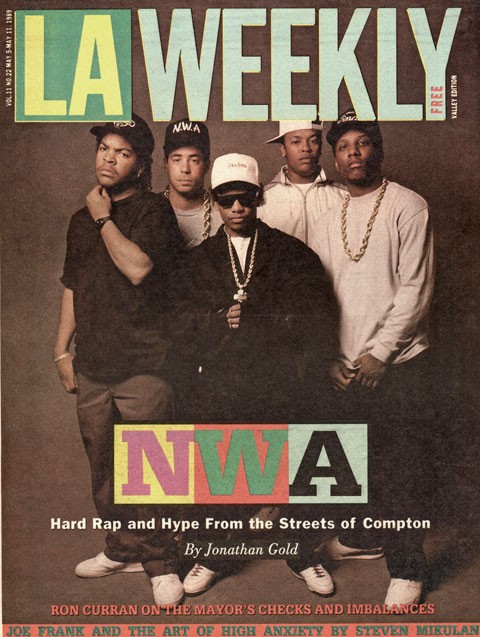 LA Weekly's 1989 cover story, in which Jonathan Gold interviewed N.W.A.
How would you explain the new ownership group of LA Weekly and what has happened to the paper?
One of the things about LA Weekly that I found so insidious was, the publisher and the man who put the entire deal together to purchase the paper, Brian Calle. He put together this plot to buy the paper along with a bunch of men whose contributions include: donations to Carly Fiorina, a fortune to Mitch McConnell, and donation records that stretch back to Pete Wilson, who was famous for Prop 187.
Since taking over the paper, these people have basically insulted the city and frantically lied to make people think they're progressive. There's no one from LA on their editorial staff. It's a disaster. They bought bots. If you look through their followers online, it's all bots. They published a cover story that they de-facto plagiarized. They're writing press releases. They changed datelines in stories. Basically every ethical violation that you can see has occurred. They let everyone go except the copy editor, the creative director, and the listings editor.
"We're looking at this as a long-term war. We're not going to go away. I think it's too important."
The paper looks the same still, and that's the craziest part about it. It's the equivalent of the zombie movie where you see your grandma, and she's been dead for years, but you see her in her sweater and you're like, grandma is still alive. You go over to hug her and she's a zombie holding a butcher knife. That's LA Weekly right now.
You've been at the forefront of this movement to create awareness about what LA Weekly is and isn't doing. What's the feedback been like?
Most venues in Los Angeles have stopped advertising with LA Weekly or are going to stop advertising with them. There's also been a solidarity among journalists. All of us never thought this would happen, which was naive of us. A lot of us would have banded together to buy it if we knew. It was a heist.
People like Thundercat, Ava DuVernay, and Mark Ruffalo have announced their support. It's difficult to sustain outrage when everything makes you outraged everyday. We're looking at this as a long-term war. We're not going to go away. I think it's too important. Right now, there's so many articles that I want to write that I'm not writing about artists in Los Angeles. There are so many stories that are being untold and that's troubling to me, and I think people are starting to realize that too.
This is what Los Angeles looks like right now. It's a state of emergency, as an inferno threatens to incinerate large swaths of the city. Vichy @LAWeekly hasn't even tweeted about it, let alone y'know, publish an actual story w/ actual reporting. pic.twitter.com/Y0pM1jhnGC

— Otto Von Biz Markie (@Passionweiss) December 7, 2017
Los Angeles is the cultural capital of North America. A lot of people would disagree, but every artist lives here, every film studio is out here. The goal of the campaign is to not only explain what has happened but also to show what the consequences are, and I think those consequences are really dire.
There have been fires in Los Angeles and we're not covering it. There was a shooting in a Los Angeles school and it wasn't covered at a significant level. The LA Times is good, but in a town of four million people, you can't just have one legitimate paper.
If I was given a choice to have this LA Weekly or no LA Weekly, I'd rather have no LA Weekly so it could die with dignity. Right now, it's embarrassing.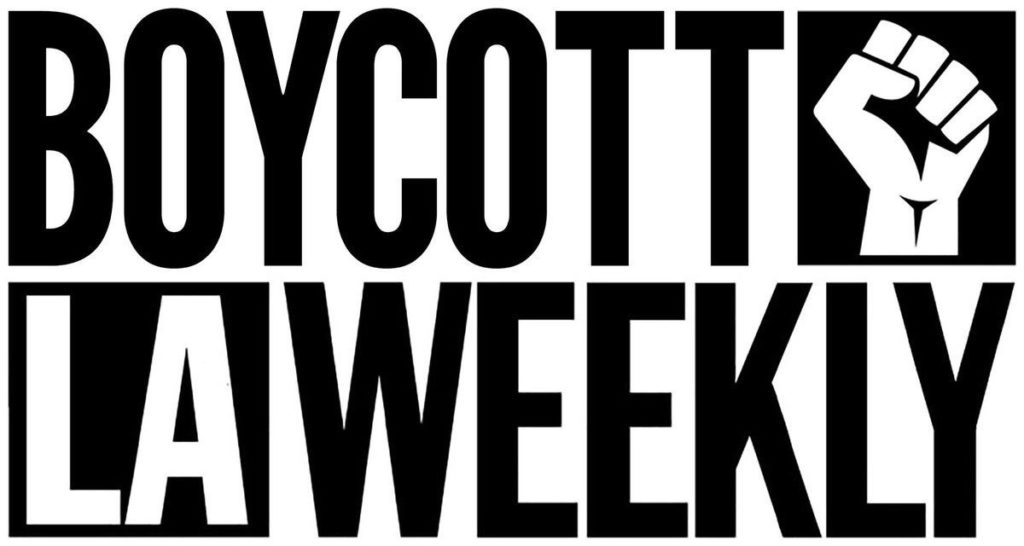 You mentioned to me that the campaign is moving from boycotting LA Weekly to saving LA Weekly. What are your main objectives at the moment?
Right now, the main objective is to raise enough money to go to them with a respectable offer that allows them to sell the paper. We want to turn it into a non-profit that could be run with an executive board of journalists and people in the community. We want it to serve as a model for other cities that are facing closures of their papers, whether it's Atlanta, Houston, or New York, these cities all need an alt-weekly. There's a reason they exist and the Internet doesn't diminish the need for them. Real journalism is more valuable than ever. That's our goal. We want to save the paper.
We've shifted from scorched Earth rampage to a prolong campaign. We're ready to fight. I think they were hoping we would just be a bunch of people who were briefly apoplectic online and then it would just die down, but this is too important. All I want to do is to never do this again. When this all happened, I was in Big Sur working on a book, it was the happiest I've ever been. Then I came down the hill and it felt like everything was on fire.
In a 24-hour period:

LA Weekly kills Sips & Sweets event after sponsors & vendors bail

Weekly owners start sending me press releases#BoycottLAWeekly holds mock funeral to protest Weekly's owners; it's streamed on Weekly's own Facebook page@hillelaron becomes interim editor pic.twitter.com/uYRpQvFStm

— Lauren Raab (@raablauren) December 9, 2017
It's about victory, of course, but it's also letting other people know that this isn't going to be tolerated anymore. A line has to be drawn. You can't just come in and exploit people and ruin lives and ruin the community and think you can just get away with it. I want accountability and I want justice. It will take time, I know that. But I'm willing to go on for years. Time is on our side. We don't have to turn a profit. We don't have to be accountable to people. We just have to keep fighting. And we will.
For anyone reading who is finding out about this situation for the first time, or know about it but want to help, how can they do so?
In the immediate future, we're trying to shut down the Essentials event they're doing at the end of March. We want to make sure they can't do events in the city, which is a huge part of their business plan. We already shut down their first event, and a lot of sponsors have already dropped out of this upcoming event.
"We've shifted from scorched Earth rampage to a prolong campaign. We're ready to fight."
And honestly, online activism is important. If somebody wants to call a sponsor and let them know that they don't approve of what LA Weekly has done. That one phone call or email is immensely valuable. Or even commenting on the LA Weekly Facebook page. We basically want to create an environment where they can't flourish or even exist. I want to resist normalization, because that's what these villains are counting on.
I think we're so trained to think that things are impossible, or we're told to never give up on our dreams, but more often or not, the truth is really somewhere in between. It's a grueling reality. I think it's important if you live in a city where an alt-weekly got purchased or gutted, to try and form a committee and try and take it back. I'm not delusional enough to think this is going to be easy. But this is a war, and like most wars, they're long-term and they don't end quickly. All of us are prepared for that reality.
The Internet is isolating but it's also empowering in so many ways. We now have all the tools to form a modern resistance and translate that to real life.
***
Visit BOYCOTTLAWEEKLY.COM today for more on how to take action today.
Since LA Weekly was decimated by shadowy Orange County Trumpists, we've worked hard to create a long-form resistance to their attempts to exploit Los Angeles & spread toxic ideology.

I'm proud to reveal our Boycott LA Weekly site. Please share it widely. https://t.co/KiZUSDSmp1 pic.twitter.com/SqpScmZosc

— Otto Von Biz Markie (@Passionweiss) March 7, 2018