Meet Travis Jensen, our newest contributor representing the streets of San Francisco. You probably remember him from our own #STREETMEETSF, which he led with Van Styles. In this introductory post, he explains why photography is a natural extension of skateboarding for him and shares a few of his own guidelines when shooting the street. He's here to show us "the slightly less delicate side of San Francisco that [he's] living and surviving in." Get to know Travis:
Greetings, my name is Travis. I'm a San Francisco-based photographer, focusing on candid street scenes, street portraits, and urban landscapes, with the occasional outlier snap scattered in-between. I also dabble in non-traditional, street-inspired commercial photography.
My photos are a bouquet of digital, film, and phone, with the idea being that tool types in photography are irrelevant. At the end of the day, I believe, photography is all about your eye, sensibility, and style. Everything else comes second.
I can't quite put my finger on exactly what I'm looking for when shooting on the street. I tend to keep things moving as opposed to standing around waiting for shots to come to me. Whenever I see something of interest, my mind and body reacts almost on instinct. I position myself wherever I need to be to get the most interesting shot – trying my best to avoid cluttered backgrounds and other distractions – then aim and fire. If I see something interesting and hesitate or fail to shoot it, that shit will haunt me for days on end. My motto: shoot first, deal with consequences later.
I don't believe in rules when it comes to photography, but do follow a few personal guidelines while shooting on the street:
1. I never pay money for photos... meaning, I don't offer folks money in exchange to take their picture.
2. I try damn hard to photograph with the upmost dignity and respect, without falsely painting subjects and/or environment.
3. I don't go for the low hanging fruit.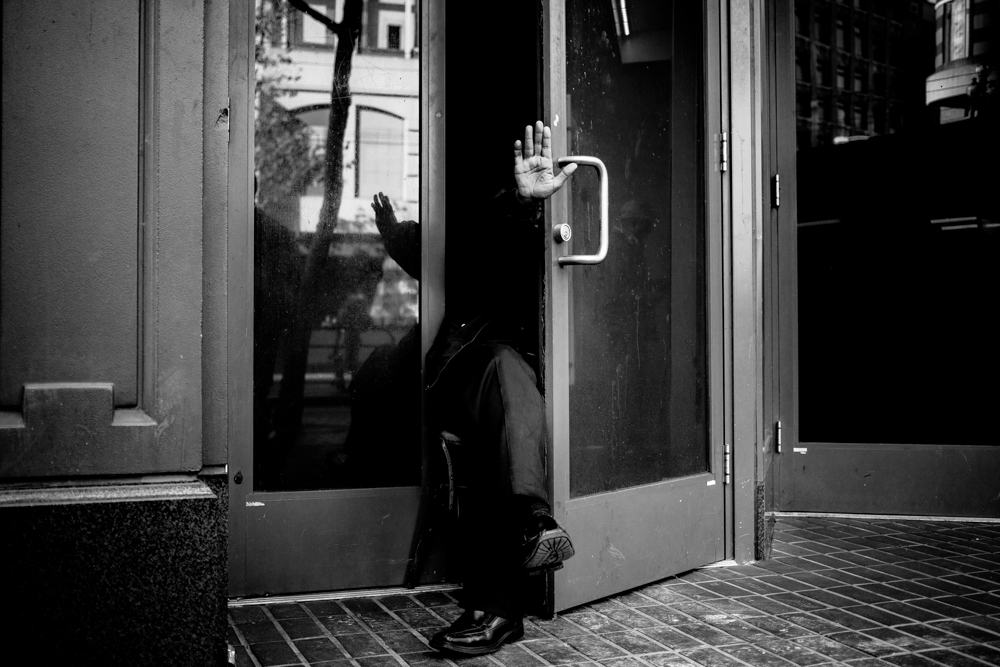 I've spent over 20 some years actively pushing dead trees under my feet (though not so much now that I have kids [plural]), and one of the things I have always enjoyed most about skateboarding is simply being out and about on the street, especially in an urban environment. Skateboarding also taught me how to see everyday objects differently. For example, I don't look at a marble bench as a nice place to park my ass, rather I'm visualizing trick possibilities. That being said, there's no coincidence that I landed in street photography as the craft, in my eyes, is very much a natural extension of skateboarding.
Now that you have gotten to know me a little, I'd like to give a big shout out to my brother Van Styles for recently showcasing my photography through his V/SUAL Apparel brand to an entirely new audience. In fact, I probably wouldn't be penning this post if it wasn't for his initial introduction to The Hundreds team last March when he and I co-hosted #STREETMEETSF. Much love and respect, my friend...
Ok, enough of my drivel... now on to some photos. I figured I'd start by showcasing a healthy mix of personal faves that I've snapped on the streets of San Francisco over the last 5-6 years. The majority of these photos are part of a much larger series titled, "Barbary Coast Now...", highlighting the slightly less delicate side of San Francisco that I'm living and surviving in. Maybe you'll find a few snaps in here that you find interesting... maybe not. All good. Different strokes for different folks.
Be easy. Be safe.