It was a chillier day than normal at Hundreds HQ, and I felt a little bad about subjecting $teven Cannon to the elements while we did a photo shoot behind our warehouse — especially when we didn't have him modeling some cozy winter coat. But Cannon didn't care. The Cincinnati-native is a busy guy these days, and here I was putting him through the wringer: try this on, take these photos, do this interview, curate this playlist, etc. Cannon didn't care.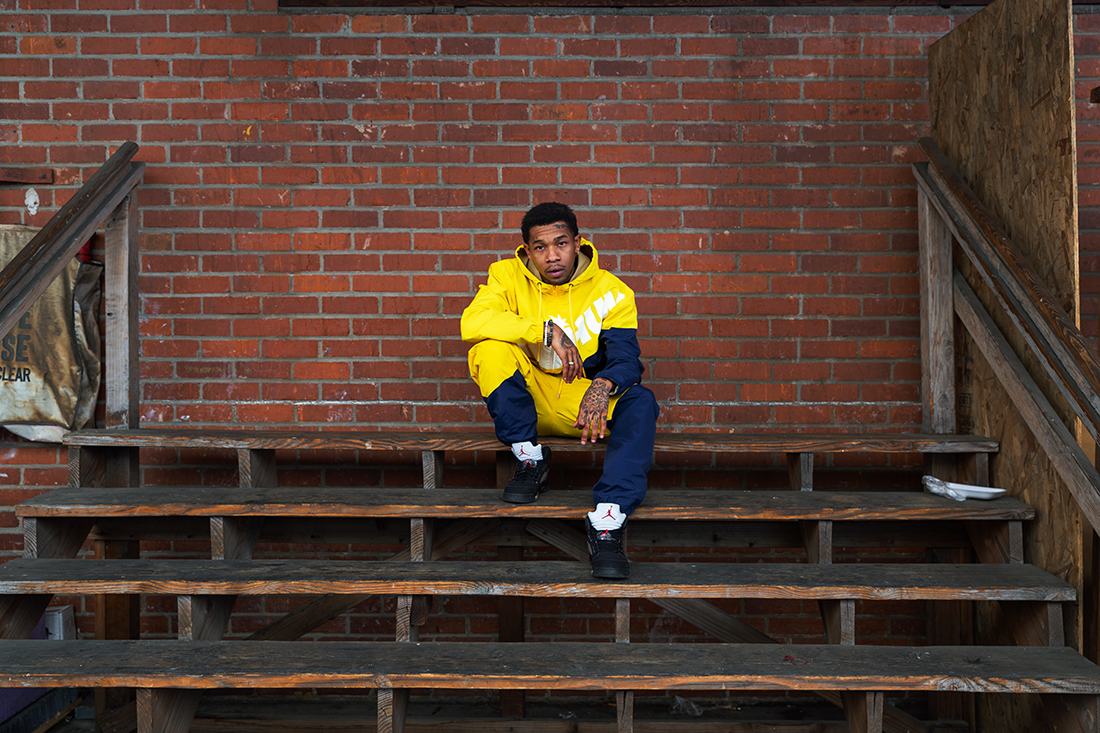 Rather, he was eager for more work, hungry for new experiences and the opportunity to reach a whole new set of potential fans. His "what's next" attitude didn't come as a surprise, though, as this was the same $teven Cannon I've always known; ready to do whatever it takes to succeed, not letting any sort of adversity stop him from realizing the potential he knew he had all along.
Cannon is winning right now because he works relentlessly hard, plain and simple. And it's a microcosm for hip-hop as a whole today, honestly. The genre that was once an afterthought is dominating the music industry because artists keep pushing the boundaries and keep creating at a feverish pace. While other artists in other genres have stuck to their guns, releasing a project every couple of years, rappers don't have that luxury. Fans start calling them out if they haven't dropped something in a matter of months — maybe even weeks. Mixtape culture is demanding but it also allows artists to stay top-of-mind with their following. A certain set of Spitta bars come to mind:
Every week, there was new Cannon music, whether it was singles, their subsequent videos, or strong skip-free mixtapes; the kid's output was incredible. And this was before he had major labels knocking down his door and millions of people listening. It takes an extraordinary amount of self-confidence to keep producing that much content when you're not getting the feedback or attention you know your art deserves. Cannon didn't care.
Last year, everything clicked. The masses were put on to what the few had already known: the kid was a star waiting to shine his brightest on the biggest stage. When Lil Xan, the young artist $teven mentored and coached all the way from cameraman to certified celebrity, popped off and started gaining mainstream attention, he was sure to tell everyone who his favorite artist and inspiration was: Cannon.
The two took the game by storm, traveling the world and racking up millions of views and dollars. Now, as pressure surely mounts for a follow-up performance, those who know Cannon know better than to question his trajectory. He's been working like he was a professional rap star for years, so actually becoming one seems like just another day at the office.
We had $teven Cannon into The Hundreds HQ to discuss his new project Lowkey, the internet's effect on hip-hop, and how life has changed over the last year.
DUKE LONDON: What's the last year been like for you, kind of crazy?
$TEVEN CANNON: The last year has been amazing, for real. I went out of the country for the first time. I went on three different full tours this past year. It's definitely been a hop, skip, and a jump from what I used to be on. Went from sleeping on couches to sleeping on tour buses. Ooh, I like that, might use it for a mixtape name.
After putting in so much work for so long, was this what you envisioned all along?
It is what I envisioned except for that I pictured more money [laughs]. A lot of these rappers are just flexing, though. They don't really have it like that. The rap game is a big movie set.
Who inspired your work ethic?
My dad was a hard working dude and I just idolized that. I don't ever go a day without making some money. He taught me seven ways of income means you're making only a million. You need more than that.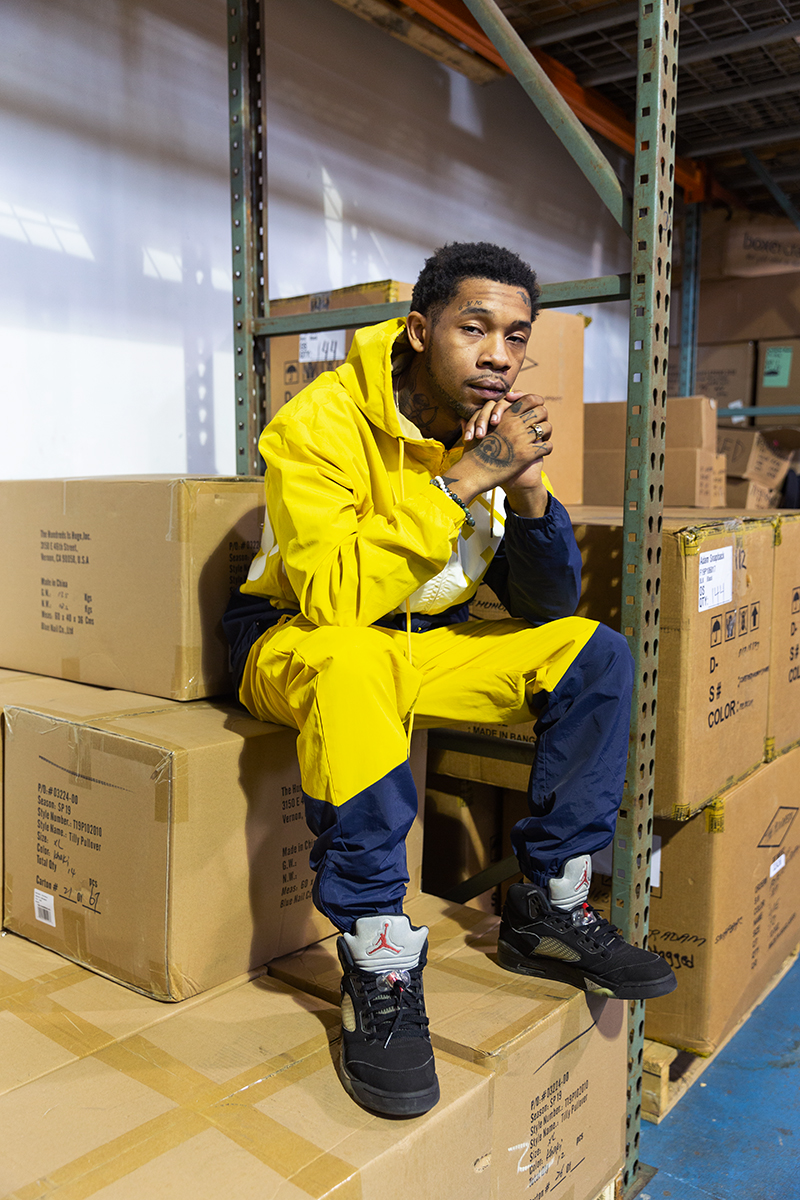 What's different about your life now?
I still eat the same. Actually, I'm lying, no I don't. I eat all kinds of crazy stuff now, like seafood. Now that I have some money I can do what I want. I'm able to go places I never would have been able to before, like The Hundreds. I dreamed about this when I was coming up.
Did The Hundreds mean a lot to you growing up?
Well, when I was in high school, I used to rock Hundreds top to bottom. I needed Hundreds shoes if there was any dropping, all that. I was trying to get my hands on everything. But I lived in Ohio, so everything either had to get shipped online or I had to go out to LA. But I did at one point, I came out here with my mom. I went up in The Hundreds store and yelled, "I love y'all!" Shout out to Bobby Hundreds, man. Bobby, I'm in your DMs from a long time ago, check your DMs, man. I wanted to model for you guys.
How intertwined are streetwear and the modern rap scene?
Everyone is always trying to have their brand to rep. And on the other hand, brands are starting to work with artists more to promote their brands, so it's lit. That's what the audience wants to see.
What other brands meant a lot to you growing up and what have you been wearing lately?
I really used to rock The Hundreds all the time. Also, Famous Stars and Straps was my shit. I wasn't even a skater but DGK was big for me. I loved Pink Dolphin. But now that I'm a "rapper," people always want to see me in the most expensive shit. So I fuck with Off-White, MCM, Vlone, and some others, too.
Is it difficult to keep up with the high fashion expectations of the industry?
Ehh, not really. Money-wise, I'm just very picky about what I want. I'm not about to go to the Gucci store just to blow ten racks on clothes I don't even really like. I'd rather go somewhere I really like and spend a bunch of money on stuff I truly want.
Merch used to be kind of an afterthought for artists because people were still buying albums. Now that traditional music sales have pretty much gone away, tour merch and ticket sales have become primary revenue drivers for artists. How important is merch to you?
If you don't have merch as an artist, your bag isn't fully fulfilled [laughs]. You have to have merch available. People want to meet you, people want to wear what you wear, people want to listen to what you listen to. Merch allows them to support you monetarily like they used to and also wear the same clothes as you. Merch is so important. I just paid a bunch of money for new designs, but I made it all back within four hours. Easy.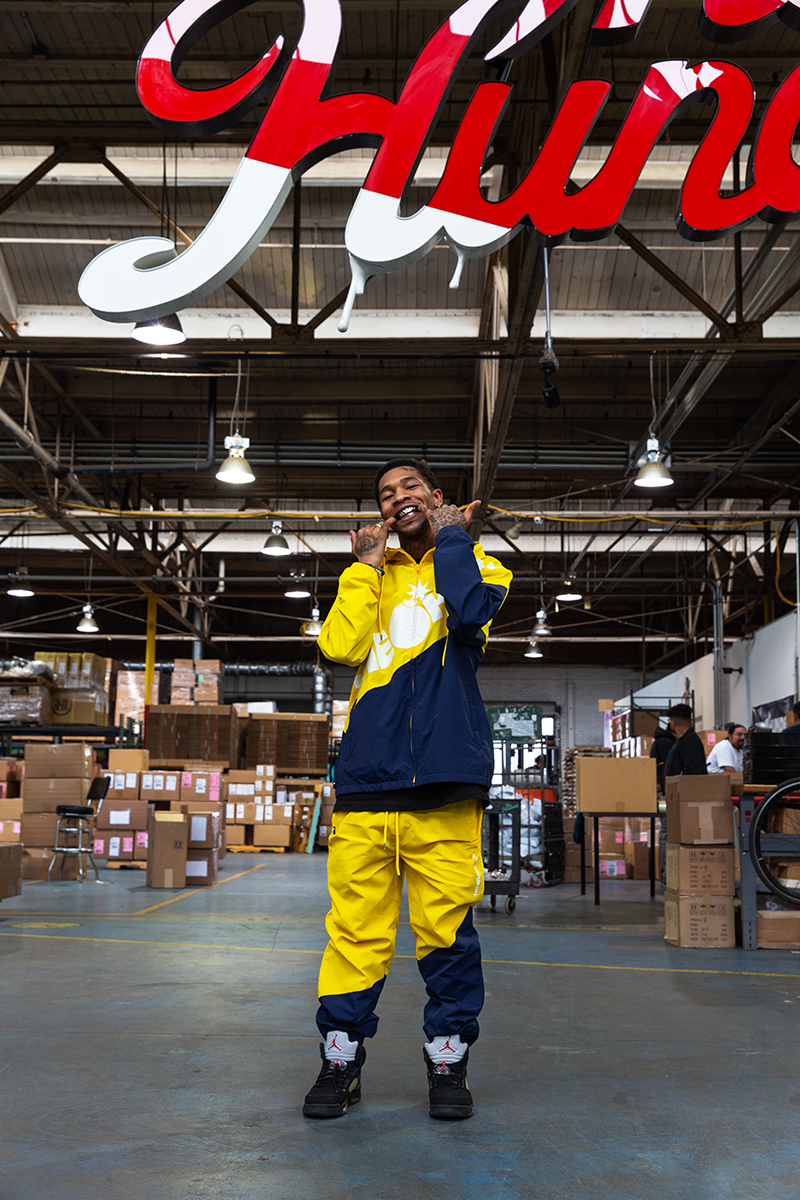 Tell me about your hometown. Do you see a difference in how you're embraced in Cincinnati now versus before you'd been successful nationwide?
Definitely. There wasn't a ton of support in the neighborhood I'm from. But once I moved away and started doing things in LA, people back home started paying attention a little bit more. Now, every time I go back to the city, everyone is showing love. I'll go back to my hood and it's just love all the way around now.
In all your travels this past year, what were some of your favorite cities you visited for the first time?
There was a fire spot we got food from in Iowa before our show there and I had to go back and get more before we left. Florida and South Carolina had great seafood. Every city we went, we got hooked up with clothes from different brands, so I didn't even get to check out too many stores. I honestly didn't have too much time to explore on these tours. We'd show up in a city right before the show and then we'd be out to the next city by midnight. We got to kick it in Pittsburgh for a day, Boston for a day, Texas was cool. Shout out to Charlotte, that was fun.
What's next?
I'm dropping a new tape on all streaming platforms. It's called Lowkey and it's going to be the project that drives me through the rest of the year. I'm talking about big songs, big videos. Last year, I toured so much that I didn't drop a lot of new music, so people want to see what I've been working on. This is it. And I think it's my best body of work. I'm really perfecting my craft, I know what works and what doesn't. I know the industry now, I know my fans. I know how to deliver my message. My goal for this year is to get that crib. A lot of these rappers don't own their own house, so I'm really trying to get a mansion this year for sure.
Are you buying a house in Ohio or California?
I'll probably buy some property back home and put my mom in it, but I'll settle down out in LA so my mom has somewhere to do the vacation thing, too. I've been out in LA for like five years, the people and the weather are beautiful. I moved to LA when I was 18, no job, just grinding. So I had to lay the groundwork, but it's amazing now. I love it here.
What advice would you give to a young artist trying to lay the same groundwork?
Build a team around you. It's really about strength in numbers. Make sure everyone around you is doing a different job to make the whole thing move. If I'm the rapper, I'm surrounding myself with writers and videographers and producers and merch designers, etc. Look at all the artists who are huge, they have a whole team around them. Cannon Family is all my video people, social media gurus, etc. I have a chef, and he's lit. If he's ever looking for gigs and I know people putting on events, I put him on and pitch him as the best chef I know. I got a street team of high school kids talking about all my new music when it drops, so now my songs grow faster and faster. I stopped waiting for someone to do it for me, I just had to get it going myself. I'm doing all my own email marketing and social media engagement right now, responding to everything myself. It's tough, there's a lot.
You've proven before that you put people in places to succeed, as you did with Lil Xan.
Yeah, Xan has become the biggest person I've ever worked with or been around.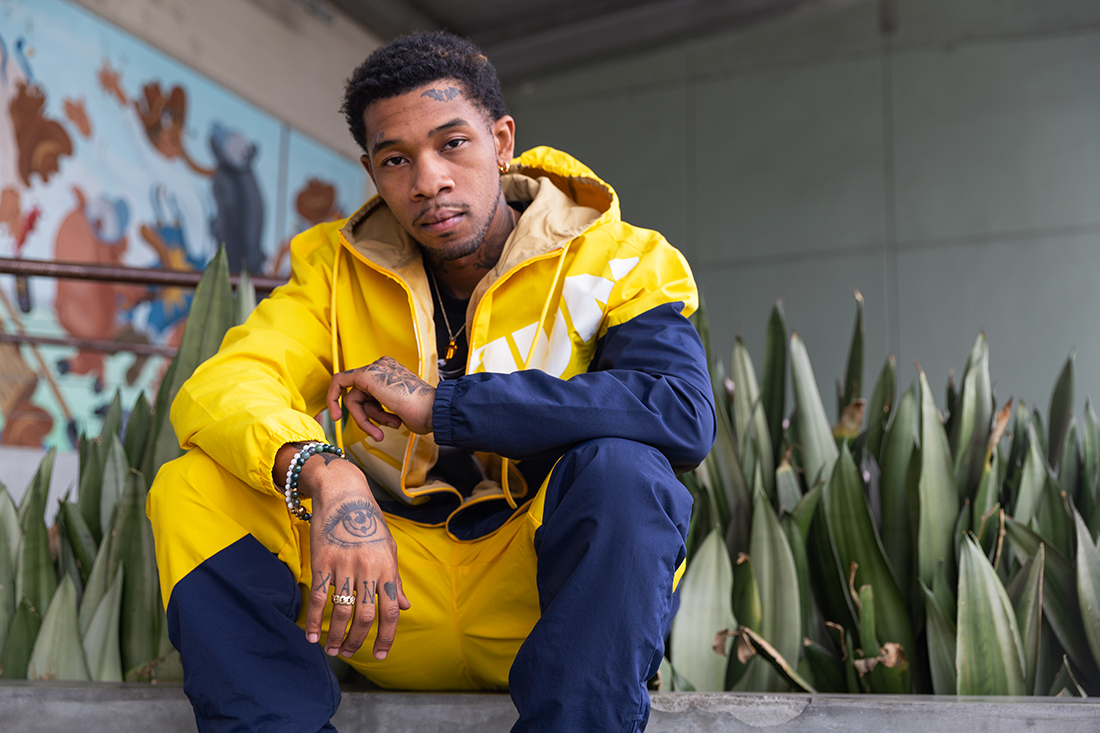 I came to see you guys when you had a show in San Pedro with Tyla Yahweh, maybe a few months before the "Betrayed" video dropped.
Yeah, we were performing "Betrayed" at that point but the video hadn't dropped yet. Still on the low.
To see that meteoric rise, what was that like from the inside?
Lowkey, I would wake up in the morning, look out my little ass window, then see my followers double or triple overnight. I was like, "is this for real?" I really had to pinch myself like people say. Watching the numbers go up and gaining all those new fans was a crazy experience. It's really what you dream of when you start making music. I was just putting in the time with him, acting as his manager, using a fake name to respond to emails [laughs]. Derek Strickland. I'd be like, "Yes, this is Derek Strickland representing Lil Xan" and boom, we were on No Jumper. Then everyone was tuning in. And when the Cole Bennett video hit, we were shopping for Benzes, feel me?
Now that you have your own fan base, does that add any extra thought process when you're recording?
Yeah, I have to stick to my aesthetic. The fans like who I've always been. So in every song, I'm trying to speak to them and say things that I know will catch their ear. My fans love when I drop humorous references about dark things like the trap or drugs. I feel like my fans want to hear stuff that nobody else is doing, so when I'm in the booth I'm trying to listen to what I'm making from the fan's perspective.
If there's one song or project from your early days you could re-drop now that you have a really loyal following, what is it?
"Xan Man." I didn't have any management at the time, and that song did pretty well on Elevator even without me having a lot of fans. Now, it's at 750 or 800. But if I dropped that now as a completely new song, it would go off. We're just in kind of an anti-druggie era right now, so if I dropped "Xan Man" now I'd probably catch a lot of hate. But that's more views, too, honestly. That song so fucking fire.
The fact you got Lucki on the remix to that song is legendary.
Yeah, it went up. And now we have our first show together in Cincinnati on March 1st. Lucki, me, and Crash Rarri. It's going to be good.
Now that you have a lot of younger fans, how do you balance being an authentic storyteller and making sure the message isn't harmful to them? Do you even feel a responsibility to do that?
I just want to make music for people to mosh to. But I do watch my image online and make sure that my message is to do you no matter who you are. Chase your dreams. It doesn't matter what you look like, smell like, where you're from, etc. You can do whatever you want, just have to master your craft. Regardless of whether you see the occasional gun or drugs, I'm always trying to put off positivity. Unfortunately, some people think music is all real life and that's why they go off the edge. But I'd always rather make songs about having fun than have a song about killing people. We have to make sure these kids are on the right track. A lot of kids listen to us, so we can't be wildin too much.
***
Photos by Allison Gretchko