As a Filipino kid born and raised in Norway, Michael Ray Vera Cruz Angeles has a unique backstory on how he became the co-creator of Also Known As, one of the most innovative and exciting creative agencies overseas.
During his senior year in high school, Mike moved to Las Vegas as an exchange student when he first discovered The Hundreds and the world of streetwear, which breathed new life into his own perspective on personal creativity.
"To me, that's what streetwear is about," Mike told The Hundreds recently. "Telling stories through clothes and doing what you want to do, and not just following whatever the trend is."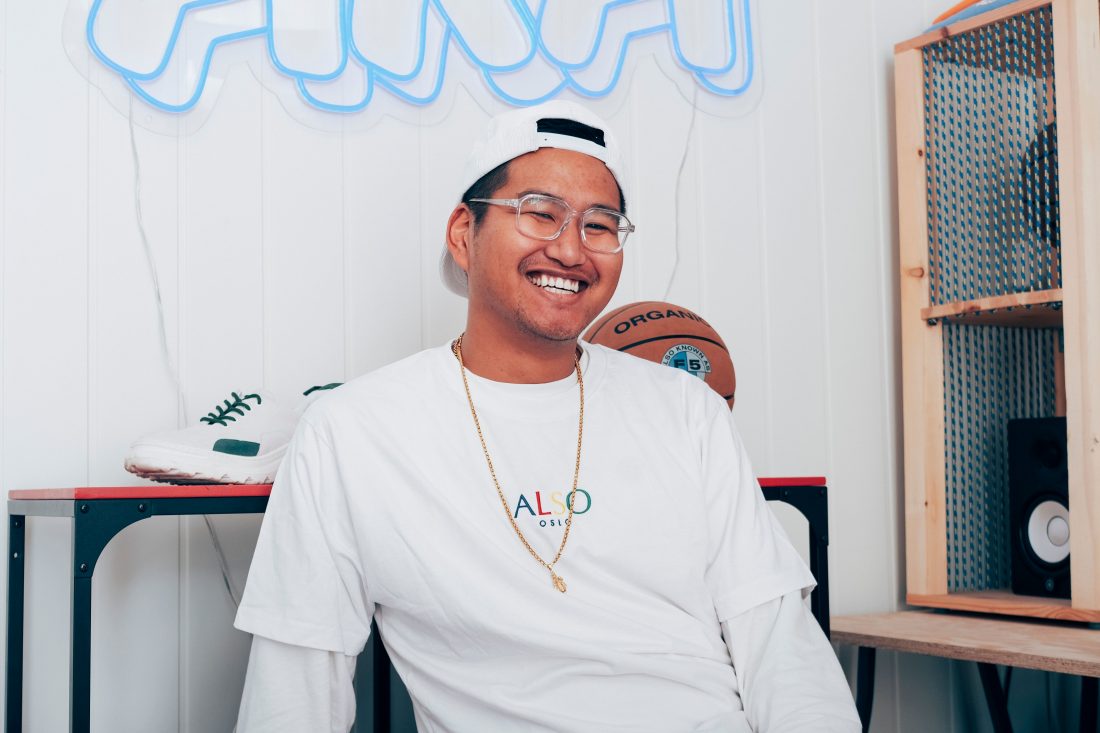 After his time living in Las Vegas, Mike returned to Norway, and inspired by Bobby Hundreds' own photography, picked up his own Nikon camera and started capturing his world and telling his own stories. This was the beginning of his journey, one that would eventually see him leave his day job as a physical therapist.
Mike decided to pursue his passion for photography, design, and everything that streetwear has inspired him to do. He started working with some of the biggest music artists in Norway, and eventually started his own creative agency, Also Known As, with friend and graphic designer, Even Suseg.
Today, the agency is well known not only in Norway but around the world. Also Known As recently collaborated with Red Bull, and has many other exciting projects on the horizon, including the launch of their own clothing brand. Mike is finally in a position to empower creatives who want their own opportunity to break into the industry and he's ready to mentor the next generation.
We interviewed Mike about his humble beginnings, his creative philosophies, his incredible journey and much more.
---
ALEX WONG: Being from Norway, how did you get into streetwear?
MICHAEL RAY VERA CRUZ ANGELES: My parents are from the Philippines but they met here in Norway. I've lived here my entire life, except for my senior year in high school when I was an exchange student in Las Vegas. My love of streetwear definitely started that year. I remember going to a store called Active Rideshop where I saw The Hundreds for the first time live. They had the first Hundreds stuff, the Freshjive hoodie. Before I only had seen it on niketalk.com and on the blog. I was instantly hooked.
When I got back home to Norway, I started working at this sneaker store called Sole Service, and it took up all of my time. I picked up a camera to show my friends and family abroad what was up here in Norway. I read The Hundreds blog every day. Bobby Hundreds won't accept it, but I always tell him that when it comes to photos, he is my number one photographer. The way he makes it look like he doesn't even try, it's just real and you can feel the vibe. That was what I was trying to do as a kid. I remember my mom asking if I wanted a Nikon or Canon and I said Nikon just because I thought Bobby had a Nikon. Then I met him and he said he never had owned a Nikon.
Niclas, a clothing distributor here in Norway, discovered The Hundreds and decided to carry it. I asked if I could borrow clothes from that specific collection, W11, and we took a bunch of pictures at a park in Oslo with my friends. Bobby saw the pictures and asked if they could put them on the website, and I just died.
"[Streetwear is] a statement for whatever you stand for."
To me, that's what streetwear is about. Telling stories through clothes and doing what you want to do, and not just following whatever the trend is. It's a statement for whatever you stand for, and I believe The Hundreds is one of the brands who has followed through with their 15 years of living up to that.
Tell me a little more about how the year in Las Vegas changed you.
As a kid in Norway, I would know about stuff, I would hang out on the NikeTalk forum, but it would be me and the homie being like, "Did you see the post there?" "Did you see what that guy wore?" "Maybe we should find jeans or sneakers like that." When I got to the United States [2005-2006], I discovered more people that were like me. It wasn't just me. There were so many people who were into the same things. And the more people show you stuff, the more you learn. It was basically getting to witness what I spent my time doing on the Internet happen right in front of me in real life.
Shoutout to Fruition LV, the first store that showed me what streetwear was about. I remember Neek from Anti Social Social Club wearing his skinny Cheap Monday jeans while he was a part of their street team. I felt that streetwear just started being on everybody's lips. Nike SB Dunks started to blow up, and I started to feel like I was part of it, especially when I camped out for sneakers for the first time, or had to dodge fights at the mall for a pair of Jordans. It was fun. It was crazy.
For me, I came from a place just outside of Oslo in Norway where everyone basically dresses the same and are mostly white, and I was the only foreign kid. So I was already different. And there was this urge I had to want to express myself, to want to dare to be different. When I was younger I felt different because of what I was into music-wise, my hobbies, and playing basketball instead of skiing like everyone else, and just an urge to dress differently.
Is being involved with the streetwear scene what you always wanted to do?
The Hundreds made me want to do what I want to do. I'm Asian. My parents always wanted me to get a safe job, so I studied physical therapy. I wanted to be an NBA player growing up but was too short and skinny, and my parents wanted me to get into the medical field, so I thought if I studied physical therapy I could one day be a physical therapist for an NBA team. That didn't happen either.
My friends in Oslo were all young rappers and creative people when I started documenting life here in Norway. As time went by, we all became a little more successful in our own craft. Some of my friends are now the biggest music artists in Norway and I'm still documenting their life today, 10 years after I picked up a camera.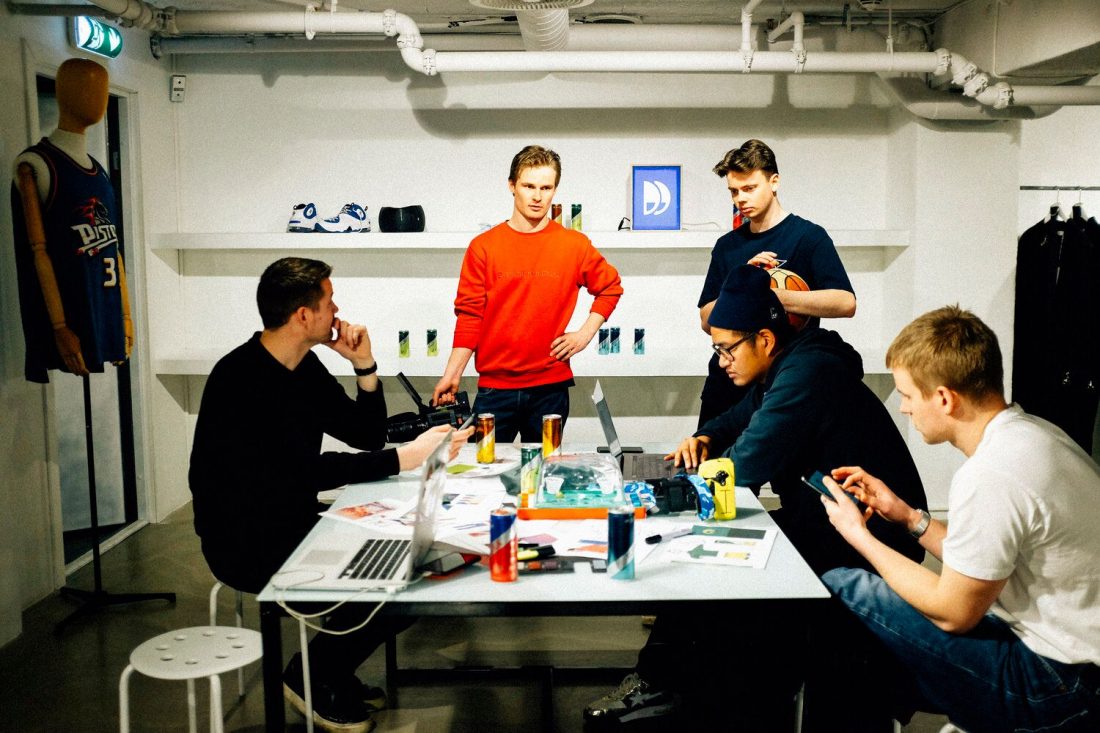 My mom and dad have barely accepted that I'm not going back to physical therapy, but they see now that the creative studio that we just started called Also Known As is getting recognition and getting work. As true Asians, they feel I can manage both [laughs].
Oslo is so small when it comes to urban culture that everybody knows everyone. Fortunately, my friends have stuck together and whenever someone needs an album cover, photos, or designs for clothing, they go to Also Known As. It's a circle of love. All the work I've done for them these past years really paid off.
"The Hundreds made me want to do what I want to do."
So was it hard to fit in before high school?
I always had really strict parents. They came to Norway. They worked hard and gave me the opportunity to have an education. I always spent a lot of time making sure they were happy with my grades. I was really in with the nerds, but I was also really athletic and I would hang out with the sports people.
I had to be a chameleon and maneuver between all these different people. I didn't have to like them and they didn't have to like me. I just had to deal with people. Some people are ignorant just because I don't have the same color skin.
There was a time when there was a lot of racism in Norway, and at times you feel alone, but then again, I had a lot of friends that accepted me for who I was. After I went to Las Vegas, that was when I was old enough to start going downtown in Oslo to hang out with people who liked stuff just like me. I didn't have to fit in. I was just hanging out with people. There was no effort. We would talk about the new drops or whatever. It was cool. Ever since then, I've met a lot of good, like-minded people. Oslo has turned into a great melting pot of different cultures.
What's the scene in Oslo like, in terms of skateboarding, cultures, and trends?
There's always been a hip-hop scene in Oslo. Hip-hop and skateboarding have always gone hand-in-hand here along with street art. We have a couple of small mom-and-pop sneaker shops. There's also a store called Stress, I believe they're the only one in Nordic country with a BAPE account. There's a place called YME, which is basically a Dover Street Market. And the core streetwear store Hunting Lodge.
When it comes to brands, there hasn't been any huge streetwear brands here in Norway. Some people have tried. It always starts with a group of people that want to make something because they're tired of everything else. Usually they're young, they have passion, and suddenly they meet someone, they have children, they have to grow up, and brands die. We do have some smaller streetwear brands, but mostly smaller things. S/O Persona Non Grata, Herotic, F5, and of course Also Known As [laughs].
There's a brand called Herotic, which in my opinion is the next Dime, or if they get their act together could be like Palace Skateboarding. It is with Magnus Bordewick, who rides with Adidas, and Karsten Kleppan, who rides with Nike SB. Norway's always had a bunch of great skateboarders and snowboarders, that's what you do here if you don't play soccer or ski.
So how did Also Known As come about?
When I was 17, I started my blog and I called myself AKAM1K3 because I'm born on the 13th. It's a really stupid name, but it was cool when I typed it into Gmail, 1 as I and 3 as E. To this day, nobody knows how to pronounce it. But that's where the Also Known As name comes from. I always thought A.K.A. was a cool thing, and that's how the actual creative studio came about in 2013. This rap group in Norway, Karpe, asked if I wanted to join them on tour because I wasn't getting a job as a physical therapist. I said I was down, and I became their photo, merchandise, and visual profile guy. In 2013, they released their first tour book which included all of my photos.
When we put the book together, there was a graphic designer named Even Suseg, who is now my partner at Also Known As. We ended up spending a lot of late nights working together figuring out how to put together the book. We liked the way it turned out, and we worked on another project with a rapper named Arif. We made a cover for him and said, "Damn, let's just run with this."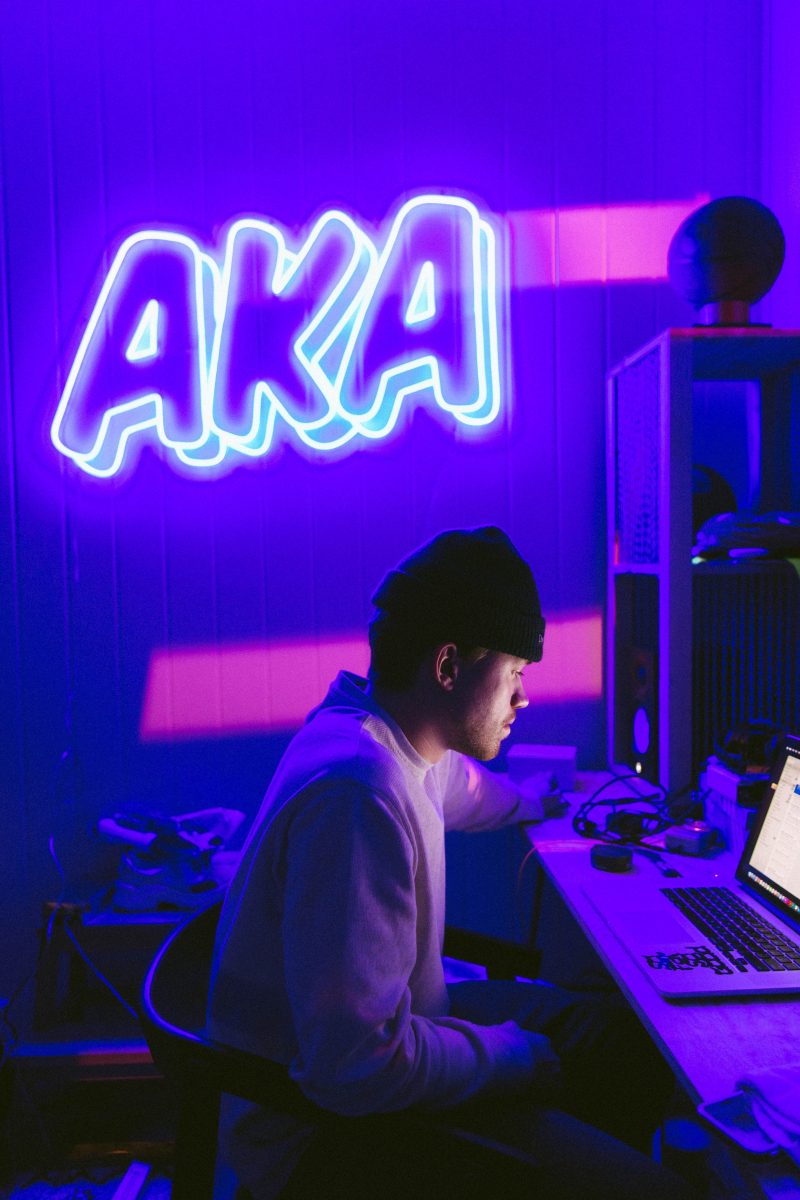 For us, the name Also Known As is a symbol of when we do something, you don't have to be scared that your identity will be lost in it. Sometimes, when you go to a designer, you already know the style you'll get. With Also Known As, we'll take your vision and do your thing but make sure our DNA is still in it.
We don't want to limit ourselves. We always want to try different things and put our take on it. We don't specialize ourselves in anything, it can be Also Known As Nike, Also Known As Disney, Also Known As Target, etc. So we started with Even and me, and after that we added a couple of videographers, and now we have a bunch more people. You know how it is. When you have a creative studio, everyone is a part of it. It's like a family. But the main people are the four of us and an intern. We have a studio in my basement which we made into our office, so the intern sits here in my basement sometimes. It's weird but also kind of cool.
What's been a memorable project for you?
Every project is special. But the first one we did ourselves was the most memorable one. There's a store here in Norway called Lokk, they specialize in American sports hats and we did a collaboration with them. With Lokk, we made custom baseball jerseys that were co-branded AKA and Lokk. The jerseys had silkscreen, embroidery, and patches. We made a video, took pictures, and it was featured in the national newspaper. People were in line for it, the product basically sold out, and I was like, Oh crap. That was when I was like, We might have something there. And it was so important for us, like in all our projects, to show the whole process, tell the story.
Ever since then, we always try to push projects where we don't really know what to do—let's just do it. Let's just try. We also did the visual profile for the rap group Karpe's last project called Heisann Montebello, where hot pink was a very dominant colour. Together with Karpe, we made all the covers, merch, visuals, and ideas for their tour, including all the tour photos, etc. We had a pop-up store in the middle of Oslo City for three days, where Karpe played for 30,000 people. We felt like The Hundreds on a Black Friday, the line was crazy. I've never seen people wear so much pink. Our work with the profile won [graphic] and visual prizes in Norway that year.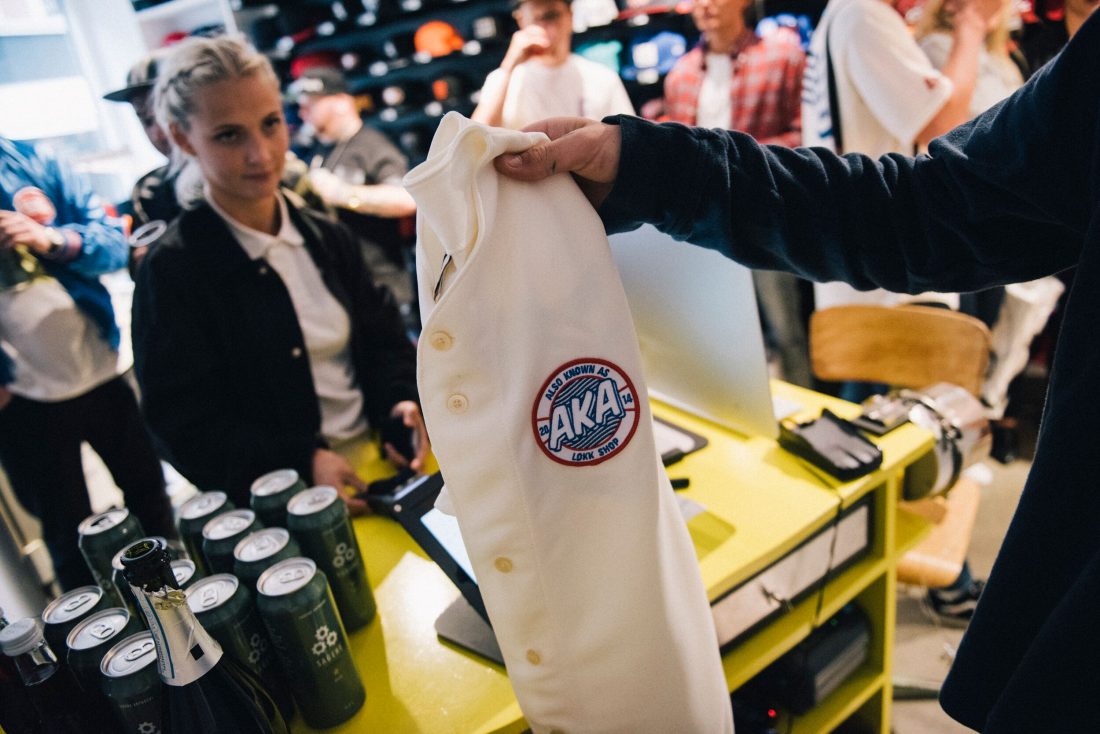 That was a big project for us. That was the project that made bigger firms believe in us. It put us on the map. A lot of cool people wanted to work with us before that, but after we had proper people, the suits, commissioning us for work.
We've done commercials for Reebok and Adidas here in Norway and visual profiles for international artists, including work for HAVNA, a hip-hop festival that brought out the likes of A$AP Ferg and 2 Chainz.
The latest collab we did was with a fashion store here called F5. We were commissioned by Red Bull to use the colors of their new organic drink cans to create a clothing line. We were scared that people were going to hate on it, but it was about doing what we felt was right.  As long as we can have creative control, we good.
We wanted to show the whole process, so we put out a four-part series where we showed how we came up with our ideas. We traveled to Portugal to design the clothes, we built an installation and it was amazing. We also got to design shoes and that was a dream come true for me; it was a high-end shoe, but you could see the basketball inspiration. It was really humbling. We basically sold out all of the stuff. People stood in line, and everyone has been sharing the project. For us, it was a great move to show people that you could turn something that is considered mainstream and not fashionable, to something that was on everyone's lips—and everyone wanted it. It was important to show the suits at Red Bull that they could trust our vision, and it was cool to see that people that would normally not support big branded ventures, actually did support us.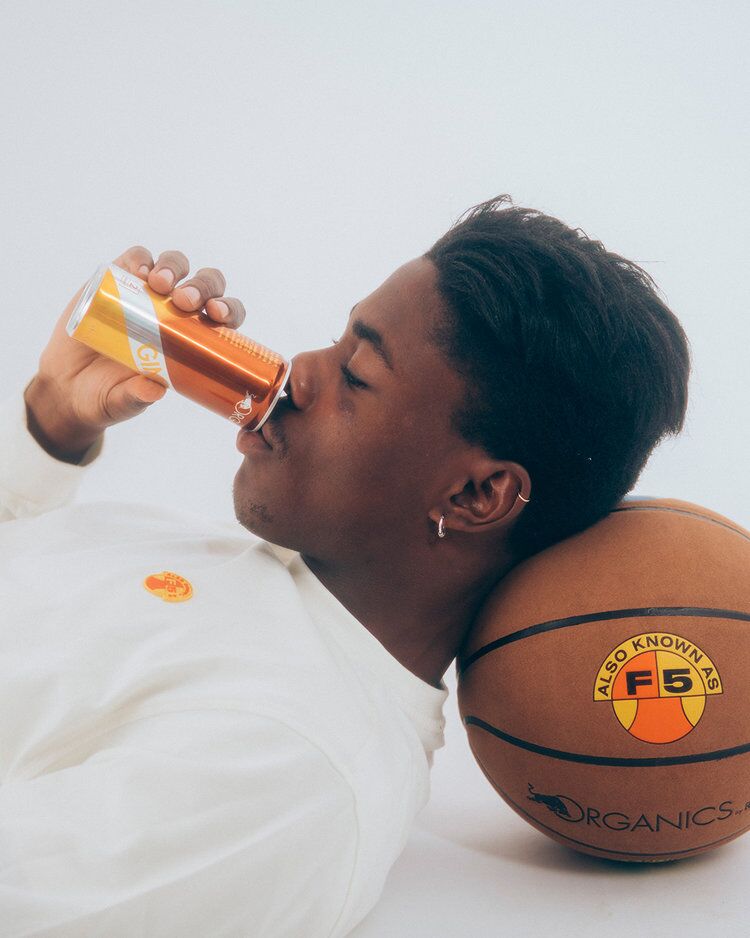 What is it like to be able to do what you love for a living?
It's very humbling. I don't even feel like we've started yet. Also Known As is barely scratching the surface. You know how Bobby Hundreds says streetwear is built to fail? We're taking this very seriously, especially the business side of it, setting it up so it is bulletproof, so nothing will come between the people that are in the venture. Everyone we work with is 100 percent legitimate. To me, it's always about turning our hobby into our job where you don't even feel like you're working anymore. We surround ourselves with good people. The fact we're taking pictures, making videos, visual identities, and making clothes for people here in Oslo (and outside the country) and it pays my bills—that's pretty awesome.
My parents are also chill and not stressed about me ending up broke somewhere. I've been able to buy an apartment and that's pretty crazy to me. I'm so blessed and humbled that so many people trusted us. And I know I wouldn't be here without The Hundreds. That's not even me sucking up to them. That's a fact.
Can you tell us more about your involvement with The Hundreds—especially being a blog contributor starting in 2014?
First of all, I've been a fan since day one. The way Ben and Bobby use their clothes to tell their stories are the best. The way they used the blog to give us all the feeling of being a part of their brand was just awesome. When you go to the store, you felt like you knew everyone there.
Later on, I became homies with Iron Mike Enriquez who was the store manager at RSWD [The Hundreds Los Angeles]. He helped me attend my addiction to the brand.
When Niclas started to sell The Hundreds in Norway, he helped me so much. Not only flowing me with clothing, but he also gave me the opportunity to shoot the clothes and make my own lookbook. And it got posted by The Hundreds. After that, Niclas helped me get a connection with Bobby and Ben. Later, we met every time [I was] in LA, and in 2014, they asked me to contribute to the site, which is still probably one of my proudest moments. It's been so fun. And The Hundreds have given me so many dope moments to shoot, like The Hundreds party in Berlin with [A$AP] Ferg.
I'm so grateful for everything they've done for me. Not just the opportunities but always inspiring and motivating me to do better. Now we all meet when possible. Shout out Carlos especially! He always looks after my The Hundreds needs [laughs]. 2019 should be a good year, hopefully everything goes accordingly and we will level up a bit. And again, thank you Bobby and Ben for everything! And thanks to Niclas for helping to build that bridge!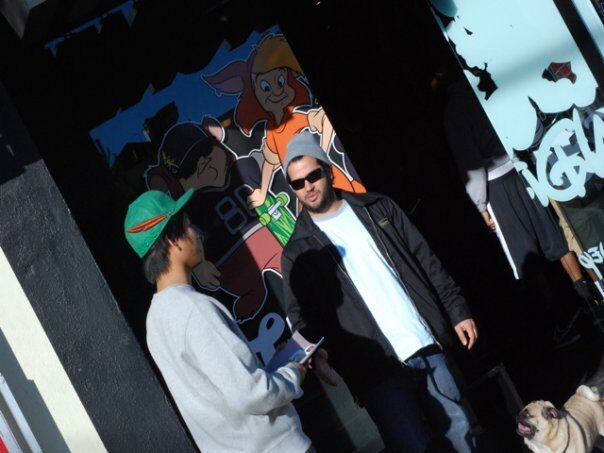 A lot of people want to get into the creative field. Having been through it now, what advice would you give people?
When I was a kid and there was a group project, I would always do the whole project by myself. Everybody wanted to be in my group because they knew I would do everything and we would ace the project. However, as more work comes, it's impossible to do everything by yourself. To me, it's been so vital to surround myself with like-minded people, and the fact that we started Also Known As has been such a major key. What I learned is that when you're part of a group, it's like playing basketball. You have to trust your teammates. Everybody has their own traits, their qualities, and you just have to trust them to do their part. We'll talk about it, find our vision and goal and just have to trust that everybody will work toward it.
For me, I've noticed that I'm not scared of asking for help anymore. I found a crew that I believe in. For us, we're five people now, but we're always eager to expand and work with people. We're never good enough. We can always get more help, especially here in Norway. For me, it's just about bringing people together, which I feel like is what streetwear is about.
"To me, it's been so vital to surround myself with like-minded people […] it's like playing basketball, you have to trust your teammates."
What are your specific goals with Also Known As moving forward?
Right now, there are a lot of cool projects in the pipeline, and we are really eager to show each and every one of them. At the same time, I feel we're still working on the client-building side of it, and just wanting to really show people that we mean business, that we're good enough to help you and to not look past us. We want to show people we can deliver the product. It sounds so cliche, but right now I just want to do something for the culture. I just want to mean something, and be an inspiration for the younger generation.
I want to keep telling stories, and hopefully inspire kids to do the same, to make them realize you don't have to do standard stuff like a 9-to-5 job anymore. You can do whatever you want.
A lot of people have been asking for Also Known As clothing, and we've been wanting to try it. We didn't want to force it just to make clothing. But now it feels like people want it, and it feels natural for us to make something. Hopefully, soon, maybe next year, it'll be a good year for the clothing side of the creative studio, too.
And one day, I promise I'm going to work with The Hundreds on a collab.
That's the dream.
***