The Tidewater region of Virginia is an area that has been mostly defined by everything that it's not. There is no major sports team, no metro system, and no discernible identity. The city has a huge Navy community that consumes the general population of the city, with out-of-towners regularly moving in and out for months at a time. Separated by seven cities (Norfolk, Portsmouth, Chesapeake, Virginia Beach, Suffolk, Newport News, and Hampton), Tidewater is somewhat of a middle east, chained between neighbors like Washington D.C., New York, and Atlanta. The one positive about this melting pot of personnel styles is that talent in Virginia isn't able to be defined as it would in most other regions. This has allowed legends such as Pharrell Williams, and new stars like Masego or D.R.A.M. to break through to a wider audience without being pigeonholed as a certain type of person. Talent notwithstanding, it's more surprising that they broke out from an area that isn't exactly rife with motivation for young people to escape. Other than the college scene, the social scene in Virginia is locked into an infinite loop of repeating what other cities did—from music selection to overall style. The city has something for everyone, but if you're born and raised from Virginia, you'd be hard-pressed to find something that represents you.
29-year-old promoter Rodney Smith foresaw the stagnation of the party scene in the area and wanted to shake things up. He left the quickly dying and tone-deaf urban-themed parties to create "Traptastic"—a culturally mixed party platform that invites change, and in turn, is breeding a new generation in Virginia's Tidewater area. The young people can call these turnt up parties their own, and they don't have a filter on who or what is played. Born in New Jersey, Rodney moved to Virginia when he was a youngster, and quickly found himself in the mix. His biggest characteristic is his jovial and playful attitude, a personality trait that made it easy for him to slide into pretty much any social scene in the city—and eventually gave him his start as a party promoter. "I had been throwing parties for about seven years, and everything was stale," he says. "Every DJ was playing the same thing no matter where you went—around midnight you'd hear the same New York set, the Atlanta set, some Reggae... you knew what was coming next."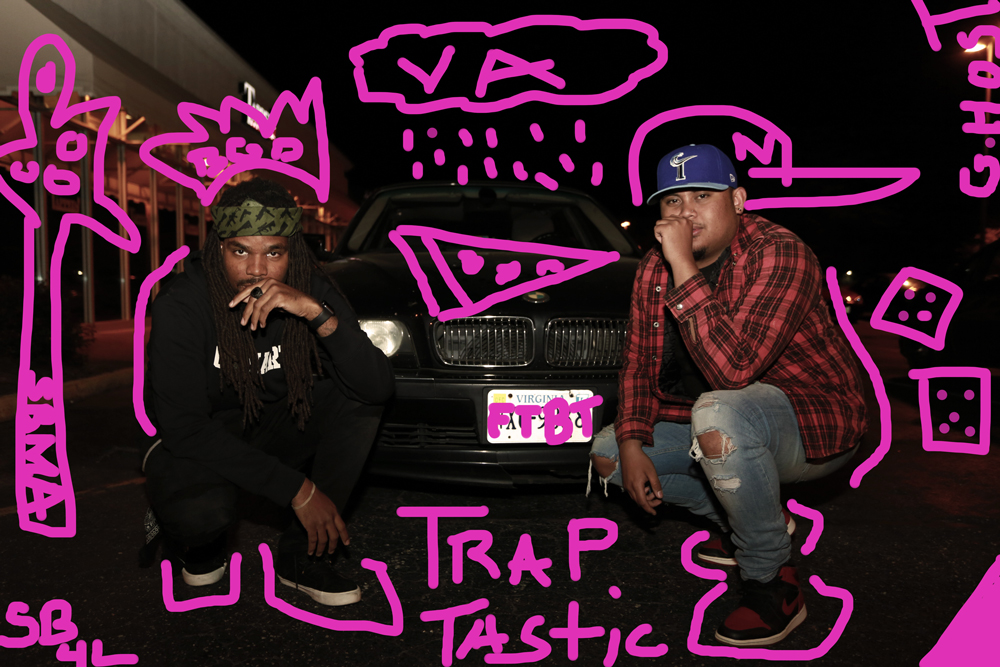 Rodney Smith (L) and Sean "Slutty" Roscoe (R), two of Traptastic's founders
His assessment of the scene is correct, as week after week, a mixed group of demographics packed into whatever the hot club of the moment was; if there's one thing the area is known for, it's a musical chairs-esque rotation of clubs. Skateboarders, Navy servicemen, and creatives alike would file into Fuegos (now defunct), Mansion (now defunct), or whatever new and renovated building they could, in order to have fun. It's become a tiring cycle that's all but killed an area that is rife with different personalities. "There was not a soul in the club that listened to any of that music in their club, or in the shower. It's all old as shit, and they would still listen to that shit religiously," Rodney scoffs.
After almost a decade of promoting parties that really had no interest to him or his friends, Rodney created a team of tastemakers to concoct a bigger platform to do parties that they were into. "I linked up with my partner, DJ Punisha, my friends Sean, Bre, and Kelcie who were tired of what we were seeing. We knew the market, so we just took the idea and flipped everything, and threw every rule of party promoting out the window." The team quickly came up with the name "Traptastic," which has an auxiliary meaning—it's a flip of Rodney's nickname "Young Trap," an indicator of one type of music that's played, and a defiant label that flies in the face of the identity-less parties that came before it. With the name set, they also needed a mascot, and a masked luchador/DJ named "Negro Libre" was born. A play on the ridiculous trope of DJs in the modern era who love to self-promote by displaying their #brand on Twitter and Instagram, Libre's presence makes the party about the people, not the person.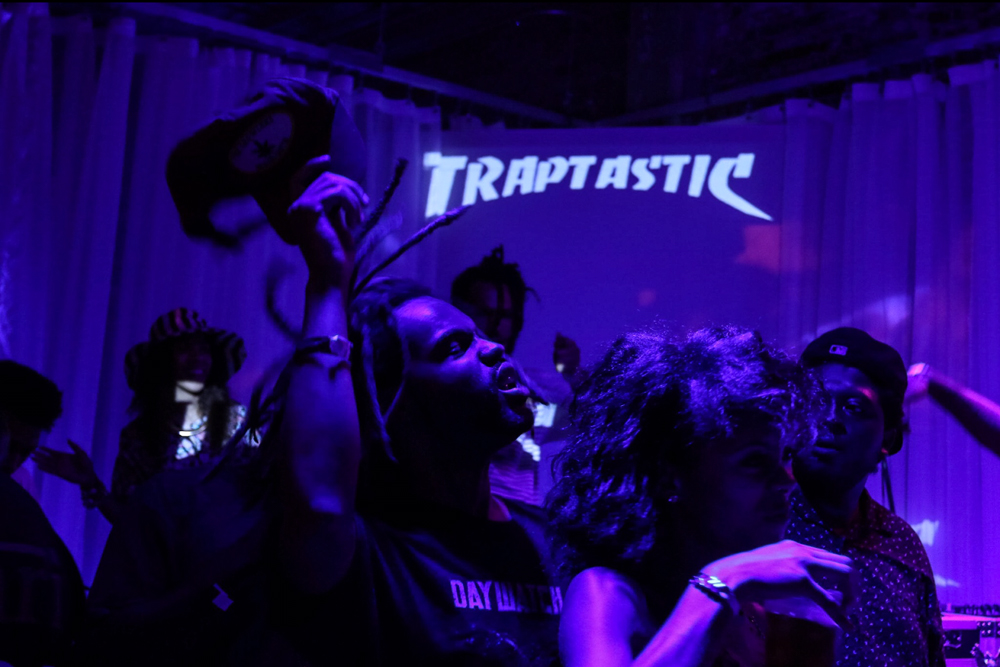 Kenneth "DJ Punisha" Anderson, a veteran in the Virginia party scene, was one of the first people Rodney confided in about the Traptastic idea: "People weren't partying anymore. I was playing a lot of stuff in the club that I didn't wanna play. The clubs here are all about bottle service and not having a good time." The Traptastic team applied ideas that they saw from visiting cities such as Miami, Los Angeles, New York, and Atlanta to craft their playlists and party ideas, while still keeping it in line with the Virginia experience. On any given night, they will mix in music performed or produced by the city's hometown legends like The Neptunes (you're guaranteed to hear Omarion's "Touch" if you attend Traptastic), and since Rodney identifies as straight edge, he has a bar section and a place where people can drink juice and eat candy.
In order to create a different, memorable experience, the team had to rewrite the gameplan, and come up with venues that no one had ever been to before—which turned out to be a bigger struggle than they had expected. "[Venues] were nervous initially because we had the name 'trap' in our parties, and we had to convince them that we weren't selling drugs or doing anything crazy," Rodney explains. The initial hesitation turned into huge dividends for the team, as the initial parties were a hit off the strength of his past reputation as a promoter. They were expertly sold as a mysterious alternative to the normal party slog (intuitively releasing flyers with nothing but the Negro Libre logo), and using the value of Rodney's cosign as a key, the younger crowd flocked to Traptastic. And compared to the other parties in the area, Traptastic sells their audience on partying in new, unorthodox venues. Places like Work|Release, a popular art gallery in Downtown Norfolk, or a longstanding Virginia Beach staple called Shaka's have been their most exotic locations.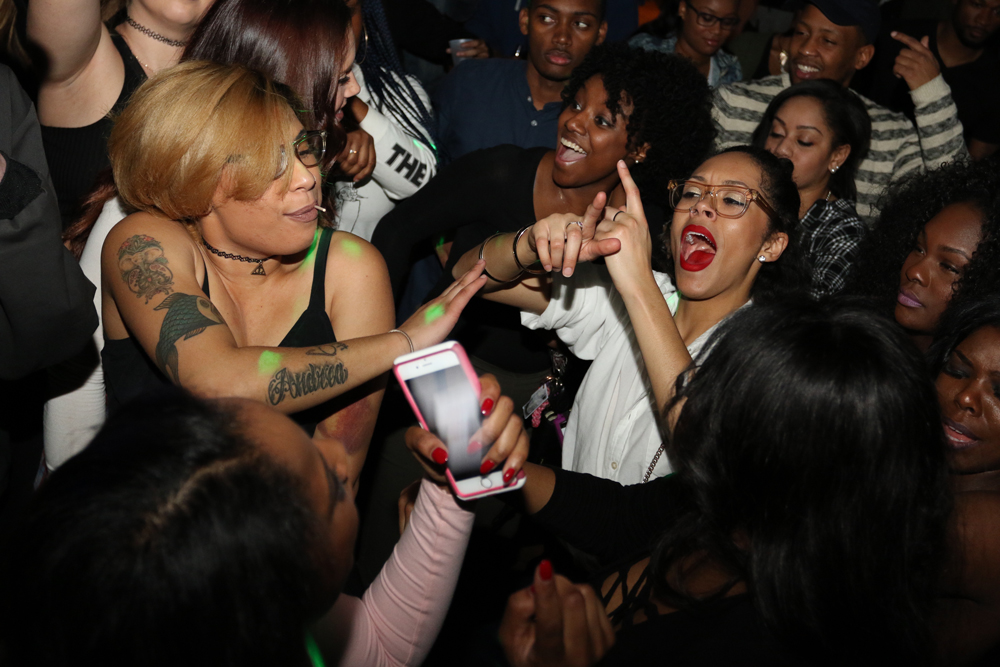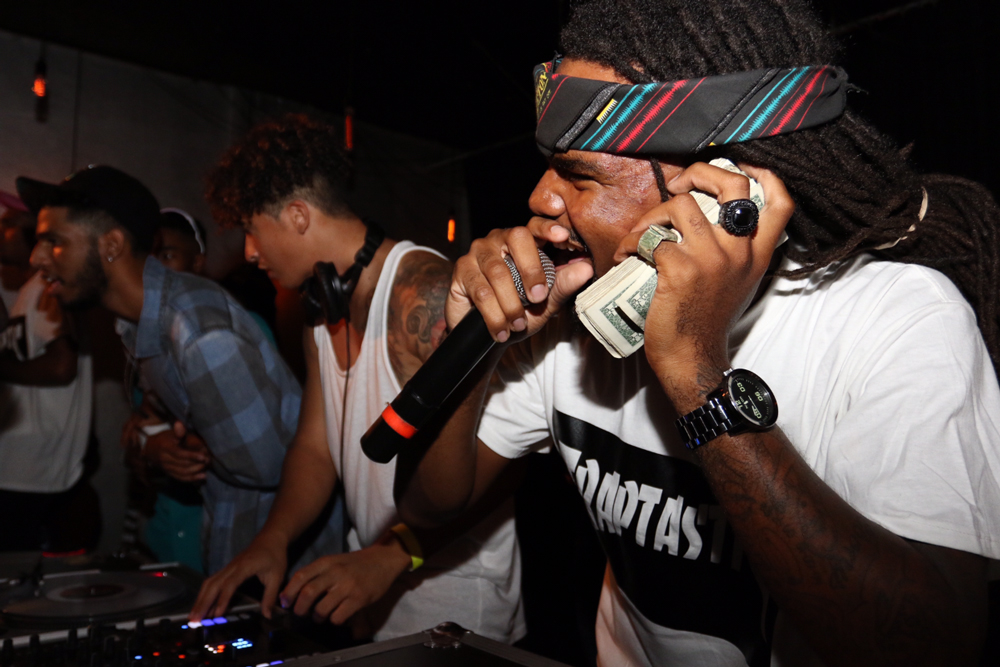 These places are small, only holding about 250-500 people on average, but they are exclusive—which is a trait that sells better than any other. Most parties have promoter teams that join together to break even, but Traptastic is selling out these venues on their name only—bringing back more money in their pockets, and making them a force to be reckoned with. "We wanted to give people a level playing field, where they don't have to feel like they have to get bottle service to have fun," Rodney says. "Now, we don't even have to rent buildings anymore because they know we'll pack it out." And they pack out fast. Lines wrap around the block for any given event, and people fiend to attend the rambunctious and wild parties. The people give Traptastic its energy, and Traptastic gives them an outlet to lose their inhibitions." "You'll just see people having a good time," says Sean "Slutty" Roscoe, one of the group's founding members. "There's people moshing and stage diving, but the vibe is always positive."
The biggest way that Traptastic gives back to the people that helped create it, is establishing new stars. The local scene has a large presence at these events, with time set aside to allow upcoming acts as well as established local acts such as Young Crazy and genre-bending Bobby Blaze to have an outlet. While this may seem like a jarring interruption for the partygoers, the performers are completely on-brand—a mix of the trapped out Southern sound, with the sensibilities of the Soundcloud era of rap that is popular now. Thanks to the beauty of the Internet, this demographic probably already knows these guys before they even step foot on stage. DJ Davey Wreck, one of Traptastic's main tastemakers and DJs, stresses that it's the feeling, not the popularity that determines who they choose to perform: "When we make our sets and choose who performs, we go off of how the people are reacting. A lot of times, we just hand [the performer] the mic and tell them to perform."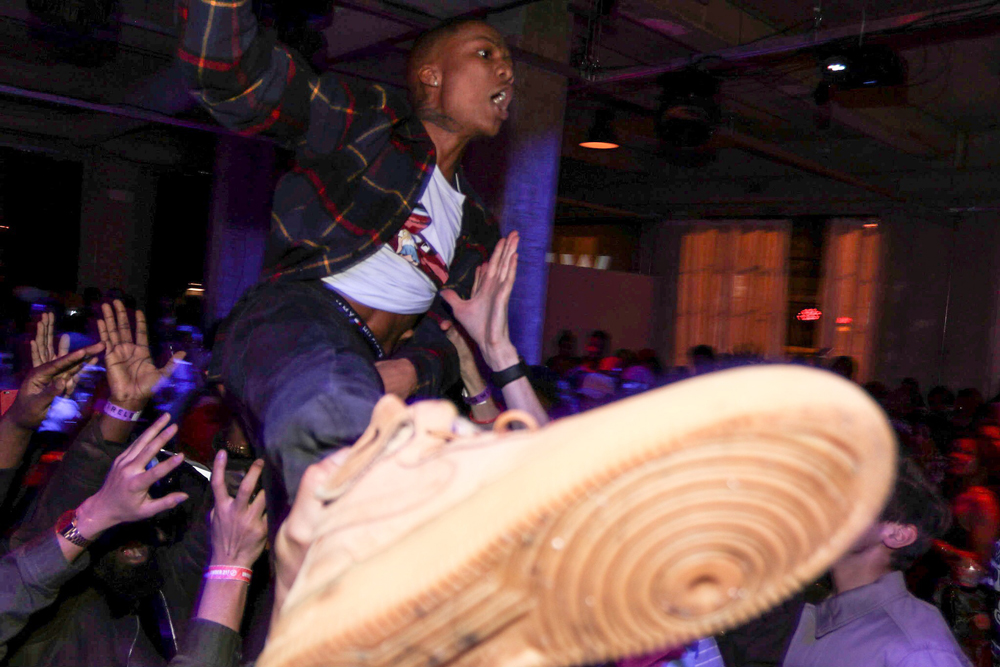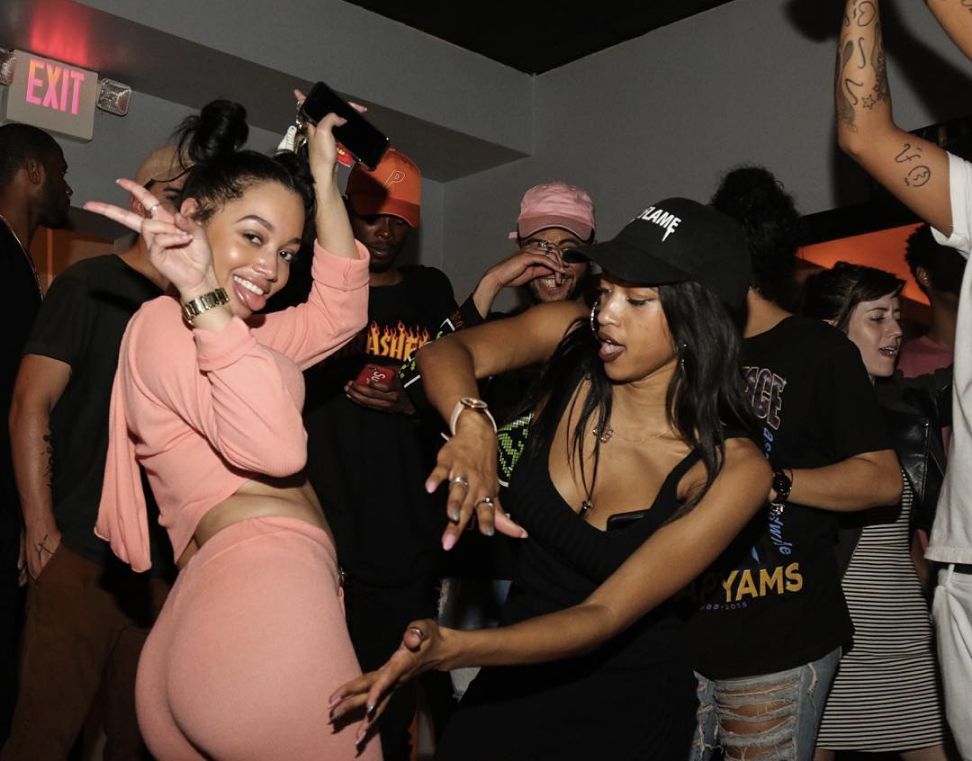 None have broken out further than New York-born newcomer Levi Carter, who went from stage diving on the legions of Traptastic followers to being featured on XXL and Noisey. His buzzing single "Finesse," a dreamy ode to (what else) taking advantage of the plug, rang off late last year, and the reaction it received at Traptastic (after being the recipient of the random mic hand-off) is partially to blame for his recent success. "I didn't even say I wanted to perform. People would speak up for me but I never asked [myself]," Levi said. The 22-year-old credits the faith that Rodney had in him, and his whole team as the key to Traptastic's success: "The way he has everything set up is golden. It's like the gold rush effect. Like when people moved to California—and now everyone wants to come and be a part of Traptastic." Rodney maintains that there's not competition between the artists that share the stage at the events, but throwing them to the wolves is naturally making them better performers: "[Traptastic] is bringing them together. They're making better music, and becoming better artists because of this, and that's dope."
And if their 2016 is any indication, people are coming, and they are dying to be a part of Traptastic. The event has already expanded north of Virginia, and they have plans to go to Washington D.C. and North Carolina within the next few months. "I want to eventually get a sprinter bus, and a few DJs, a bunch of candy and shit, and just tour the world," Rodney said. Their happy-go-lucky approach to parties isn't just an attitude—it's given the Tidewater area a personality for the first time in a very long time. Time will tell how far the Trap team will go, but they are prepared to bring what they call the "litness" to a city near you.
***
Follow Traptastic on Instagram @thetraptastic.