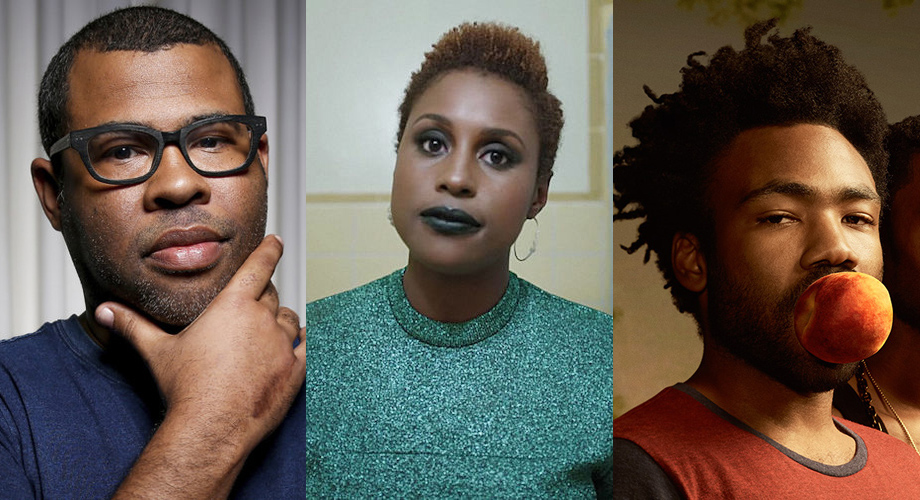 Jordan Peele, Issa Rae, Donald Glover
If you're an African American creative, I know you feel it. The energy, the wave, the opportunity. Black filmmakers, now is your time. It's time to tell the story of the ghetto without the gangster, it's time to tell the story of love without the mad black woman, it's time to take ownership of our experiences and share our narratives the right way. The themes Black Cinema in the past were violence and tales of inner city despair. In this new era, these films and shows are using humor and the stories of the middle class to touch on topics that are often forgotten in the black community. With the mainstream success of TV shows and films like Insecure, Atlanta, and Moonlight, a renaissance is definitely happening in Black Hollywood.
In the '90s, according to Hollywood cinema, the black experience was one big turf war with sex, drugs, and Hip-Hop sprinkled throughout. Movies such as Menace 2 Society, Boyz In The Hood, and Set It Off were successes and cult classics in their own right. But most of the movies from this era seem to focus on the same trite and cliché topics. How many times must we see the story of the child raised in a single parent home where his mom is a crackhead, which pushes him towards a life of crime where he eventually has a moral breakthrough. Although this is a real plot, that should be shared and highlighted, it is not the only story worthy of center stage.
Issa Rae proves this point with her HBO series, Insecure. Partially based on her web series, "Awkward Black Girl," Insecure is not the diary of a mad black woman. Instead, it's the story of an awkward woman becoming an adult while trying to find love in Inglewood, California. This story could be told in any city with any race from any social class. What makes Insecure so compelling is she happens to be a black woman. The show does a great job of showing that the black experience is not so different from any other culture; it only gets awkward when stereotypes are perpetuated.
In the past, African American films played on the age-old stereotypes of being black in America. Our new age storytellers such as Donald Glover and Jordan Peele are flipping these stereotypes on their head and giving the audience a new perspective on race relations. Scenes such as Episode 4 of Atlanta, when Darius stereotypes Chinese people as being short because according to "The Racism Book," Genghis Khan killed all enemies who were taller than him, gives a new lens to stereotypes and how it feels when black people are on the other side of the discussion. Likewise in Jordan Peele's Get Out, one of the most transcendent qualities is that he chose to fight every Horror movie stereotype by having the black guy survive to the end of the film. As the minority becomes the majority in America, filmmakers should continue to put stereotypes through the spin cycle to better reflect society's changing views and perspectives.
The tide is turning. With Get Out, Jordan Peele became the first black writer/director to have a film gross $100 million dollars with his first movie. FX's Atlanta, earned Donald Glover the highest rated debut of any comedy on a cable network. Tracee Ellis Ross just won a Best Actress Golden Globe for her role on ABC's black-ish. Hell, Issa Rae just announced that Insecure was renewed for a second season by HBO. It's happening!
So in closing, my message to young black filmmakers is finish up your pilots, collaborate with fellow creatives on online content, and above all else, tell your story! Take control of the narrative and give the world a new portrayal of the American Black experience. Because word to DJ Khaled, they can't and they won't do it for you.
***