On Sunday, March 31, 2019, Nipsey Hussle was tragically killed. A close friend of The Hundreds for nearly a decade, Neighborhood Nip was senselessly murdered in front of the business and community he had worked so tirelessly to build up. The monumental loss will be felt for generations to come, as the impact Nipsey had on Los Angeles and the culture as a whole was impossible to quantify. The Hundreds family sends our love and deepest condolences to Nipsey's family and friends and promises to continue telling the incredible story of this true icon and king, a role model we can all look to for guidance now and forever. THE MARATHON CONTINUES.
---
The Hundreds is proud to announce our collaboration with Nipsey Hussle's brand The Marathon Clothing. The Hundreds X The Marathon Clothing will be available today, February 16, exclusively at The Hundreds Los Angeles and thehundreds.com (Monday, February 19) in conjunction with the drop of Nipsey's long-awaited album Victory Lap. On the day of the release, Nipsey will be conducting a meet & greet at The Hundreds Los Angeles from 3-5pm.
In 2010, The Hundreds' co-founder Bobby Hundreds interviewed rapper/entrepreneur Nipsey Hussle at his shop Slauson Ave. in South Central LA. 8 years later, the expanded shop space on the corner of Slauson and Crenshaw is now the flagship for Nipsey's thriving brand The Marathon Clothing. In same mini mall parking lot where he used to sell mixtapes out of his trunk, Nipsey Hussle "started from the curb" and built his way up to the top, investing in his community by opening multiple stores on the block, providing jobs for the locals, and putting his hometown of Crenshaw on the map. With the upcoming release of his much-anticipated album Victory Lap, Nip continues to share his philosophy of endurance and longevity in both business and the rap game; his career has truly been a marathon.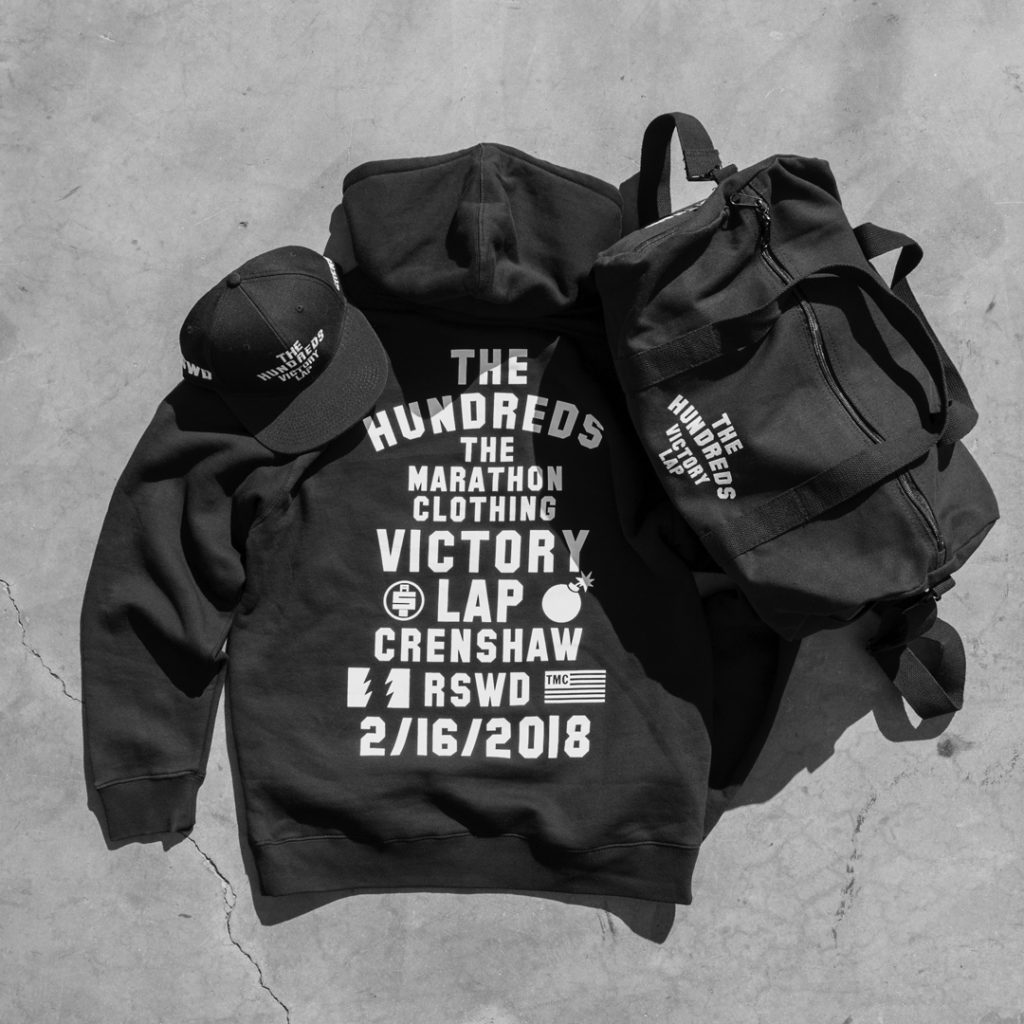 A celebration of Los Angeles and our shared beliefs on community-building, The Hundreds X The Marathon Clothing represents the place each brand calls home: Crenshaw for Nipsey Hussle/TMC, and RSWD for The Hundreds. The collection was designed by Bobby Hundreds, based on a story Nipsey shared with him 8 years ago; the very first TMC products were iron-ons done by Nip, his dad, and his brother, so Bobby wanted the collection to feel DIY, harkening back to their beginnings. The Hundreds X The Marathon includes a hoodie, T-shirt, snapback cap, canvas cotton gym bag, and lighter. Each piece features the words "CRENSHAW" and "RSWD," with the hoodie and T-shirt additionally featuring the All Money In logo, The Hundreds "Solid Bomb" logo, and the words "VICTORY LAP" alongside the album and collaboration's drop date.