We are proud to present The Hundreds X Rawkus Records, available now at The Hundreds Los Angeles, select global retailers, and our Online Shops (US and UK). A portion of the proceeds from this collaboration will be donated to The Unusual Suspects Theatre Company, whose aim is to mentor, educate, and enrich underserved youth in Los Angeles through the power of theatre. 
At the turn of the millennium, the Golden Age of Hip-Hop lost some of its shine to Bad Boy and Def Jam during the "jiggy rap" era; rap music on the radio then was truly "pop," much like the rap dominating the charts today. But one independent label was birthed as a response to the movement, and it soon became the impetus and incubator for New York City's best underground emcees: Rawkus Records. Founded in 1995, Rawkus was the brainchild of Brown University alumni Brian Brater and Jarret Myer. The groundbreaking imprint that journalist Phillip Mlynar later called "rap's last great record label" soon housed the likes of hip-hop's most respected lyricical legends, like Big L, Mos Def and Talib Kweli (together as Black Star), Company Flow, Common, Pharoahe Monch, and a young Eminem. Rawkus championed independence and substance, proving that hip-hop with a conscience could indeed be commercially successful (Mos Def's classic Black on Both Sides went platinum); by doing so, they ushered in a new underground sound that stood in stark contrast to the Hype Williams-tinged glamour of the era.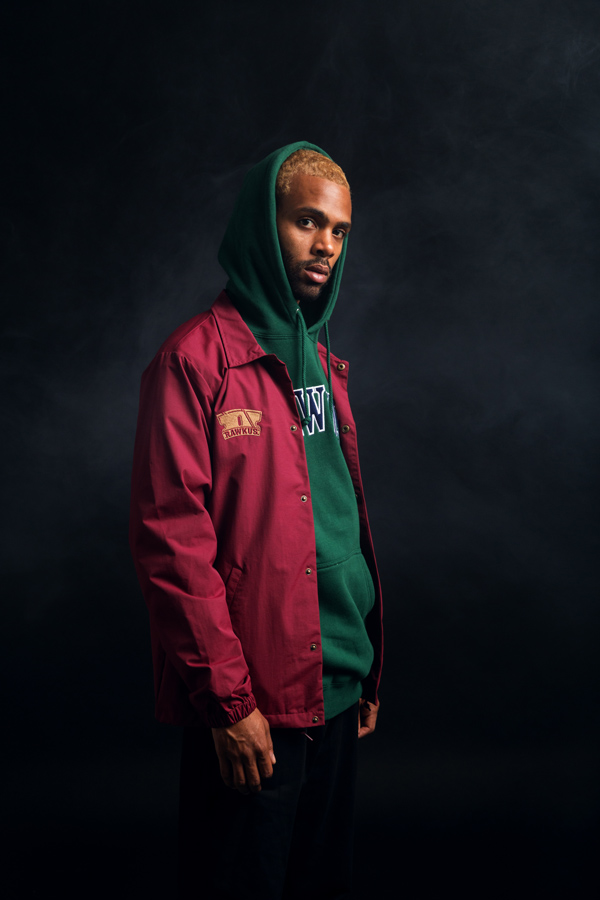 In memory of the label's "independent as fuck" (Company Flow) glory days and the golden era of one of our favorite moments in hip-hop and resistance, The Hundreds is proud to bring you The Hundreds X Rawkus Records. The collaboration includes graphic T-shirts and pullovers, a coach's jacket, and a snapback and beanie, all featuring Rawkus's iconic razor logo and graphics from official Rawkus Records merch that haven't been revived in almost 2 decades. 
Select Retailers
Company
Location
Webstore
SHOE GALLERY
Miami, FL
www.shoegallerymiami.com
MODA 3
Milwaukee, WI
www.moda3.com
POLITICS – LAFAYETTE
Lafayette, LA
www.sneakerpolitics.com
RUKUS
Baton Rouge, LA
www.rukus103.com
BLADES (NYC)
New York City
www.blades.com
SNEAKER JUNKIES-BOSTON
Boston, MA
www.sneakerjunkiesUSA.com
SNEAKER JUNKIES-PROVIDENCE
Providence, RI
www.sneakerjunkiesUSA.com
BURN RUBBER DETROIT
Detroit, MI
www.burnrubbersneakers.com
BURN RUBBER TAMPA
Tampa, FL
www.burnrubbertampa.com
ONENESS BOUTIQUE
Lexington, KY
www.oneness287.com
Attic 2 Zoo
Buena Park, CA
www.attic2zoo.com
Bespoke Cut N Sew
Rancho Cucamonga, CA
www.shopbspk.com
Crown Boardshop
Corona, CA
www.shopcrownapparel.com
Eden Wear
Phoenix, AZ
Passport
San Luis Obispo, CA
www.shoppassport.com
Pharmacy Boardshop
Victorville, CA
www.pharmacyboardshop.com
8 One Sneaker House
Houston, TX
www.eightone.shop
European Stockists
Caliroots
Sweden
www.caliroots.com
The Hundreds UK