Since I moved back to L.A. a few months ago, I've been throughly impressed by the electronic music passing through. In Portland, I constantly complained about having nowhere to show off my moves and get down and dirty to some house music. I was convinced that if I wanted to dance in public, I'd have to take my mother's advice and start swing dancing. Thank god parts of Los Angeles like to work it just as much as I do (plus, I don't think swing dancing was a good look for me). Last Friday, one of my favorite creepy house acts, Huerco S., was playing at Jewel's Catch One. Huerco S. aka Brian Leeds is a young Midwestern producer known for his noisy, layered take on dance music.
Now, usually I'm the nerd that gets there right as doors open and dances till last call, not wanting to miss a single moment. Ironically, the time I get asked to write about a show, I was dragged around town for a little while and didn't make it to Jewel's till after midnight. Luckily, I was just forced to see some other pretty cool music at another cool space first.
Before I made it out to the westside (or as far west as I go), a friend asked me meet her at Sunday Gallery in Silverlake to see High Functioning Flesh, Doses, and Mynx. A Greek restaurant apparently set up the show. It was nearly impossible to make my way through the smoking gauntlet with my giant DSLR, but once I got inside, I was surprised by the multilevel space, complete with great lighting and a real stage. I stayed around just long enough to catch what appeared to be a rad Nine Inch Nails cover band. I'm still not entirely certain what their name was, no one at the space seemed to know what was going on, but I'm fairly certain it was High Functioning Flesh.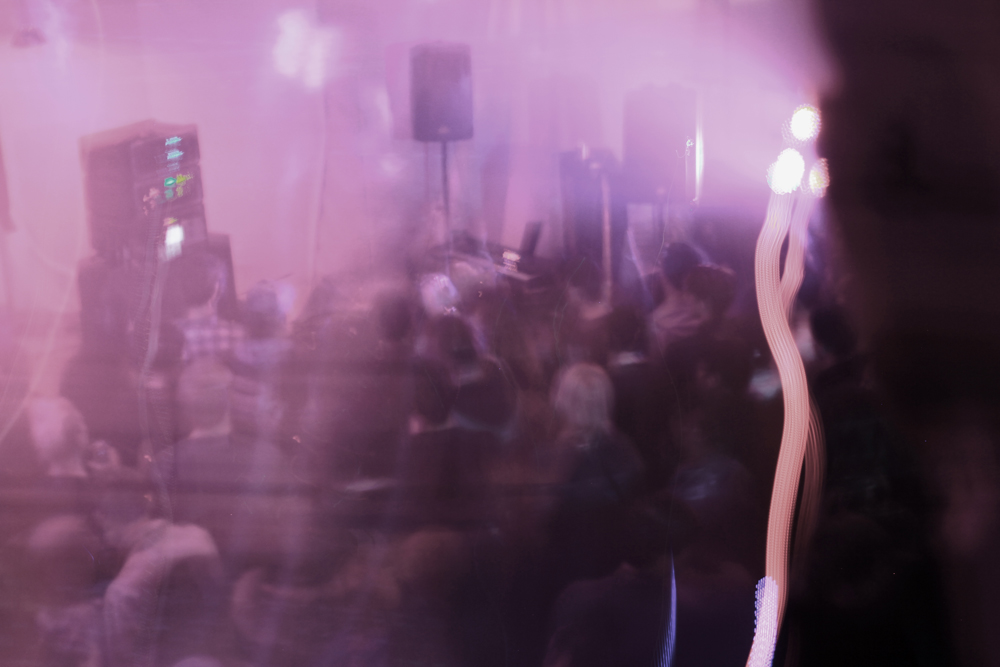 Their style of post-punk, gothy dance music was the perfect way to start my journey towards the dark beats of Huerco S. I've always had an affinity for dancing like I was in a Vampire bar on the X-Files, and I gotta say this music was ideal for that. After accidentally hitting a number of people with my camera while I was trying to dance, I decided to follow the crowd and stood still. Unfortunately, the age-old saying is true: The hipness of a space always seems to have a direct correlation to the number of people moving their bodies. No one was moving.
Jewel's Catch One is an exception to that rule. When I arrived late at Jewel's, Sage Caswell, a local DJ, was playing to the largest crowd I've seen at the space. Apparently a rave had just been broken up by the cops and everyone had been directed to Jewel's. I was surrounded by people who weren't there to see weird deconstructed house, but goddamn they were there to dance.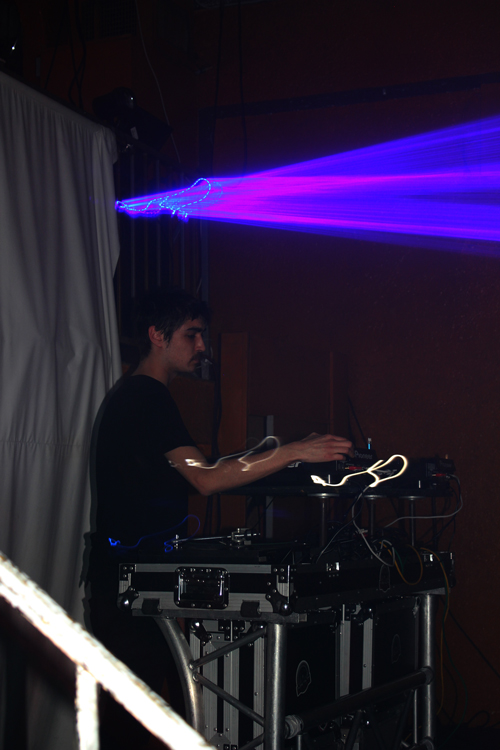 It made me wonder what this show might have been like at Jewel's just a few months ago when it was known as a historic black gay/lesbian dance club. It's now overrun with kids trying to find the next cool spot, but it's managed to keep its legendary exuberance. After seeing sludge metal and skate punk at Jewel's since the change of ownership, it was a relief to see dance music at the space. Where other shows I'd seen felt slightly incongruous in the neon-lit rooms, The Church Off York's dance night made Jewel's one of my favorite spaces in L.A.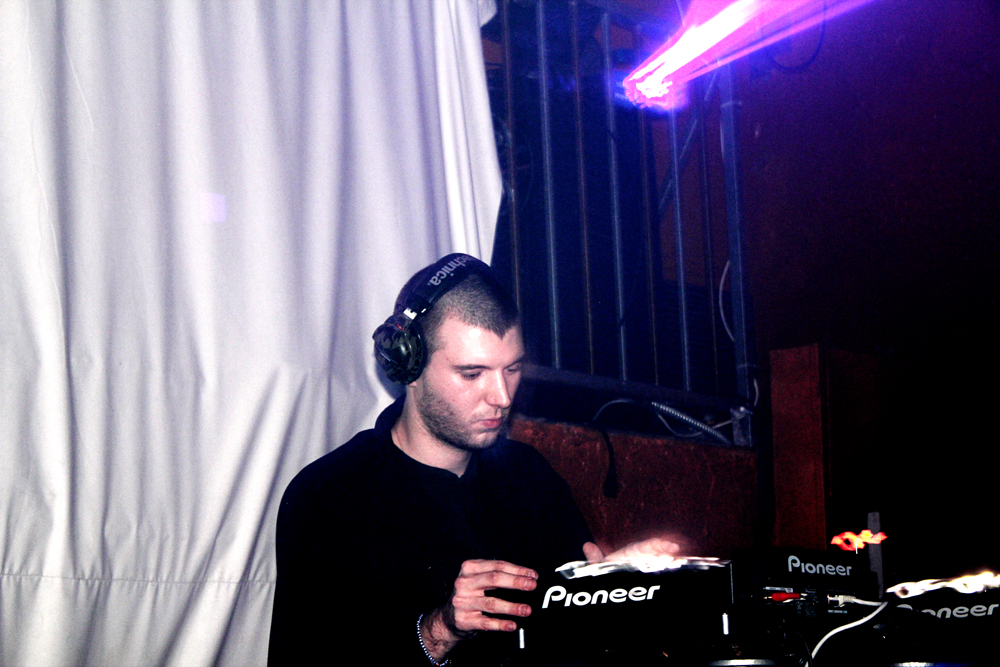 It was a diverse crowd, a mix of hip, techno nerds, people from Jewel's past and your average night club attendees. Perhaps this was why I had so much fun. Those who wandered in or were ushered in from the rave didn't seem to mind the sort of uncanny dance music that was blaring. Huerco S. in interviews has admitted that he's not interested in making dance floor hits and doesn't think about clubs at all when making his tracks. Yet his set managed to mix nostalgic house bangers with the slightly alien, noisy, "artifacts" that he's known for. His destabilizing brand of techno brought out some of the most exuberant dancers I've seen. Even Leed's DIY punk roots showed themselves more than expected. A mosh pit, the first I've seen at a house music show, broke out in the front of the crowd. Leeds seemed quietly amused by the crowd's intensity as he finished his set with more mainstream-style dance tracks. It was quite a different than I would have expected from the man who brought us:
In between pounding whiskey at the bar and interpretative dancing in the pit, I managed to clumsily flash my massive camera in people's faces and get a few shots. I'm not exactly used to being the person who whips out their equipment on the dance floor. Maybe the quality is shit – at one point I gave up and switched to an iPhone. I could come up with unlimited excuses, but believe me it's nearly impossible to dance like you mean it and take good photos at the same time.