Upon entering Cam Kirk's cozy Atlanta loft, your attention is drawn to a fairly grandiose framed photo of Gucci Mane lying against the wall. On a counter in the living room rests a huge stack of 5 x 7 prints that might take over an hour to flip through fully, with a snapshot of Rae Sremmurd sitting at the very top. To even get a glass of water from the refrigerator, you'd have to stare down a portrait of Lil Boosie posed on the door. His photography is all around, but you won't come across any landscapes, framed pictures of graduates, or even a street portrait of an eccentric stranger on the corner of Edgewood; Cam's subjects happen to be strictly rappers. Not the ones passing out mixtapes at McDonald's or sending unsolicited links on Twitter—his lens is pointed at the famous or soon-to-be. Cam will be the first to tell you he isn't a traditional photographer: "When I look at my life, it's amazing that I can even do this. I'm a rap photographer. I don't shoot weddings, I don't shoot proms, I don't have a gig shooting clubs. I shoot rappers as my full-time job."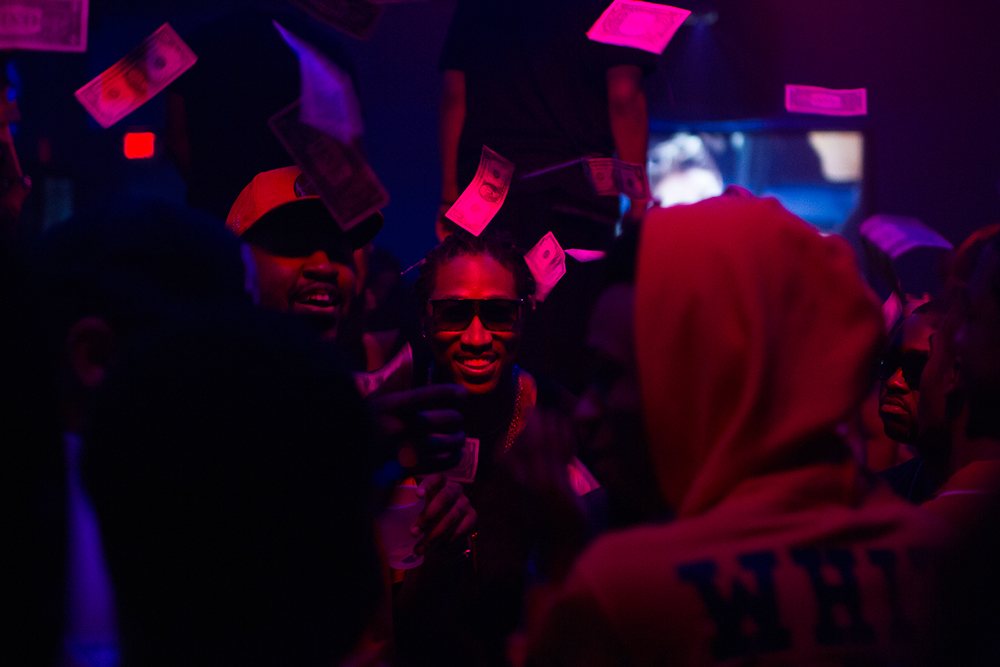 A portrait of Future by Cam Kirk.
Cam is unlike the big, bold, and colorful subjects he shoots. He's rather reserved, laid-back, and fairly shy; these qualities were an insecurity back in high-school, but he's since turned them into strengths. Cam Kirk is able to capture candid shots of rap stars because of his personality: the fly on the wall, the invisible man, the photographer who doesn't disrupt the vibe, but always gets the shot. "I'm not the forceful photographer, I'm not the one to make my moment happen. I let things naturally happen," explains Cam. "Natural movement. If Gucci [Mane] did something with his hands, it's a natural movement. If Future wants to lights off in the studio, then fuck it, I'll make it work. I'm not going to have a flash, I'm going to figure it out."
One rapper he has fond memories of is the late Bankroll Fresh. On the day of his passing, under three different photos that he took of Trentavious White, Cam Kirk wrote this caption on his Instagram: "Long live Bankroll Fresh the world lost more than a rapper." Rapper—that's what the media continued to call him when reporting the fatal shooting that took his life on March 5th. They weren't wrong. Bankroll Fresh was a rapper—Atlanta's very own Hot Boy—but he was also much more. If you ask Cam Kirk, he'll tell you about a young CEO who started his own label; a boss people could rely on; a father who was working toward a better life for his family; a friend who never treated him like some interchangeable "cameraman," but instead built a relationship that was deeper than rap. All these sides of him weren't being represented through the news, lost in the story of a homicide at a studio.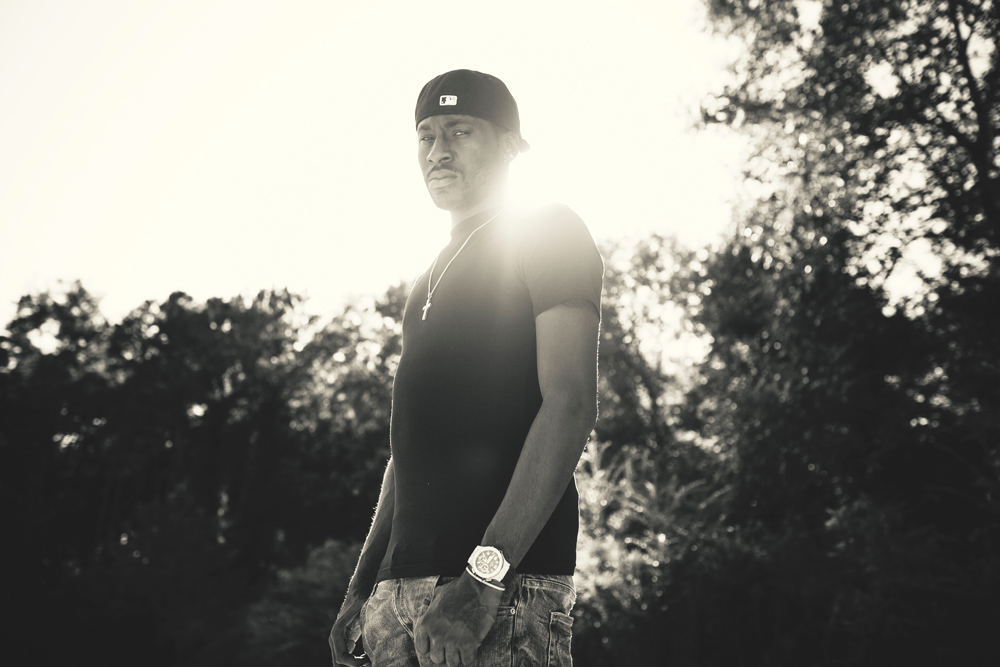 A portrait of the late Bankroll Fresh, taken by Cam Kirk.
Not only did he lose a friend, at the time, Cam Kirk wasn't in Atlanta to mourn and celebrate his life. "The passing of Bankroll happened when I was on tour. Metro was out of town, we weren't here, we weren't home. We didn't get a chance to all come together and pay our respects to a friend. I wanted to come back to the city and do something special for him." So Cam reached out to a few friends to help bring a dream into fruition. Metro Boomin, Sonny Digital, and Southside of 808 Mafia—all prominent young Atlantan producers—chipped in to fund Cam's idea of putting Bankroll on a billboard. The location: the extremely busy intersection of 10th Street and Northside Drive in Atlanta's Midtown area, within walking distance of Georgia Tech. More importantly, the surrounding area is home to plenty of recording studios. What better place for an Atlantan rap artist than where Atlantan music is made? Up and down Midtown, going into the city or coming out, all those that pass 10th and Northside were to see Bankroll in the skyline—larger than they've ever seen him before. In many ways, it became a metaphor for how his passing has made him an even bigger giant, immortalized for what he did and what he had potential to do.
Cam Kirk is able to capture candid shots of rap stars because of his personality… the photographer who doesn't disrupt the vibe, but always gets the shot.
The untimely death of a friend revived a concept that Cam had but wasn't sure how to make into a reality: an idea for a gallery that would literally be bigger than anything he had done before. "I had the billboard exhibit idea for a minute—since I did Trap God. Thinking about what could I do next, [I thought], 'What if I put all these rappers on billboards?' I didn't know how, it seemed far-fetched at the time, but I knew who," Cam recalls. "Bankroll was one of them; when he was alive, I wanted to put him on a billboard."
The idea evolved into the Day 4 Billboard Photography Exhibit. On the 4th day in the book of Genesis, according to the Bible, God created all the stars and heavenly bodies. Cam's intention with his exhibit is to put stars in the Atlanta skies, hence the biblical title. Conceptually, Day 4 recalls a project illustrious photojournalist Chi Modu did with his Uncategorized series. An exhibition in which he placed iconic '90s-era photos of Biggie Smalls, Snoop Dogg, Method Man, and Tupac on exterior walls lining buildings in New York.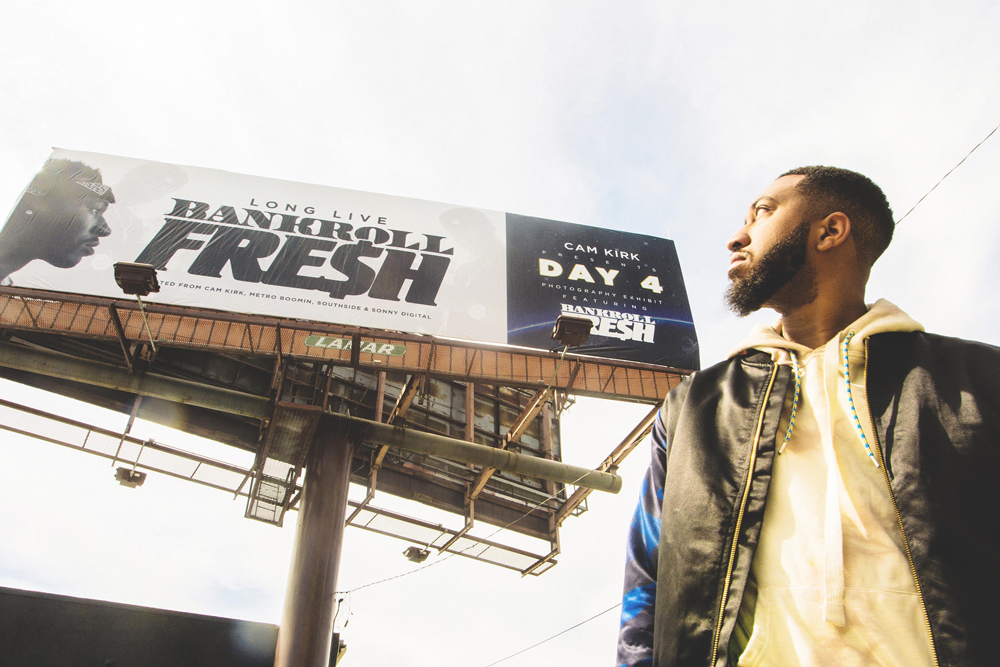 Cam Kirk in front of his first Day 4 billboard, featuring a profile of Bankroll Fresh.
Chi considered his series a step out of the galleries, and a step forward into creating a kind of street art that can be considered "legal graffiti"—both qualities that Day 4 embodies. Not only does Day 4 bring art to people who might not normally visit a gallery or museum, it's amazing that Atlantans can drive by a place that went from advertising some movie we might never see or a councilman not worth voting for. Now, there's actual art to take in. It also sheds light back to the art of photography in hip-hop. Unfortunately, paying for a billboard isn't cheap, which is why Cam's Kickstarter was in place. $6000 will allow him to put up 4 more billboards.
When I asked who else will be featured, Cam kept it a secret: a surprise to look forward to. What he did tell me: "A lot of what comes next depends on the Kickstarter. I have no intent of making money or pocketing mad bread off this situation… This is for the people, by the people. Whatever I raise will tell me the demand and determine how big it could be. This could be small, it could scale down. I paid for the first billboard along with Metro Boomin, Sonny Digital, and Southside, but even if I don't get enough money, I'm running this idea regardless. I don't care how it happens, if it doesn't get funded, this is an idea I feel so strongly about that it's going to get done." As of yesterday, Cam Kirk reached his $6000 goal.
It shouldn't come as a surprise to anyone that's familiar with Cam that his vision doesn't fall into the traditional.
It shouldn't come as a surprise to anyone that's familiar with Cam that his vision doesn't fall into the traditional. His way of thinking isn't conventional, which is why you never quite know what to expect from him. Last year's Trap God exhibit is a great example of how his mind works. He took an abandoned church and turned it into a gallery space—no, he turned it into a sanctuary that payed homage to Gucci Mane. Not only did he create an art-viewing space that correlated with the very essence of his subject, he delivered an unforgettable experience for those that came in attendance. What I found surprising was that the original idea wasn't to create a "trap house" atmosphere, but have it at an actual trap house. An idea that came to him while discussing his plans for the exhibit: instead of bringing the trap to a gallery, he wanted to bring the gallery into the trap. "A week before announcing the exhibit, the trap house we decided on in East Atlanta got raided. The police destroyed the whole crib," says Cam. "Soon as that happened, I didn't know how I would make it work." Luckily, he stumbled upon an abandoned church and made the interactive photo exhibition work. He turned a church into the kind of trap house Frank Lucas would applaud—a perfect home to showcase unseen portraits of Atlanta's most renowned trap deity.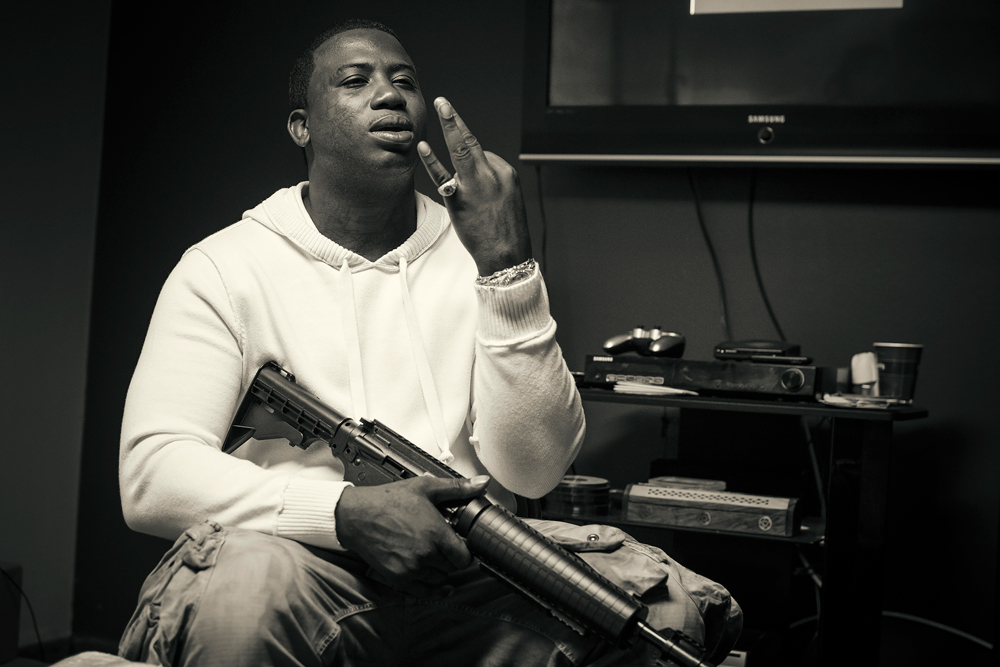 Gucci Mane, by Cam Kirk.
All of this didn't happen overnight. It took many, many years for Cam to reach the point in his career for gallery exhibitions, world tours, and becoming a renowned name in the music industry. His story really begins with the decision to come to Atlanta from Maryland to escape the boring cycle of a predestined life: getting a government job, shopping at the local Saint Charles Mall, and finding the love of your life at Love Nightclub. Coming to Atlanta was a decision to change who he was and who he feared of becoming: no family, no friends, just an acceptance letter to Atlanta's prestigious Morehouse College. During his summer visit to the college, there was something about the city that filled him with a sense of home (the girls from Spelman tend to have this effect on visitors). Cam chose Morehouse over the University of Maryland, but there was a catch. "The only way I could convince my parents to attend Morehouse is to tell them I wanted to be a doctor. Morehouse graduates the most blacks in medical school," Cam explains. "The plan wasn't to deceive them, but I [ended] up changing my major to Marketing after first semester. That was a big deal. They wanted me to come back… but I was determined to stay in Atlanta, so we worked out an ultimatum where I would take out student loans to help pay for the out-of-state fees."
So how does a shy, out-of-towner break into Atlanta's tight-knit music community?
So how does a shy, out-of-towner break into Atlanta's tight-knit music community? The answer is fairly simple. During his junior year of college, Cam booked Wiz Khalifa to perform in Atlanta during the 2010 Deal Or No Deal Tour. Originally, he contacted Wiz's manager for a possible meet-and-greet for the fashion organization Cam started at Morehouse, and it just so happened that Wiz was on a big country-wide tour with no dates in Atlanta. He was given an offer he couldn't refuse: "49 cities [booked], but we didn't have an Atlanta show booked. Wiz was my favorite rapper, I was into Wiz, and now I have the opportunity to book him. 4500 hundred to book Wiz, so I said fuck it, I'll just throw a concert. I took out a student loan to pay for Wiz, marketing, and my roommate put in half." The show was a sold out success and on the flyer was the first time Cameron Kirkland used the name "Cam Kirk," a name a college friend always called him. He says, "It kind of just stuck with me." It was a night to remember—his favorite rapper, a sold out show. It was only natural to immortalize the night with a photo—except Cam didn't have a camera. That moment inspired him to purchase his first.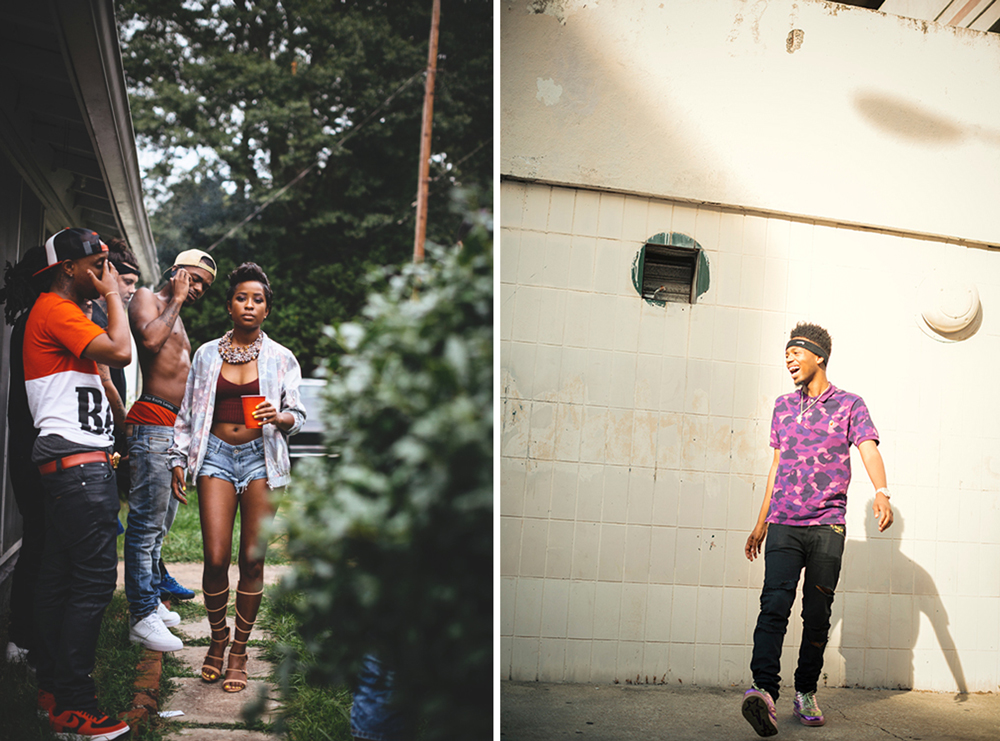 L: Dej Loaf, R: Metro Boomin. Photos by Cam Kirk.
The Wiz show and buying a camera were the two dominoes that fell and set off a life-changing chain reaction. He was recognized on campus as someone who was doing things, making moves. That kind of attention attracts others like moths to light bulbs. Outside circles started to embrace him. His next big opportunity was to shoot a day-in-the-life of ScHoolboy Q for his first headlining show in Atlanta. Even though he never shot anything like it before, Cam tackled the job. The next day, he was asked about following Estelle while she was in the city. On the last day with Estelle, he met Young Jeezy in the studio. Liking the vibe of Cam and the camera crew, Jeezy invited them to film him for All-Star Weekend. He went from filming no celebrities to filming 3 within 3 days. He wasn't a professional, he wasn't an expert; he was literally learning as he went along, but with enough bravery to try. That's what kept doors swinging open for him. "I chalk a lot of it up to me being a little more free-spirited than a lot of people. It goes back to my personality. I'm not a very stressful person, I move with the wind, I adapt to my environment. You get presented opportunities to do things outside your element. I been able to adapt to situations and fit into situations."
He wasn't a professional, he wasn't an expert; he was literally learning as he went along, but with enough bravery to try.
Each job led to another job, each relationship led to another relationship, and shooting one rapper always led to another. Adapting, improving, and evolving—the grind made him better every step of the way. Cam turned his passion into a career behind the camera, capturing some of Atlanta's newest stars and some of hip-hop's brightest up-and-comers for a living. "I moved to Atlanta to change my life. Just to get away from the cycle. My father was in the military. My entire family works—no entrepreneurs, no one living off being creative. Atlanta made me… I say it, Maryland raised me, Atlanta made me. Every part of me, every aspect of me. I'm not the same person. My parents don't recognize me. I'm not the same. Atlanta 100% of me. I still have D.C. pride, but I'm almost from Atlanta. It's that much of a home to me."
The Day 4 project represents home for Cam. It glorifies Atlanta's rap scene and the artists that fuel its music. Rappers are up there with our athletes as symbols of the city. That combination of place and culture is what changed Cam's life. I hope he succeeds, to bring that aspect of art to a little familiar corner in the Midtown area. This isn't the end game, his mind is already working on what's next: how he can expand into teaching. He mentioned wanting to teach a photography class at Morehouse, and even Harvard. He wants to work towards shifting his brand from just rappers. He has huge plans for how he wants to move forward, and it's inspiring. Let's help Cam Kirk put more rappers in the sky. I think we should help, because the stars belong with stars.
***
Today, Cam Kirk announced an upcoming lecture series called "Classes with Cam," an open class equipping "aspiring creatives with a first-hand opportunity to gain a working knowledge from Cam Kirk and his network of influencers." Sign up for it on www.collective.gallery.

TheCamKirk.com. Follow him on Instagram at @thecamkirk. Read more about Cam's Day 4 exhibit on Kickstarter.