The day I met Hiroshi Uehara was easily one of the wildest times I had in a long time. It was my first day in Tokyo and I met up with Hiroshi at his bmx-inspired streetwear shop Decade in Harajuku. Because I was instantly impressed by the style and product in the shop, he then began to show me Fourthirty, his clothing brand. After commenting on how rad some of the pieces are and discussing our similar perspectives on design aesthetics, attention to detail, and style, Hiroshi decided he was going to give me whatever I wanted.
"You wear American today, you wear Japanese style tonight."
We aren't talking the typical t-shirts and hoodies; basically every Fourthirty piece is cut and sew, designed to be precisely what it is. The result is dress shirts, jackets, pants, that work dressed up or down or board shorts that you might never realize can be worn in water. After dressing me "Japanese style," Hiroshi and I then proceeded to have a crazy night all over Tokyo. So basically day 1 in Japan, I realized, damn this dude's cool, we're already homies, and I'm going to be spending a lot more time here.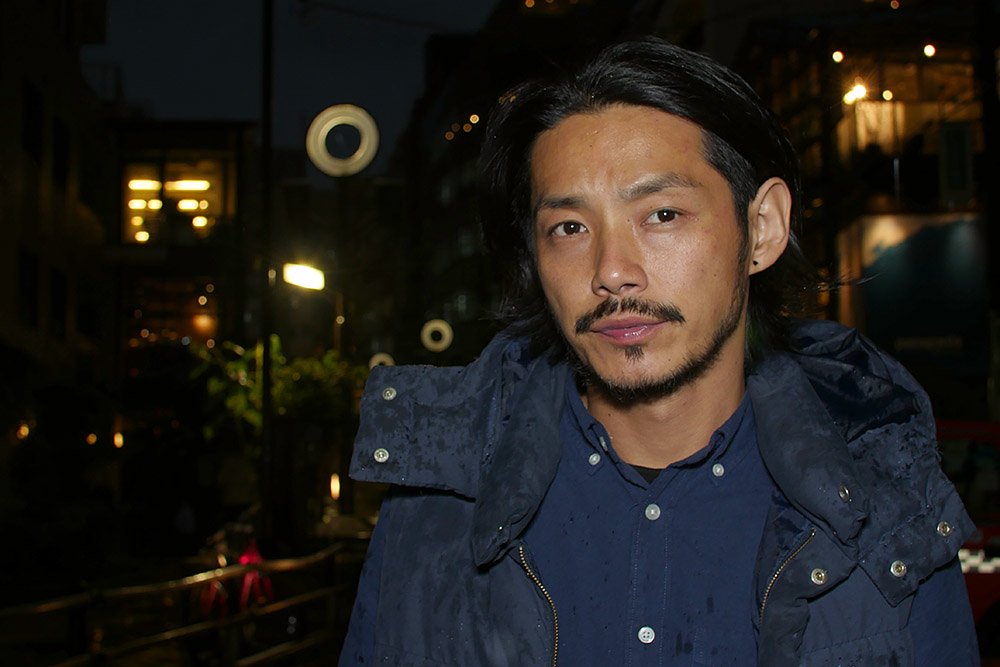 Decade stocks mostly Fourthirty brand but you can find everything you need to look good in Tokyo.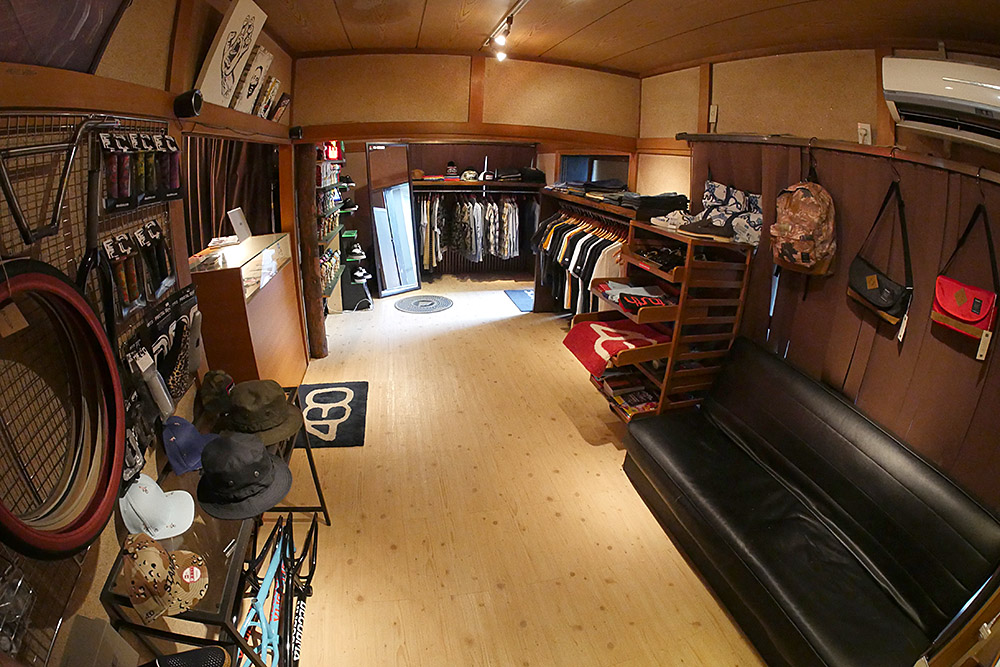 Since then, I've hung out with Hiroshi on multiple trips to Japan and in all sorts of situations and I'm continually impressed by everything he does. He's one of the reasons the bmx flatland scene is so big in Japan by creating videos, putting together events, opening shops, supporting riders, and even helping create magazines. He's used his four Decade locations across Japan and the 430 brand to not only help riders look more stylish but to present flatland to the world in a way that makes it look as cool as it really is.
When I come to Tokyo, I always end up meeting Hiroshi at Decade. Located off Cat Street in Harajuku, Decade is a perfect mix of modern aesthetics, Japanese style, fashion, and streetwear. In my mind, it makes me think this is like action sports grown up. Hiroshi needed a place to sell Fourthirty but he also wanted to help bring the flatland community together.
"I wanted to make a 'base' where everybody can hang out. There are now 3 [more] Decade shops in Tokyo, Okayama, and Fukuoka," says Hiroshi.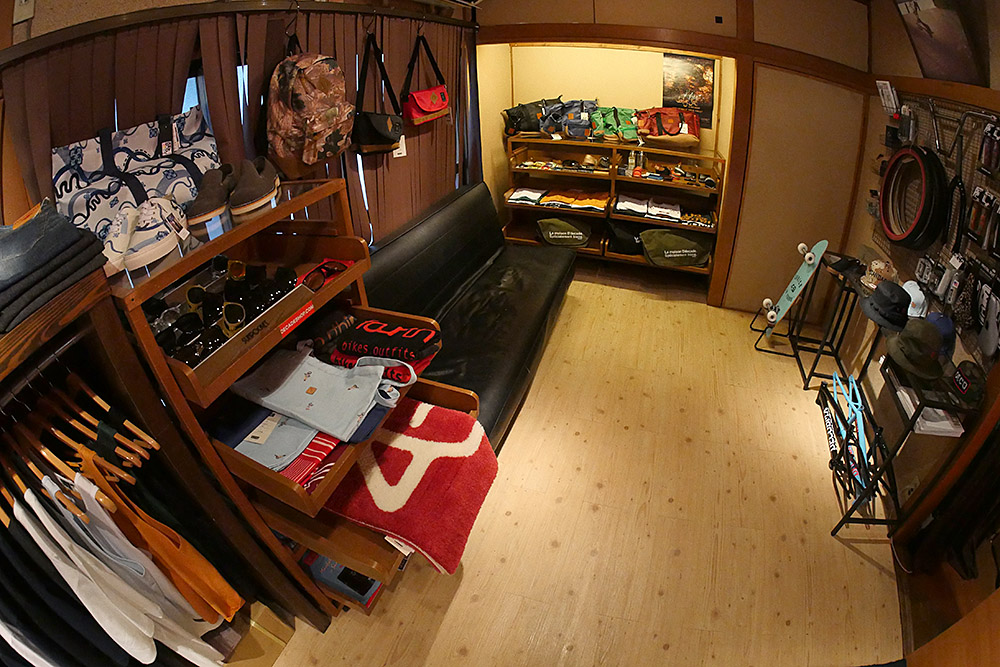 Harajuku is home to all aspects of fashion from the extremely high end, to mass market, and then truly unique places like Decade. Being in the middle of the scene was important to Hiroshi: "The shop I started working at for the first time here in Tokyo, was also located in Harajuku, Cat Street. So it was my goal to open a shop where I grew up."
With no real office, Hiroshi spends most of his time roaming around Harajuku and Shibuya but ends up all over Tokyo on a daily basis. He says, "There are bunch of good shops in Shibuya or Harajuku. Another great spot where you must go is Sangen-jyaya. There are varieties of small unique restaurant/bars around the area."
When in Harajuku, Hiroshi befriends many of the other local business owners and employees as he is continually in and out of shops and restaurants.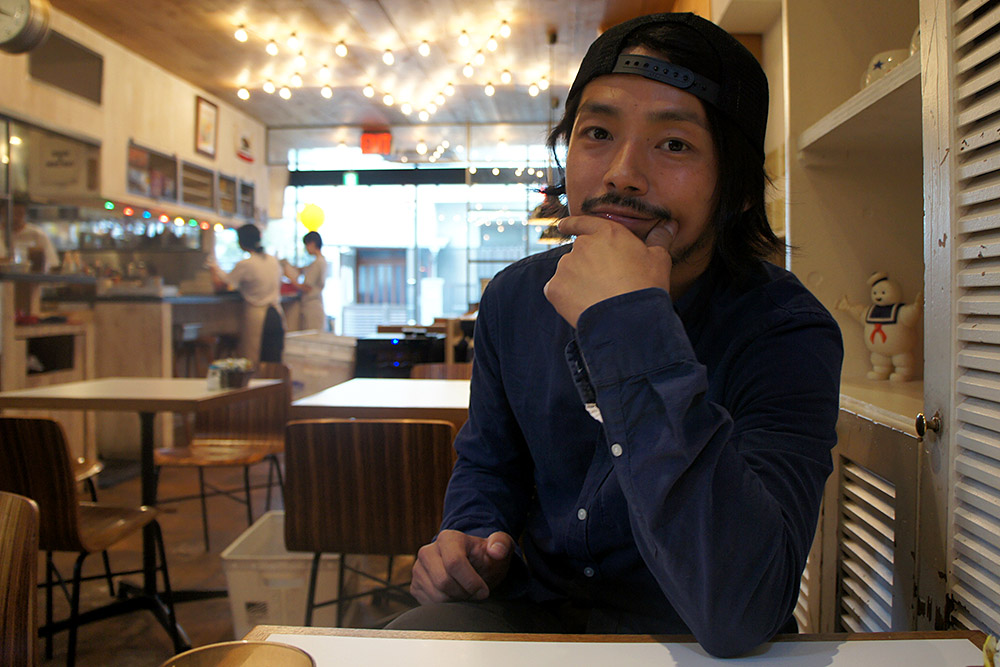 Hiroshi at Harajuku's The Great Burger showing me "American Style, Japanese Taste."
Spending so much time on the street, Hiroshi is constantly on his phone or stopping to pull his laptop out. I once lost him for 10 minuntes, not realizing he sat down to send emails in the middle of the street in Shinjuku, which is pretty seedy to say the least:
"I have staff at Fourthirty and Decade, so the majority of my tasks are answering their questions quickly and precisely. I'm always bringing my iPhone and a laptop [with me] so I don't need to stick to a desk all day long. Depending on the day, I also work at my shop as a staff or design and decide materials for the next collection at our office too. Honestly, I'm bit attracted working in that way…"
Hiroshi is pretty much always drinking coffee. Whether it's hot or cold and from a vending machine – yes, you can get a hot can of coffee out of a machine, instant coffee at the convenience store, or something a bit more fancy in Japan. He always has some version of coffee around. I came to enjoy the convenience store coffee as well as some of the canned variety, but for real quality, The Roaster wins. Tokyo is a city of extremes, I've definitely had a few pleasant days there but usually it's either HOT, COLD, WET, or some combo. So Hiroshi often opts for taking a "break from the weather" at Starbucks where he takes advantage of the wifi while charging his computer, phone, and his own personal mobile wifi device and of course more coffee.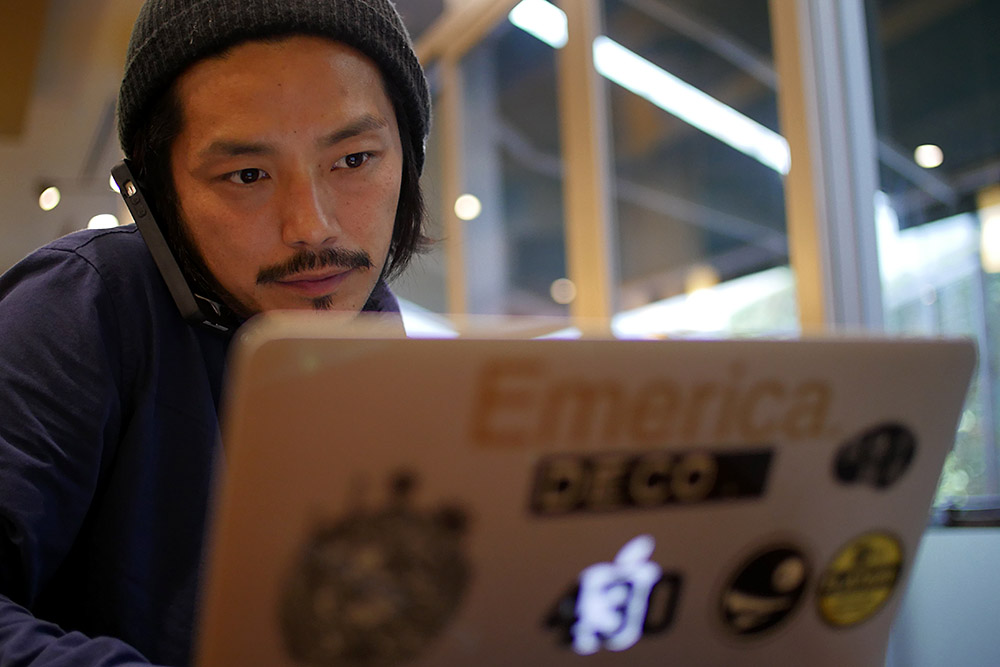 I believe this was our 4th coffee of the day and it was only 11am.
Hiroshi's business style is obviously not normal, especially in Japan. In Japan, many men strive for the path of the "salaryman," Japan's version of white-collar businessmen, so it's rare to see an independent entrepreneur with no official job title like Hiroshi. He realizes how different his lifestyle is, but it seems like being a salaryman was just never even a thought for him.
"I don't really know," says Hiroshi. "What attracted me the most when I started BMX was socializing with people though traveling. I met people working in variety of jobs. I've never looked down on corporate employees; I was just more interested in working in style [laughs]. With that said, I'm proud of what I'm doing now. I just love the environment."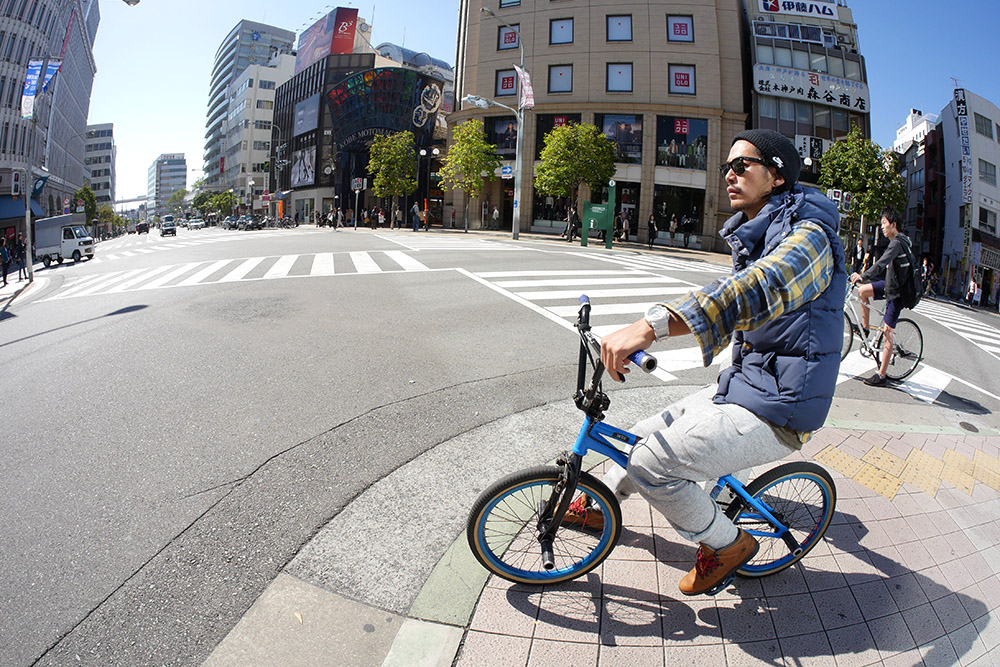 If it isn't raining, Hiroshi says the best way to get around town by bike or skateboard.
Hiroshi's been operating on this different track from as early as his first job:
"I was born in Okayama, which is famous for producing high quality denims, so I became more familiar with clothing. I used to work at a clothing shop in the town, [and] I struggled to make [a] profit since the owner was strict and wouldn't pay me if I sold nothing. But he paid me more when I sold a lot. That environment helped me a lot to have [a] 'manager's point of view.' I really appreciate him now."
Hiroshi's vision for his brand Fourthirty is unlike most any brand born in action sports. While lifestyle is a popular term in the US, it seems that most action sports brands still cater strictly to each sports participants and those on the fringe who want to look like they are participants. In my mind, it's oddly less lifestyle-based and more just the hope others will adopt the style. Fourthirty definitely breaks that mold by creating finer, more detailed items, which has changed and elevated the style of the sport (flatland) it came from.
"What we produce is nothing but high [functioning garments]," Hiroshi explains. "20% of customers are riders and remaining 80% is general public. Those customers who don't ride BMX are interested in the functionality of our products. I really appreciate it and the fact motivates me a lot. We want people to see our brand as 'products based on BMX experience,' not 'for BMX riders.' Our motto is 'Everything Is the Fuel for Our Energy.'"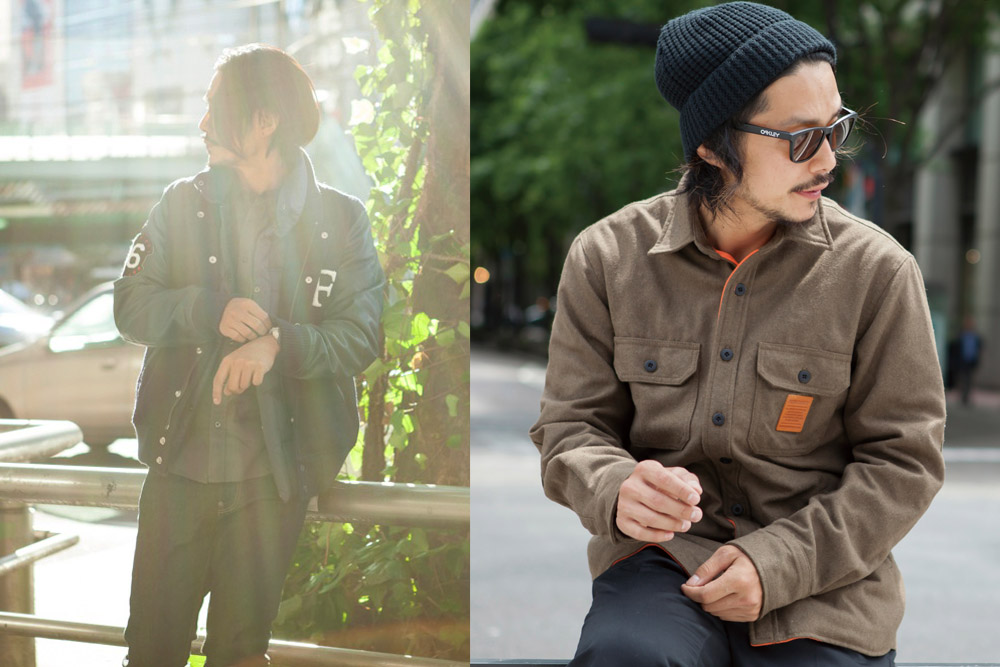 Hiroshi was almost the face of the biggest cigarette advertising campaign in Japan, so why not model his own products as well.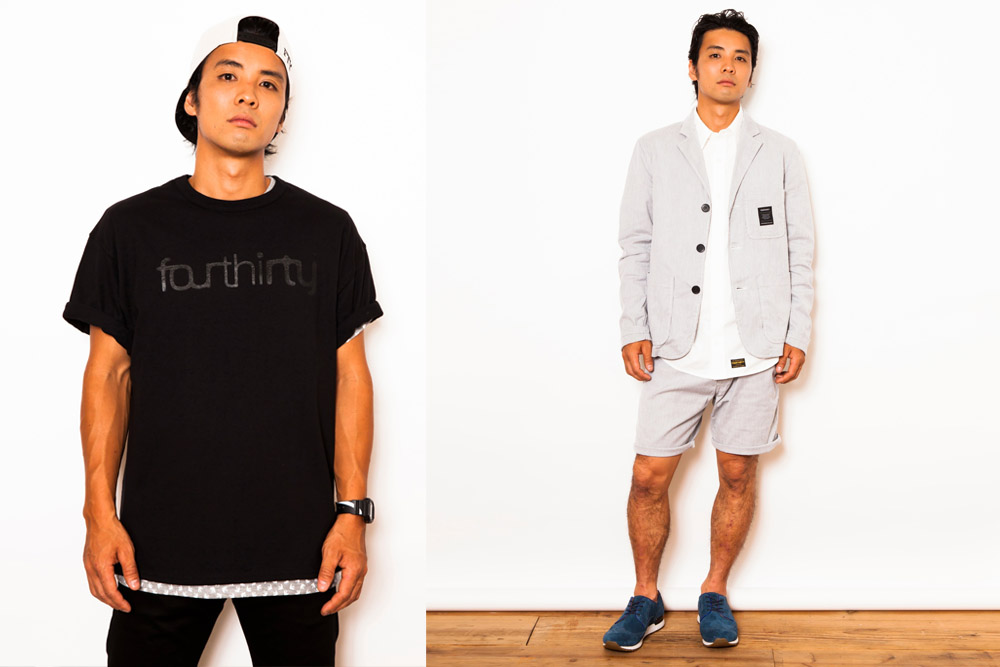 It also doesn't hurt to have Japanese celebrities modeling for you. Uchino Yohei for Fourthirty.
I think what separates Fourthirty apart from similar brands is the attention to detail. Hiroshi's biggest concern is infusing style with function:
"I'm not interested in comparing my products to other brands as I'm always focusing on better functionality. For example, I pay a lot of attention to [the] cutting of swim suits, textures of swim suits, and golf wear's textures, what materials are used for which sports. So I often go to sports equipment shops. I just bought a pair of globes for weight lifting [laughs]."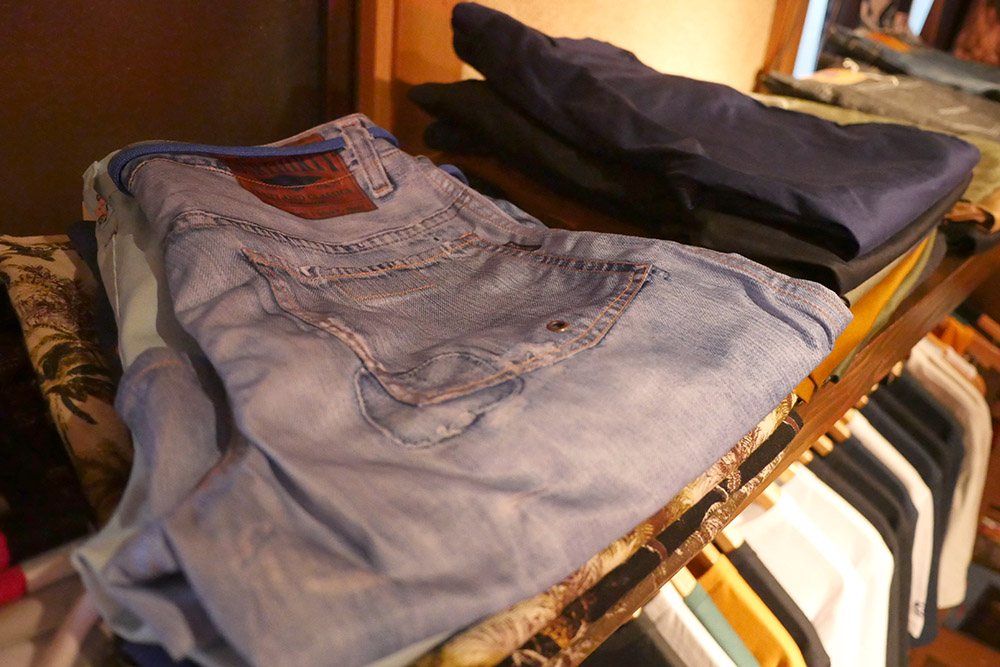 It took me until halfway through the second day of Hiroshi wearing these shorts for me realize they are board shorts.
Hiroshi has always had outside interests, talents, and friends that help shaped who he is. Like myself, he tries to use those outside resources to elevate the sport in any way he can. Between making videos, bringing over and distributing Deco BMX in Japan, magazines, supporting riders, putting on events he always striving for his vision for the future for flatland.
"I want to create a goal for top riders, and also a dream for young guns. The Street League that DC organized in the US is a good role model for us."
We also share similar views of the state of bmx and perception to the outside world:
"Flatland riders are improving to where nobody has ever seen. In general, we have to put more effort to be recognized as a part of society. In terms of bike sales, we are struggling to spread dealers because of the 'bad ass' image of BMX.
But a good sign is, new young riders are coming up everywhere."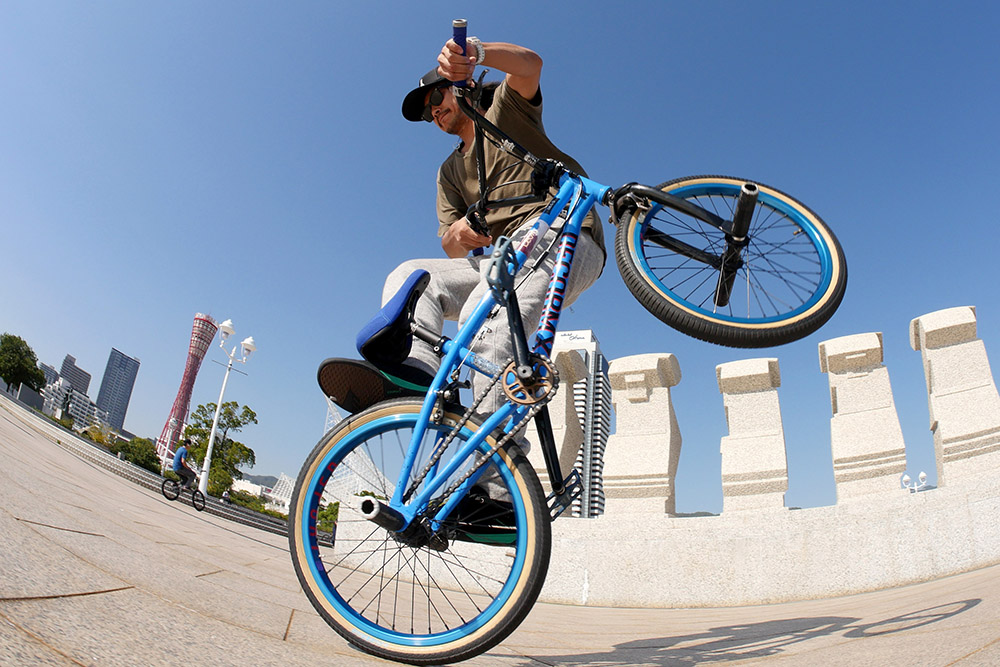 Although he doesn't ride as much anymore, Hiroshi still gets wild on flatground.
While I have ridden bmx for the majority of my life, I was never good at flatland, I just didn't have the patience for it. I always had more fun going fast and scaring myself riding dirt, ramps, or street. While none of bmx is easy, I think flatland requires a special kind of focus and discipline, so I'm always interested to hear what riders took away from learning how to excel at flatland:
"As you say, Flatland is not easy. You have to keep practicing over and over to get dialed. Your effort will be paid off one day; I might learn that philosophy in life thorough riding."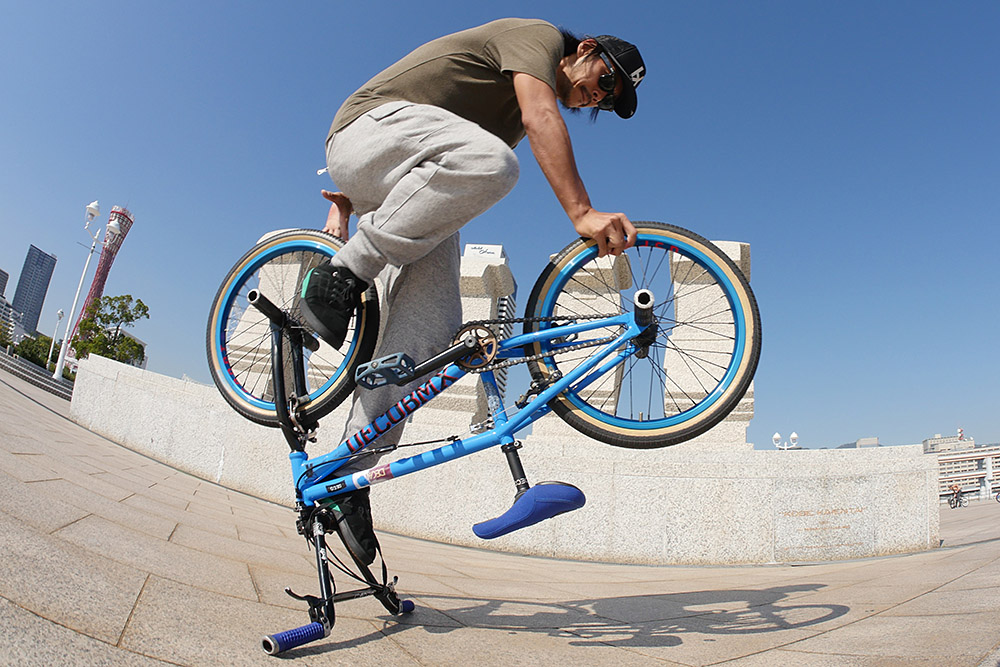 The Darkside is a trick a lot of flatlanders still don't step to, but Hiroshi has them on lock. I've seen him pull them on uneven ground, in the dark, while drinking.
As somewhat of hero to the Japanese flatland community and innovator in bmx-inspired streetwear, Hiroshi has used his status to not only bring bigger brands into bmx and streewear, but also get involved with them in other ways. Sometimes it's more of a consultant capacity – letting big brands know what's cool or not in the scene or what ideas might work or probably won't. Other times, it's more of a brand ambassador role, but he only works with companies and products he believes in.
"I generally approach companies first for collaborations. Sometimes they find us first, but we only collaborate with companies that attract us somehow. They appreciate my ideas that those companies don't have. That's the key of success for that kind of collaboration, I guess."
That same sentiment runs through into Fourthirty. Hiroshi could very well make a bigger profit by making a cheaper product, but he is only interested in making what he thinks is cool. While making a superior product is any designers ideal, I'm stoked he manages to survive. I mean a streetwear brand that can sell a $60 T-shirt when the rest of the market is priced at half as much or less is pretty impressive. Hiroshi knows it's hard to survive in the current business model with the rise of online shops, but he believes if you put in the work, things fall into place.
"It's pretty harsh for the underdog in an industry like ours – streetwear. Creating a buzz to incorporate large companies, such action is needed. Nothing will happen while just waiting. We'll all be gone unless we can apply our experience on street into marketing."
It's views like this that make me really appreciate Hiroshi. He's aware of the difficult situation being in competition with things like Uniqlo or H&M in Japan, but he has a plan on how to push through. Hiroshi is a fan of almost all forms of business and design. Apple is his favorite foreign company, while the domestic Honda holds a place in his heart.
"I like Honda. I respect Soichiro Honda, a founder of Honda Motor Co., Ltd."
While this above quote may sound kind of stiff, when you spend time in Japan, you realize they tend to just get to the point. Their language just doesn't require the amount of superfluous words we are used to, which can actually be pretty refreshing. Even with a slightly different take on language, Hiroshi still manages to meet friends everywhere. I still haven't met someone that knows Hiroshi that isn't stoked on him.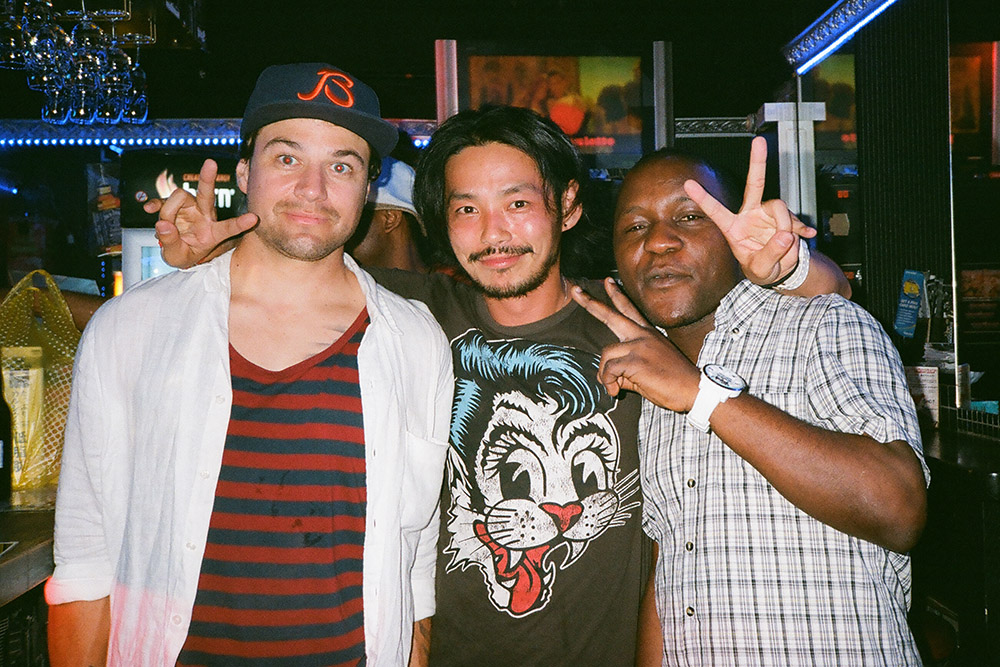 We befriended this Botswanan gentleman on the streets of Roppongi, he proceeded to buy us shots and the night got real blurry.
On that note, I will leave you with one of my favorite Hiroshi quotes. To put it into context, we were talking about business and Hiroshi started explaining a book he had just read. He then translated the basic premise of the book as:
"Business is making the impossible, possible."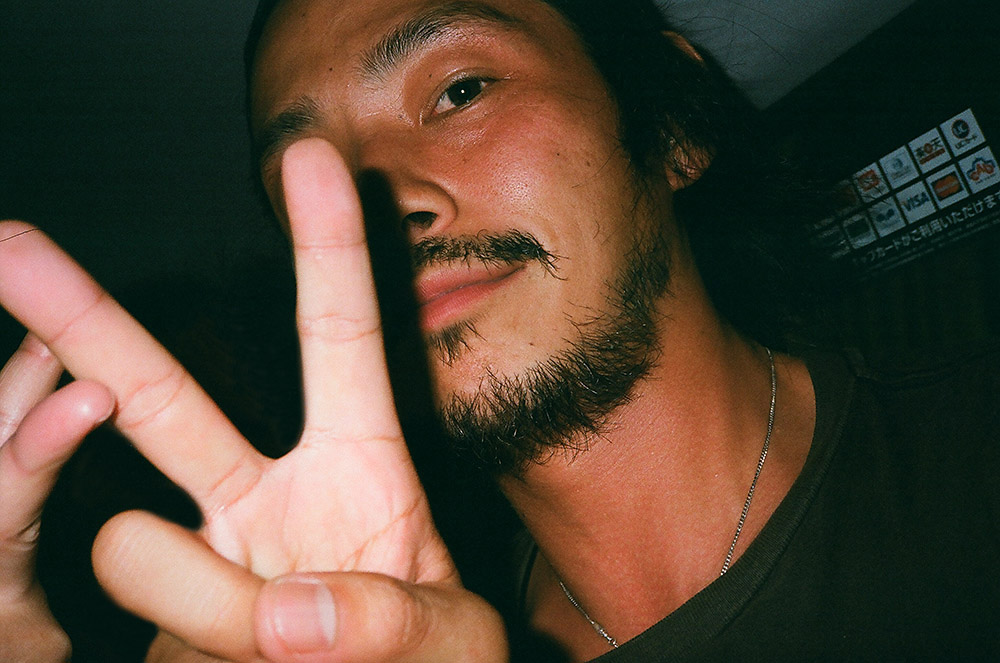 ::