In 1984, when Kimou Meyer was 10 years old and living in Switzerland, his parents received the new issue of Geo magazine, which had a photo of the art-deco Chrysler building on the front. Kimou was mesmerized by its contents: graphic images of a city overrun by crime and subway trains plastered with spray paint. For months, he practiced drawing the photographs in the magazine, and asked his parents if it was possible to take him there. "At the time, there was no way," Kimou says. "So I lived through that magazine as my first encounter with the city."
Years later, when Kimou had his first real encounter with New York, he walked to the Brooklyn Bridge to stare out at the metropolis while listening to Gang Starr's Hard to Earn album. "I was just high on adrenaline, and like, wow, I'm here," he remembers.
It is this New York state of mind, coupled with a sensible Swiss aesthetic, that continues to permeate the artwork he makes under the pseudonym Grotesk. This work includes a wood sculpture of a crook in a ski mask and a lamp with blocky sneaker feet, and has appeared, more than once, on the cover of Juxtapoz magazine.
In 2009, he and friends Chris Isenberg and Aaron Amaro founded Doubleday & Cartwright, a creative agency specializing in sports culture. In addition to working with clients like Nike and Carhartt and producing a collection of new-vintage sports objects through No Mas, Doubleday & Cartwright also publishes Victory Journal, a magazine about the "eternal glories and ignominies of players and pursuits the world over." Each issue features oral histories, personal essays, photographs, illustrations and articles on topics from the ancient Mediterranean art of nautical jousting to 1980s sports-poster mavericks the Costacos brothers.
Prior to releasing another sculpture with Case Studyo this week, I spoke with Kimou about his arc as an artist, his influences, his favorite sports hero of all time, and more.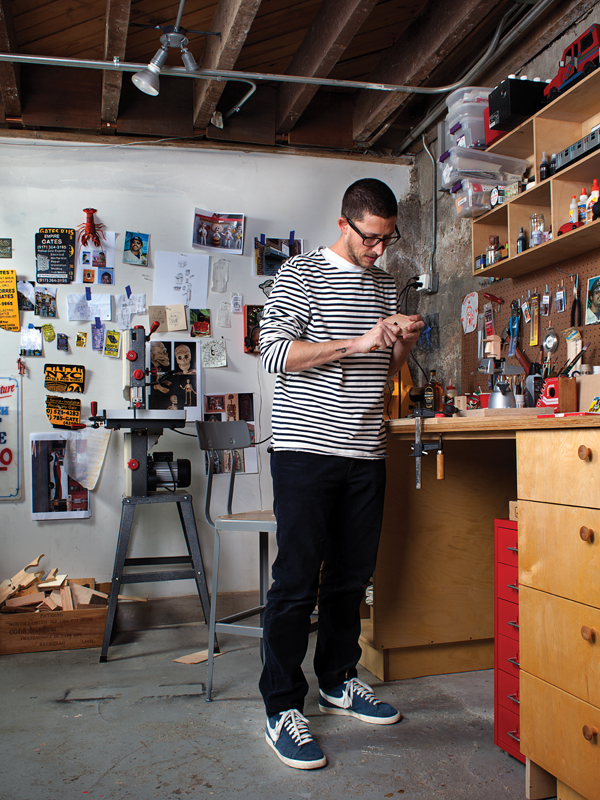 How did you develop your aesthetic? Did you go to art school or were you self-taught?
I think it's a mix of many things. My parents were a huge early influence. I grew up in their woodshop where they were making scale models for architects. I was always drawing and building things with them. Then I got really heavy in the skate punk culture in the mid-1980s and then into DJ-ing and hip hop. I did a lot of flyers and zines in that time. That's where I realized that I could make a career of design. I went to art school to study design and communication, as I knew this was my passion.
How much of an influence did/does growing up in Switzerland have on your design sensibility?
I think minimalist and efficiency is the Swiss way of communicating. You are surrounded by great design all the time, so I guess it's a subconscious natural inspiration. It's obviously a very strong inspiration for me. I always try to cut the bullshit and just keep the essential.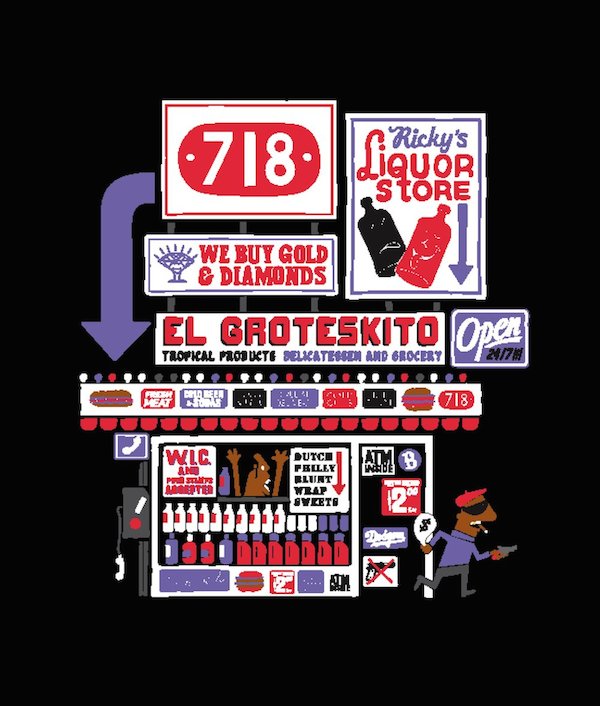 Your work also feels very New York. Were you inspired by New York before you moved there? Or was it after your move that your work took this direction?
Since my parents worked with architects and were really into cities, we used to get those like National Geographic magazines, and one in 1984 was about New York. It was the time when New York had a lot of crime going on, and there was a lot of graphic pictures in it, and the subway with all the graffiti. And I remember being obsessed with that magazine for a few months, and re-drawing what I was seeing inside, asking my parents if it was possible to go there. At the time they were broke, so there was no way, so I kind of lived through those magazines as my first encounter with the city. As I was going to college, art school, I always had that fantasy that one day I could do illustration and go to New York and make a living with it. When I finished my diploma in graphic design, one of the key members of the jury had just opened a studio in New York and he invited me to come to New York and I said yes. One of the first things I did was take a Gang Starr CD and I went on the Brooklyn Bridge, playing "Mass Appeal," looking at the twins, looking at the Empire State Building, and I was just high on adrenaline, and like, wow, I'm here.
What artists and designers are you most inspired by?
I have so many. If you ask me right now for this week I would say Saul Steinberg, McFetridge, Matisse, Serge "Lowrider" Nidegger, Cody Hudson, Richard Colman and my son.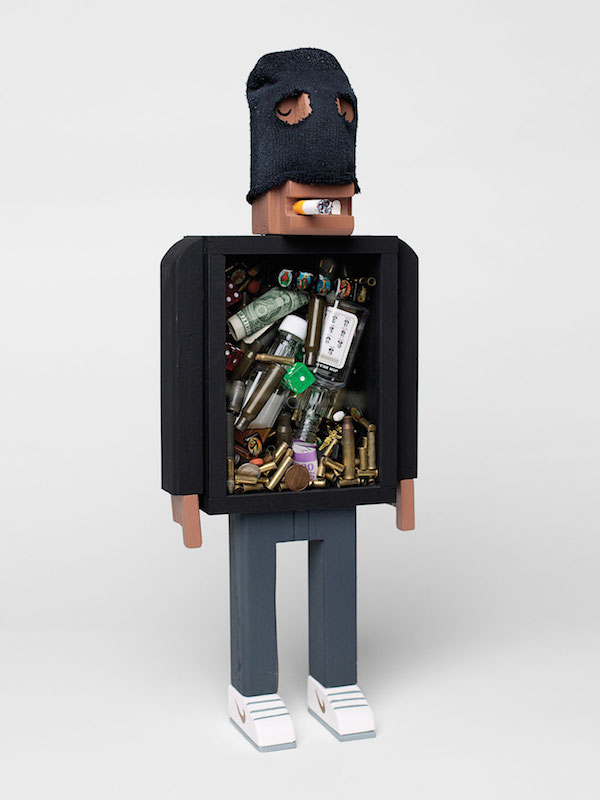 You started Doubleday & Cartwright in 2009, which among other things, publishes Victory Journal. How did that mag got started and what is your role in it?
We are all sport aficionados and we especially like the aesthetic and unheard stories of sport. We couldn't find a publication that we liked to read and that was giving proper love to what we liked about sports, so we decide to create our own printed piece and platform. Our partner Aaron Amaro pitched to us the idea of Victory Journal and we all fell in love.
Who is your favorite all-time sports hero and why?
I think I would go with Yannick Noah. He is the dad of Joakim Noah from the Bulls. He won the Roland Garros Tennis tournament 1983. He was always against the grain, he admitted to smoking weed and enjoyed life. At the same time, he was a beast on the court and the only French to ever win Roland Garros in modern tennis history. He had the best style on court, was making fun of his opponent and had a lot of swag. I think I got into sneakers because of him. He was always rocking fresh Le Coq Sportif kicks.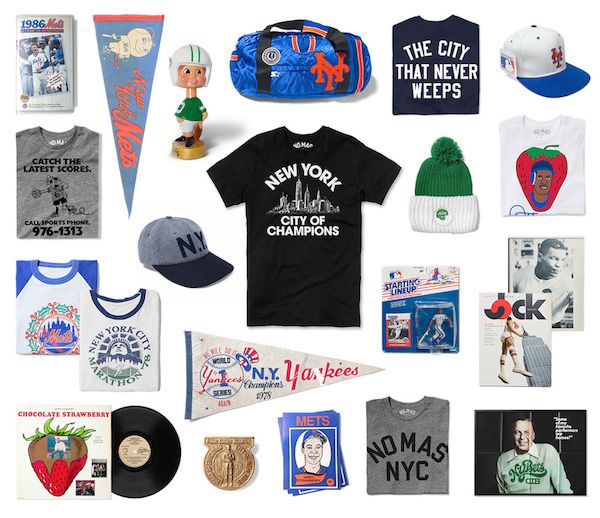 I love your #100viewsofdomino series on Instagram. Why did you decide to start that project? Will you continue after 100? Do you plan on making it into a book?
I am a huge fan of Ukiyo-e [Japanese wood block prints]. My favorite series is from the artist Hiroshige who did a famous series named "One Hundred Famous Views of Edo." I did an essay about it in art school and I always liked the idea of remixing his concept one day. I live by the Domino factory and everyday when I wake up, I see it from my bedroom window. Everyday, the light is different and I started to document it. After a while, I made the connection with Hiroshige's work and started to number them. The feedback on Instagram has been great. I am hoping to publish an edition of 100 books with the studio before the end of the year.
What's next for you? Any more collaborations with Case Studyo? The lamp was great.
Next week I am releasing a new sculpture with them. It's inspired by the Lo-Life culture in NYC. I am also working on a bunch of paintings with an island in them and a N.Y. satirical drawing book. I hope to be done by the end of the year as well.