What's up, everyone. This is Vito here, and for once I won't be showing off the cars I've been shooting. Instead, I'm working alongside Alina on a new series of LA food truck coverage for The Hundreds (yes, I know that it's still kind of vehicle-related). To kick things off, first up on the list are the "The Great Food Truck Race" Season 1 winners, Grill 'Em All.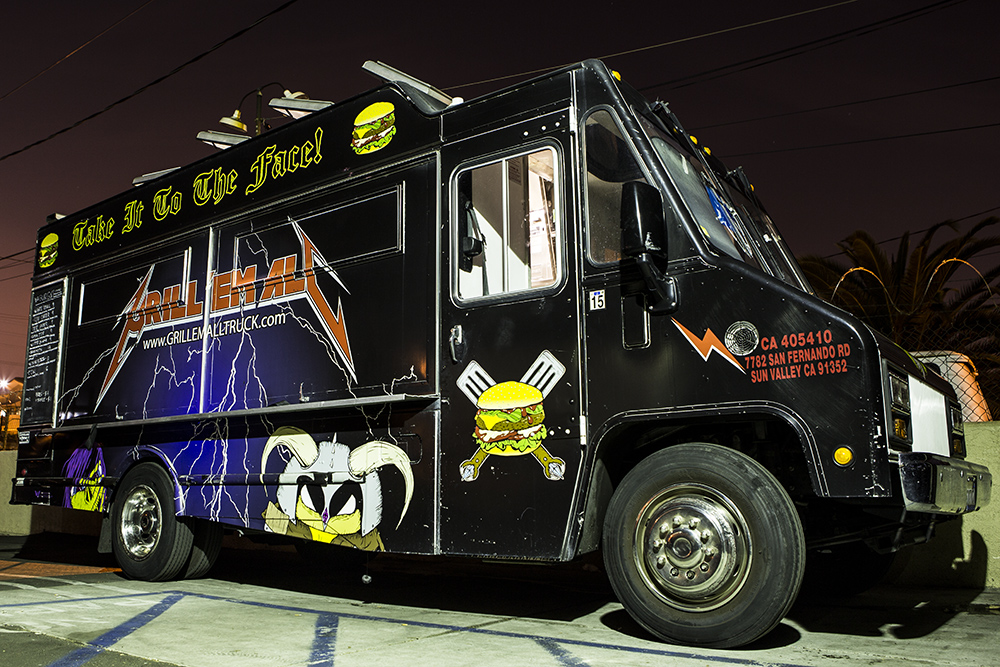 If you come to Grill 'Em All expecting a typical New American semi-hole-in-the-wall burger spot, you'll soon learn that these guys cooked up something really special here. Combining heavy metal with burgers isn't your typical burger joint route, but somehow Matt Chernus and Ryan Harkins managed to marry the two together, creating an idiosyncratic establishment that has some Yelpers calling their food fare a "deeply religious" experience. Look no further than their wildly popular "Dee Snider" burger, complete with sticky strawberry jam, sriracha, peanut butter, and topped with (of course) bacon–and their tip jar, scrawled with the words "We're Fucking PooR." In short, these guys are awesome.
Since winning "The Great Food Truck Race", Grill 'Em All opened up their first brick and mortar shop in Alhambra, CA, as well as continuing to run their truck at designated locations. I was able to catch up with co-owner Matt Chernus to give me a behind the scenes look at what makes Grill 'Em All stand apart from the rest.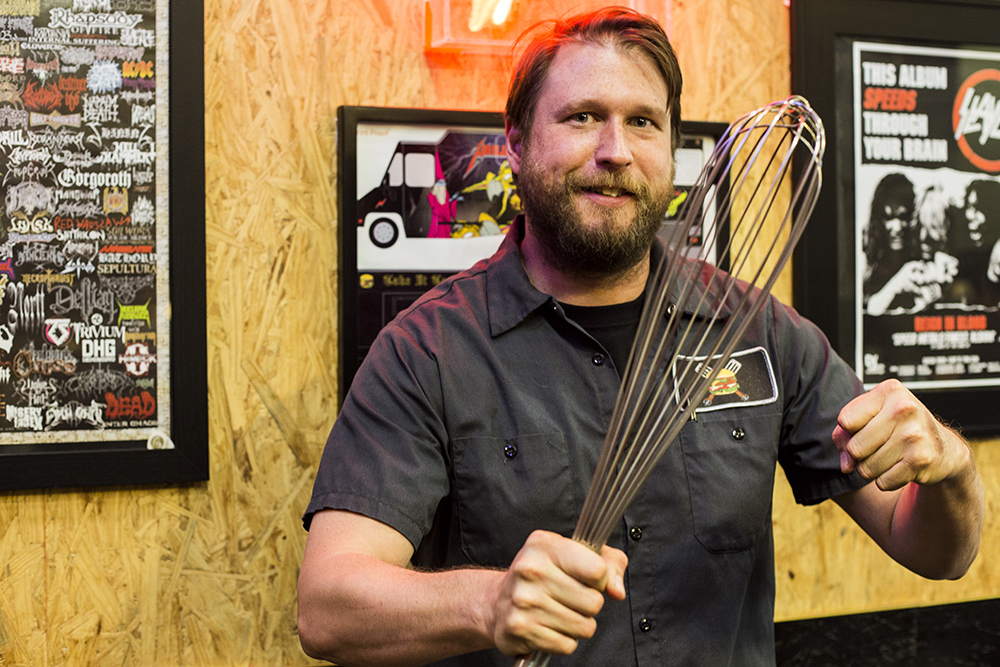 I heard you just got married. Are you stoked or what?!
YA! Actually just got hitched to the new Mrs. Emily Chernus a few weeks back. We went to an island in Mexico with 40 friends and family members. We drank, ate ceviche, and got married.
Where do you get all your amazing pun ideas? Can you come up with a wedding pun right now?
Ryan and I are from Cleveland, Ohio, where punny humor was born in the mid-1950s (generally speaking). Wedding pun? For Whom the Wedding Bells Toll… Haunting the Wedding Chapel… there's two metal puns anyway.
What were other ideas for the name of your truck besides GRILL 'EM ALL?
There was never another name for the truck. The name Grill 'Em All came up during a backyard BBQ at a friend' house back in 2008. It was a bring your own beer and meat kind of function and there were lots of left over hot dogs at the end of the night. Someone asked if they should throw them on the grill and I deadpanned the words that would change our lives forever… "Grill 'em all, man!"
Then I wrote a screenplay based on the idea of Ryan and I starting this burger truck… it was decent. Meanwhile Ryan took a job on a burger truck and did recon on how it is done. We came back around to actually trying to do it for real… took about two weeks from then to the first day we served food.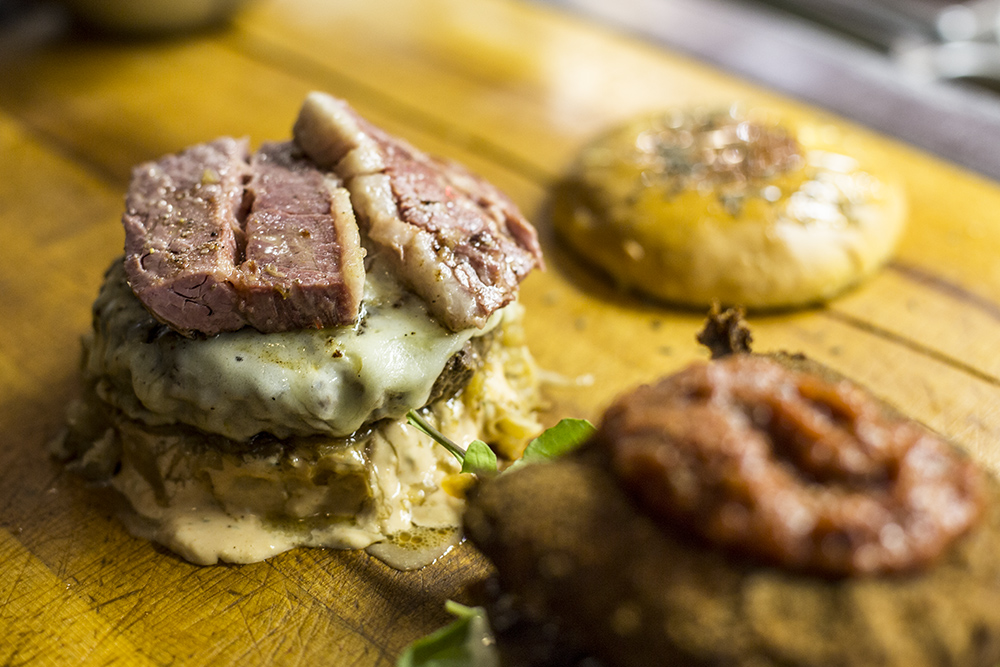 For our readers who have never tried one of your kick ass burgers, can you describe how they'll feel once they have one? Elation, coma, etc.
Eating one of our burgers is the nearest you will ever get to eating a God sandwich… and by that I mean a Lemmy sandwich because Lemmy is God.
Food truck backstories seem to be borne out of a completely entrepreneurial sense of  NO BS. What were you doing before Grill 'Em All and when did you hit the turning point where you decided you were gonna start something on your own?
Ryan was cooking in different places around Echo Park. I was working the bar at the Ye Rustic Inn in Los Feliz. To put it bluntly, we were at the end of our rope working for other people and it was a dead end road anyway. We had to do it ourselves, which is nothing new to us because we grew up in the punk scene on the '90s where that was the mindset anyway. I've owned my own clothing store, published my own magazines, booked my own bands… and now owned a restaurant.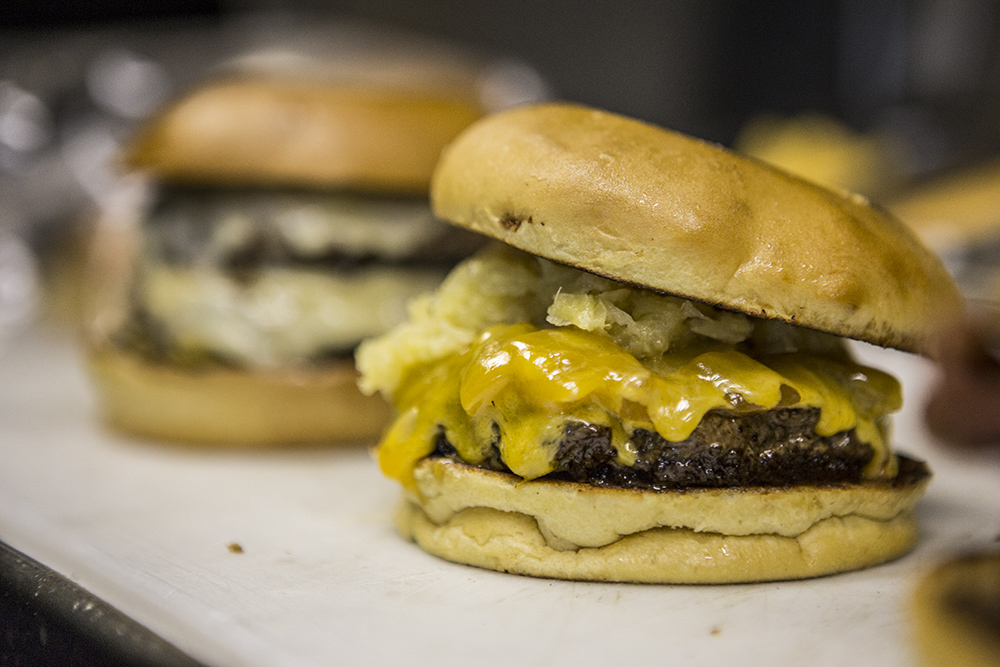 Favorite burger combo ever?
I love this burger I had in Philly once that was just swiss and roasted jalapenos. Really simple and good. But I love a Wendys Jr. bacon cheeseburger with an orange Fanta any day of the week.
Weirdest/best visitors to the truck?
My favorite memory was when Stephen Pearcy from Ratt was ordering a burger in Studio City and, totally magically, "Round & Round" [by Ratt] came onto our radio and his face turned to pure hatred toward us. We didn't plan it that way, I swear. But also one of the kids from Boy Meets World was interesting and pro wrestler/pod caster Colt Cabana were also awesome trivia card answer type of customers too.
Any new crazy creations we can expect coming on the menu?
Of course. Every month we debut a new burger that is only there for the length of the month. Usually they are based off of holidays or seasonal dishes but can often just be creations of madness.
How does it feel to be the only heavy metal burger purveyor ever?
We are not the only heavy metal burger purveyor ever. Do some research and you will find our brethren. :)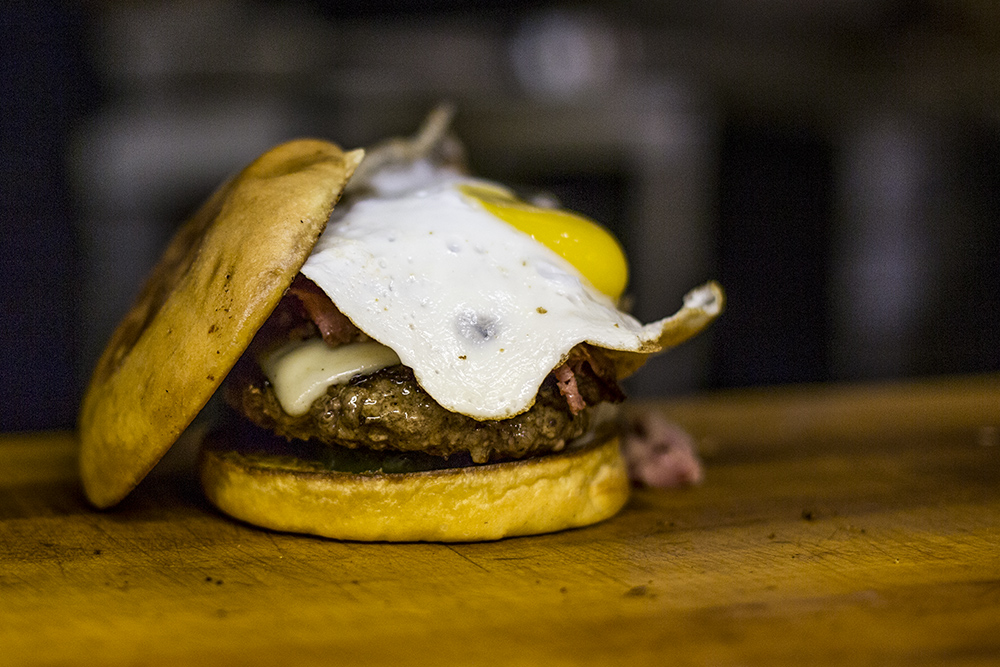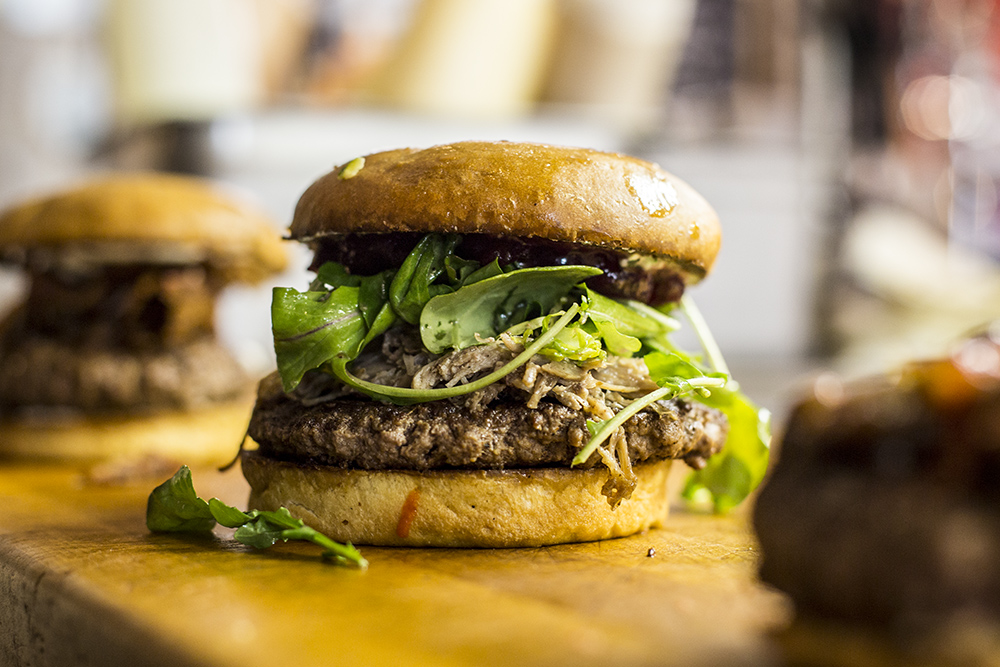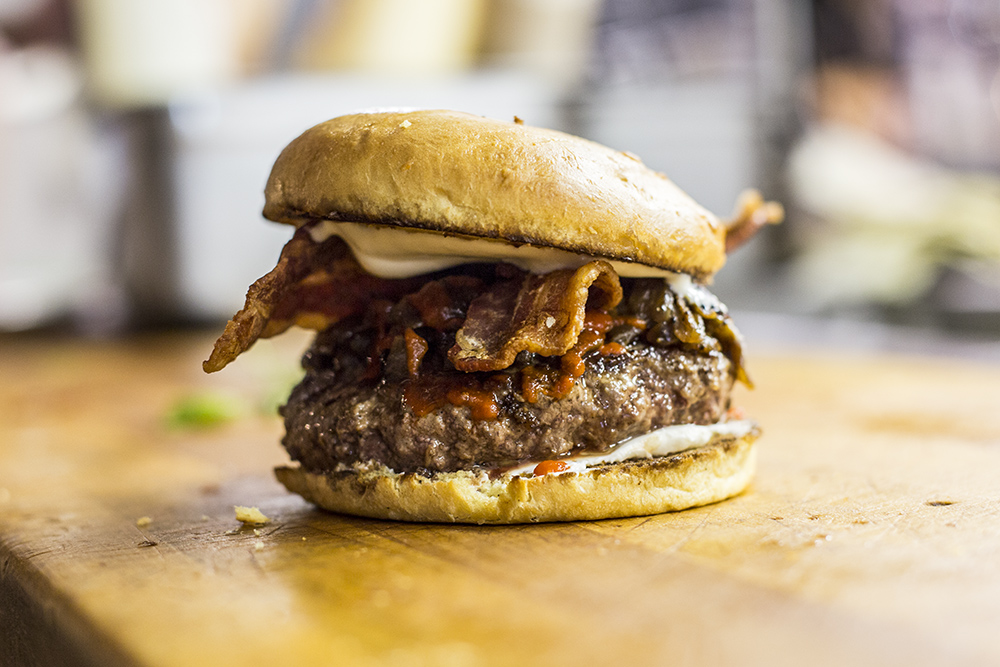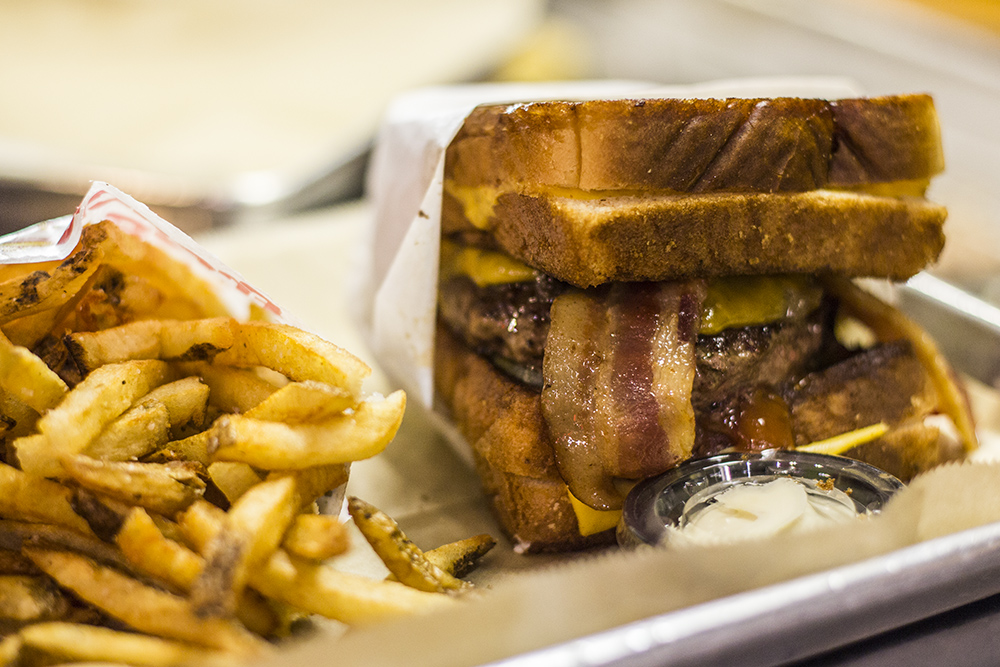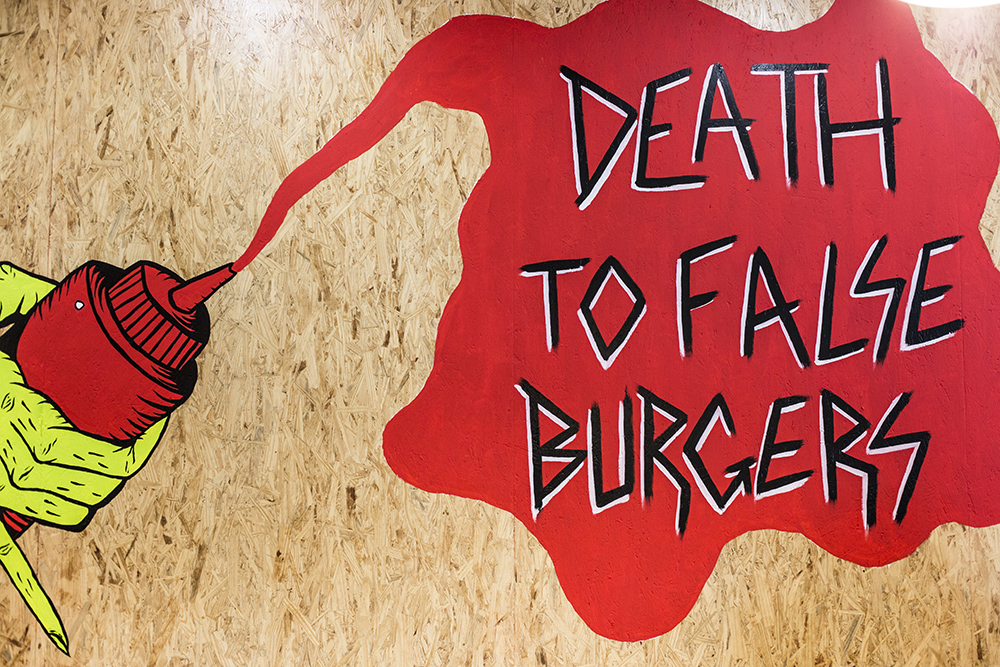 Words by Vito Nguyen and Alina Nguyen