When you're blessed (cursed?) with all 4 seasons, it's your job to enjoy them. Perhaps a more specific way to say that is to embrace them. That responsibility and task gets no easier when one of them, ahem… winter, is somewhere in the vicinity of 5 months long. If I thought that spring and autumn had volunteered their precious days and weeks to old man winter, I might feel differently. But I doubt that's the case, and months of feeling like there's no end in sight to the cold, oppressive grip that's around your frost bitten neck, well, it's torturous. So with the passing of summer so swiftly into this abbreviated thing we call autumn, it's our duty here in the Midwest to celebrate the transition.
I built a cinderblock box, aptly named "Pig Tomb," back in July with my brother and friend Peter to do a pig roast for the 4th. I don't think it was even halfway done roasting that day before we were debating our next full animal to cook. We ended up picking goat and added an additional challenge to cook all the other meal items in the same heat source. It was one of our biggest turnouts yet and, somehow, went totally smoothly. I think we've already got the next animal picked out already too.
::
Hermano and I nabbed a fridge, gutted it, and added an external digital temp control. Now our kegs are jussstttttt right. Don't let that Pabst tap fool you, we even managed to get a specially-ordered keg of Wagon Party from the recently opened Bauhaus Brew Labs.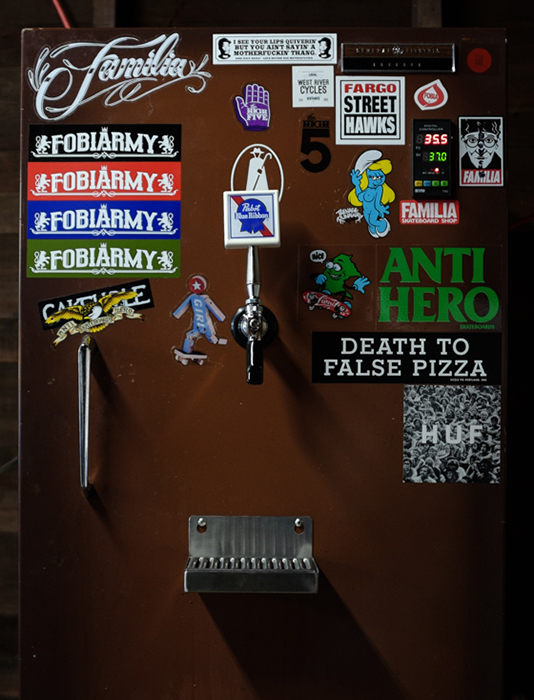 The max temp for the event was 53 degrees and the days leading up to the party were gray, soggy, and cold. A proper fire was a must. (We crushed twice this much wood by day's end).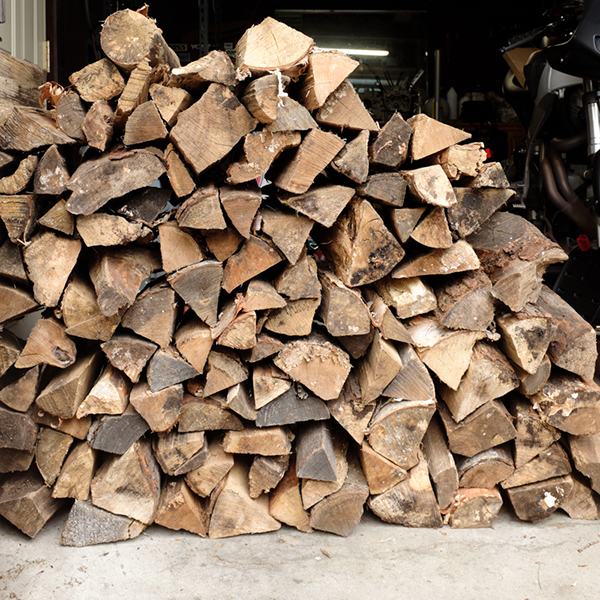 Once the we get it up to temp, the whole contraption stays hot for hours and is pretty easy to maintain. But it's that initial fire that is crucial that preheats it.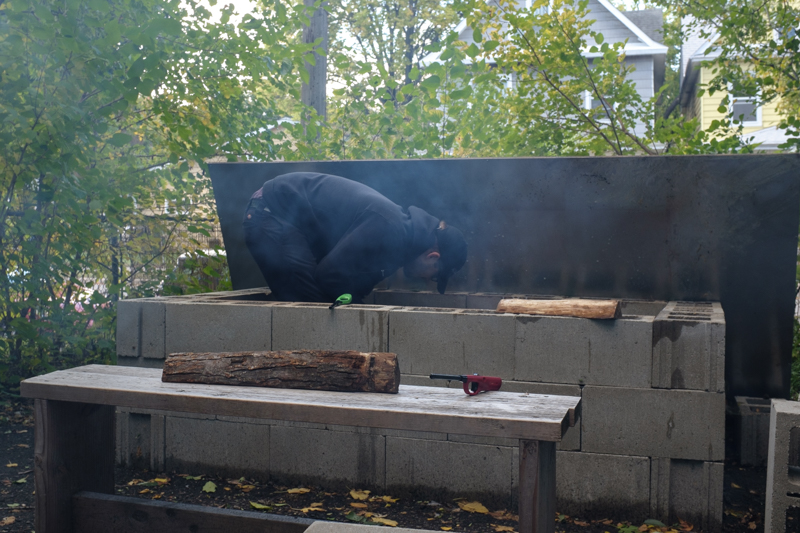 All day long we're constantly getting coals going in small batches to keep the temp steady. We went through probably 50 lbs of coal for this goat.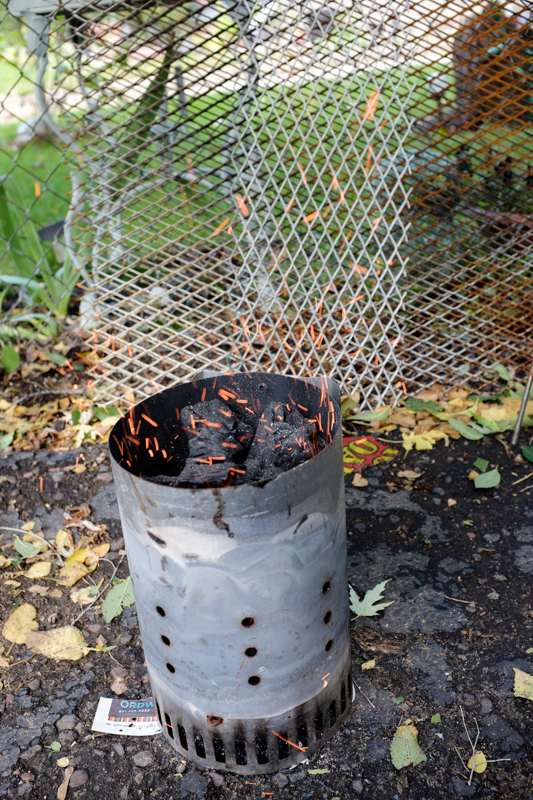 We had security on hand the whole time. He only took a 2.5 hour break (it's in his contract) for a "quick" nap about midday.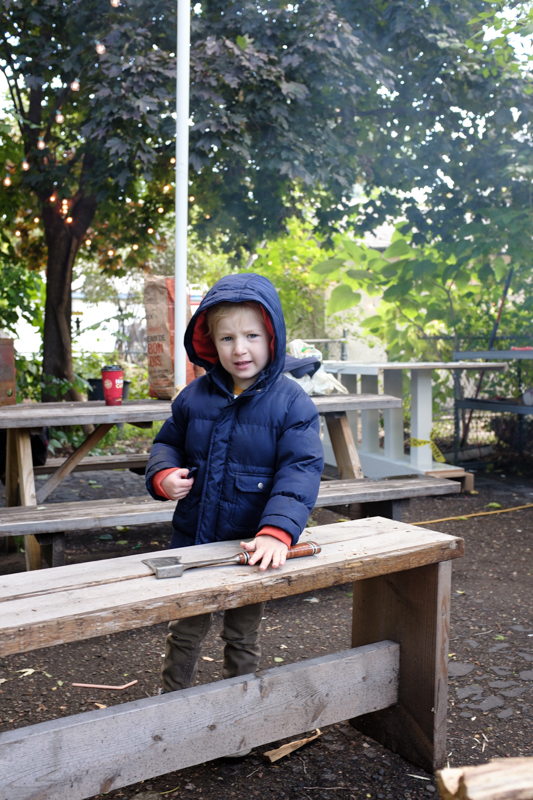 If you're going to spend an entire day making food, you have to be prepared to eat on the fly. I scored some sheet steel for one of the grills (out of frame,) and we made pretty killer little breakfast sandwiches in a snap.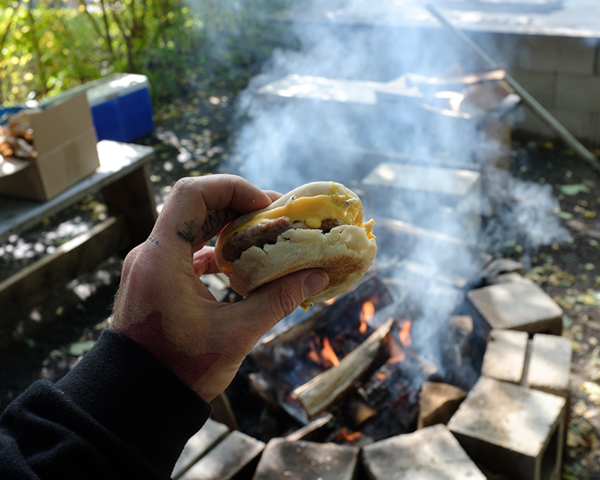 There he is folks, Billy Gruff the goat in all his halved glory. We opted to have him halved instead of butterflied, which was how we got the pig earlier this summer. You miss out on having the head, but it lays far more flat on the metal and is better for getting an even temp throughout.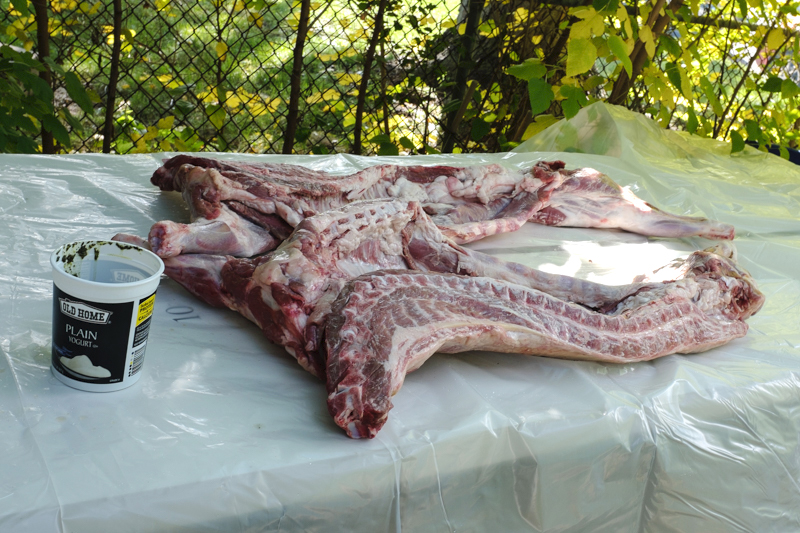 Peter made a special herb paste for Billy to enjoy. Plenty of fresh oregano, thyme, rosemary, garlic. All the essentials, ya know?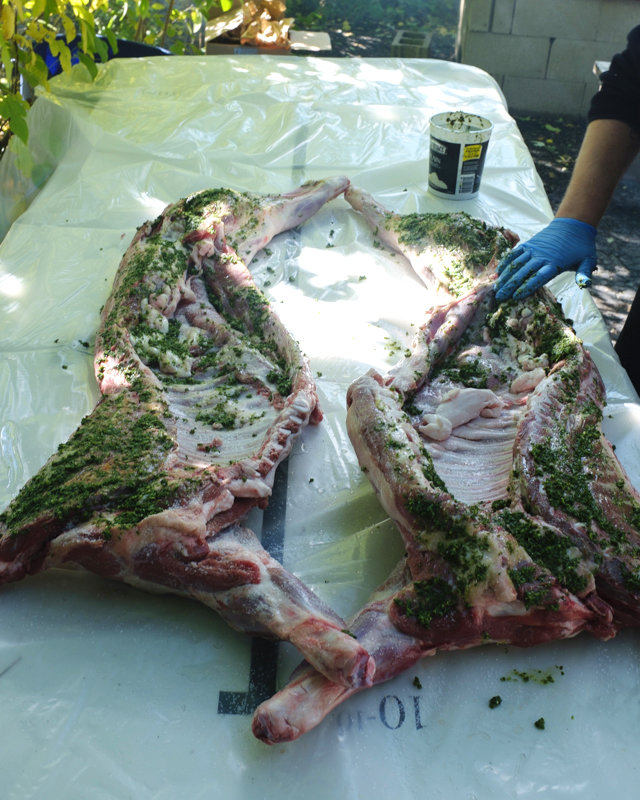 Whereas we left the pig unwrapped, we opted to give Billy a foil blanket of sorts to help keep all the herb paste in and keep him from drying out while he roasted for 5 hours. We employ a digital thermometer with preset high and low temps to make sure we're keeping it consistent. Billy here was in for a slow and low day at about 230 degrees on average.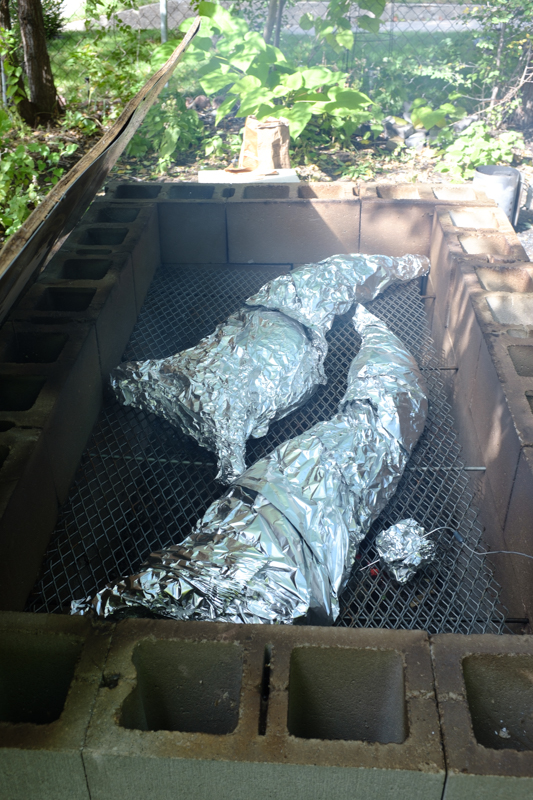 Peter BG in his element.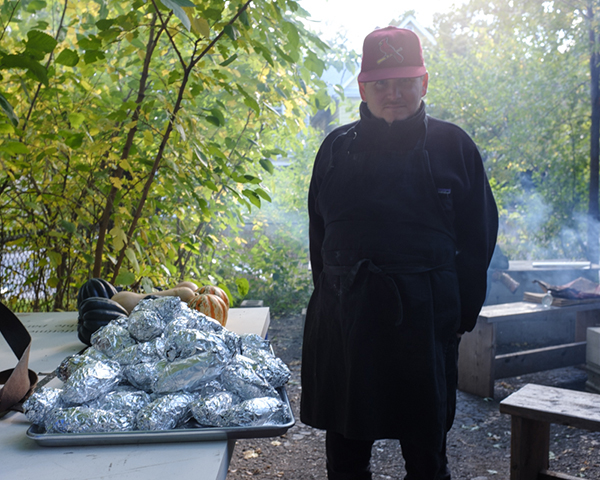 There were some babes that made us pies! Even though we were aiming for everything to come from the one heat source, we let these squeak by our requirements. I mean, who doesn't like a killer pie made with freshly-picked local apples?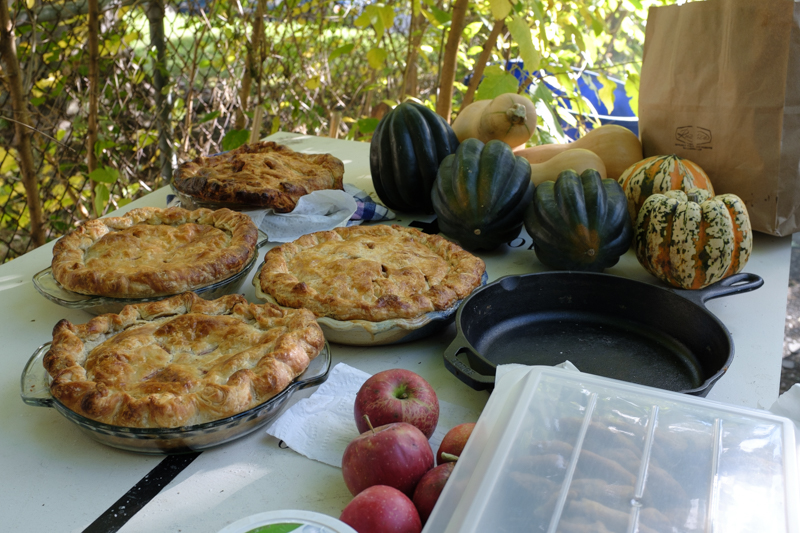 Attendance was nothing shy of stellar this day. Having been outside all day and night too, as we prepped and cooked, allowed for people to come and go as they needed to during the day. Old and new friends from as far as California and Canada made it out.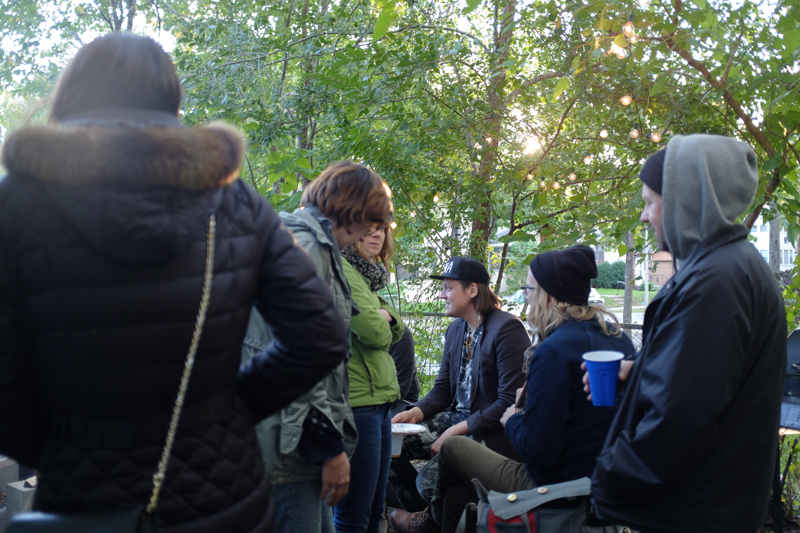 Hermano getting smoked out. We spiked the fire up from the lower 200s all the way up to near-600 for the final bit of cooking. We blasted all the veggies and the dozens of potatoes with this high heat to keep things moving along while Billy was resting.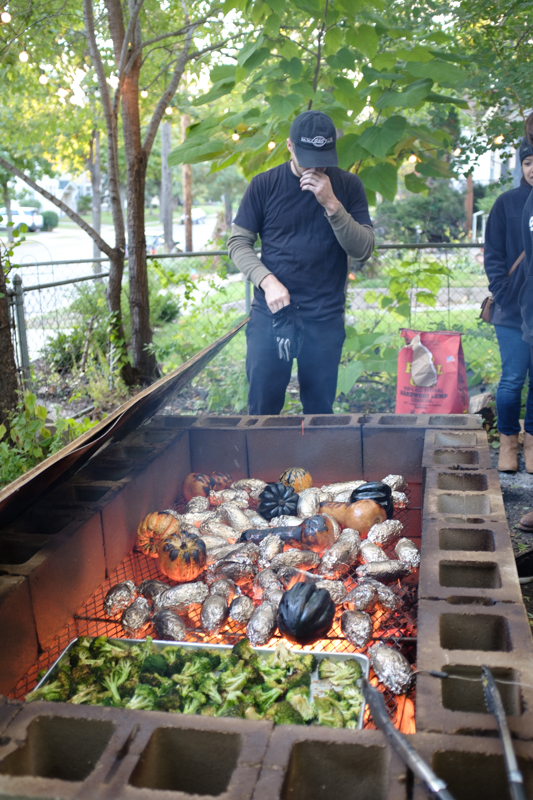 Showtime! It's a real treat to carve up an animal and finally get to feed all your friends after so much anticipation builds all day. Peter and I go to town on chopping up Billy, sometimes sneaking those choice bites for ourselves.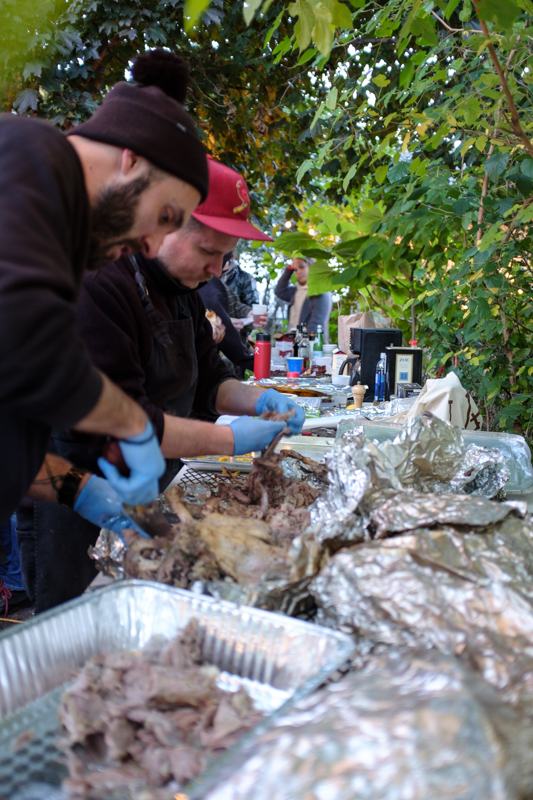 Approving and skeptical faces in attendance.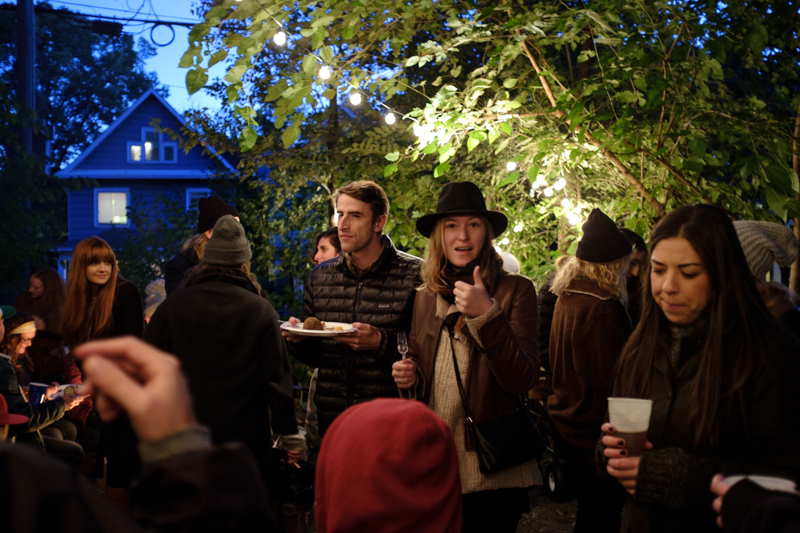 Having the opportunity to bring a group like this together to share in not only a meal, but an experience and space is truly a gift. I hadn't seen some of these peeps in as much as a couple years. But no one's gonna miss a goat roast if they don't have to. Especially with such swift seasonal changes occurring; you've got to get out and enjoy!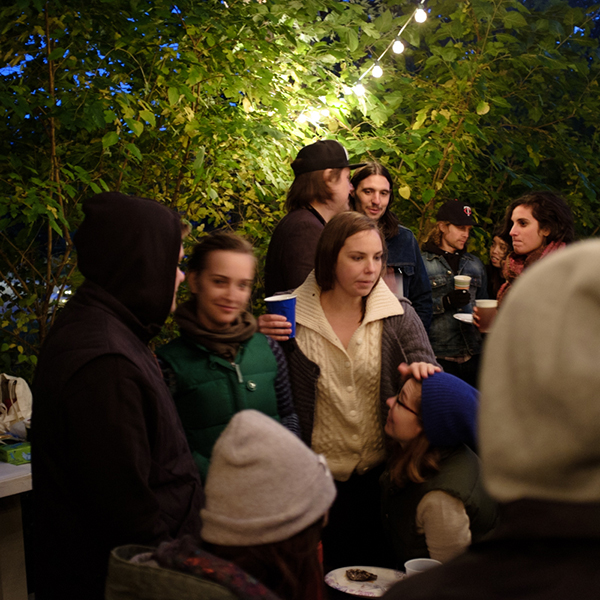 All in all, some of us were out tending to fires, eating, drinking, and schmoozing for damn near 14 hours. I felt like a piece of beef jerky by the time my dried out self got home that night.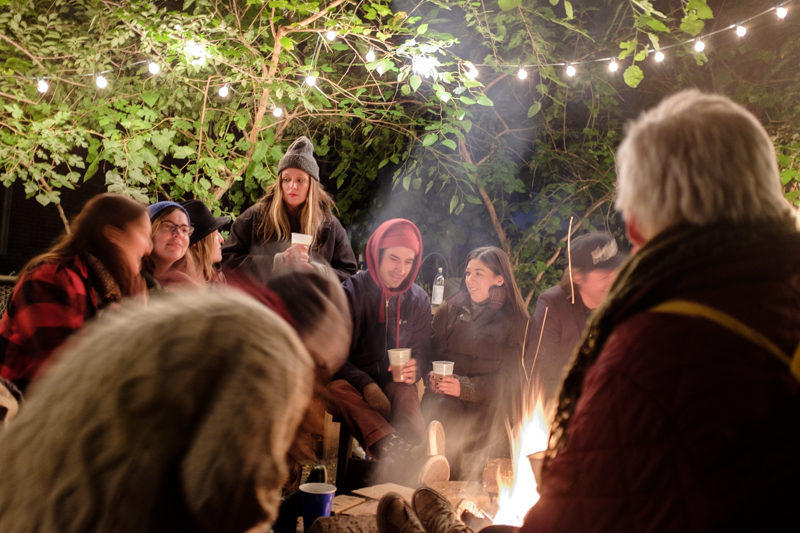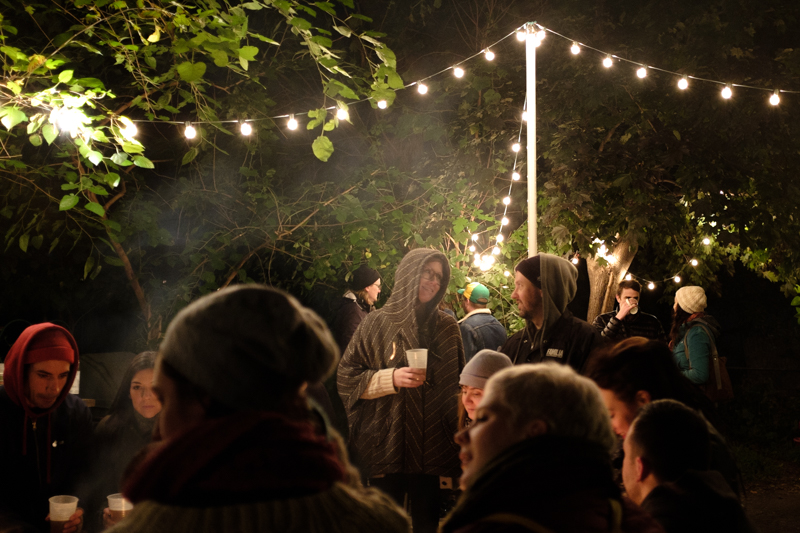 Can't wait for next spring!