Woody Allen once said, "I'd never join a club that would allow a person like me to become a member." He also said a bunch of disgusting shit while marrying his stepdaughter, but despite that, I do totally relate to the club thing. I'm more interested in joining an organization that WOULDN'T have me as a member than one that would. All you have to do is a take a look at the people trying to enter some awful nightclub with one-word names like Envy or Tryst. Or even just check out how many people try to get into an exclusive streetwear party where dudes stand on one side of the room and talk about shoes while hot girls stand confused on the other. People want to get into places where they aren't wanted. It's human nature. So you can only imagine my reaction when I was told there was an exclusive, invite-only online group where insanely good-looking girls from the greater LA area post daily to get advice, gossip, share stories and talk candidly without the presence of men. It's like Willy Wonka's Chocolate room, but instead of chocolate, the inner thoughts of girls you want to hook up with flow throughout. It's called Girls Night Out and it's a private Facebook group. It's what dreams are made of.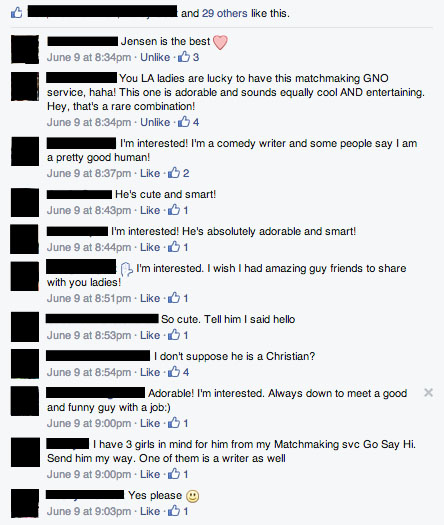 I first heard about Girls Night Out a few years ago, almost in the same way that you'd hear about a Fight Club. There were faint whispers that a girl named Crystal had created this group to help get the word out about parties she was paid to promote. She was in the business of getting hot girls to go to places like the Roosevelt, and the group, which started with around 100 members she hand-selected, was an easy away to avoid group texts, because we all know those are reserved for monsters. Although I have no real inside information and watched from afar in the same way that the Crocodile Hunter observed his life's work, I knew she wasn't sending these girls to bad parties or events. If Crystal vouched for it on FB, then expect a bevy of cuties to show up ready for fun. I saw it firsthand when my friend had a music video shoot and Girls Night Out "supplied" a dozen seemingly down-to-earth and extremely pretty girls. As the ladies – typically in the 20-35 year old age group – began to have fun and feel safe at GNO-endorsed plans, the word began to spread. One girl told her friend, who in turn told another friend, who then told a whole sorority, and just like that, it's word of mouth. Girls Night Out has since spawned into spin-offs like Girls Night In and even a marketplace for these girls to sell things amongst each other like it's hot chick eBay. Today there are over 4,000 girls enlisted in Girls Night Out, and almost 1,000 in Girls Night In, two groups still heavily shrouded in secrecy to men... until now.
I would hear secondhand tales of girls posting their sexual preferences, dating horror stories, waxing tips, and even naked pictures, but never wanted to investigate any further and break their privacy. Didn't seem fair. I've never actually been inside the Girls Night Out page by myself and I wouldn't want to write an expose. I actually respect the gangster of their intentions and I don't want to fuck anything up. Not to mention, the folklore of its existence would be better than any reality... or so I thought.

Recently, two of my girlfriends in the Girls Night Out/Girls Night In groups were excited to tell me about a new trend happening on the sites. One genius member was concerned for her guy friend who has had bad luck trying to find down-to-earth girls in LA, so she turned to her secret society to change that. In the same way Crystal used the site to fill parties during GNO's inception, this girl was hoping to populate a dating pool for her guy friend. She decided to post a picture of him (claiming it was behind his back), with a small description and pitch that would've made Billy Mays jealous. She explained he can build shelves and gushed about how much he loved live music. If she's ever unemployed, I'd be interested in hiring her as my publicist because she sold the shit out of this dude. In his defense, he was a traditionally good-looking guy (think Nev from Catfish without the tramp stamp) and he was pictured holding an adorable dog. I'm not going to lie, she effortlessly cracked the code. So much so that only an hour later, they had racked up hundreds of comments from girls hoping to meet him. Like it was The Bachelor on Adderall, the sponsor was fending off possible dates left and right. They were suggesting outings and trying to one-up each other repeatedly, each candidate prettier than the next. She eventually called off the search and said she would consult with the suitor and reach out to those he was interested in. JUST LIKE THAT! Multiple dates in the queue all dependent on what he wanted off the menu. What if this guy finds a wife this way? I kept imagining them having to tell people they met through a Facebook group page that also detailed how to use coconut oil as lube. One girl even stopped by his house with a bottle of wine, just because she was asked to do so. So while you're swiping left and right on Tinder and filling out pages of information for OKCupid, this shit is happening behind your back.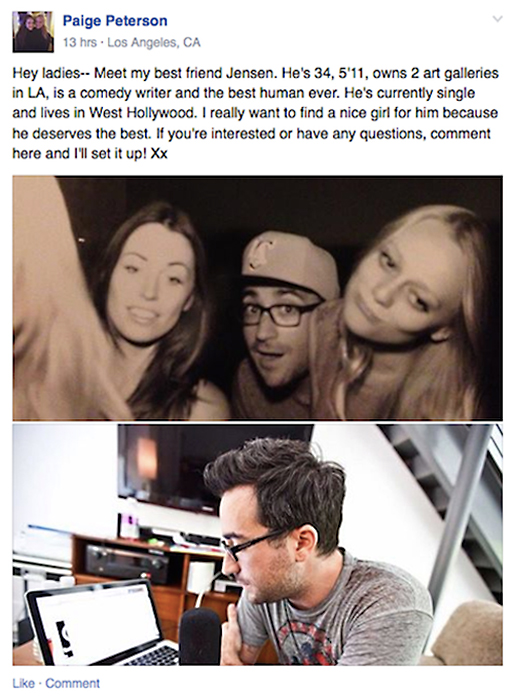 I was dumbfounded by the swiftness and efficiency of the newly-minted Girls Night Out matchmaking service, but it made sense. If a trustworthy and beautiful girl can vouch for how great a guy is, in this world of awful douchebags, that's a rarity worth speaking up for. Girls have it rough these days, with all these men wearing fedoras in 2014, so this helped weed out the losers quickly. It was a system of checks and balances, with some competitive spirit thrown in, and truthfully, those are the pillars in which our nation was built on. And even though I've never used an online dating website, now I wanted in.

Despite having understandable fears of rejection amongst thousands of pretty girls, my 2 friends and I concluded they would place a personal ad on Girls Night In for a date with me. They would post two photos of their own choosing and describe me in any truthful way they wanted, without any sort of feedback from me. I wouldn't be able to check the site or make any comments, as I wasn't a GNO member and I wanted this to happen exactly the way it should over 24 hours: without the presence or pressure of men and amongst the culture born from this social group. I'd be terrified of the results, anxious of getting dogged, but despite not having much faith, I'd actually follow through with a date, it's an experiment I was willing to take for The Hundreds' readers.
My friends texted me as soon as the post went up. And in all honestly, I immediately regretted it. Without any control over what was happening, I sat at home completely vulnerable to the process. What if girls immediately weren't into me? Or even worse, what if they just didn't say anything at all? I took an Ativan and watched a few Bar Rescue episodes.
About an hour later, I got an email with screenshots from my friends and I hadn't had this type of anticipation since I was 17 and my SAT results came in the mail. The first comment was from another friend of mine, endorsing me as "the best," and, although very sweet, I couldn't help but see this as the online version of bringing your cousin to Prom. The next comment was very positive, calling me "adorable" and "entertaining," but from a girl currently outside of LA. I was off to a kind, but mild, start. Then, almost like the girls knew I ran out of Ativan and had only one Bar Rescue left on my DVR, they started commenting.
"I'm interested!" one girl proclaimed. Another said, "He's cute and smart!!" This was both the journey progressing organically AND the validation I needed.

"He's absolutely adorable and smart!"

One commenter even recognized me from my early 2000's rap career.

One girl innocently asked, "I don't suppose he is a Christian?" I assumed this was real, but also could've been anti-Semitic. Either way, it's a comment!

This was going perfect and each girl seemed more awesome than the next. A few even sent private messages to my friend, so being a dude with his shit together was paying off. One girl asked if I was Jewish and looking for marriage.
At the end of the day, I clocked in a bunch of comments, but nowhere near the 500 from earlier in the week, but we did just let it sit for 24 hours, while his kept getting bumped up by the poster conversing with girls for almost a week. This, and the fact that I don't have a dog, is what I keep telling myself to feel better. I considered it a success and went from solely engaging in the experience to write a silly article to actually having my friend get a phone number from a girl who expressed interest.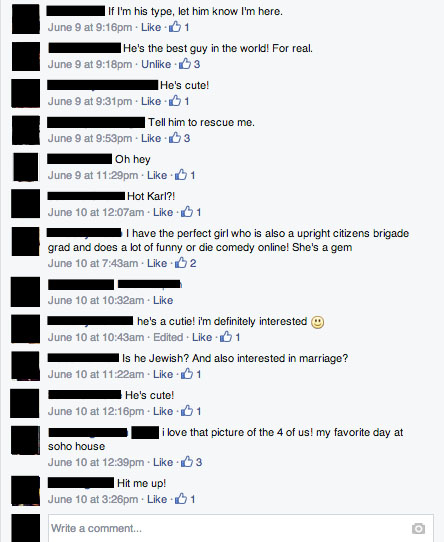 I'm pretty sure I could spend 10,000 hours on websites like eHarmony, JDate, OKCupid, FarmersOnly and ChristianMingle and not see these types of results. Beyond the "Holy shit, this exists" factor, you have to applaud these women for Girls Night Out / Girls Night In. In this world of idiot aggressive guys and Pickup Artists, they've found a strong community to avoid pratfalls and time wastes. Every single girl who commented on either my post, or Dog Guy's entry, definitely have zero problems finding dates every single night of the week, but these strong women seem to actually demand more: a reason to give them a chance. Every guy who reads this should be seeking which of their girlfriends are in the group and who will post their picture. This is like when Eminem came out and everyone was like, "Who's this white guy rapping?" and then Dr. Dre was all like, "He's with me. He's great," and then we said "OHHHHHH, awesome! He's the best." Just like that, but with coconut oil lube.