"GIRL SCHOOL" is a new weekly column by Yasi Salek of Cultist Zine & Crying Magazine that's going to school us on all the girls we need to know about – right now. Look out for it every Thursday.
Slutever reminds me of that best friend duo in high school, the one that was always impossibly cool, yet smart (like AP classes-smart) and funny (always leaving lunch tables giggling in their wake) – the one that had a deep, impenetrable bond that was obvious to everyone but who would always happily and warmly invite you into their world over onion rings and a coke, and in this particular case, a lengthy discussion of Kardashian kulture. Rachel Gagliardi and Nicole Snyder tackle the topics that plague all of us: growing up, heartbreak, self-esteem, judgement, all with a bleeding honesty and gripping emotional intensity, plus a strong nod to the '90s bands they cite as influences: Hole, Nirvana, and the Breeders, amongst others. Slutever are a bright star in the current wave of grunge-punk revivalists: they've managed to distill their love of an era through their own totally modern and strongly self-referential sensibilities for a sound that reaches out and grabs the tender, fleshy hearts of a whole new generation. In conclusion, I would also like to be their best friend and I have maybe made them a three-way best friend necklace but should that fail (it will inevitably fail, I am like that guy who graduated high school four years ago but still shows up with six packs at the parties), I'm happy to be left with their music and their biting Internet humor.
I talked to the LA-based duo about their origins, some of their band BFFs, and their favorite reality shows.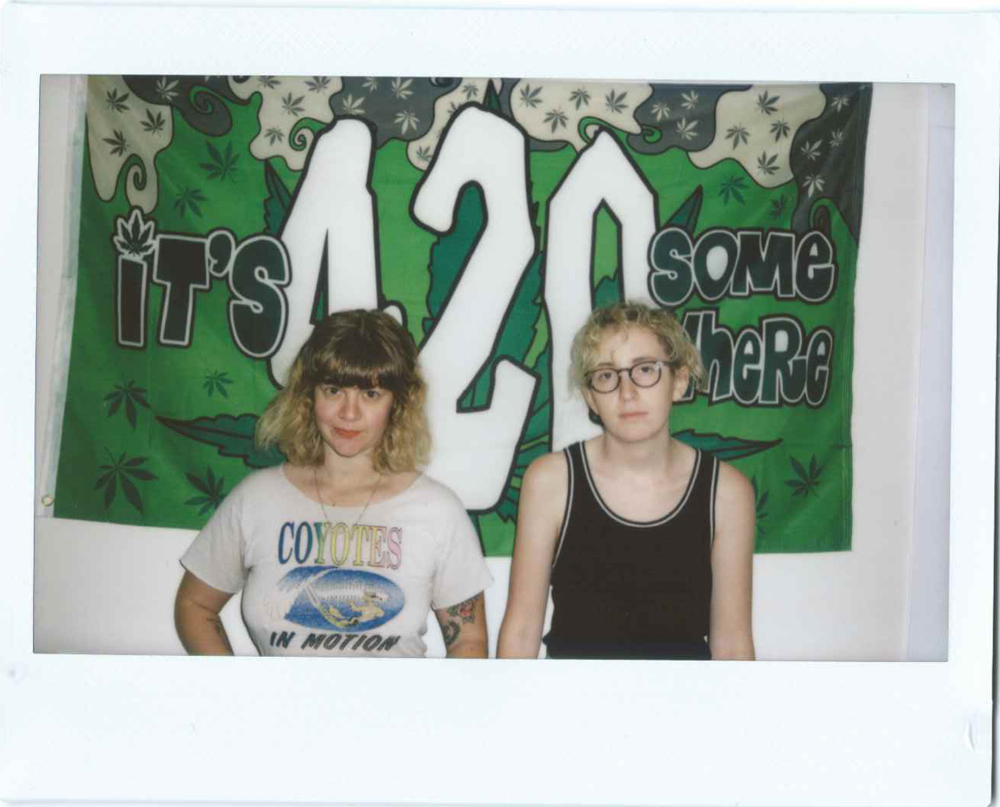 YASI SALEK: You guys have an… interesting band name. Do you ever find people completely miss the mark and assume you're a different kind of band because of the name?
NICOLE SNYDER: Probably. There's another Slutever who writes a sex column for Vice. I think some people probably get confused as to whether or not there's any correlation between the two – there's not. And though we both definitely identify as feminists, I think some people maybe think we're going to be way more political because of our name. We used to get the "riot-grrrl" tag a lot. At least we're not the Arctic Monkeys…
"I THINK IT WAS IN THE PARKING LOT OF A FAST FOOD CHAIN WHEN I KNEW NICOLE WOULD BE MY BEST FRIEND FOREVER."
How did you two meet? What was the exact moment you knew you would be BFF?
RACHEL GAGLIARDI: We met in high school, which sadly was a pretty long time ago. We both were really into music and took a music theory class together. We used to listen to stuff like Rilo Kiley and Bright Eyes together and cruise around smoking pot and going to Burger King and Chick fil A a lot. I think it was in the parking lot of a fast food chain when I knew Nicole would be my best friend forever.
NICOLE: Yeah, Rachel seemed cool and we had mutual friends so I sent her a MySpace message saying we should hang out, and we did.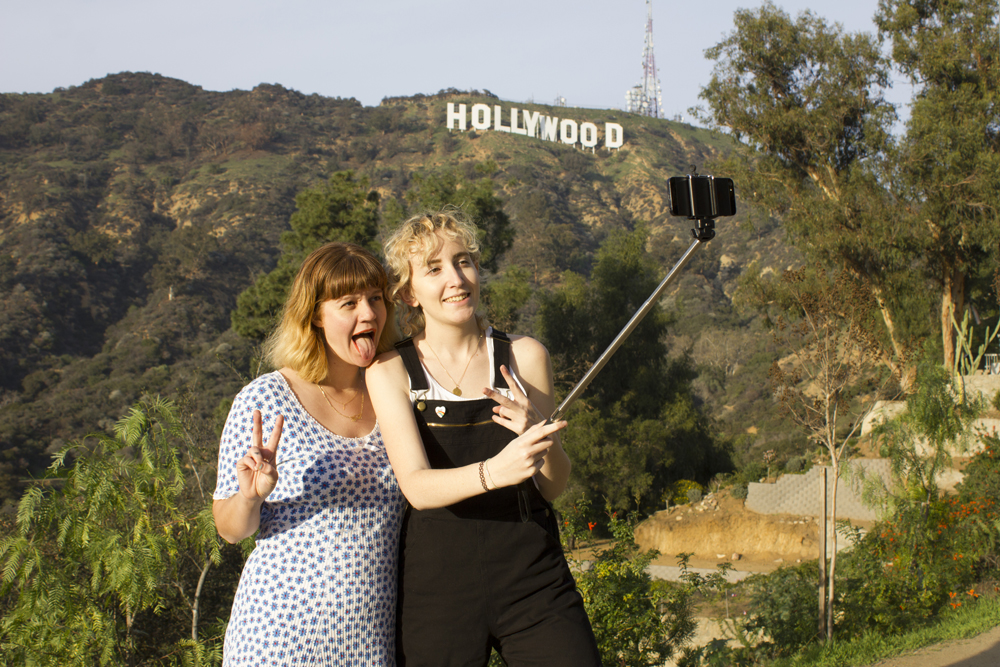 What caused you to leave Philly?
NICOLE: I really wanted to leave Philly, I felt like I spent too much of my life in one place and I wanted to explore. I knew some people in Seattle and my friend Bree McKenna from Tacocat was subletting her room for the summer, so everything just sort of aligned for me to go out there. I ended up falling in love with Seattle and the people there, but Rachel was here and the plan was always to meet up in LA and get Slutever back in action.
RACHEL: It felt like I was wasting a lot of my life hiding inside from cold weather. I had little motivation to take myself seriously because half of the year I was in bed freezing and watching Netflix. I wanted and needed a challenge. It always was my dream to live in the paradise that is Los Angeles, CA.
What do you miss most about Philly? On the flipside of that, what are the best parts about now living in LA?
NICOLE: I miss being close to my family. I miss some of my favorite restaurants. Touring is easier on the East Coast. But I'm honestly so happy to be in LA over Philly right now. The quality of life is just nicer. Yesterday, we went to a park at the top of a mountain and looked out at palm trees while we read books and got high and listened to Sheryl Crow – in February. I'm more inspired to write and be creative than ever before, just because I'm living in an environment where that's so commonplace and encouraged. I'm also pretty happy about the comedy scene here and I have a really cool job working on a movie – those things just don't really exist in the same capacity anywhere else.
RACHEL: I miss my boyfriend and friends the most. It's hard to be away from family and all the familiarity. Philly has a great music scene – it's full of old disgusting basements to play in which really helped us develop our live set. Definitely miss things like real pizza and good bread. But living in LA is actually a dream come true. I've wanted to move to California my whole life. I love the constant sunshine and pop culture saturation and feeling like there's endless possibilities. I do not miss my seasonal depression [smiles].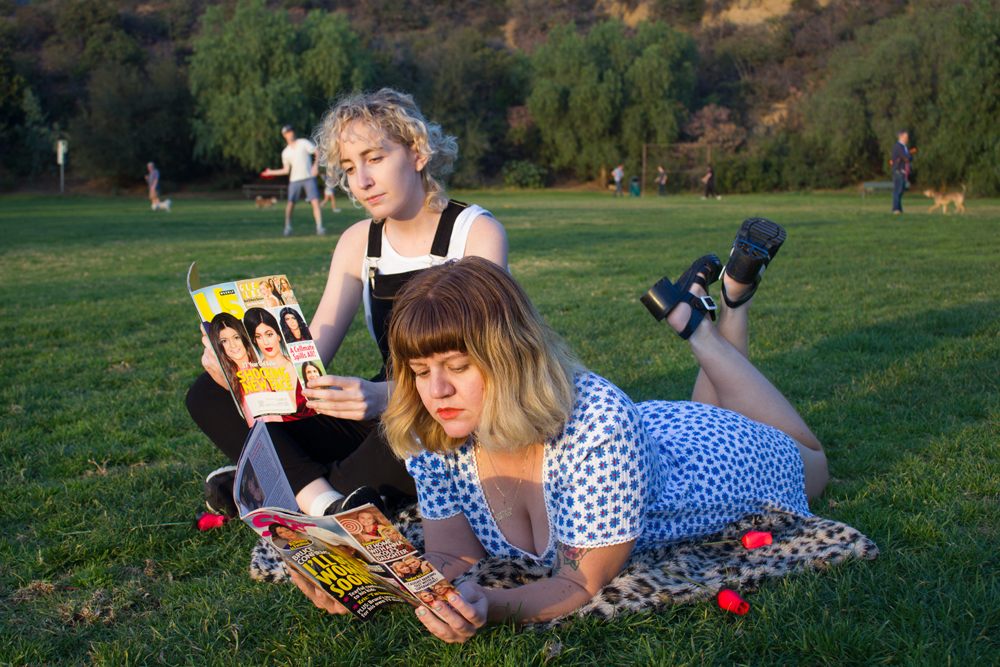 Who are some of your other band BFFs?
NICOLE: Girlpool, Tacocat, Mannequin Pussy, Lisa Prank, Upset, Peach Kelli Pop…
What would be your dream tour line-up? Which would include your band and three other bands, living or dead?
NICOLE: I think if we could get onto that Lana Del Rey / Courtney Love tour and tack L7 onto the bill, that would probably be it for me. If L7 isn't down, maybe The Muffs? I would love to play with Taylor Swift but I don't think Rachel would ever let that happen.
Slutever's recurring tagline is "friends first, bands second." Can you expound on this?
NICOLE: We borrowed that philosophy, as well as our previous EP title Pretend To Be Nice, from our favorite movie Josie and the Pussycats. We were friends way before Slutever existed. It's really fucking stressful to be in a band with one other person – especially when that person is your best friend and your roommate. It can get pretty intense, but we always try to remember that our friendship is ultimately the most important thing to protect out of all of those relationships we have with each other.
You guys love reality TV. What are some of your favorite shows?
RACHEL: Lately I'm super into Real World Skeletons, Teen Mom, Dance Moms, Broad City, and Chopped.
NICOLE: The only reality shows I'm really in love with are Keeping Up With The Kardashians and The Bachelor(ette). And I kinda love all cooking competition shows like Masterchef Junior and Top Chef.
Who are some other women you would recommend to be featured on this column, Girl School?
Definitely Grace Miceli – she did our most recent tape art and a T-shirt for us. Her Instagram @artbabygirl is one of our favorite things on the Internet. Kate Berlant is our favorite comedian right now, she's so brilliant. Our roommate Faye Orlove makes amazing art and directed our "White Flag" music video. And we are obsessed with everything Caroline Goldfarb does (especially her Instagram, @officialseanpenn).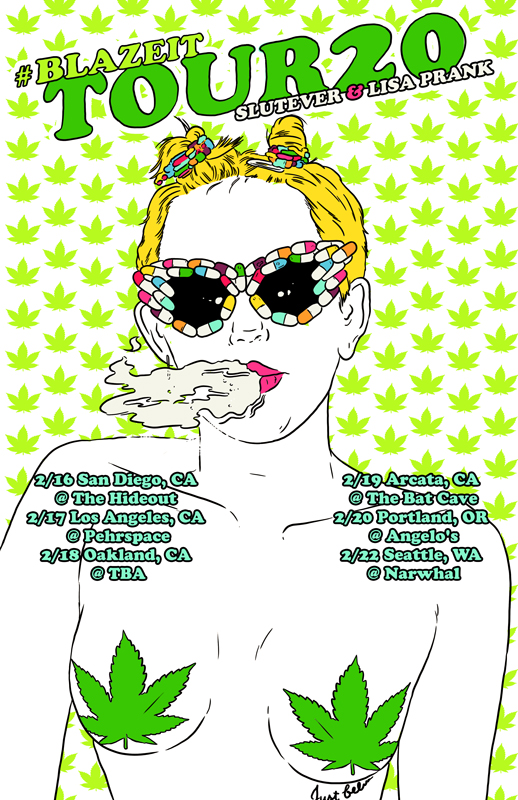 ::
Slutever's latest EP Almost Famous is out now. You can stream it via Stereogum.