In Get Local :: Guide To Harajuku, we focused more on places I frequent, but every time I'm in Tokyo I find new cool spots. In this part we'll explore some of the places that are newer to me.
While Shibuya Station will get you anywhere you need to go in Tokyo, you can get a pretty complete Tokyo experience within 2-3 stops. Having coffee, overlooking Shibuya Crossing – the world's busiest intersection – is a pretty perfect start to any day in Tokyo.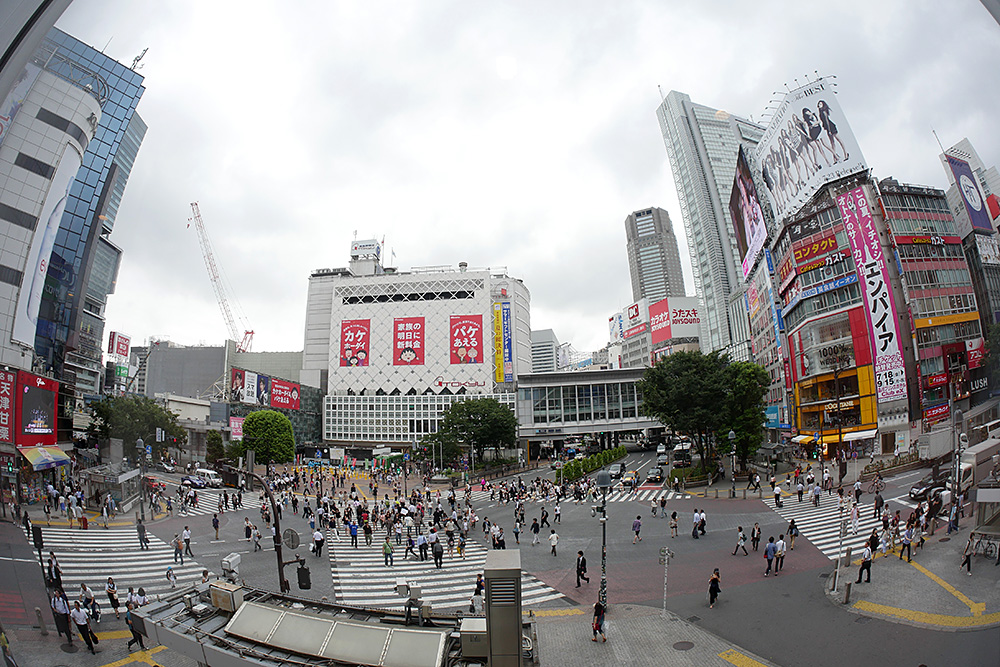 Heading to the north side of Cat Street in Harajuku, you'll find streetwear staples like Undefeated and Supreme stacked in with other stores. While many Japanese streets aren't particularly special, the stores are designed in a way where they simultaneously stand out while also fitting together seamlessly.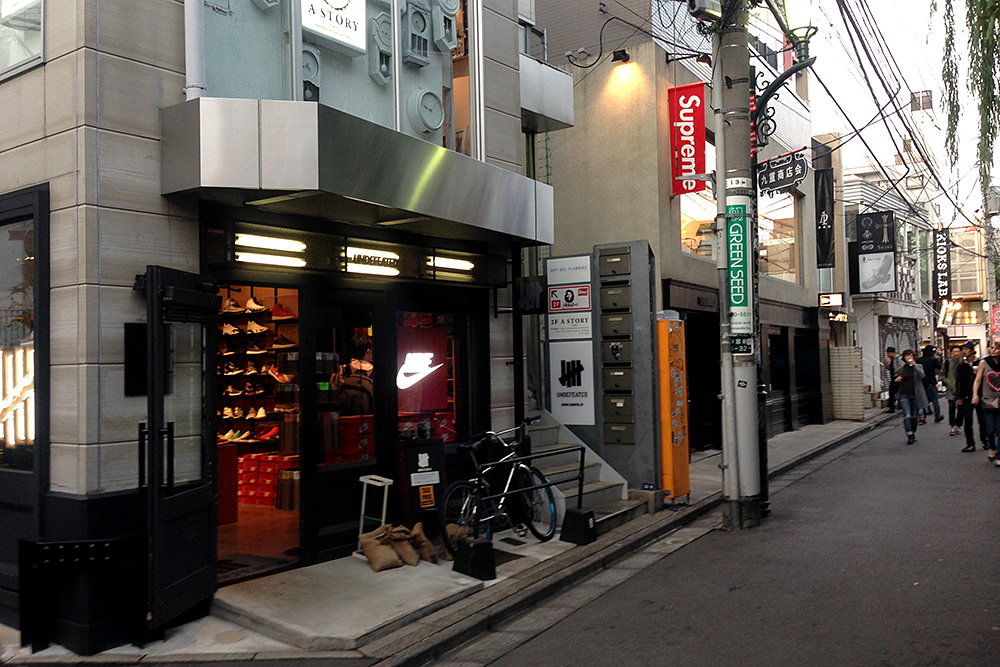 Always a fan of XLarge, but something about the store in Tokyo makes it even a little cooler.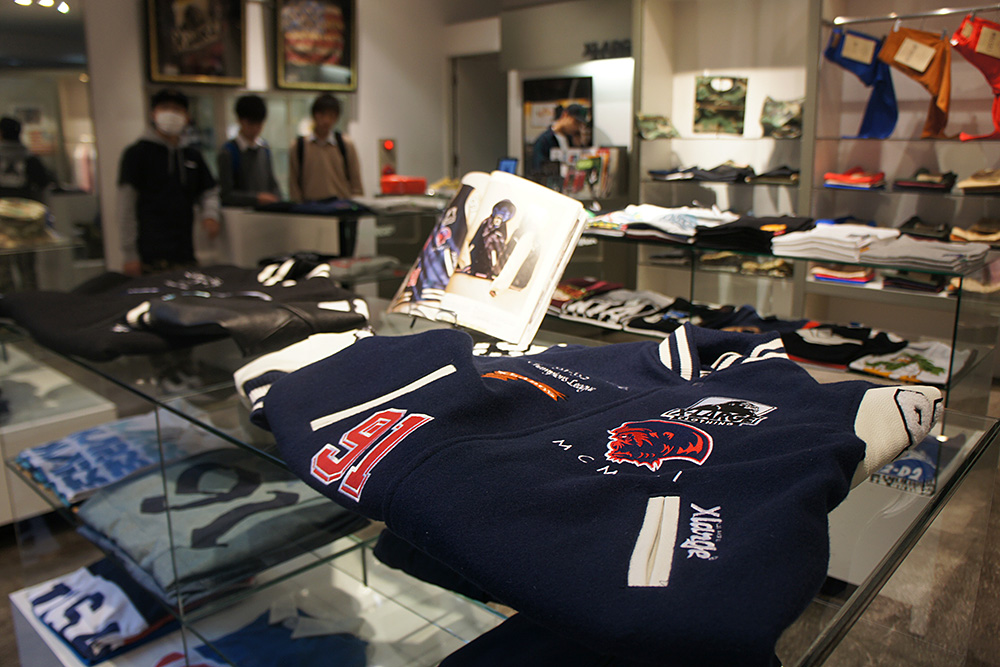 Apparently Aape is more popular with the Chinese – there seems to always be one piece of branding too much for the cleaner Japanese style. Once inside it all made sense; I would see something and and think this is rad… oh, except for these extra logos.
You can find fresh fruit in the middle of the fashion district. Not sure why, but I really liked this Stussy sign below – something about the neon, reflection, and the placement all coming together was just rad, the store is pretty cool too. The Neighborhood store and its accessories fit in perfectly with the Japanese style.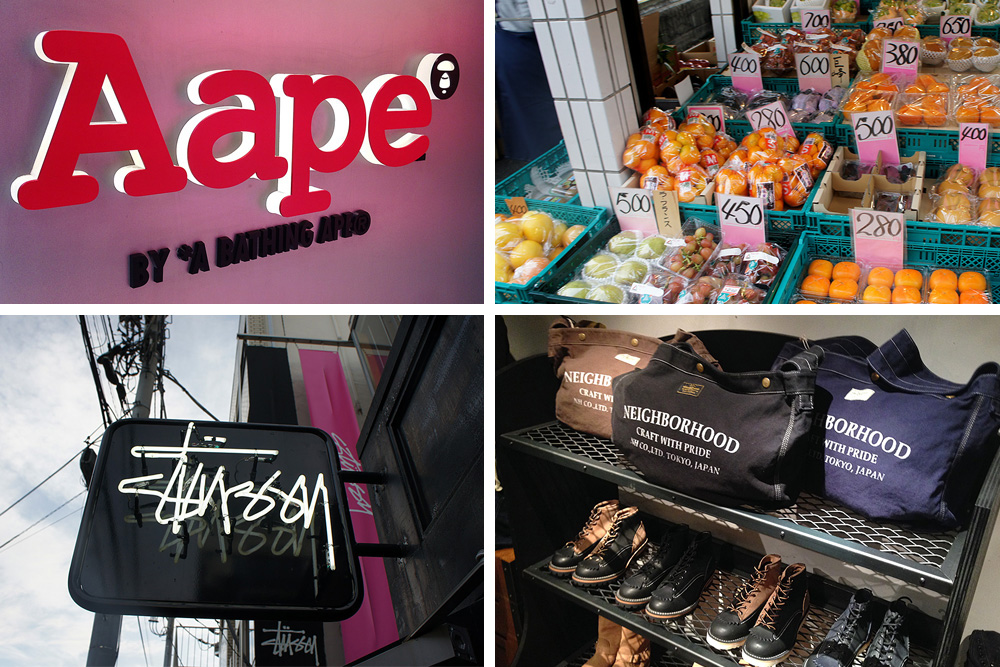 Most of the "cooler" brand stores are actually pretty inspired but what's more interesting to me is the high end secondhand stores like Brand Collect. In the US, unless you're a hippy or vintage head, searching through used clothing stores is often more work than it's worth. But with less space in Japan, stores carry less of the shit and more of the pieces you'd actually want. Lot's of secondhand stores focus on high end/kitsch fashion from the Supremes to Monclers.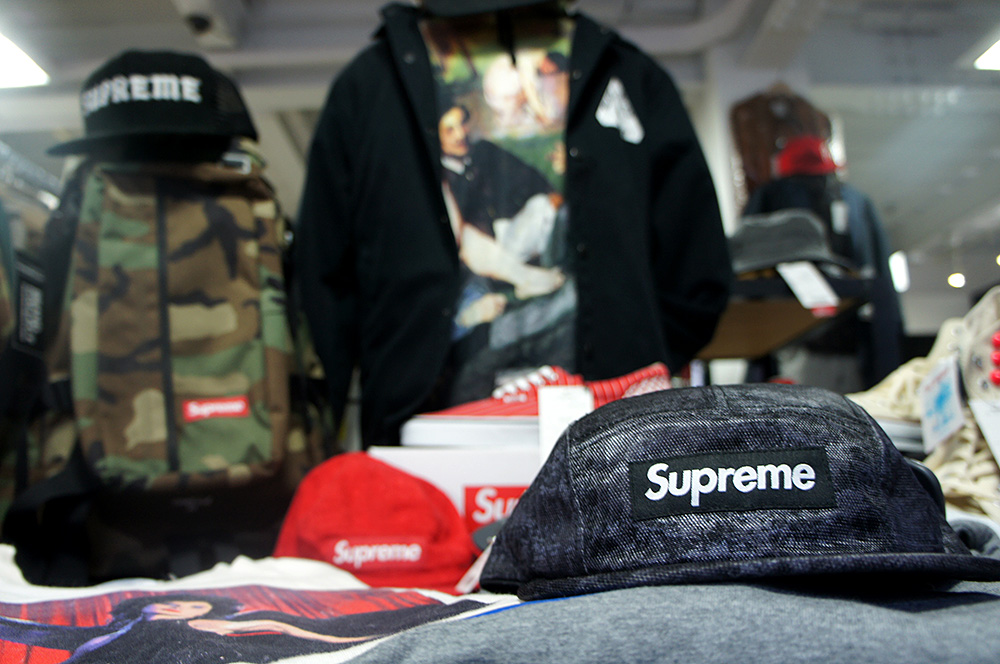 Like any city with skyscrapers, you can find some nice views in Tokyo. Most tourists stick to the more publicized observation decks with Roppongi Hills and Tokyo Tower being two of the most popular. But if you want to get a little more local you can head to Carrot Towers just off the Sangenjaya Metro stop.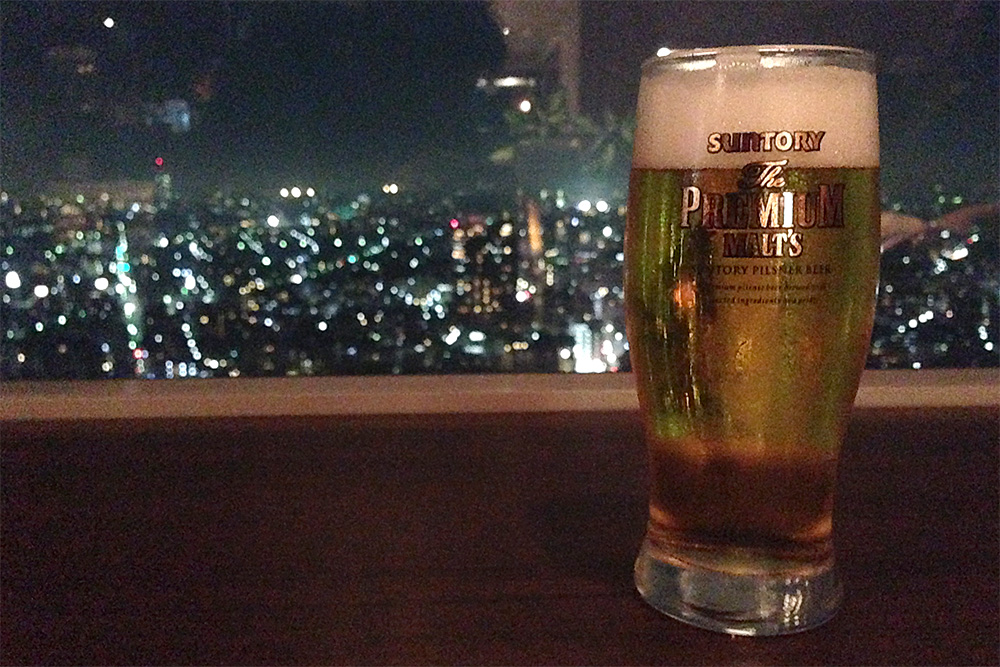 While not remotely fancy, the observation deck is completely free and this is also the only view I know of in Tokyo that's totally removed from any other tall buildings. Carrot Towers is an extremely local spot and on any given day, you'll find a few local oldies just chilling for hours taking in the view – but hopefully you'll find yourself there on a clearer day.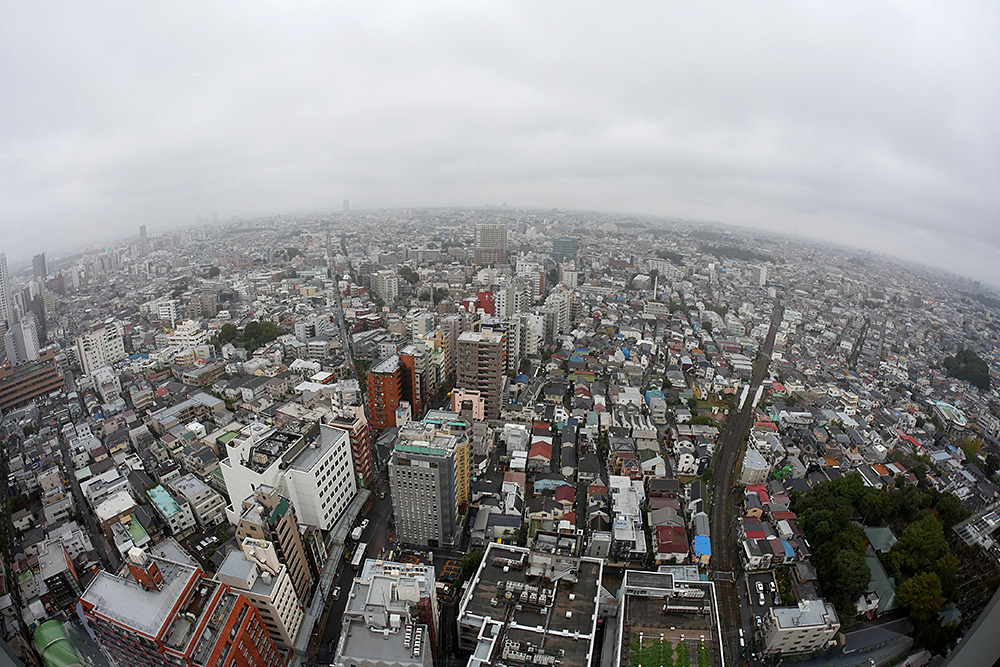 Just 2 stops from Shibuya, this also one of the most convenient, more typical Tokyo neighborhoods, so you can be sure to explore the local streets and alleys a little. Mostly small bars and restaurants. I've actually had some surprisingly good meals and fun times around Setegaya. It's hard to go wrong with BBQ anywhere in Tokyo, but locals here seem to recommend Daijuen for Yakiniku (grilled meat).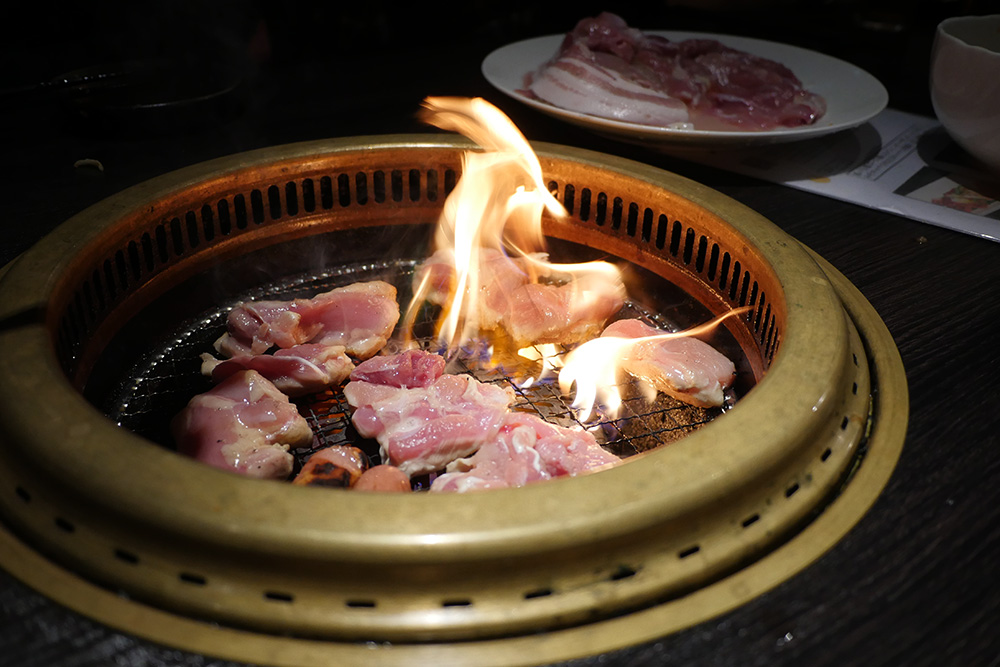 Yoshikibo, Setegaya, is a tasty neighborhood noodle shop/bar. It's tiny but awesome, and it only 4 seats, yet I've seen 12 or more people crammed in there.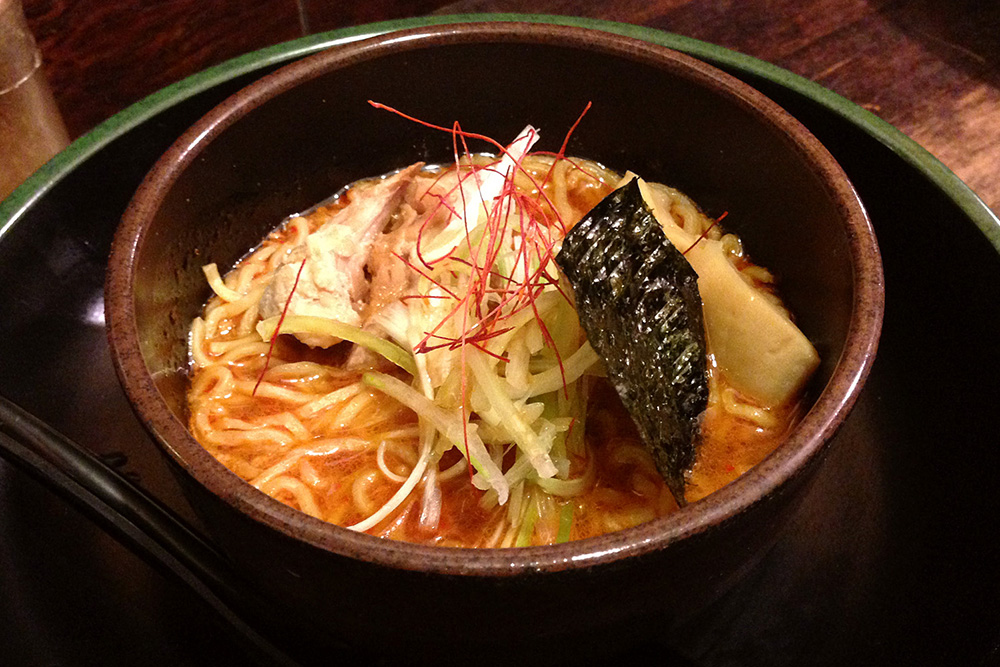 Back at Shibuya Crossing is Bic Camera, a huge multi-level camera store. Inside Bic, you'll find just about anything you can imagine, and some things you never have that revolve around cameras and electronics. If you like cameras or electronics you can definitely nerd out in here for awhile.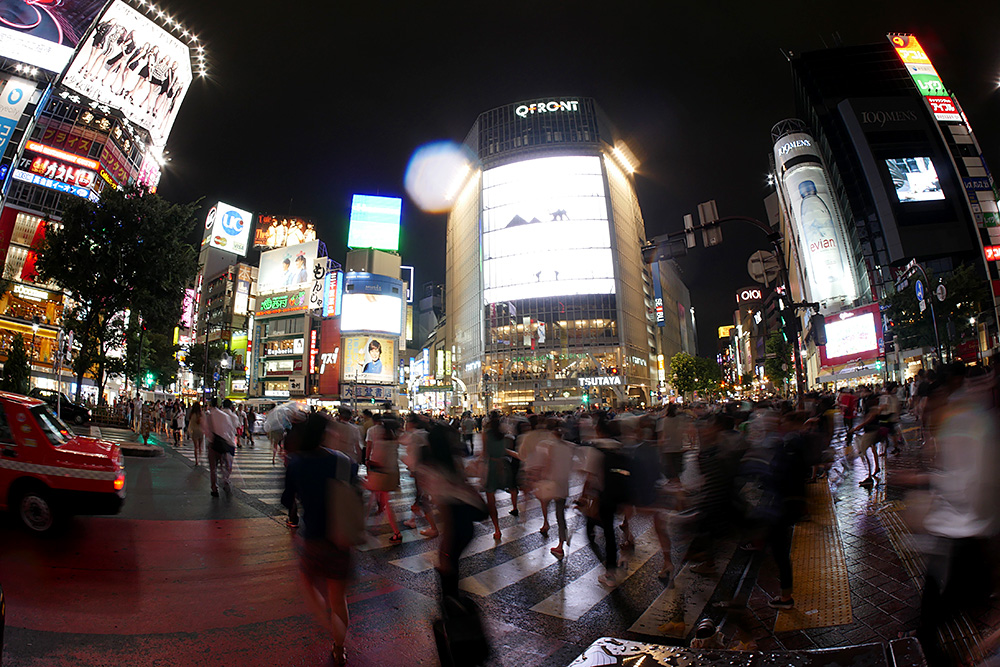 Around the corner from Bic make sure you check out Yamada Denki "Labo." While "Labo" is a pretty typical Tokyo-style department store, it's also pretty interesting just looking around. As a bonus, you can take a break and get a massage. Local legend is that the chairs are "free and still better than paying $40 an hour." These things are impressive to say the least.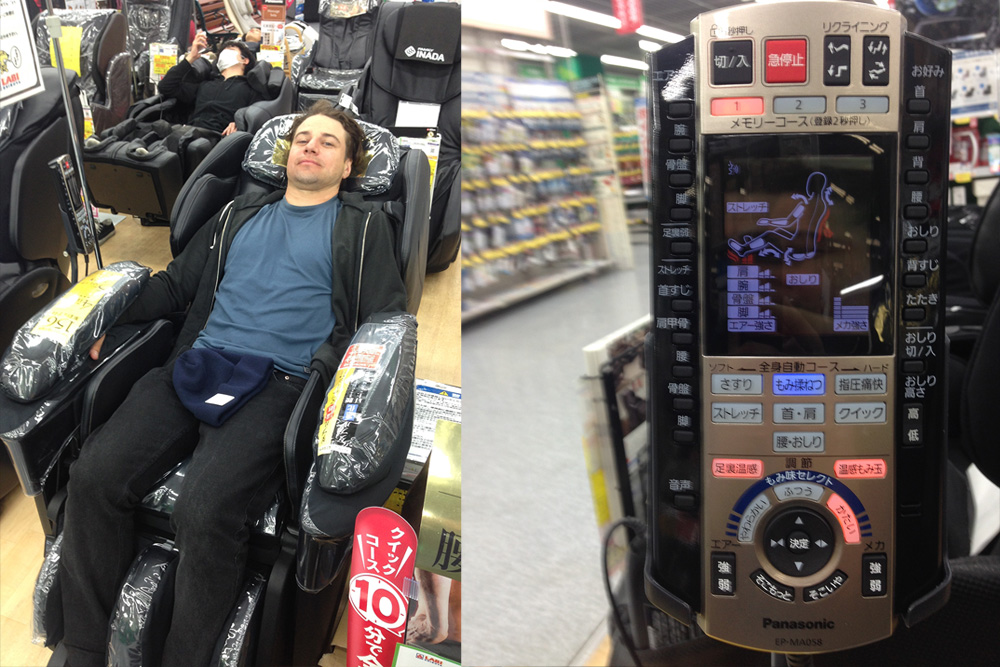 I'm constantly confused and entertained by the way Japanese reinvent American ideas. Then again maybe I'm just giving America credit for boy bands, but an all girls group made to look like boys? That's definitely a Japanese original. Add in a Barbie Clothing store for adults and a motocross brand-themed café complete with a terribly decaled bike and we are just beginning.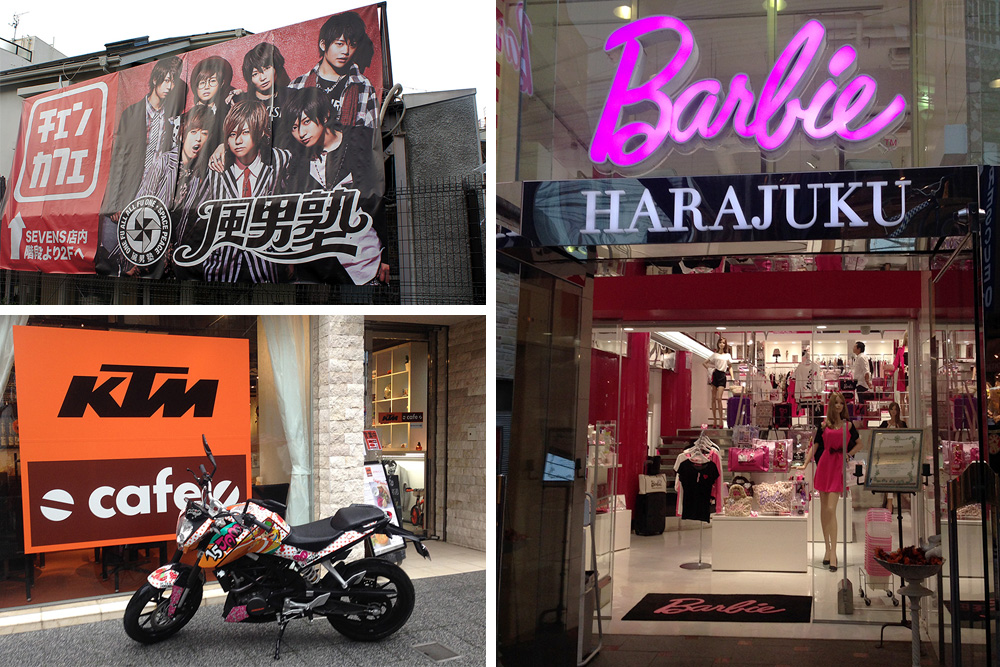 Oh, but they also have legit skate shops too! Arktz in Harajuku has everything you could need to skate as well as apparel and even a full bmx section – that's actually impressive on its own as well. Pretty much all the employees skate, so if you're lucky, they could probably direct you to some local spots.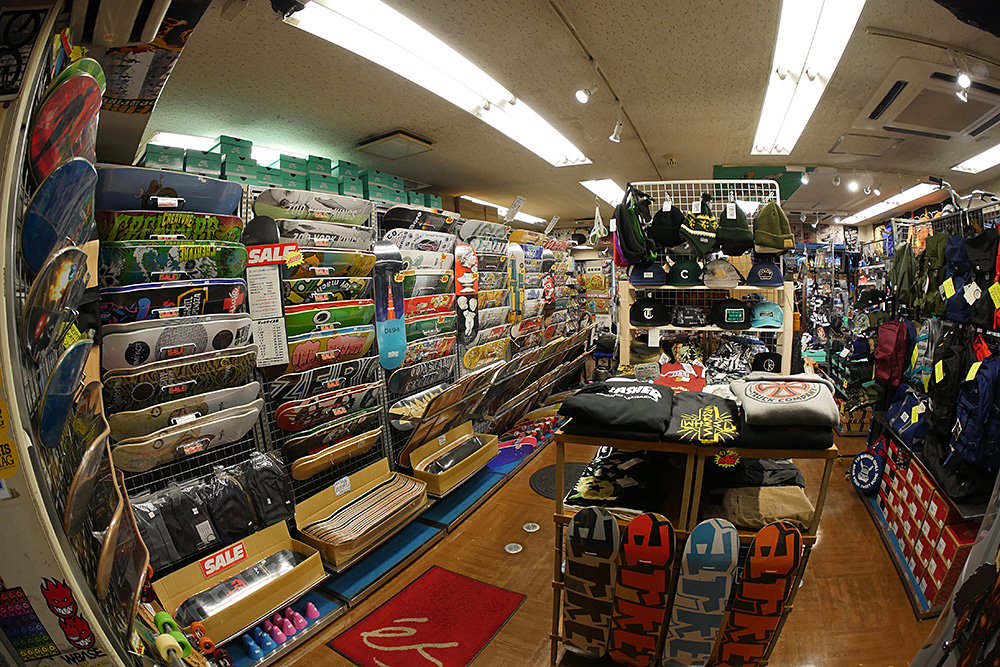 Evisen is a Japanese skate brand and I've started to become a fan of their graphic style – their boards always stand out amongst the imported decks.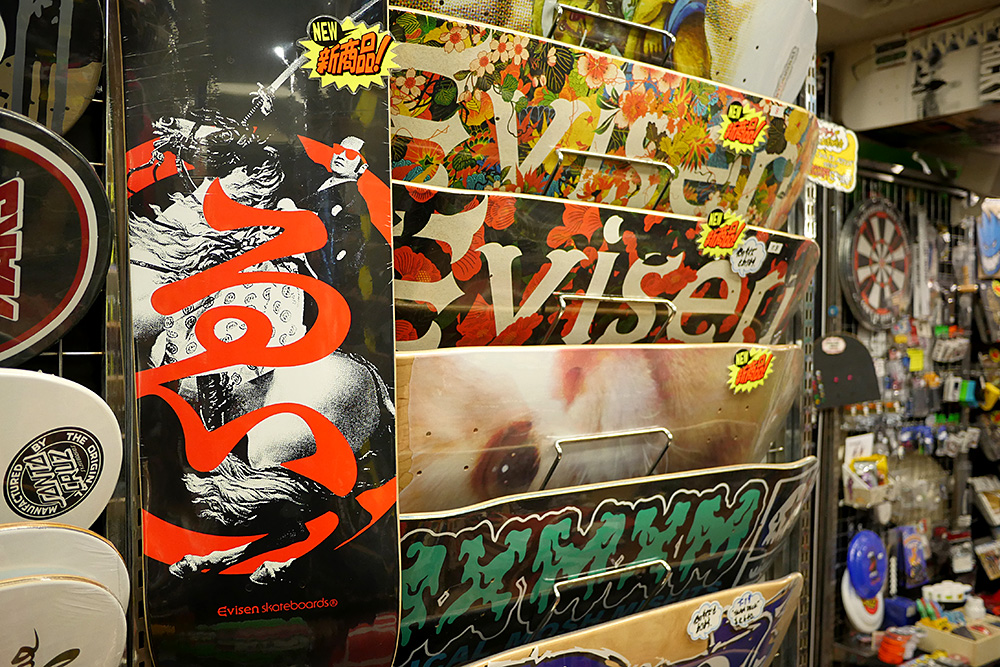 And if you need more than just bmx, W-Base is one of the coolest bike shops I've ever seen. This multilevel store has good mix of almost every kind of bike including a lot of old school bmx memories. The vibe is modern, yet stacked with product so you'll definitely find something cool there.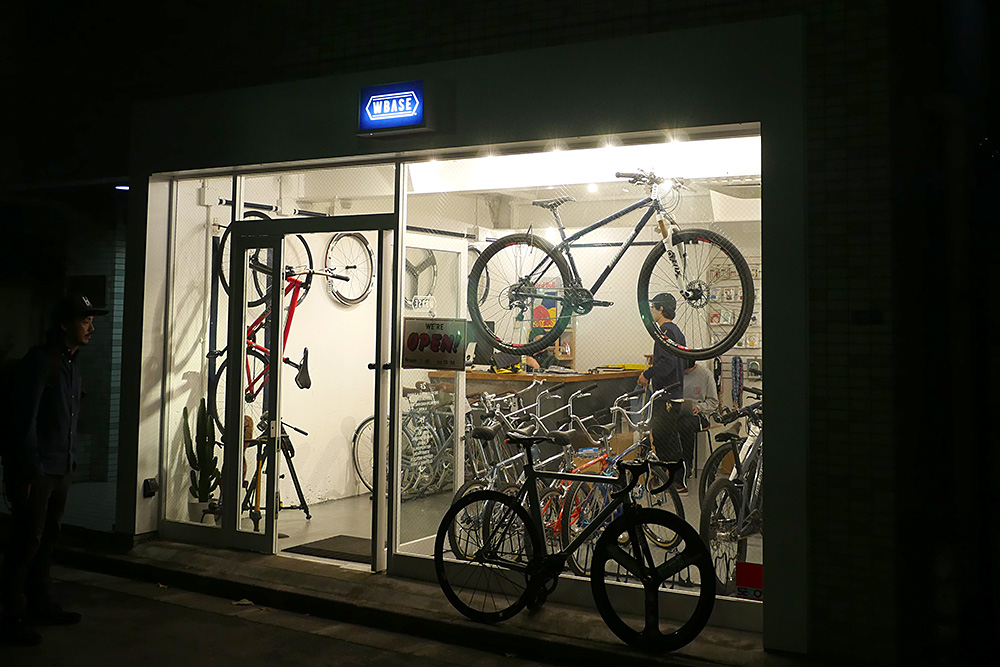 Back to food, an awesome experience to have in Tokyo is obviously sushi, add in a conveyor belt and it gets turned up a level. I can't recommend Daidokoya Shibuya highly enough!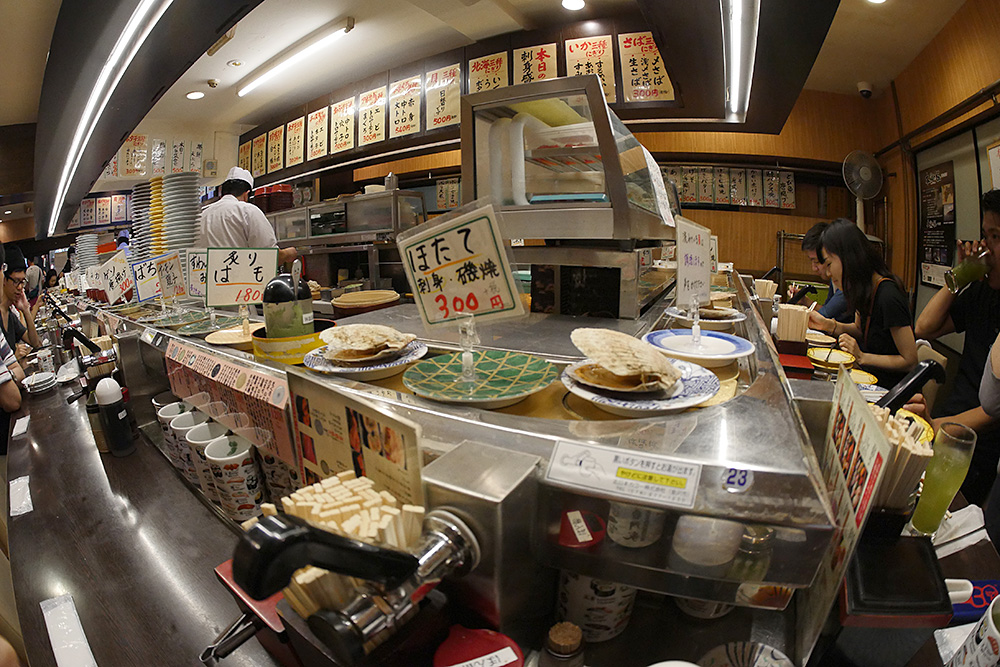 After way too much way-too-good sushi, I started to imagine a huge bill, but when it came, I had to do the math a few times to confirm how cheap it actually was.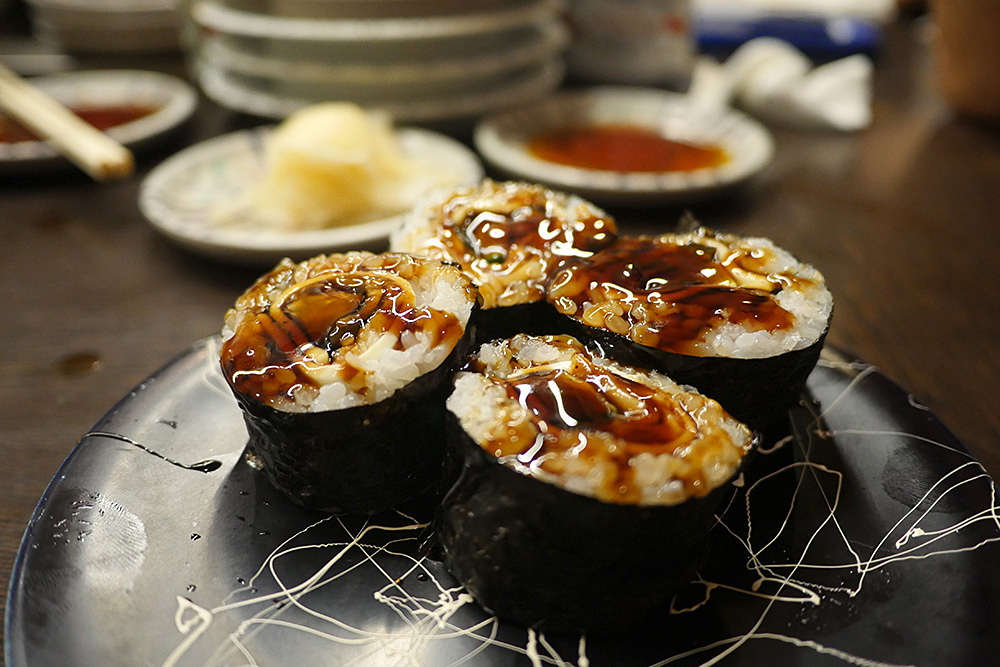 As an American, the Japanese view towards sex is a bit confusing. There seems to be different versions of what's acceptable but it seems that if you keep things a secret, almost anything goes. According to locals, the Internet is the best source for female company. After hearing the pricing and description, I was given definitely reconsidering my (now) stuffy Western "I don't pay for sex" attitude.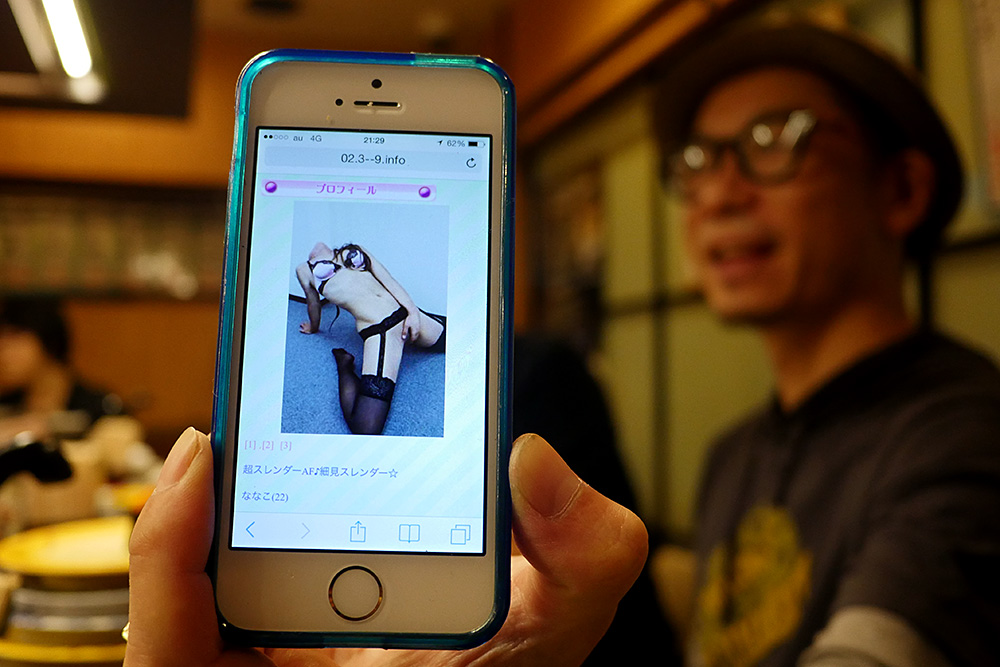 Hikarie, a multipurpose high-rise bringing shopping, food, creative spaces, and entertainment under one roof. A few of the resturaunts on the 7th floor have pretty nice view and make for a good date spot. It's actually a pretty cool view up there and it's not always super crowded, plus the food is good and isn't extremely expensive either.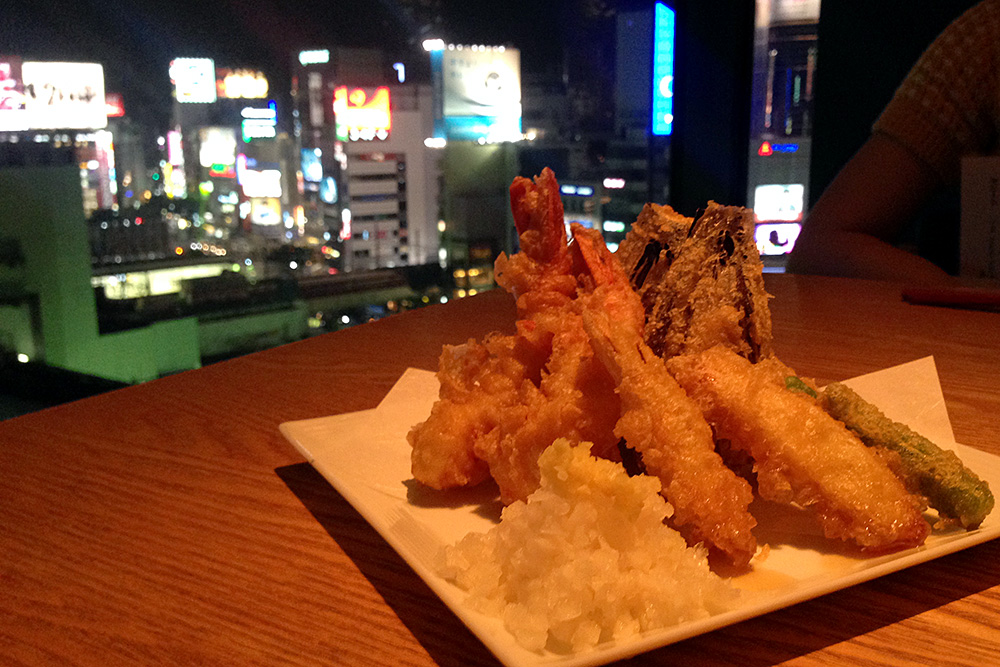 Shibuya is much tamer than Roppongi, but Shibuya still has a lot of nightlife. The best advice I can give is to walk around and find a place you are in the mood for. There's everything from bigger clubs, traditional bars, foreigner bars, and even a few secret bars. If after walking Shibuya you still haven't found anywhere to get weird, try Ucess The Lounge. The vibe is somewhere between a bar and a club with music leaning more towards hip-hop.
Scramble is always a good place to start (or end) a night in Tokyo. Located right at Shibuya Crossing, the free WIFI may help you plan the rest of your night.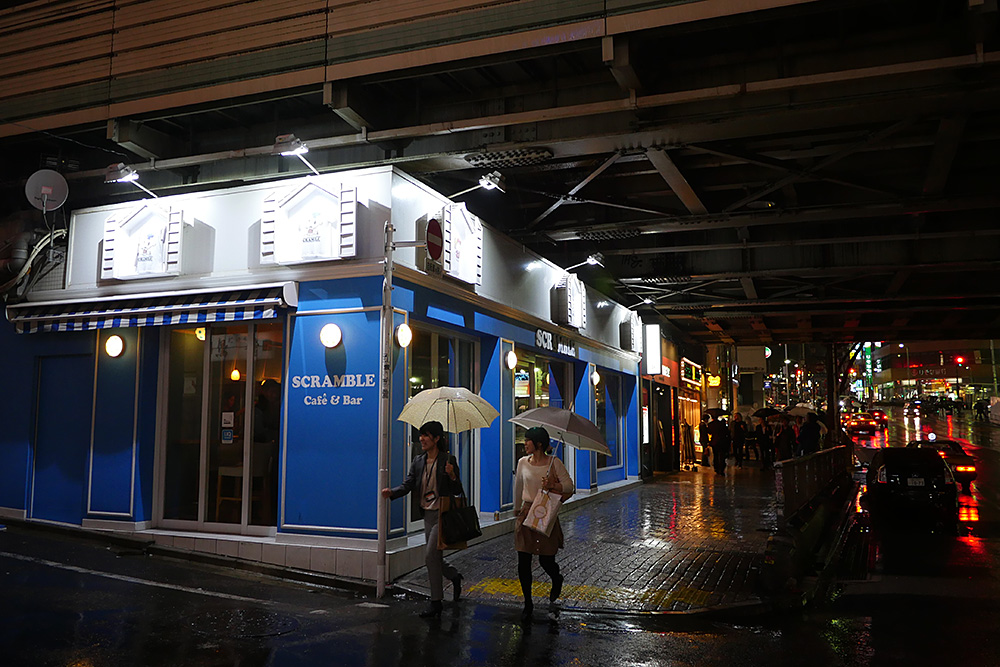 Possibly the best advice I can give is when visiting Japan be sure to download the LINE App (similar to Whatsapp or Biber but better) to make communication with the locals easier.