I was in Liaobu, China, (you've never heard of it) working on a project with Todd Lyons (SE Bikes brand director/bmx legend). We had a few days free and wanted to go somewhere neither of us had ever been. With next to no research, we booked our AirAsia flights and were headed to Kuala Lumpur, Malaysia.
Todd and I had no real expectations other than to explore the city on our bikes. Well as it turns out, Kuala Lumpur, or KL if you've been there, is pretty awesome. KL is a little different than most of Malaysia, the city is a wild mix of Asia, Indonesia, the Philippines, India, with a little bit of American culture thrown in. It's very interesting how all these cultures, plus the extreme diversity of rich and poor, urban and rural, modern and traditional, all come together; mix, match, and even clash.
A local rider, Saiful, turned out to be the best tour guide we could ask for, plus an all around good dude. He brought us to a few skate parks and gave us some info and tips about where to go in the city while making us laugh the whole time.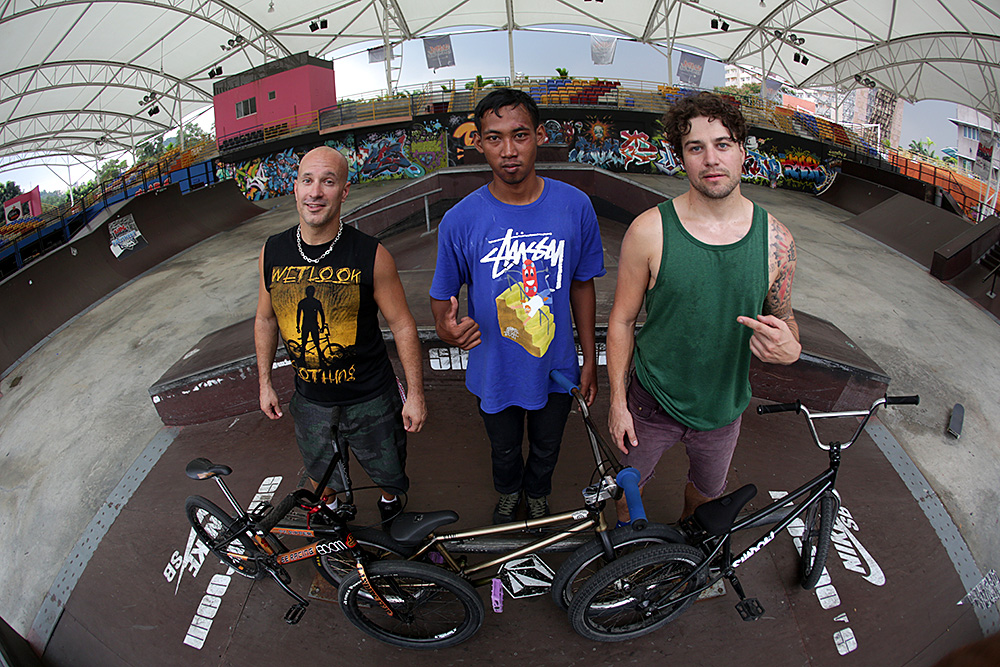 Todd, Saiful, and myself drenched after 20mins.
The locals call Mont Kiara Skate Park the indoor park. In reality, it's open air, but the huge tent over the top makes it the only spot cool enough to ride during the middle of the day. KL is definitely tropical, so it will switch from blazing hot and humid to complete downpour in minutes. As we finished our session, a blanket of water overtook everything in sight and Siaful told us, "It's monsoon season, the wrong season to come here," but then let us know the other season is "the hot season."
None of us were really in contest-mode so we tried to keep it pretty chill on the big ramps but things still managed to get dicy.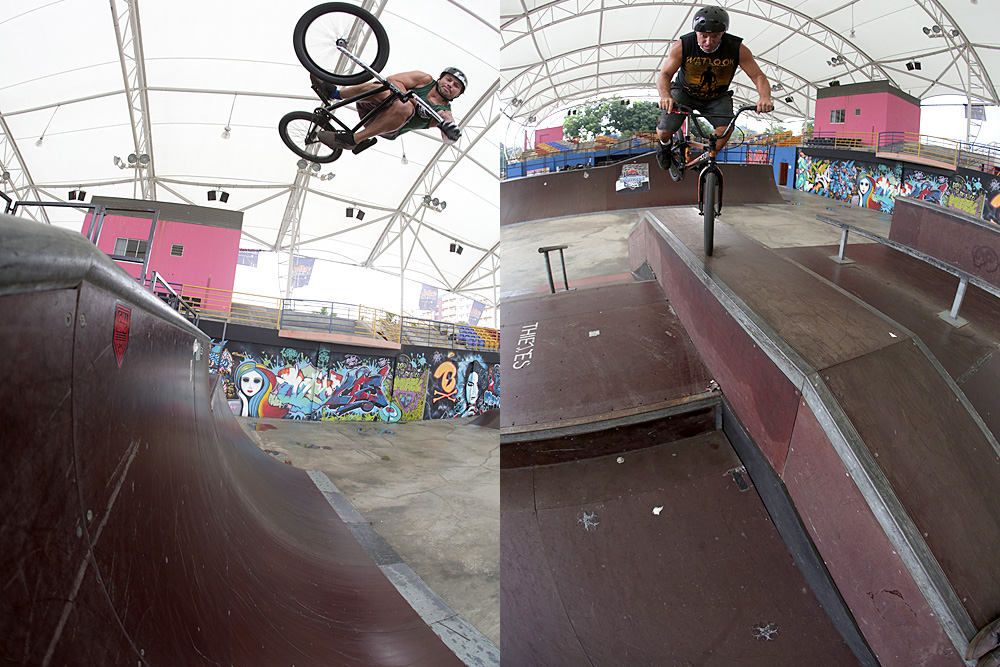 Saiful was killing it, but as soon as we went to shoot, Mont Kiara took him out.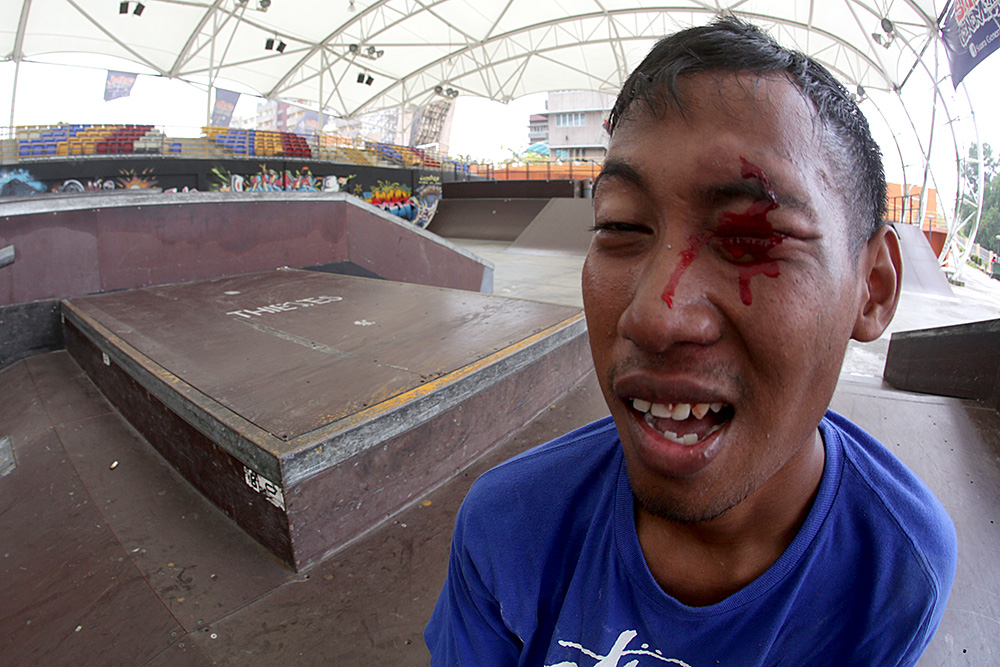 Probably our favorite thing about KL was the food. Even though half the time we weren't sure what we were ordering, I don't think we were ever disappointed. The mix of Asian, island styles, noodles, rich, chicken, and seafood made you want to stop for food on the way home from eating. No trip to KL would be complete with out a meal on Jalan Alor. Actually I recommend multiple meals on the street food hub, which should be fairly easy considering it's right next to a strip of the best bars in the city. During the day, the street is open to traffic, but when the lights come on, roads close and the restaurants, stalls, and carts take over the street.
There are few things I like in my mouth more than fresh coconut.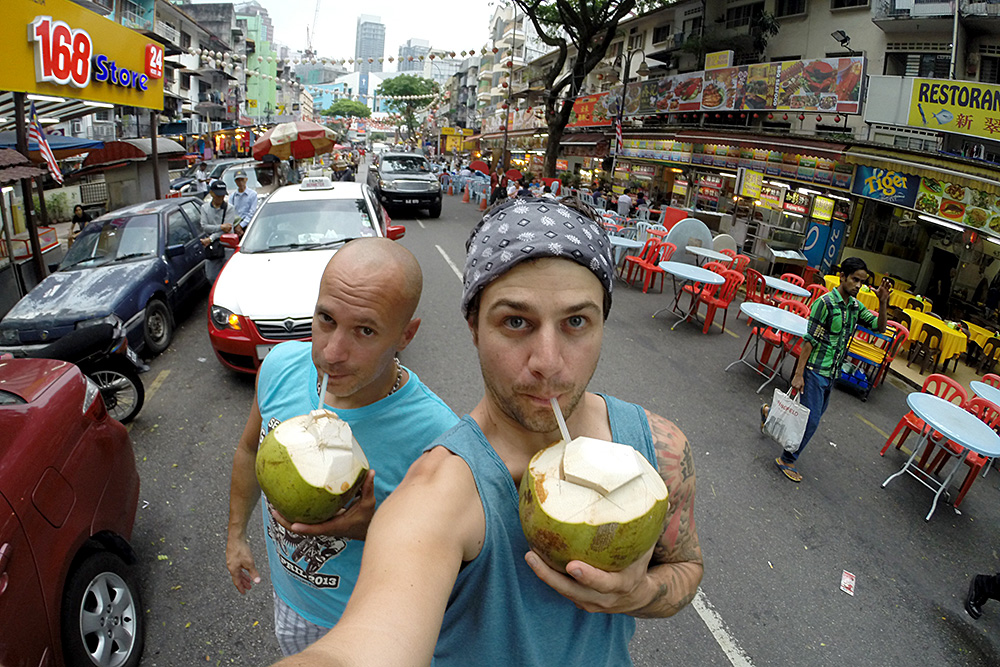 This massive feast on Jalan Alor only cost us about $20 and was worth at least triple.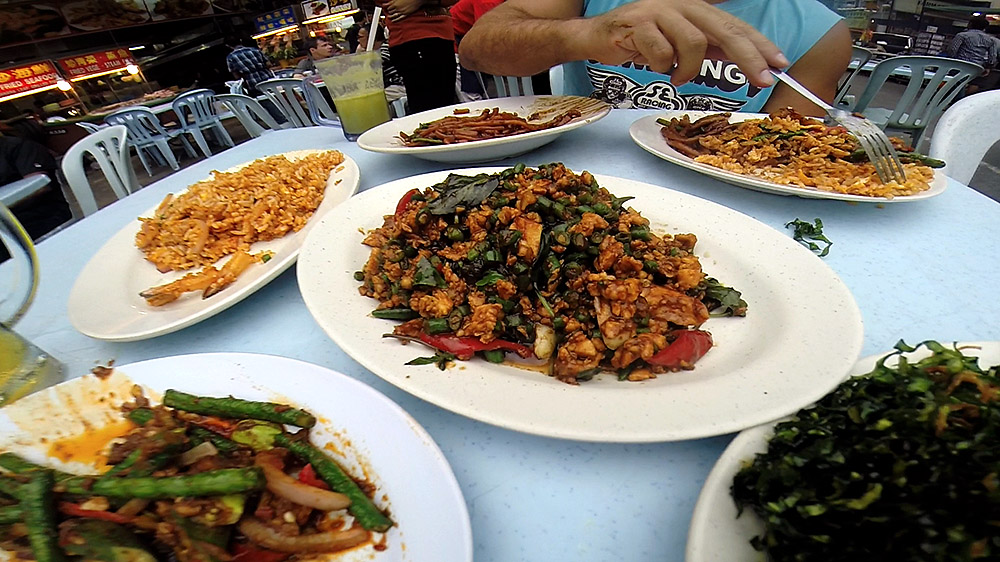 Not far from Julan Alor is the massage district. The streets are lined with every kind of massage possible including the thing where you put your feet in a water tank and the fish eat your first layer of skin  off. It's actually funny walking down the street listening to all the massage pitches coming your way. Even considering I had a broken foot, we went with a 30 minute foot massage. In the end, it was only slightly painful and I think it actually helped my foot.
Todd was stoked he had a girl massaging his feet until I made him realize she was no more attractive than my dude, but wasn't nearly as strong.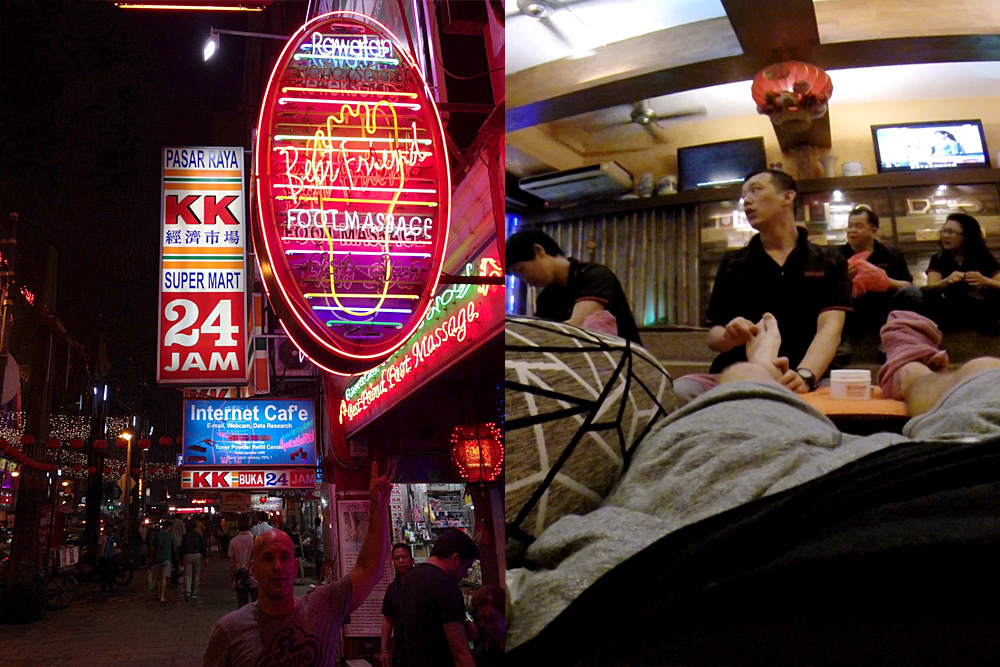 Shopping in KL is a lot like most of Asia. There are a few more opulent malls catering to high-end expensive tastes, the more mass-market malls and streets with international brands, and my favorite: the street markets. Malls generally aren't very exciting to me, but in KL it's worth it to give some a walk through.
As far as streetwear or action sports are concerned, you are kind of limited to mall-style shops, but their version of a mall shop is generally much better than what you might find at a typical American spot. Showroom Skate Shop might be the coolest shop, since it's pretty much downtown and has an actual mini ramp inside. Heavyweight looks a bit more like a typical mall skate shop but still some good brands while The Curb carries exclusively bmx. In addition to those spots, sneakerheads also have a home at Hundred %.
The slightly off the track District Shop is far more interesting than most of what is found in the nearby Bukit Bingtang, one of KL's bigger shopping areas.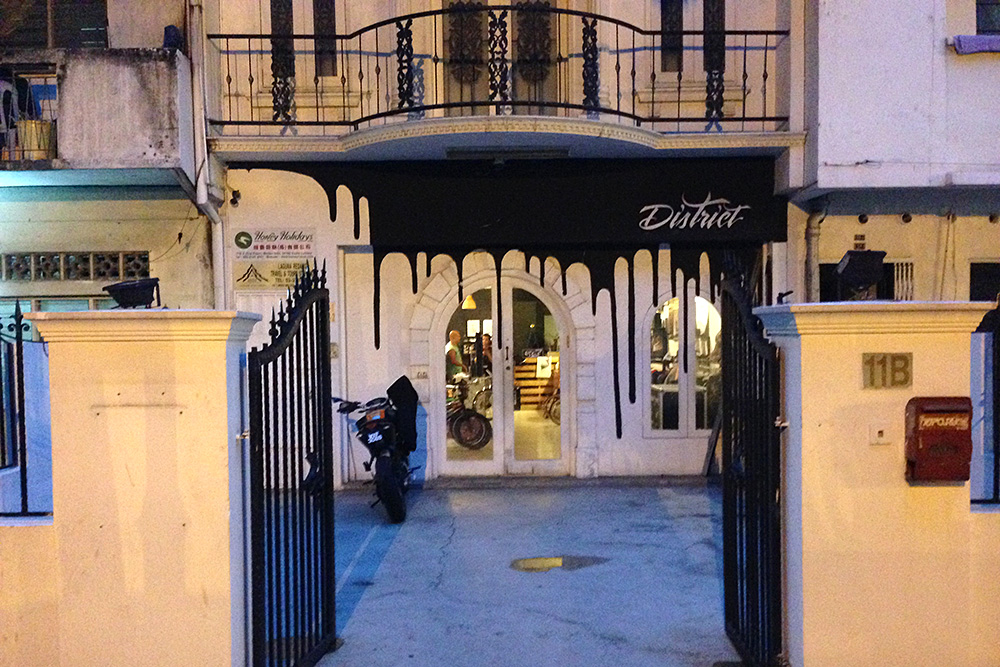 District Shop is part art gallery, part art/graffiti supply store, part streetwear boutique, and part bmx/skate/lowrider shop creating one crazy mix.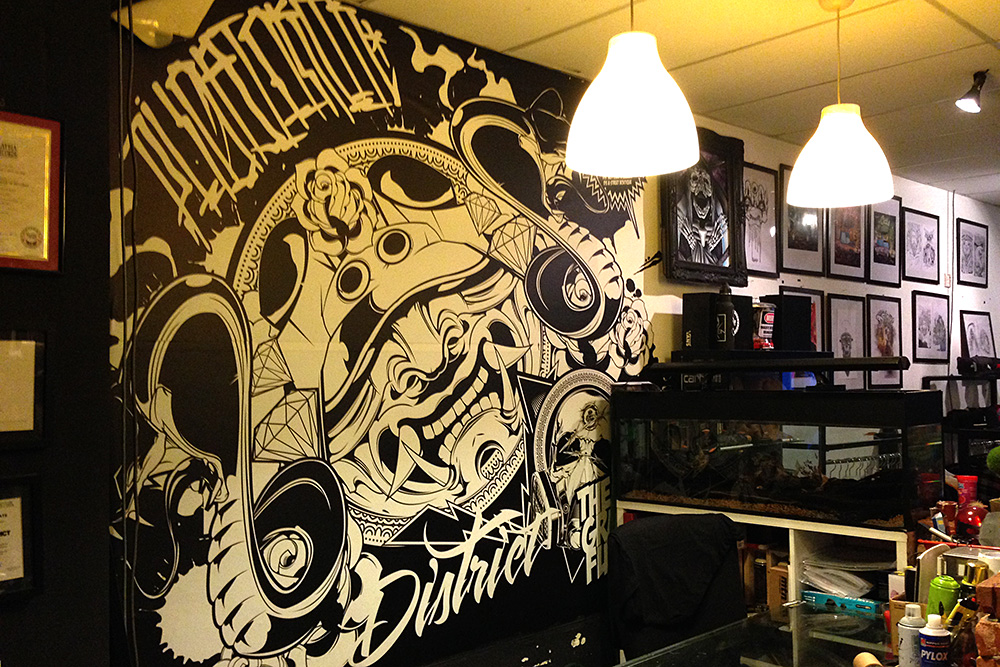 Wanting to check out some culture, we made it a point to head to the Batu Caves. While Malaysia is a modern Muslim country, it still holds honor in past traditions of other cultures. The Batu Caves are not only one of the biggest Hindu shrines outside of India, they are also a pilgrimage site for Hindus from around the world. Unfortunately, we just missed the Thaipusam Festival, but apparently it's a site to see as up to 800,000 people will visit the cave offering forms of penance and sacrifice.
Along the stairs past the 140ft tall half a million dollar gold statue of the Hindu deity Murugan, you'll find monkeys, lots and lots of monkeys.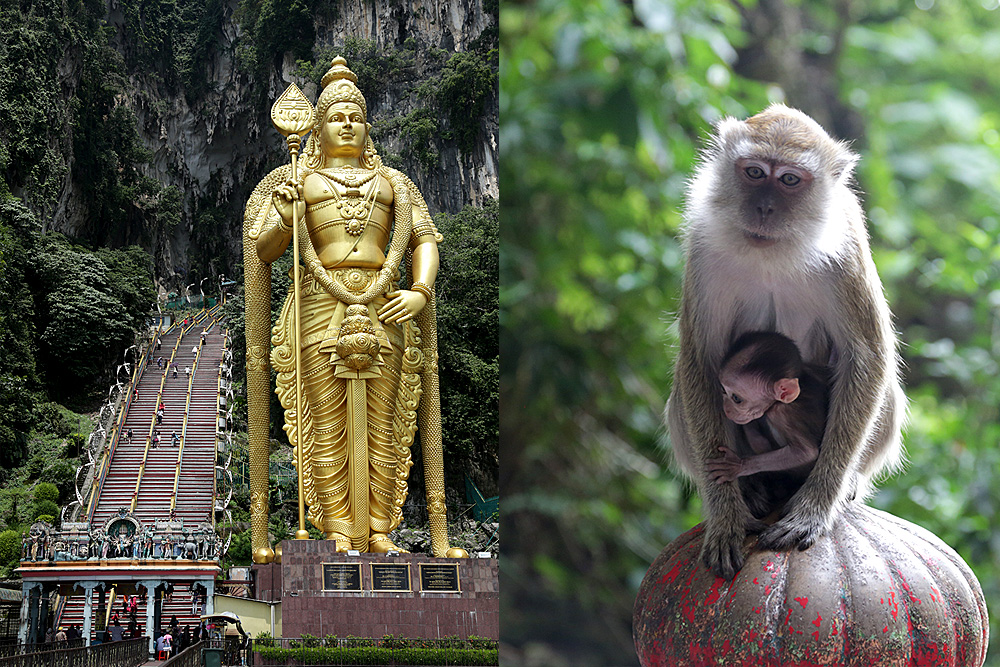 Almost unnoticed, the aggressive older woman who photo bombed my shot of this shrine actually seems to fit right in.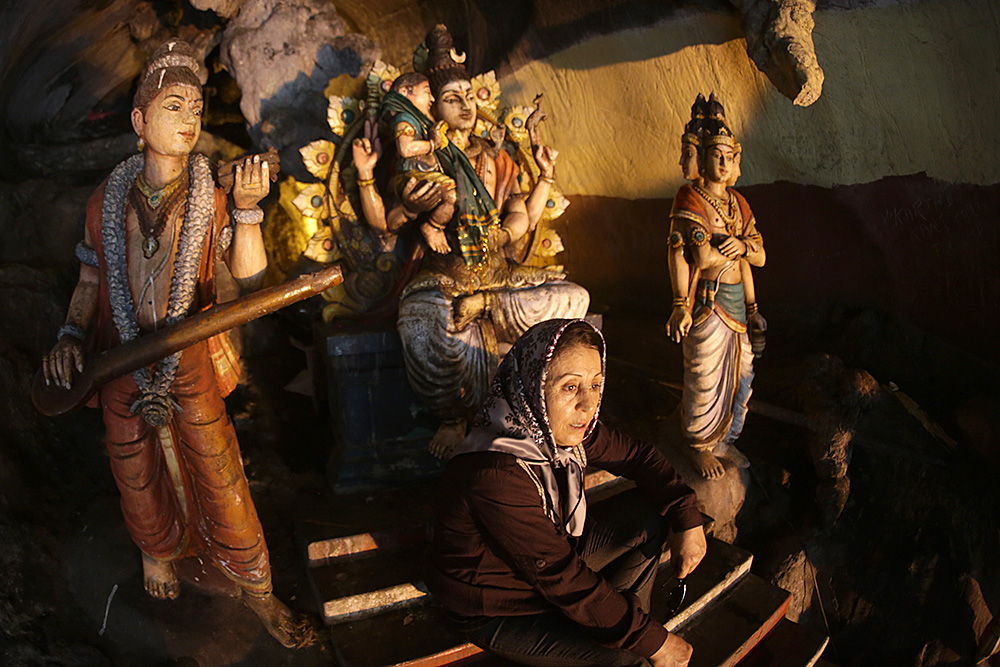 My first time seeing monkeys in real life. It was kind of hard to pass up this shot of one with a banana, even if he did pull it out of a shopping bag.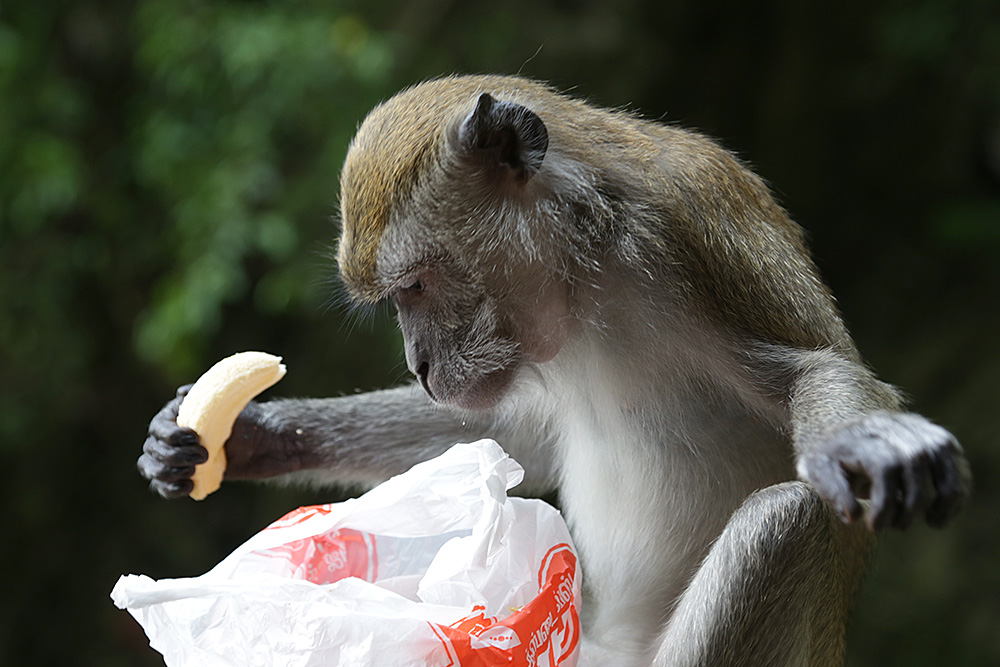 The most well-known landmark is Kuala Lumpur is the Petronas Towers. Towering high above downtown they can be seen from almost anywhere in the city. We spent most nights using them as our north star to guide us to the hotel. Luckily there is also a nice mall under them because due to the heat and humidity I needed some fresh socks and chonies, which Uniqlo specializes in.
The Petronas Towers look cool in movies, but in person there is something about them that's amazing.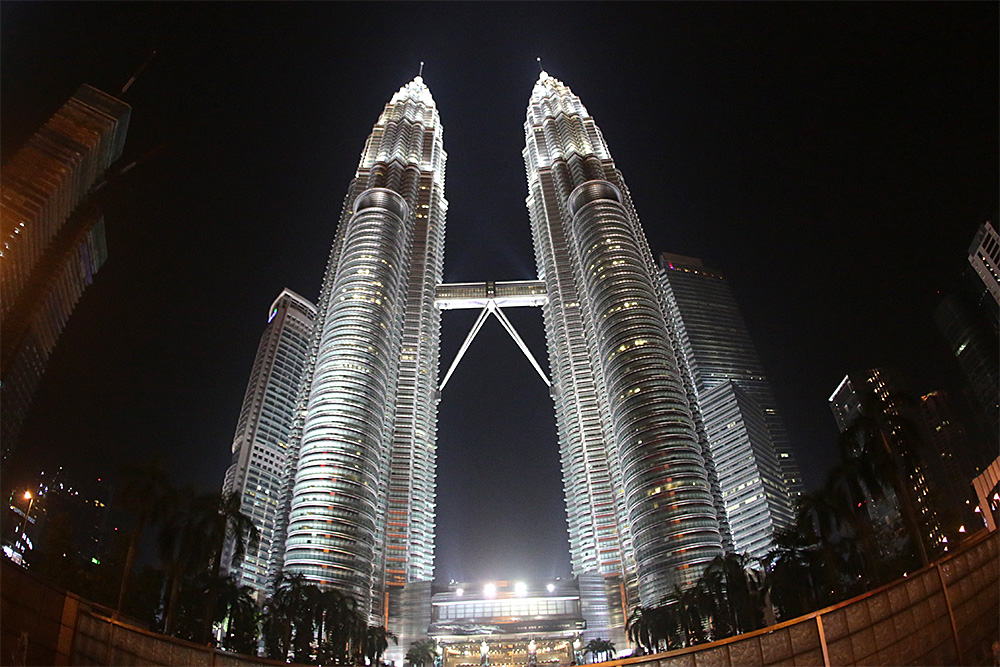 CHECK BACK SOON FOR PART 2 which is filled with more skateparks, food, spandex, and bar girls.