Pablo Cots is one of the most prolific graffiti artists/illustrators out there. With an ever-expanding body of work, the Paris-based artist's work has taken him on to collaborations with brands like agnès b. and Nike SB, as well as institutions like Centre Pompidou, colette, and even the football club of Paris Saint-Germain. Like him, his work is flexible, jumping from painting walls to designing the new French editions of classic Sherlock Holmes books. I got to know him better through his recent "Dapper Café" solo show at Mission Pasteur in Rennes, France, and together we explored subjects like branding, pop culture, and the communication between people and objects.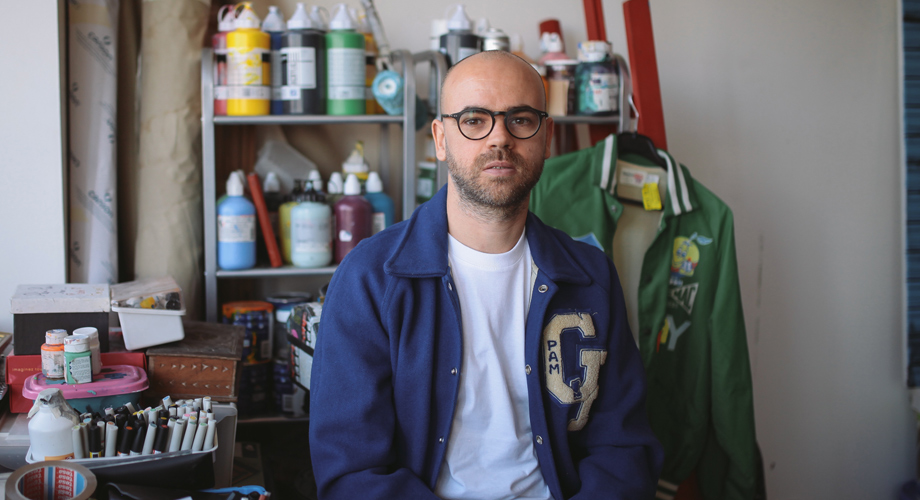 What's life in Paris like now, after the terrorist attack of November? Have things changed?
The day of the attacks, I cancelled a rendezvous in a bar in that area because I was sick. I love this neighborhood, and I often pass by the places where the tragedy happened. I don't directly know people who died, but there were friends of friends. I was pretty affected by what happened and began to watch the news channel for hours and days until I stopped suddenly because it turned me into a zombie. It's crazy how people can be so hateful and kill. It's like we're back in the Middle Ages.
I'm afraid that these attacks will reoccur. I still go to shows and concert halls, [but now] I guess everybody thinks about what could happen. A few days ago, a comic I saw started by talking about the fear now, to be in an auditorium, and it definitely toned down the mood. Now, there's more military in the subway, the streets, at the entrance of places of worships. Security guards search in bags in museums and commercial centers. Some people are more and more close-minded and withdrawn instead of being interested by others.
"WE USED TO SEARCH IN SUPERMARKETS AND OPEN ALL KINDS OF SPRAY CANS LIKE CLEANERS, DEODORANT… WE WERE THE GRAFFITI GOONIES."
How did you get started? What was it like being a young graffiti artist on the streets of Paris?
I lived in the south suburbs of Paris. With school friends, I used to practice skateboarding and go to Parisian spots sometimes. At 13 years old, I started to write skate brands on walls and quickly found myself a tag name. It was in 1989—I didn't have magazines or books about graffiti, and I didn't have a camera either. I used to watch tags in the streets and fill-in along the tracks. We counted on our memories and older friends who had more knowledge than us.
At this point, I wasn't interested by art or comics, and I was bad at drawing—I just liked to draw whack letters on tables. I did my first color graffiti along the track side of the D-line one Saturday afternoon. We stole some chalk sticks at school for sketching on the wall and a rich kid we knew bought spray cans for us. We used to do tags, but we didn't know how to do a fill in. During this period, the level evolution was so slow—at least for me. We never paid our friend back, either. A few years after, the first spray shop opened with affordable prices. So we started to do fill-ins regularly with my friend, Legz.
Installation view of Pablo Cots's "Dapper Café"
Did you go to art school or are you self-taught?
When I was 15, I met with a few writers in Paris and they brought me to an art school open house. It was kind of a revelation because I wasn't interested in anything yet. [During that time] all I was interested in was listening to rap, doing graffiti, and skateboarding. I told my art teacher that I wanted to go to an art school, but a few months later, I missed the entrance tests. So I started to learn how to draw, and the year after, I went to a Parisian graphic design high school, met other writers, and saw other styles of drawings. For the first time, I was engaged with my teachers and interested in going to school. After high school, I went to a graphic design college and then left for the Beaux-Arts of Paris for fine arts. I graduated in 2005. Obviously, people can be artists without art school, but for myself, it was really helpful.
France has always been a powerhouse of the global graffiti scene—what was the graffiti scene like back then?
Back in the day, we needed to be resourceful because it was pretty new—almost the beginning—especially in the suburbs. For example, some old writers knew where to steal fat caps, good ink—leather dye—good refill-in markers… They wanted to sell us fat caps! One of them always wore it as a necklace. Anyway, we used to search in supermarkets and open all kinds of spray cans like cleaners, deodorant… When we'd find a fat cap, we'd be so proud. We were the graffiti goonies. We used to search skate spots, like parkings, old factories, industrial areas. We tried to draw letters, and in high school, every week, we'd paint a wall. I wasn't a big vandal—I did most of my graffiti in wastelands.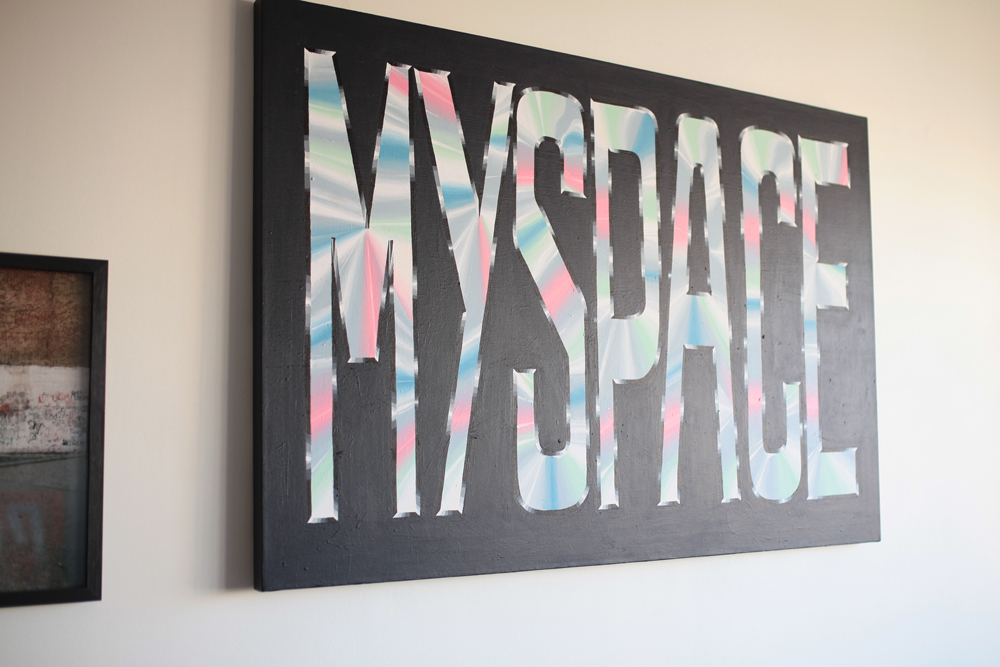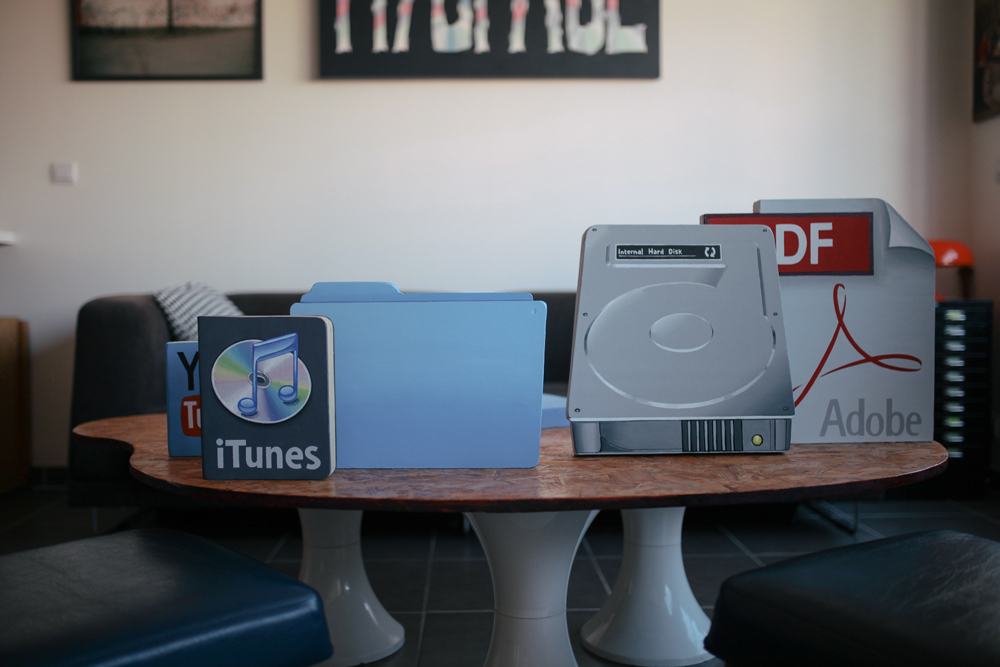 Your latest "Dapper Café" show at Mission Pasteur brings up '90s memories and images—the early days of the Internet. Tell me more about the show—how did you conceive it?
My work used to be about urban landscapes on canvas. I did it a lot because I found beauty in industrial architecture, in concrete, in walls with consecutive layers, wastelands. But when I look back at my work during this phase, I don't want to do it anymore. I'm kind of tired of it—some of them are so square.
I spend a lot of time in front of my computer on the Internet. I wasn't born with it, but for the past ten years, it's been an addiction. I'm turning 40 soon, so I try to not keep doing the same things. I dislike artists who find an aesthetic and then do it for life. They become artisans doing something daily with savoir-faire, but no real creativity. I'm split between nostalgia and the newest thing. I love to be inspired by an aesthetic and apply this one to another one who's pretty displaced—it's like low-tech VS high-tech. I like fonts, logos, icons we see daily on our computer, but also the post-Internet aesthetic and bad taste graphics. I don't remember how I started the series—it's just some souvenirs mixed with actual Internet iconography.
"SEARCHING FOR WALLS OR SKATEBOARDING SPOTS SHARPENED MY EYES AND MADE ME APPRECIATE PLACES THAT MOST PEOPLE HATE"
Lettering is a crucial part of your work. What are your influences?
My influences come from early graffiti—'70s NYC subway, naive kids' graffiti, vernacular types, and graphics… But also from my travels. I love to discover new places, new countries, and document what I like. I was lucky to have a father working in an aerial company, so I had very cheap airplane tickets for a while. I traveled to many countries after high school; I liked the specificities of each ones. Usually, a lot of kids of my generation started drawing by reproducing comic characters. That wasn't the case for me and I don't know why—it came much later for me. Graffiti brought me to art, but searching for walls or skateboarding spots sharpened my eyes and made me appreciate places that most people hate, and appreciate details that most people don't care about.
Another thing is watching my father working in the basement, doing DIY things for crafts or fanzines. He was very creative and resourceful.
A postcard Cots designed for colette.
How would you define your style of work? We can see your work from books to gallery shows and installations...
I'm not the best person to define my work. I don't have enough distance from it and can't theorize it.
Often, people can guess that I have a graffiti writer background—I guess it's because of the types. I don't know, I just do what I like in the moment. I'm not into street art, even if I did weird things on walls. Sometimes it's funny, but it's less authentic than graffiti for me. I am an artist who has studio work and I do graffiti, but I don't do graffiti on canvas, or I could reproduce a graffiti but as a landscape.
I don't want to do the same things full-time, work in an agency, or stay in my studio. Ideally, I want to work on a project one month then work on something very different the next month and have time for my personal work too. Sometimes it's hard to take time for it because agencies/brands ask for a lot of hours.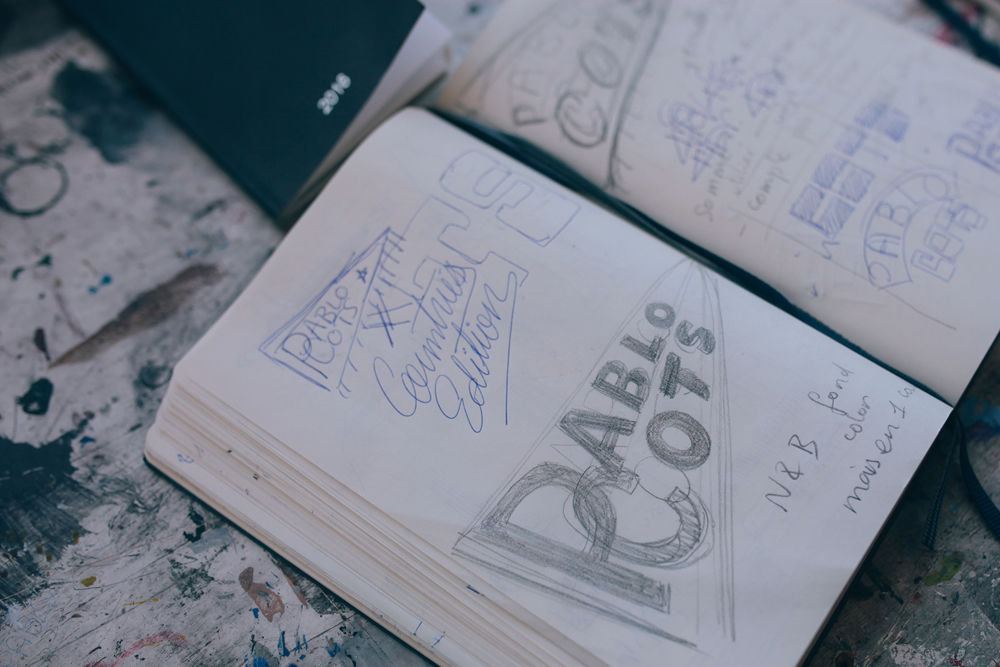 You have also worked close with kids. How is it working with kids on art and colors?
I consider myself a kid, so I like to work with kids. I used to paint walls with teenagers that have had problems with the law as a holiday job. We did huge walls in the Paris suburbs and went to Africa twice, too. As a kid, I loved to doing things like that. I also used to talk about my work in high schools for associations. Centre Pompidou Museum asked me to do a fun book for teenagers, so I went to the museum and observed their funny behavior inside the institution. After that, I did few project for the teenager's space of the museum. I also did a fun book for colette about teenagers in love with the shop and we did a treasure hunt in the there for the book launch.
What are you working on right now? What kind of equipment are you using in your studio?
These days, I'm working on a solo show I have in Belgium in April—it's about the development of Dapper Café. I always paint with acrylic. I don't use marker or posca on canvas; I don't use oil either. Sadly, I just killed my airbrush. I paint on different supports as well—using canvas, paper, wood, or polystyrene. I love to do volume too, with polystyrene.
I'm on both sides: sometimes a graphic designer, an ad on my desk with a MacBook, scanner, datebook… and sometimes I'm a painter. I like to do both, but I do commissioned works when it's creative.
What's 2016 bringing for Pablo Cots? New shows and design commissions?
The solo show in Belgium and a collective show in Germany, but I also have a new, exciting project with colette. I hope to have enough time this year to do more wall paintings and zines.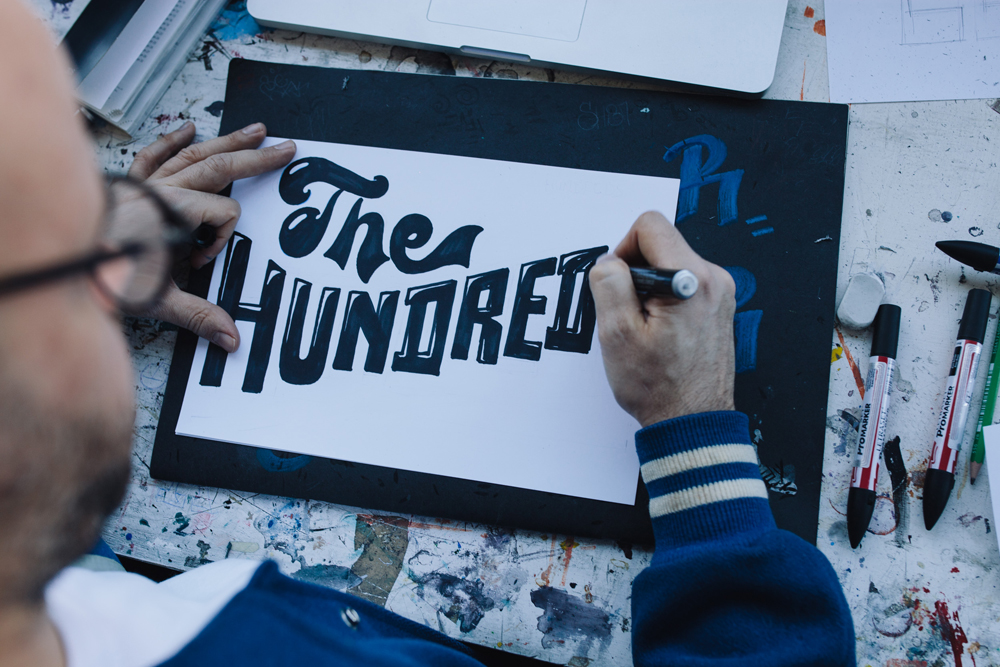 ***
Follow Pablo on Instagram or visit him at his website, pablocots.net