Housed in elegant ceramic bottles, Joya's perfumes are wearable, but the juice—that's perfumer-speak for the actual liquid stuff—is pretty unexpectedly unusual. When founder Frederick Bouchardy describes the brand's two flagship scents, Composition #1 and Composition #6, he says, "We called them 'Compositions' to evoke more than one reference—perfume as music and the harmonious fusion of components; [and] Russian Constructivism that blurred the lines between artwork and marketing."
A brand since 2006, Joya—it's Spanish for "jewel"—doesn't only create their own label. They've worked with nearly everybody in every facet of the game, helping brands tell their story with scent. They've collaborated with Opening Ceremony; OAK; Neiman Marcus; Barneys New York; design stars Snarkitecture; the super high-end wallpaper brand Calico; fashion designers like Rodarte, Kiki de Montparnesse, and Ralph Lauren; Malin + Goetz; Procter & Gamble; and even Marriott Hotels. The list goes on.
(The Hundreds X Joya Studio's second collaboration candle drops tomorrow, December 1 in the Online Shop and at The Hundreds Flagship locations.)
Even more notable is that Joya make almost everything in-house at their Clinton Hill studio/factory/store in Brooklyn. If you go into the Joya boutique where they carry their own products and a bunch of selected items from other like-minded fine goods producers, you can even take a tour of their factory.
Or you can just drop by and grab a sample of their latest perfume Foxglove, which is based on the smells of New York—not the bad, stinky ones, but the imagined historical ones. "We have attempted to bottle the feeling of New York's landscaped parks, which seem wild but are entirely man-made and planned," Bouchardy says. "Foxglove is an odorless and pseudo-poisonous plant that allegedly used to cover the City before the Dutch arrival. Imagining what the plant's fragrance could be seemed like the right way to express the concept."
We picked Bouchardy's brain about a decade of olfaction.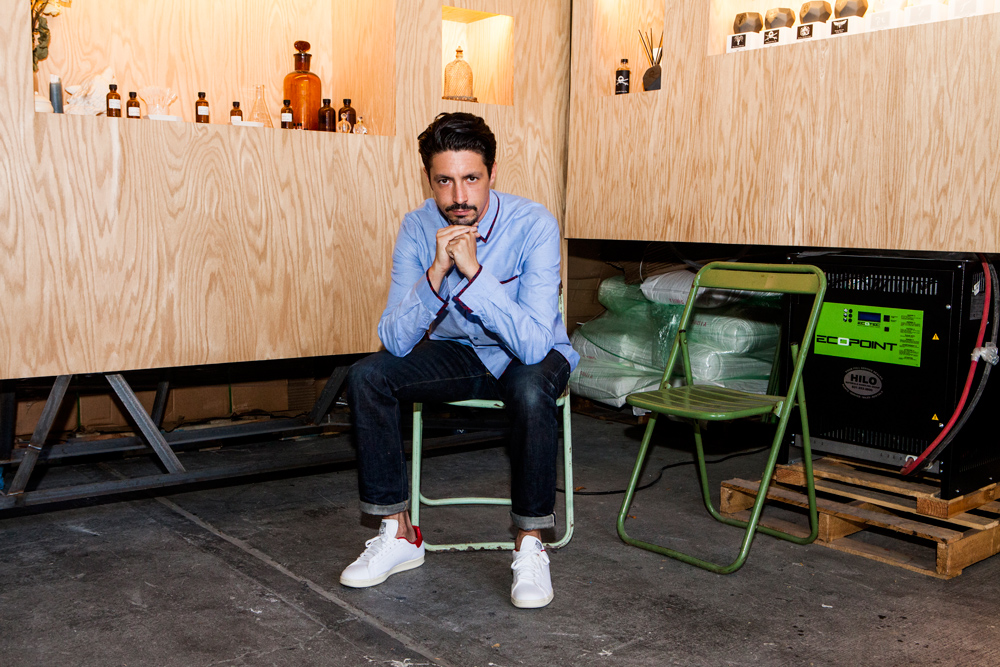 Frederick Bouchardy at Joya Studio. All photos by Cyle Suesz.
MAXWELL WILLIAMS: I've often thought that the creation of scent is somewhere in between alchemy and chemistry. Which side do you fall closer to, and why?
FREDERICK BOUCHARDY: Alchemy. Ingredients and design are key—but they are nothing without the philosophy and magic that bring those to life.
You've talked before about how you don't consider yourself a perfumer, but more of a producer. Can you elaborate?
The conversation around the word 'perfumer' is ubiquitous in my strange industry. Is the perfumer the nose that personally develops the fragrance profile or the entrepreneur that sees the product come to life? What defines 'niche' and 'artisan' in the worlds of beauty and perfumery? The truth is, I find this dialogue tiresome. I learned some time ago that you can't become an expert at everything. Learning is truly my favorite thing in this world, and I am constantly seeking opportunities that enable me to experience and learn new things and tools.
I believe that the visual allure and complete user experience are as important as the juice inside. We are creating a dream, a story—so, it needs to be told completely. The key thus far has been absorbing information, seeking out the unexpected, and working with specialists who are the best at their disciplines.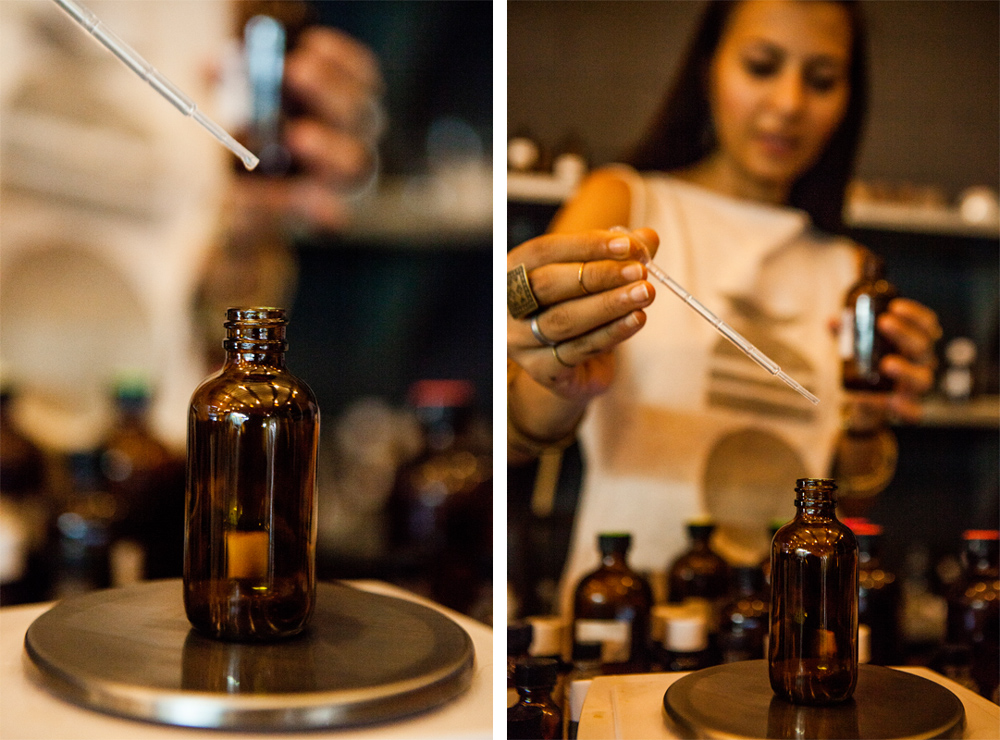 Dana creating the fragrance for The Hundreds X Joya Studio collaboration.
What is your relationship to scent on a day-to-day basis?
I am constantly around scent these days, so my current relationship to it is: overdose. We are experimenting and producing more than ever before, so there is always fragrance all over the air. If you visit our studio for 10 minutes, you leave with fragrance on your skin and clothes. At home, I am often testing new things. It is all-consuming, but I love it.
Here is a twist: My sense of smell is not especially strong. For that reason, maybe I am a little immune or at least more forgiving. I do wear perfume: mostly trials but also just whatever I am into at the moment. Right now, there is a new Italian fragrance I love called Parco 1923 that just launched with a shop inside Abruzzo National Park. We are planning to distribute this at our concept shop soon.
"We are creating a dream, a story—so, it needs to be told completely."
Speaking of which, you've opened up your atelier to the public for tours. What can visitors expect to see when they tour the studio?
Yes, we spent quite some time building out the new studio and getting the plans and permits approved, but we quietly opened our doors to the public this year. I always thought that our first forward-facing location should be a destination—to make people interested in our mission and offerings come just to see us. For now, visitors can expect informal tours of the space and our processes. They can also book appointments for bespoke fragrance consultations. In the very near future, you can expect workshops, event series, and interactive fragrance experiences.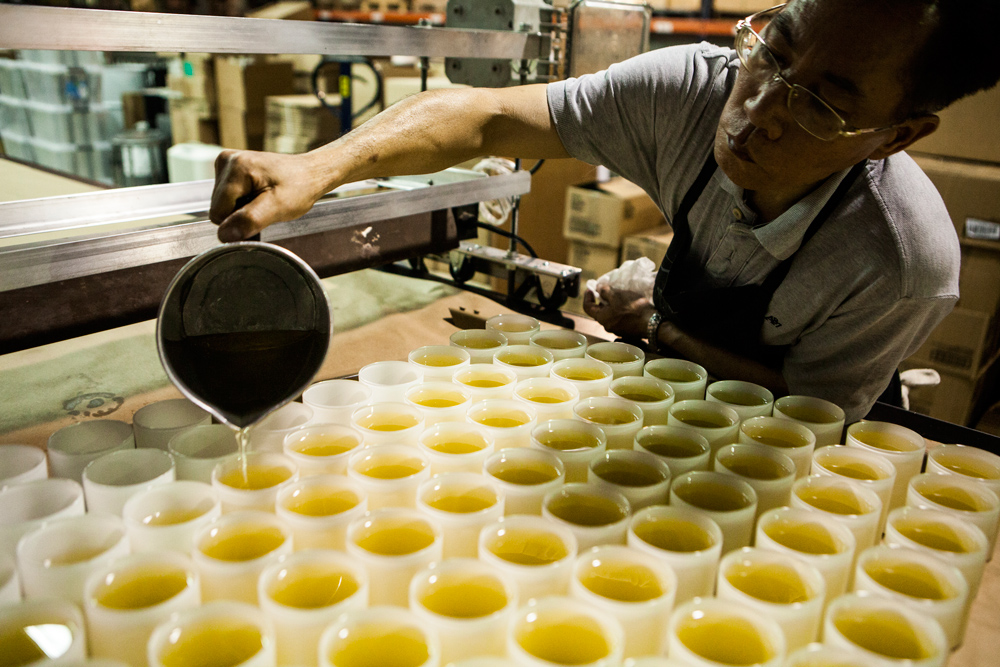 Sing pouring wax for The Hundreds X Joya Studio collaboration.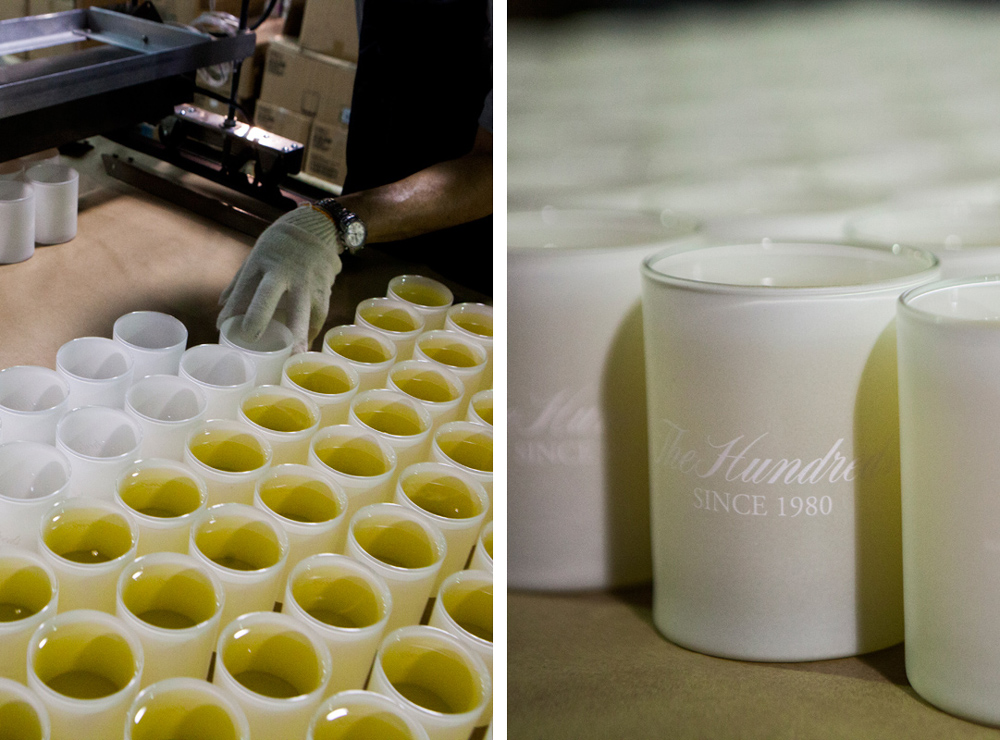 You have said it is 'ludicrous' to not do unisex scents. Can you elaborate on that?
I have said that, but I might like to take it back to some degree. For Gucci or YSL, it makes perfect sense to have such a specific target, as they are just expanding their market. For newer—particularly apothecary or strictly fragrance—companies, I think it's a mistake to underestimate and typecast an audience that might be more experimental and open than traditional. Another way to say this is: I believe the modern man sometimes prefers a scent that is commonly considered feminine and vice versa.
What has been the biggest turning point in the life of Joya?
From a business perspective, I'd have to say winning our first Marriott International contract was a significant turning point. At that point, we had been focusing on selective distribution of our collections, collaborations, and scent identity jobs for mostly independent fashion companies.
Marriott gave us, and continues to give us, a chance to show our work and design sensibility in hundreds of locations worldwide, as well as an opportunity to play with the big boys and have a real impact on the supply chain. This was the first moment where we could flex and show that we are the best as what we do on a global scale.
Philosophically, I believe the turning point was shifting from primarily home fragrance to perfume. The concept behind Joya has always been that we approach fragrance as an element of design. Creating intimate, unisex perfume oils was a way to connect with our audience differently, to not be pigeonholed as a 'candle' or 'ambiance' company. The Managing Director of Net-A-Porter identified us as the first perfume brand they would have available when they were launching beauty. I think this was an important seal of approval that introduced our most personal product to a wide global audience.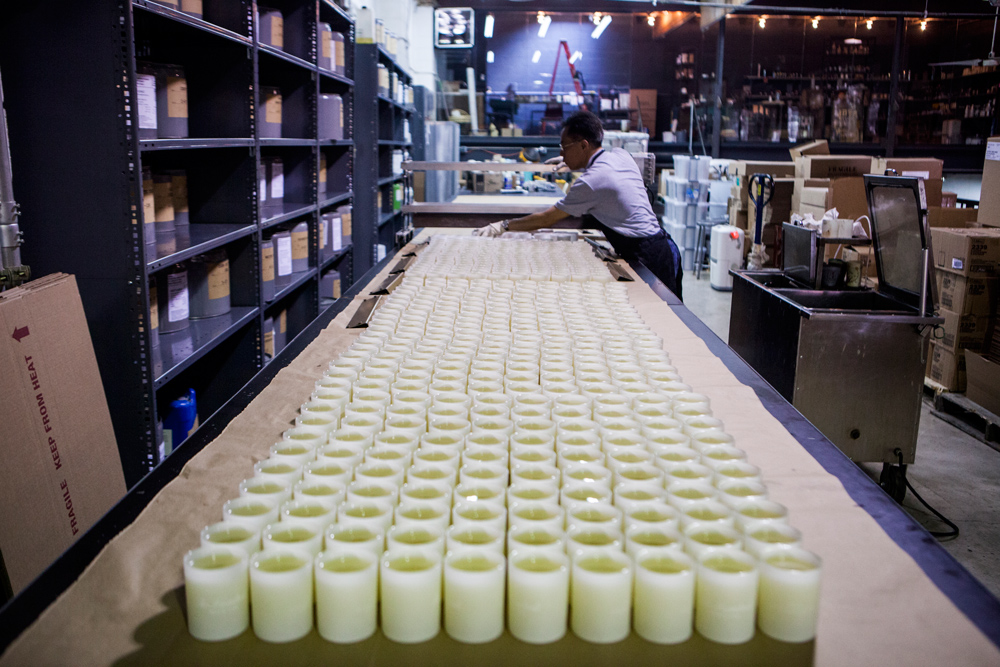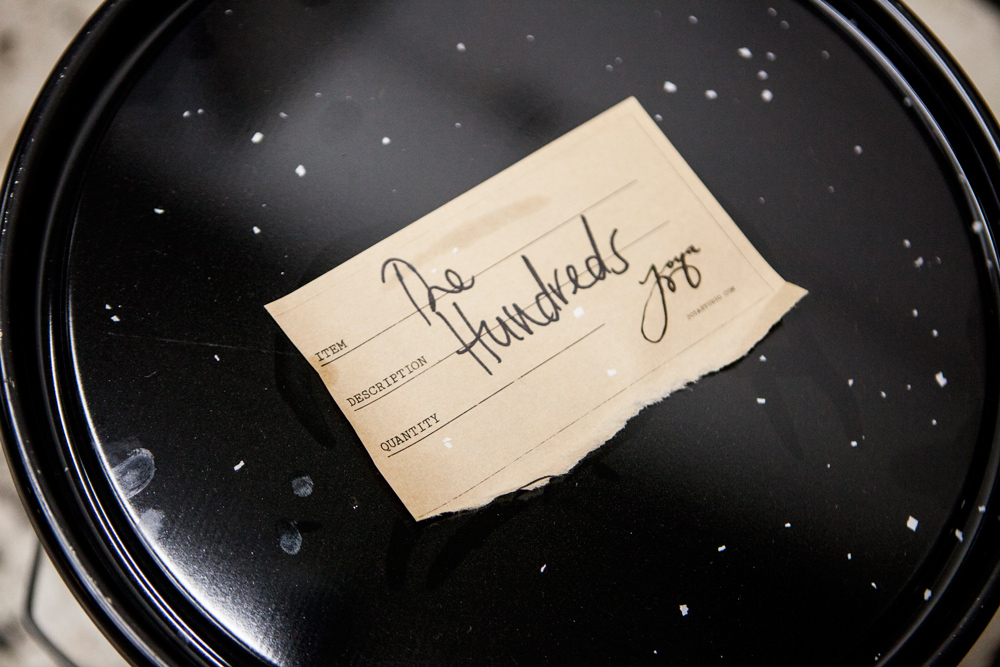 The Hundreds X Joya Studio
Are there olfactive threads that run through your brand?
I'm not sure I want to speak too much on this, as there are secret messages or ties that bind throughout the brand that are more fun if left a mystery. I will say that the existing four perfumes have a sweet musk drydown [Ed. Note: Drydown is a perfume term for the base notes that remain after the top notes disappear from your skin.] that is hard to define and not classifiable by gender.
"The concept behind Joya has always been that we approach fragrance as an element of design."
Similarly, Sarah Cihat is a ceramicist that you've worked with on a number of projects, for your candle vessels and perfume bottles. I assume she is the 'S' in the 'FvsS' crest that appears on the bottles. How did you begin working with her in 2004?
Sarah is, for sure, the S in FvsS. We met in 2004 but began working together in 2006. So, the 'Est. 2004' in the crest that appears in our work together refers to when we established our friendship.
I was at a store in Williamsburg and drawn to her work. The owner, whom I knew a little, said she worked and lived right nearby and I should get in touch. I visited her studio. And we are very close to this day. The 'vs' in the crest is meant to describe a yin and yang scenario—one wherein the woman, Sarah, takes the lead on the hard (angular, durable) part of the equation (ceramic), and the man, I, take on the more theoretically soft (pretty, ephemeral) part (perfume).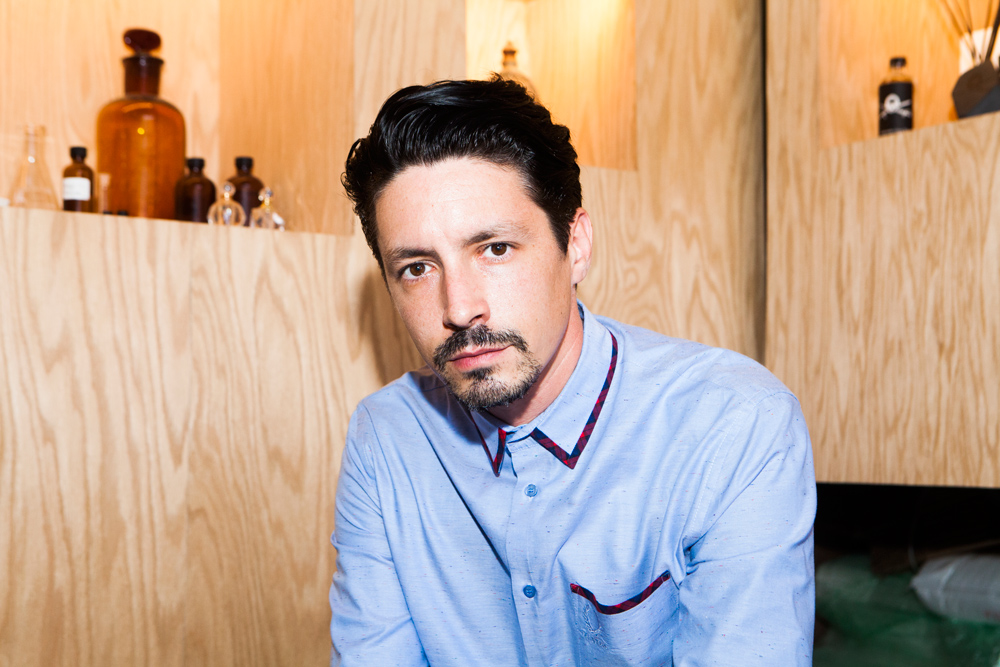 Frederick Bouchardy
What are some materials that you are currently intrigued by?
Steel, brass, inlay, water, palo santo, things that smell like the past and the future.
What was the first perfume you bought?
Cool Water.
What are the current projects you are working on?
I'm excited for [the] The Hundreds candle to launch. The last one was gorgeous, but years ago, and everyone has come a long ways since then. The brief was an interesting challenge: evoke the disparate elements of the L.A. location. The floral-woody idea of Rosewood Avenue contrasted with the neighboring industrial influences.
After that, we are pursuing our own version of the quickstrike, which I don't think has been done in the fragrance world. We are releasing over 20 projects throughout the rest of the year—about 2 per week starting now. The dialogue with these other brands and designers—this is really who we are, and I have no idea what response to expect, but can't wait to find out.
***
joyastudio.com. Photos by Cyle Suesz. 
The Hundreds X Joya Studio drops tomorrow, December 1.