Last Sunday, we spent the day downtown at the recently remodeled Shrine Hall near USC, covering the LA episode of the ever-popular Fool's Gold Day Off. Day Off, an event created by label head and music curator A-Trak, is a traveling concert thrown across the country, used as a way to showcase the marquee players on the young upstart, as well as friends of the Fool's Gold squad. Any festival that's outdoors and not in some covered hall or domed tent jump-off automatically gets a thumbs up, especially when they come correct with the line up.
It was great to see A-Trak show enough respect to the West Coast crowd by starting off the event with the native Athletixx crew, represented by Kittens and Hoodboi, before an amazing set by a certified OG by the name of Kurupt. The Dogg Pound legend hit us with classic verses from his established discography as well as a tribute to his fallen brother Nate Dogg that connected well with many in the crowd although it was a bit interesting to see many of these regional hits fly over the heads of the younger kids present. Maybe globalization is to blame.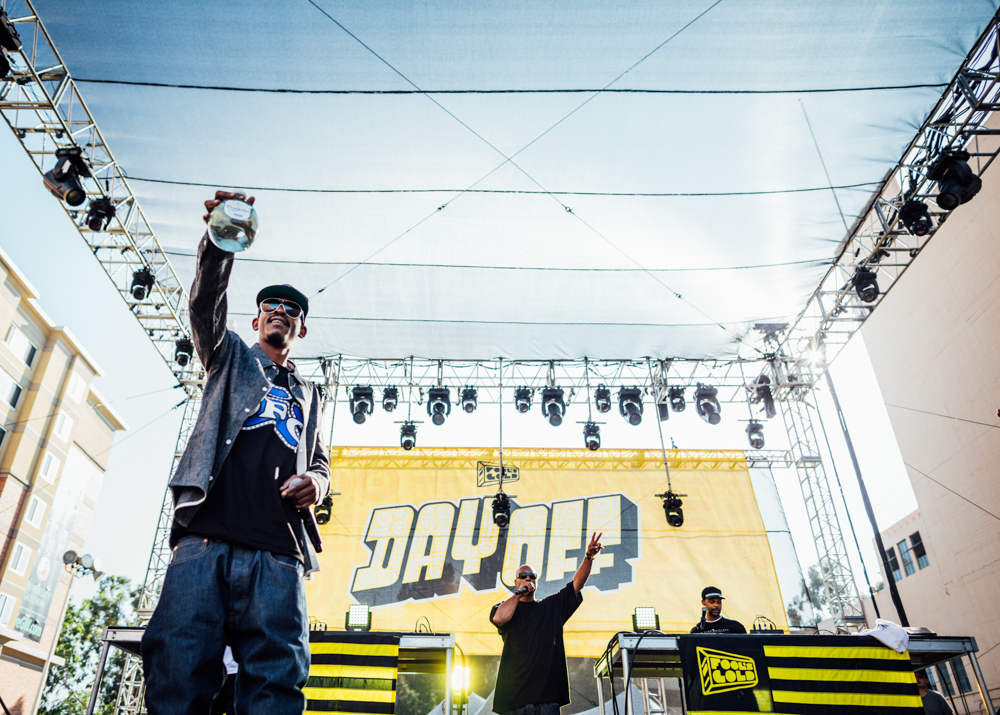 Shots were offered during Kurupt's classic verse on Xxxplosive. Security did not approve.
In any case, I was pretty excited to see the reunion of the Invisibl Skratch Piklz whose place at the concert no doubt was a conscious ode to the turntablism scene of the early '90s, chiefly represented by members DJ QBert and Mix Master Mike that birthed and shaped the path of a young DMC champion from Canada by the name of A-Trak (later inducted as a member of the Invisibl Skratch Piklz while a teenager!). That level of DJing is something not prevalent in the bottle service environment that most find themselves in when going out these days – as was evident by the muted reactions of the crowd at The Shrine.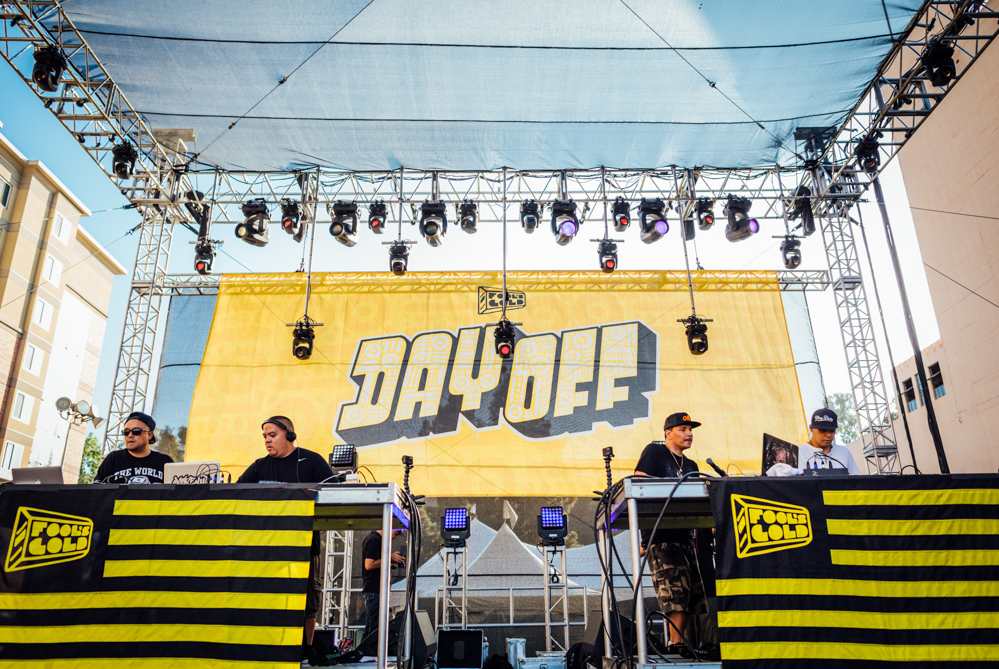 The beauty of Invisbl Skratch Piklz is that 4 men come together like Voltron to become one musical instrument.
Travis Scott's timing is impeccable. His control of the crowd was remarkable to see. Love seeing rappers who are genuinely stoked about getting to rap on stage in front of a few thousand people. He riled the crowd up with his rendition of "Don't Play," as well as dropping some gems from his highly-acclaimed Owl Pharaoh project. The Houston native even led the crowd in an impromptu "fuck you" episode directed towards a member of the crowd who attempted to snatch his Ben Baller chain while he was crowdsurfing before opening up with "Quintana." It was midway through his set when he surprised the LA crowd by bringing out friend and fellow GOOD Music collaborator Big Sean who took us on a whole 'nother plane with his huge and anti-Glee hit, "I Don't Fuck With You." I just remember some drunk cholo dude getting really excited and bopping around and bumping into me, apologizing, and then the two of us arm-in-arm chanting the lyrics with each other. Music brings us all together.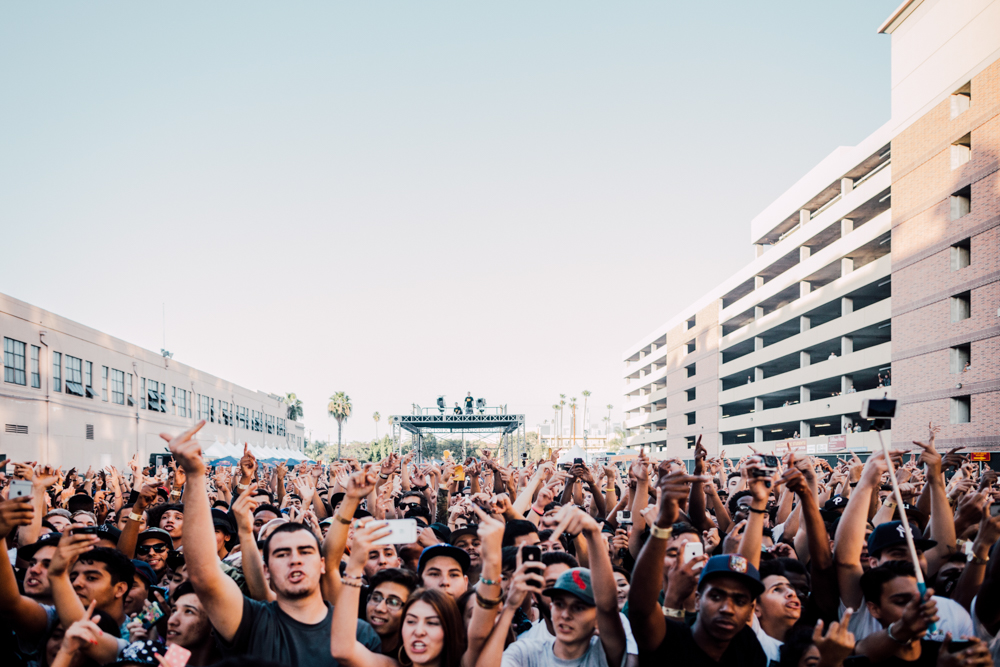 Dude in the crowd tried to steal Travis Scott's chain while he was crowd-surfing. He then led his Rangers into a million fuck you's to the thief before dropping Quintana.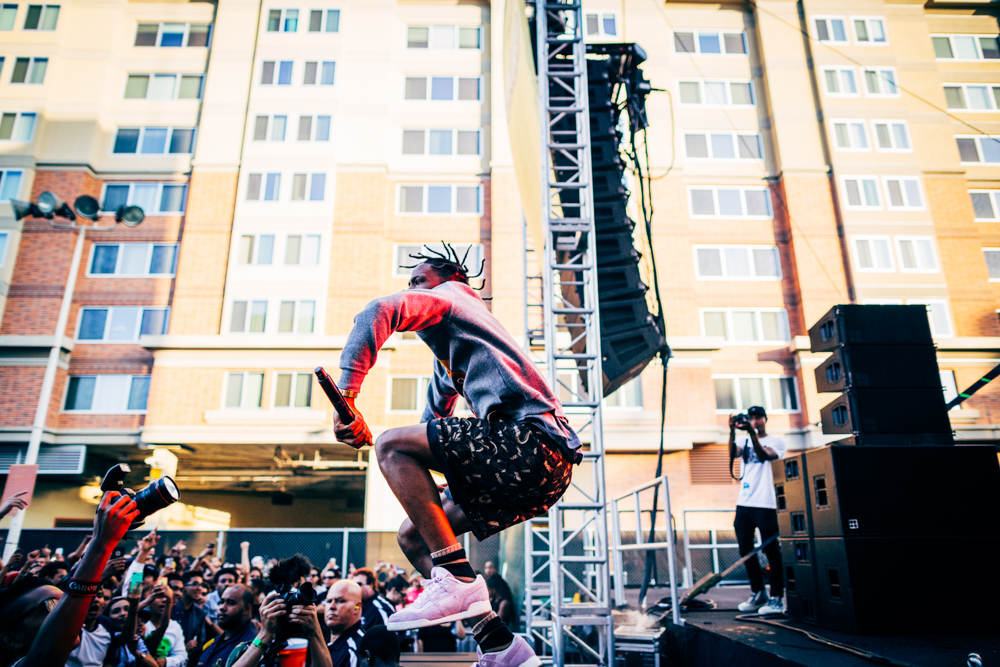 The King of the Rangers had the energy of 10 men on stage.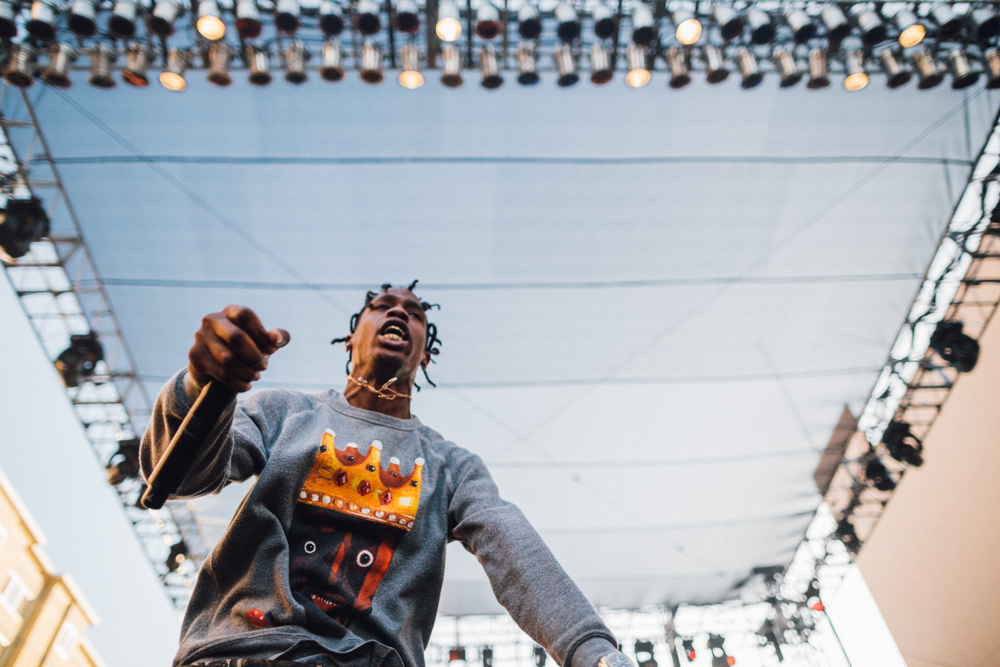 The Yeezus tour sweater that Travis rocked reminding us this young man is the one behind "New Slaves."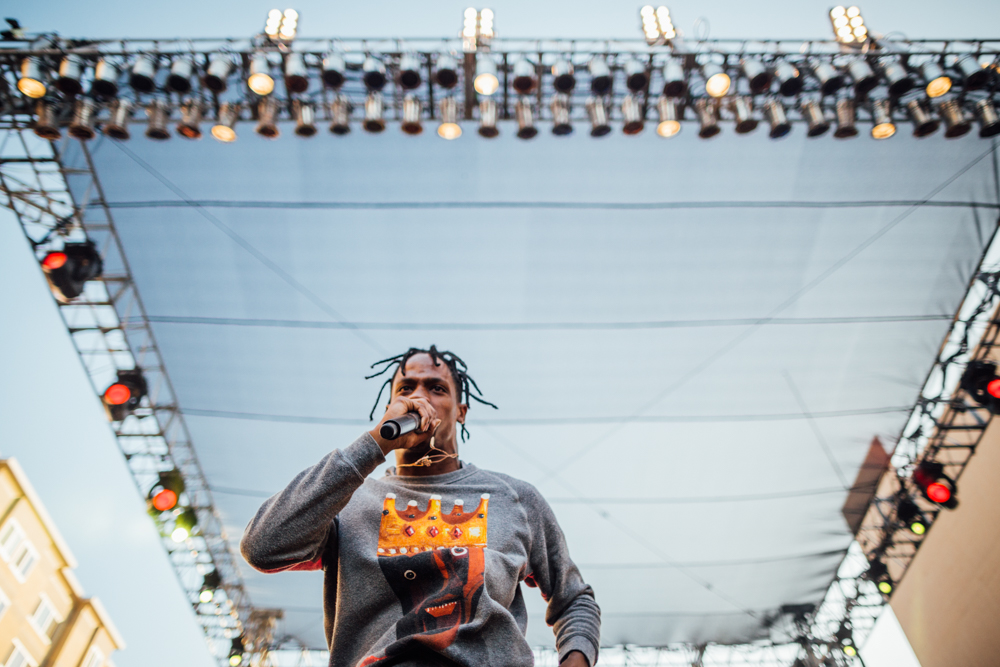 German Vizcarra (@vzmaestro), our photographer, caught the monster in the midst of his transformation on stage as he went off with cuts from his new album Days Before Rodeo.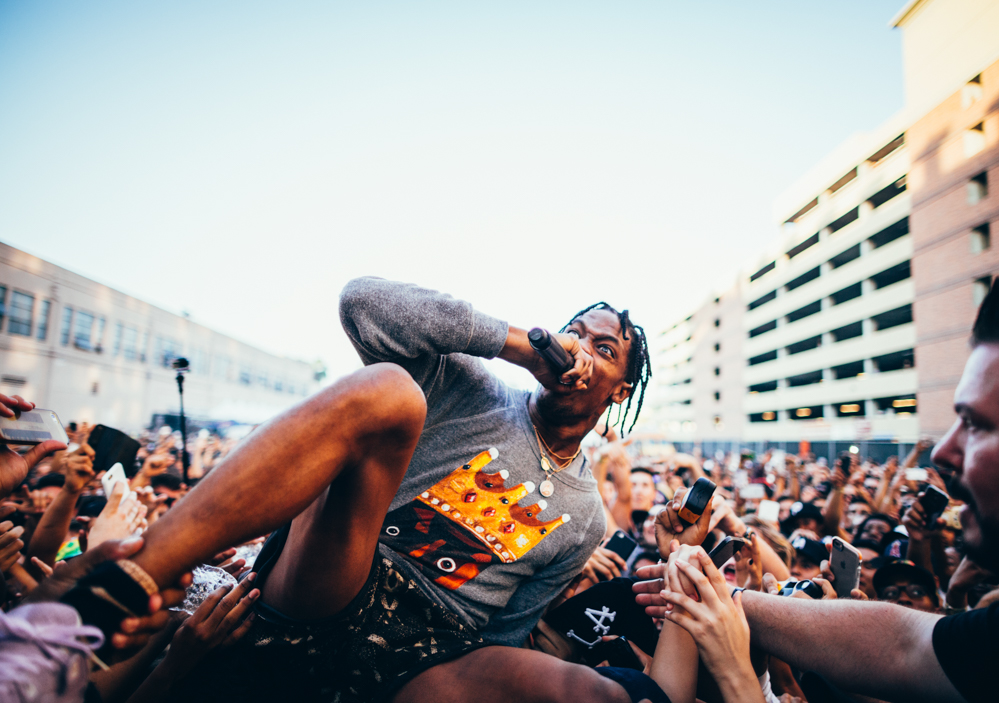 When "Upper Echelon" came out the speakers the crowd went nuts.
The beauty of Fool's Gold is that A-Trak is a very good example of what a music curator is supposed to be, setting up opportunities for the new school to show why we need to listen to them without even making a true profit (tickets cost $25, try finding a lineup like that anywhere else for that price).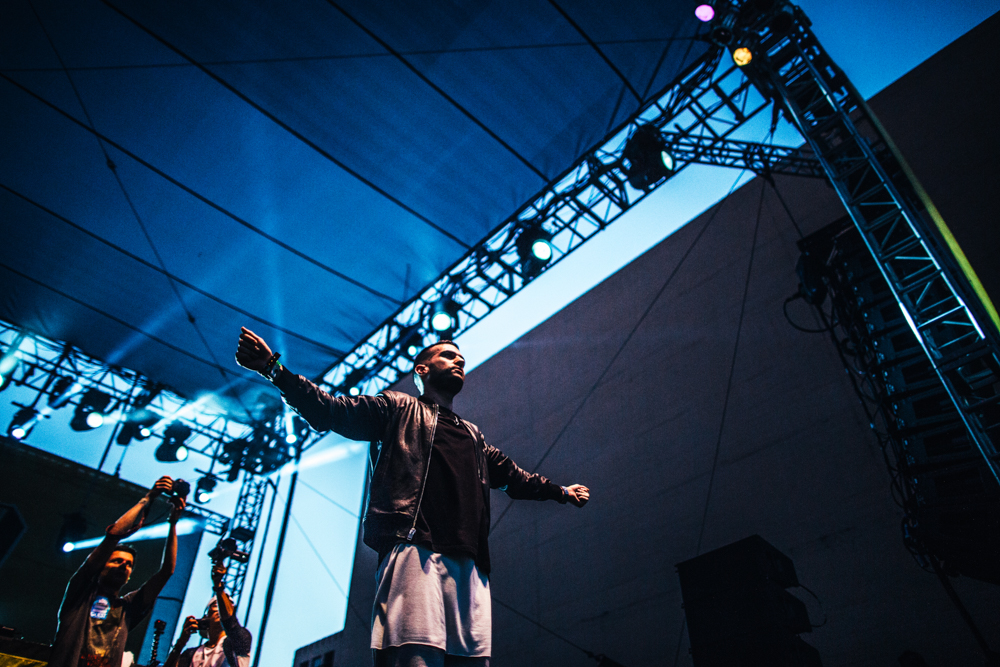 A-Trak was the conductor of the night leading the symphony through a musical landscape where we saw electronic music and hip-hop constantly collide. Something he's known for.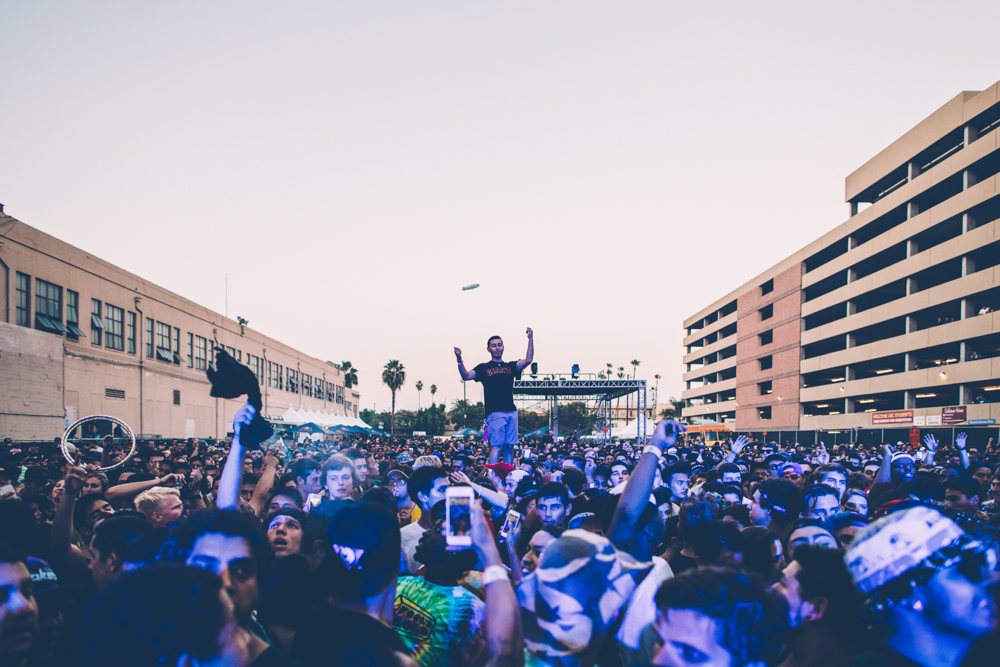 What a true friend.
XXL Freshmen class of 2014 was on display when the young Chicago native Vic Mensa hopped on stage later in the day setting it off with joints from his buzzing EP Innanetape. He was definitely a fan favorite and his presence was pronounced with "Down On My Luck" being one of the night time anthems. Fredo Santana of Chief Keef's GBE crew dropped in with a few joints getting everyone ready for the man of the hour.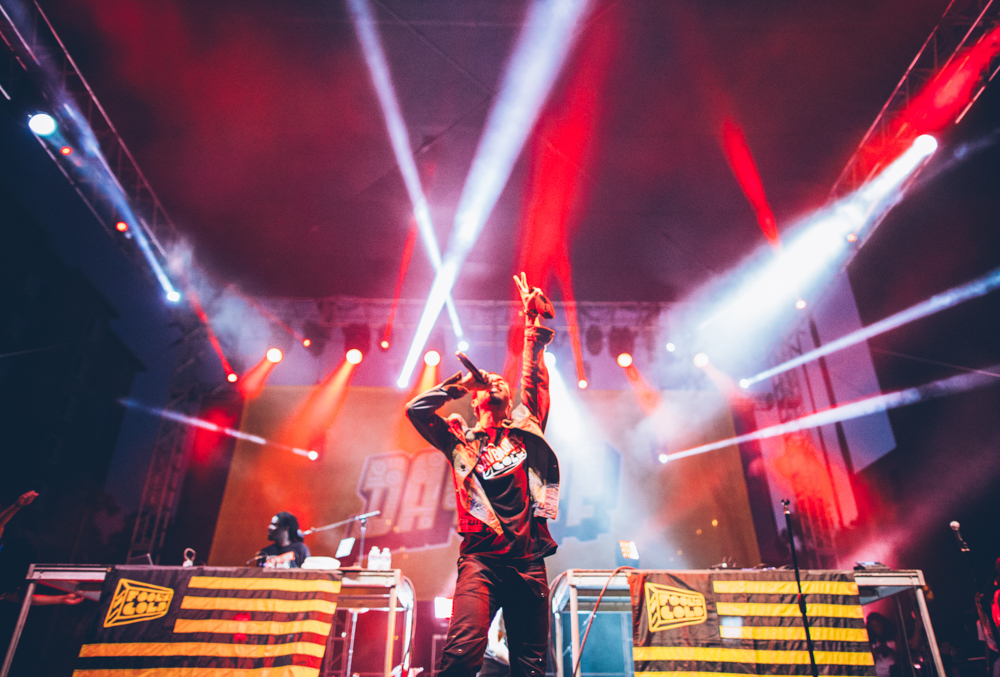 A graduate from this year's XXL freshmen class, this was one of Vic Mensa's first shows on the West Coast.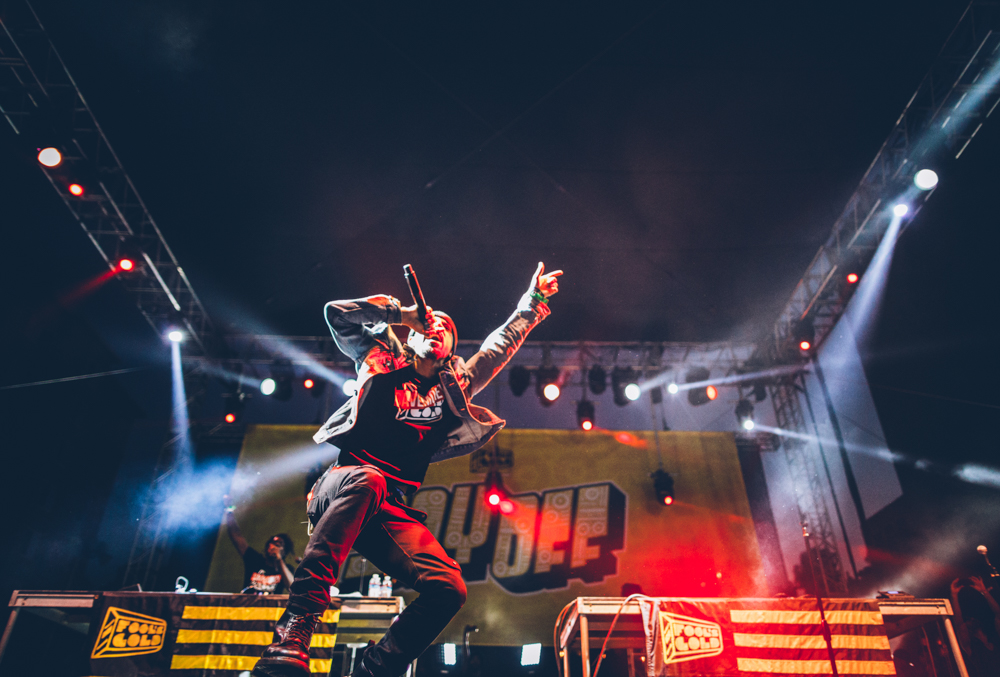 It was great to see some of the young new cats performing in LA Vic Mensa being a chief example.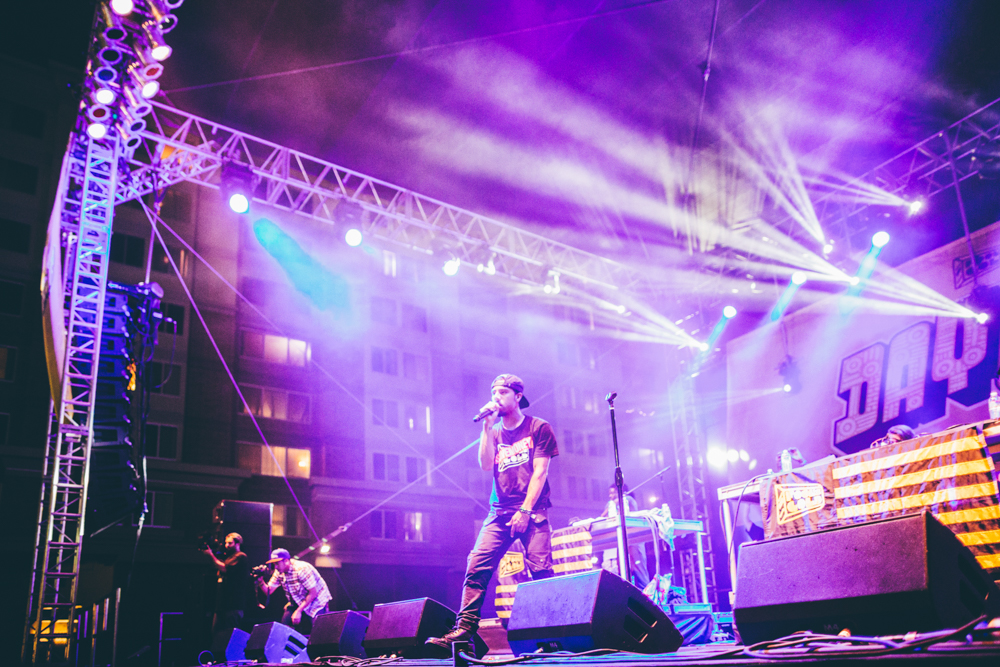 "Down On My Luck" gave us the chance to actually dance with girls instead of being sucked into the perpetual mosh pit.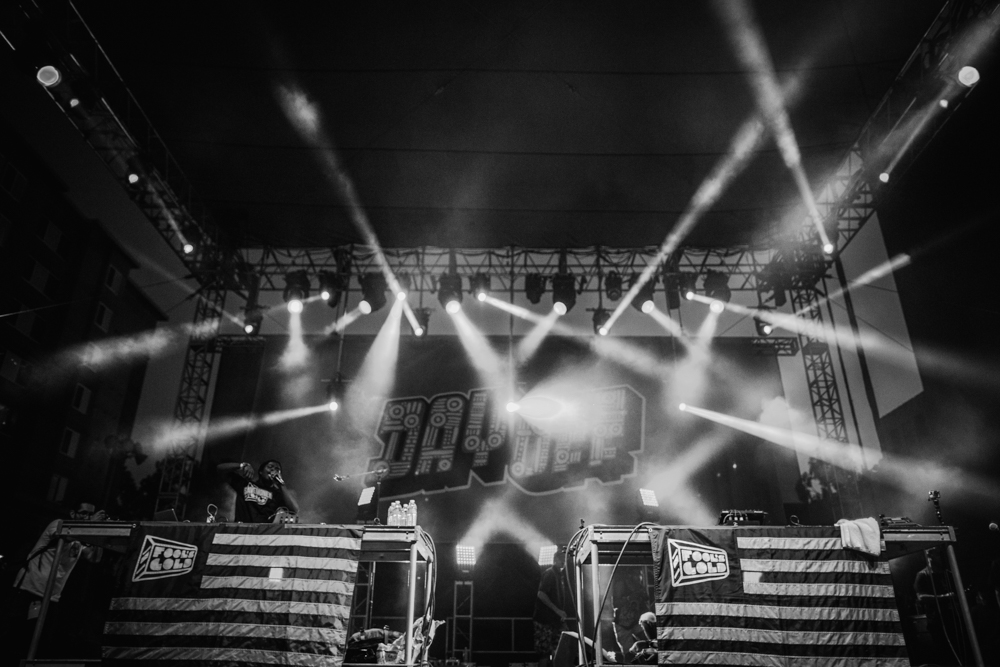 Fool's Gold movement is undeniable.
We all sat in obvious anticipation for the crazed wunderkid that is Danny Brown, who has over the years become the golden boy (couldn't help it) of the label since A-Trak signed him. How does he dig within himself and pull forth this wicked demon who took over on stage? His high-pitched voice being the trademark of a high energy session about to go down, it was wise of A-Trak to have him last at bat. My personal favorite was "I Will" one of the X-rated classics from his 2011 album and Fool's Gold debut XXX.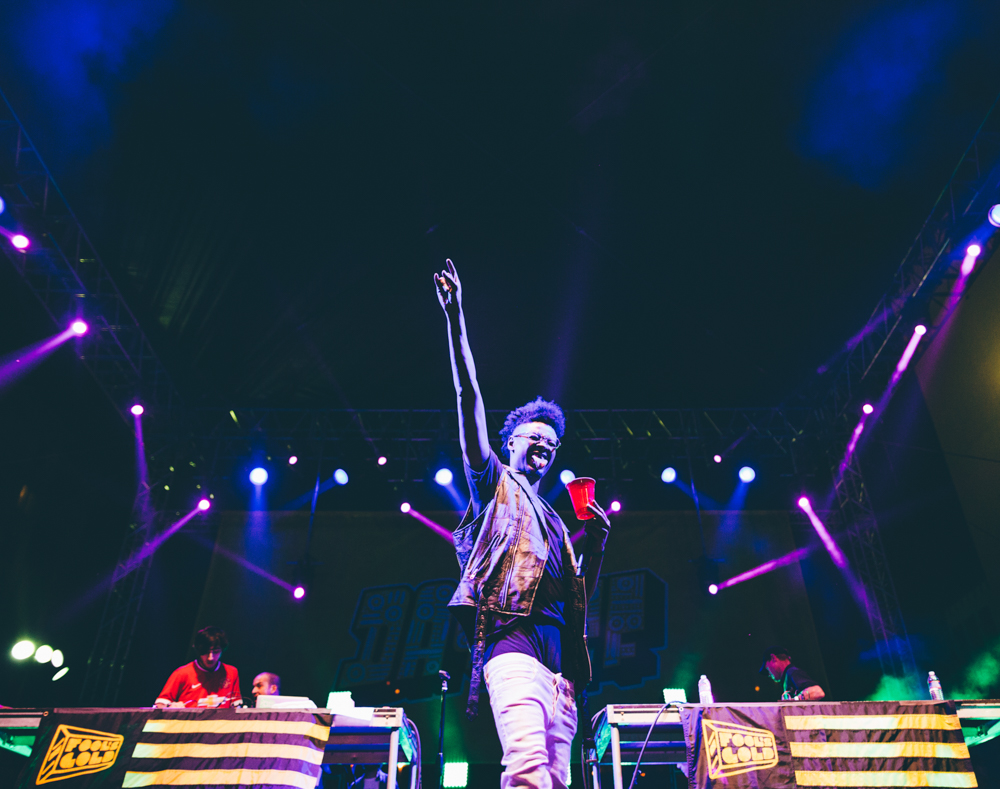 Mr. Nasty himself and the biggest dude on the label, Danny Brown came out to an audience prepared for his high-powered energy.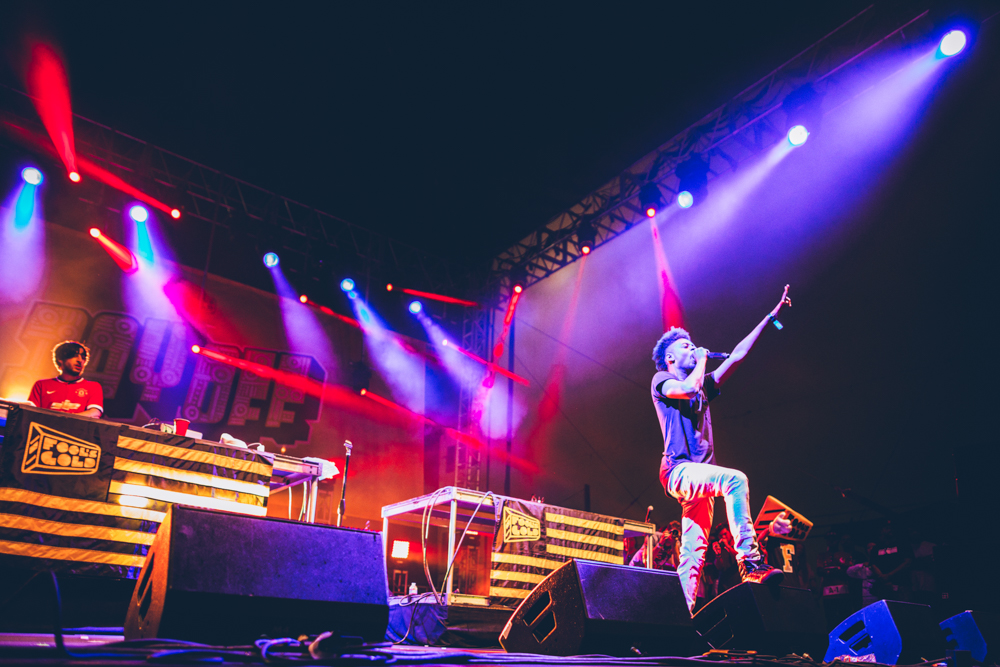 What he won't do…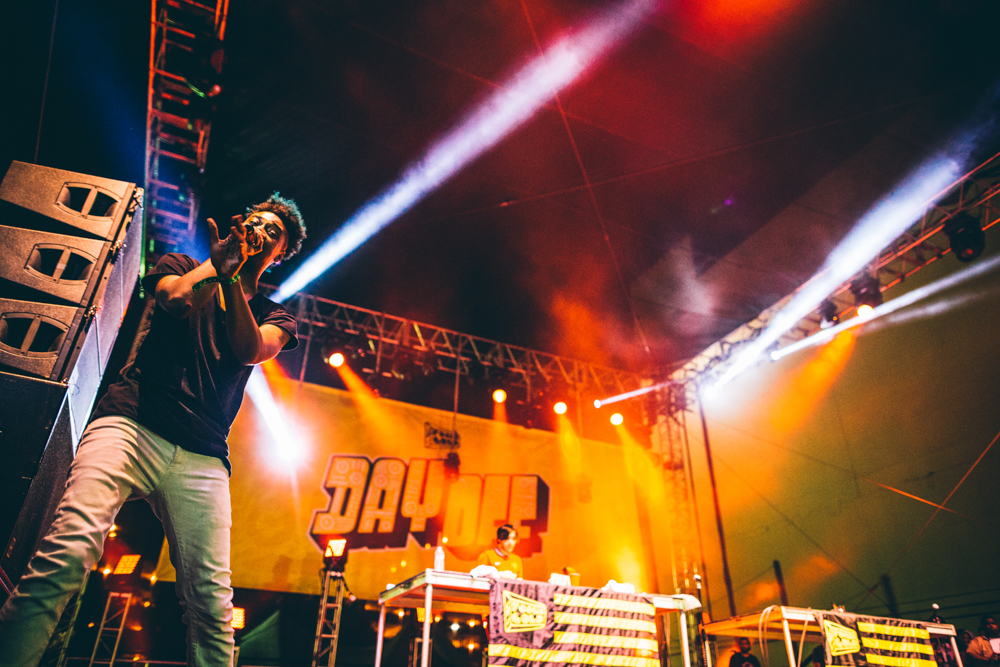 Smoking blunt after blunt after blunt.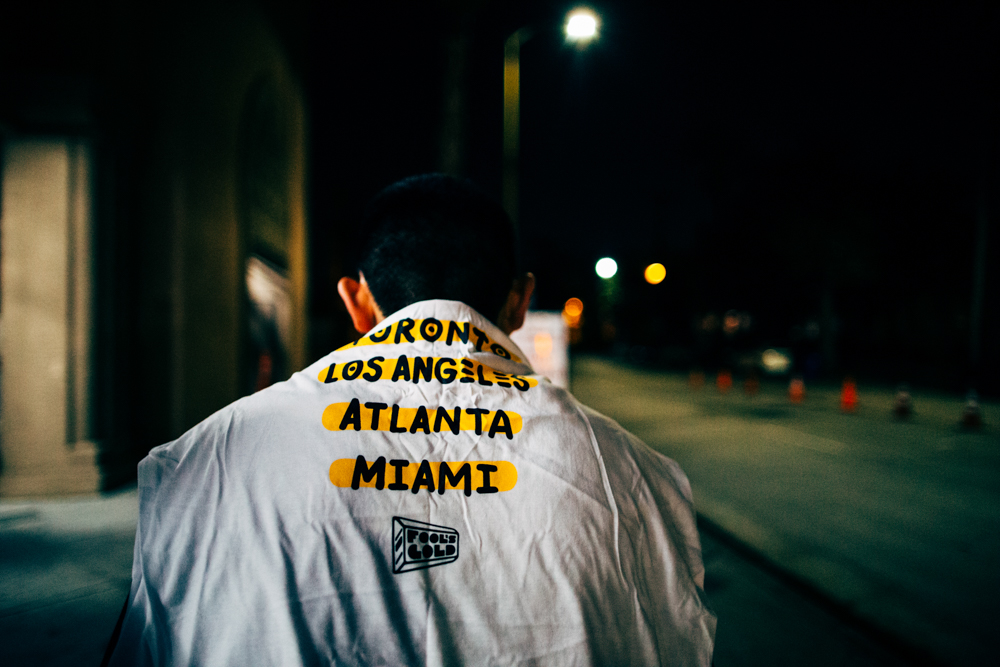 On to the next city!
What Fool's Gold is doing as a label and movement is contributing to the scene a concept foreign to most, but definitely to be expected from someone like A-Trak who has been around setting trends as a very active visionary for the last decade. What the Day's Off events represent for the culture is the chance to see new and certified musicians in the hip-hop world purposely held at a affordable price so that the crowds can be diverse, providing new opportunities for fresh creatives to display their crafts, as well as getting young people out on a Sunday to celebrate music. Couldn't ask for more than that.