On every third Monday of the month, life gets a little bit crazier for Geo Quibuyen, aka rapper Prometheus Brown of Blue Scholars, and his small crew. Hearkening to his Pacific Islander roots, Quibuyen sets up shop in the kitchen of the popular Filipino restaurant Inay's in Beacon Hill to whip up two pre-fixed dinners available to anyone curious about Filipino cuisine for just $30.
Quibyen and his wife, Chera Amlag, started the pop-up they affectionately call Food & Sh*t in 2013, and have enjoyed a loyal following ever since. Exploring different themes every month, no two dinners here are quite the same. I caught up with the crew at Inay's recently for a behind the scenes look at how the magic is made.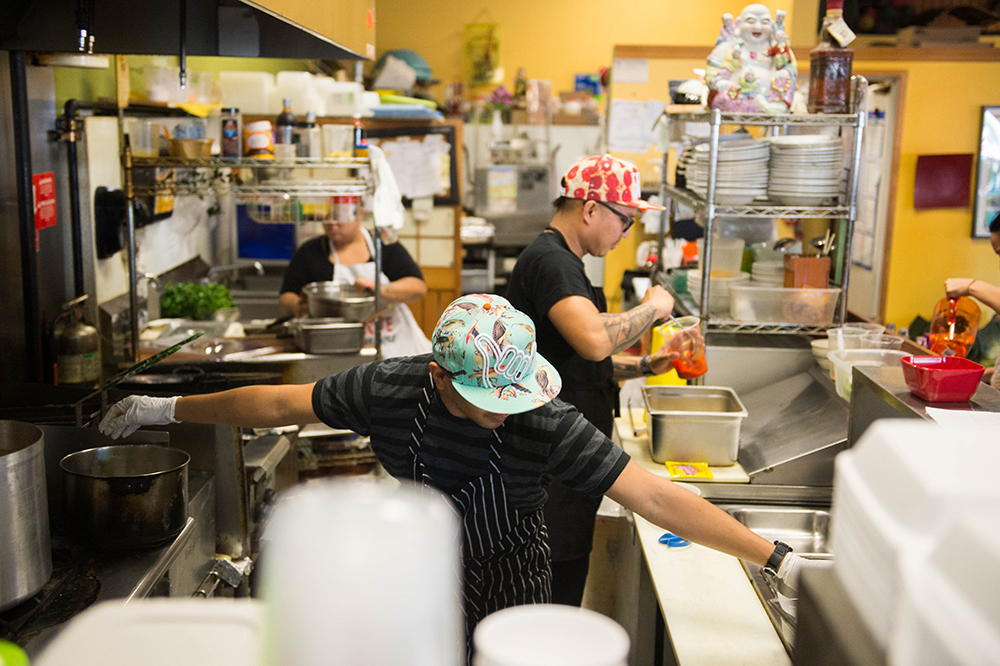 CHONA KASINGER: For you, was there an organic point that the music and food world intersected or do they remain pretty separate for you?
PROMETHEUS BROWN: Ah yes, food and music – two things I love creating and consuming. Two distinct mediums, two different scenes. But for me, they've always crossed over. Blue Scholars' first album release party was at a Filipino restaurant and we had them cater lumpia and pancit for attendees – interesting side note [is that] the restaurant, Vesper Lounge, formerly Rios Bar And Grill, was owned by Kuya Ernie Rios, who owns Inay's, where we're currently doing the Food & Sh*t pop-ups. Every tour I've ever been on is also a food exploration tour. Also, I think every single Blue Scholars music video we've made since 2009 has either me cooking something or Sabzi eating something. These days, the food thing has been more in the forefront, but even then, music has a big presence, whether it's having other musician friends in the kitchen with us or getting some of our favorite DJs to play our pop-up. Then, there's that one time we filmed a music video during the pop-up. Music and food will always be inseparable to me.
It would appear that Filipino cuisine borrows quite a bit from other cuisines. Case in point is the theme of this pop-up, Aroi/Sarap. Can you tell us a little about the prevalent features and flavors of Filipino food and some of the inspirations behind your past pop-ups?
The Philippines have a long history of being colonized, as well as a long history of resistance against it, and it can be seen in the food we eat. There's also much regional variation even within the Philippines itself. But I think a prevalent feature of Filipino cuisine is the stew: a big ass pot of some slow-cooked soupy or stewy goodness. We love simple, salty, sour things. Both my parents are Ilocano, and bitterness is a big taste profile that I've inherited. Spiced vinegar is the most frequently used condiment.
Our menus try to reflect the simplicity and versatility of Filipino cooking. We'll merge traditions in ways that are already familiar to us, like the Aroi/Sarap menu which also draws on local Hawaiian food traditions – which, itself, is a mashup – but we also try to project the idea that Filipinos have also influenced other culinary traditions, such as the presence of Filipino shrimp farmers in Louisiana in the 1700s or the Filipino flavors and dishes that you'll see on the menus of non-Filipino restaurants in Hawaii.
We draw upon our own family and community traditions, while exploring or experimenting with dishes that aren't usual Filipino restaurant fare, or making non-Filipino dishes with Filipino ingredients and flavors, such as the collaboration sandwiches we did with Lil' Woody's  (The Adoboburger & Phillypino Cheesebistek). My wife, Chera, makes desserts that aren't traditionally "Filipino" but puts Filipino flavors all up in it, like the ube cheesecake. For me, I've always loved calamansi juice. Any recipe that calls for a citric acid, I'll use calamansi to give it that sweet and tart kick I grew up on.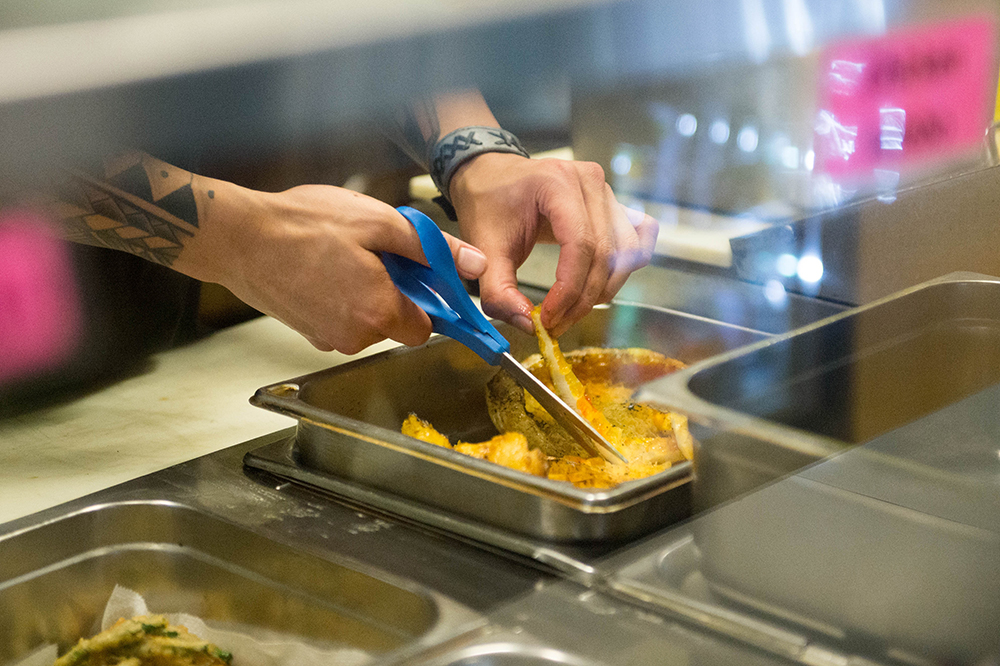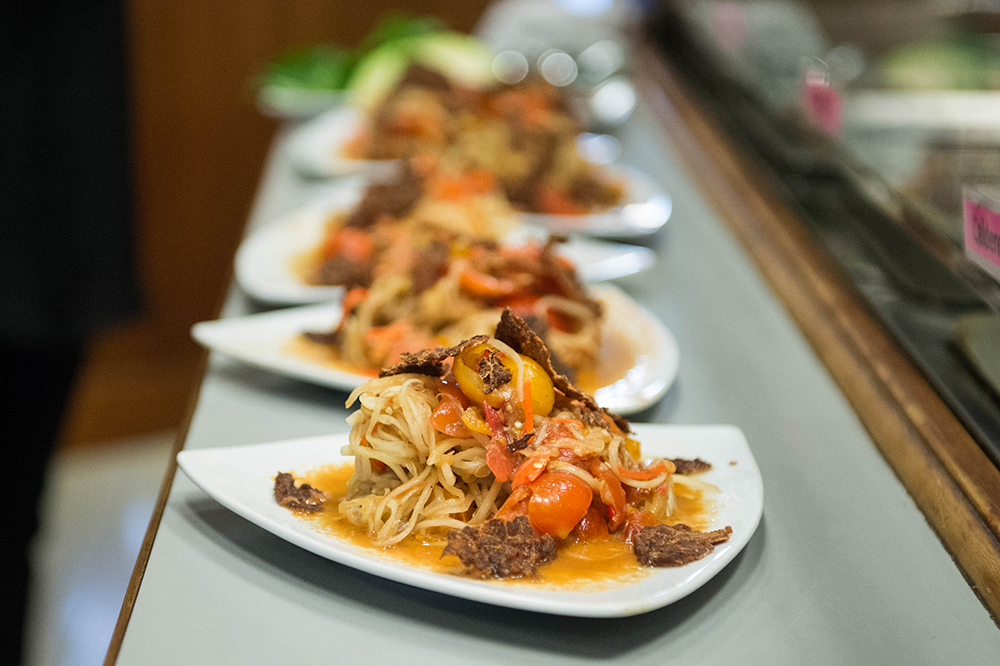 We love the irreverent approach you've taken to serving food from this part of the world– especially because it isn't too widely available in Seattle. Being a Seattlite, can you recommend good restaurants/stores/etc for Filipino fare like Halo Halo and more? Does the Pacific Northwest factor in to how you operate in the kitchen?
Since the Filipino community is much more spread out now than it used to be, it's been hard to find the old school moms and pops joints. Most of em are in Beacon Hill – Inay's and Kusina Filipina are the staple turo-turo and sit-down eateries in the community. Despi's Delite Bakery for baked goods. Fou Lee got the imported dry goods and produce. There's Seafood City/Red Ribbon/Jollibee at Southcenter. Oriental Mart in Pike Place Market. Isla Manila Bar & Grill in Northgate. These are all great spots but I wish there were more. Which I can see happening in the future as more and more people stop sleeping on Filipino food.
The Pacific Northwest plays a big role in our kitchen. As much as we'll use imported items, we try to source as much local products as possible for our menus – especially produce, and, most especially, the seafood. Our local seafood is the best in the world and they work so well with Filipino flavors.
Can you tell us a little bit about the crew in the kitchen? There's such a cool, communal vibe that seems to permeate the workspace.
We're so fortunate to have this staff, who set the tone for our pop-ups every night. It originally started with a rotation of family and friends who we've known for years. My parents have joined us a few times. Our friend Bua Sengkham, who's Laotian, Thai, and Filipino has such a great sense of taste and technique and is a grinder. We've since added folks like Chef Garrett Doherty (of Kraken Congee) and Jeriel Calamayan, who used to be a chef at Microsoft, to the kitchen rotation and they fit right in with the whole vibe. Also, on the front-of-house end, our servers are real cool like that because nearly all of them are or were members of some awesome Filipino community organizations like Gabriela Seattle, Anakbayan Seattle.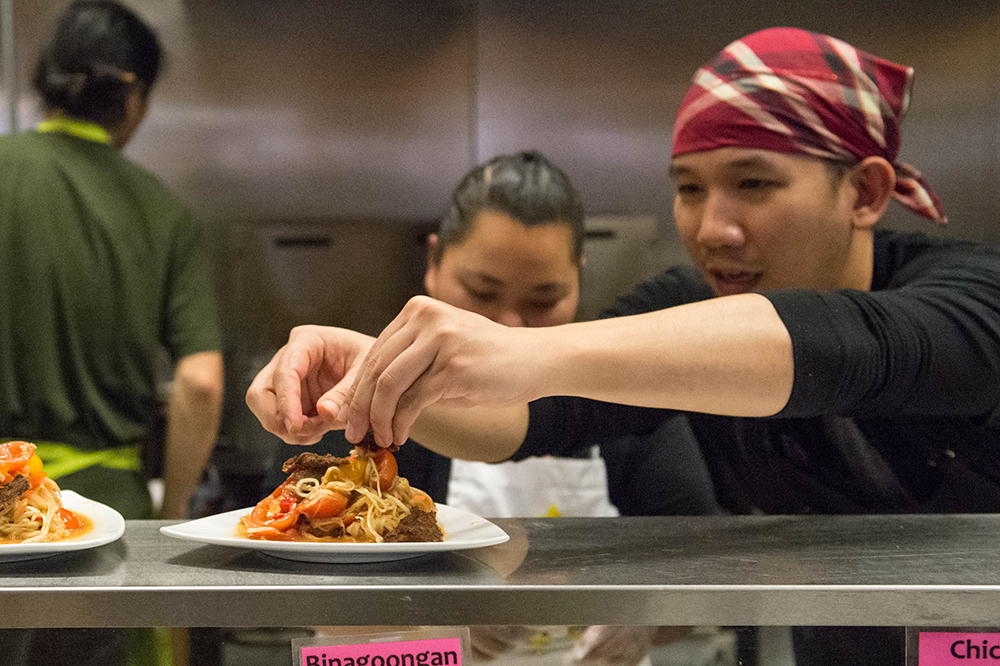 What is your favorite Filipino dish? What is your signature dish? Favorite street snack?
Chicken Adobo. It was the first Filipino dish my parents taught me how to cook, it got me through college, and it opened the door to wanting to learn how to cook more dishes. A few years ago, I started making a "white adobo" using coconut milk and calamansi juice that's been on the pop-up menu once before and which we've since put on our catering menu. I'd say that's my current signature dish.
My favorite street snack is puto & kutsinta, which always brings me back to growing up in Hawaii when moms would make big batches of them to slang on the weekends.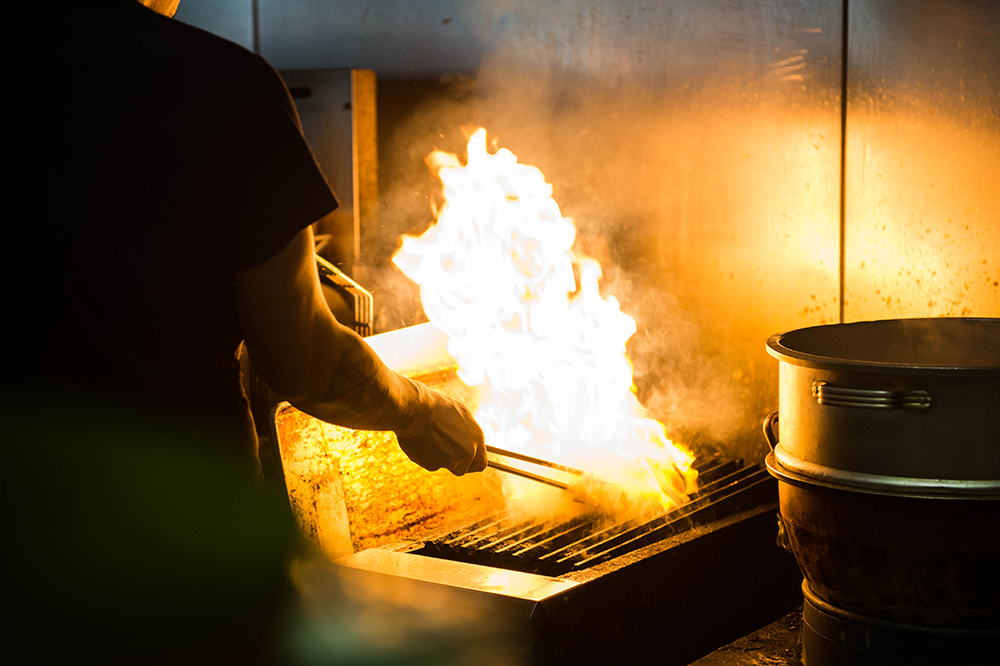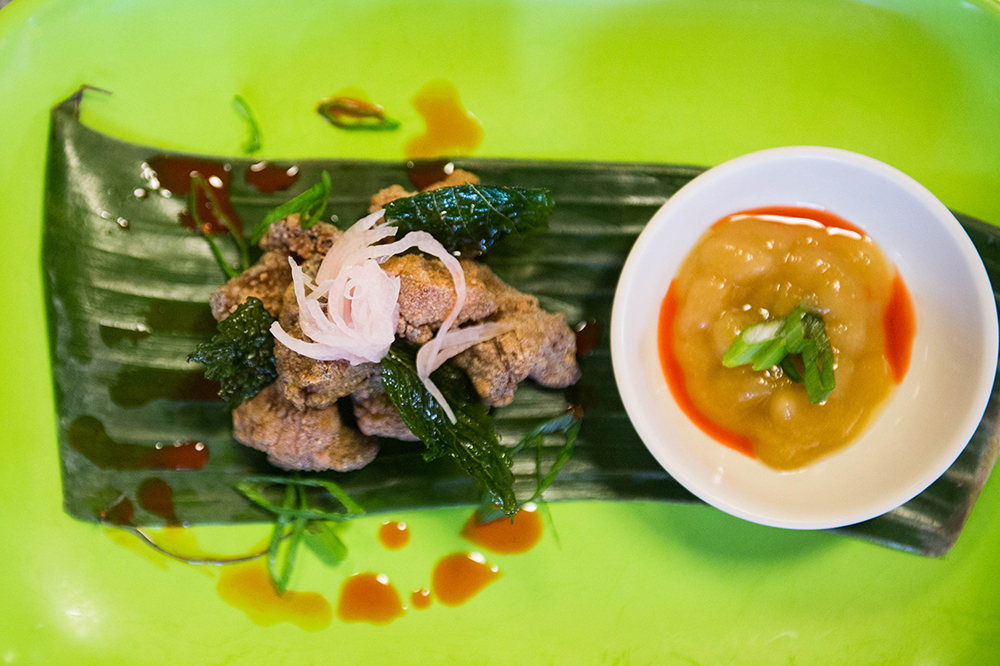 Beyond your monthly pop-up, do you have bigger plans for Food 'n Shit down the line?
We're looking to do more pop-up events around Seattle, with different formats and themes, but still very much dedicated to pushing Filipino food, local music, and politics. We've recently started catering, and will be pushing more of that in the summertime. Chera's plenty busy with Hood Famous Bakeshop – the ube cheesecake has been a big hit and more flavors are coming. But what I'm most excited about this year is bringing our pop-up to other cities. We've done Honolulu, Hawai'i before but we're working on a bunch of West Coast cities this year.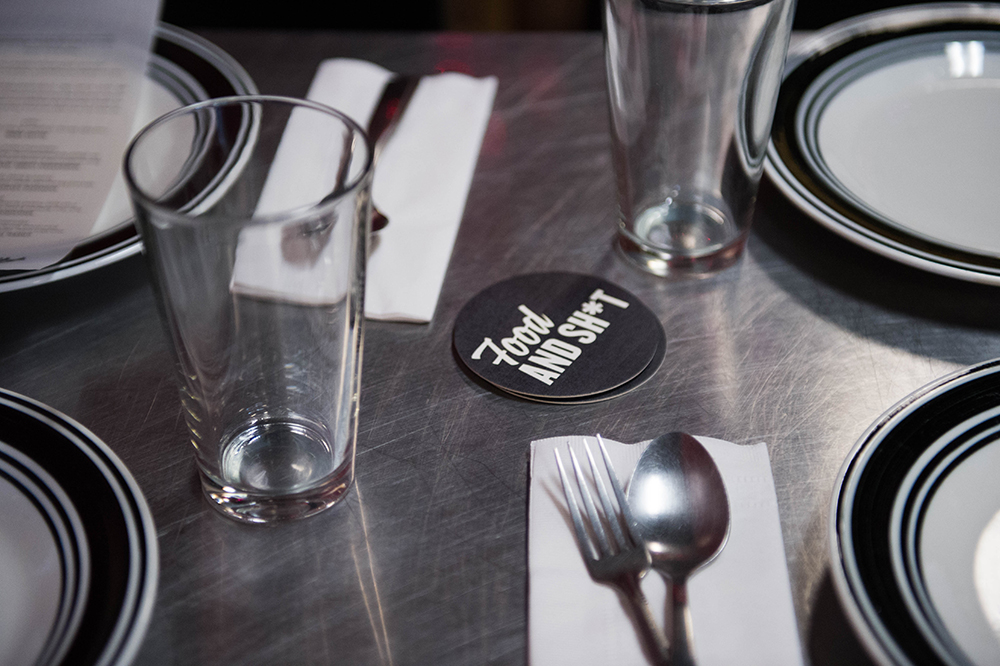 ::
Keep up with Food and Sh*t at foodandsh-t.com.