This past Saturday, SF-based photography meet up group Flask Mob held their monthly photo meet up in LA. This collaborative meet with We Own the Night LA (@weownthenight_LA) and Conquer LA (@conquer_LA) resulted were several police barricades that were covered by local news, mistaking the photography event for a rave/mob.
"Flask Mob, an event that started as an intimate congregation of mobile photographers in San Francisco, has seen massive growth within the past year and has since expanded down the coast to Los Angeles. Built around connecting with the urban environment and subsequently sharing photos of the experience on Instagram, the rapid growth of Flask Mob is a true testament to the power of social media and word-of-mouth. Although attendance has increased tenfold since its inception, the event has stayed true to its roots. At the end of the day, it's all about photography and human connection." – Modern Hieroglyphics
Flask Mob hosts monthly photo meet ups in San Francisco and Los Angeles, however, this month in LA, things went a little differently.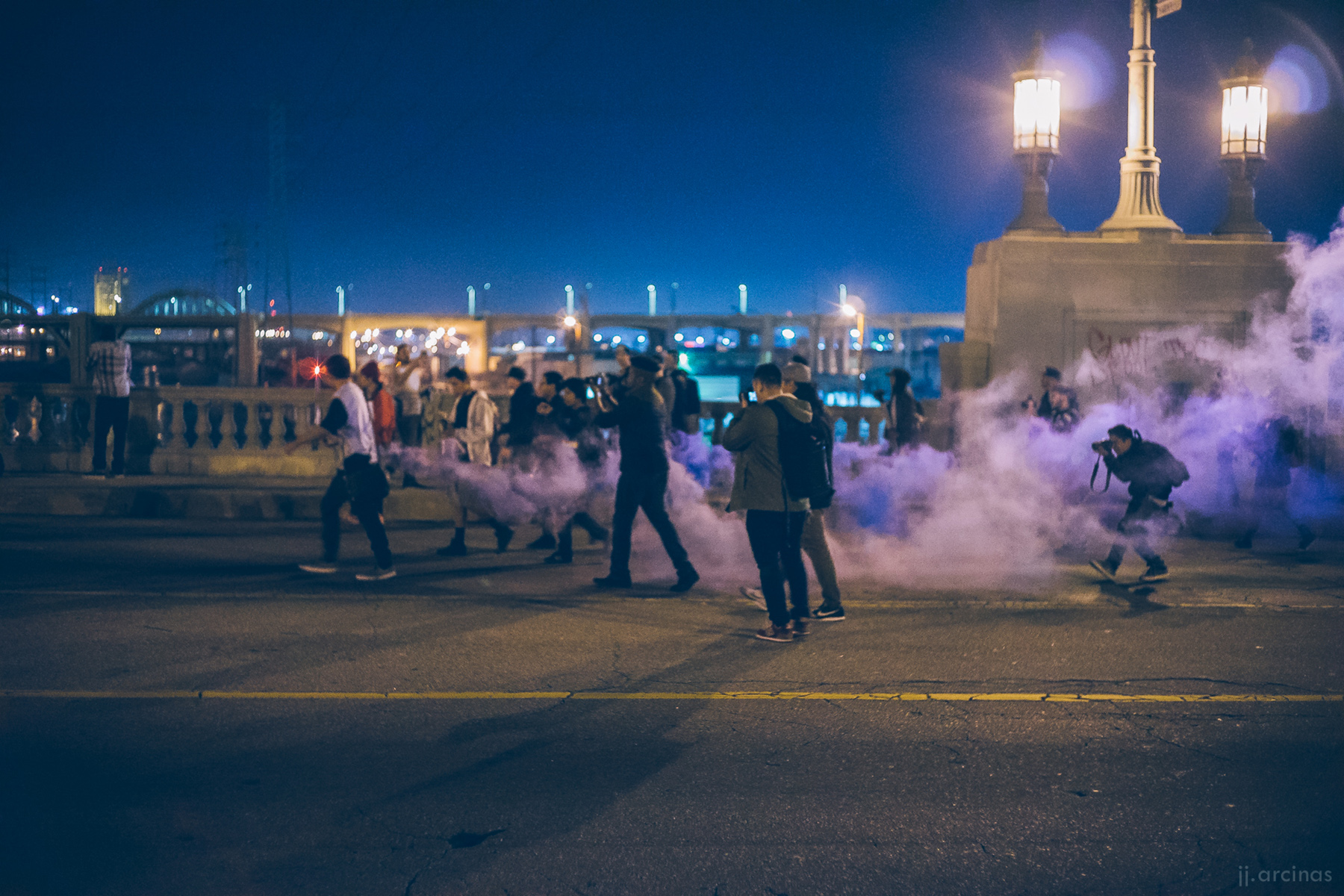 (photo: @jj.arcinas)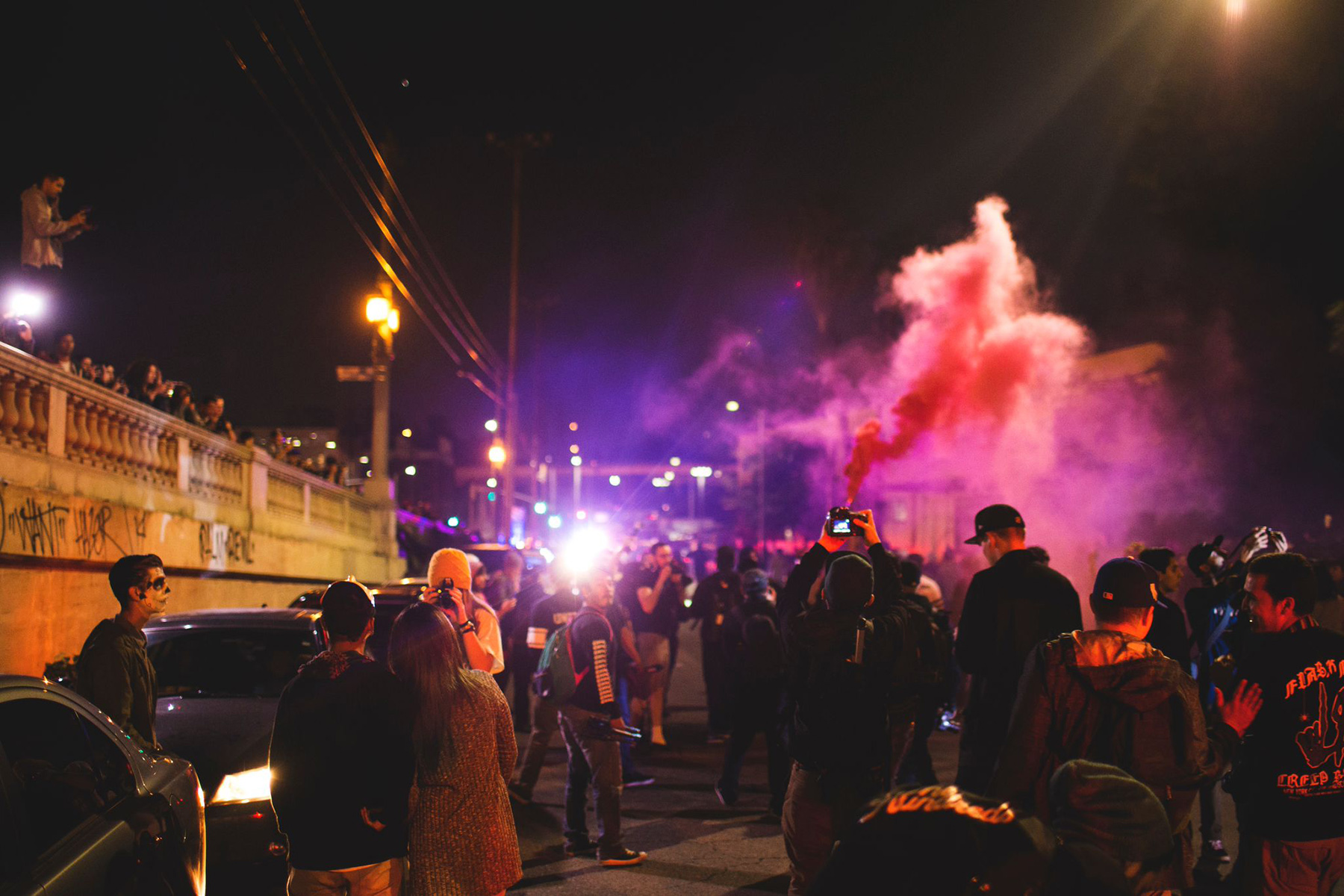 Photo-walks or instameets, to me, can usually be very dry and relatively boring. So, to avoid the norm, we, as a group, always bring an arsenal of creative elements to the mob to make sure everyone has a good time and something to capture. This month in LA, we decided to go all out and LA was just not prepared for our size.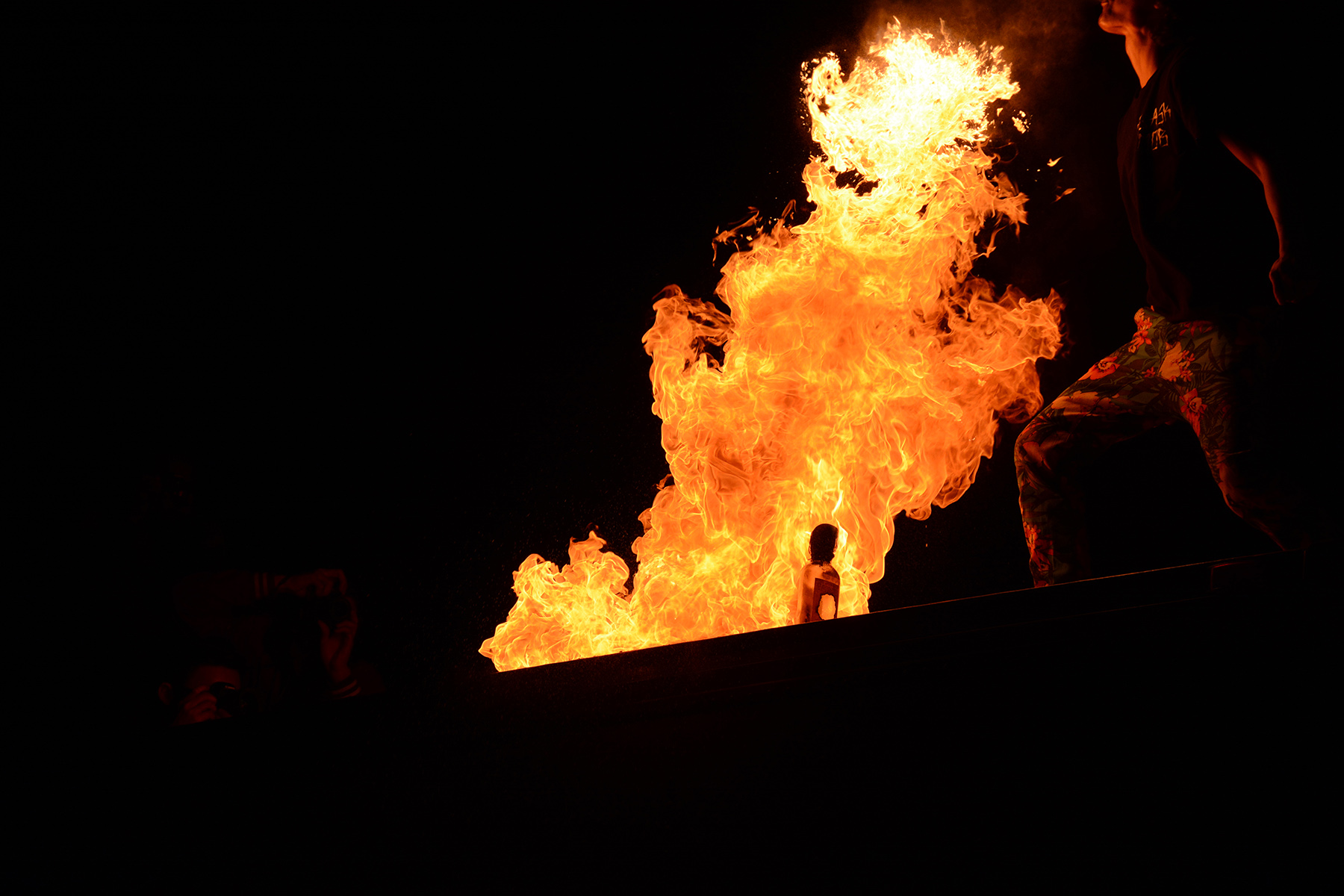 (photo: Adriel Navarro)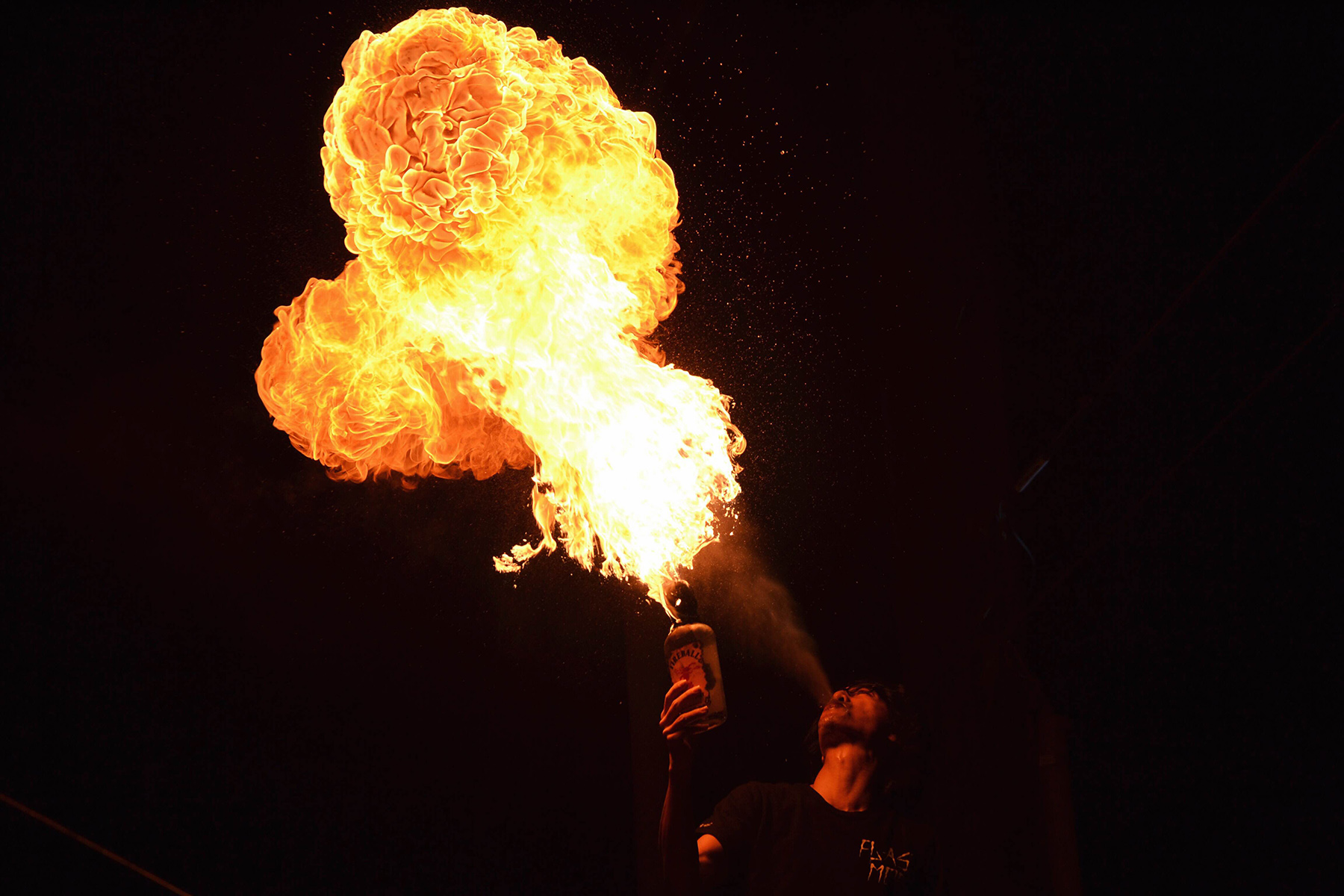 (Marco Ortiz)
As we pulled up just outside the meet location, there was a constant flow of 50+ people per minute passing us to get to the start. Then followed the low riders bouncing their way down South Mission; slappin' their radios.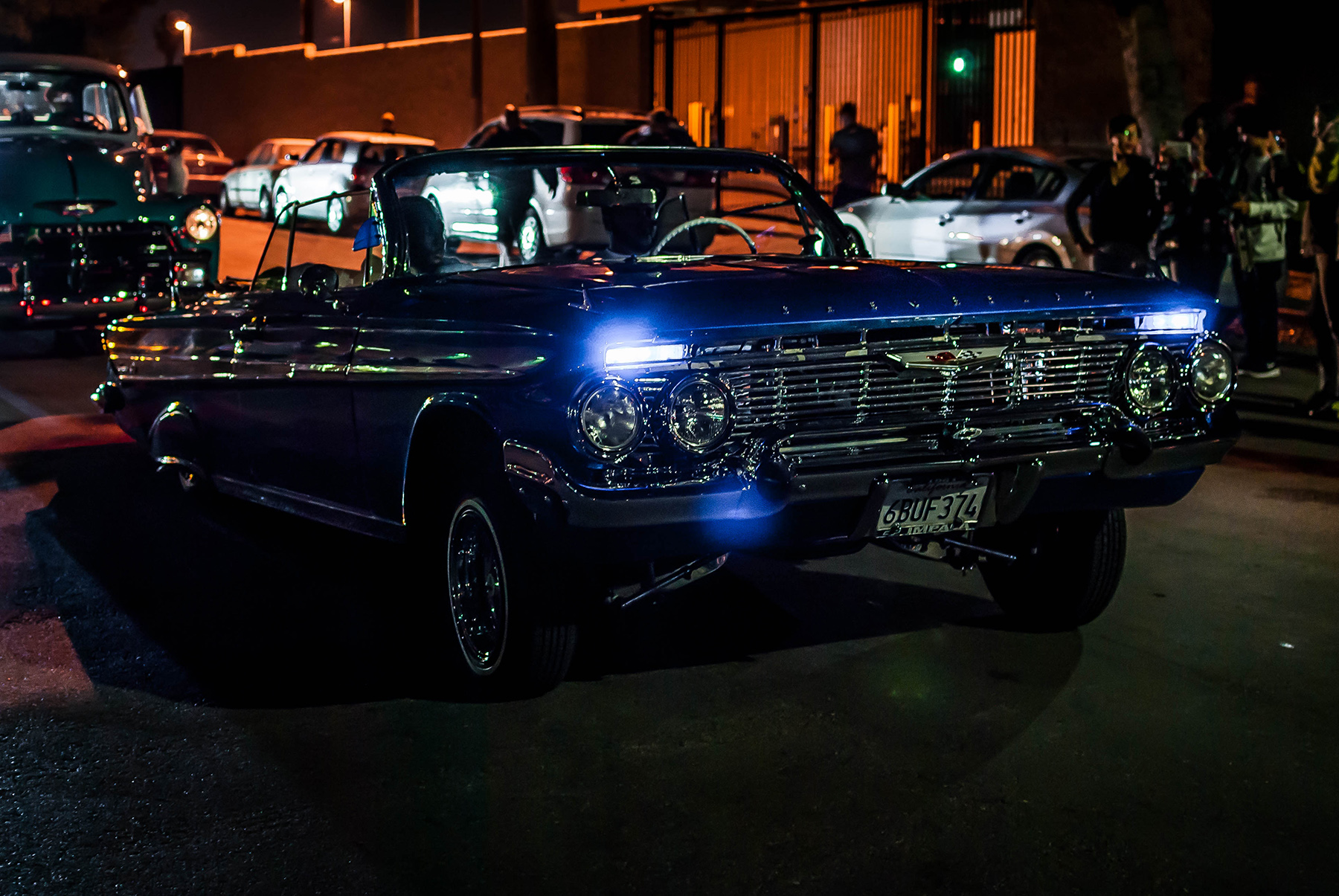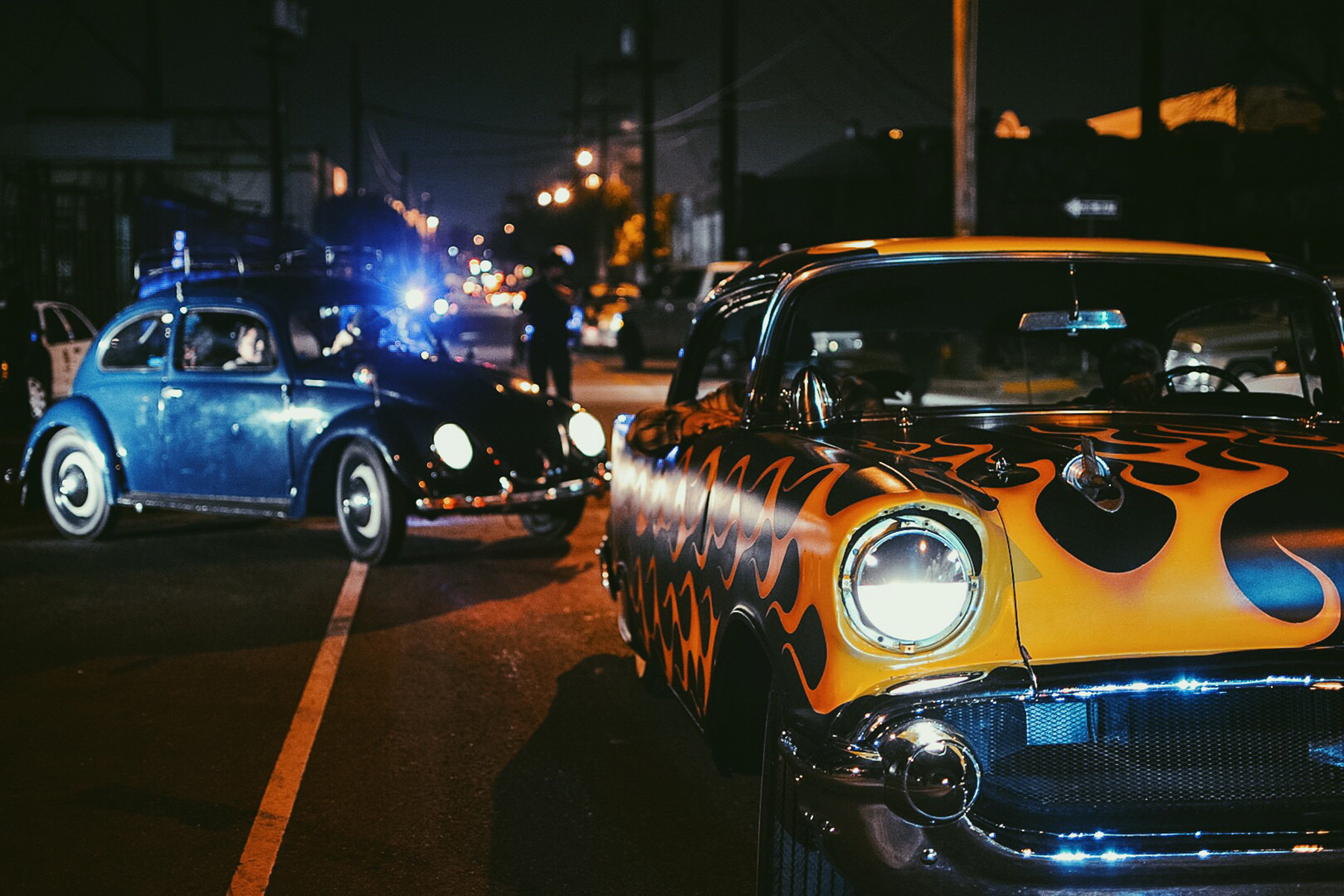 (photo: @6th.sense)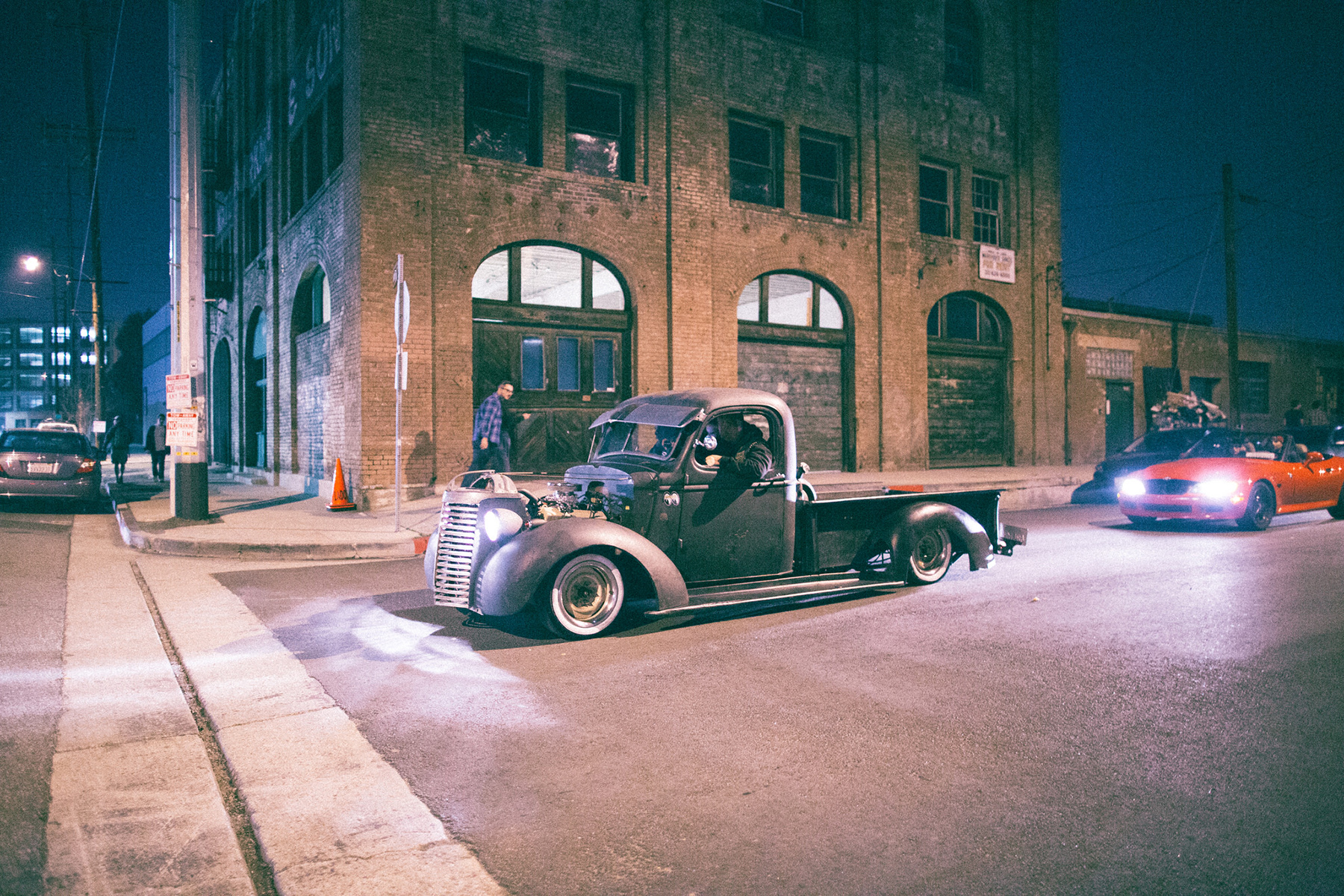 (Photo: @sirbrendan_)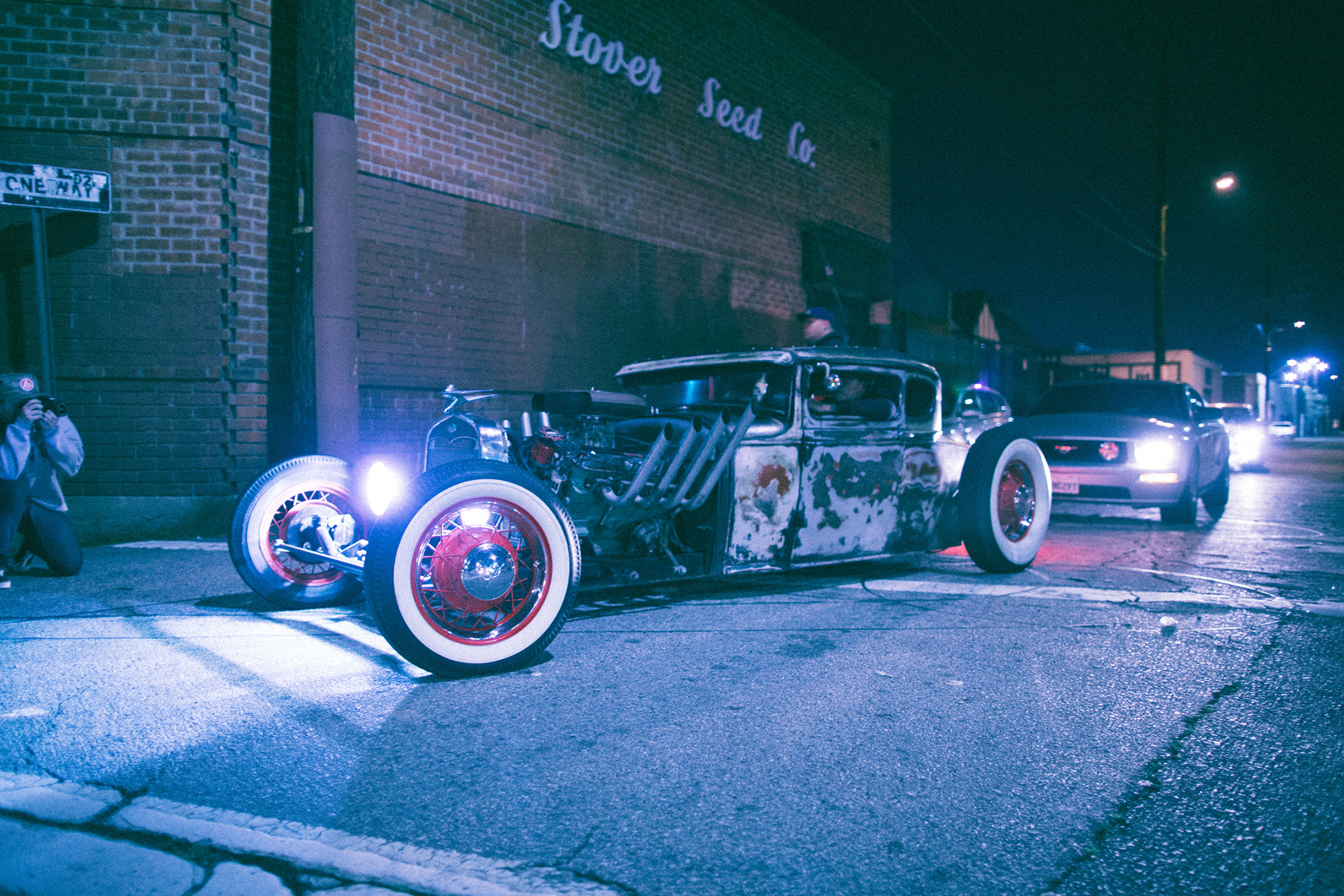 (photo: @sirbrendan_)
We had no idea the massive size our event had grown to because we could barely hear the crowd roaring in the distance. Instantly, I knew the night was going to be something else, and that it would be something I could have never imagined.
Getting antsier by the minute waiting for our mobile DJ to put the final touches on his "mob cart," including a smoke machine; I had to see this turnout!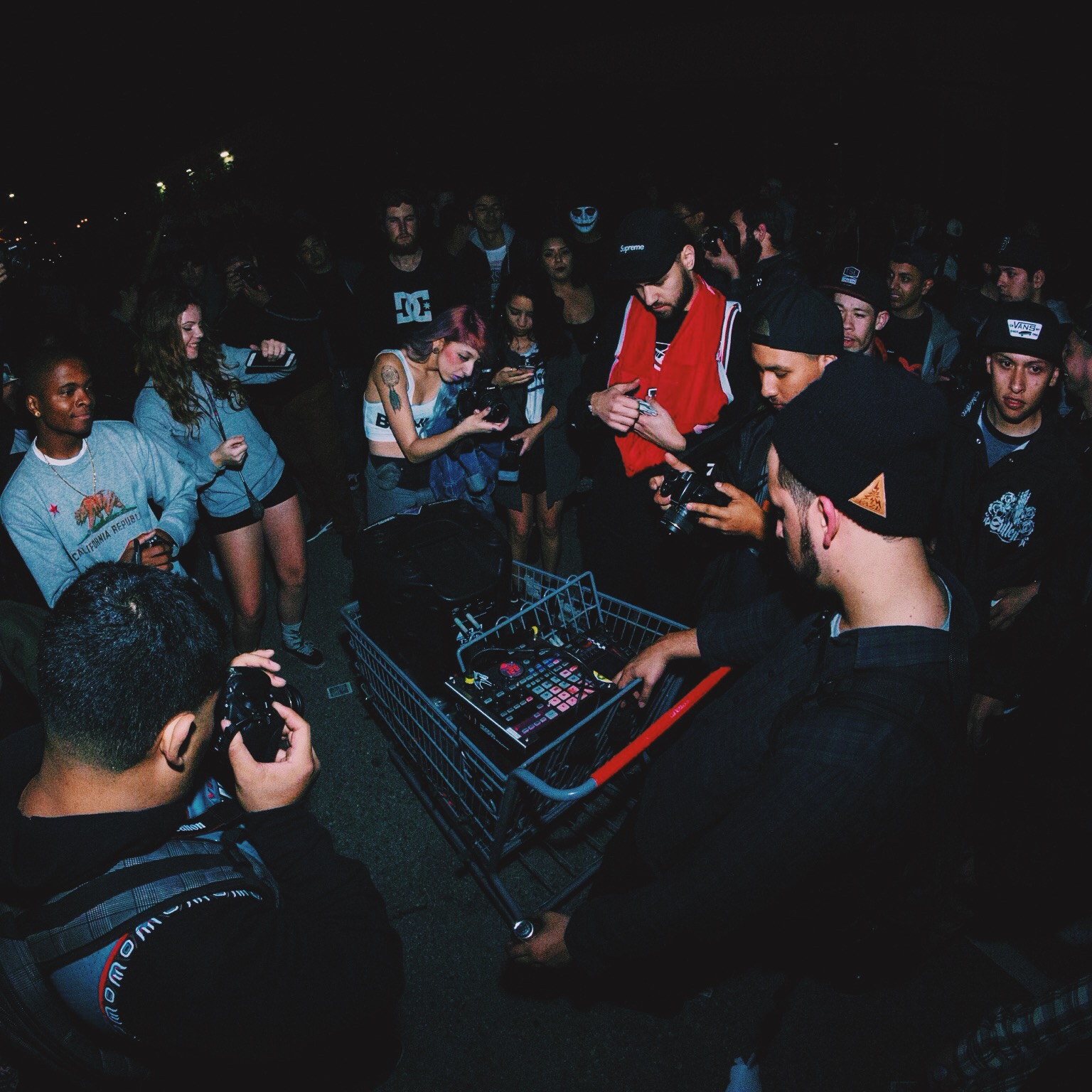 (photo: @ernny_)
As we turned the corner and emerged into the chaos, we were greeted by a sea of colored smoke, steel wool, and over 1,000 faces; that's when it hit me, "FUCK, this is going to be huge."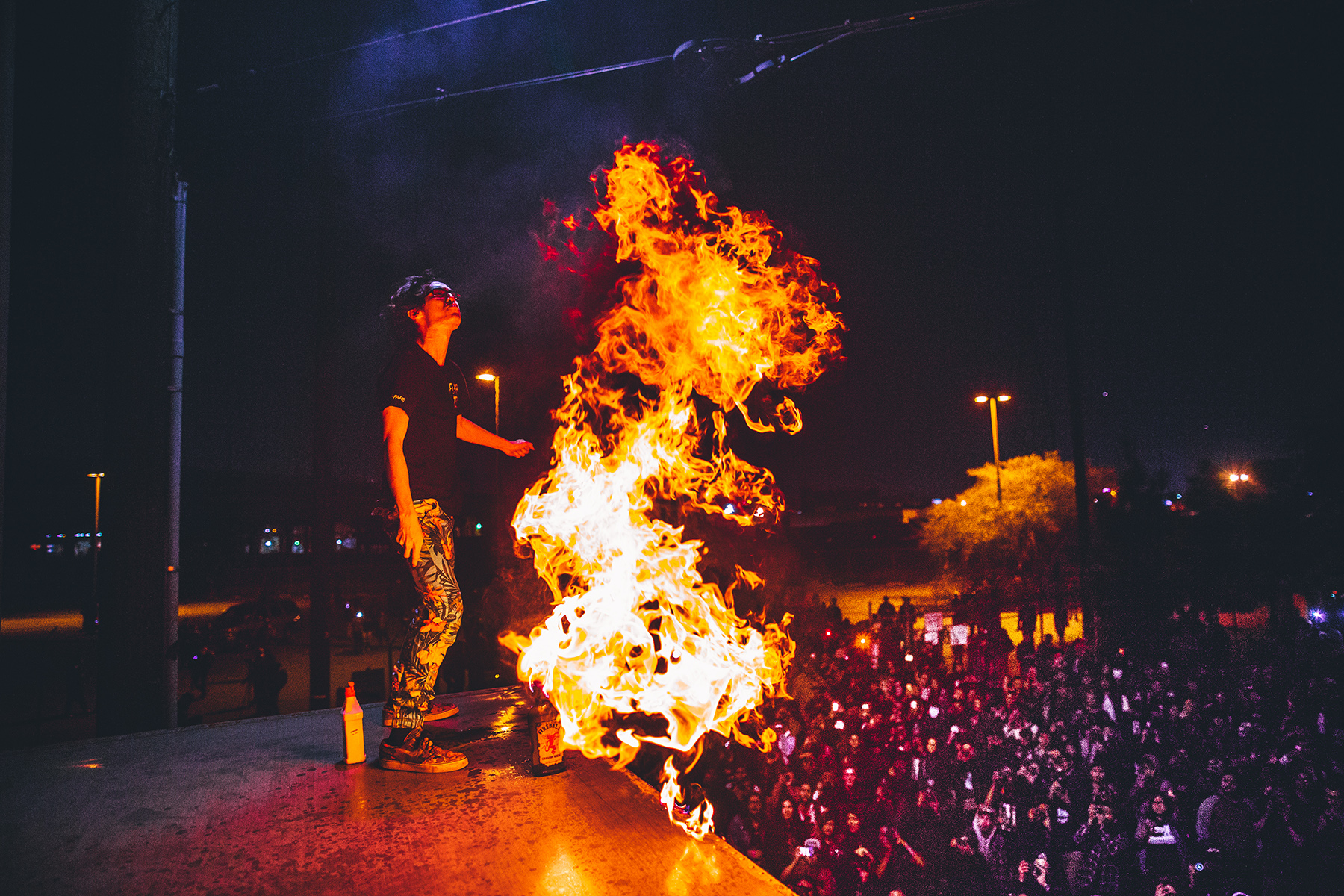 (Photo: Paolo Fortades)
Fast forward 30 minutes of hugs, hellos, shots, spinnin, fire breathin', and blunts.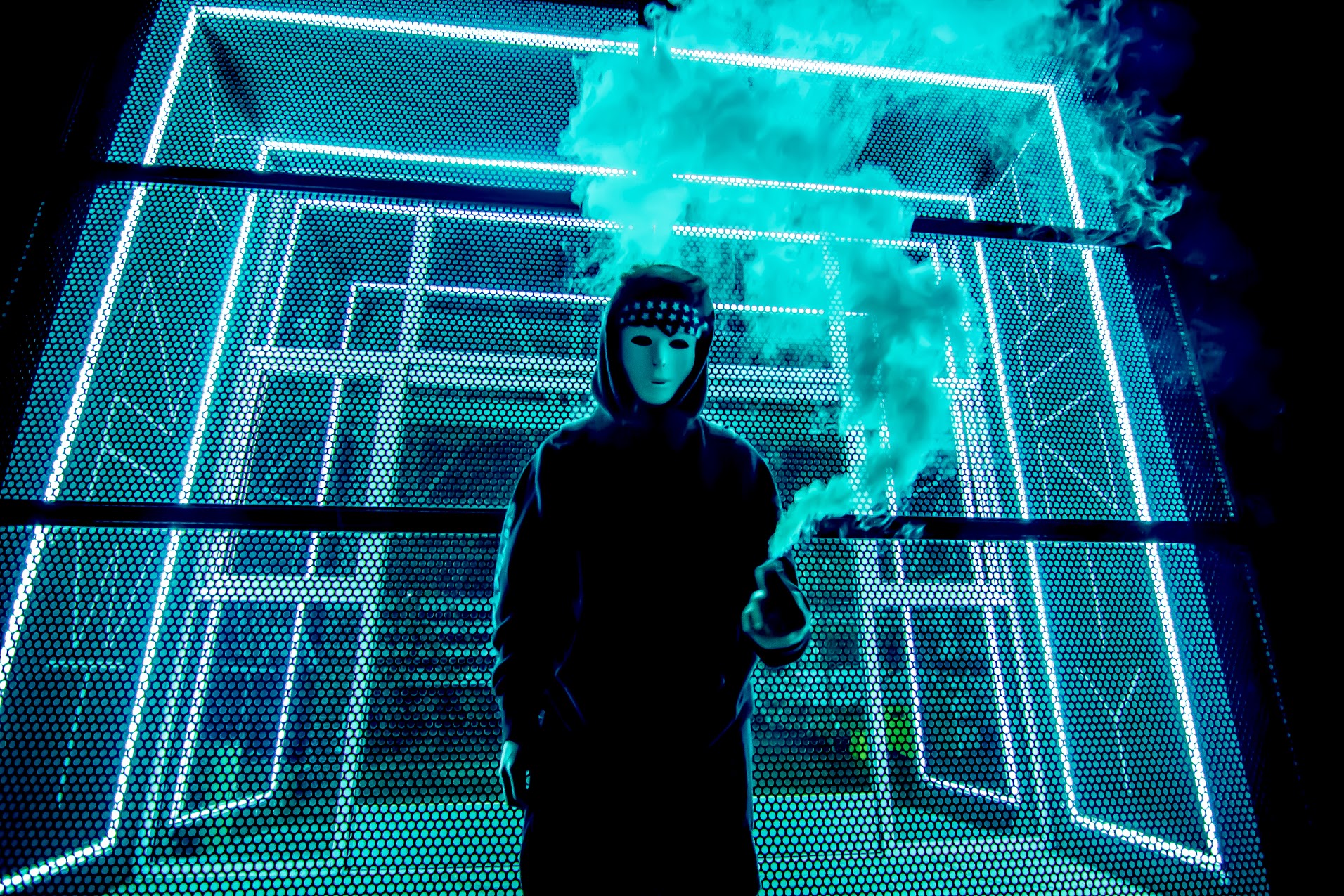 (photo: @TheHateMachine)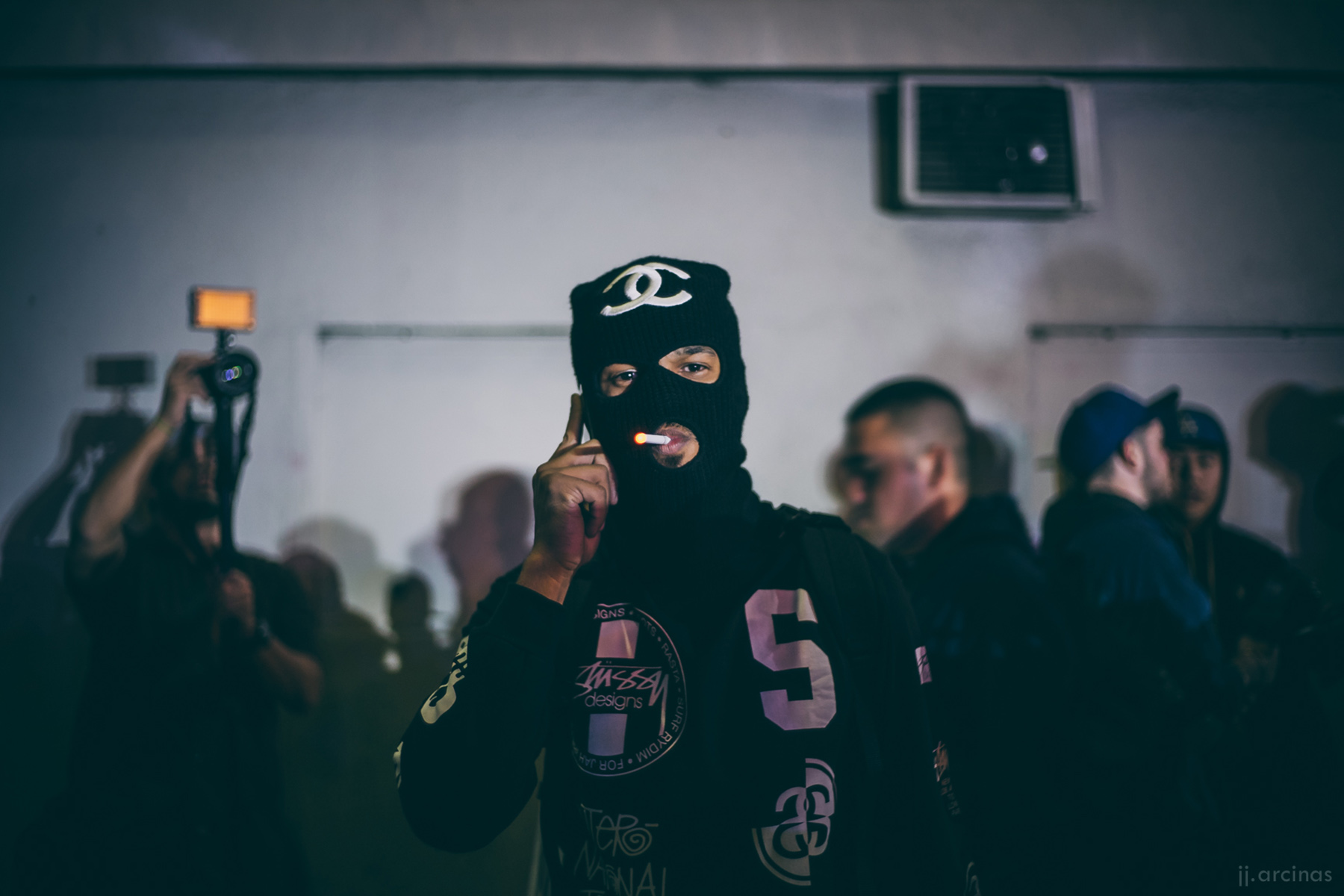 (photo: @jj.arcinas)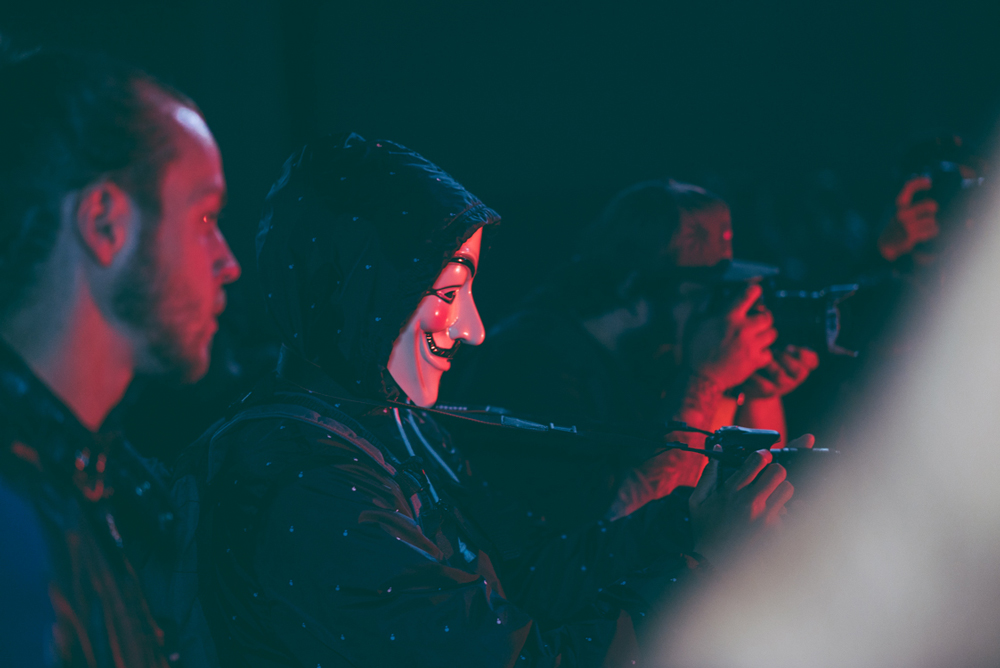 (photo: @cavemanslens)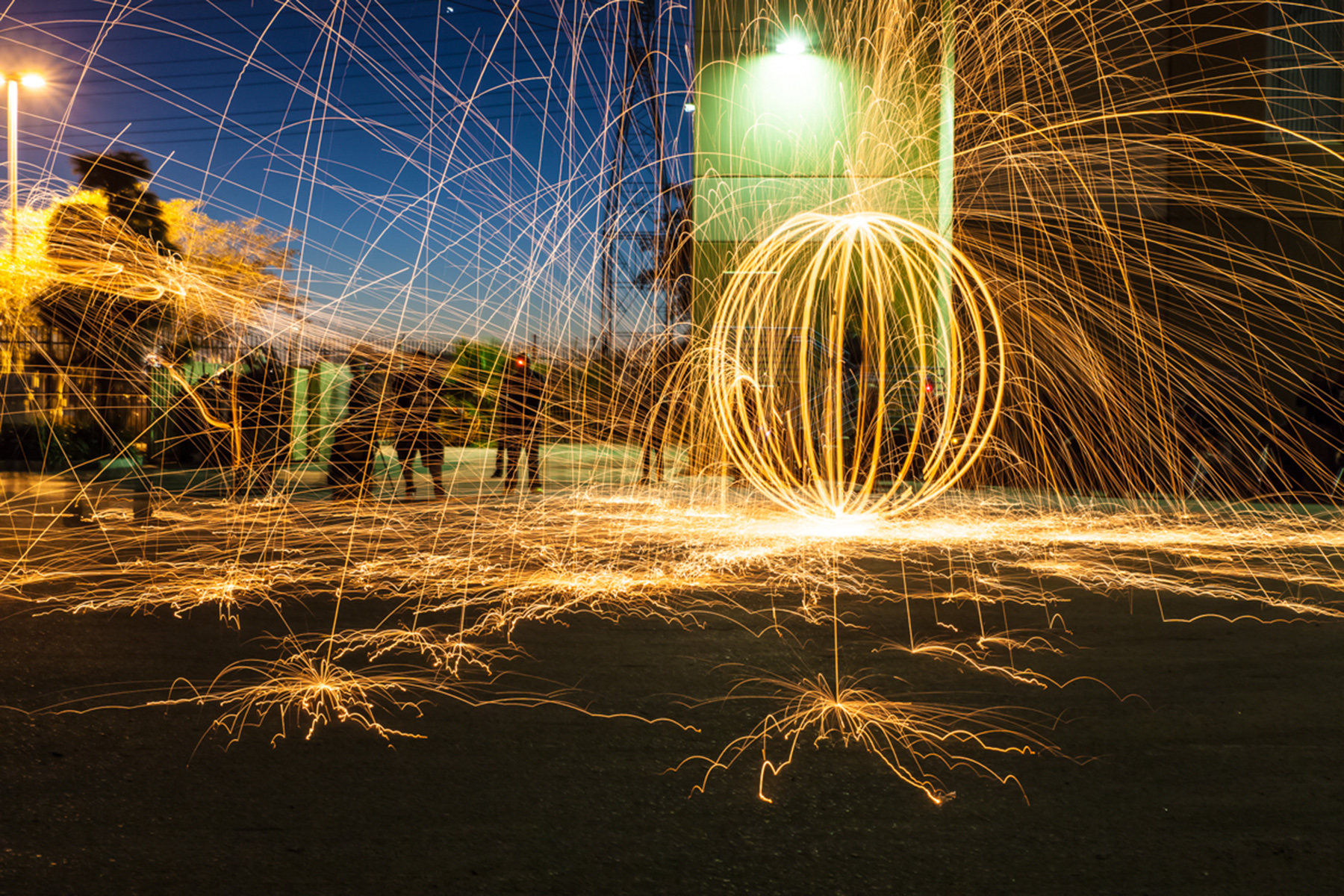 (photo: Ronald Allen)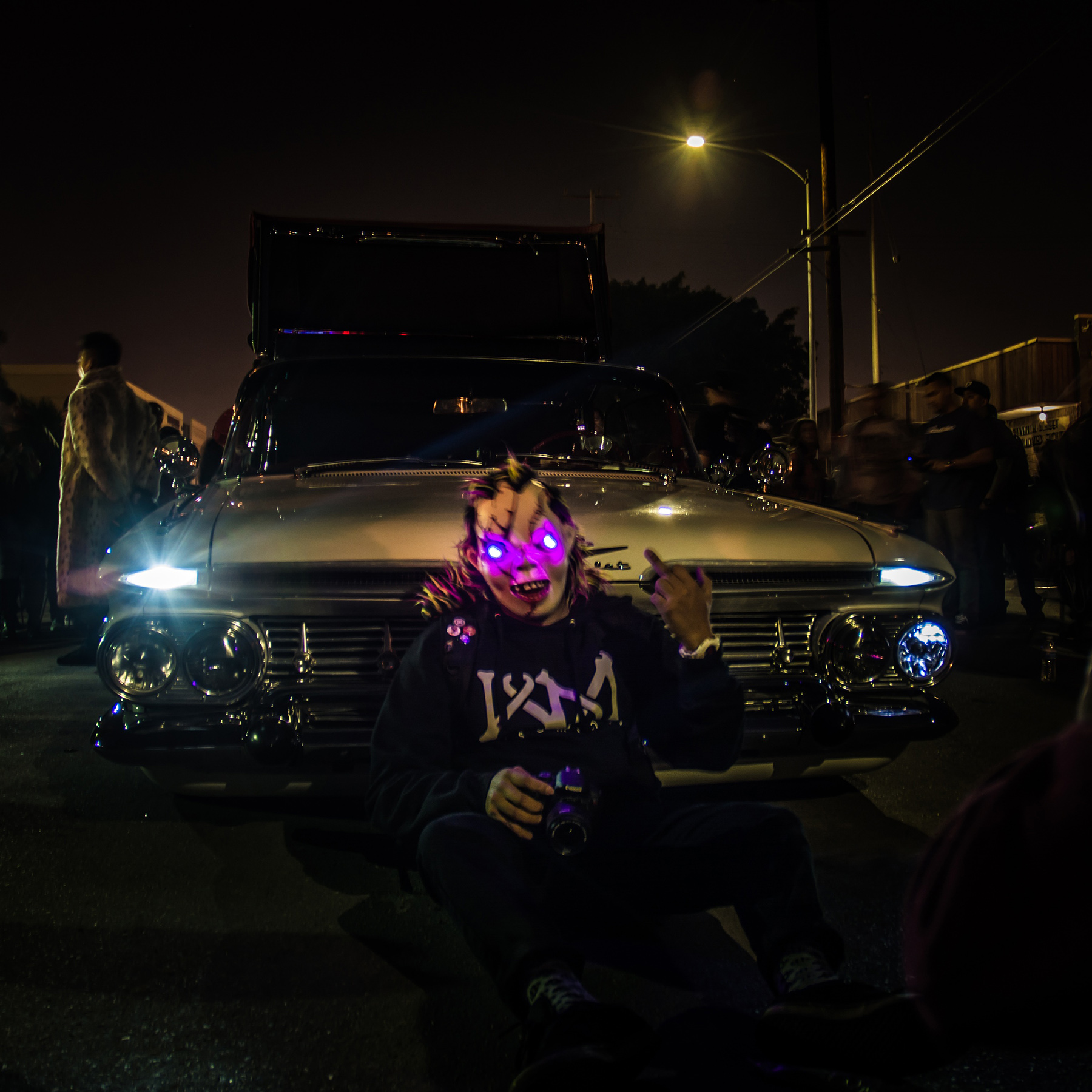 (photo: Jose Martinez)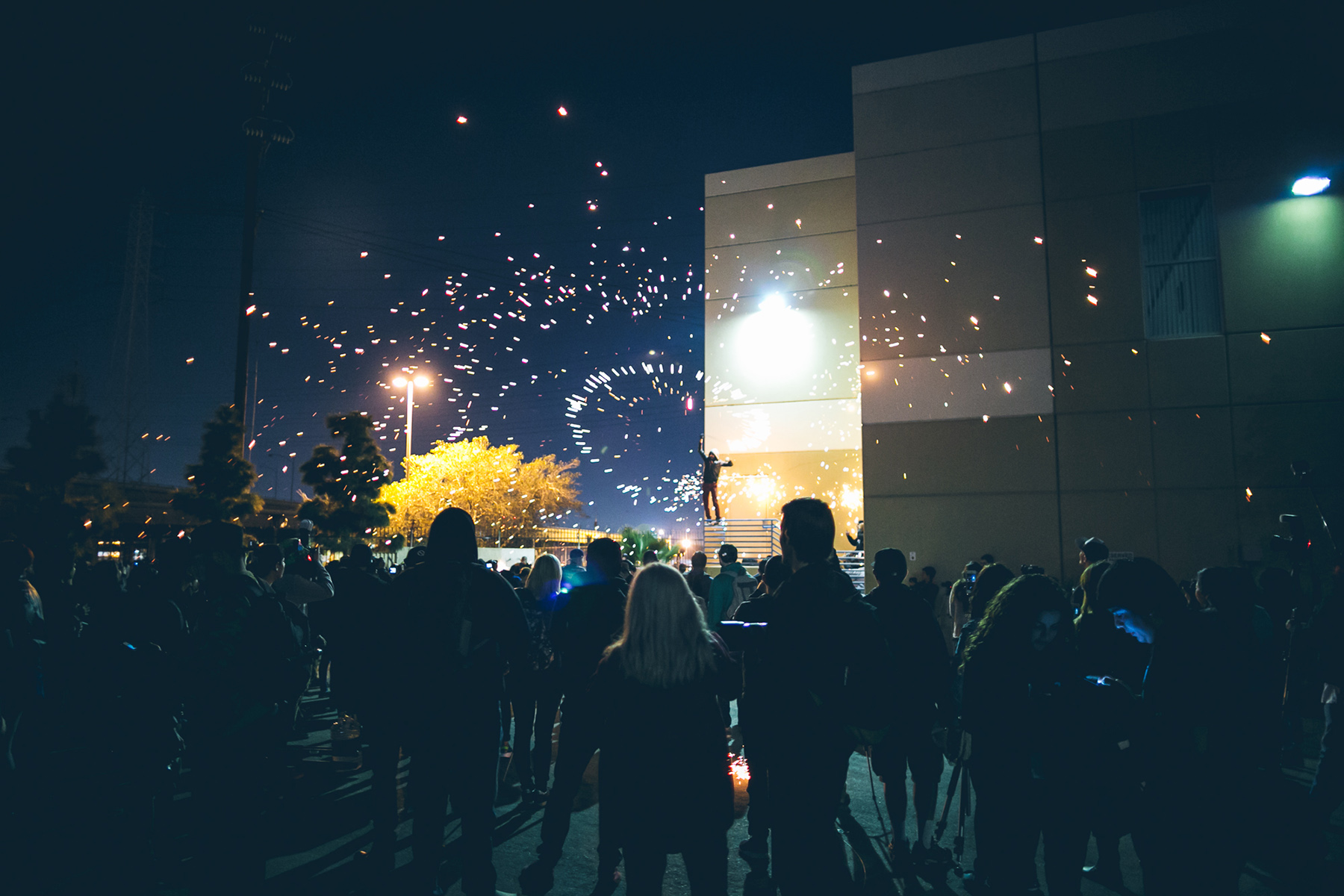 (Photo: @chuckpea)
It's was time to get this shit moving. Sabina Thompson and John Kim hopped on the mic, laid down the rules of the mob, and kicked off what seemed to be the biggest mob yet. We didn't even make it out of the alleyway before the 2 police birds came soaring over us with spotlights on, followed by sirens and cops surrounding the area. One cop came in so hot, he slammed on his breaks as he ripped around the corner – unexpectedly being brought face-to-face with the entirety of our mob. Being the neighborhood friendly Flask Mob, we do our best take to the sidewalks, all one thousand of us, and behave the best we can. But less than a half mile into our route, we were road blocked and barricaded into changing directions.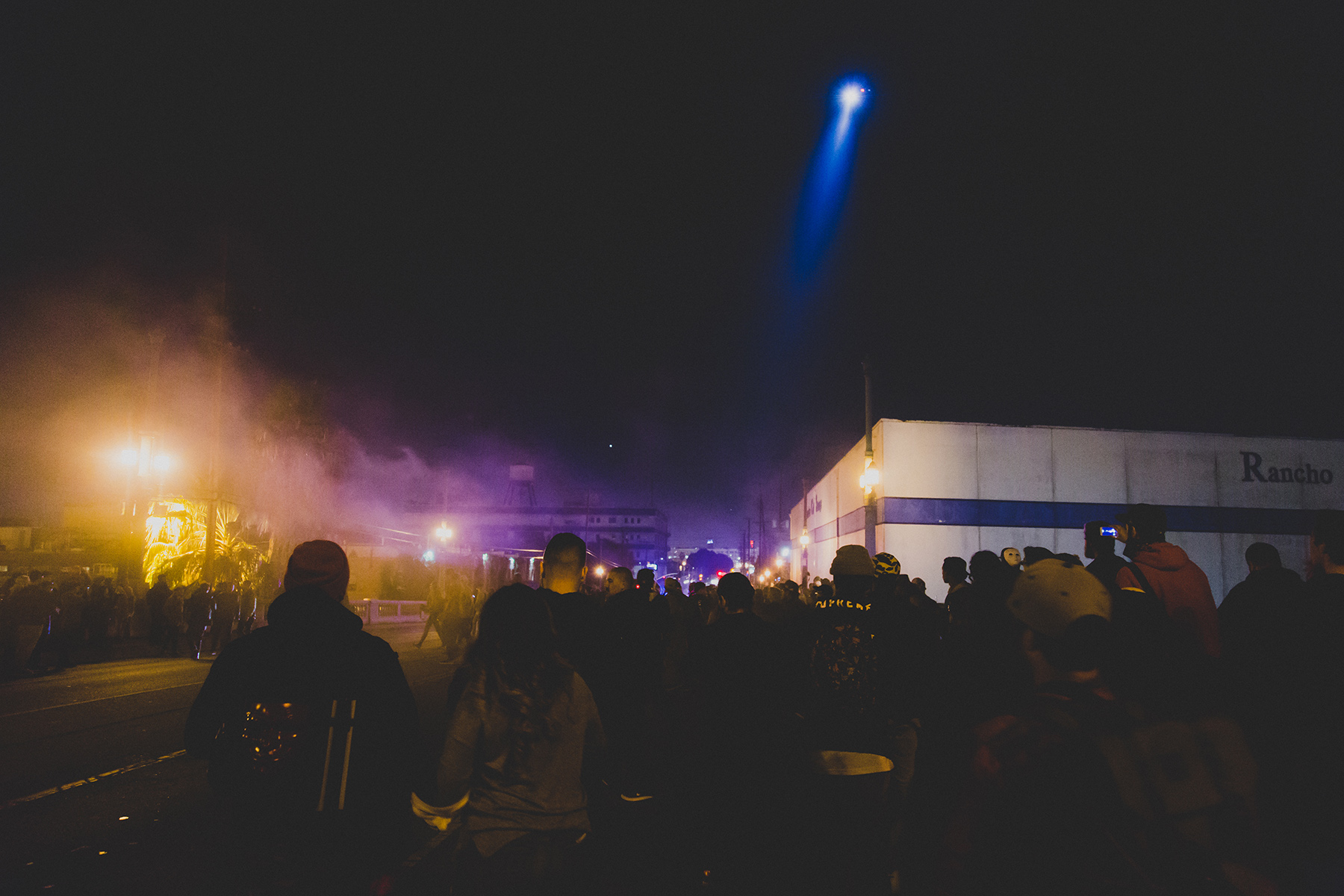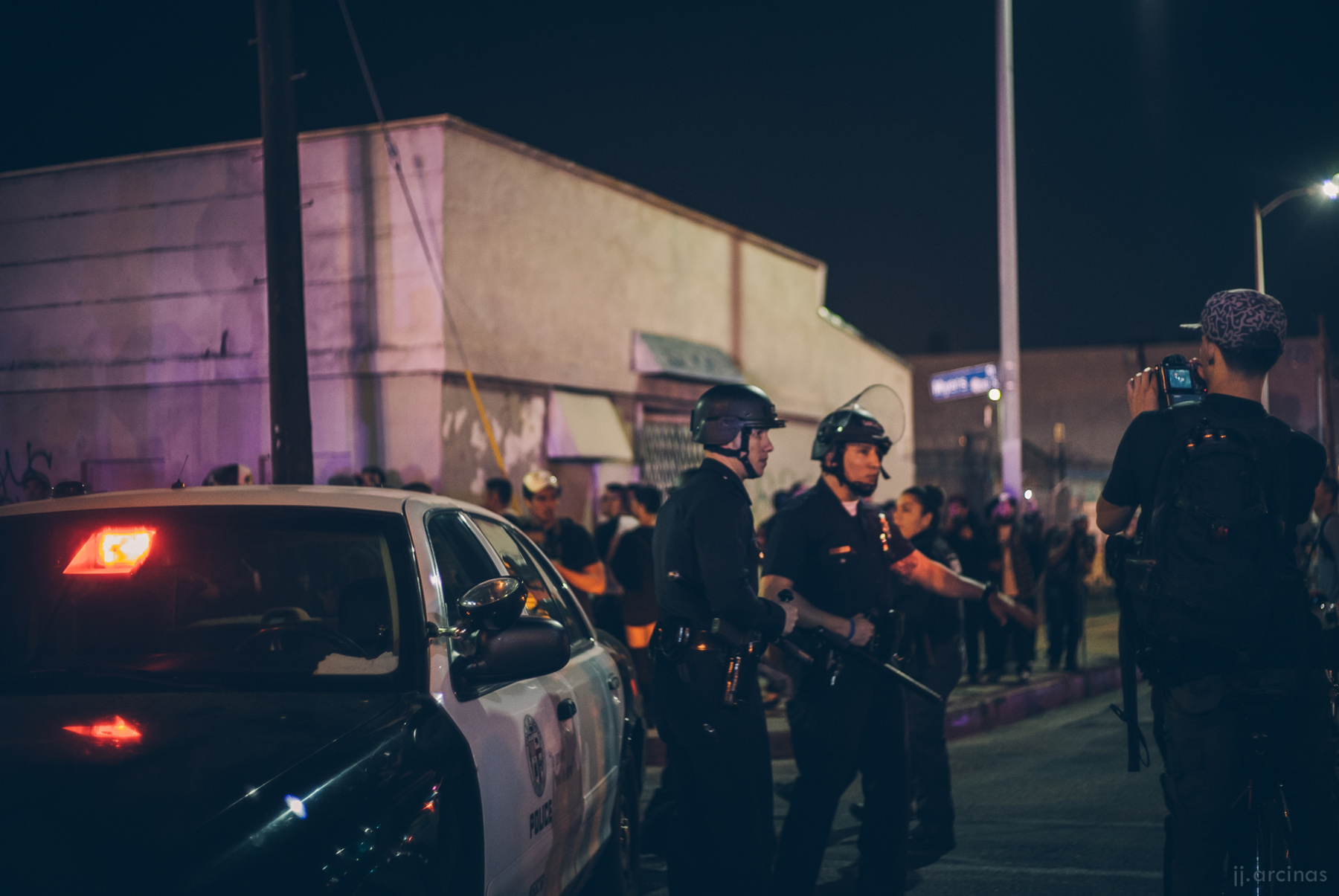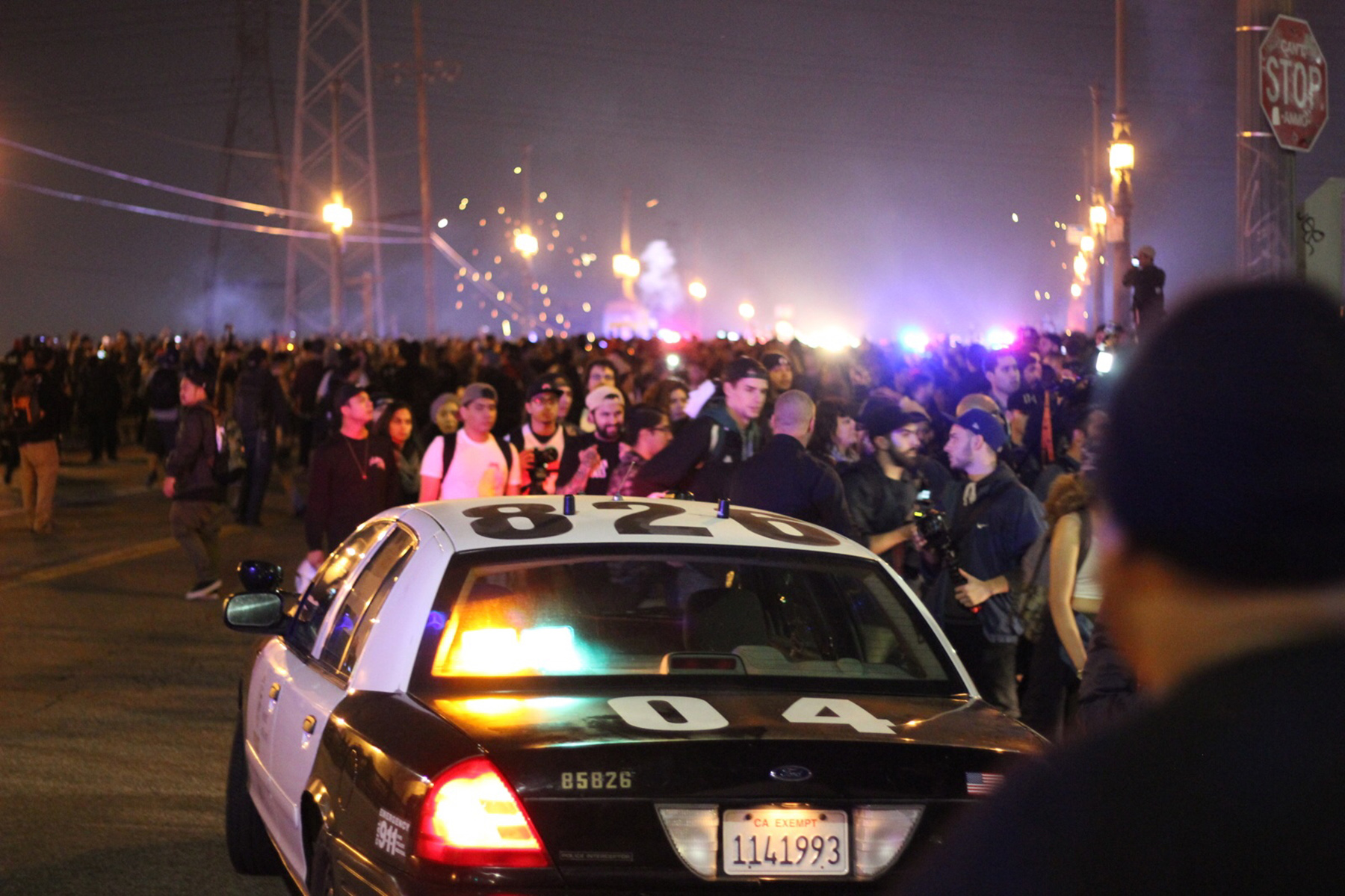 (photo: @sir_goliat )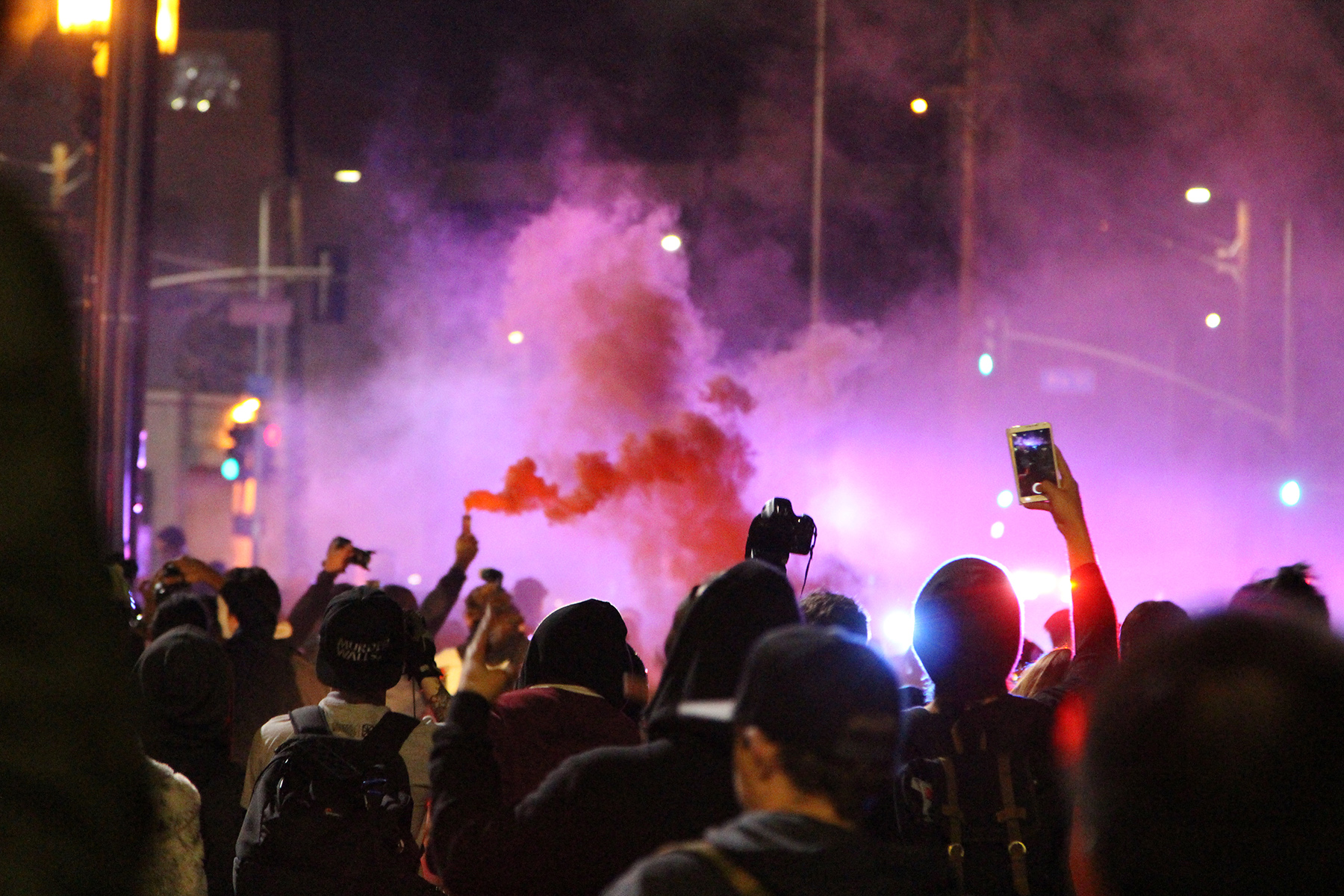 (photo: @dthomps12)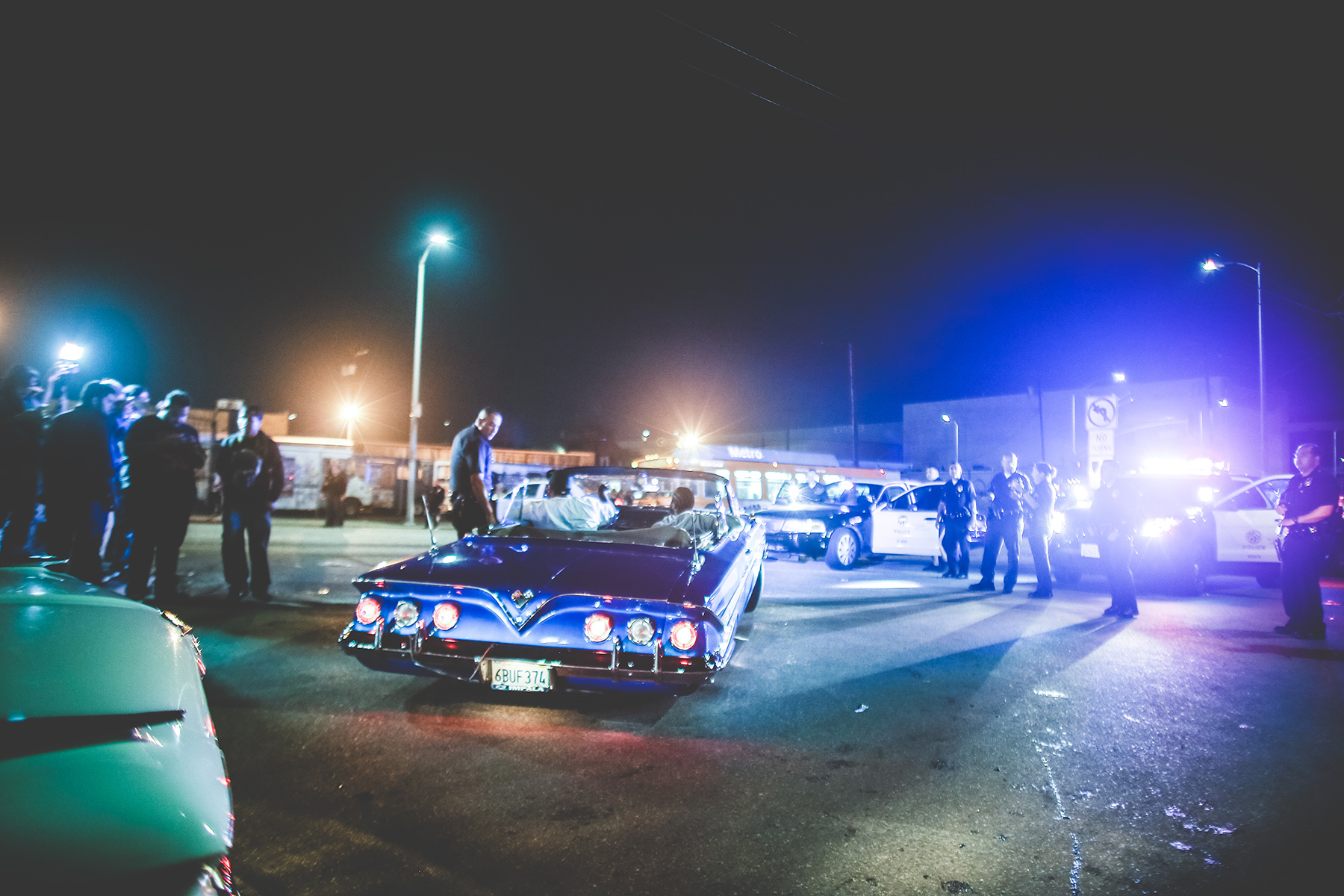 Headed towards downtown LA in that big of a crowd might have scared our friends over at LAPD, but we meant no harm! And no harm we did!
As we approached, we assumed to see just a squad car or two with someone telling us to turn around. No, a dozen fully-armed officers, shotguns in hand, at the ready. But what were they ready for? A riot? A protest? A rave? (lol I'll explain later). We were none of these.
We agree to change directions and find a new route, only to be welcomed by a second barricade. We began to ease our way down and follow orders to exit all the while starting to think, "When is the hostility going to end?" We assured a few officers that this event was peaceful, but I'm not sure that our explanation slid in their Chiefs DM's.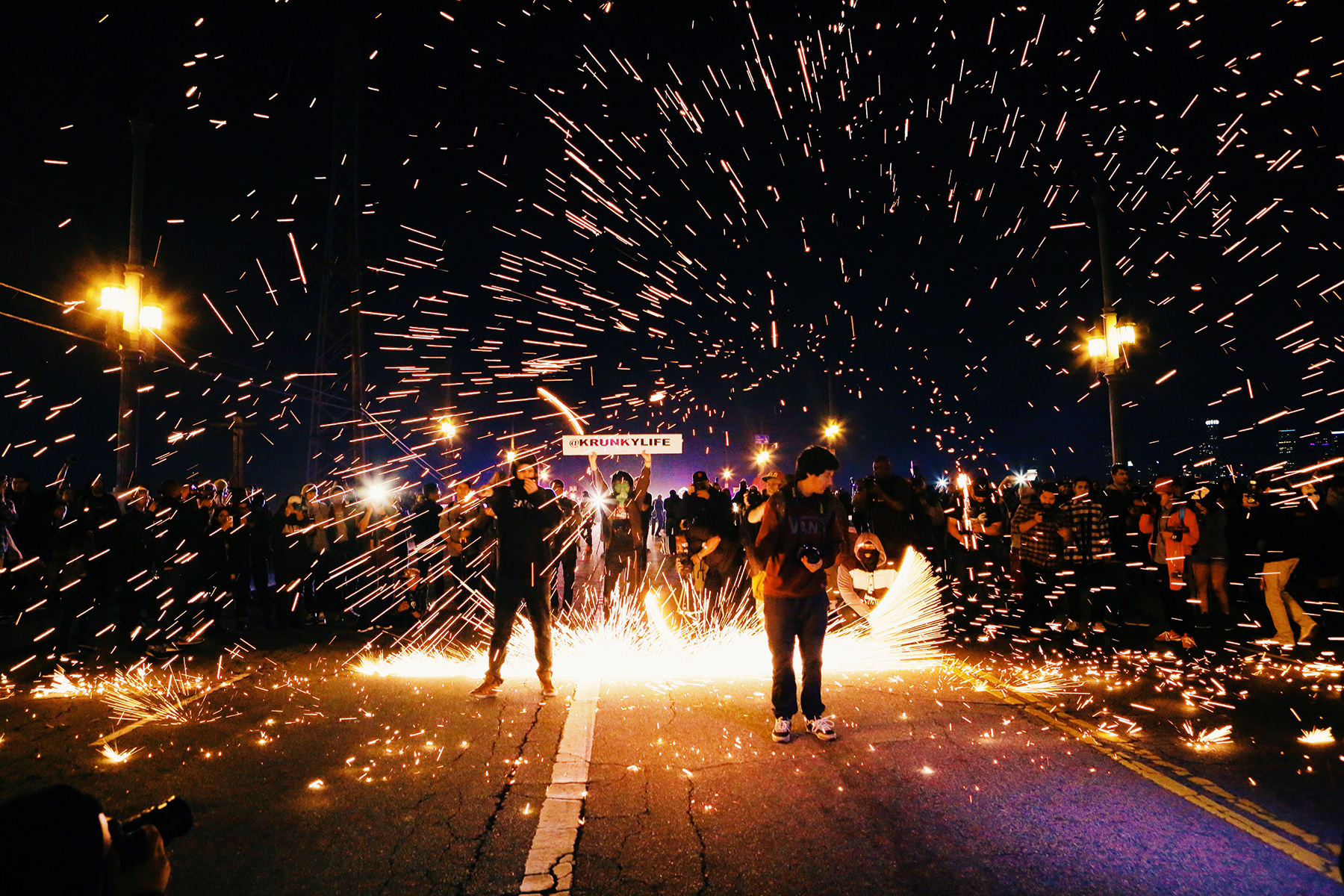 (photo: Alexa Pilato)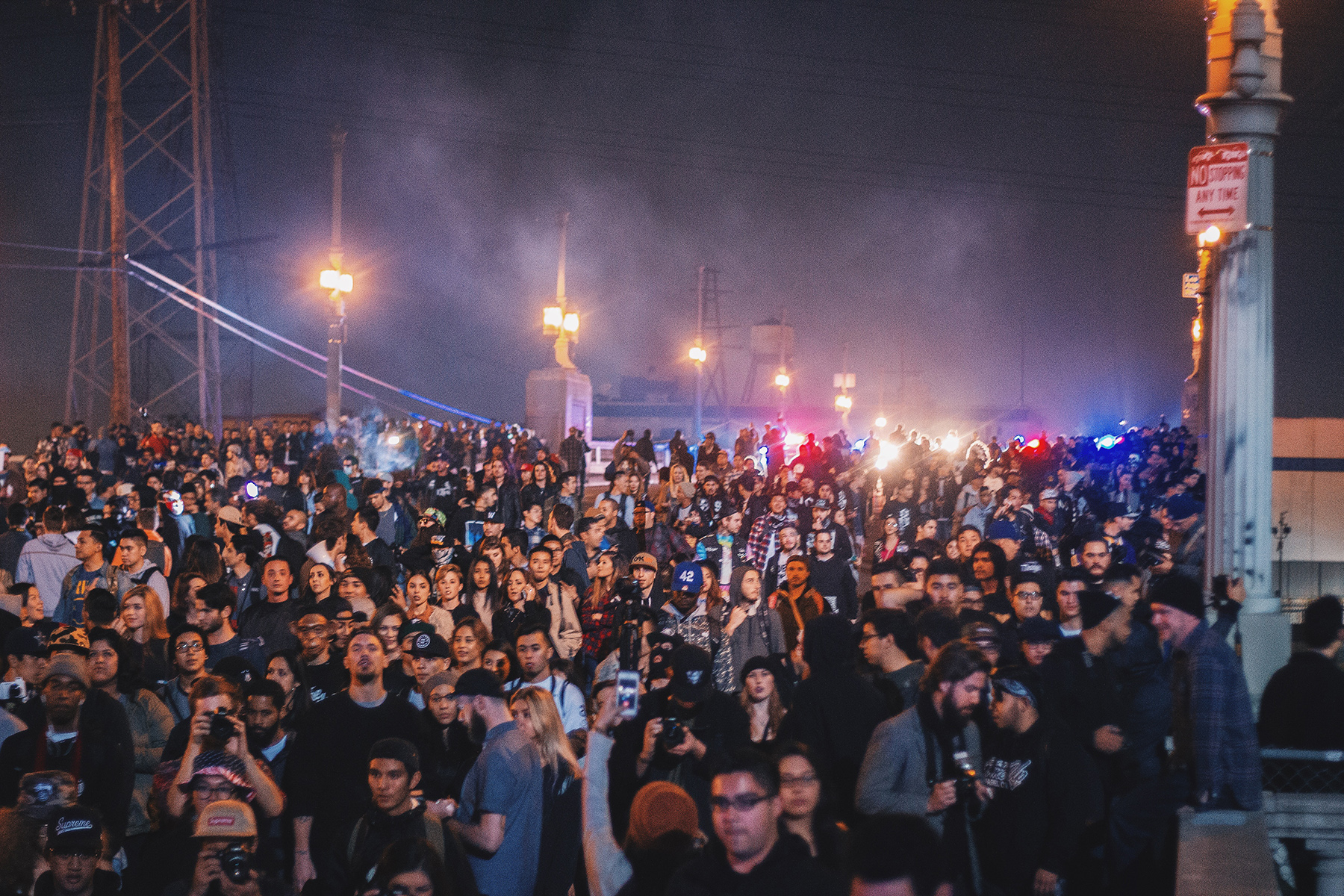 (photo: @EmmKvyy)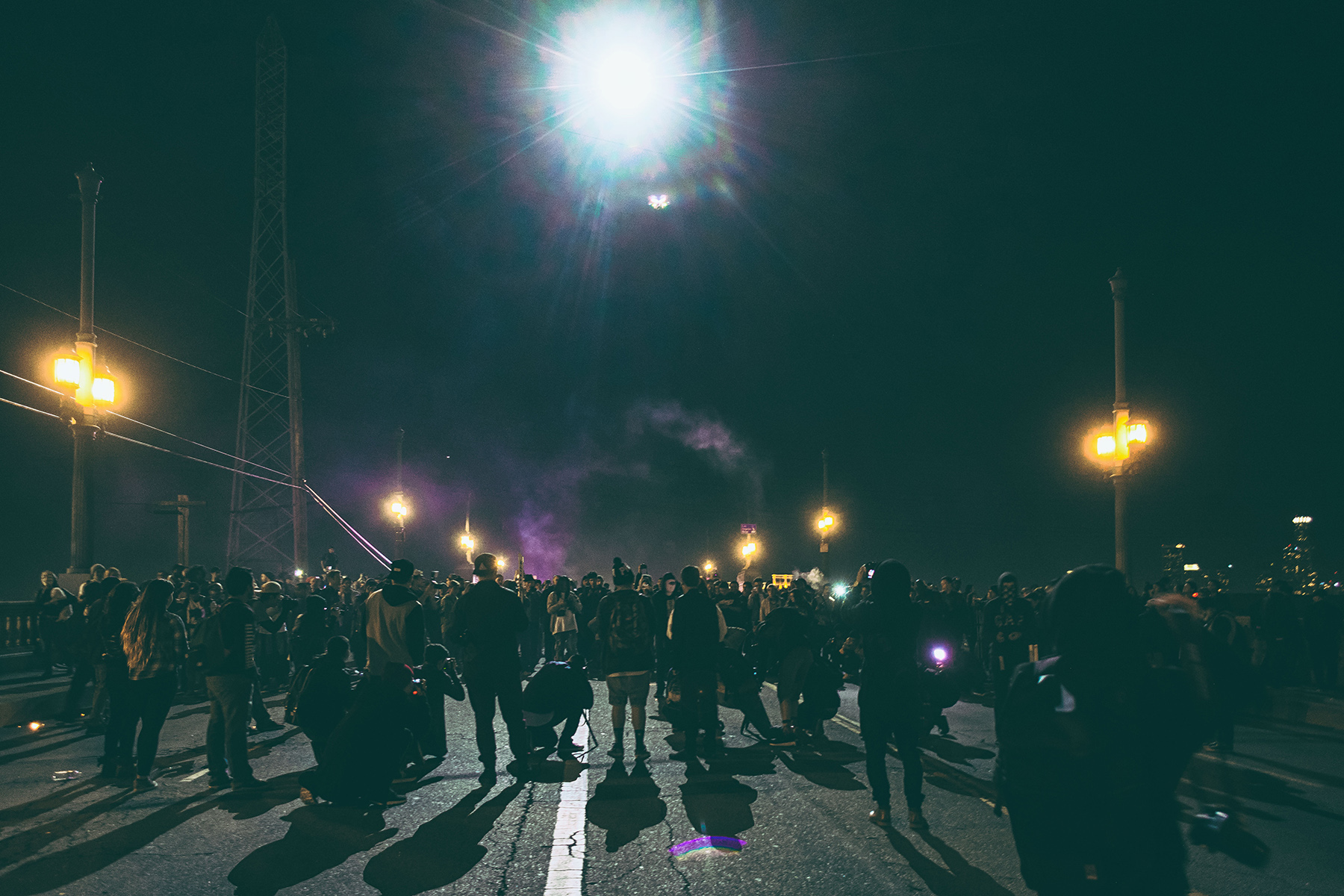 (photo: Carlo Velasquez)
We had organized a second meet up with a car club of 50+ old school cars ready for our cameras. We dipped, dodged, ducked, and dived trying to get down to the LA river where they were parked and ready.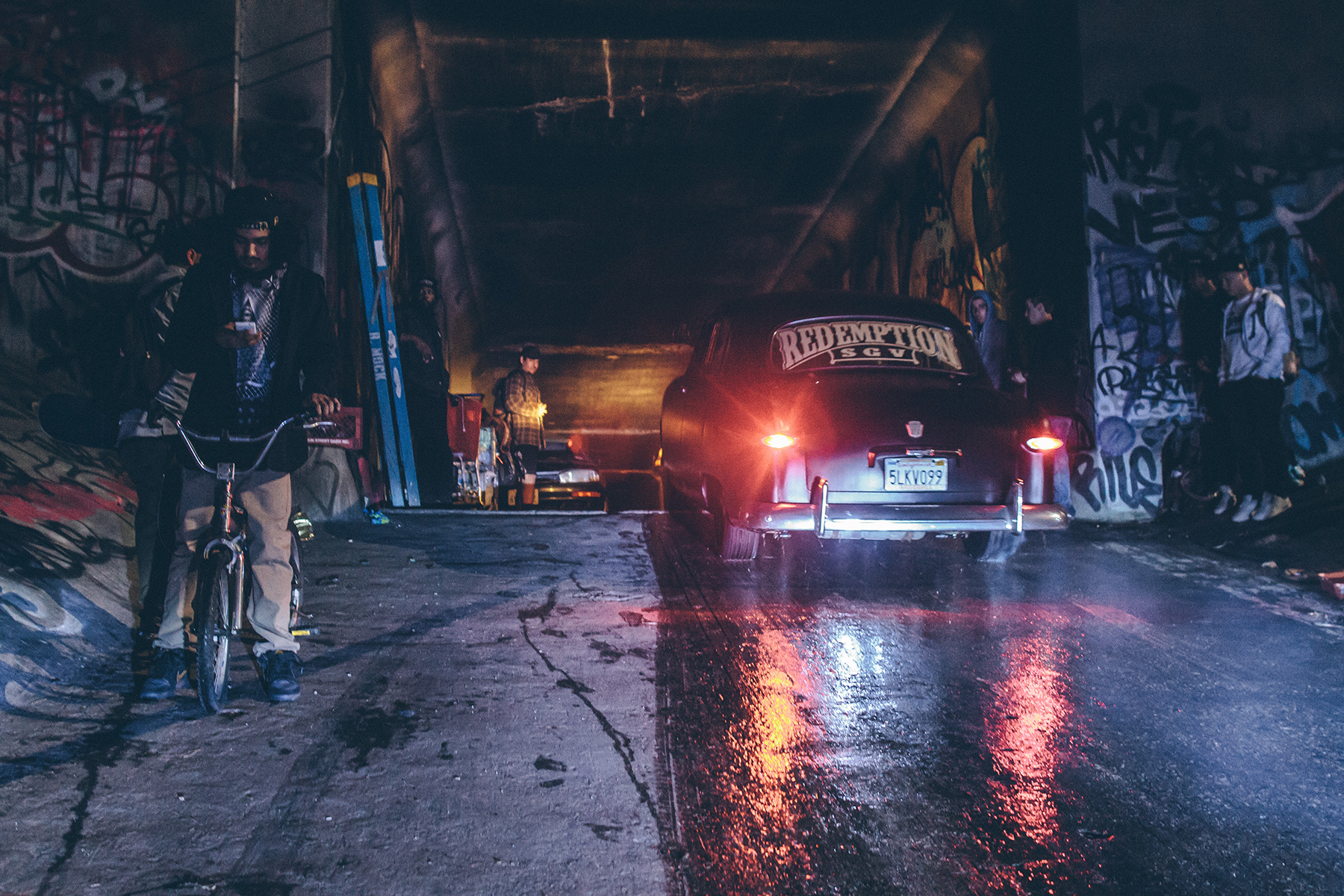 Jason Cordova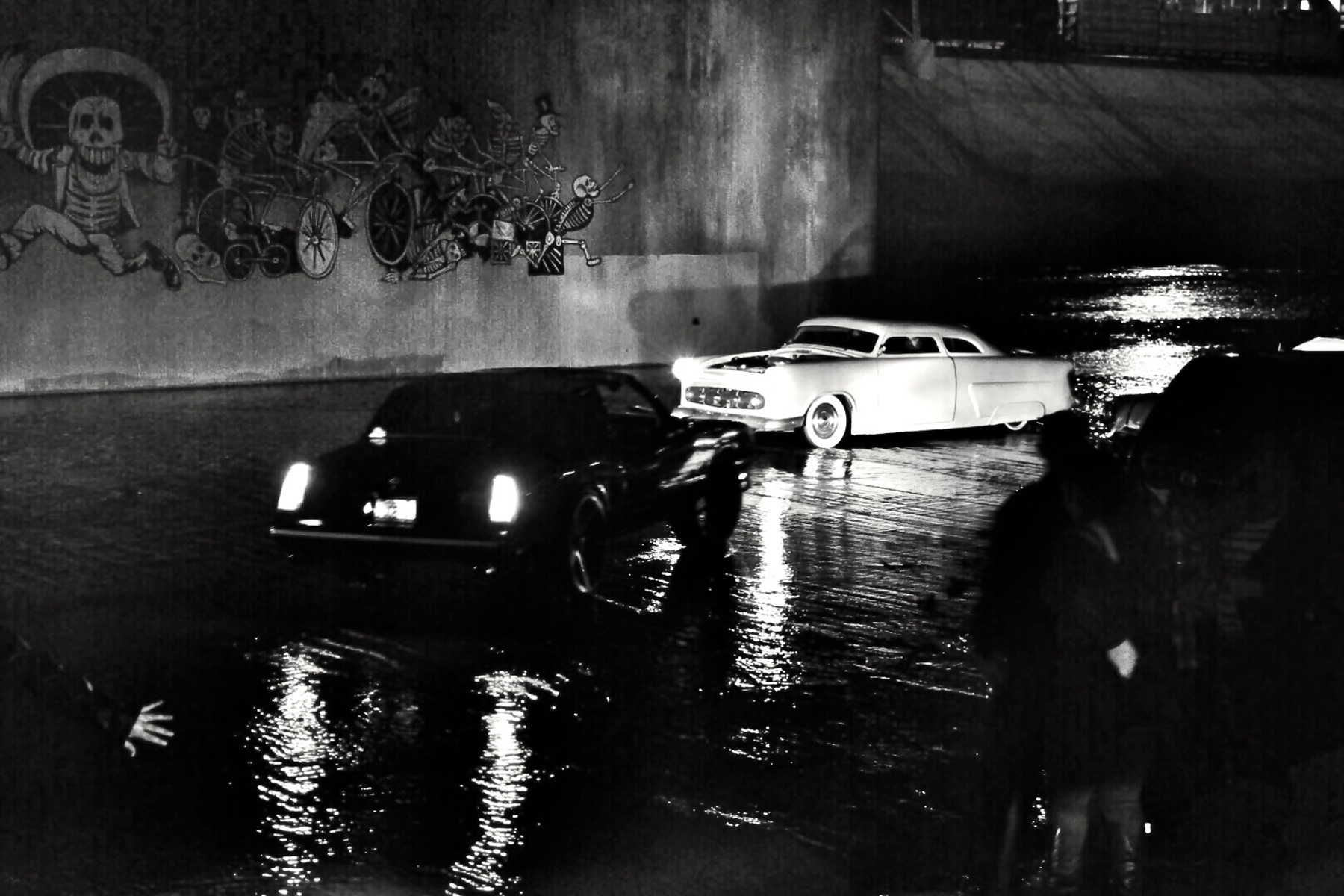 Jason Modina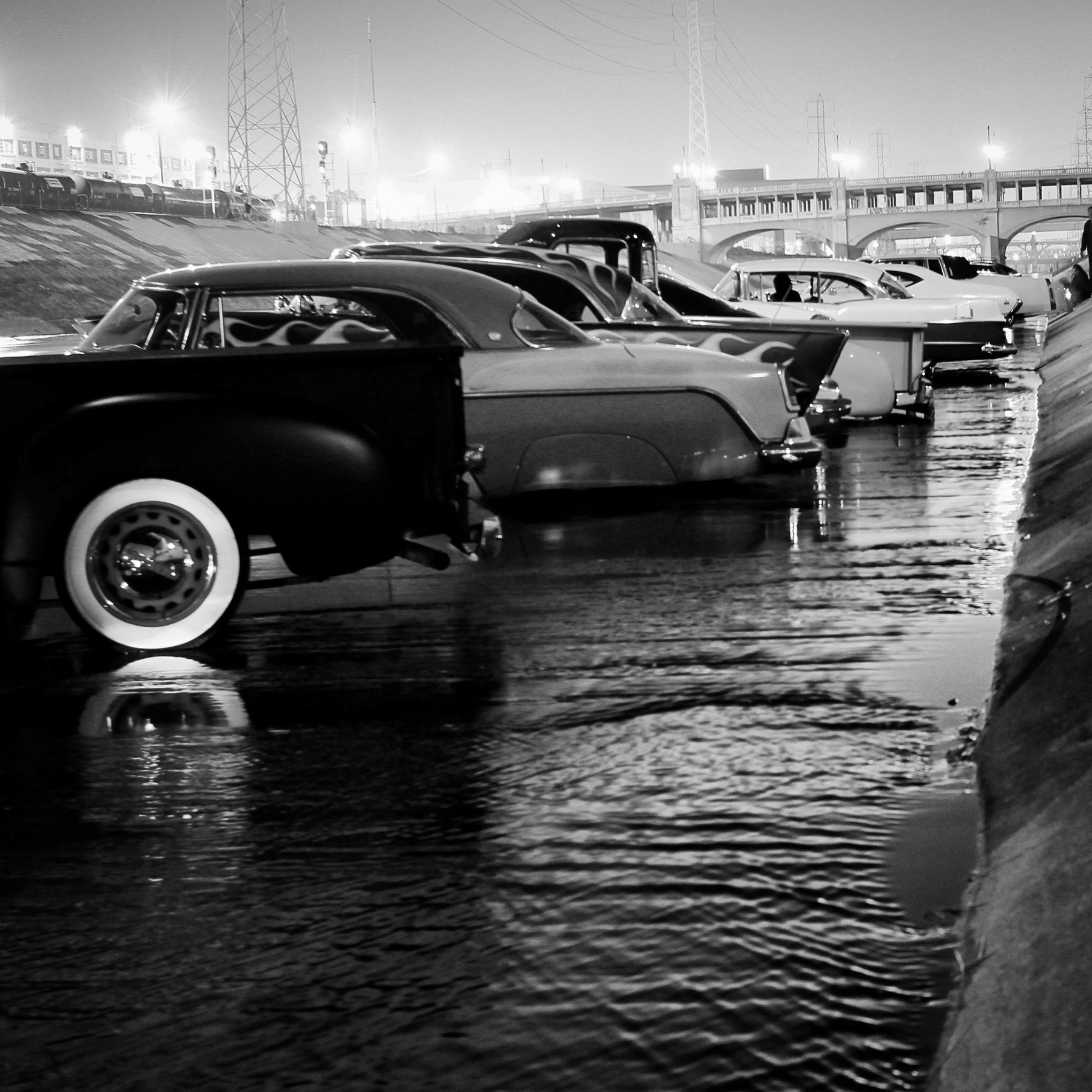 (photo: Carlo Velasquez)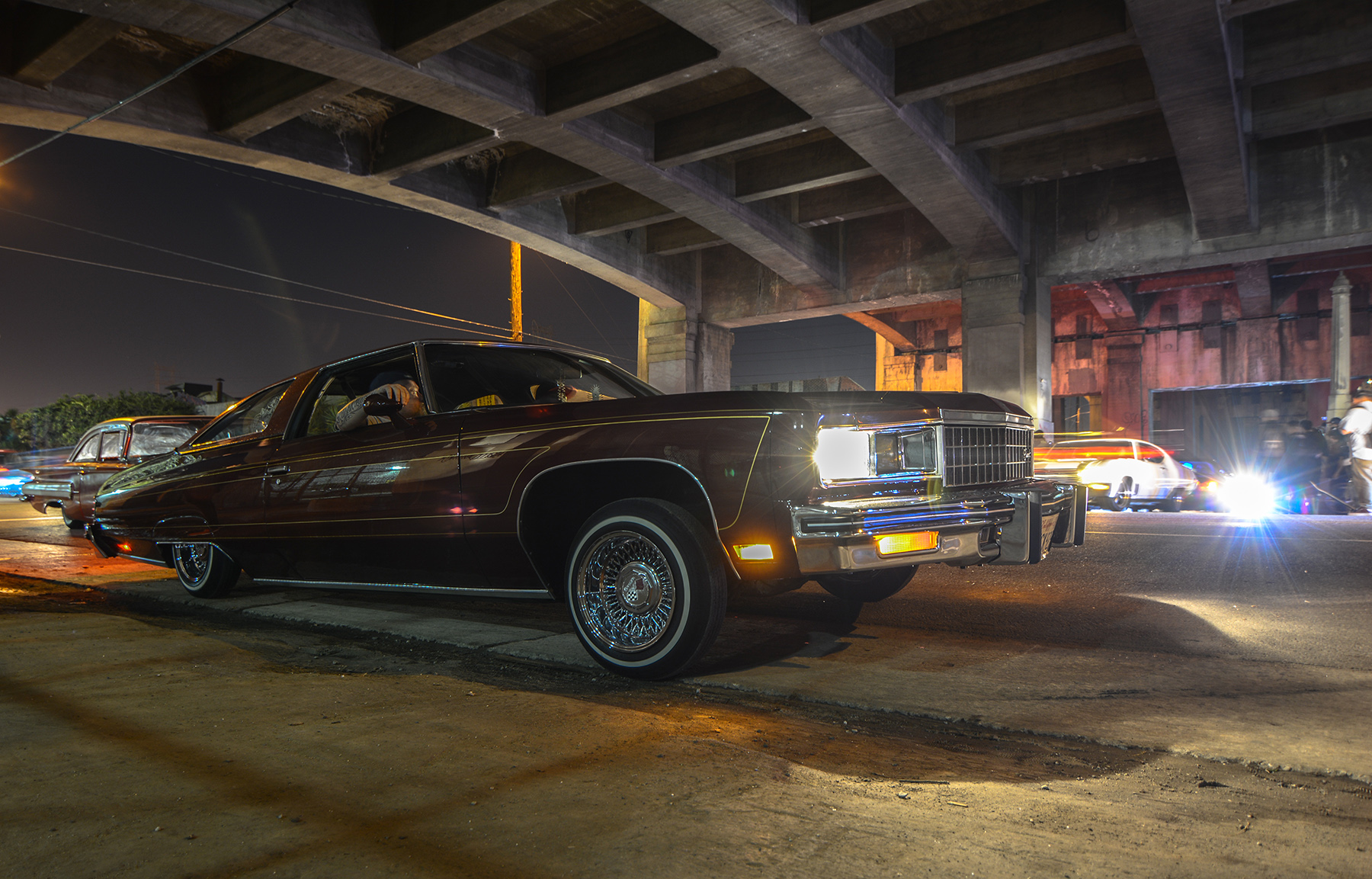 (photo: @flikazo)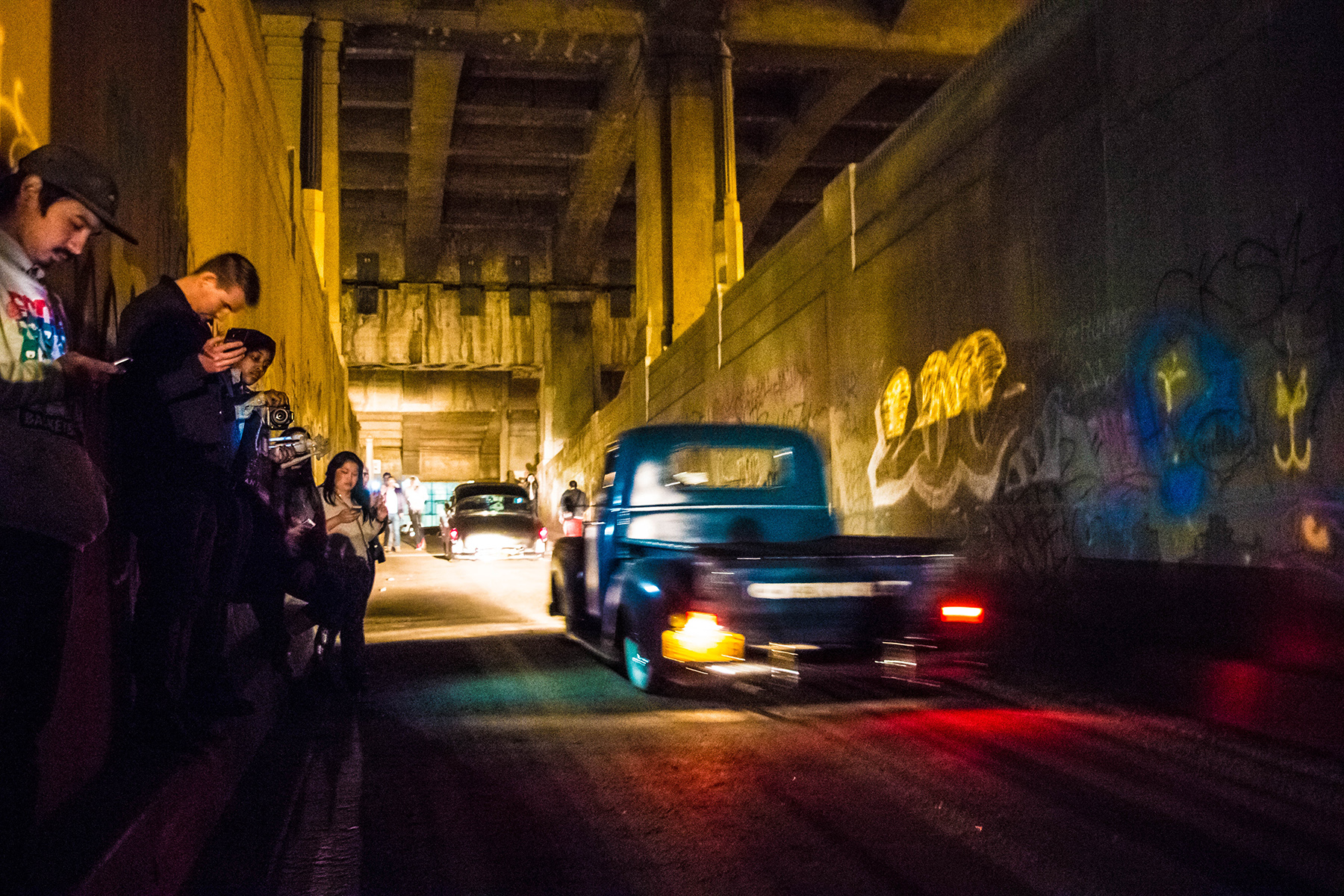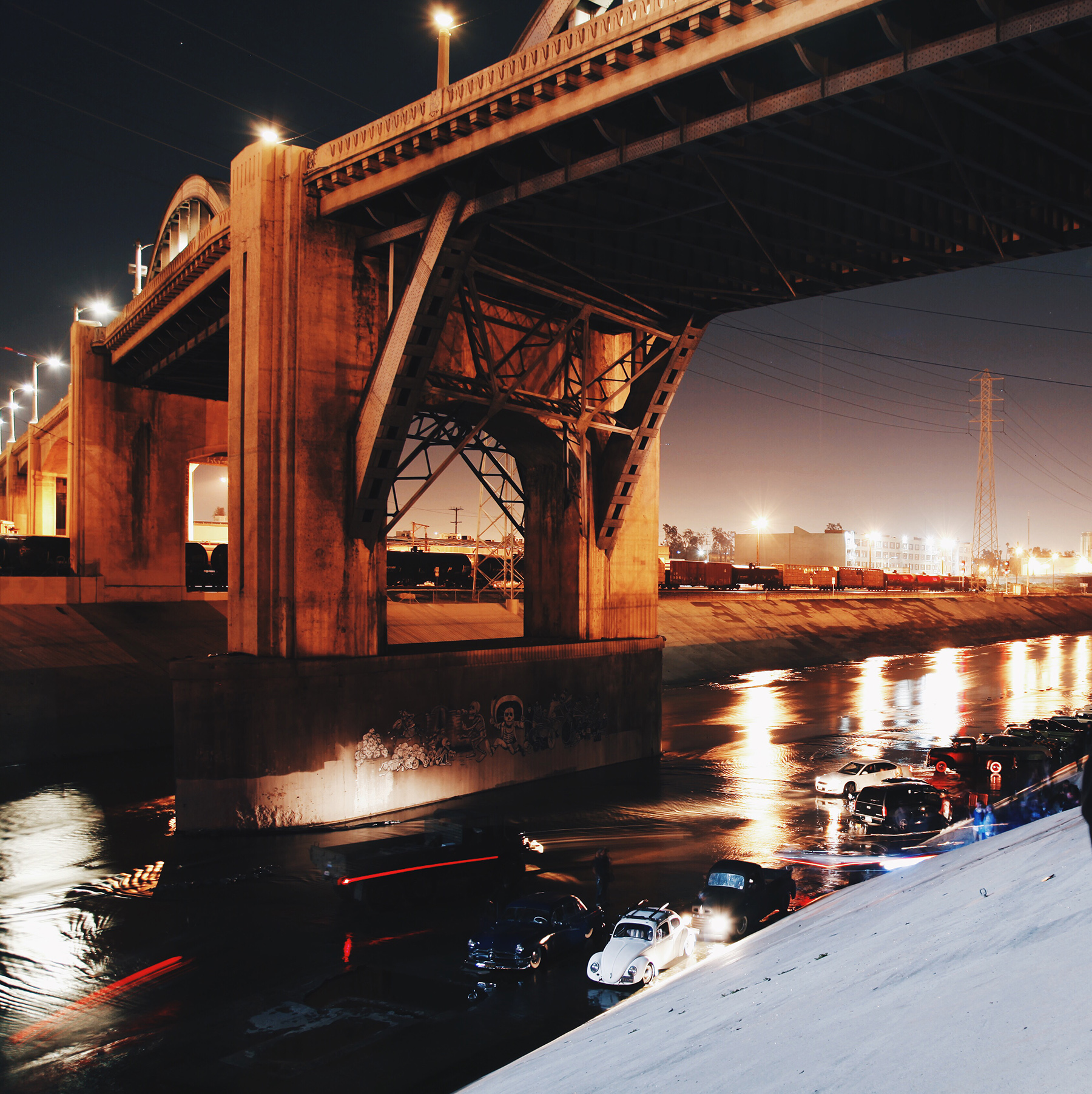 (Photo: @creativeseven)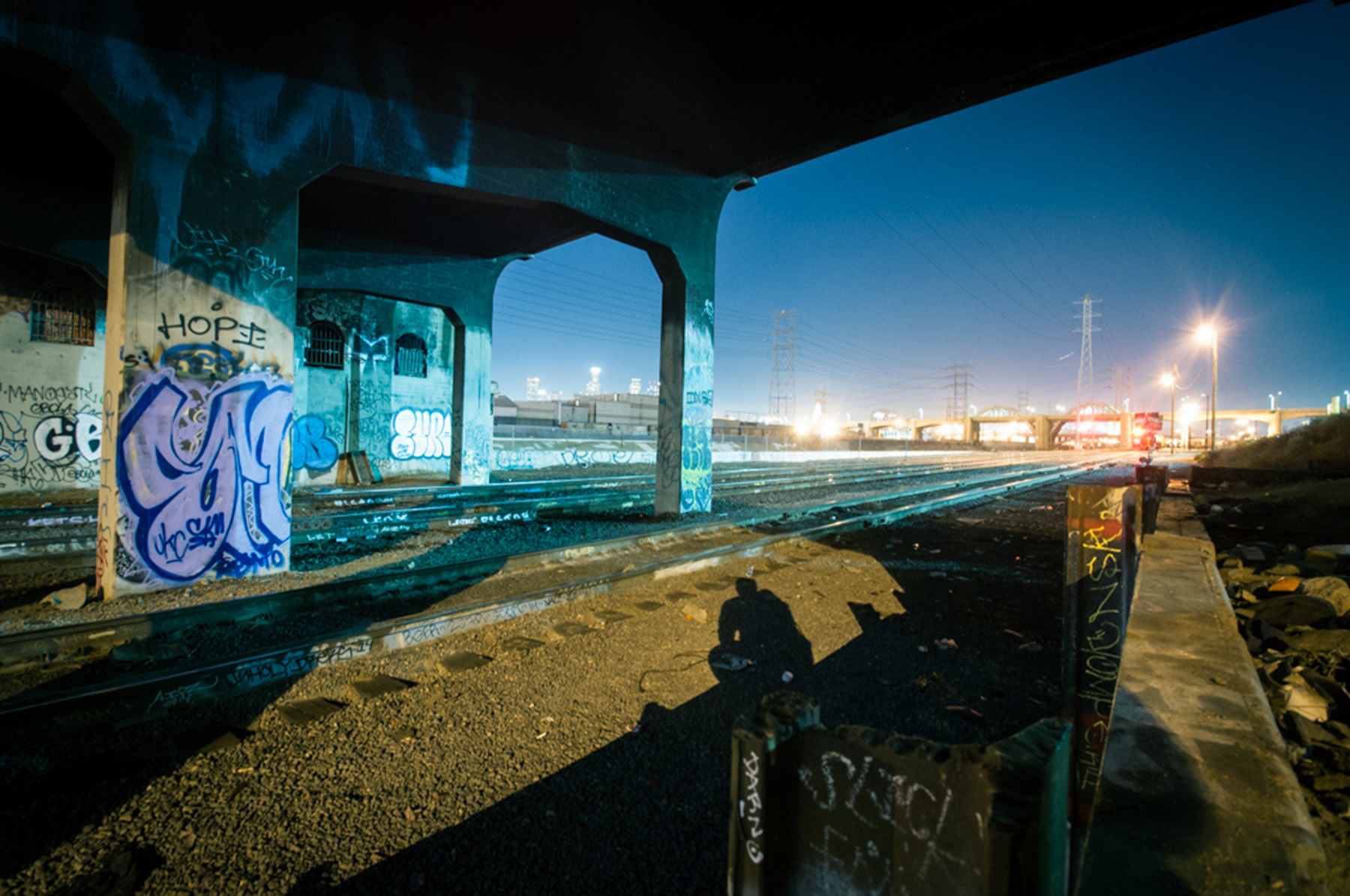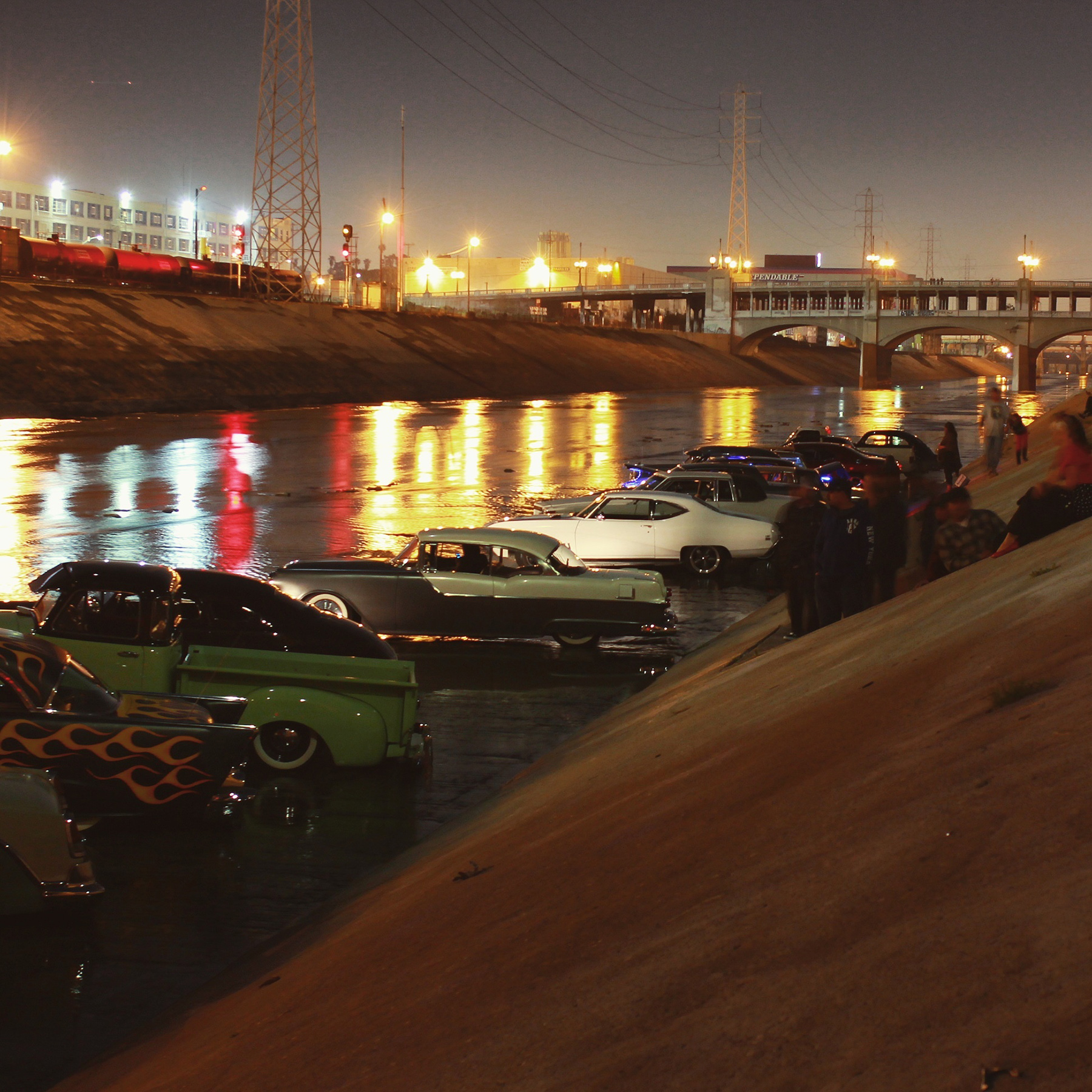 (photo: Jamie H)
But before we knew it, we were being boxed in again; where unfortunately we met our final resting place.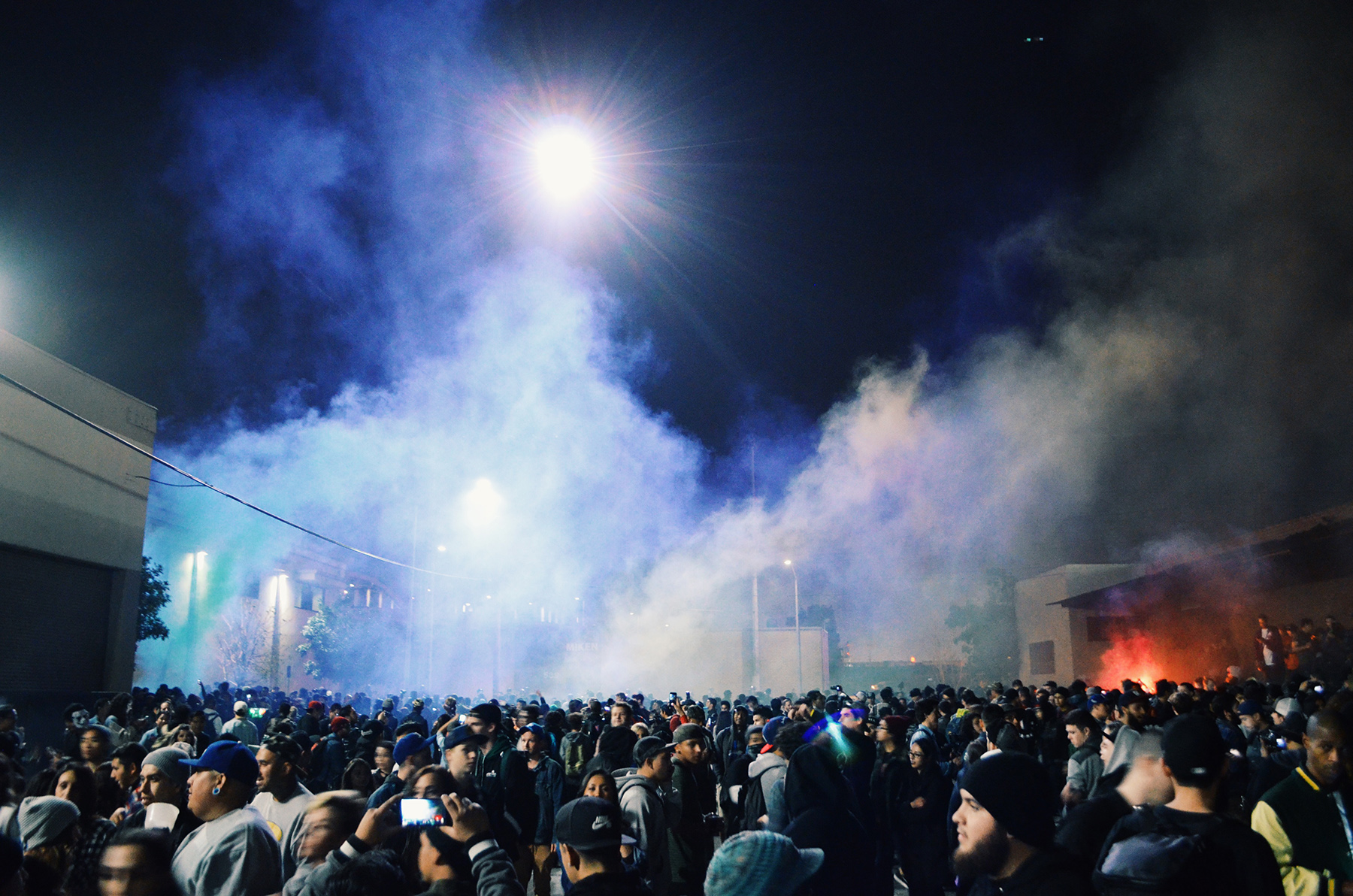 (photo: Jessica Lumm)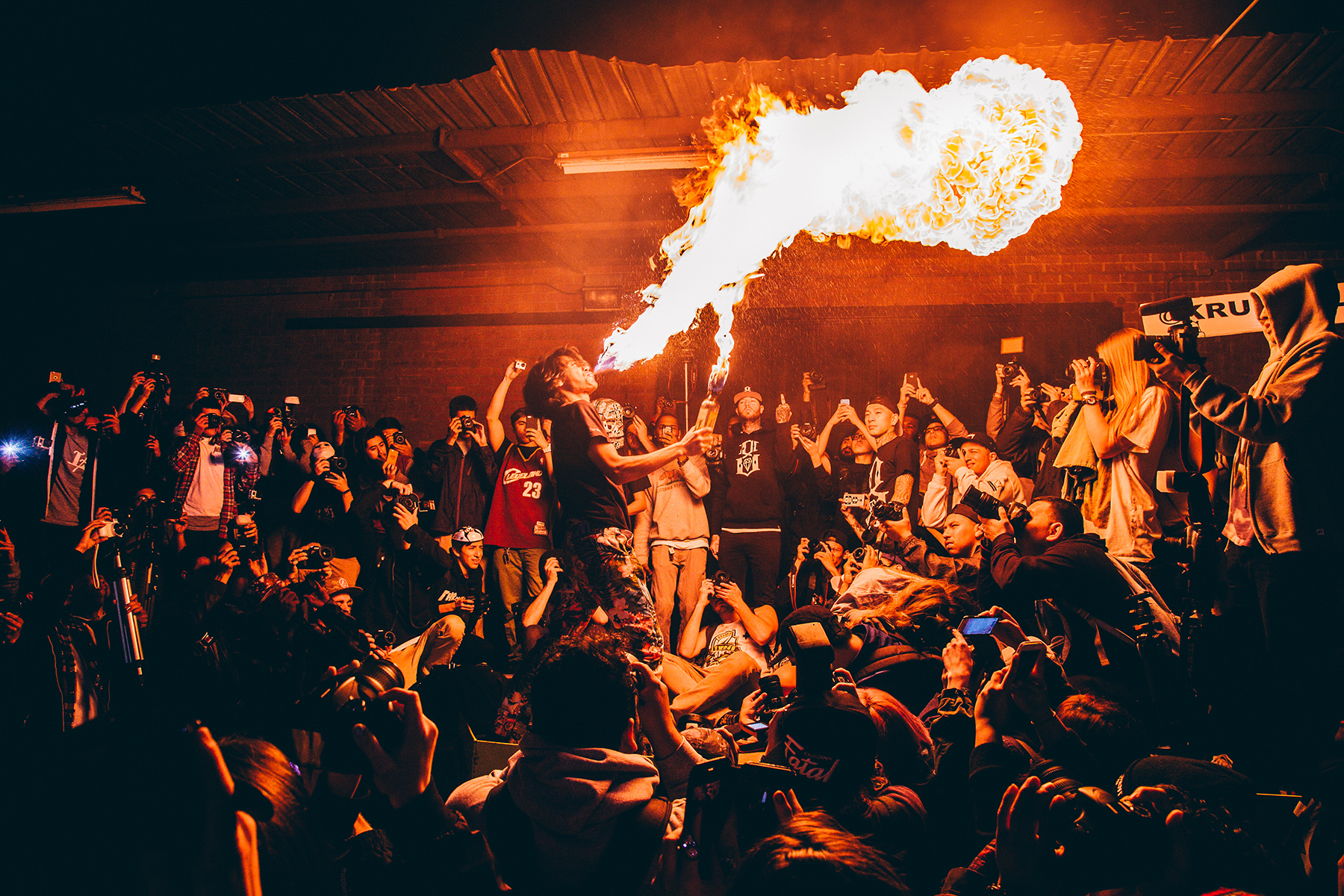 (photo: @13thmurder)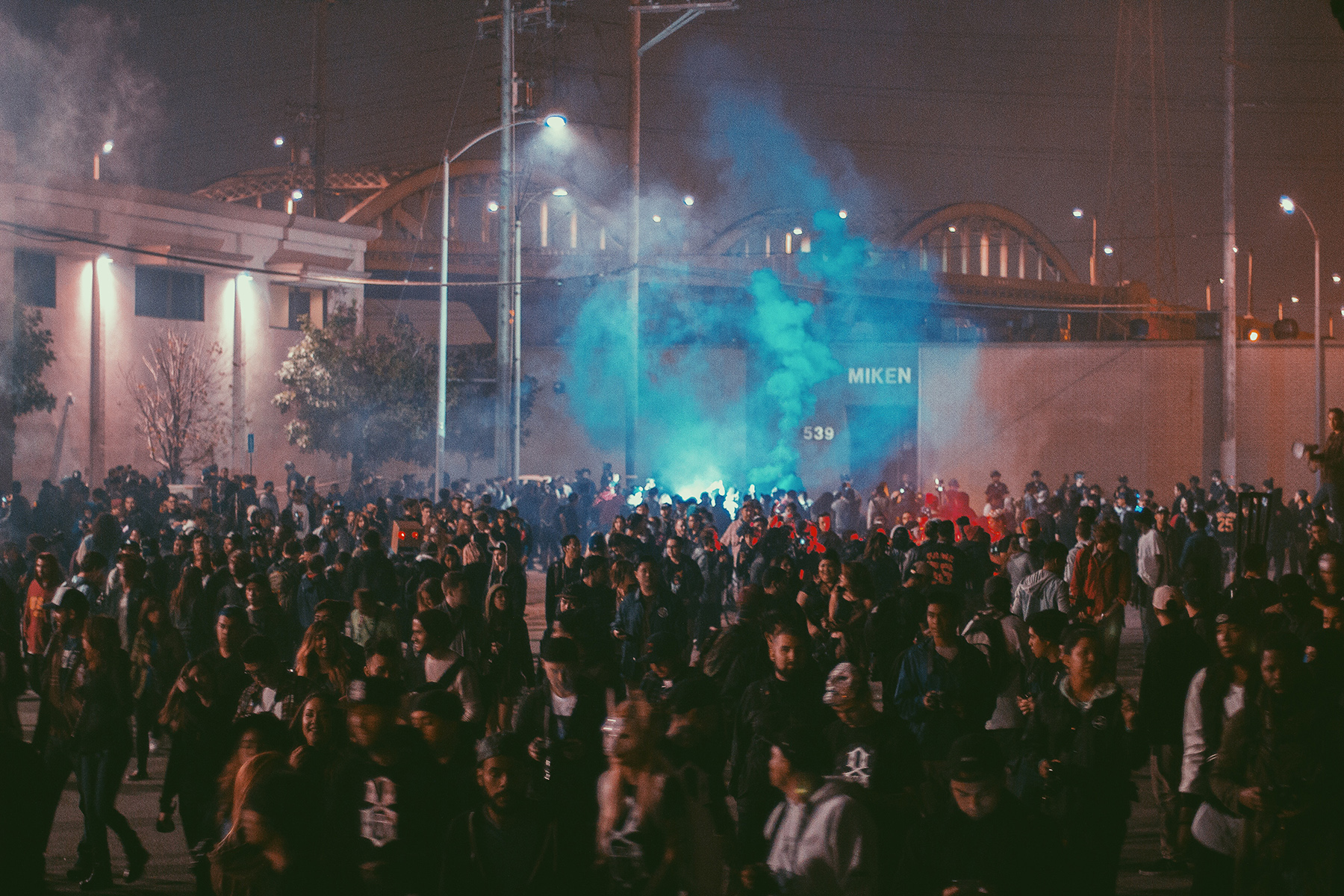 (photo: @EmmKvyy)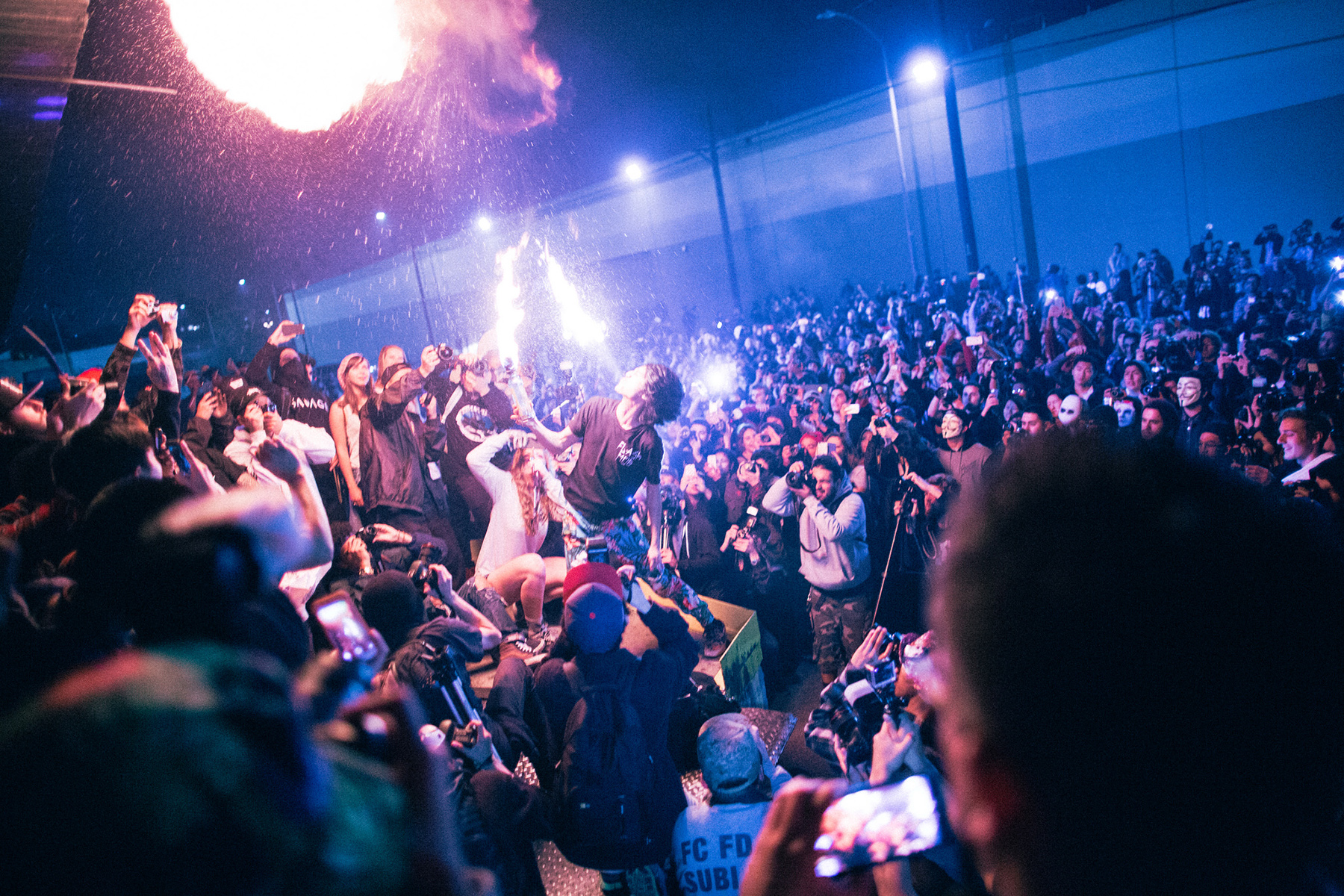 (photo: @sirbrendan_)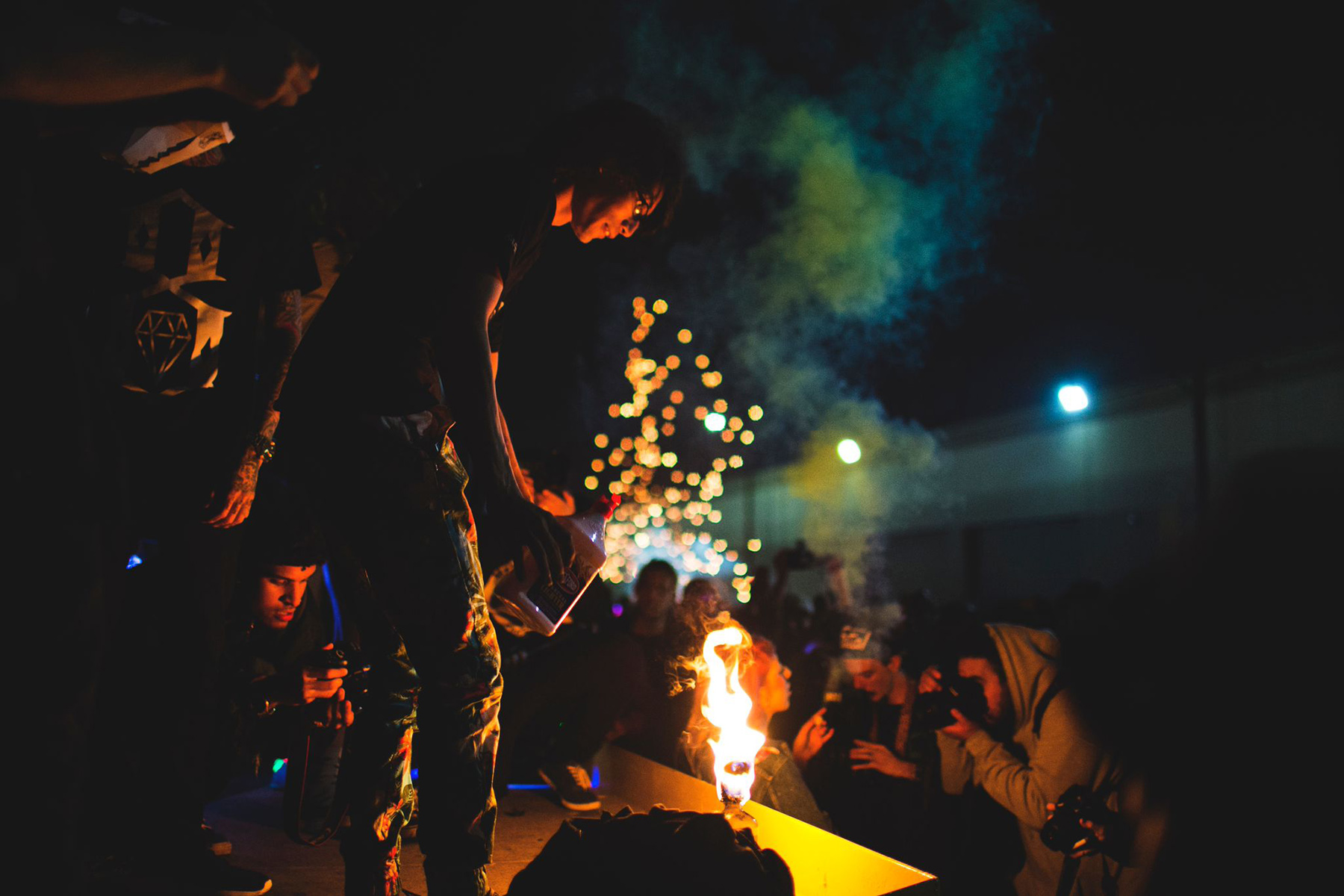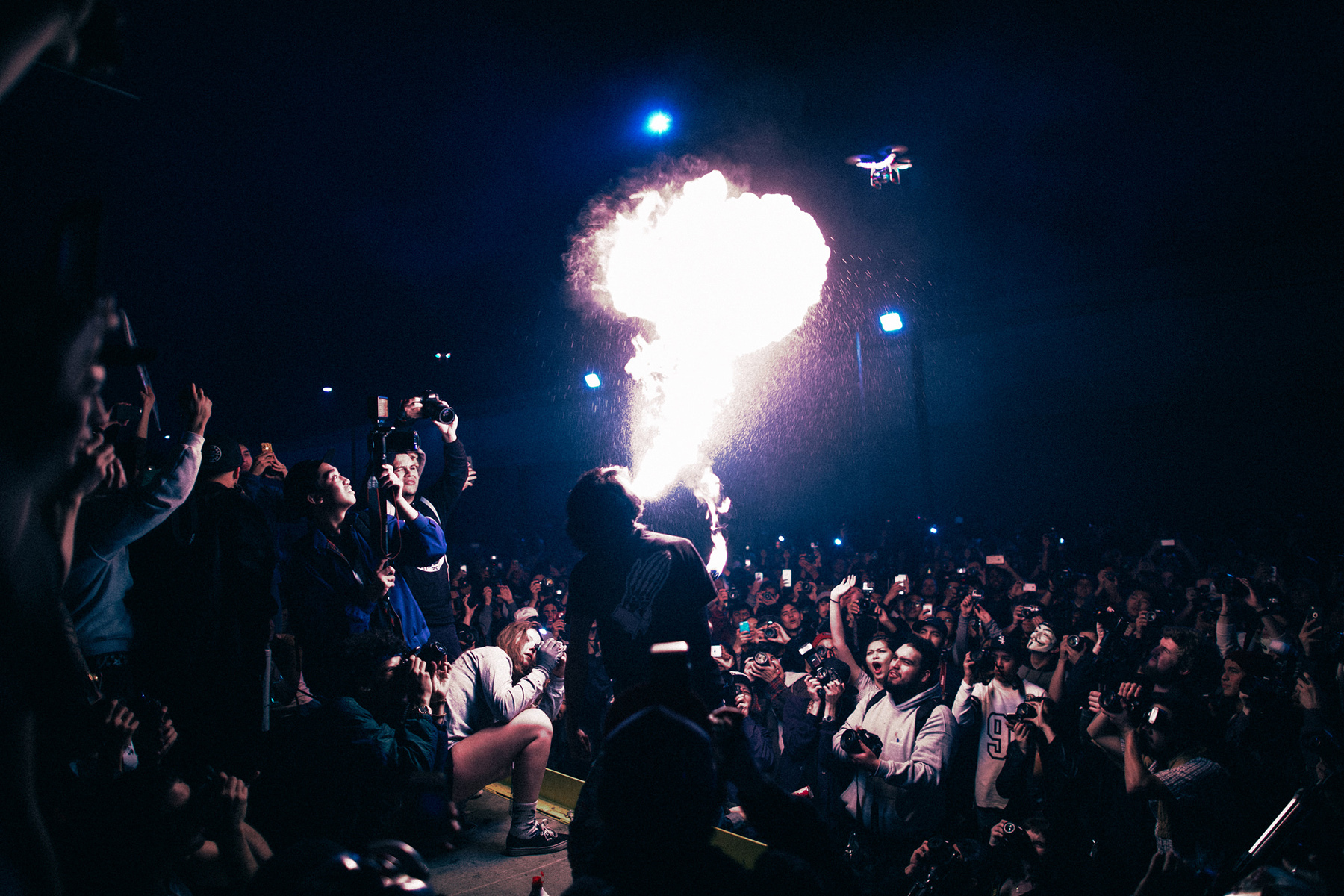 (photo: @sirbrendan_)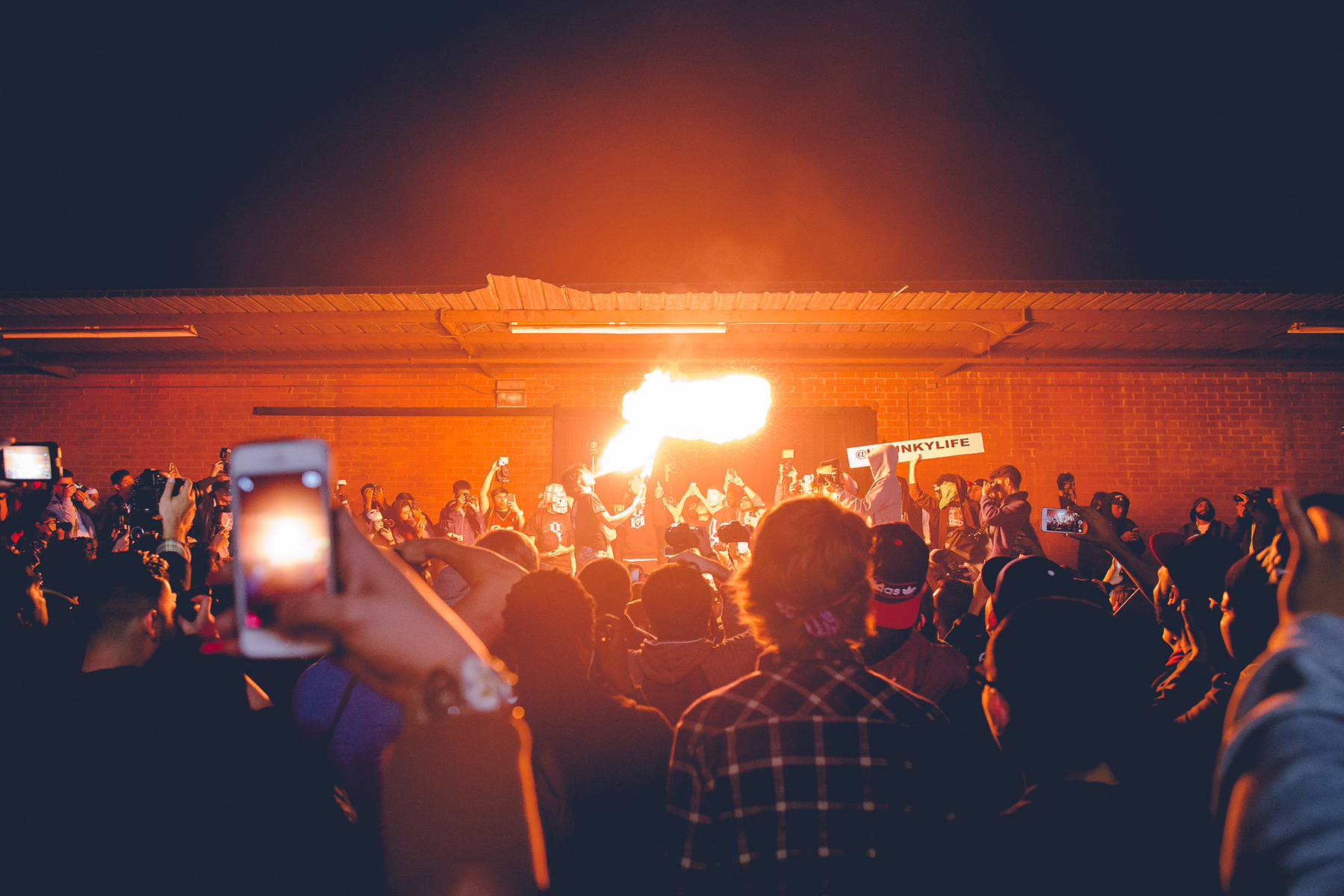 (photo: Silas Sao)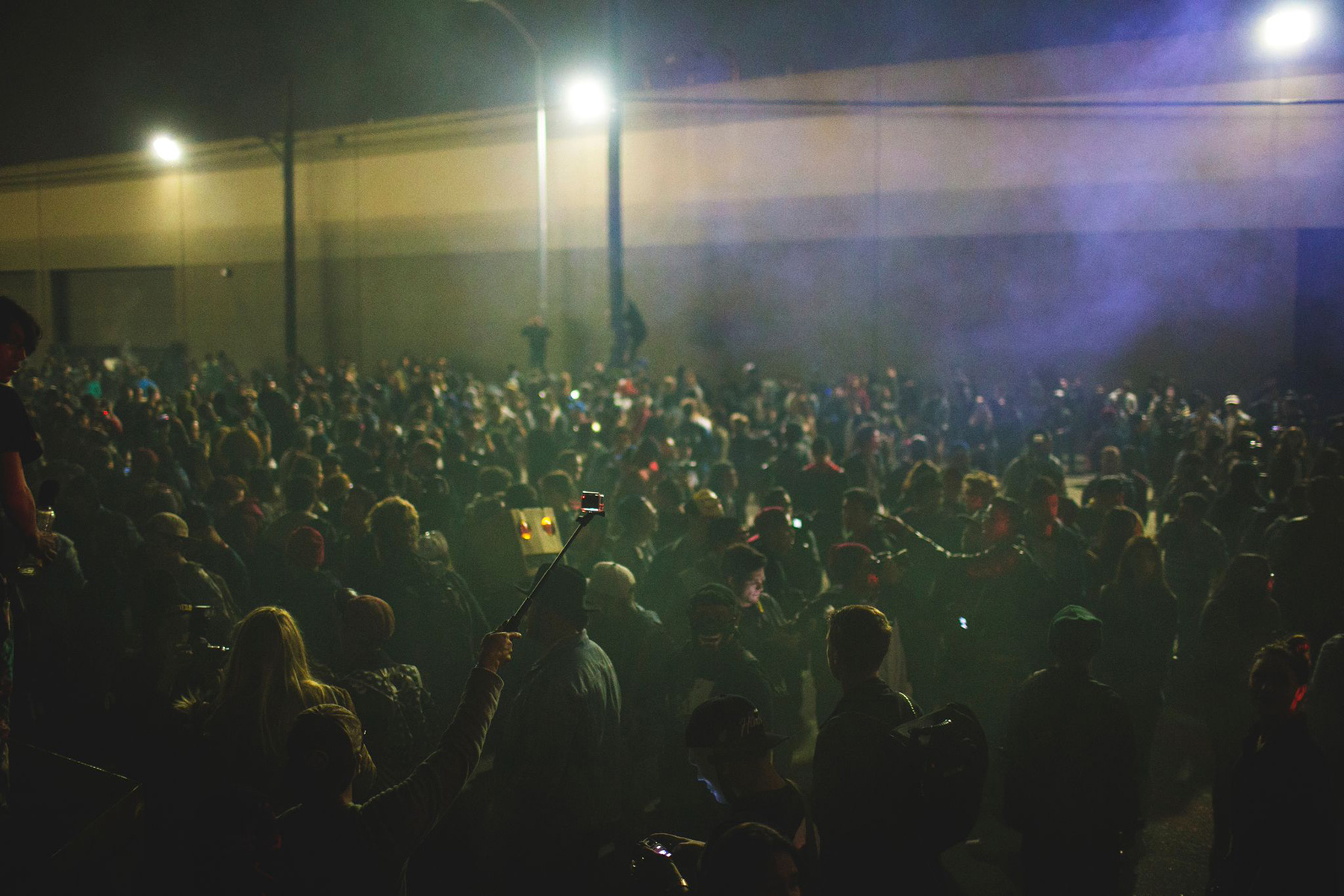 "WE WILL USE FORCE!" a cop yelled, while cocking a tear gas gun.
So where do we go? Obviously, walking away from the police barricade with the tear gas and threats, we head to get some answers out of the 2nd riot barricade.
"Here's how it's going to work, we will only let out groups of 10 at a time." (Yeah, because evacuating 1,000+ people won't take that long). We essentially got put on the biggest time out ever. No sweat, we still have our (legal) after-party to go to, and we still have time to get some street dogs.
WRONG, Chief of LAPD personally threatens the venue owner that if she didn't shut down the party, he would shut her down, permanently.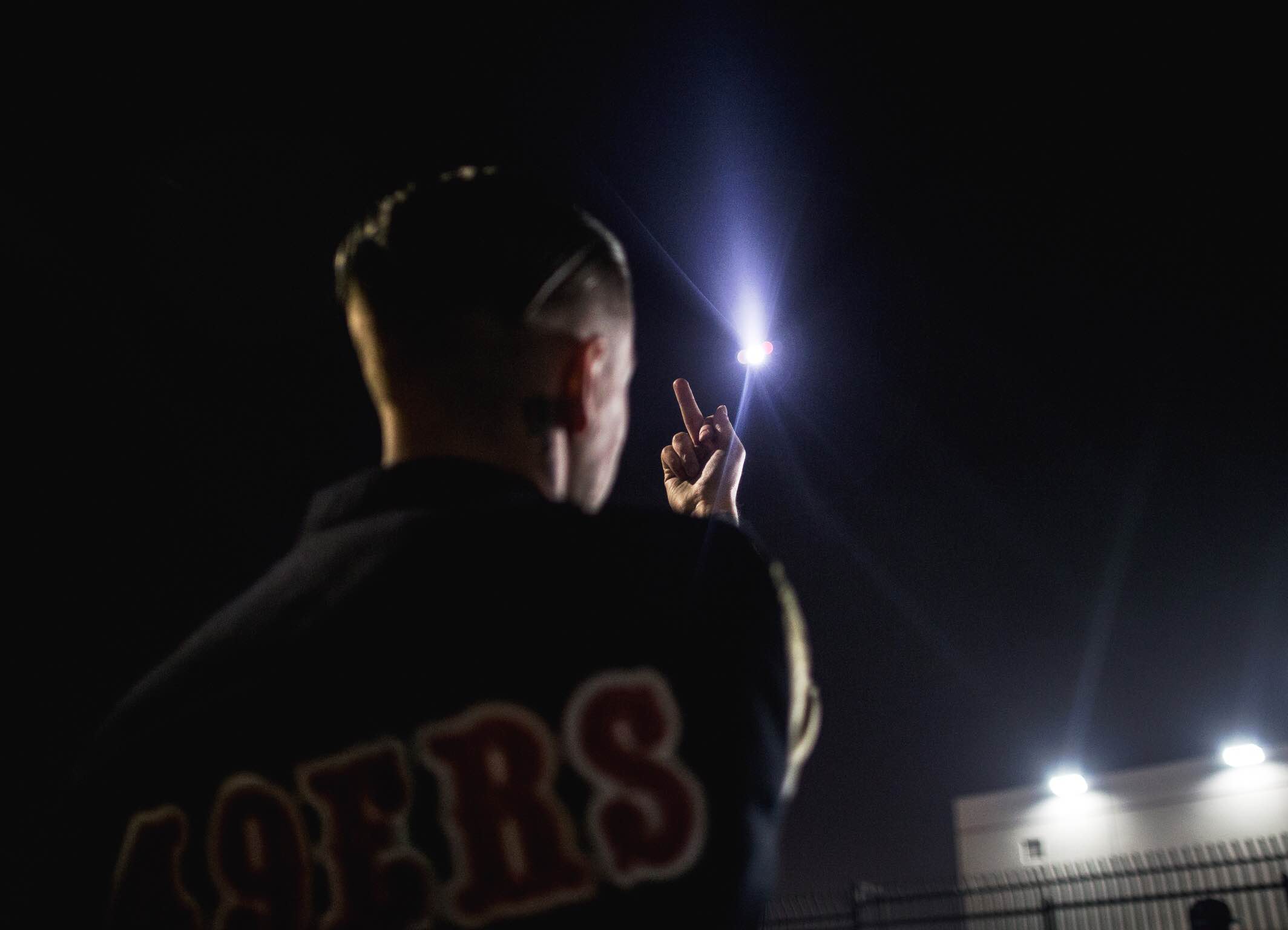 (photo: @lasttogetpicced)
So the score is as follows:  LAPD: 1 – FLASK MOB: 2
Enough politics for us for the night, and for this article. We love what we have started, love our community, and we will continue to remain peaceful.
Just be ready for us next time LA,  you were beyond words.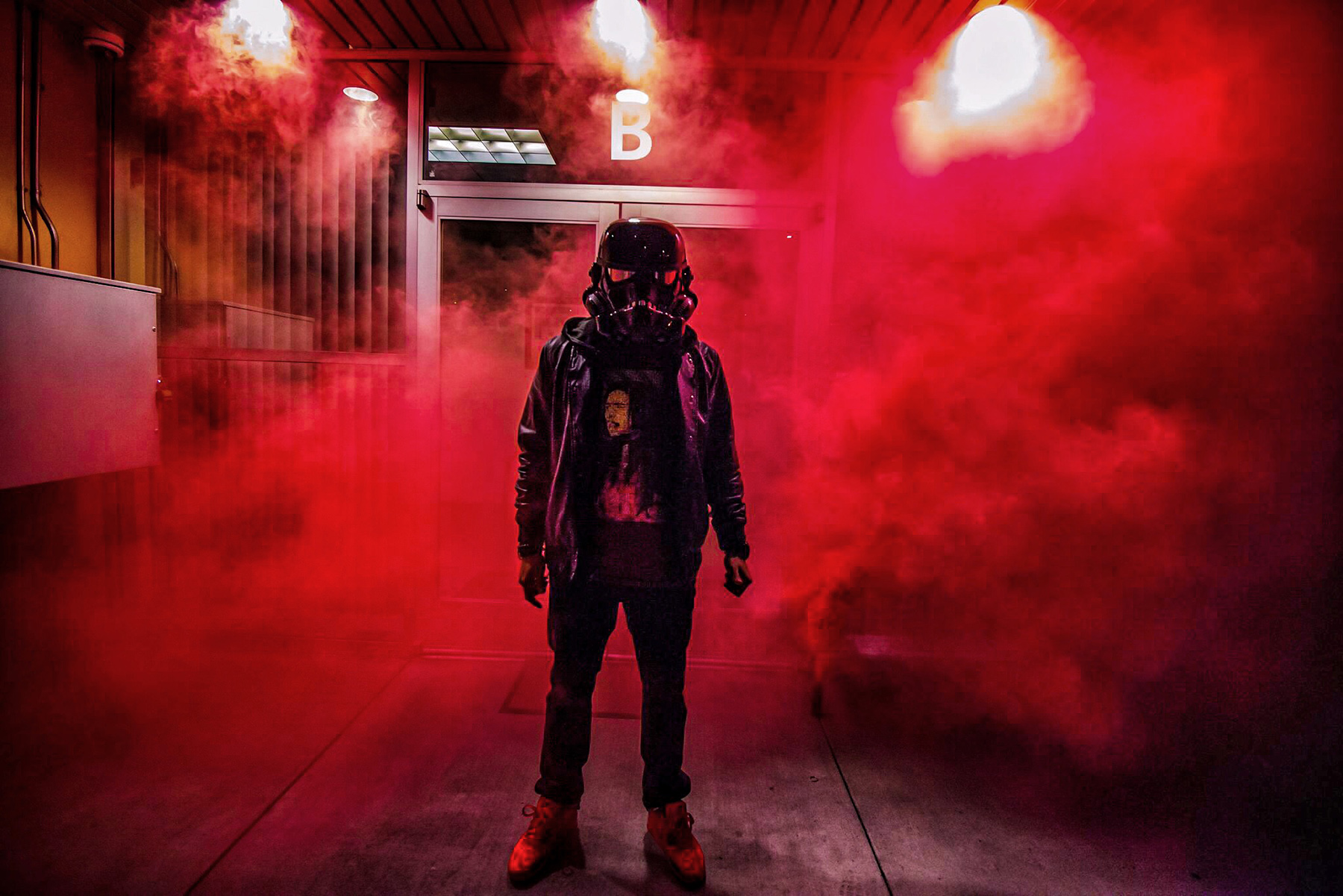 (photo: Melvin Urias)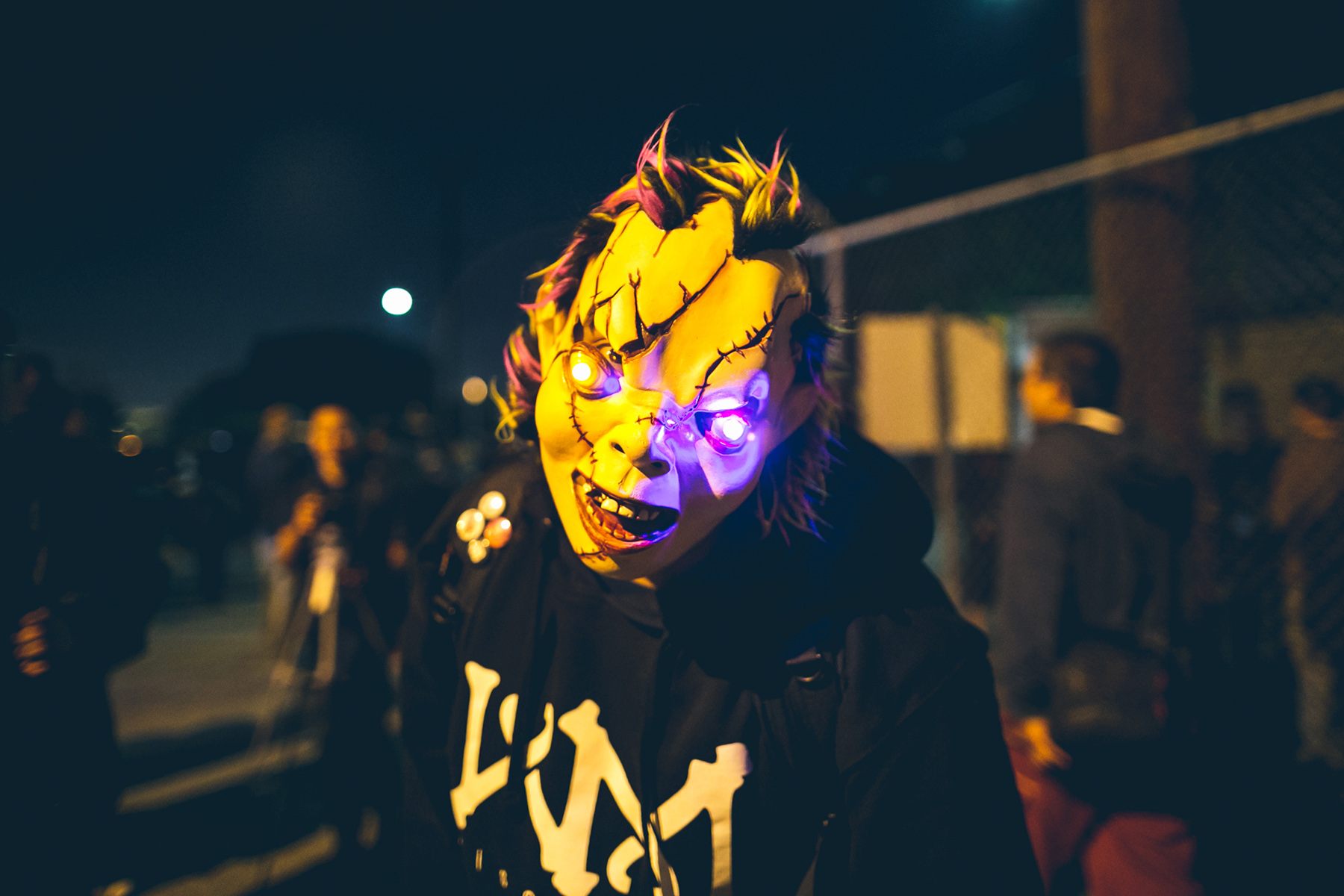 (Photo: @chuckpea)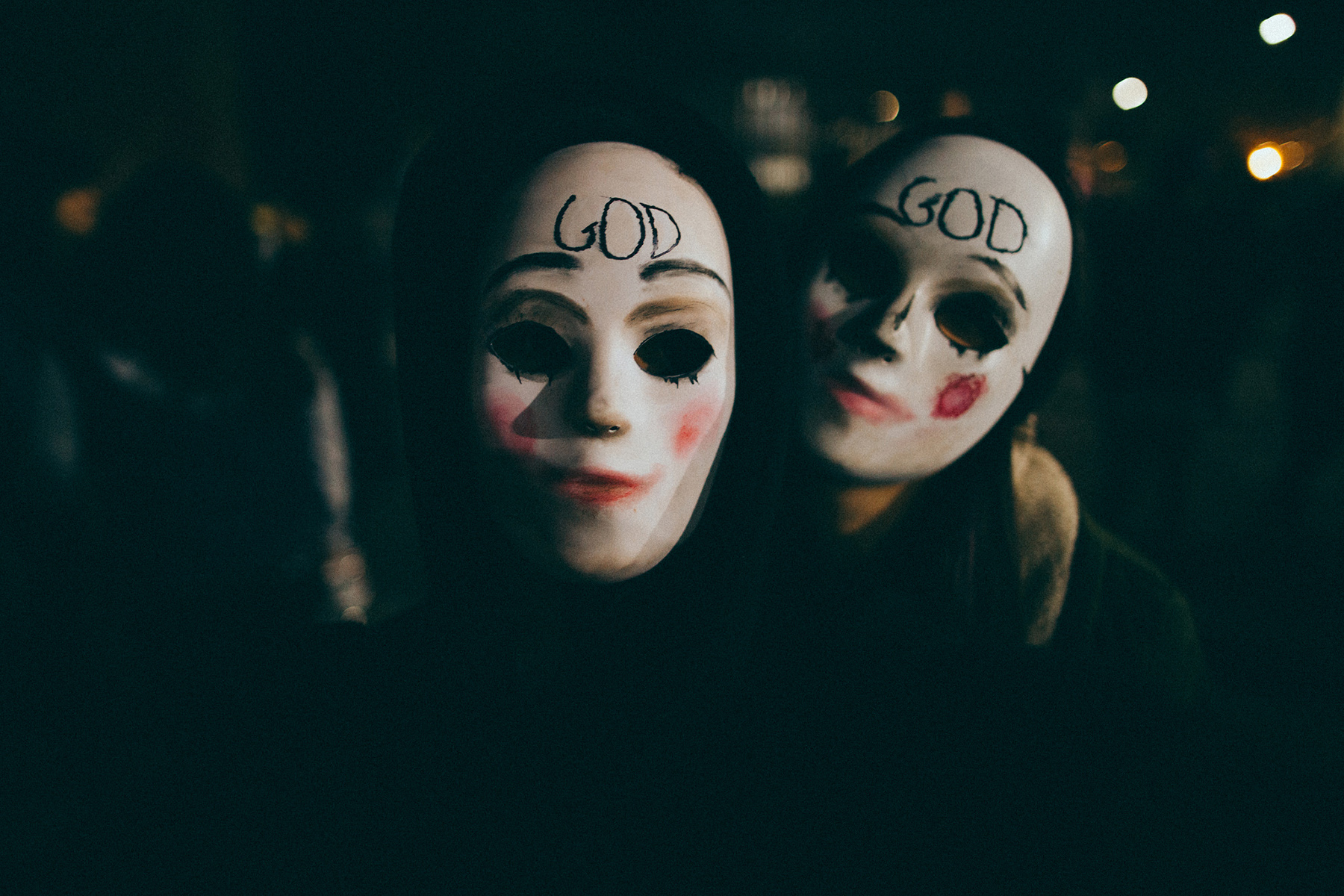 (photo: @sirbrendan_)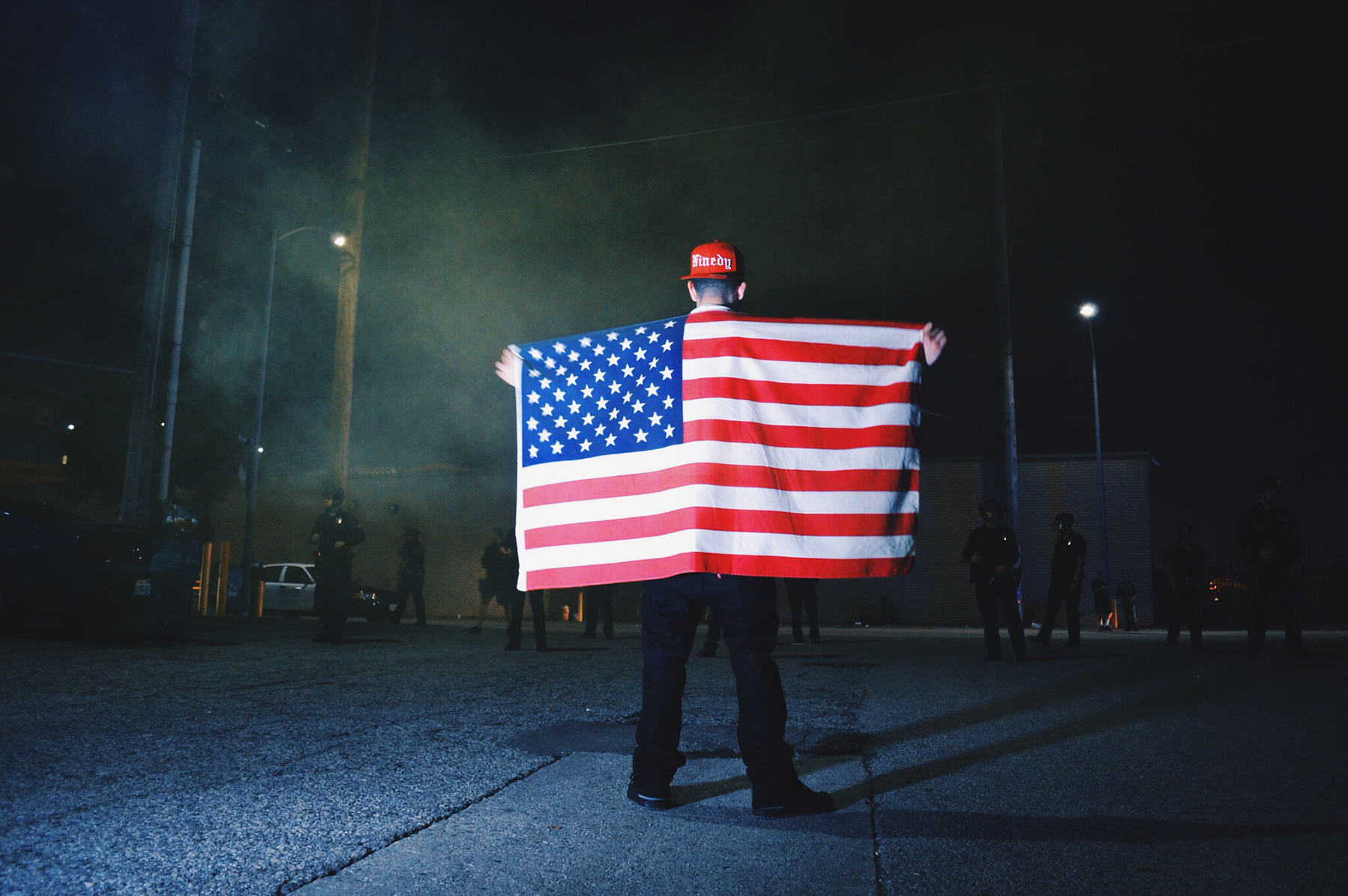 (photo: Saul Ruiz)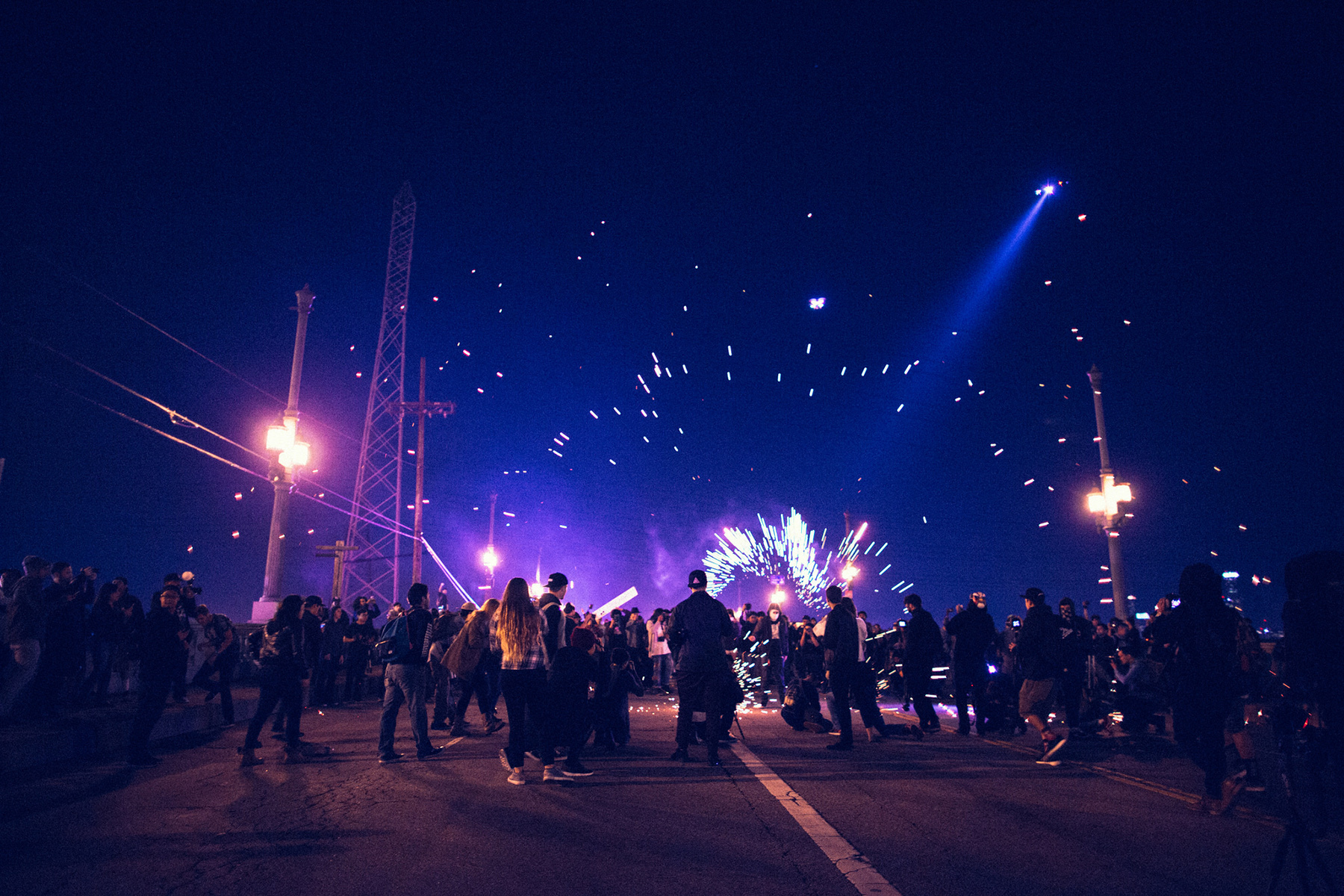 (photo: @sirbrendan_)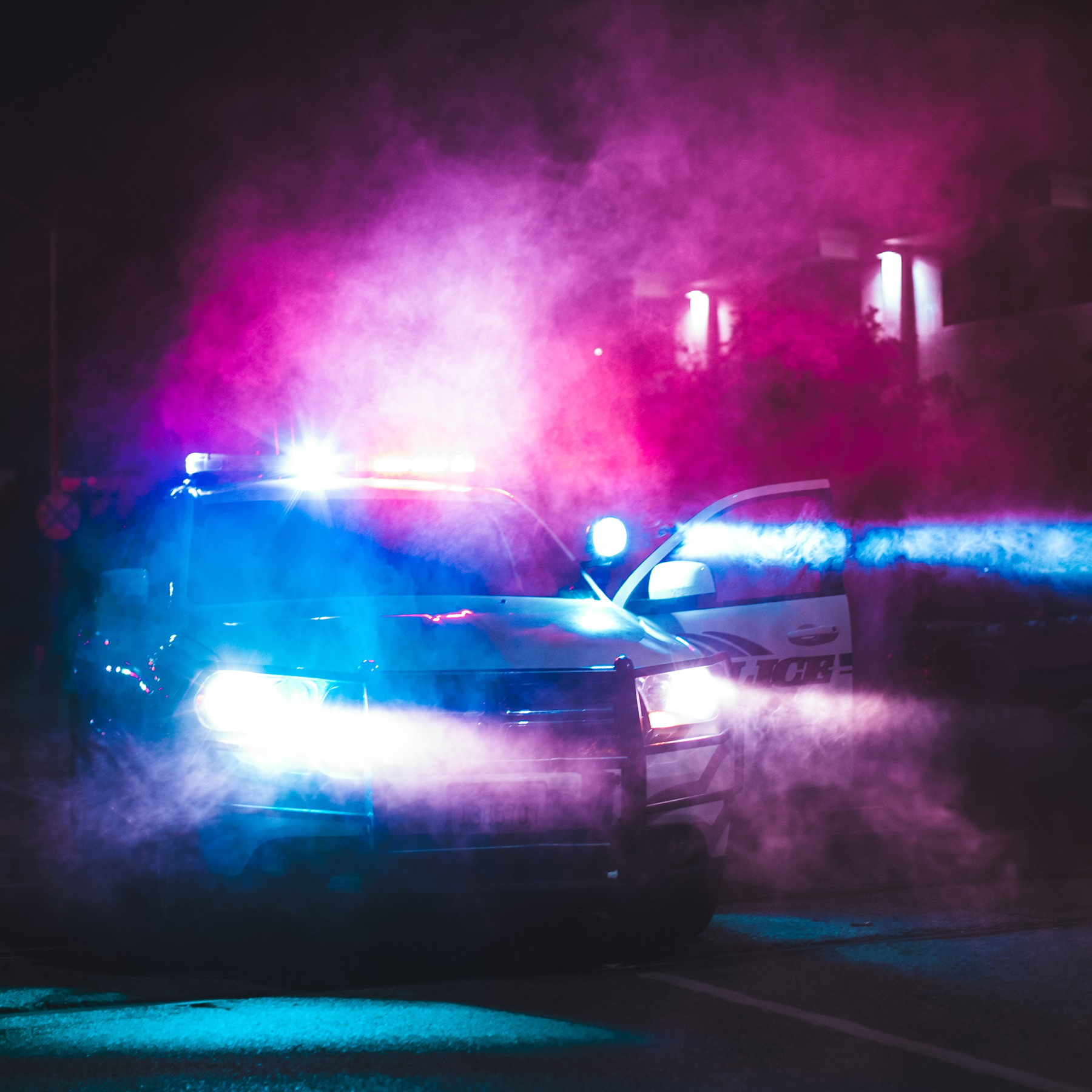 (photo: @blvckvisuals)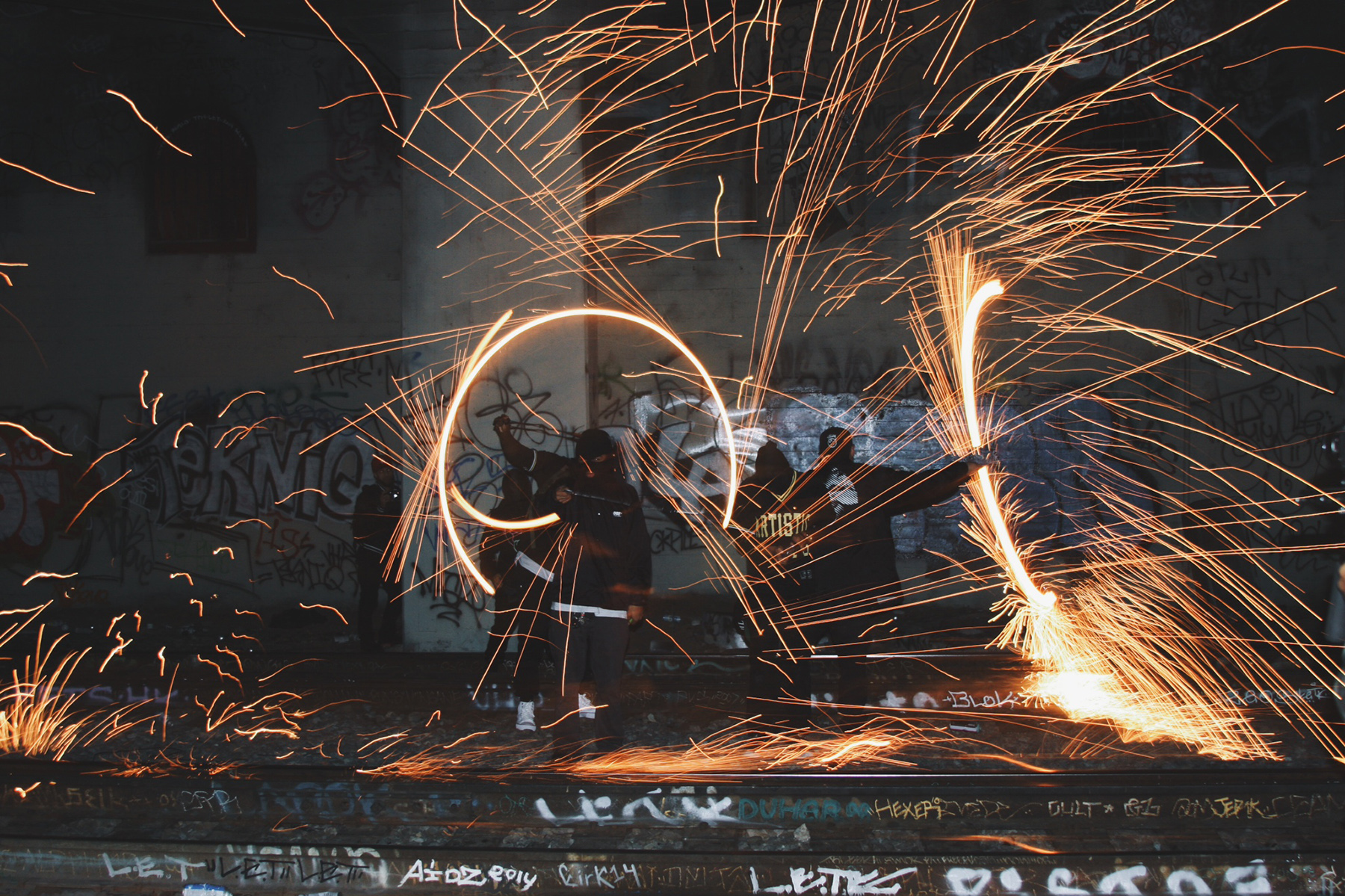 (photo: @iamanthonyrose)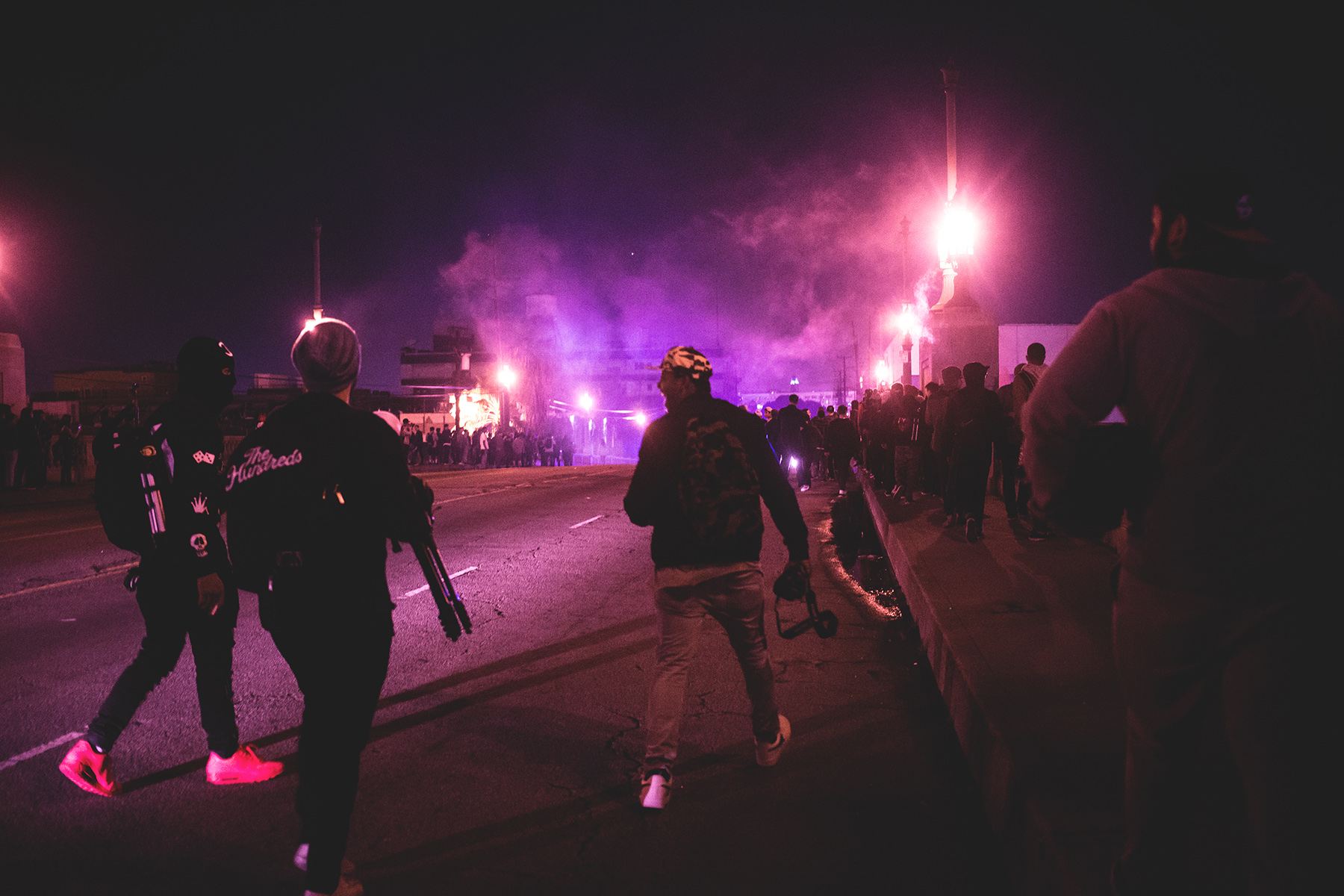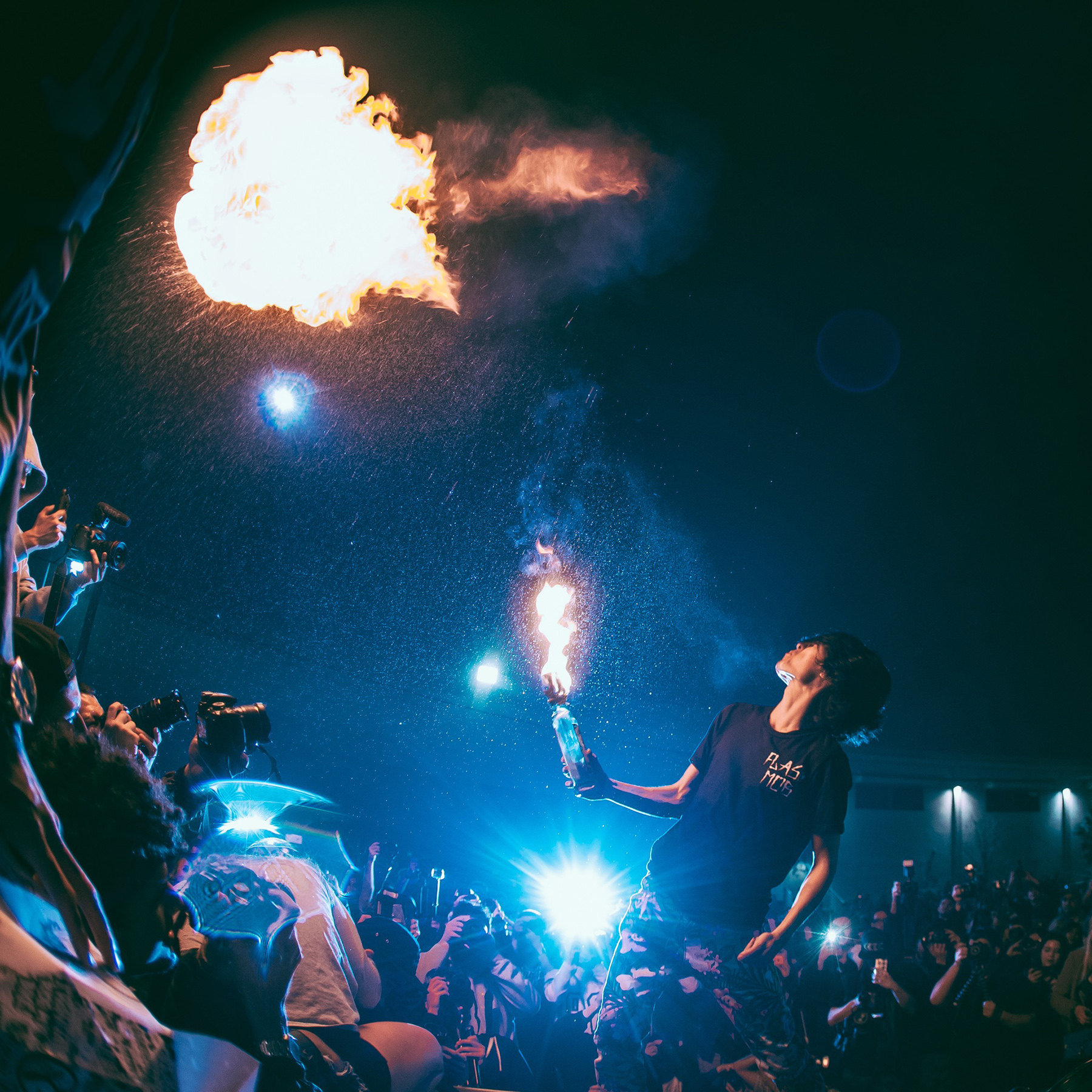 (photo: @blvckvisuals)
::
If we missed any credits or Instagram names, please email todd@thehundreds.com.