I photograph just about everything throughout any given year. Here are some of my favorite images from 2014 I can share, whether they're skate photos, an 845 horsepower Mustang tearing through the streets of DTLA, or just my daughter playing the piano.
1. Big John and his Low Low – Los Angeles, California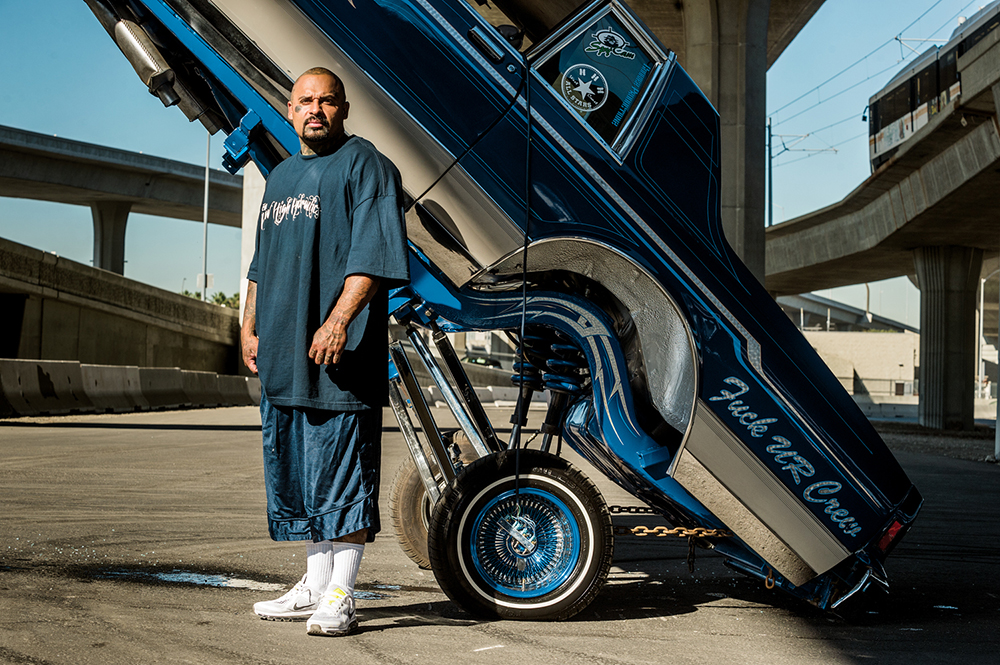 This photograph was shot during the filming of Gymkhana 7 in Los Angeles. One of Ken Block's ideas was to do donuts around a low low with hydraulics. Big John here was one of the only people willing to do it with good reason. He casually moved out of the way as Ken's Mustang came extremely close to him while circling his car with all 4 wheels spinning. After we wrapped that location, Big John was standing by his car still up on the bumper when I shot this photo.
2. Ken Block – Gymkhana 7, Los Angeles, California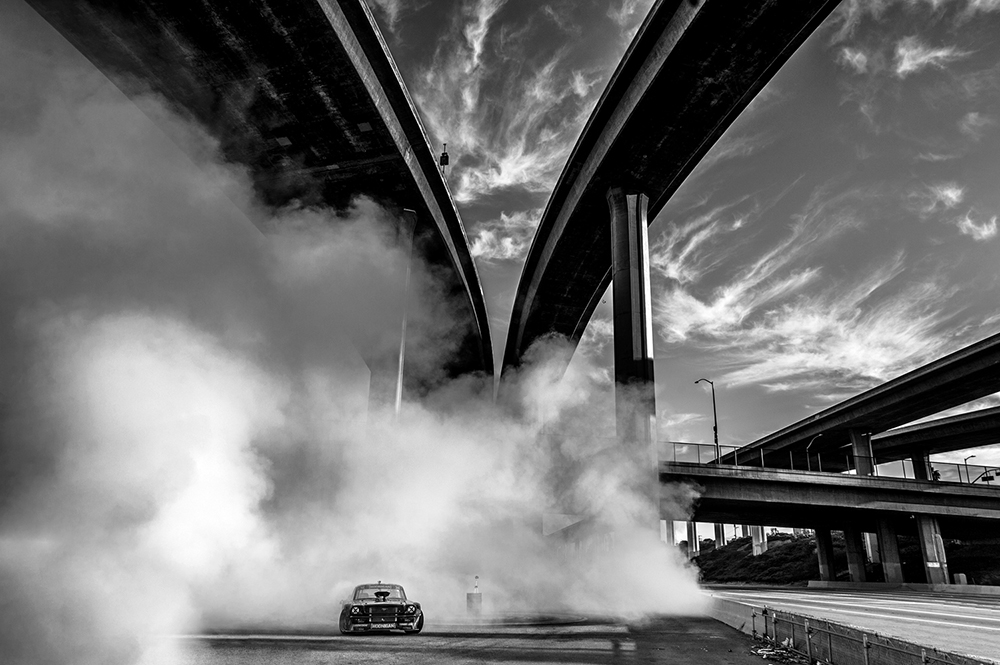 I've been lucky to photograph the past four Gymkhana projects. This one was one of my favorites to shoot for so many reasons. One of which are the locations like this one, under the famous 110 interchange in LA.
3. My daughter Natalia (TaiTai) – San Marcos, California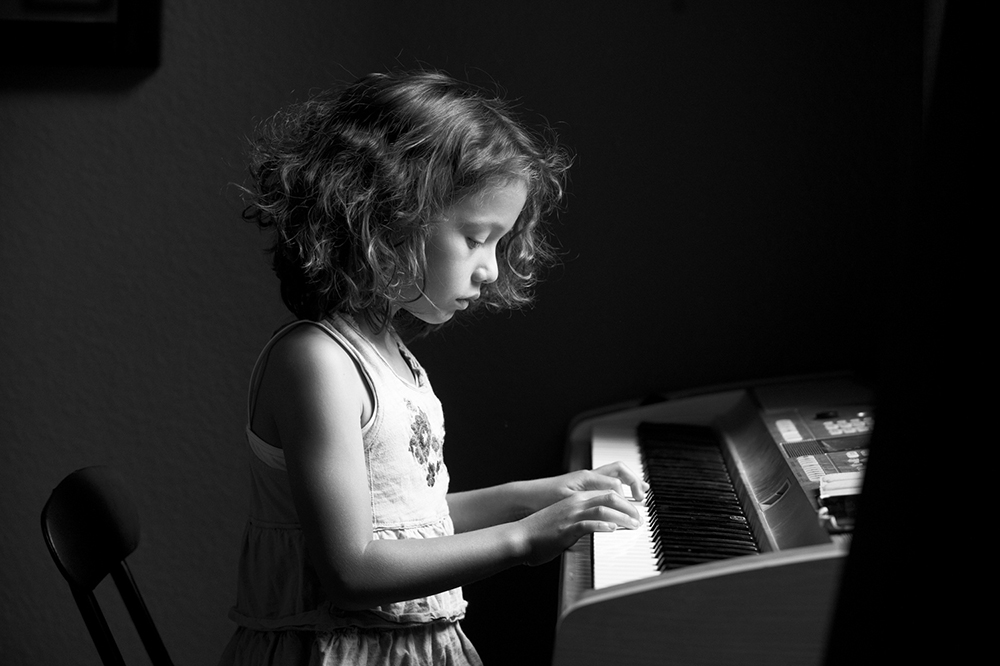 My daughter started playing the piano a few years ago. This is a photo of her practicing on a rainy Saturday afternoon in March of this year.
4. Wes Kremer Kickflip Bs Tail, San Diego, California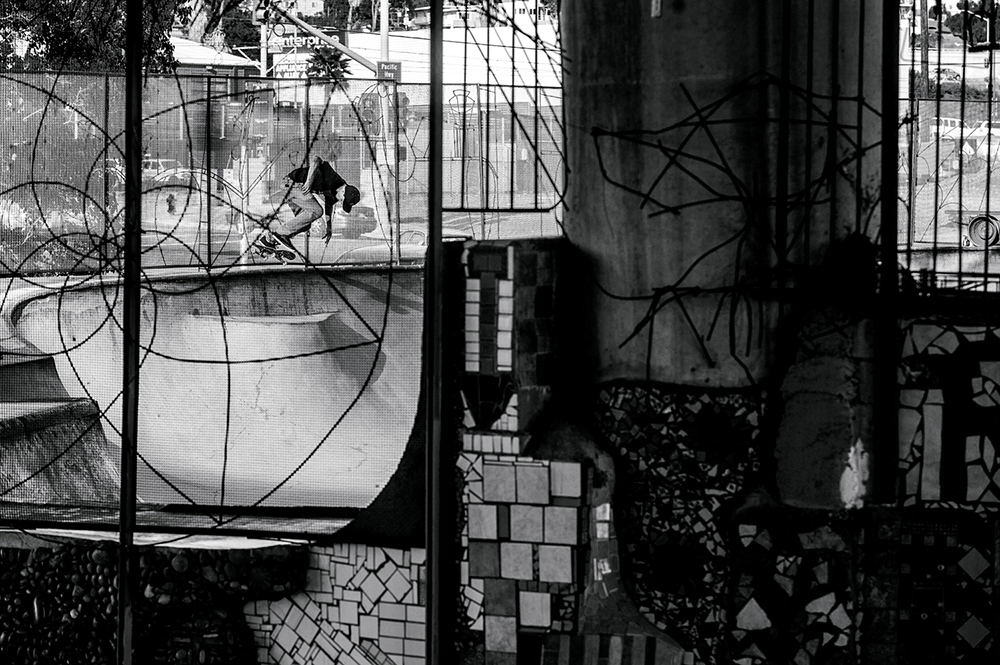 I've been to Washington Street park quite a few times with Wes to shoot this trick. As I was walking towards the entrance of the park this time, I looked through the fence, and thought it looked amazing from outside. I found a spot where I could see Wes on an embankment under the overpass. It was sketchy loose dirt, filled with bum trash, but worth it. I clamped a flash to the fence, and adjusted it so I had the lens almost wide open for a shallow depth of field. Otherwise, the fence would be in focus too much, blocking Wes. In hindsight, I'm glad it took Wes a few trips to roll away because I had never shot Washington St. from outside the fence before.
5. Wes Kremer – Carlsbad, California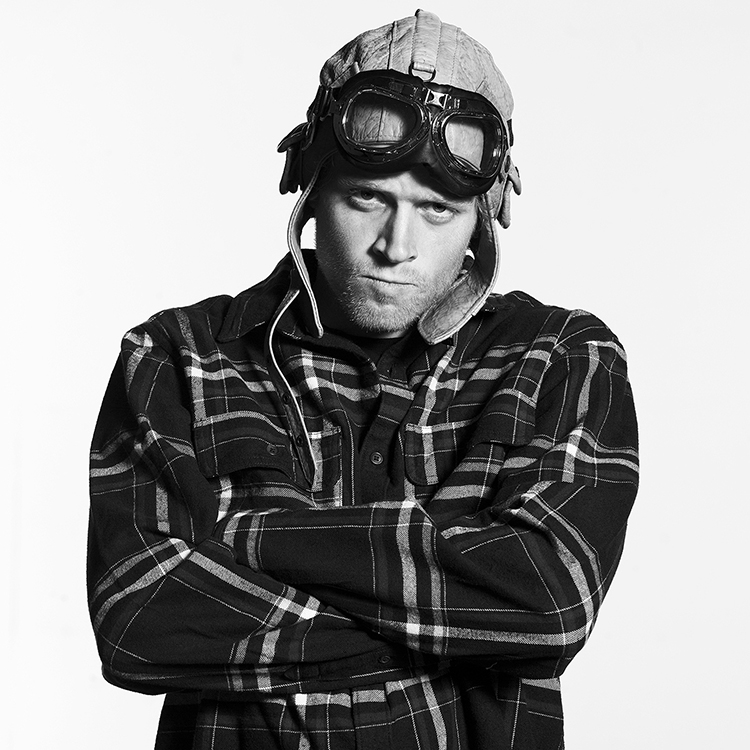 Wes Kremer is one of my favorite characters in skateboarding. Not only is he one of the most gifted skateboarders I've ever seen, but one of the best people, which is why everyone will know how timeless of a skateboarder he truly is.
6. Jake Hayes – Madrid, Spain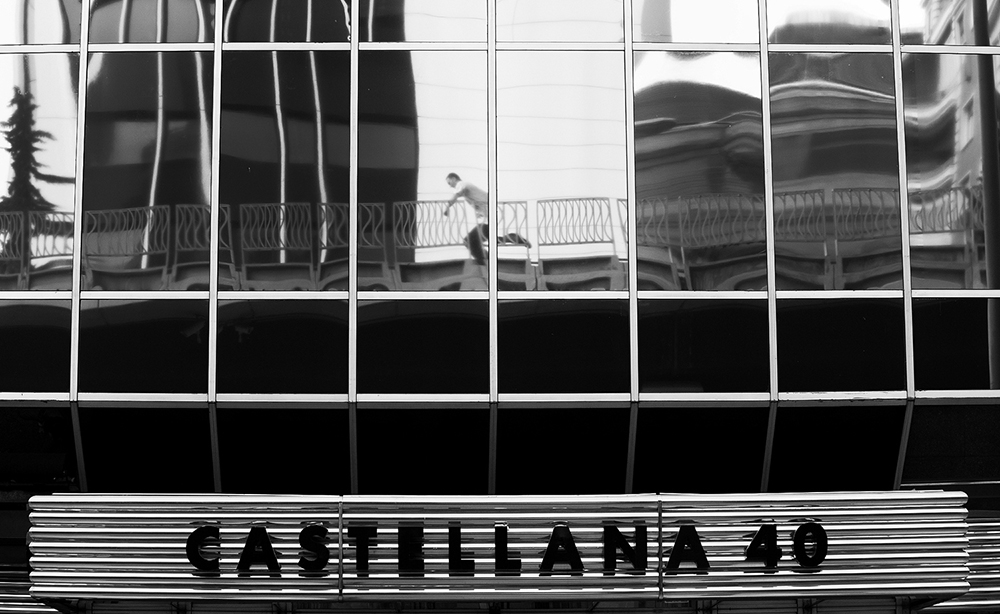 We were skating a spot in Madrid when I noticed the reflection on people walking on a bridge above. I asked Jake Hayes, one of the guys on the trip, to push across the bridge.  This is his first trip across.
7. Kids – Street League Finals, Newark, New Jersey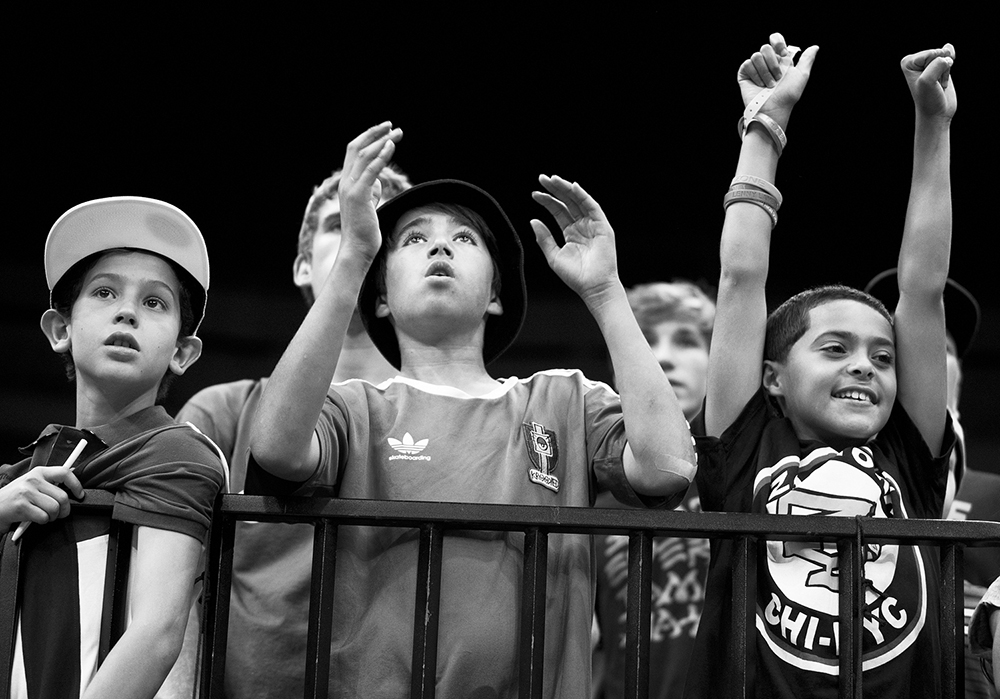 One of my favorite things to do is candidly photograph the crowd, skaters, etc. at Street League contests. I was shooting skating when I heard some kids behind me cheering extra loud. As soon as Nyjah took his run, I turned around to shoot their reactions as I figured he'd do something as he usually does. I'm not even sure what he did, but apparently it was good…
8. Ishod Wair – Street League Finals, Newark, New Jersey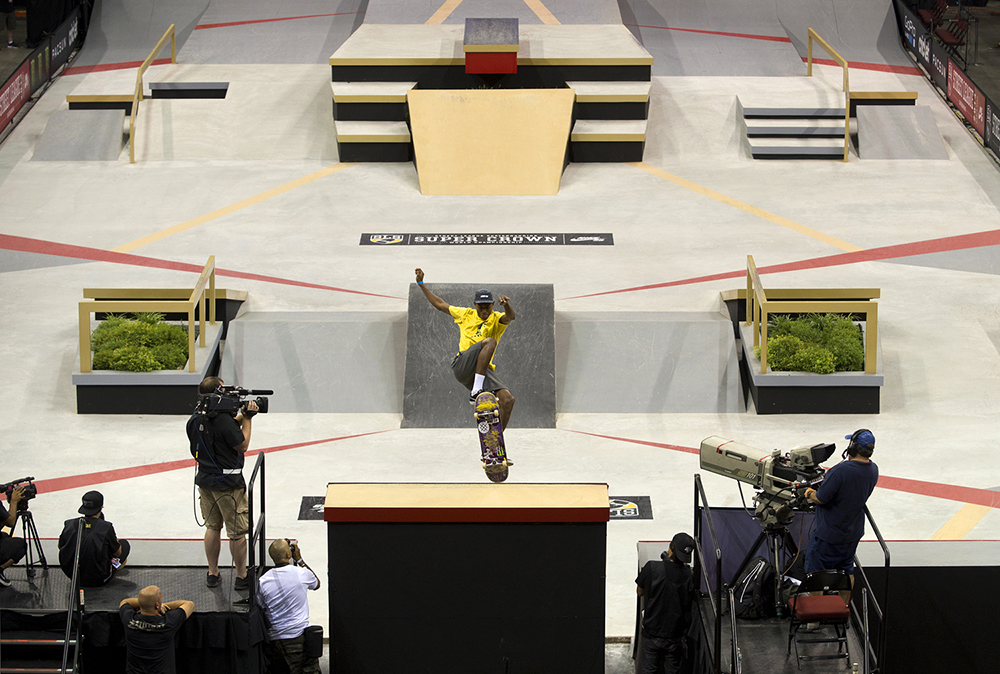 I walk a lot of miles at the SLS contests, as not to just stand on the floor shooting the same photos as everyone else. I walked to the top of the stands directly in the middle of the course for a symmetrical view. I though it would be tight if someone were to skate the quarter right when Ishod flew up, and did a Fs Blunt with a bright yellow shirt. This was the first photo I shot, and kept on walking after that. Photography is a lot of being in the right place at the right time.
9. 13thwitness – Los Angeles, California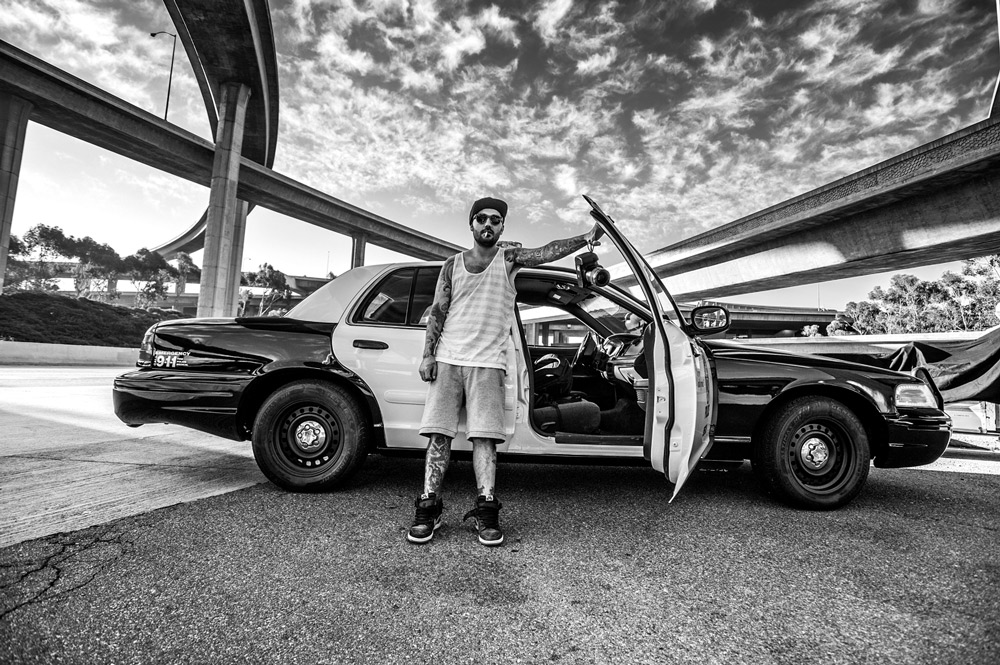 I used to work at a camera store for a few years as a kid in high school in Michigan. I was astonished even then at how many people fancied themselves as photographers solely because they owned a camera. Times that by a million now with Instagram and every other social media outlet, but people like Tim (13thwitness) and Steve's (Van Styles) work will stand the test of time regardless of how many people imitate what they do. I had the pleasure of working alongside Tim (13thwitness) on the Gymkhana 7 shoot. Guys like him and Van are really inspiring to be around because they truly love and appreciate photography. This is a photograph of Tim early in the morning after wrapping the 110 interchange shot.
10. Tristin Funkhauser – New York, New York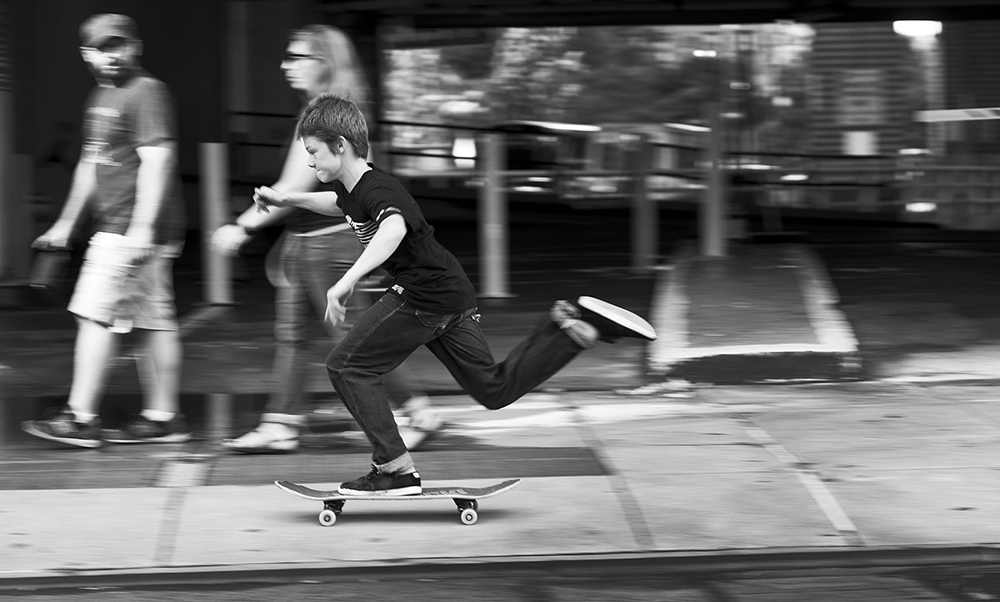 T Funk charges. This photo sums up his skating to me. He's an old soul, and skates like it. He reminds me of poring over magazines when I was his age. If you aren't aware of Tristin's skating, please look him up. You'll be stoked!