"There goes the neighborhood" is a common euphemism meant to describe how an influx of new blood and perspectives inevitably change an area for both the good and the bad. When a person thinks of the Fairfax District in West Hollywood, CA, immediate thoughts go to the sound of skateboard wheels crunching on top of uneven concrete, the smell of new and exotic culinary imports, and of course, the visual aesthetics that are associated with the fashion movement known as streetwear.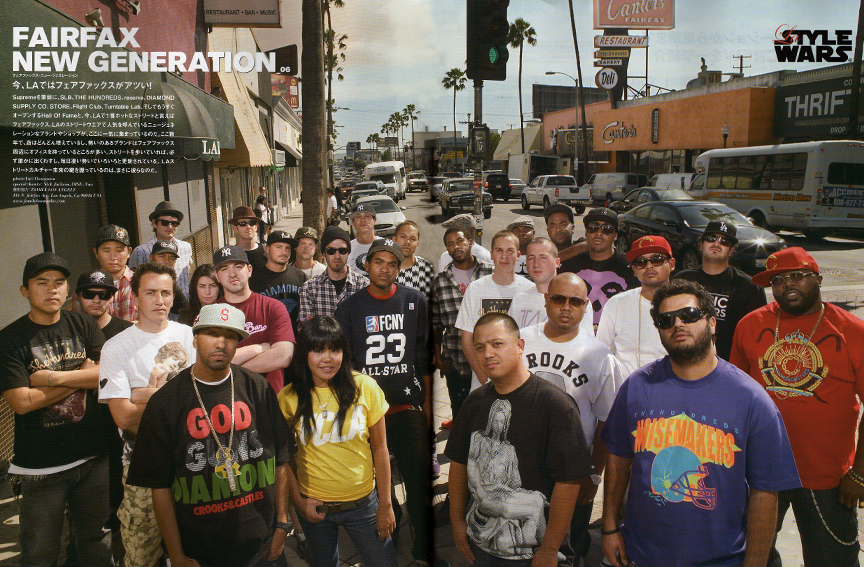 A mid-2000s shot of Fairfax for Warp Japan. Pictured is Crooks (RIP LEWDS), Twelvebar, Flight Club, Diamond, SLB, Naama of Reserve, and The Hundreds.
While Beverly Hills and Rodeo Drive often were what most people thought was a "must-visit" destination for shopping and commerce in Los Angeles, those days feel archaic. Fairfax Avenue has replaced the luxury of Beverly Hills and the enthusiasts who pined for exclusivity achieved from a price tag with a new understanding of what is special and unique. The street has been immortalized on songs, T-shirts, and even become a TMZ-style destination for kids wanting to get a glimpse at the tastemakers who dominate their Instagram feeds. However, Fairfax wasn't always Fairfax; it was just another neighborhood where inspirational attitudes resulted in kosher treats as opposed to pigheadedness.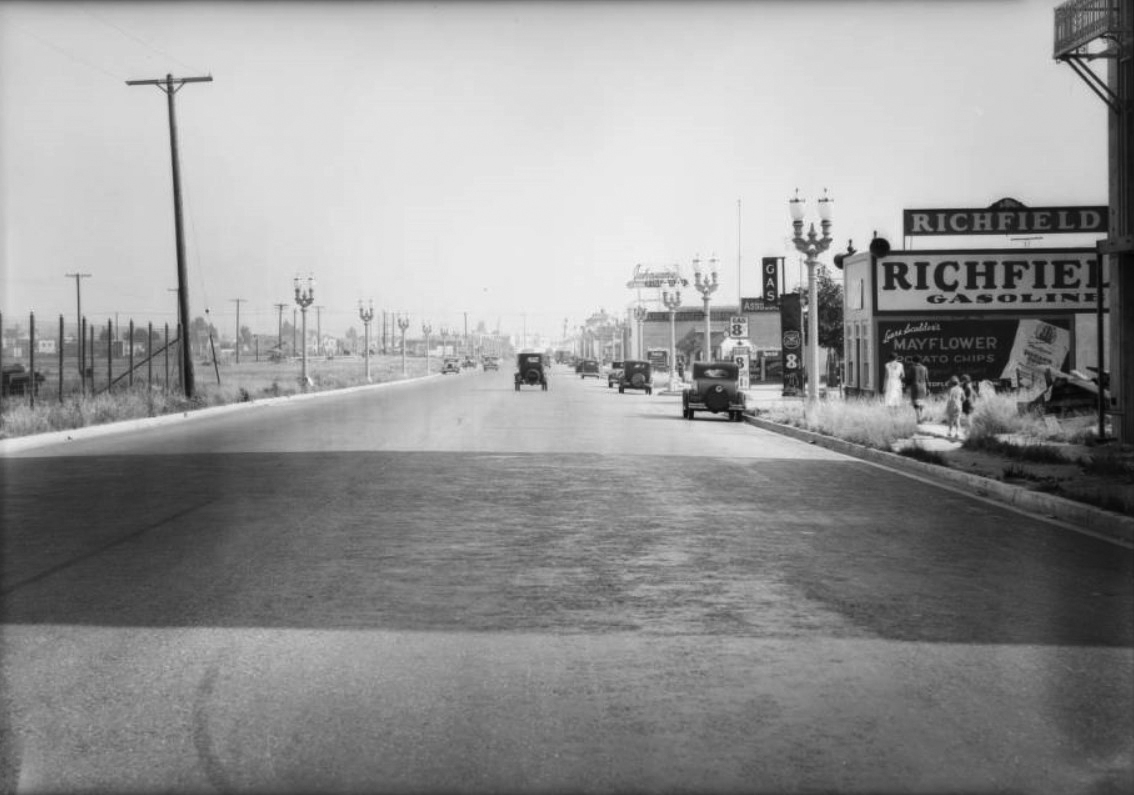 Fairfax and Drexel 1931. Photo: waterandpower.org
The first inhabitants of the Midland area that would come to be known as Fairfax were the Tongva—a group of Native Americans who inhabited the Los Angeles Basin and the Southern Channel Islands. By the 1920's, most pockets of Los Angeles were segregated and only allowed home ownership by white Angelenos. Many of the Jewish population in the city—who had previously resided in Eastside neighborhoods like Boyle Heights, City Terrace, and East Los Angeles—moved to the area around Fairfax Ave prior to World War II, establishing delis, restaurants, kosher butchers, bakeries, and fish markets.
In May 1934, Earl Gilmore of the A.F. Gilmore Oil Company founded the 18,000 seat Gilmore Stadium which would become the site of Los Angeles' first pro football team, the Bulldogs. In addition to pigskin, the venue was used for midget car racing, donkey baseball, boxing, dog shows, rodeos, cricket, and even in the Three Stooges' film, Three Little Pigskins. By 1952, the stadium would be demolished and the land would be used to build what is now CBS Television City.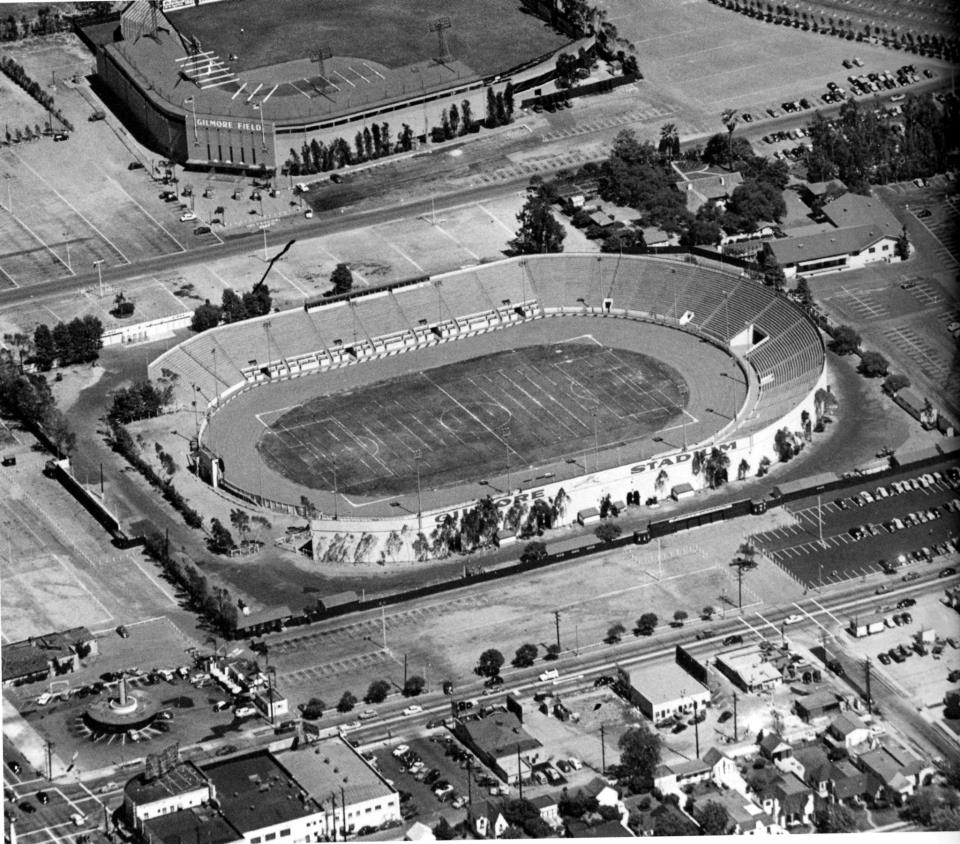 Gilmore Stadium 1949. Photo: waterandpower.org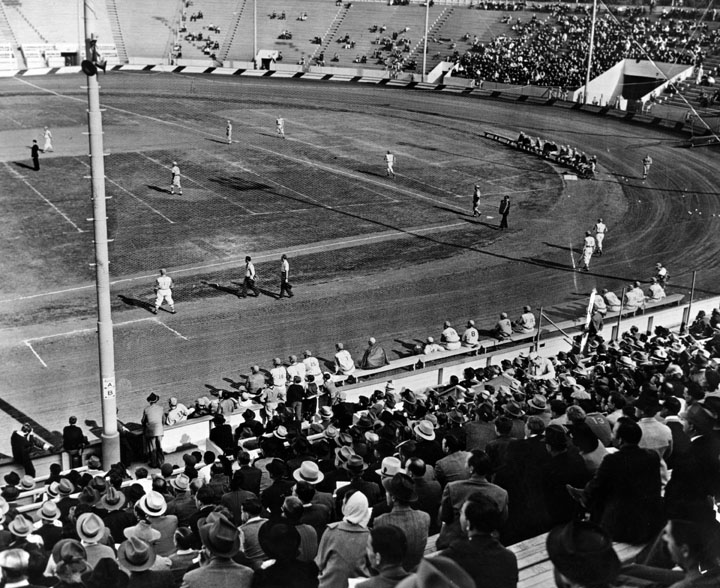 Gilmore Stadium 1939. Photo: waterandpower.org
The Gilmore family also owned a parcel of land that remained largely vacant into the 1930s. At the height of The Depression, two entrepreneurs, Fred Beck and Roger Dahlhjelm, approached Earl Gilmore with an idea: build a "Village" at the corner of 3rd & Fairfax where local farmers could sell their fresh fare.
In July 1934, a dozen farmers and a few other merchants parked their trucks at the corner of 3rd & Fairfax and sold their fresh produce from the back of the trucks. By 1948, the Clock Tower became an icon at the thriving market. For those who visit today, the tower features the iconic phrase "An Idea"—a humble nod to Fred Beck, Roger Dahlhjelm, and the 18 original tenants who helped forever shape the corner of 3rd & Fairfax.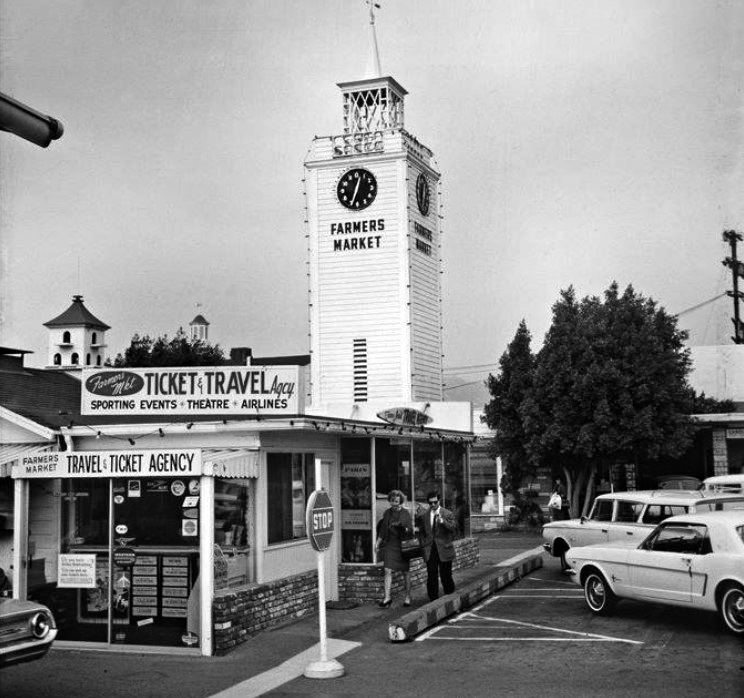 Farmer's market 1965. Photo: waterandpower.org
Following World War II, Holocaust survivors flocked to the neighborhood. In turn, the amount of synagogues increased from four in 1935 to 12 in Post-War Los Angeles. It was during this migration that Fairfax Ave. got one of its gems.
Canter's Deli moved to Fairfax Avenue from Brooklyn Avenue—now East Cesar Chavez Avenue—in 1948. The original location opened at 439 North Fairfax Avenue and moved up the block into the former Esquire Theater (which had previously shown Yiddish-language films) in 1953, resulting in a delicatessen much larger than its previous spaces. The restaurant was further expanded in 1959, and the Kibitz Room cocktail lounge opened in 1961.
Over its history, Canter's has hosted everyone from President Obama to Guns 'N' Roses, and Mick Jagger to Slash. Marc Canter, owner of the deli, recalls the heydays by saying, "Frank Zappa would come in and have a table and it would draw a crowd. Frank would go home and the table would still be hopping and when Zappa would come back a day or so later it was always funny because the table would still be packed, but just with totally different people. There was also a story about how Neil Young was making a dollar taxiing people back and forth from the strip to Canter's Deli. We didn't know about it then, but it was crazy, there would be so many people outside just hanging around on the strip, and after the Whisky or those places closed, there was really nowhere to go but Canter's."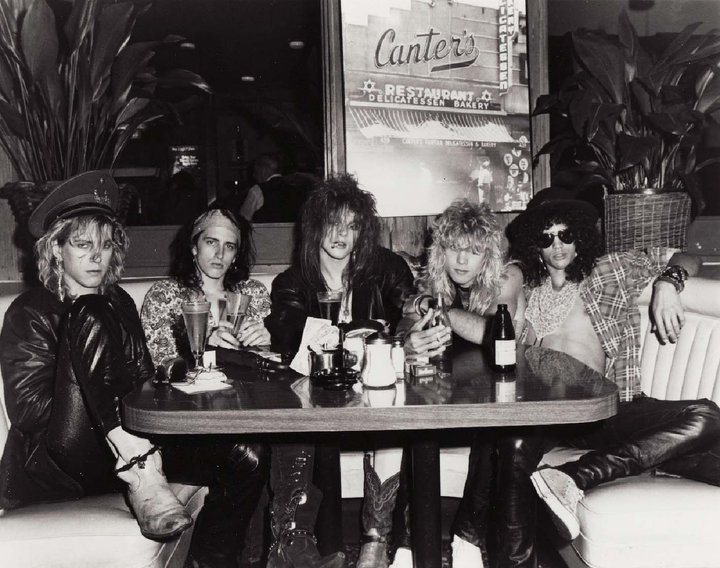 Guns 'N Roses at Canter's Deli. Photo: cantersdeli.com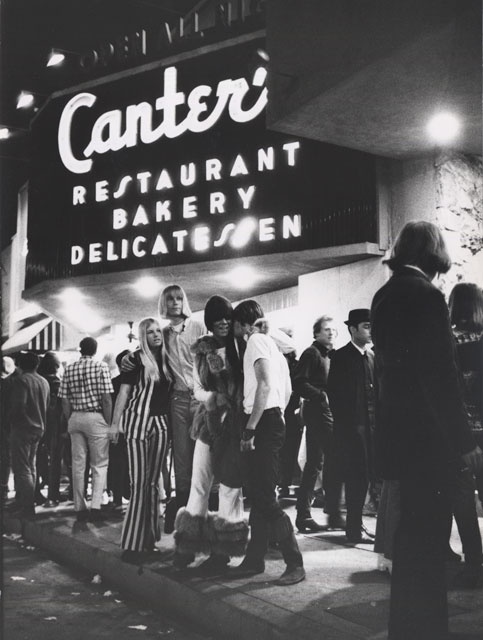 Canter's Deli 1968. Photo: pinterest.com
John Hampton—further adding to the cultural boom on the block—opened the Silent Movie Theatre in 1942. It remained the last, purely silent movie theater in the world until 2006, when Sammy and Dan Harkham, and Hadrian Belove purchased the theater and started showing movies underneath the "Cinefamily" banner.
While Fairfax High School was originally built in 1924, most of the campus was demolished in 1966 after the original Spanish Colonial Revival main building did not meet earthquake safety standards. However, the historic D. S. Swan Auditorium and iconic Rotunda were spared by preservationists and retrofitted. Notable Fairfax High School alum include musicians Herb Alpert, Steven Adler, Flea, Anthony Kiedis, Tito Jackson, Slash, Phil Spector, and Warren Zevon.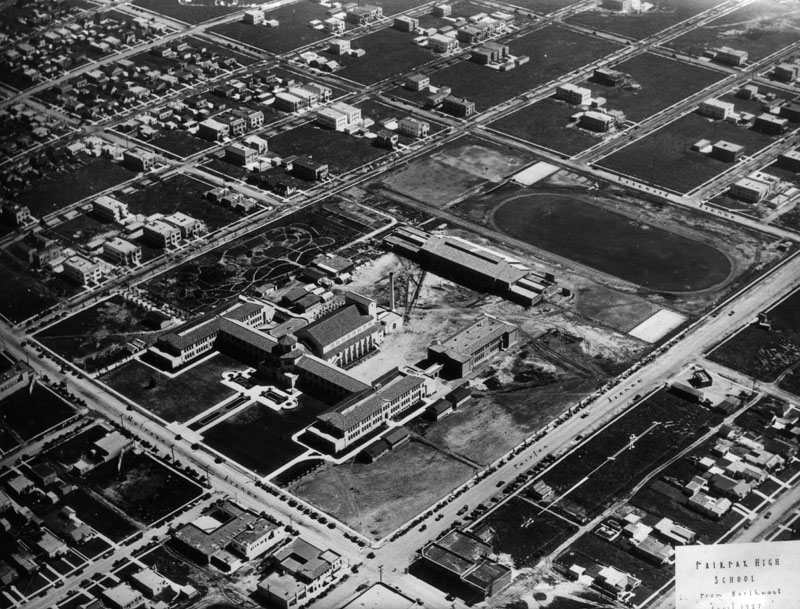 Fairfax High School 1927. Photo: waterandpower.org
While the mention of "Diamond" on Fairfax has new meaning today, the Diamond Bakery remains the oldest Kosher bakery on Fairfax – having stood there since the '60s and cranking out favorites like New York corn rye bread, racetrack cake, chocolate babka, challah, rugelach, and Mandelbrot.
In 1987, the Los Angeles City Council approved plans to place an 18-foot statue at Beverly Boulevard and Fairfax Avenue to honor Raoul Wallenberg, a Swedish diplomat who saved thousands of Jews in Hungary from deportation to Nazi death camps during World War II. By a 13-0 vote, the council approved an agreement with Great Western Bank (now Chase Bank) and the Jewish Community Foundation that allowed the institution to erect the statue outside the bank's two-story branch office. "It is not our normal policy to encourage people to put things up on our property, but this is one of those rare cases where the cause is worth the effort," said Ian Campbell, senior vice president at Great Western. "It is obvious that Raoul Wallenberg was a hero and a remarkable man, someone that is not only important to the Jewish community but to any thinking person in society," Campbell said.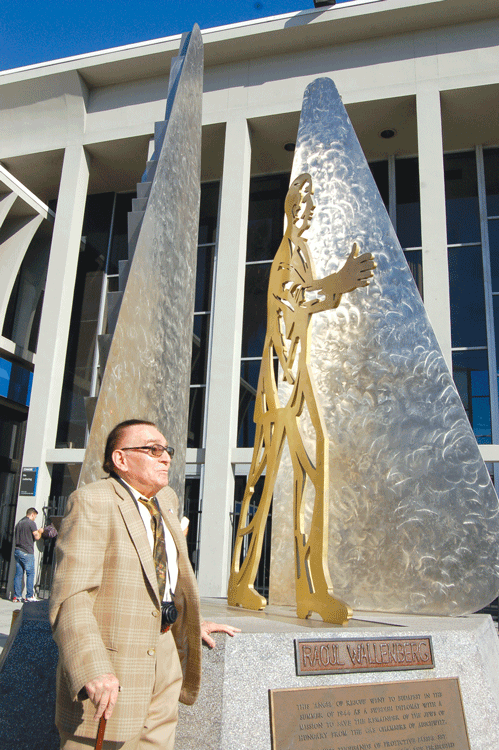 Photo: beverlypress.com
It should also be noted that there was a concerted effort by the Jewish residents to have the entire stretch of Fairfax Avenue within the city honor Wallenberg.
To this day, kosher markets, Judaica-focused bookstores and delis line the street, intermingling with bold graphic T-shirts and cut and sew items, which make Fairfax internationally recognized. The Hundreds' own Bobby Hundreds recalled the brands origins on the street back in 2014, saying, "In the beginning, it was raw. Fresh. And exciting. We all knew something big was happening—the brands, the kids in line... Yet, there were no rules, no map. We were making it up as we went along. It was so creative and history was being made every day. I remember it being a much more positive and encouraging time for Fairfax. The community was small, but largely supportive of each other. We were a united front against the mainstream. Now, it's opened up to a broader audience. It happens, but isn't that the point? The next generation of youth who discovered the block had been trained by their older brothers, but now they wanted more. Some of them started their own brands, inspired by what they had experienced. Some opened shops of their own. Famous people started visiting Fairfax, and then the craziest thing happened. Fairfax started making people famous."
While nine synagogues still remain to give Fairfax the impression that it is still very much a Jewish neighborhood, streetwear's surge in popularity has come with several negatives. In a 2005 report by The Los Angeles Times, they noted that many of those entrenched in the history of the Avenue were getting forced out. "This is the end of the road. I'm out of here. I'd have to triple my business to pay the rent," said Simon Rutberg, owner of Hatikvah Music, a Jewish record shop that has been a fixture at 436 N. Fairfax Ave. since 1954. "This is the end for a lot of us here."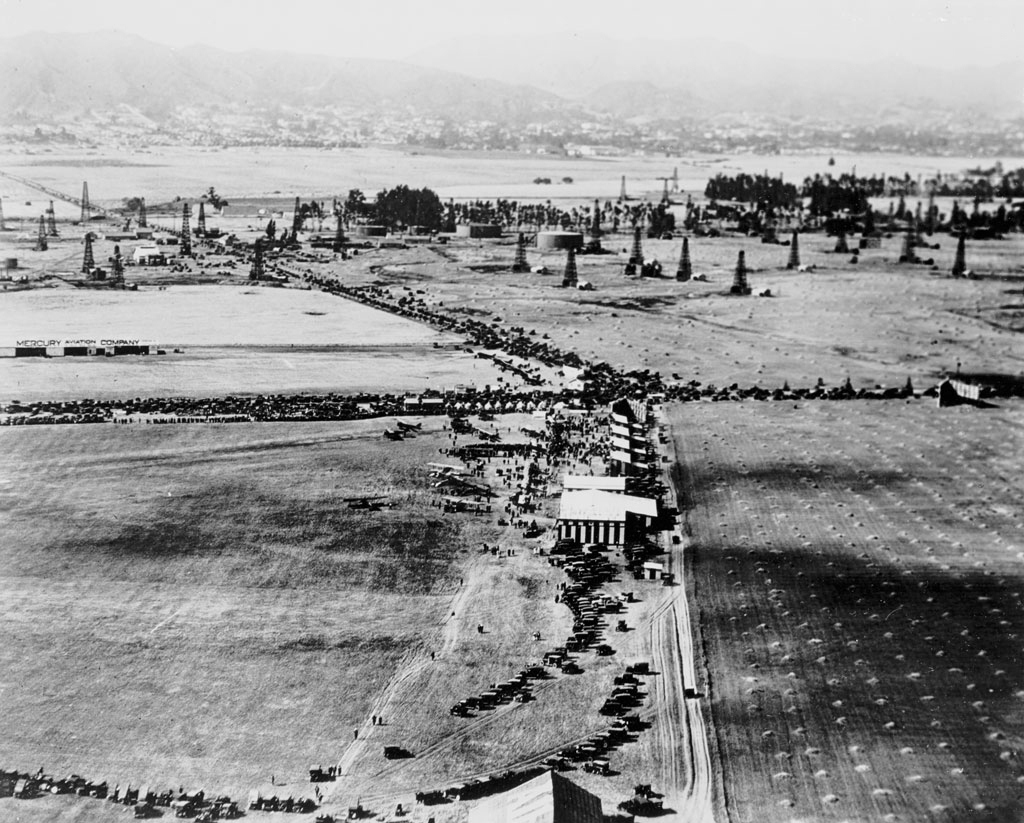 Wilshire and Fairfax. Photo: waterandpower.org
Many other people echoed Rutberg's claims—noting that rent had either doubled or even tripled for some who had been there for over a half-century.
If there is a single addition to the Fairfax ambience that signals a shift in attitude, look no further than the opening of the "No Name Club"/Community—a hip nightclub that opened in 2014—and doesn't allow anyone in without a reservation. When the L.A. Weekly ran a feature on the press-adverse spot, the manager responded, "The only community we care about is the one inside these doors."
Much like a bowl of Canter's matzah ball soup, the recipe for success on Fairfax seems like a simple one, but that couldn't be further from the truth. Just like selling baked goods can no longer sustain a business for many, so too is having a streetwear brand without the right ingredients. It will be interesting to check in on Fairfax in another 50 years. As the "cool" fades, it will be reassuring to know that Canter's will still be there to warm up the soul.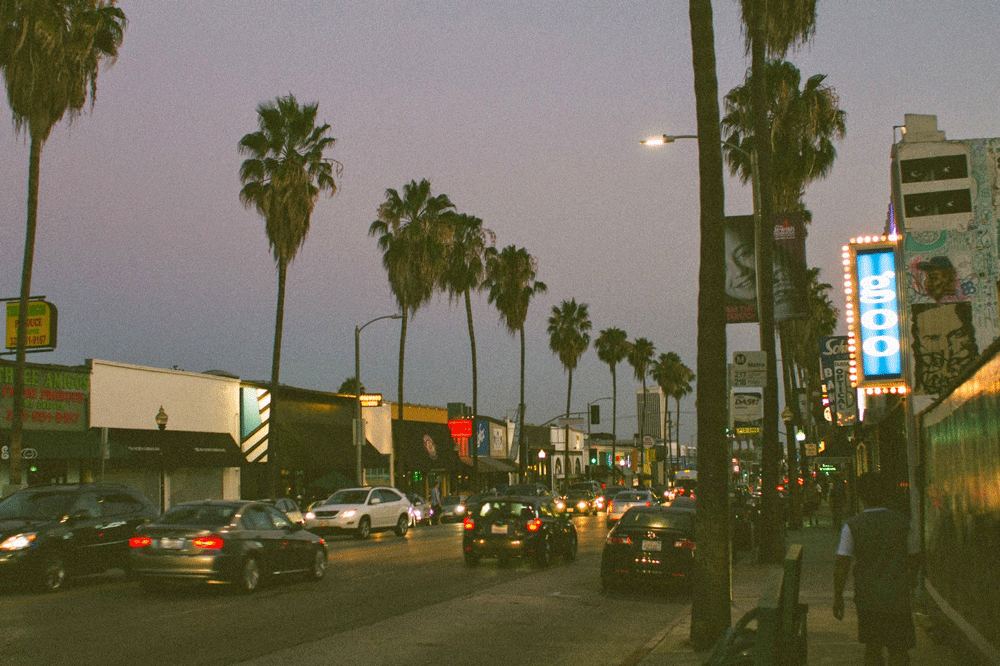 Photo: theworstadviice.com