Flipping through racks and racks of vintage pieces has never been my favorite hobby. I've definitely spent some time peeping through second-hand stores like Value Village or military surplus spots, but most times don't have the patience. F as in Frank is different. Jesse and Drew Heifetz understand that curation is important, in a general sense. Mixing pivotal pieces like '90s Chicago Bulls snapbacks with retro LA Lakers Starter jackets alongside OG M-65s, vintage Polo rugbys and Versace gold chain-graphic button-ups, the shit is crazy. Jesse operates shops in Vancouver and Toronto, and understands vintage apparel on a level that I've always found interesting, providing "inspiration pieces" for upcoming seasons for brands from Supreme to Marc Jacobs and even supplying Kendrick Lamar's wardrobe for his most recent Rolling Stone cover.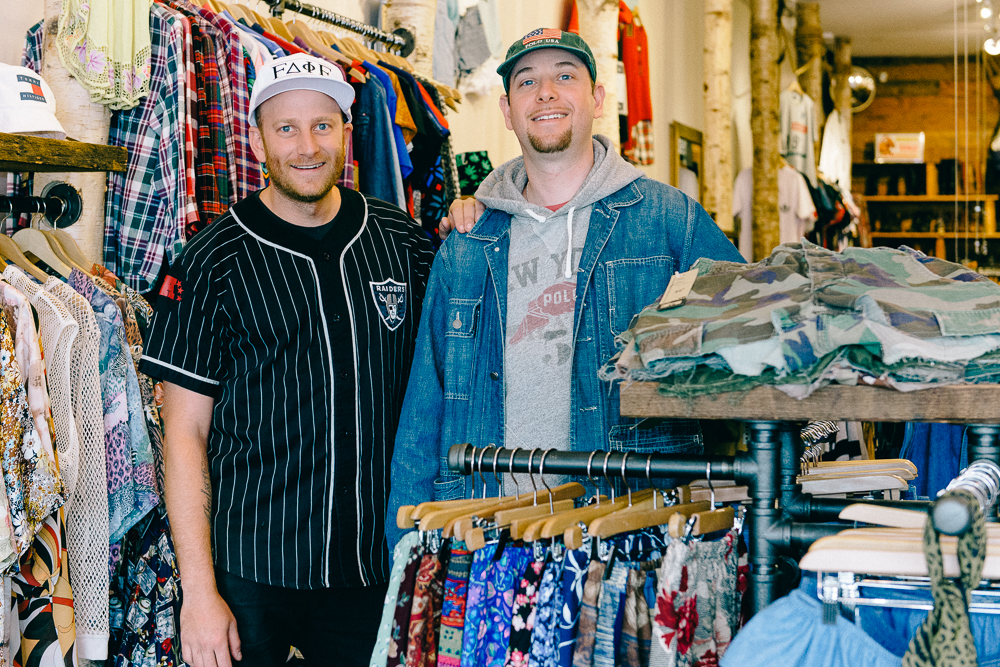 CHRIS DANFORTH: Are you constantly learning about vintage clothing? Or do you feel like you know everything you need to know?
JESSE HEIFETZ: You can never learn everything about vintage clothing and that is one of the most appealing things about our industry. There is always more to learn and we are always finding things that we have never seen before. Anyone who says they know everything about vintage clothing or have seen everything is a liar, and a bad one at that.
Where do you source the majority of the vintage goods you sell? How often do you go on buying trips?
The majority of our vintage clothing comes from sources that have been handed down from our father David but we source our clothing from everywhere and anywhere. We have bought clothing from the UK, Germany, Holland, Japan, Thailand, Indonesia, etc. Most of our deadstock vintage comes from old retailers and distributors that are sourced in a number of different ways. Some have contacted us, some have been given to us from other dealers and some we have found. We often go on buying trips to the USA. Some of our best scores have come from just driving around an old city or town and knocking on doors.
What other projects has FAIF been involved in?
We work closely with many brands and have for over 15 years. Some of the brands we work with or have worked with in the past are Polo Ralph Lauren, RRL, RLX, Supreme, Stussy, Vintage Frames Company, J Crew, Levis, Wrangler, Jeremy Scott, Mookee by Yuske, Brooklyn Circus, American Eagle, Abercrombie and Fitch, Love Jules Leather, Top Shop, Urban Outfitters, Marc Jacobs, Burton, FUCT, DOPE, Mitchell and Ness, Starter, Logo 7, Nasty Gal, and many more. We often work with design teams to provide them with inspiration pieces for upcoming seasons.
Some designers may be looking for particular fonts or graphics while others may be looking for fabrics or unusual design details. Some designers don't know what they are looking for and come to us to shop from our vast collection to get inspired. Ricky Saiz, one of the designers at Supreme, recently told us that, during a conversation with James Jebbia, they realized that we have provided Supreme with more inspiration pieces that were actually used in recent seasons than any other single source. That was a pretty awesome compliment to us and reaffirms our confidence in what we do every day.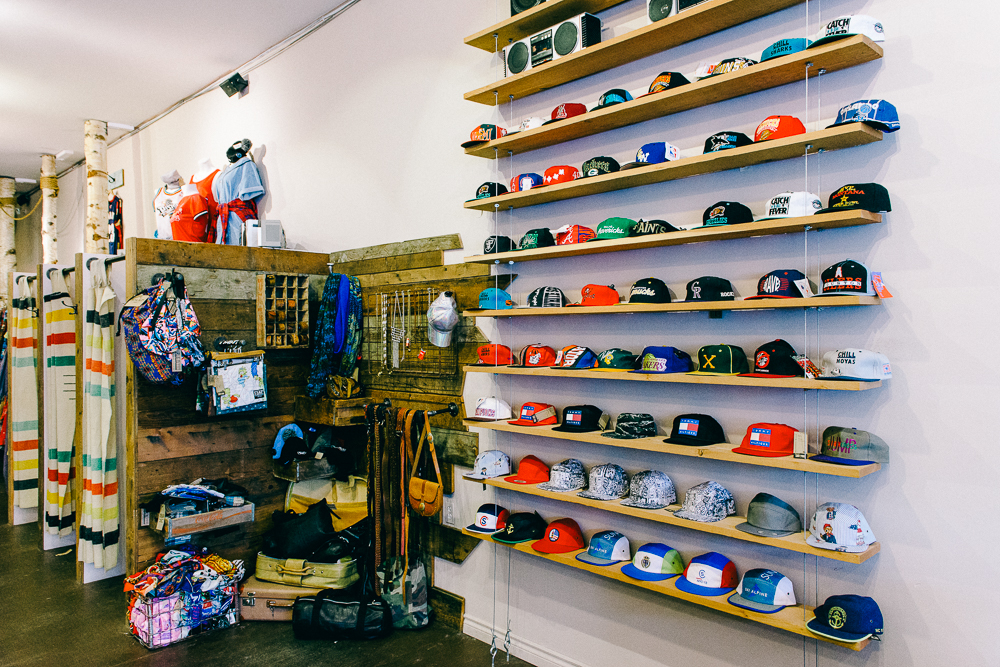 Talk about some celebrities/musicians/artists that have supported FAIF in the past, and any examples of notable publicity.
We have received tons of support from celebrities, musicians and artists over the years and we are very thankful and appreciative for that. Some of our past clients are Drake, The Weeknd, Kendrick Lamar, Beyonce, Johnny Depp, Drew Barrymore, Iggy Azalea, Riff Raff, Raekwon, Don C, DJ Mano, Jeremy Scott, Action Bronson, The Hieroglyphics Crew, DJ AM, Machine Gun Kelly, Mac Miller, Cassie Ventura, Waka Flocka Flame, Chromeo, Mr. Brainwash, Ibn Jasper, Dr. Romanelli, ATL Twins, Travie McCoy, Juicy J, Tyga, Fabolous, Amber Rose, Earl Sweatshirt, Pusha T, Trouble Andrew, SD, Gino Marley, The Lonely Island Crew, Silas Redd, and many more. It's hard to remember everyone [laughs]. Some of these people have purchased clothing from us and some of them have hired us for wardrobe for editorials or music videos, etc.
In your own words, talk about your father's role selling clothing at Woodstock.
My father, David Heifetz, had head shops in New England during the '60s. He bought out a costume shop that was going out of business in one of the towns that he had a shop in and started to sell the clothing in his head shops. Most of the clothing he purchased was vintage and military surplus dating back to the turn of the century. He was shocked at the response. This basically snowballed and my father began sourcing vintage clothing on the East Coast. Shortly after, he put all of his effort into the clothing business and opened a company called "The Rag Machine" which operated out of Kutztown PA. That company wholesaled vintage and reworked/reconstructed vintage clothing to shops all over the USA. He was a very smart entrepeneur and, once he heard about the Woodstock festival, decided to sell his clothing there. He knew his demographic and he was very immersed in hippie culture, having had head shops for years, and he was one of very few official vendors at the original Woodstock Festival. He truly was one of the pioneers of the vintage clothing industry.
Was your process learning about vintage gear purely based on experience? Versus reading online/literature/hearing from others?
Most of my knowledge of vintage clothing comes from experience. My brother Drew and I grew up around vintage clothing. We would spend our Saturdays with our dad at his warehouse playing in piles of vintage Levis. We inherently learned a ton by just being around our fathers business. In the past 15 years we have used many new resources such as books and the internet to further our knowledge about vintage clothing, but I would say that we learn more by being around the clothing all the time and on our travels buying and selling.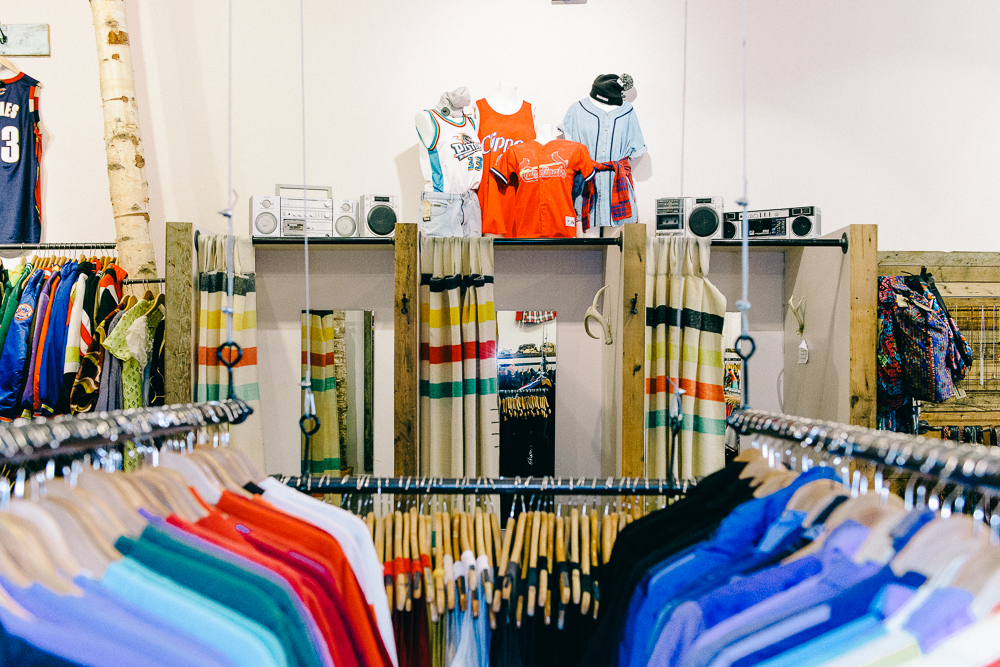 Is the vintage market espescially popular in Japan? Talk about this.
The vintage market in Japan is the biggest in the world. The Japanese are fanatical about American vintage and pop culture. Tokyo has over 400 vintage clothing shops and the average customer is way more knowledgable due to the extensive resources that have been available in Japan since the '80s such as books and magazines.
To quote the New York Times:
"Vintage clothing first took hold in Tokyo during the postwar years – young men, eager to emulate the ways of American GIs striding through the city wearing their confidence like medals, began buying U.S. military clothing on the black market. After the Tokyo Olympics in 1964, the demand for American casual soared – and in 1966 a store called Chicago opened its doors to a Levis-hungry public, the first bona fide vintage shop Tokyo had ever seen."
How do you pick out rare/special Polo items?
The most sought-after Polo items are big graphic pieces from the late '80s and early '90s. Gangs (or clubs, depending on who you talk to) like the Lo Lifes and Ralphies Kids exclusively wore Polo starting back in the '80s and are mainly responsible for bringing these items to the forefront of Polo collectibility. Other collectible and sought-after Polo items are Polo Country, Polo Sport, and early RRL. The only way to tell the difference between a rare or special Polo item and a run-of-the-mill piece is from experience. I would say the most sought after Polo items are from 1987-1988 and 1992-1993. 1987-1988 was the 20 year anniversary of Polo and 1992-1993 was when Polo launched their coveted Stadium line, RLYC line, Snowbeach / Cold Wave line, etc.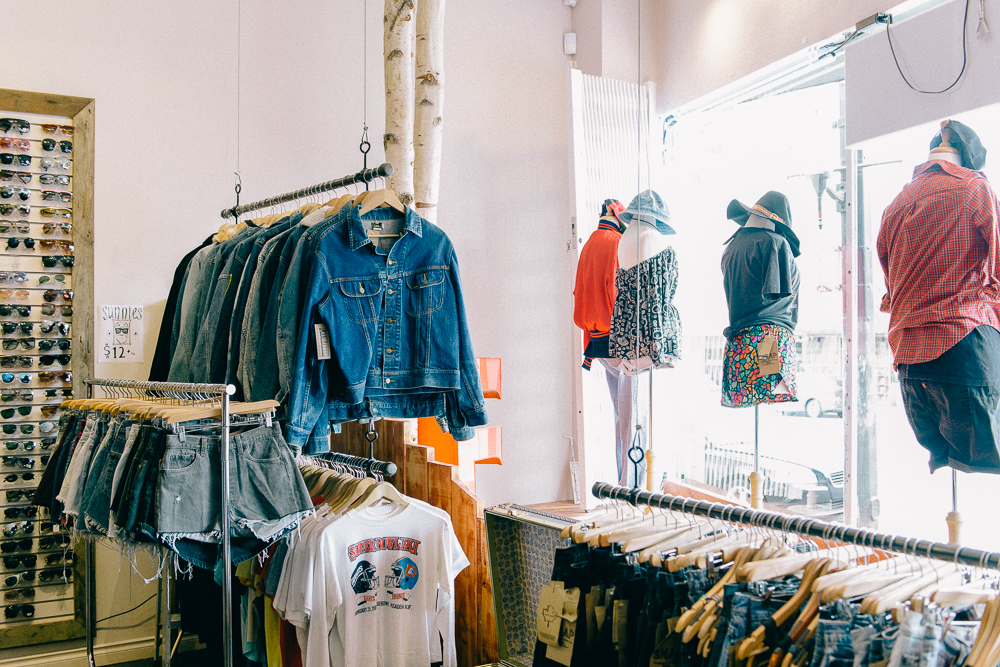 You mentioned that when buying vintage, you look for Starter jackets. Does Starter have a particular relevance?
When discussing sportswear from the '90s, there is no brand more relevant than Starter. In its prime, Starter was responsible for creating some of the most iconic garments and accesories that sportswear has ever seen and has been synonymous with hip-hop and urban fashion since the late '80s. Starter's influence on urban fashion can be seen as far back as the late '80s in various editorials on groups like NWA and 2 Live Crew and as recent as the March 2015 cover of Rolling Stone magazine featuring Kendrick Lamar (which we provided the wardrobe for).
Talk about some "grail" pieces you personally own.
Some of my grails are my Polo 1987 Cross Flags Anniversary Pieces, The North Face 1990 Trans Antarctic Expedition pieces and Polo Country / Sportsman pieces. Some of the true vintage pieces in my wardrobe are a 1940s LEE Hickory Striped Denim Chore Jacket and a 1940s Over Hood Sweatshirt. There are too many items to mention. My closet is like a mash up of '80s and '90s Polo with a smattering of 1940s / '50s Work, Military and Sportswear.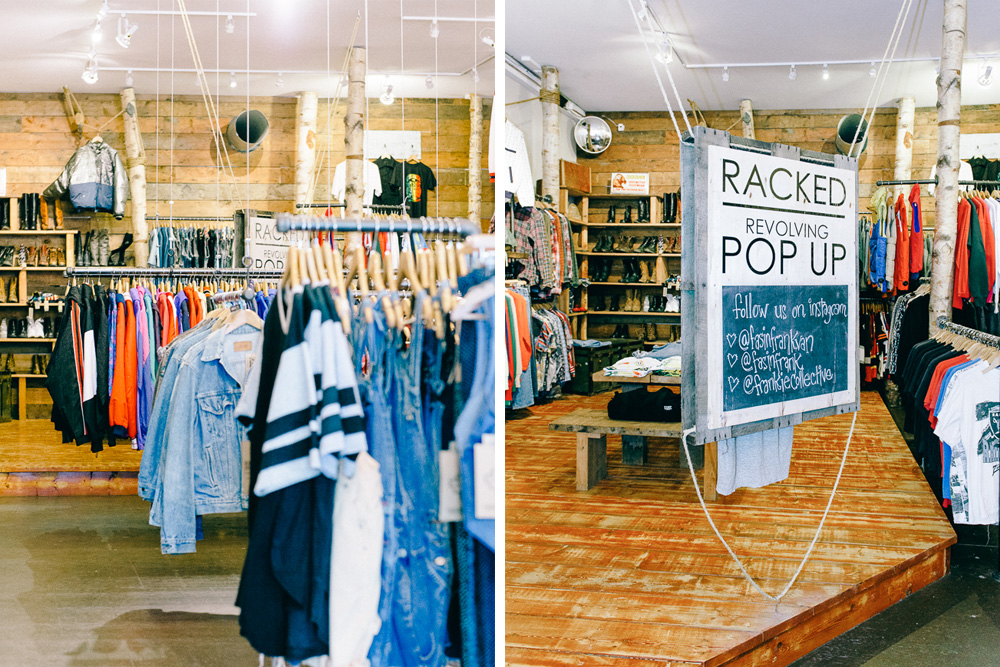 Discuss how FAIF has evolved into an in-house clothing collection
One of our core values at F as in Frank is our environmental responsibility. We are very serious about eliminating waste and minimizing our carbon footprint. About 15 years ago, while chatting with an employee of mine, I realized how much of our clothing ends up in land fills across the world. This particular employee had a degree in fashion and was an experienced seamstress, although she was working as a picker at the time, and she suggested that she could refashion a big quantity of 2nd quality vintage T-shirts that I didn't know what to do with. She came up with some great designs and thus spawned SNAP, our womens collection of reworked vintage garments. Fast forward 15 years and SNAP is still here with its mens counterpart FAIF. We also wholesale both collections to retailers worldwide. Some of our past and current customers include Urban Outfitters, Aritzia, Top Shop, Junkmania Japan, Vintage Marketplace Australia and various mom and pop shops all over the world. Both collections are made from recycled clothing that would have been destined for landfill and we are very proud to say that we have helped keep over 50000 pounds of damaged or unusable clothing from landfills and dumps over the years.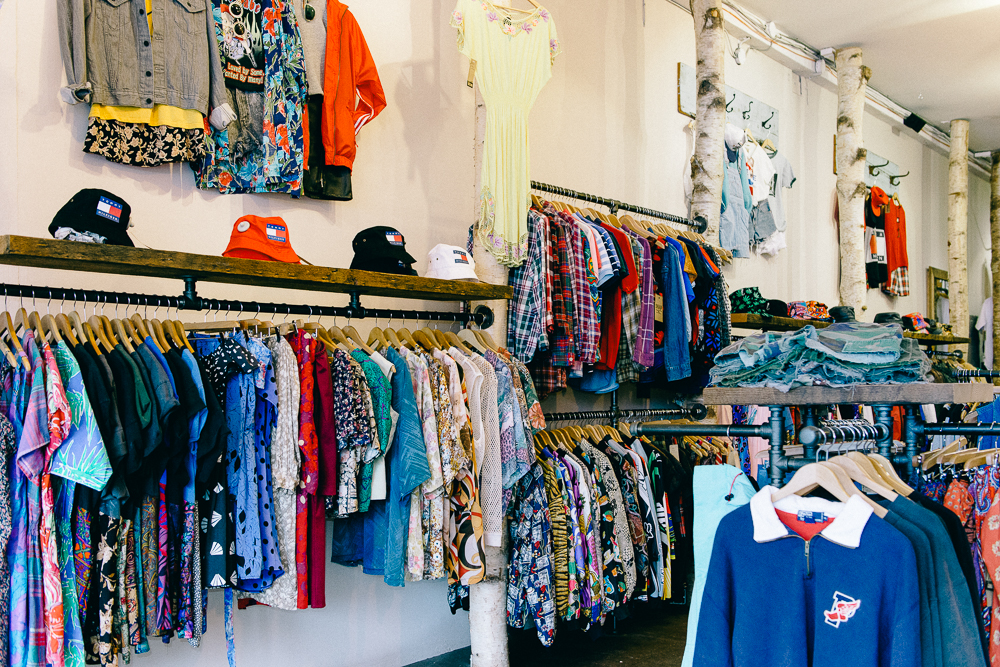 ::
Shop at FasinFrankVintage.com and follow @fasinfrank for daily vintage inspiration. Visit frankiecollective.com for womens goods.