Wine is becoming cool, thanks to Abe Scholium and the SOCAL MOB.
Abe Scholium, experimental winemaker, recently hosted a wine tasting for young gunning winemakers who are bringing grape culture to us and finally making it feel cool to drink wine. Breaking the habit of wine being an older person's hobby and interest, Scholium works with young winemakers to develop bottles that provide funkiness and a plot-twisting flavor – all with a price tag that is affordable for anyone above 21. The wine shop, Domaine LA, housed a two hour tasting of a handful of bottles that originated from unlikely areas in California – and made by  young guys that don't come from tremendous wealth or have dot com angel investors.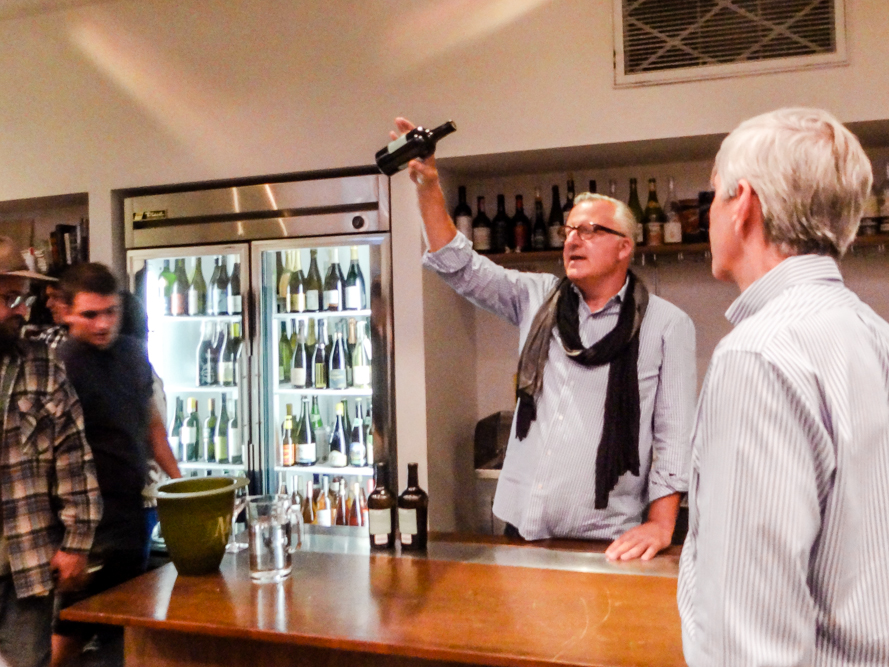 Abe.
Abe, in his early fifties, is the father of this movement. He introduced a few guys, who were no more than 28 or so, to pour whites and reds. He started with Maxwell, a liberal arts school graduate who turned into the wine director of LA's busiest restaurants, BESTIA. He hopes to change the culture of wine-drinking and firmly believes in selling a bottle of wine for the democratic price of $20 dollars or so – meaning you can take a date out and impress with a great glass. He looks at drinking good wine as an awesome way of starting a party.
Maxwell is currently co-producing a white wine in one of the most unpredictable parts of California – Rancho Cucamonga. The wine seemed surprisingly tastier than the thought of Rancho, which apparently is a great place to make sherry and sweet wine. Maxwell's wine is for sale and can be found in certain likeminded wine shops throughout America. Visit him for dinner at Bestia to have a chat about his plan to create the world's first wine rave.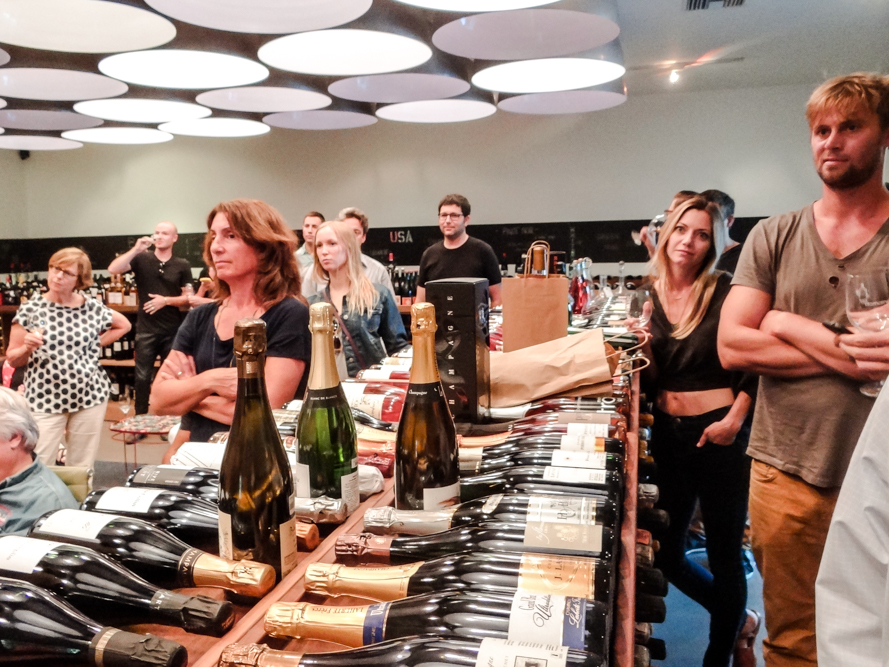 We then drank unique bottles from Escondido, San Diego. The man who makes the wine spoke of his farm and its lack of irrigation. The soils where his grapes are grown are bone dry, rocks and weeds grow out of it, and yet the man was technical in his methods. The result is a delicious wine without the pretentious overrated branding of Sonoma.
Then Abe stepped forward and spoke about the importance of the land in which these young winemakers are working and the processes that they follow. They represent a culture that's breaking the grounds and paving new roads.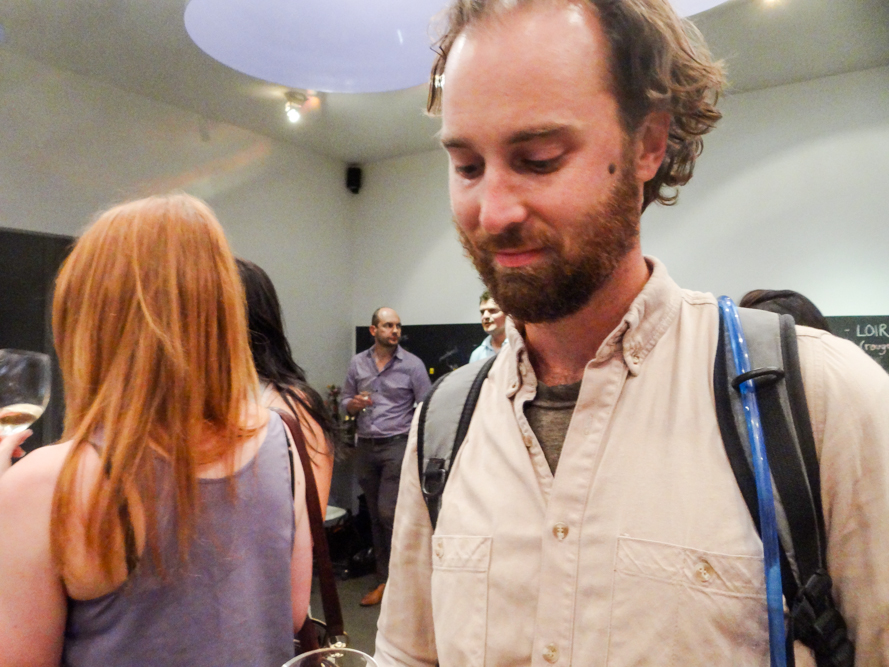 Zack.
We continued to drink more and more. Amongst the crowd were others who are paving the way for the future of food and beverage. Zack, who is at the helm of a fresh mustard company. Danny Romo, who has travelled through Europe and Australia and is currently a cook for the very popular dinner club Wolvesmouth. And Abe's dear friend was there, who used to be the personal chef of Billy Corgan of the Smashing Pumpkins.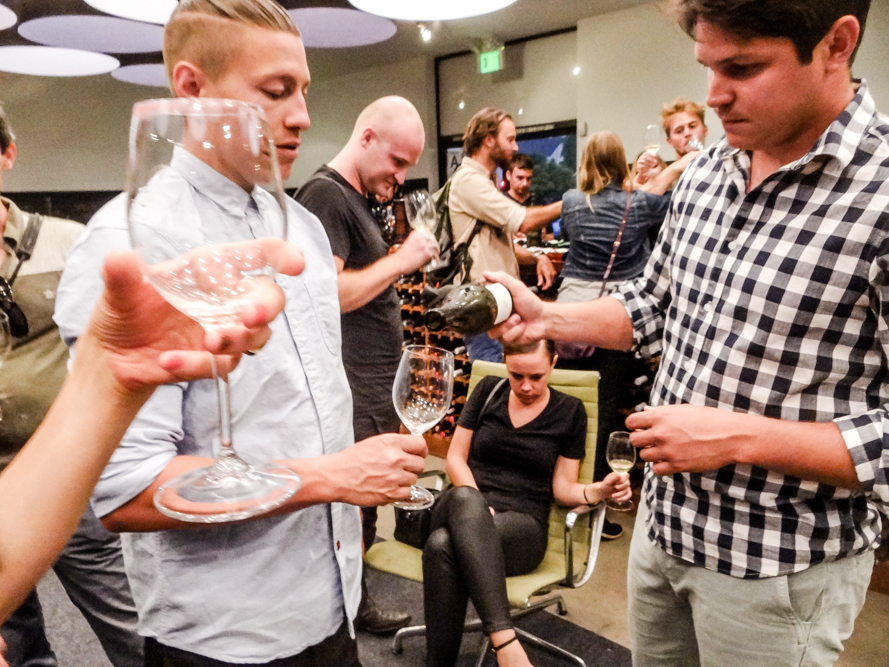 Danny on the left.
What does the future hold for Abe Scholium and this young clique of Southern California wine growers? A winery in the Arts District in Downtown LA. Look for it in the next coming year with a wine shop and tasting room attached. All of it directly next to where you will see a lot of these guys making some delicious grape juice.