Armed with pencil, watercolor and the occasional home tattoo kit, Norwegian illustrator Esra Røise dreams up bold protagonists; the kind of alternative-bombshell femme fatales who'd rob a bank wearing Céline and give the money back to charity (but definitely keeping the Céline — that was purchased fair and square for 60% off at Barneys). Inspired by snapshots, bad cropping, awkward moments and imperfections, her brazen beauties transgress beyond the traditionally fashionable and feminine. With an unblinking gaze that dares you to look away, her women are dressed (or undressed) to impress; elegantly defiant; threateningly seductive with their spider lashes and aqua hair and kiss-smudged lipstick. Professionally trained at the Einar Granum School and the Academy of The Arts in Oslo, Røise has cultivated a carefully balanced style that is raw and unrestrained, deliberately disheveled but also technically perfect. It is her unorthodox muses and nuanced use of sexuality and attitude that have earned attention from big name clients including, but not even close to limited to, Vogue, Vice, Levi's, Nylon, and Nike. I chatted with my talented friend Esra about pressure within the fashion industry, unconventional beauty, and life as an Element Eden Advocate. Follow her on Instagram here, and see more of her work at esraroise.com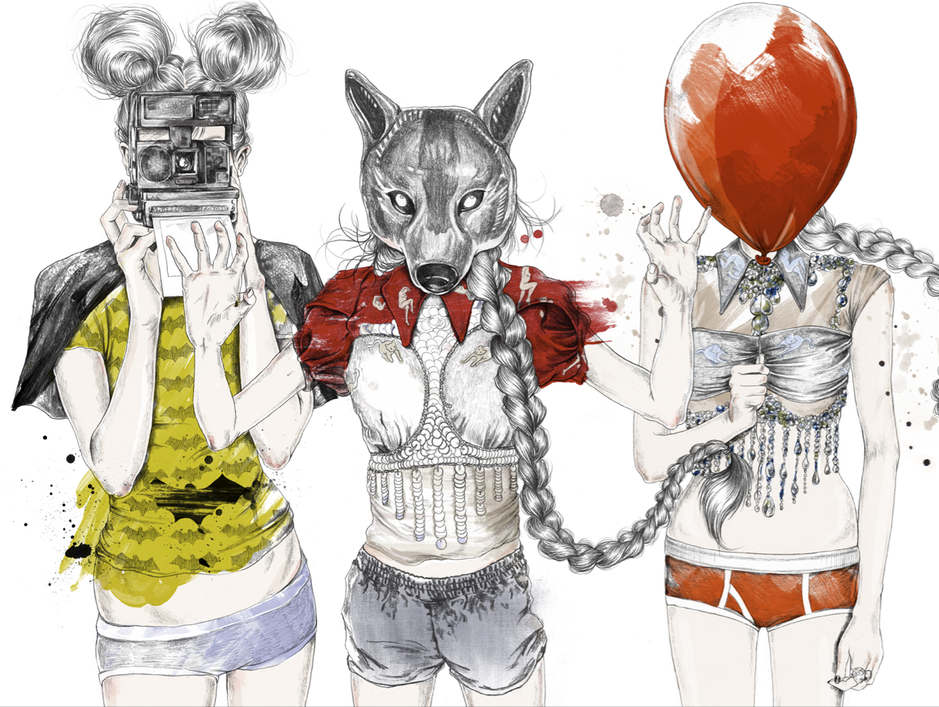 You used to work at a skate shop?
Yes, I worked at a local skate shop here in Oslo for almost seven years. Really the longest time I've ever kept a job, except for my current one. The people were great, and it was really chill. I probably could have kept for a long time, but I felt like at some point I had to take a chance on this illustration thing and see where it took me. Quitting my day job to pursue illustration and arts full-time really was the scariest thing I've done, but I've never regretted it. I love my job.
Who were some of your favorite skaters?
My favorites were always the raggedy shredder guys from Antihero, Baker and Zero. I remember Dustin Dollin, and Tony Trujillo were some of my favorites. They were both gnarly and good-looking. Haha. But Elissa Steamer was (and still is) my absolute girl crush on so many levels. That woman is insane!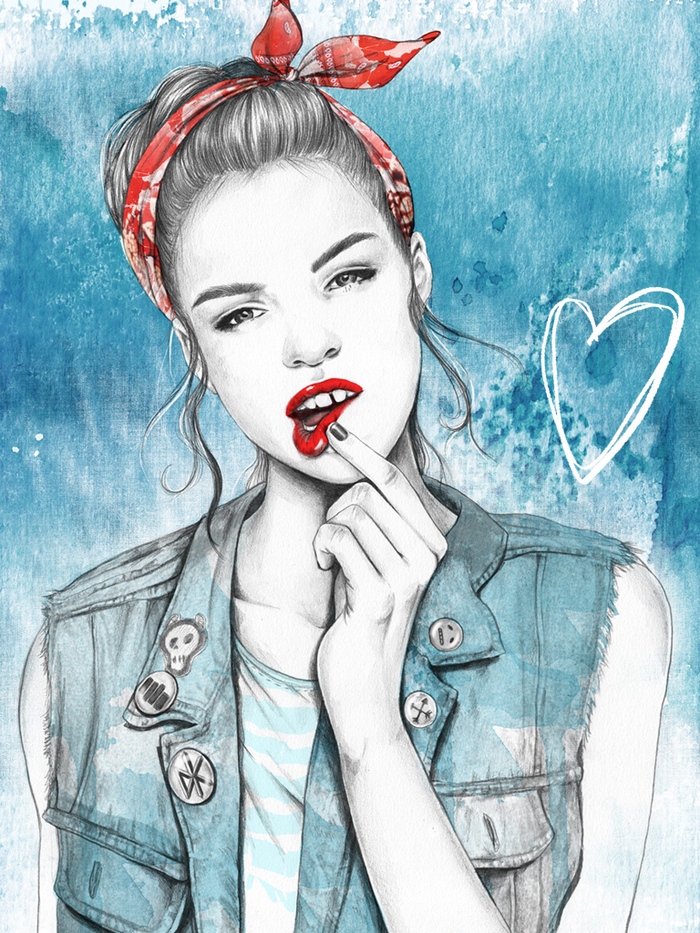 How did you go from the skate scene to being a high fashion illustrator? Do you ever feel torn between two worlds?
I grew up watching skate movies and spending time in skate parks with my brother and his friends. The laid back culture and lifestyle has always appealed to me. But at the same time, I've always been really attracted to high fashion. I don't really see a problem being into both. If anything, the skateboard influence has given me a more relaxed view on fashion, because it can get rather silly sometimes. I firmly believe that the most important thing about fashion is to not take it so seriously; to just have fun with it, and do whatever feels fun. Besides, Streetwear is having a big influence on high fashion these days, so if anything, I think the worlds are merging and the gaps closing rapidly.
Tell me about Blender Agency and the skateboard deck you collaborated with them on?
I have known the Blender people for years, and we've wanted to do a project together for a long time. Up until this year, time and circumstances had not been right, but in conjunction with the 10th Anniversary of Blender Agency, we finally got the chance to sit down and talk collaboration. Blender Agency wanted to create a few pieces from various producers to celebrate its 10th Anniversary, and it felt natural to be a part of that. While discussing the possibilities for a collaboration, a skateboard deck was quickly established as a great platform to bridge the two parties. The founders of Blender grew up with skateboarding as well, and one of the first brands they represented was Vans, so it felt like natural to stay on that path.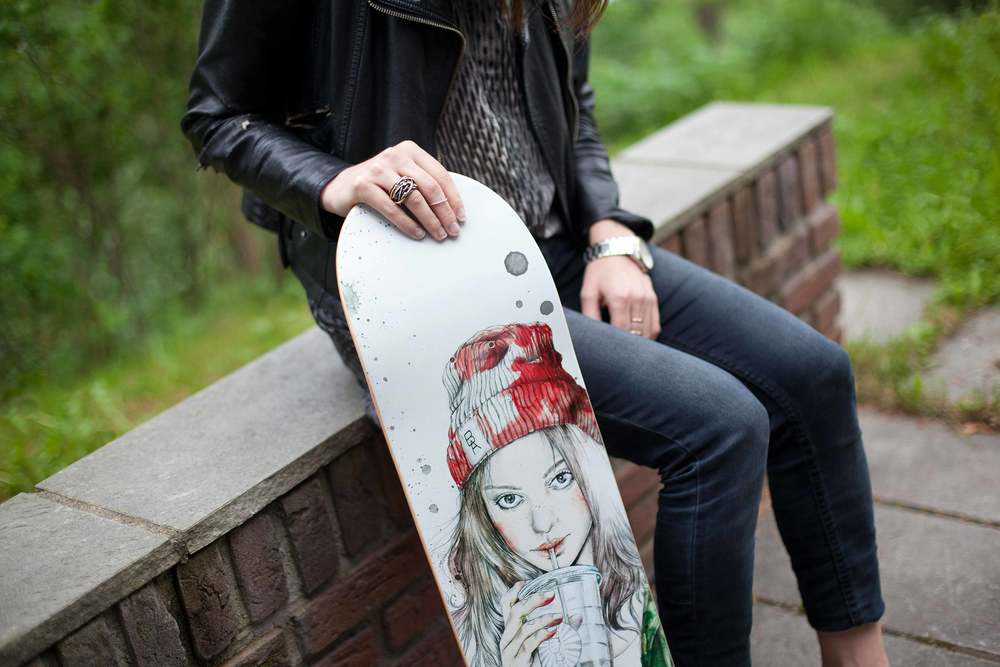 One of your pieces features a masked woman juggling freshly baked cookies, exercise weights, flowers, a cell phone and a laundry basket. It's hard to ignore that this is some kind of statement about being a modern woman? Is that a major theme in your work?
Yea, I mean, being a modern woman can be a fucking terrifying thing. There are all these ideas of what a "modern woman" should be, and all the things she is expected to do. I have to say that the media does a lot to perpetuate unhelpful stereotypes, and the fashion magazines are equally guilty. Not to mention the sexist scrutiny of female politicians, all of which have real life implications. It can be hard to know where to start when it comes to media sexism, and I know that drawing about it doesn't really do much of anything, but I just can't help but feel a bit defeated by it all sometimes. So, although I wouldn't necessarily consider it a major theme, it is definitely an issue that concerns me in my every day life, so naturally it also seeps into my work on occasion.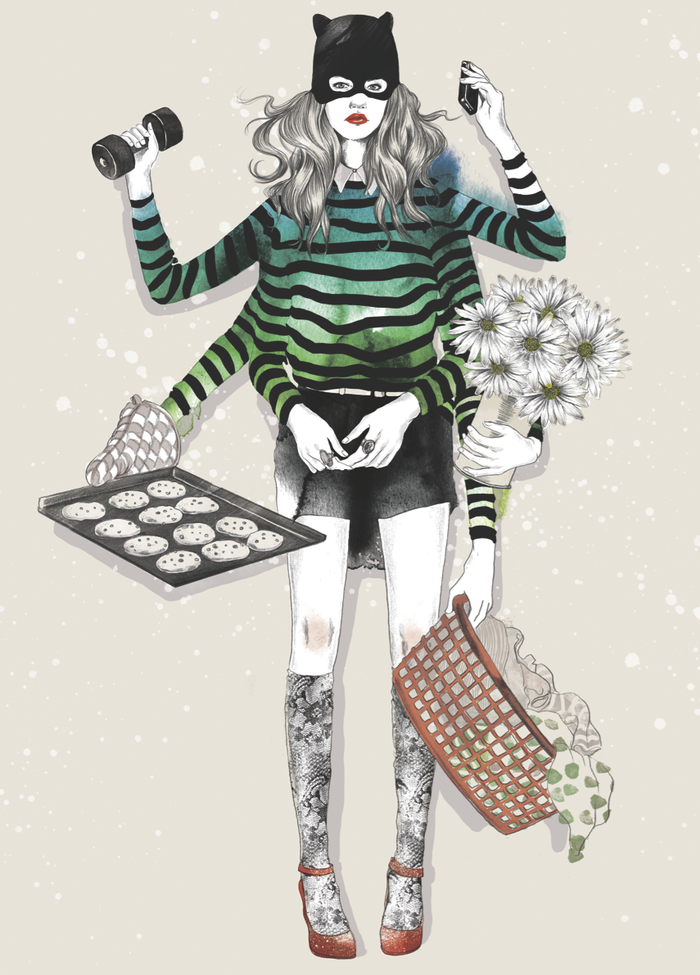 You often show perceived human imperfections in your art, the unconventionally glamorous and beautiful, the natural quirks.
Generally I feel like fashion is about selling the idea of the unobtainable and perfect, but I feel like high fashion nowadays makes room for the more unconventional. You can have gangly posture and big crooked noses, be heavily tattooed, and have tooth gaps, and still be a successful model. I mean, models are obviously still otherworldly, beautiful freaks of nature, but I think the perception of beauty has shifted in a slightly more interesting direction, at least. A lot of my favorite models (because, gah! I have favorite models...) are the slightly odd-looking ones. I'm currently obsessed with Lily Mcmenamy and Kelly Mittendorf, who I think are absolutely gorgeous. I have alway been more attracted to the odd and off rather than the polished and pristine, because I find that the imperfections in people are what makes them interesting. Just like I do with life in general, I guess. Normal is boring, isn't that what the kids are saying these days?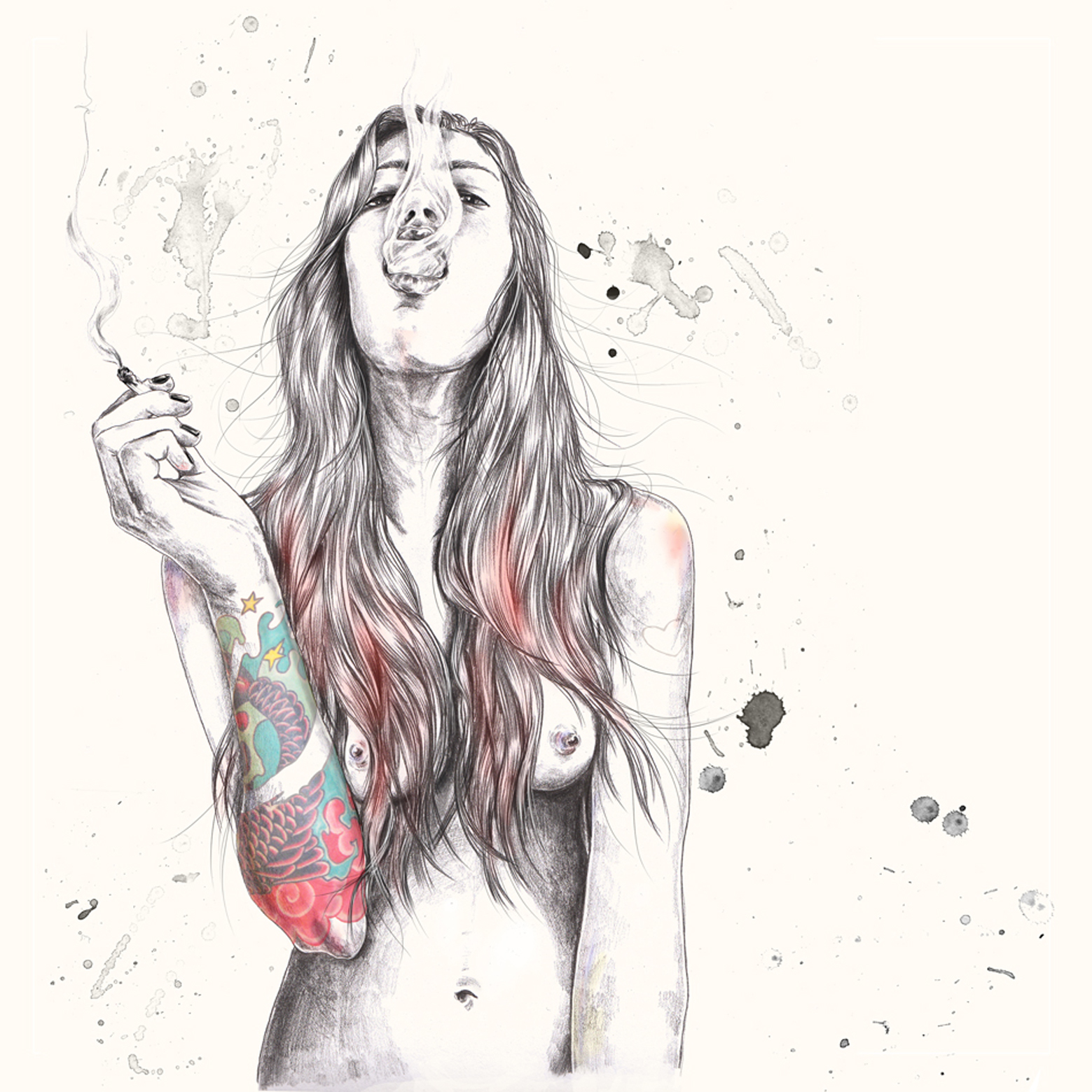 Yes, and it was so much fun! The Element gang is amazing! Element Eden is an artist program for creative women within the skate culture. It was founded to help these artists grow, to inspire them to pursue their own thing, and to offer support along the way. I became an official Element Eden Advocate this year; it's been such a great journey so far, and I am excited to see where it leads us further down the path. They also have a great philosophy on life, their slogan being "live, learn grow," which I think is something that anyone can relate to, and it feels like a good reminder to try to live the best and most fulfilling life one can, every day.