The Hundreds X Death Row is our second collaboration with the seminal hip-hop label that broke through barriers in the West Coast. Bringing the unapologetically raw life lessons of the time into their music, the story of Death Row Records has been told many times, but rarely has it been told by the people who lived it. We see the visages of their most popular artists on top of overpriced tour t-shirts, as a new generation of fans clamor to the lifestyle they can now watch on Youtube. However, for The Hundreds, this is deeper than just a trend. This has been a labor of love for the company and Ben Hundreds in particular, who has a special connection with the brand himself. Starting from The Chronic, to being able to help usher in the the label's 25th anniversary, he's been connected with the stories that most kids are only hearing about. I sat down to talk with Ben about how Death Row Records influenced him, and The Hundreds, through branding and an unwavering attitude that tells a unique story of the underdog.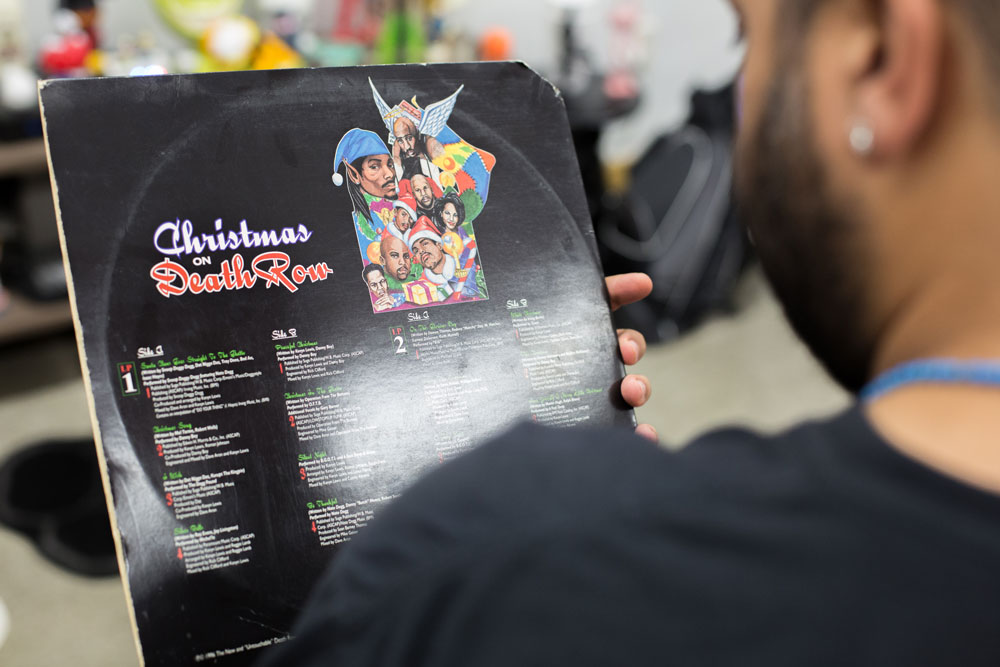 When did you first hear of Death Row Records?
It was early 90s, I don't know the exact year. I do remember that my older brother's best friend gave me two CDs. One of them was Ice Cube's Predator and Dr. Dre's The Chronic. I loved Predator, and I still do, but The Chronic was MY album.
Your parents didn't give you flack for how explicit they were?
My parents didn't know what was going on, they didn't really care that much. I didn't even know it was Death Row Records at the time, because I was a kid. But that was my first exposure to them.
What was the vibe back then when The Chronic came out? It was more like a party record, it didn't have the hardcore gangsta element yet.
The big song on that was "Nothin But a G Thang" and that was like, the fun song. I was in maybe 6th or 7th grade when that came out. I remember that song being the song our friends danced to, and the video and all of that. It was a summer track.
Did Death Row's story of being the underdog inspire the story you'd make later on in life with The Hundreds?
I was a kid when it was happening, so I can't say it influenced me back then. But I went from Dre, to Snoop, to Tupac. When he put out All Eyez On Me, that was a gamechanger. Pac was one of the biggest influences to me as a kid, and as an adult. His fight back mentality, and his anger against pretty much the whole world—I have that kind of rage in me too.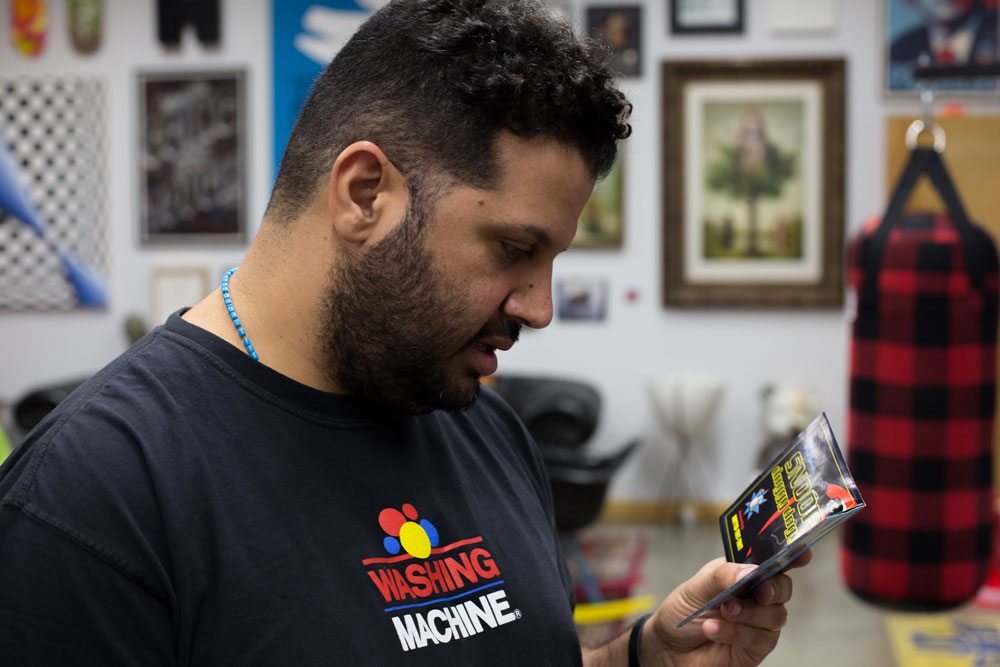 "Pac was one of the biggest influences to me as a kid, and as an adult. His fight back mentality, and his anger against pretty much the whole world—I have that kind of rage in me too."
It was kind of Punk.
Yeah, totally. Everyone is always like: "Biggie or Pac, how do you pick one of the other?" For me it was like, yeah maybe Biggie had better flows—but what Pac was talking about actually meant something. He was actually sending a message. It was deeper. And I'm not taking anything away from BIG, but I understood what Pac said more.
Now with the release of the second collection with Death Row Records, would you say that the message of Death Row is still relevant?
Yeah, I do. I think that that Death Row stands for making fun music, and rebellious music as well. I think towards the end, Tupac's time on Death Row was more rebellious, but they still had fun records like Doggystyle and The Chronic.
I think the strongest thing about the collaboration is the logo being front and center.
So iconic, so strong. They did a great job branding that.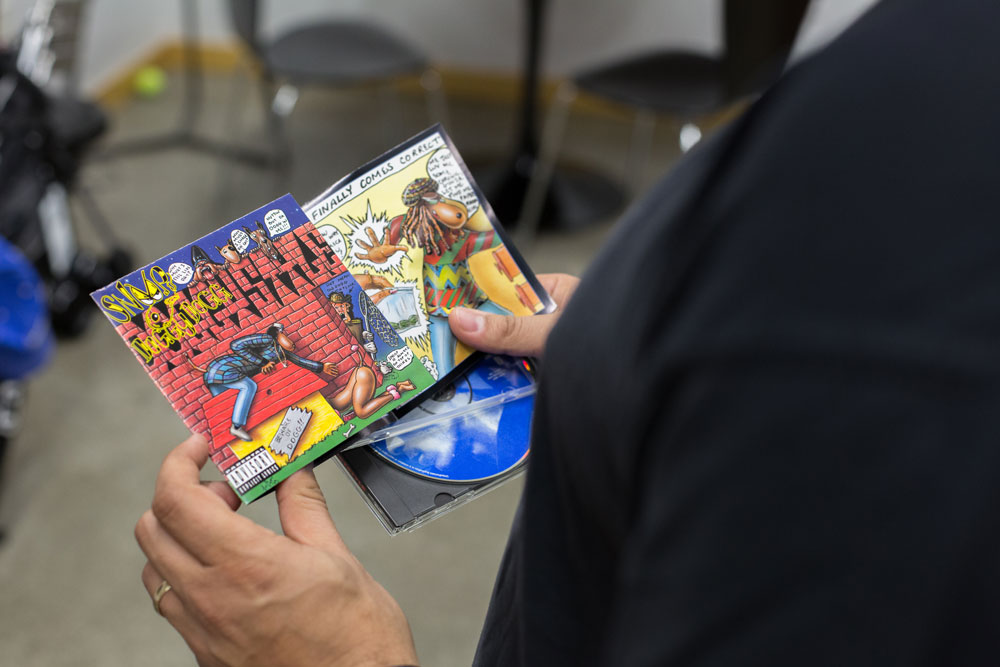 Do you feel like they're one of the greatest examples of branding in hip hop?
From that era, who has better? I mean, the Bad Boy logo? I'm a West Coast guy so the Bad Boy logo doesn't mean as much to me but I think that logo is strong.
Roc-A-Fella?
I don't think that's as strong as Death Row or the Bad Boy logo. Maybe Def Jam? But Def Jam said "DEF JAM."
Cash Money maybe?
Maybe, or NWA? Public Enemy? You throw Death Row in there with those, as far as hip-hop. And they're a record label, so it's easier for a group to brand themselves.
That's why I said Roc-A-Fella. As a kid it was one of the greatest chains ever. I saw it in person for the first time a few weeks ago.
Oh really?
First time I'd ever seen it.
It means nothing to me [laughs]. It's crazy because I'm a huge Jay-Z fan. I love Roc-A-Fella fan, but the logo? Means nothing to me.
For somebody who doesn't know what Death Row Records is, why should they be excited for this collaboration?
Death Row represents the golden era of hip-hop. People should listen to them and appreciate what they did for the genre, and be motivated. This collaboration is very important for The Hundreds especially, because we're a West Coast brand, the same as Death Row. Our worlds are a perfect collision, and its perfect timing with what's going on trend-wise.
***