The world is a big place, with a lot of ways to find success. Every route includes believing in yourself, and real work ethic; both of which Dee Goodz understands. The Nashville native is a rapper/producer/event producer who has been on the music scene since 2008, doing everything he could to expose his local peers to rap and streetwear. Dee's music focuses on inspiration and motivation, coupled with his experiences in the street and life in general. He's extremely self confident (as you have to be, in the music game), but he's also very appreciative of what music has done for him and the lives of his loved ones.
I've known of Dee Goodz for a while, and recently dove into his Good Money collaboration tape with Chase N. Cashe. The tape is fun; two guys with really good chemistry just freely creating together. The project itself gives you this feeling of wanting to go out and accomplish things, to make money, to be your own success story. That was always Dee's goal and purpose: to push people to action via his music. His latest song premiering today on The Hundreds is "Flossin'"(ft. Reese Laflare and Key!) is about celebrating the spoils of making money. The song is in the same breath both ominous and catchy. Key!, Reese, and Dee Goodz fit together perfectly on here; Dee's next project Never Enough is shaping up nicely. We spoke about "Flossin',"  his upcoming project, and his motivations to make music.
ROBERT SEABROOK III: How did "Flossin'" come together? How did you get Reese and Key! together?
DEE GOODZ: I've known them dudes since around 2008. I met Reese at Stevie Williams' and Don Cannon's old skateshop called Sk8tique. I ain't skate or nothin', but I was just into the culture, all the homies skated, I was rockin' with streetwear at the time. Streetwear enthusiast just hanging around with all the cool kids. Me and Reese been down since them days. Every time I go to the A,  he's someone I can call and link up with.
Key!, I've known him since his Two-9 days, them the homies. They always just been some cool dudes. So I told myself my next project would be a good opportunity for us to work. I was in Atlanta, I got both of their personal phone numbers, hit 'em up, they came through, we made it happen. I'm a fan of both of them, I've seen them out here grindin', I know that they stand for, why not?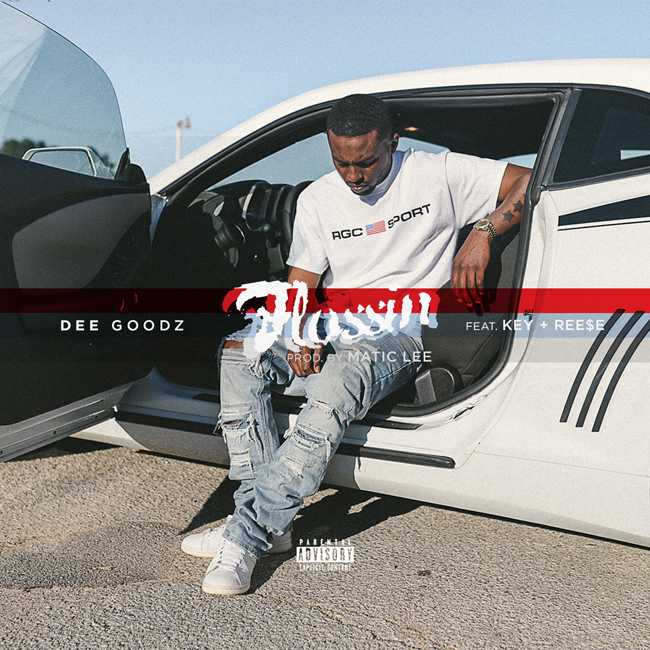 I've noticed that your projects have a specific theme, or a tone. What tone are you aiming for with Never Enough? It's definitely motivational like Good Money but I feel like Never Enough has a darker tone.
Yeah, you're exactly right. My whole theme is playmaking music. We make plays. You out here at a job, you get a promotion, you made a play. You in the streets, you make some money, you made a play! You come up on some 'Preme or something, you make it flip on eBay, you made a play. Man, I'm from Nashville, when I started doing this streetwear shit, nobody was onto this, at all. I took two years just to go live in LA, so I knew what I was getting into around 2009-2010. So to see everybody organically, their dreams growing into fruition, that shit is beautiful, but Never Enough is strictly that. It's never enough, man, I gotta get it. I'm out here tryna make it happen. I feel like, throughout my grind, how long I've been in the game thus far, I'm paying my dues. The grind never stops. That's what Never Enough means. I put the wreath on there, because that represents the never-ending cycle.
"I feel like, throughout my grind, how long I've been in the game thus far, I'm paying my dues."
You don't know this yet, but Never Enough is gonna be 4 albums in one. So, you'll be able to buy the entire project for 10 dollars, or a quarter of the album for 4 dollars. So if you wanna buy them individually, it'll be 12 dollars, If you wanna buy it altogether, just 10 dollars, so it kinda plays into my playmaking standards. We out here tryna make plays, tryna make money. Inspired by other rappers that's coming up with different marketing schemes to sell their music and I think that that's important in today's times. Also plays into the fact that I have many different styles of music. I worked on music for Game Of Thrones, I make trap music, I've worked on EDM artist MiMOSA's album Future Trill, rap, hip-hop, pop music, it really never stops man.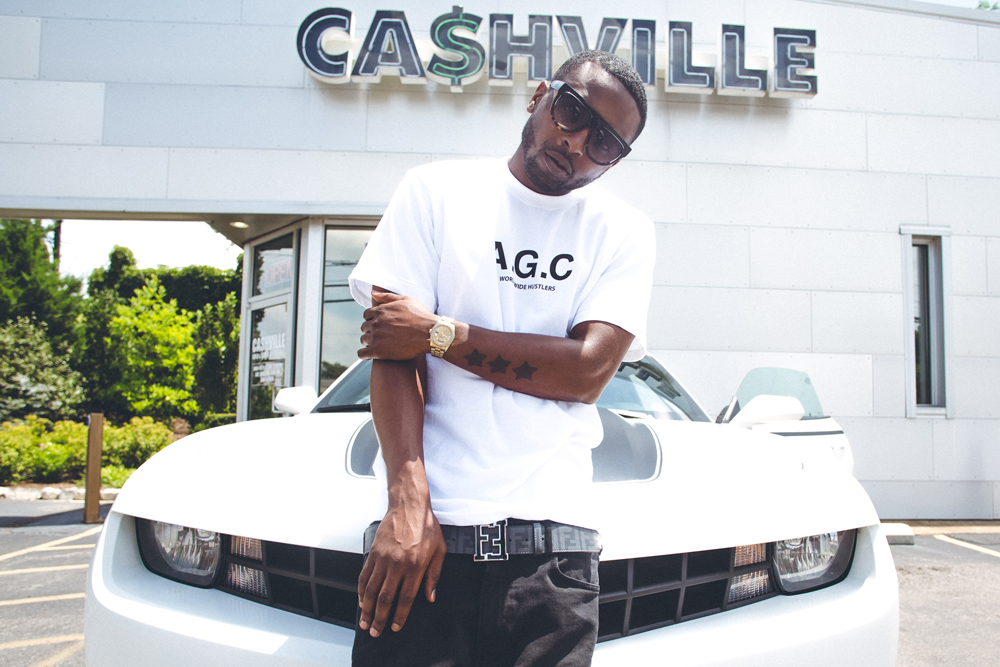 The marketing idea is really smart. I've never noticed someone else doing that, so that's very creative.
Well actually, I saw Gucci Mane do that, he dropped 4 albums, but he ain't sell 'em though. Hustler techniques.
Nashville has always been central to your music, and so has authenticity, are those two things related?
It's the South period. It's not LA, its not NYC, there's not a lot of opportunities. You gotta play-make. We here to try to live, that's the goal with this, we wanna live. I want all my homies to experience what I've experienced thus far. That's what Never Enough is, I can't stop because it's never enough happiness to see in my friends. I can't stop because there's never enough kids in my neighborhood who need an education. That's what it's all about, I'm off the people, Dee Goodz is for the people, I'm the People's Champ!
"I'm not here to survive, I'm here to live."
If we talking authenticity with Nashville, Nashville is Music City. I know you've seen some of those Young Buck videos, if you don't think he's authentic, you tripping. You've seen Three 6 Mafia, you've seen Yo Gotti! Who you know pull up with 30 different white sports cars? That's authentic! It's a heavy movement coming out of Tennessee right now, I wanna be sure my name is included in that.
What's the most important aspect of your music?
The message. The most important aspect of my music is the message, man. I'm a visionary, I started Everything Is All Goodz, because I have a knack for stepping out on faith, I'm a Gemini. I'm a dreamer, man. I grew up, I watched my dad make nothing to something, I was one of those kids who was taught that anything was achievable. I put my money where my mouth was. At all costs. I'm not here to survive, I'm here to live. I want people to get the vision. People tell me all the time that they started rapping because of me.
And that's what's really important.
You can ask anybody from my area, "Who bought the culture to where it is today in Tennessee, they will tell you "Dee Goodz." I used to book my own shows, the BIG KRIT's, the Wiz Khalifa's, the Curren$y's, the Yelawolf's, Dom Kennedy. I probably spent $60,000 before I saw a dollar.
I was booking them in my market, I bought that culture to my city. That was something that I believed in, it was something more positive than trappin'. There was a time in my whole city when it seemed like gangbanging moved from the West to Tennessee. I watched 15 people from my HS football team get indicted and go to jail for gang affiliation, and life got real to me. I was about to finish school, and decided to start rapping. Are you gonna stand for something or live for nothing? I wanna live my dreams and inspire people.
When you were booking those shows, what era was that? That had be like '07-'09.
2009-2010. This was "This Aint No Mixtape" Curren$y. I need to look that up on the internet right now! I need to find out when was this show, we turned my city up. I'm a black man booking rap shows in a place known for country music. The show was on April 22nd, 2010. I was taking money that I was hustling up and making the shows happen. Now, rappers come here every week, just kicking it. That's big to me.
Just because you believed in what you were doing.
Because I believed in what I was doing and I believed that this was my purpose. My whole initial movement in music, people saw it as conscious, but I have street knowledge. I've been blessed to live on many different levels of life, and attain a lot of different perspectives on life.
***
Follow Dee Goodz on Soundcloud and Twitter @dee_goodz, and Instagram @dgoodz.