From aspiring sponsored skater, to MMA fighter, to artist, to fashion designer to creative director, Mike Dytri's life has been anything but typical. Mike's excelled at pretty much everything he's done and he's done a lot. Currently he is the Creative Director for adidas Combat Sports and still manages to have time for his own brand Ludwig Van, along with a few other creative endeavors. The best thing about Mike is that no matter how long you've known him, you will continually find out something new every time you see him.
The plan was to meet Mike in downtown LA for breakfast, check out his new space, and generally just catch up. I have a love–hate relationship with DTLA. I enjoy the energy, creative vibes, and even the sketchiness. But I hate the faux creatives, the hassle of getting around, the traffic, and not being able to escape those same endearingly sketchy vibes.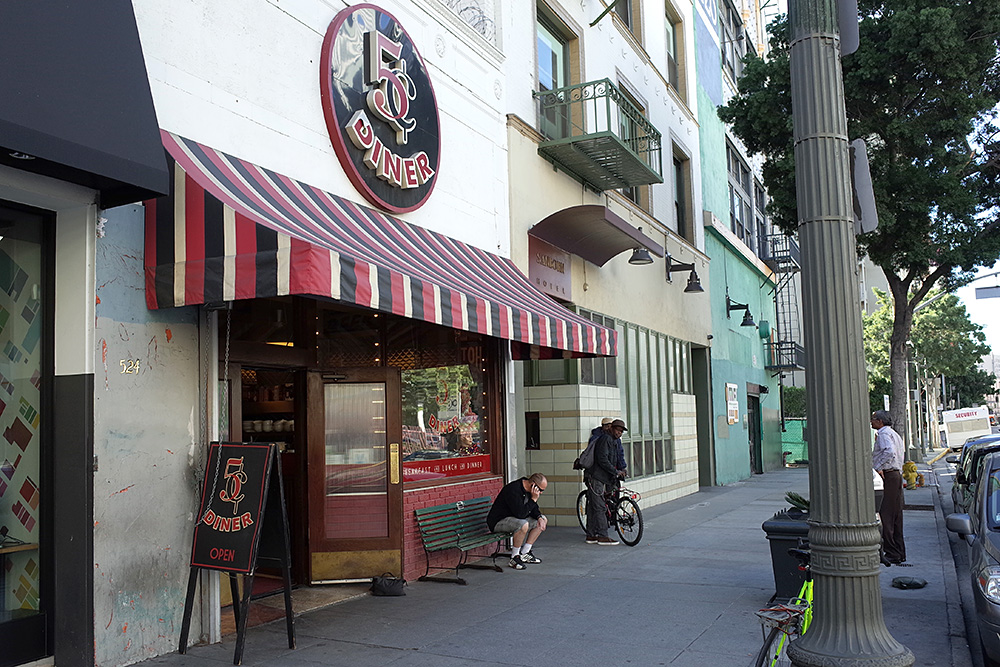 Most likely due to the early morning hour, the street was as calm as I've seen it in years. But trust me, every character in this image has something brewing.
We met up at The Nickel Diner. The place is pretty much a classic, authentic greasy diner. There's not much special about The Nickel, other than it's not that special, which is actually kind of special these days.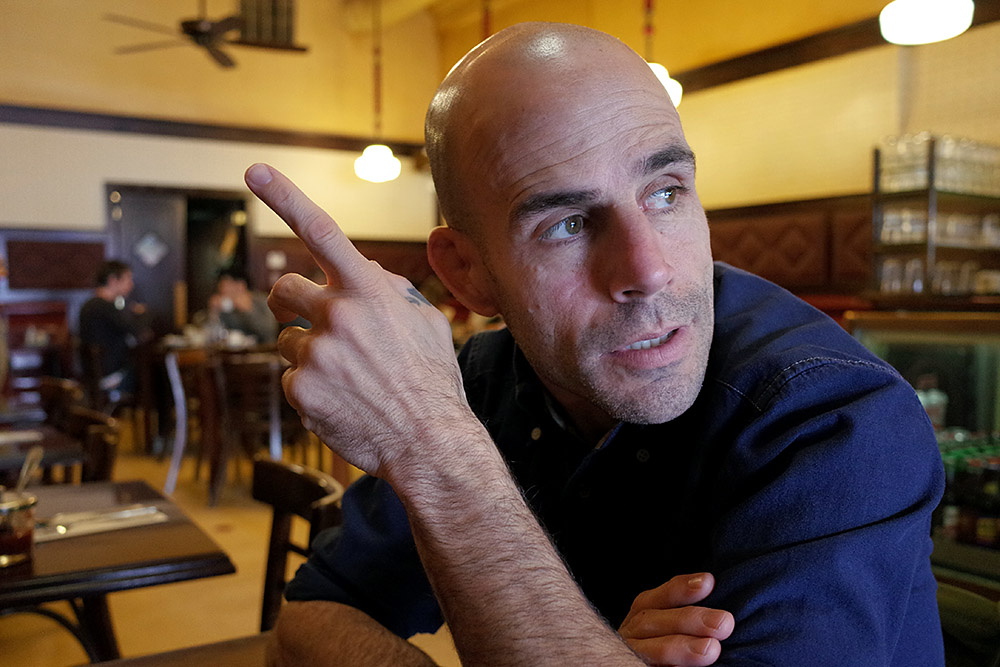 Ordering food, we tried to think about the first time we actually met and it was a confusing mix of friends of friends, email exchanges, and possibly knowing each other's work before meeting. In that discussion, I realized that his early work with Freshjive and Stussy was basically my introduction to this thing we call streetwear.
"Freshjive was cool. I met Rick at ASR while I was peddling my own line Subfreakie, he liked my graphics and asked me to come work with him. It lasted about 6 months, but it was crazy."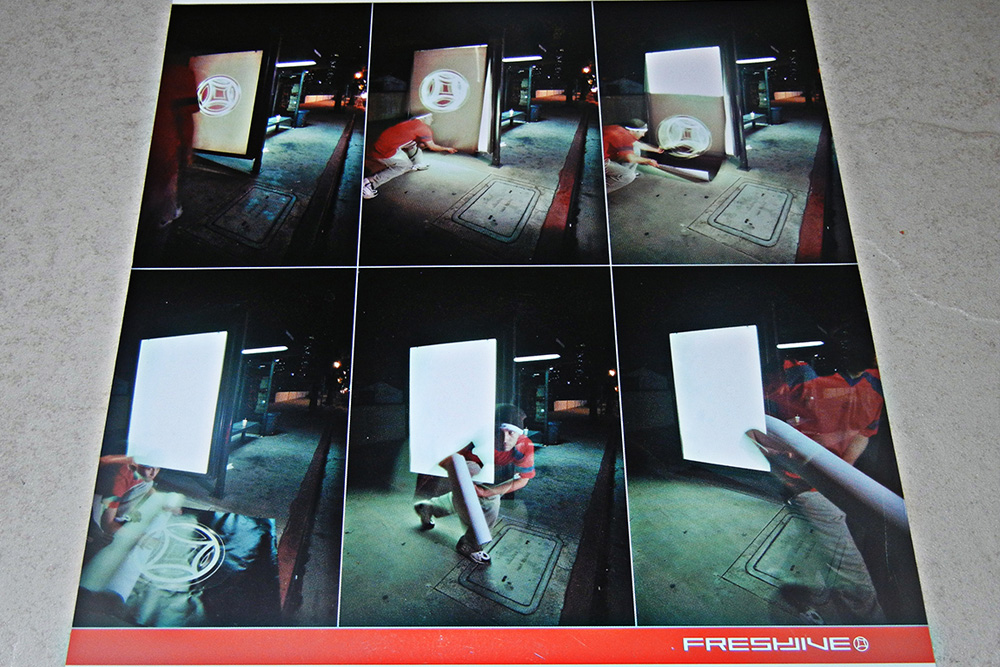 Mike helped with graphics, design, as well as direction of shoots like this, which took place in DTLA, back when it was a danger zone.
I used to live around the corner from The Nickel Diner, but I only ate there once or twice. When I asked Mike and myself why I didn't seem to appreciate the classic nature of the place just a few years ago, neither of us really knew, but it was clear I was missing out. Mike said, "They have some of the best french toast in town, and the donuts are made to order! What's not to like?"
Just as he said that, 2 specialty donuts were delivered to the next table and they did look pretty awesome. Then Mike noticed my Poler backpack, shot a photo for reference, and started vaguely describing a possible upcoming project with Poler . We realized some mutual connections and preferences and both agreed: "Poler is rad! Good guys and very open-minded!"
The conversation shifted back to why I left downtown LA, which really has more to do with the reason I moved there than anything. Basically, the Arts District and 6th and Spring reminded me a lot of parts of New York and Chicago that I missed. But once I was there, I realized that what makes Chicago and New York so great is that there are dozen of cool neighborhoods as opposed to 2 or 3 tiny ones in LA. Mike thinks maybe I left too soon:
"It's a really great time to be in downtown Los Angeles. There's a great energy now. I love having a studio downtown."
After breakfast, we got another cup of coffee before heading to Mike's studio. As we walked around. I shared with Mike some of my memories of my old neighborhood.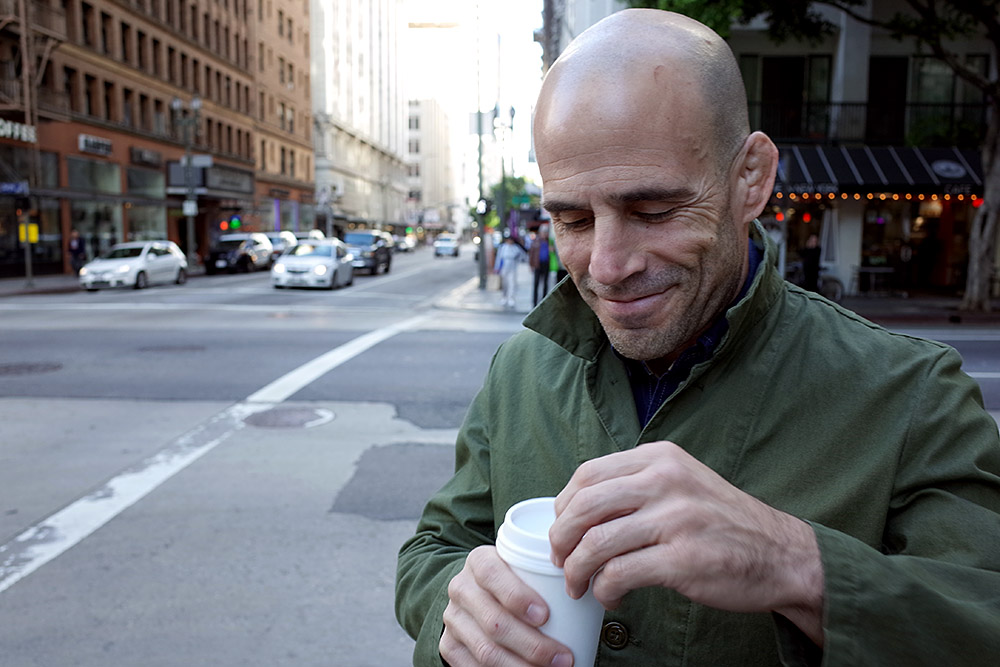 One afternoon I had a drink at Association, then Coles, and then Varnish. I left seemingly fine but when I got to this corner, Zang, the absinthe took over. Time-travel engaged.
Mike's studio is pretty much any creative's dream. He has his own private space with tall ceilings and nice light, plus it's connected to some shared space and an apparel factory. There's really not much you couldn't get done here.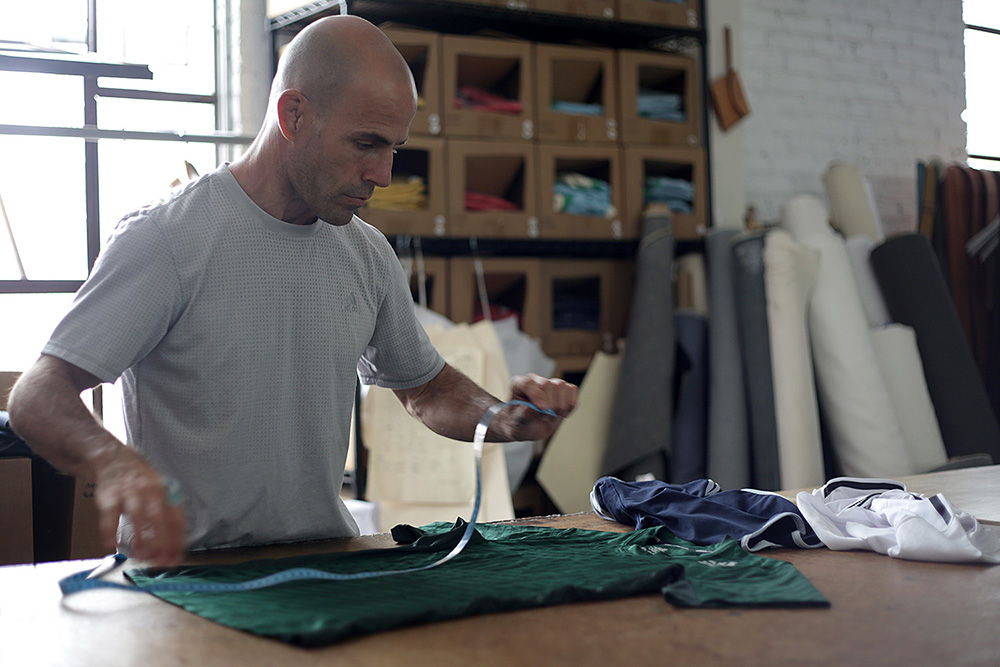 As Creative Director of adidas Combat Sports, Mike not only designs the image of the brand, but individual pieces as well.
I noticed his Bitches Brew book lying in a Royal typewriter brought us back down memory lane to his old T-shirt line Subfreakie. Subfreakie was probably the first time I consciously recognized Mike D's work as his own. I remember wheat paste posters and other graff/street art mixed with artist driven graphic tees. A few years later, a similar story would evolve and turn into Obey. I guess Mike was ahead of the curve.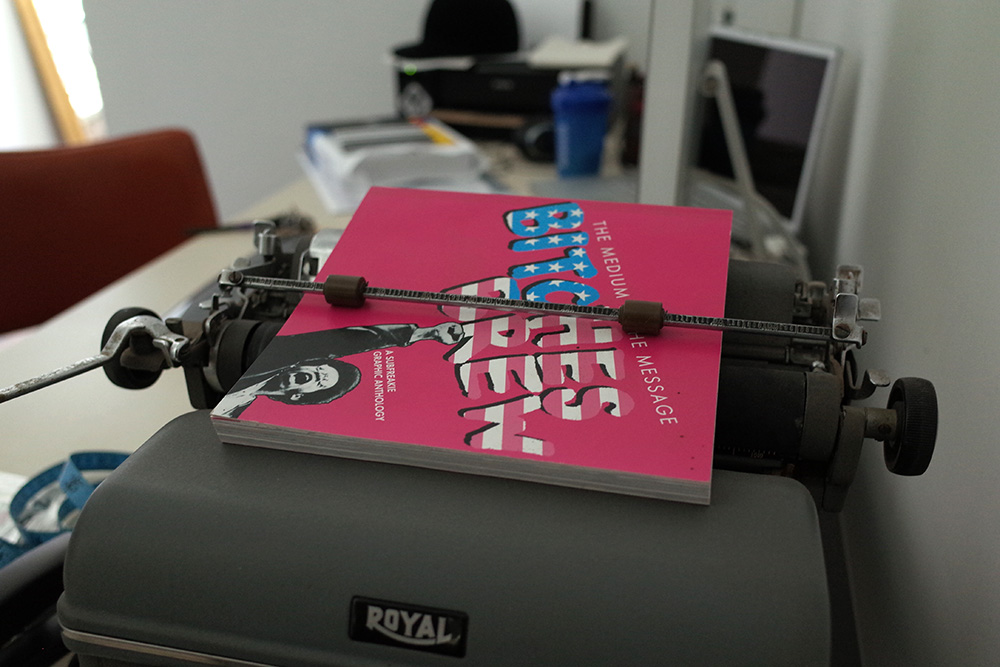 If you are a fan of streetwear, graphics, or art in general you should probably check this book out.
What I never realized is the butterfly effect Subfreakie wound up having on fashion. In 1996, Mike met Dov from American Apparel and ended up helping define what that brand looked like as well as what became the pinnacle T-shirt body for years to come.
"He liked what I was doing for Subfreakie. Which led to me helping him design the first couple American Apparel catalogs as well as build the now ubiquitous 2001-style T-shirt. Subfreaki was actually the first brand to use the shirt."
Looking around a bit more, I saw some traces of Mike's work creative directing action sports brands like Matix, Clive, and Mosh.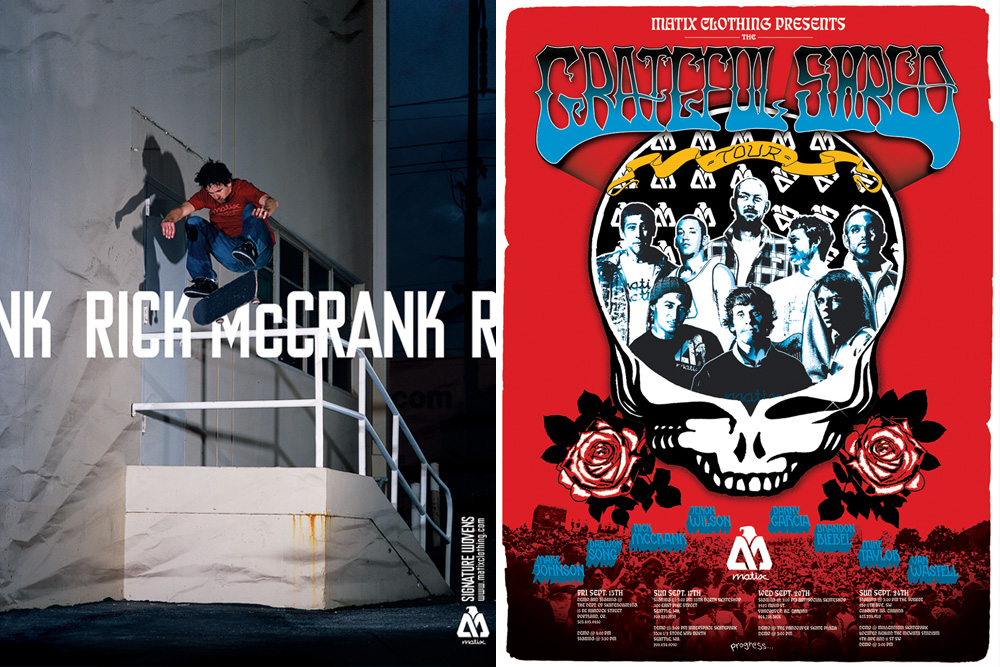 Old Matix ads.
"I've been in action sports for about 18 years. I was a sponsored skateboarder back in the early '90s, so it's in my DNA. Matix was a highlight. I was responsible for a total re-brand and the Matix evolution logo is one of my favorite design jobs."
I knew Mike skated, but I didn't realize how serious he was about it – being sponsored by G & S, Airwalk, Gullwing, etc. His reason for moving on from skateboarding is classic:
"I remember being in a heat with Jason Lee and Mike Vallely in Tempe and seeing what they were doing... it was on a different level. That was kind of the end of my dreams of being a pro skateboarder [laughs]."
After leaving skateboarding, Mike got back into martial arts – before skating, he had received a black belt in karate, judo, and wrestled until college. This resurgence led him to move to Japan to pursue more training in Karate, Kendo, and Iaido.
"I was living at the Hombu Dojo as what's called an Uchi-Deshi, a live-in student. In exchange for room and board and classes, I did chores like clean the floor, help prepare meals, or keep up the grounds of the place."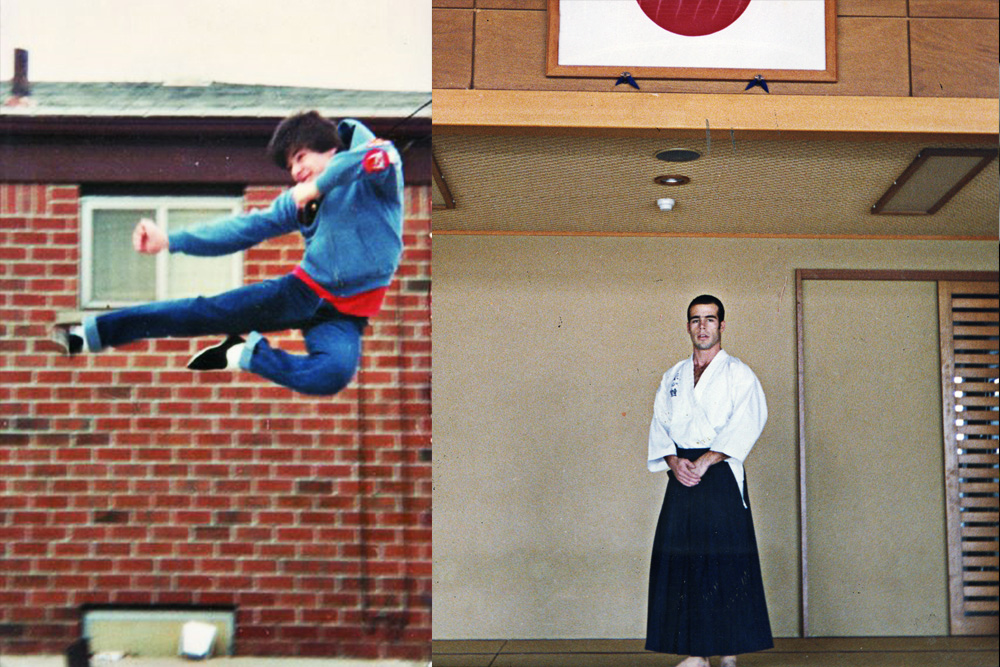 Mike at age 11 in his Detroit backyard and again at 23-years-old living in Japan.
A lot of people don't realize that organized MMA was pretty much born in Japan at this time. So while training, Mike began to compete in what was basically a predecessor to the UFC:
"That was my first introduction to competing in amateur Shooto, which basically paved the way for MMA and the UFC. It started in Japan in the mid-'80s. It was great because I got to combine all of the forms I had been practicing into one fight. I was hooked."
Mike eventually came back to the States and ended up training at the legendary rAw Gym in El Segundo. The rAw Gym was one of the first gyms in the States to actively adopt the idea of mixing martial arts to create a better all-around fighter.
"I saw what they were doing and it was a bit of everything, but all based on a wrestling/positioning philosophy. This is before MMA was termed "MMA" – it was still referred to as NHB or Vale Tudo..."
While training at the rAw Gym, Mike fought in a few professional fights. While to this day, Mike still trains and competes, at the time, a career in MMA wasn't really an option. By the time the UFC was starting to become a real sustainable thing, he had already moved on.
"My window to pursue an MMA career seriously had passed, my design business was in full swing and I saw what these guys were getting paid... and said, 'Fuck that!'"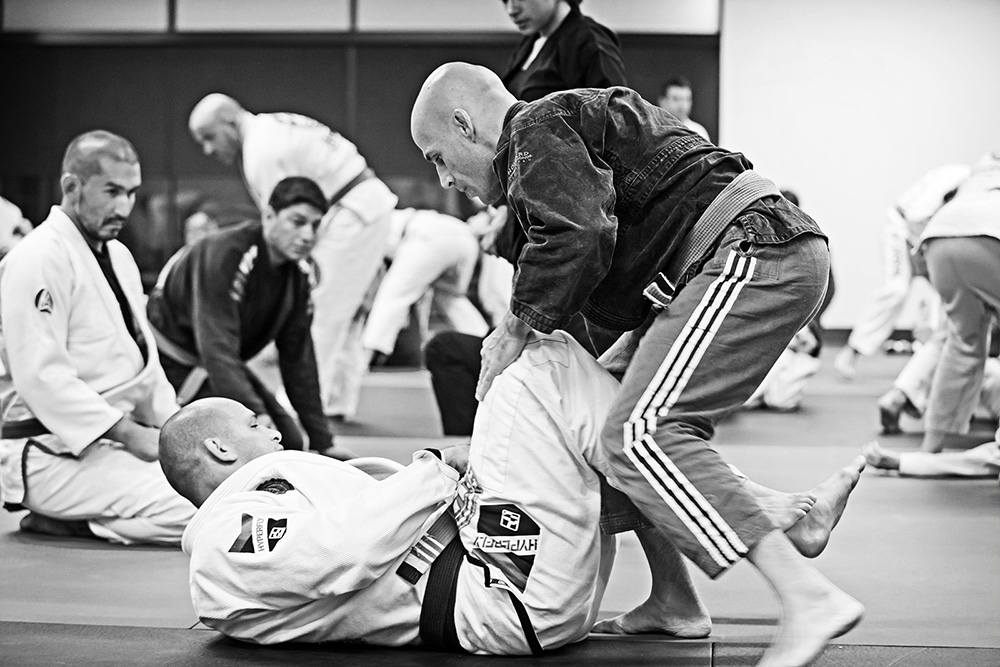 Mike BJJ drilling with World Champion Xande Ribiero. Even with my athletic prowess and own MMA training, I'm still pretty positive Mike can beat me up.
Just like with skating and action sports, Mike's MMA experience has come full circle and Mike currently spends most of his day working on adidas Combat Sports: "My natural abilities with drawing, sketching and graphic design have intersected with my years of combat sports and martial arts. I'm lucky, it's a blessing."
The title Creative Director can mean a lot of things depending on the situation, so I ask Mike a little more about his job: "As creative director I am responsible for all the apparel design and execution, all the advertising and graphic design and execution, and all of the media execution. Whether it's Boxing, MMA, BJJ, etc."
Mike and I both view MMA as kind of both the most basic and the highest form of competition. "I think of it as a simple truth. I look at MMA as the ultimate test: one man against another man or one woman verse another woman."
And while it can be brutal, we are excited that the public's view of MMA is evolving past the old "aggro tough guy" image and starting to understand that it's really more about training, athletics, and optimizing yourself to win in competition. That idea carries into Mike's work: "I've always been drawn towards the more athletic way MMA as a sport could potentially be positioned. And with a brand like adidas, it's cool because we can do that."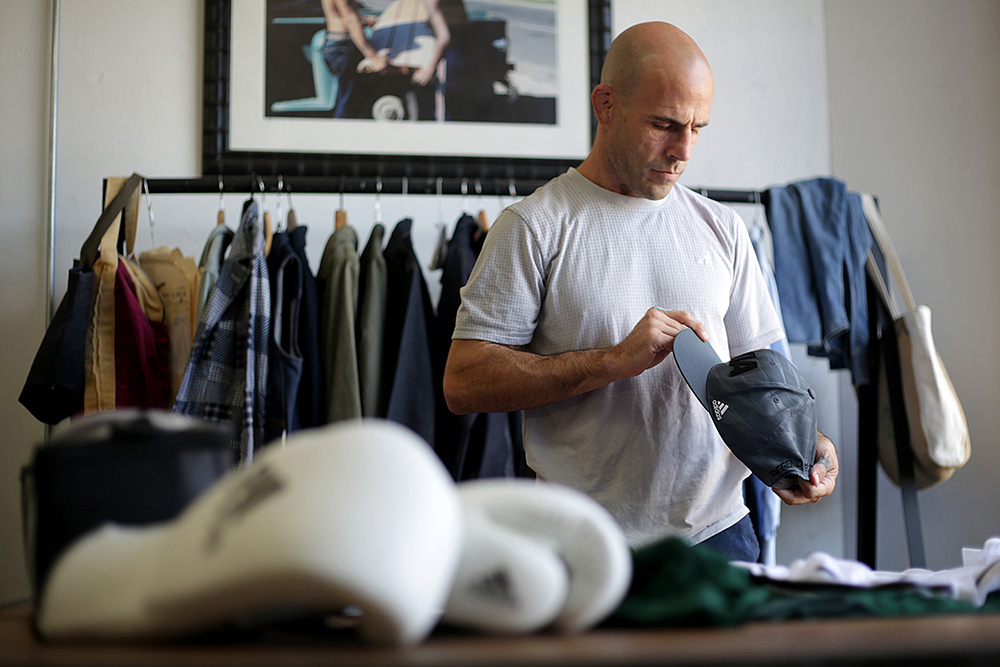 Up until recently, MMA apparel and gear has been adequate at best. A lot of companies would basically make board shorts and call them fight shorts. Mike is excited that because of adidas' history in spots and dedication to innovation, he has the opportunity to make MMA gear to new levels.
"We are able to harness all the technology they've developed, especially the engineered fabrics like clima light and clima cool. So now Combat Sports is on the same level as any adidas training gear, running gear, or soccer gear but the cuts and fabrics used are specifically tailored to combat sports in the way that they stretch, perform, breath, and the way they fit."
Even with all that going on, Mike still puts in a lot of time and effort into Ludwig Van and various connected projects.
"Ludwig Van is a holding house for my ideas – it's a creative outlet that covers apparel, accessories, art, and collaborative projects. Mostly based around vintage dead-stock fabrications executed in a new/modern way."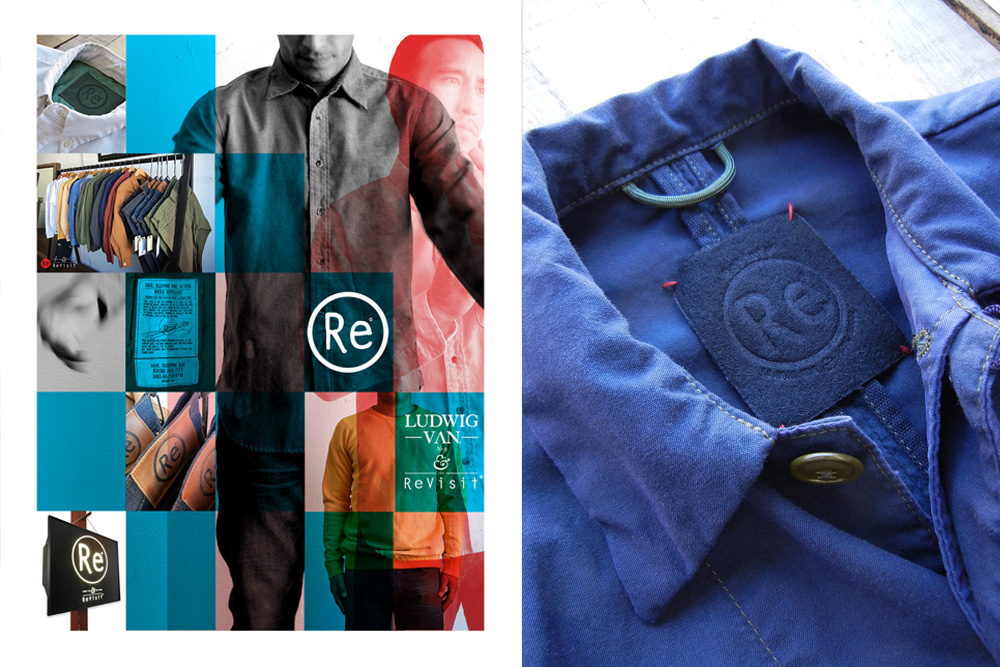 The newest Ludwig project for Revisit, you'll need to check that out.
From salvaged denim hats, deadstock Vans, cut & sew pieces, to more basic graphic tees, everything Ludwig Van I've ever seen has been impressive.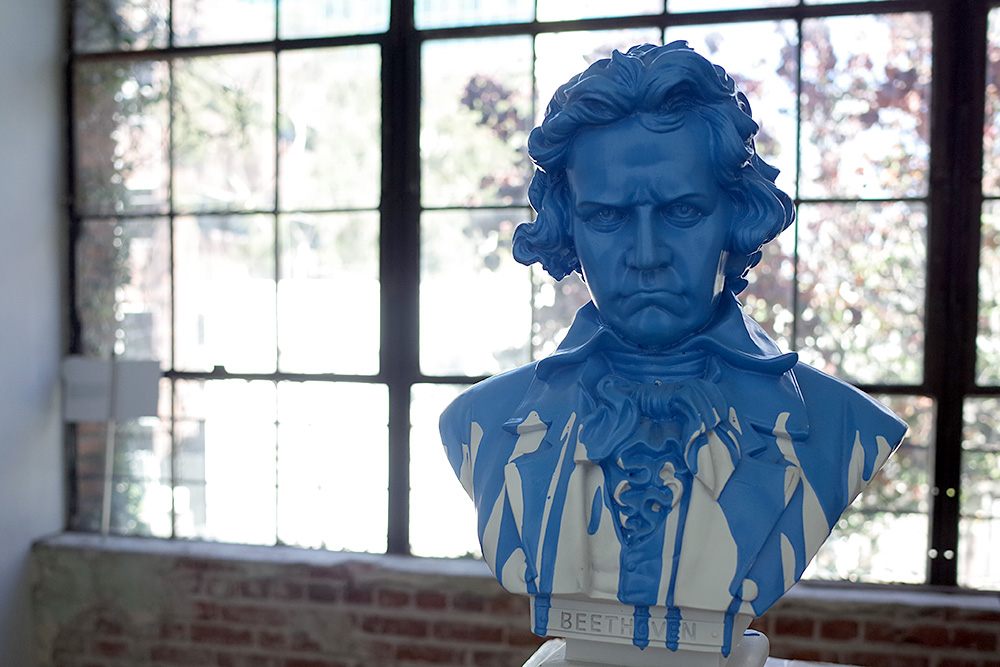 Why does Beethoven look like such a badass.
When I asked how Mike is able to push his brand Ludwig Van so hard with so much on his plate, I again realized that Mike just loves what he does and he's going to do it no matter what:
"I'm passionate about it. There are no rules with Ludwig Van and I like it that way."