Currently showing at San Francisco's FFDG through September 12 is contemporary painter and designer Dave Kinsey's third solo show with the gallery, "The Modern Condition," consisting of nine new paintings in his distinct aesthetic. Kinsey's visually enthralling body of work uses a sublime blend of acrylic and collage, and his newest creations demand the viewer reflect on our modern world in a way that can only be analogized with "the complexities of love." Dreamy, ambiguous subjects tap into an unspoken, yet universally felt congruence of hope and defeat, while colors seem to dance the chasm between the two. But then again, maybe that's just my interpretation—a perspective the painter encourages, saying, "Honestly, I'd prefer the paintings be interpreted without much intervention on my part."
I was lucky enough to have a Q&A with Dave Kinsey on "The Modern Condition," the similarities between his home in the Sierra Nevada Mountains and his industrial place of work in Vernon, and designing in a post-digital age. "The Modern Condition" is now running until September 12 at FFDG in San Francisco (2277 Mission St., San Francisco).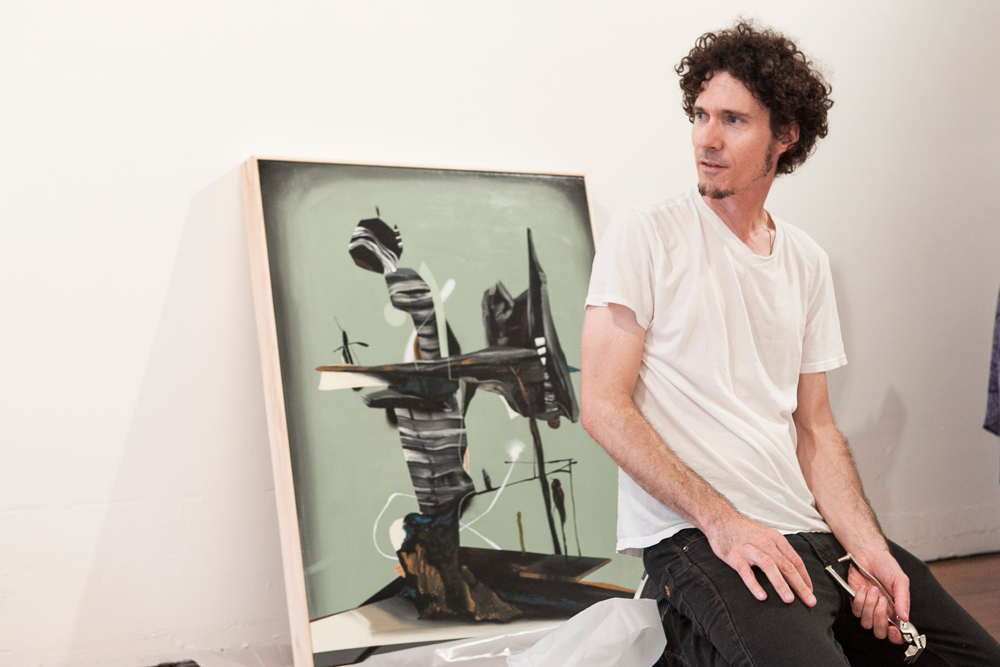 TODD KNAAK: How and when did you begin drawing compared to how and when you started pursuing art?
DAVE KINSEY: I've been drawing my whole life so it wasn't something I began but rather a place of escape and self expression. It all clicked though when I went to art school. Before that I just didn't see its potential outside of just personal enjoyment, so it was hard to see how far I could go with it but I'm super hyped I found my path.
Was the transition from graphic design to painting organic, or did something spark the shift?
It was organic and I've always enjoyed doing both—especially coming from the pre-digital age. Design was a very hands-on approach when I first hit art school since there were no computers back then. I studied both fine art and design which helped shape my creative process.
Can you tell us about how you blend acrylic with collage?
My collage is just an application of paper (found vintage book pages, discarded mail, etc.) cut up and stuck down to the canvas, so instead of painting in a certain space I'll use collage to complete that area which adds another dimension to the surface. I love the typography, stories and fragility of the book pages as well.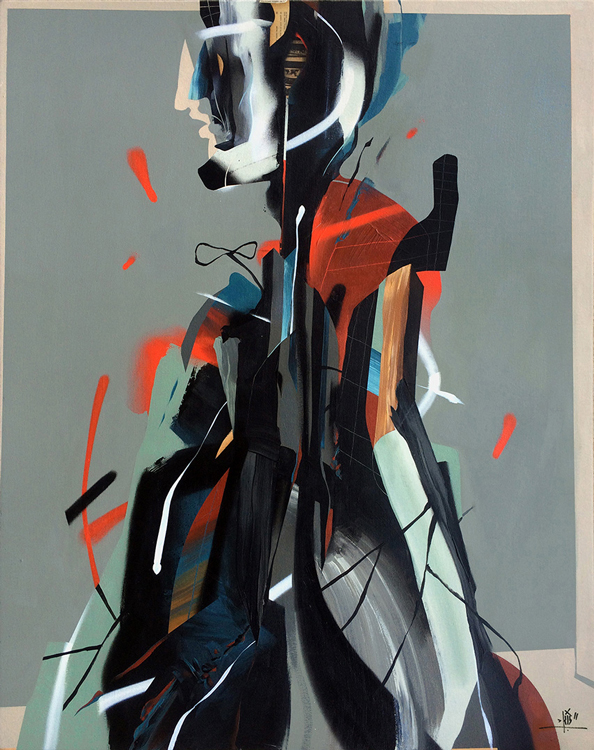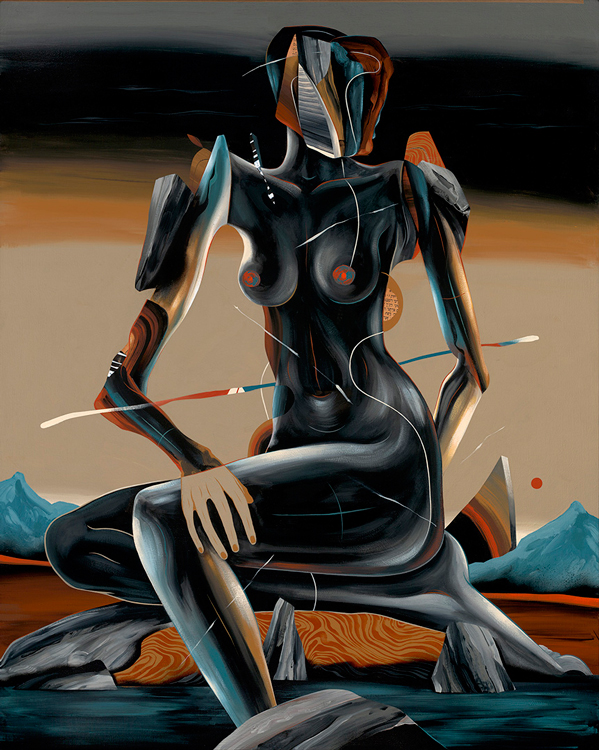 How do you keep the creative process from becoming tedious?
I just constantly push myself to explore new things and stay open to new ideas. Doing design and fine art really help keep that mindset fresh because they feed off each other.
Does aesthetic, process, or message take priority when you're creating?
For me all of these are important components of creating, one doesn't trump the other.
In what way is this show an extension of the your previous "Cushion of Memory" show?
I'm simply continuing on the same path, stylistically.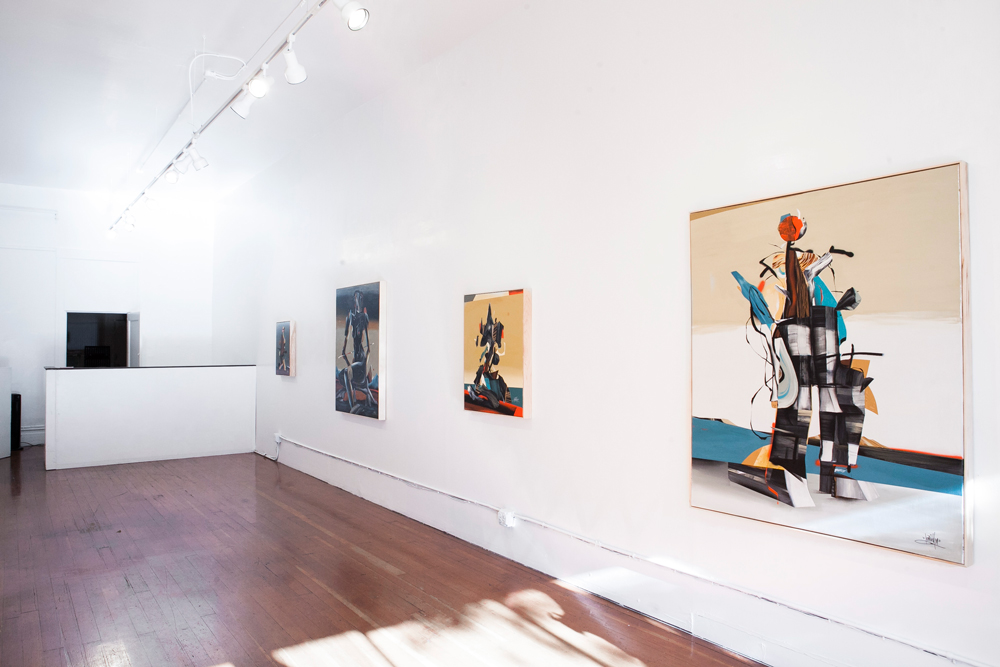 Did you have an overall theme going into the show? Or did it become apparent as you stepped back and looked at your pieces?
It definitely culminated as I created each piece and there's a lot here that deals with the complexity of love but I'll say no more and let the work speak for itself.
What do you mean when you say "the complexity of love?"
Honestly, I'd prefer the paintings be interpreted without much intervention on my part. I could write about it if I was a writer but since I choose to communicate via painting, I don't want to deviate from that form of expression.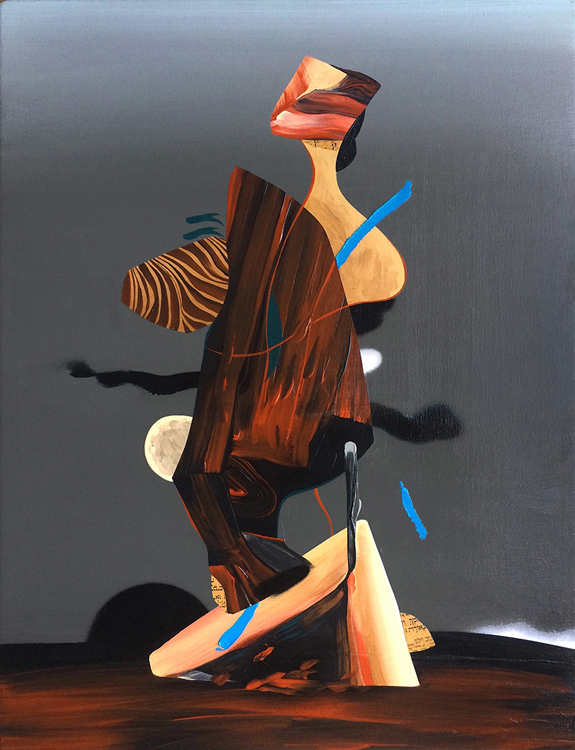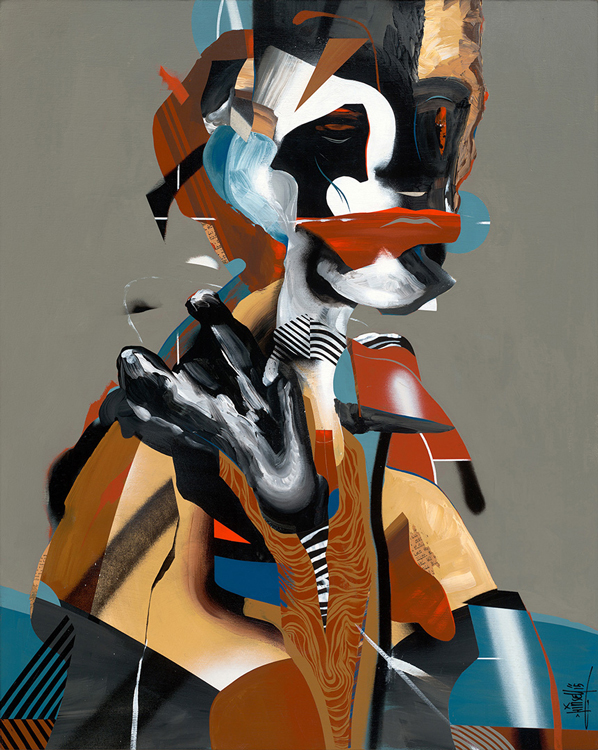 Has the transition from living in the Sierra Nevada Mountains to working in its polar opposite, Vernon, at The Hundreds affected your work in any way?
It's weird because I thought it might but ironically it hasn't had much of an affect at all, at least for now. I have to say though, working in Vernon for the past few months has made me notice this strange functioning chaos down here—a seemingly static surface with an undeniable working fluidity, like in nature just minus the obvious natural beauty. In Vernon there's all these industrial monoliths, aqueducts and uncanny concrete and metal structures that are akin to trees, rivers and mountains working together with similar set functions one might see in a forest. At least that's what I see.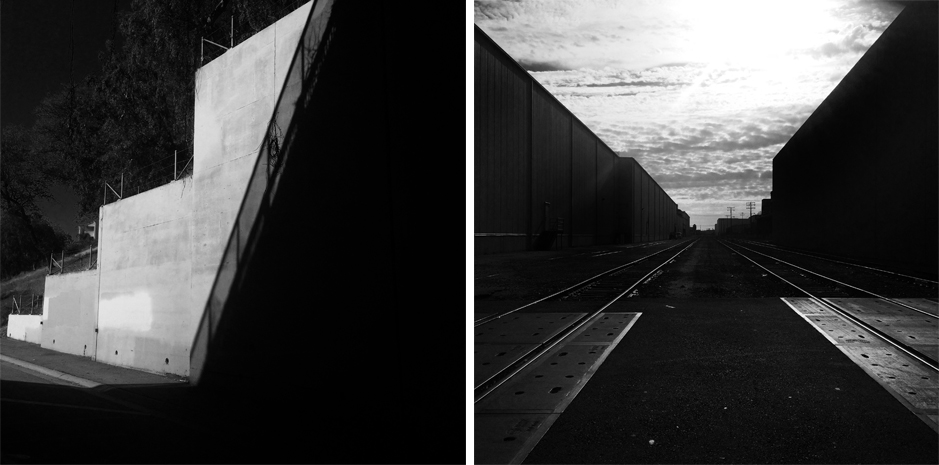 iPhone photos of Vernon by Kinsey.
Did you find yourself going through internal changes as the show preparation progressed?
Yes, always. Making art always brings out the best and worst in me.
Since your process for the show is analog, what are your thoughts on design in the post digital age?
It's hard to say because I feel on one hand the digital age is fueling the fire of hands-on and craft which in turn will influence everything else. I see a sort of rebellion going on, which is a result of our need to keep ourselves grounded and connected to our lineage. I also feel that art, music, literature, etc. will become more and more revered as we continue to become more reliant on technology. The arts is the last thing we'll totally own as humans.
Design and fine art utilize left and right brain, have you always operated that way?
Really, like order and chaos? That seems to make sense and I like the tension these two create. Yes, I've always operated this way and I really do enjoy this modus operandi.
***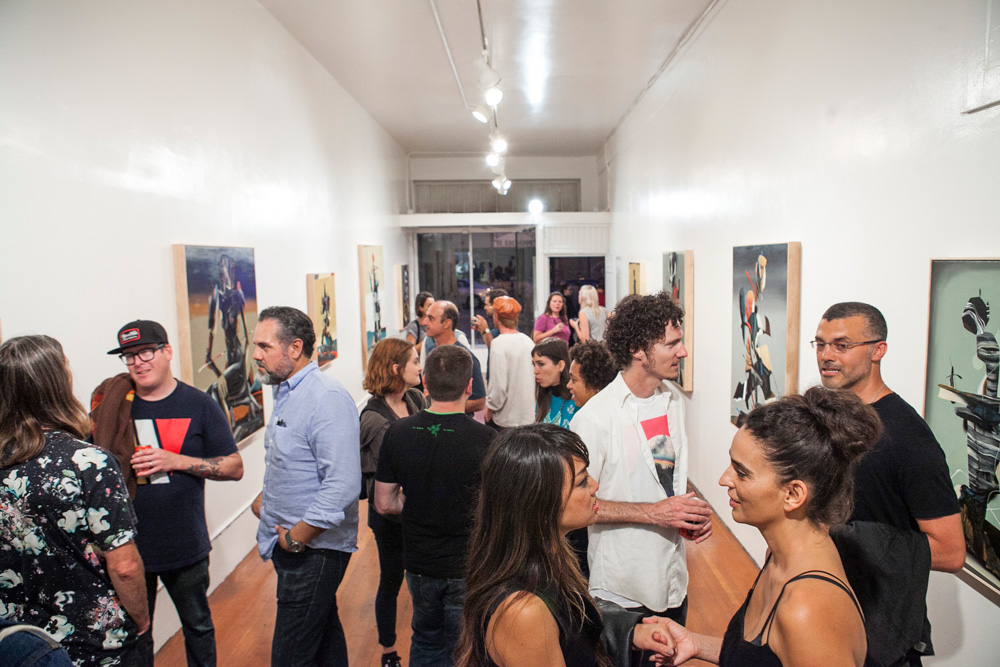 Purchase inquiries: rachel@fecalface.com.