Though we're fans of all The Simpsons characters—from the knife-wielding Itchy to the gravely-voiced Krusty the Clown—Bart Simpson will always be our favorite. He is playful and mischievous (remember all those prank calls to Moe's Tavern?), has no respect for authority, and can even be downright annoying, but we absolutely love him for it. He is the embodiment of rebelliousness, a characteristic we admired when we were kids, and which we've never quite grown out of, even though we bypassed Bart in age years ago. Bart's agelessness has also made him timeless—he is the unequivocal cool kid whether you were born in 1985, 1995 or 2005.
So we were more than a little excited about the unofficial Bootleg Bart art show, which took place this past weekend in Los Angeles. Curated by Be Street, an independent, multi-platform media brand about street culture, the exhibition featured 70 artists—Eric Yahnker, Greg Mike, Justin Hager, Kyle Platts, Madsteez, Aaron Kai and Evan Rossell, among others—who re-imagined Bart in their own aesthetic. The show also included a 10-foot tall piñata of Bart mooning the crowd, and a 26-foot-long wall on which attendees were able to draw their own Bootleg Bart (Matt Groening even came out and left his mark on the wall). Next month, Be Street will host its first Be Street Weeknd in Los Angeles, and in October, the Bootleg Bart art show will travel to Paris, so we sat down with Benny, owner and co-founder of Be Street Media, to talk about street culture and Bart Simpson.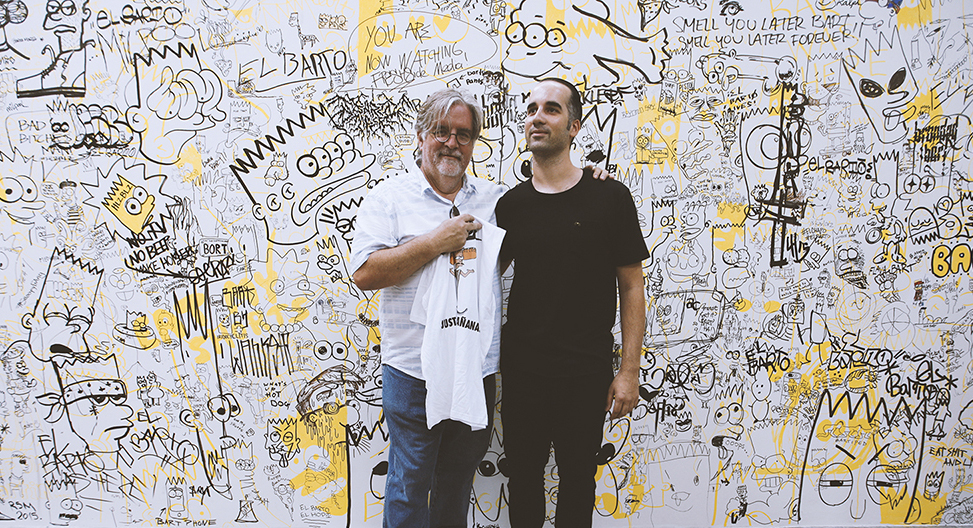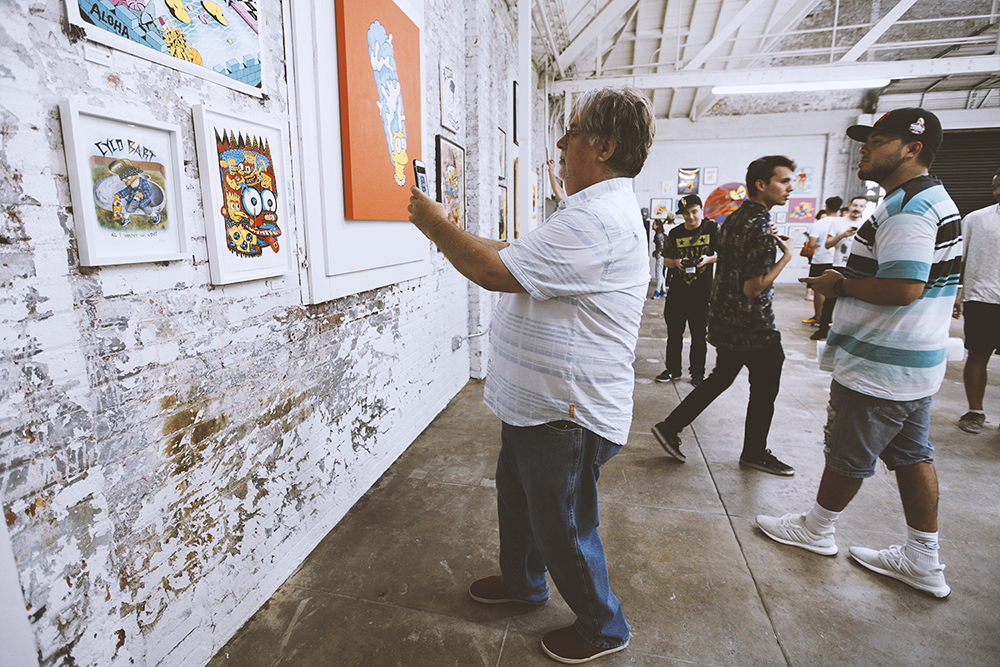 You are from France but now live in L.A. When and why did you make the move from France to L.A.?
I'm originally from Bordeaux (south west of France) and we launched Be Street there in 2008. A few years after that, we moved to Paris to expand our company because it was the only way to do it. In seven years, Be Street became the leading street culture publication in France, and then in 2015 we thought it was the right time to go outside our comfort zone by moving in L.A and launching Be Street in the U.S. Most of the content we curate is from here (American artists, brands, musicians, skateboarders...), so having a location in the U.S. was one of our goals since the launch of our first issue. This allowed us to create more exclusive content, be more close to this industry and be able to share our European outlook on the U.S. market. We still have our office in Paris, and we're between Paris and L.A most of the year.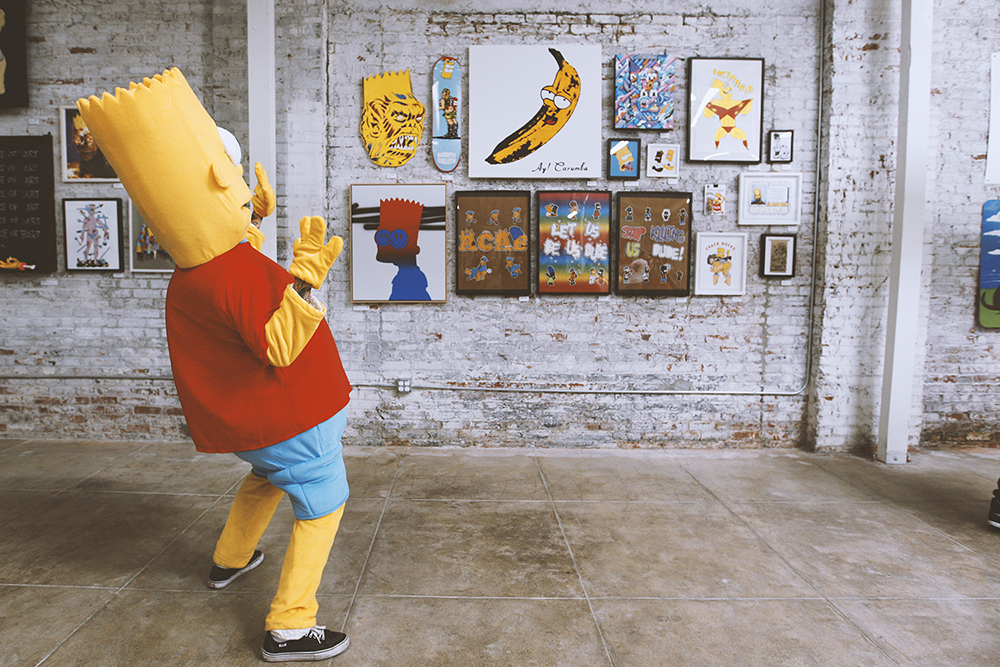 Why Bart? Why now?
Everybody loves The Simpsons! It's a global phenomenon and Bart is the most badass/rad cartoon character ever created. Then the Bootleg Bart things are pretty unique too. We're kids from the '80s and '90s, so we all had at least one of these Bootleg Bart T-shirts when we were kids. Even if some brands continue to do new Bootleg Bart designs, it's less and less common because everybody is scared to be sued by FOX if they do it. So for us, it was the best timing. We asked international artists from our generation to create their own Bootleg Bart piece. It was not necessary to re-do the same type of artwork that appeared in the '90s, but take a pop-culture icon and create exclusive and very creative pieces for the show. No medium or size restrictions. No censor.
How many pieces were in the show?
About 100 pieces from 70 international artists. Sometimes funny, sometimes subversive, but always highly creative.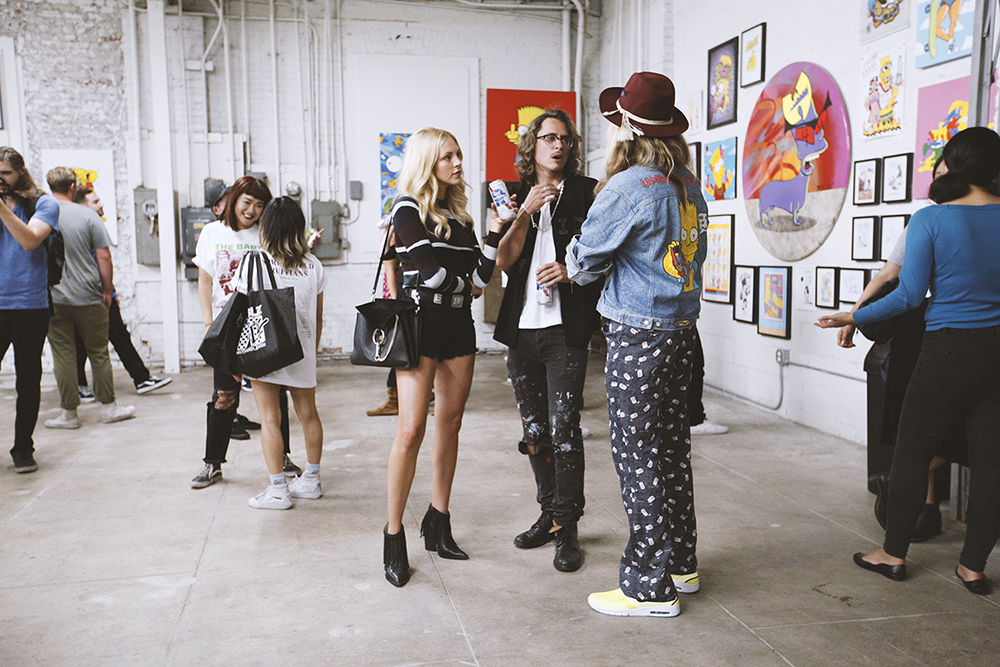 What are a few of your favorite art pieces in the show?
It's very hard to pick only a few because they're all awesome. At the beginning, we were a little bit afraid to get too many similar pieces, but I think the magic happened. Even if the subject is the same, every artist brought Bart into his own artistic world. If I had to name a few, I'd probably say the chalkboard by Italian artist Fidia Falaschetti (he designed our 13th cover). He used a a real vintage chalkboard with a sculpture of Bart's cut-off arm, and you can read the sentence, "This is another piece of (B)art," with the B erased so you can finally read, "This is another piece of art." I really like the piece from Australian artist Numskull too, "Young, Rich, and full of Sugar," which is acrylic on canvas framed in Australian oak. And to finish, Marco Zamora, an L.A artist, did a piece of ink and acrylic on paper. Titled "Muy Bart-ato! Swamp meet vendor and Bart, Los Angeles CA." He bought Bootleg toys at a flea market and he took a picture of the vendor when he gave him the toys in the bag. Then he made a painting based on this photo, in black and white, on a yellow background. We interviewed Marco for our first U.S. issue, so it was important for us to have him part of this project.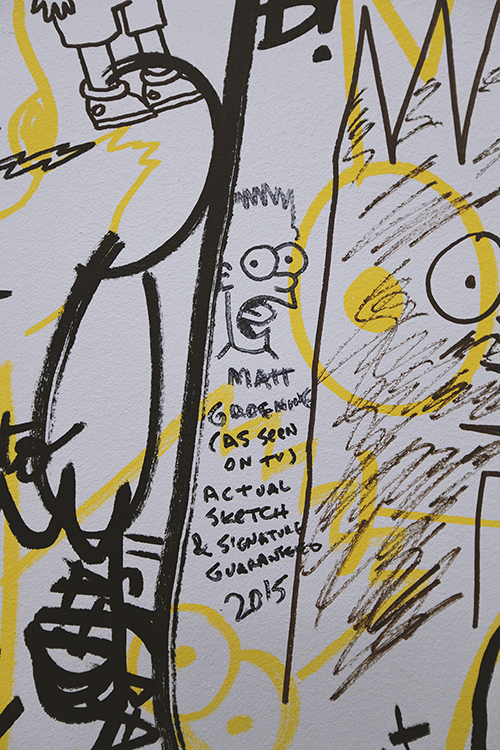 How did you select the artists for the show?
We mainly asked artists we featured in our magazine, online, or who came to our events during the past seven years. Then we added some upcoming talent you'll probably see more and more in our pages. The idea was to find the right opportunity to bring all these amazing talents together on one project, and be able to bring the show to different locations around the world.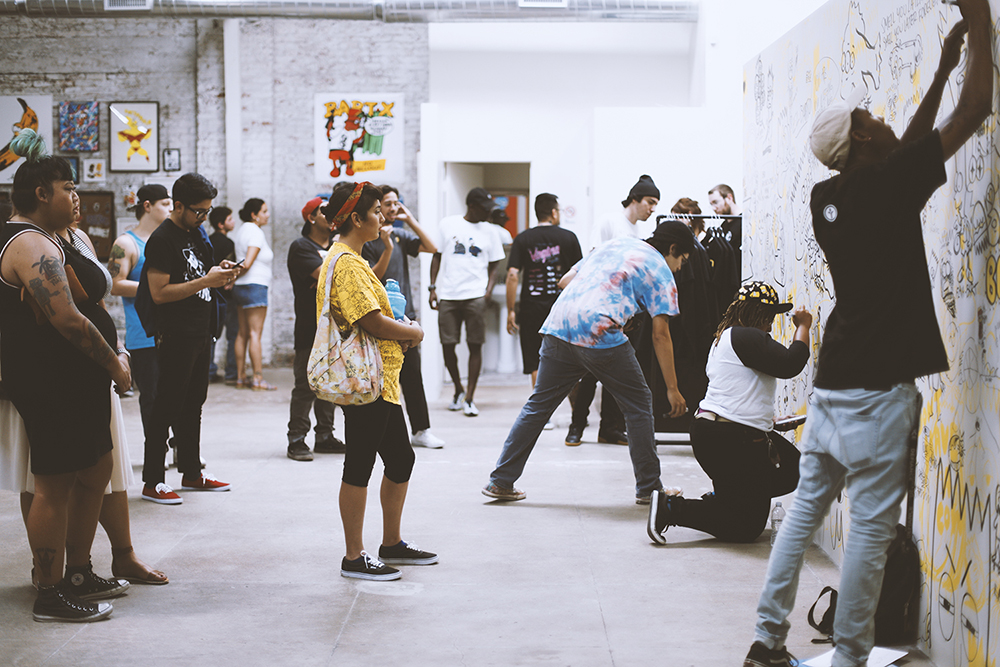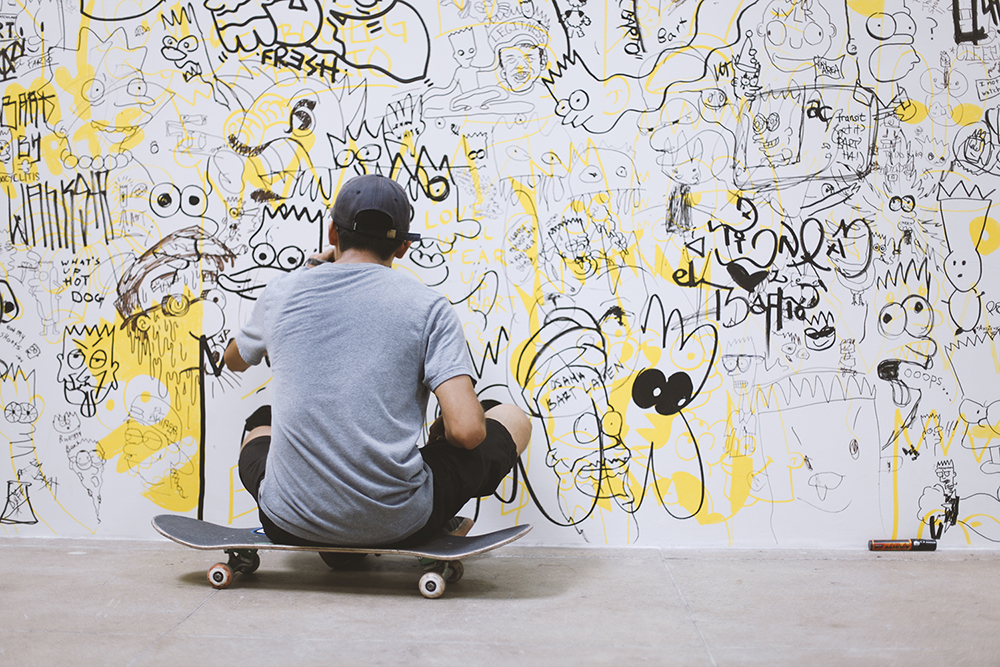 You also hosted a creative contest online, which was a really innovative and interactive way to curate an art show. How did that work? How many artists were selected through this?
For all our projects, we always want to create opportunities for young talents to be a part of it. So when we started to think of the Bootleg Bart art show it was important for us to integrate a creative contest to give the opportunity for young talents to join the show. We received 1,000-plus submissions from all over the world! We selected 65 finalists (it was really hard to pick only 65 out of over 1,000 artworks), then over the course of a few weeks, our audience was able to vote for their favorites. We selected five to join the show, and the top finalist was awarded a cash prize. Gabriel Romero from Chile, with his "The Fresh Barto of Springfield," won the contest, and because of this award the government gave him a grant to travel to Paris for the show in October.
Favorite episode of The Simpsons ever?
Difficult question... So many episodes I love. Even with this U.S. launch, when we're more busy than ever, I tried to keep my ritual of having a 30-minute break for lunch and watching one episode of The Simpsons... If I had to pick one, probably "Itchy & Scratchy Land," an episode from 1994.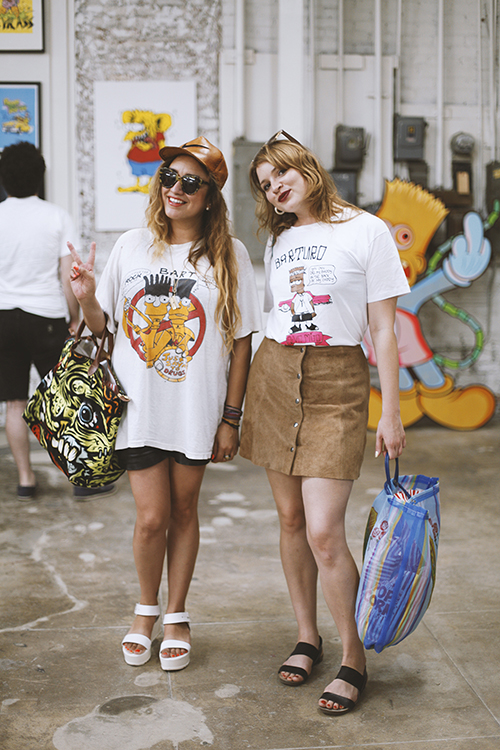 What do you have planned for the future?
We've got a lot of very exciting projects for both Europe and the U.S. in the coming months. The next big deal for us in L.A. will be the first U.S. edition of our crossover festival, the Be Street Weeknd. The concept of our festival is to bring all the content of the magazine to life during two days. Live music, art performances and exhibitions, pop-up stores, a skate park, street food and more. After three editions in Paris (and over 15,000 attendees for the most recent edition), we'll bring the show to L.A. for the first time, this summer (August 29 & 30) at the Container Yard in the Downtown Arts District. Stay tuned!
::