Club cheval (yes, with a lowercase c) is a supergroup and a bit of an anomaly. Comprised of Canblaster, Myd, Sam Tiba, and Panteros666, this Paris-based collective from has amassed impressive catalogs as solo artists, but have taken their time to release collaborative records. Following their 2 EPs released off Bromance, their much-anticipated upcoming debut album Discipline is slated for a 2016 release—with the results of what we've heard so far being incredibly pointed and impressive.
Though I met the entire group, I only spoke with Sam Tiba and Panteros666, a move explained to me as one that would give more direct and concise communication. As it turns out, these two had more than enough to say—they were incredible representatives that expressed their collective influence and the power that lies in unselfish camaraderie.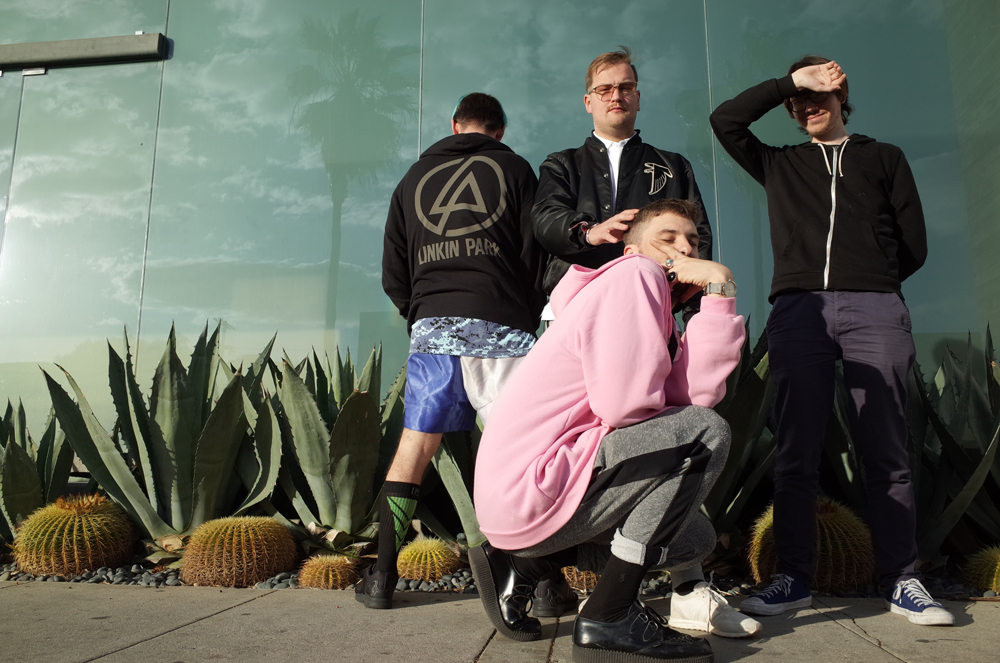 All four members of Club cheval.
Nappy: You guys are all releasing solo work. How do you delegate what you're going to keep for yourself and what you're going to release as a group?
Sam Tiba: Actually, it's kind of natural. It's really weird because I think when I'm alone in the studio, I don't have the same ideas as when I'm alone with them in the studio. The priority is Club cheval. The main objective of everything we do is the band.
Panteros666: We like to just keep the best beats for our solo careers and the band, which have different direction. That's a good way of raising the bar for our both solo careers and the band. They aren't competing against each other, they reinforce each other. For Club cheval, we make things that are more pop and soul-oriented, and our solo careers are a lot crazier.
Sam Tiba: More like niche underground stuff and broken R&B—weirder stuff. Myd is into house. We're into a lot of different stuff, but Club cheval is like the meeting of all of these influences. It creates a new object, but [stays] song-oriented. We don't make songs for our solo works.
Panteros666: Our solo work is club music or experimental tracks.
"WE DON'T HAVE ANY PROCESS BECAUSE THE FOUR OF US CREATE A FULL BODY. THERE'S PRECISELY 25 PERCENT OF EACH OF US IN EVERY TRACK."
Nappy: So Club cheval is your vision for musical and danceable pop, pretty much?
Both: Exactly.
Nappy: What are some of your pop influences? What are you listening to outside of the music you make?
Sam Tiba: If you want the real old pop references, I would say '90s pop, like Ace of Base. But now, I think the definition of real pop is Frank Ocean because it's a crossroads of everything. I think the main thing I like about pop music is it manages to make personal ideas universal, which is the definition of what we're trying to achieve with Club cheval. We want my mom—who's like 60 years old—to feel it as much as a young kid at a festival. We just have to find a way to be in-between different audiences. The Weeknd became a big pop artist. His new tracks are really good pop. Particularly the last singles, "The Hills" and "Can't Feel My Face."
Panteros666: This is what we're listening to today. And then it ranges from Queen to Timbaland.
Sam Tiba: Yeah, I think to us, Timbaland is the personification of pop music. This could seem weird to people, but this guy has done so much. In France, when someone asks who my favorite pop artist is and I say Timbaland, people call him a hip-hop producer. A Missy Elliot track can be as pop as a Beatles track to us. Pop just means popular to us, where you let the biggest amount people into your world, whatever your world is.
Nappy: How does the writing process work in Club cheval? Everybody has really different influences…
Panteros666: We don't have any process because the four of us create a full body. There's precisely 25 percent of each of us in every track.
Sam Tiba: And it's not calculated. It's more like I have an idea because I heard something good. I'm going to lay something down and start working. Of course, we all have our own specialties and certain skills.
Panteros666: I'm into drums, Sam is busy taking care of vocals, Canblaster is like the melodic architect, and Myd is all about the production and sound engineering.
Sam Tiba: But at the same time, I can do melodies and drums and vocals. If I don't know how to do something, or if I do know, but I know someone is going to do something in 2 minutes when it would take me 2 days, someone is going to take my seat. I'll say, "Thank you," and get back to work. Or then, [if I'm] dry and out of ideas and I say, "Who's next?" We have the same studio, but different rooms. So sometimes in 4 different rooms, we're working on the same track.
Nappy: You guys all use the same DAWs?
Panteros666: Yeah. We use Ableton. We can troubleshoot what's wrong with a track, or how it can be more magical, or how it can be more creative, and we can shift ideas. Sometimes at the end of a session, you realize you destroyed everything you just built. It's okay because it's going to create something different the next day.
Sam Tiba: Sometimes I work on something that's mad complicated and an achievement to some people—with a lot of elements—and someone might come in that night, listen to it, and just keep the clap.
Panteros666: It's all about the results, not the process.
Nappy: If you had to pick one genre of music to listen to forever, what would it be?
Sam Tiba: It would be a different genre for each of us. I'm always fighting with myself between rap and R&B, but I would pick R&B.
Panteros666: If I was trapped on an island? It would be reggae.
Sam Tiba: I think for Myd, it would be pop.
Panteros666: But we just said pop isn't a genre, you know?
Sam Tiba: For me, it would be something like Timbaland, and for Canblaster, it would be some weird Japanese stuff.
Panteros666: Yeah... Japanese Jazz.
"I THINK THE MAIN THING I LIKE ABOUT POP MUSIC IS IT MANAGES TO MAKE PERSONAL IDEAS UNIVERSAL, WHICH IS THE DEFINITION OF WHAT WE'RE TRYING TO ACHIEVE WITH CLUB CHEVAL. WE WANT MY MOM—WHO'S LIKE 60 YEARS OLD—TO FEEL IT AS MUCH AS A YOUNG KID AT A FESTIVAL."
Nappy: There's been a few people remixing your work. What are some of your favorites, and how do you feel about the idea of remixes in general?
Sam Tiba: I love when we get remixes without knowing it's coming. It's the best feeling because when you don't have the stems or the parts to a track, it's really hard to do a remix. We love seeing those kids doing our remixes from the actual track and chopping it up.
We don't have really big names the DIY way, but there are a lot of official remixes. Ryan Hemsworth, Louis The Child, Oliverr. I think my favorite is Ryan Hemsworth's remix of "Discipline," our last single.
Panteros666: We do a lot of remixes, too. It's something really weird to me, but I like doing it. I just don't think too much [about] whether or not a remix is legitimate or not, you know? I think it's just cool to mess around and create new music with existing melodies.
Nappy: What are the differences between French fans and fans in different countries?
Sam Tiba: Someone can be huge in France, and a nobody everywhere else. That's definitely not the goal for us. Each audience is different, and of course because we're French, the French audience is special for us. I will say that our fans in the U.S. and Japan are way more involved, and it's like we're loved, you know?
Panteros666: In your home country, they love you, but they take you for granted.
Nappy: Or your home city.
Panteros666: Our home city is actually in the north of France, but we play a lot all over France and we're always around in France somewhere. But for the further countries, I guess it's more magical to see us, you know? Because they don't get to see us often.
Sam Tiba: When you're in France, you have easier to access to French underground music. I'm amazed when I see kids lip syncing to our tracks at Hard Fest, or dressed up as us for cosplay in Japan. I'm like, "Okay, these guys really struggled to find us, and are spotting us and defending us." Every territory is different. Europe is an old electronic music territory, so their society has been accustomed to that. Here in America, it's all kind of new still.
Nappy: You guys just played Hard Fest. Do you prefer a crowd that size, or a smaller more intimate crowd? Or do you like elements of each?
Sam Tiba: We love to do both. I'm kind of getting into playing in front of big crowds with Club cheval. I know I hate them for my solo career. I'm into small crowds, because of the music. Maybe it's different for P666.
Panteros666: Yeah I like both, but what's cool with Club cheval's live show is we get to take a lot of gear on stage. We have like 5 different synthesizers, groove boxes, drum machines, and percussion. We wanted to have something different and radical, you know? That's what big stages allow you to do.
Sam Tiba: We can't perform live in a club now. It's too big.
Panteros666: There's like 100 cables. We need proper festival equipment to put on this sort of show.
Sam Tiba: We've done 8 live shows so far, and it was never under 3 or 4 thousand people. We haven't experienced the Club cheval live show in front of a small crowd, but we know that when we do DJ sets for a crowd of 100, it can be as pleasing as 10,000 people. Sometimes it's more pleasing. It always depends on the mood, you know?
Nappy: You've got a lot of eyes on you with a very small amount of work released. What do you think that says about music in 2015?
Sam Tiba: 10 or 20 years ago, it was harder to break out with only one track. Now, it seems like a guy can be on a major stage with one track or one remix that maybe he hasn't even done himself. But who cares? It's easier to go up now, but it's also way easier to go down.
Panteros666: People expect you to have that one track and kill everyone with it. We actually decided to have that one album, which took us a lot of time to make, and is a complete work from the first track to the last. It's a world that people will dive into listening to it. We aren't single-oriented, actually.
Sam Tiba: I'm thinking of my friend Lido. He's done like 3 tracks a month for 3 years, which is one of the strategies. For him it works, but it's risky. People can get fed up with you, so you have to keep the quality bar really high. We are super hard on ourselves. We never release a track unless we're super happy with it. And, to be honest, I think there's something to the mystery of a band buzzing and people looking as we're 2 tracks out. We have 2 tracks out. People are like, "What the fuck is that? What's going on?"
Panteros666: The first EPs were released on Bromance. It was mostly an audio experiment of what the four of us could do. We tried many different things, from powerful stadium electronic to left field house and sugary stuff. The album is now more R&B, so people don't really know what category to put us in. It's strength, but it's risky. When you deliver, it has to be tight. Otherwise people are gonna be disappointed.
Nappy: If you could collaborate with anybody, who would it be?
Sam Tiba: Frank Ocean. And we were talking with the team earlier—Jeremih would be a good fit as well, he's dope. We actually think that the best ideas and experimentation right now are in R&B and rap music. They're the ones with the biggest balls.
Nappy: Who are some up and coming Parisians we should be looking for?
Sam Tiba: I have this guy that's really not known. His name is 8tm. He's a young producer that I'm really into right now that does some dreamy rap stuff. That's for me.
Panteros666: Most of the time, I don't pay attention to the nationality of the producers that I'm listening to. Everyone is a human being, so that's what matters the most to me. In Paris, we hang out a lot with all of the Bromance guys like Brodinski and Gesaffelstein. I know Breakbot is releasing a new album on Ed Banger. Justice too.
Sam Tiba: If people want to get into weird French techno, they all should listen to a guy called Bambounou. He's also the nicest guy.
Nappy: And when can we expect some new stuff from you? What does it sound like?
Sam Tiba: The new stuff is the album, which will be out early 2016. And what to expect? Songs. That's new for us, it's exciting, it's a language. So we learned the language for four years, and we're writing our first book in that language. There's songs, and the vibe is R&B, but it's not an R&B album. The singer is like... you know those ghost writers that do reference tracks for bigger artists? He's done songs for Chris Brown, The Weeknd, and nobody knows him. He's the main singer on the album. So it's pretty fucked up R&B, made in a universal way. We're going to keep on doing remixes, and the main thing is the live show.
Nappy: Is the U.S. tour happening right after the album comes out?
Sam Tiba: Yeah, I think there's going to be a U.S. tour right after that. We love playing in the States. In France, even though rap and R&B are big as fuck, people don't get the lyrics. It's hard to relate to a track when you don't get the lyrics. Here in the States, we see people singing to the tracks. They understand the lyrics, so they understand the full potential of the tracks.
***
Listen to more Club cheval on their Soundcloud, and keep up with their latest on Facebook. The group is currently on tour with Bromance, find their next dates in Lyon, Paris, and Amsterdam here.

Photo by @Glenjamn.