I first met mixed media artist Clark Goolsby as he was unpacking a box of work during an installation for a solo exhibition in San Francisco earlier this year. As a gallery working for an artist for the first time, this unwrapping procedure can be very intimate for both parties. Perhaps I'm only speaking for myself—but it's emotional. Seeing these works for the first time that few have seen before, there is a special dialogue that takes place between artist and the gallery they are unveiling these works to. The explanation of the works from the artist's point of view during these types of unveiling processes is what I live for as a gallerist and curator.
Months later, I was able to visit his studio in New York which gave me a similar experience, one-upped. Being in a creative's space while conversing about their work is the ultimate; it thrusts you into the mind of the artist, further informing their work and persona. I try to allow myself to be a sponge soaking up the environment of their production while I listen to their explanation of process and concept. Some artists tend to have messy studios constantly in the throes of birth and fermentation, others are neat and organized, the process not contained but meditative. Sometimes there is a bit of chaos carefully hidden within the corners of this mind and his studio.  Clark's studio lands in the organized column. His collages bring a new vibe to the collage genre, very abstract with no distinguishable imagery. While very precise, there is still a busy and energetic feel to them. They can be minimal and expressionistic simultaneously. Below is my interview with Clark accompanied by images of his work space and process. I hope you enjoy.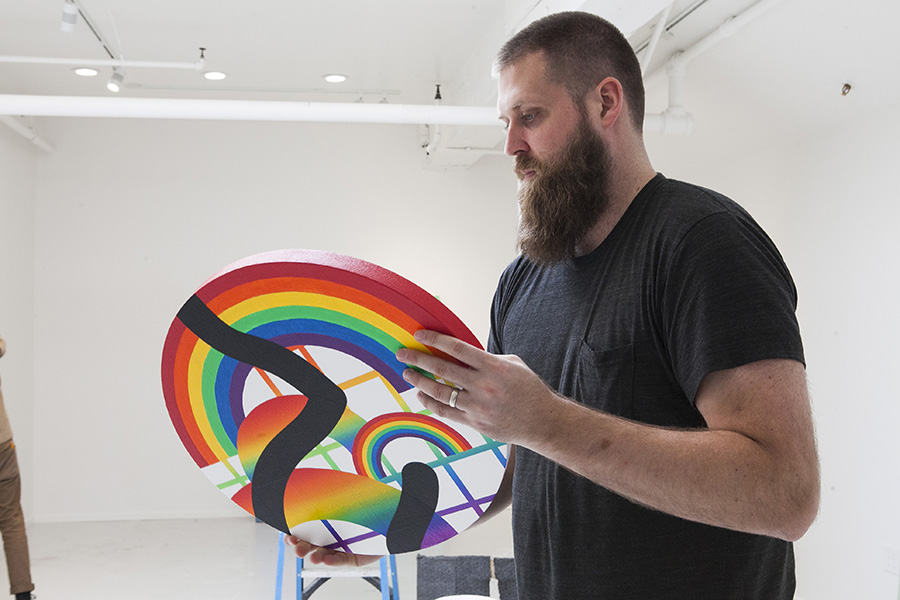 BROCK BRAKE: You used to work heavily with found imagery from magazines, etc, to create your older collage pieces. What made you decide to start making your own materials for collages, like your use of leftovers from bits of older works?
CLARK GOOLSBY: Much of my work focuses on the overabundance of information in our lives. Collage was an obvious medium for that discussion, and I love the texture that found collage materials added to my work. However, found materials have specific sources, and I didn't necessarily want my work to be about the sources as much as I wanted it to be about the concept of media overload. So, a while back I started making all of my own collage materials separately on paper, and then collaging them back into my paintings.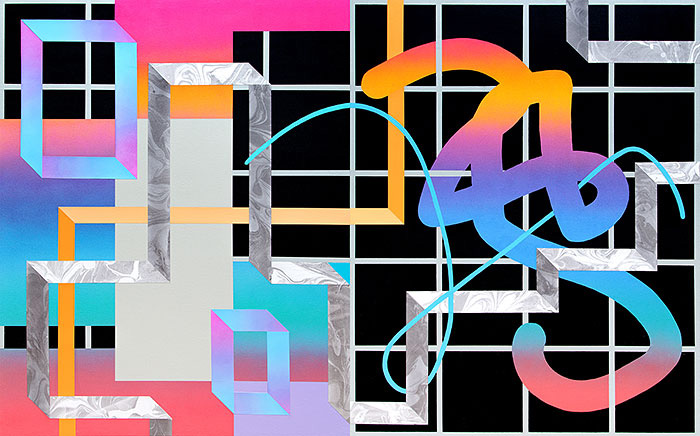 "Positive Negative" (Diptych). Acrylic and cut paper on canvas over panel 40 x 64″
.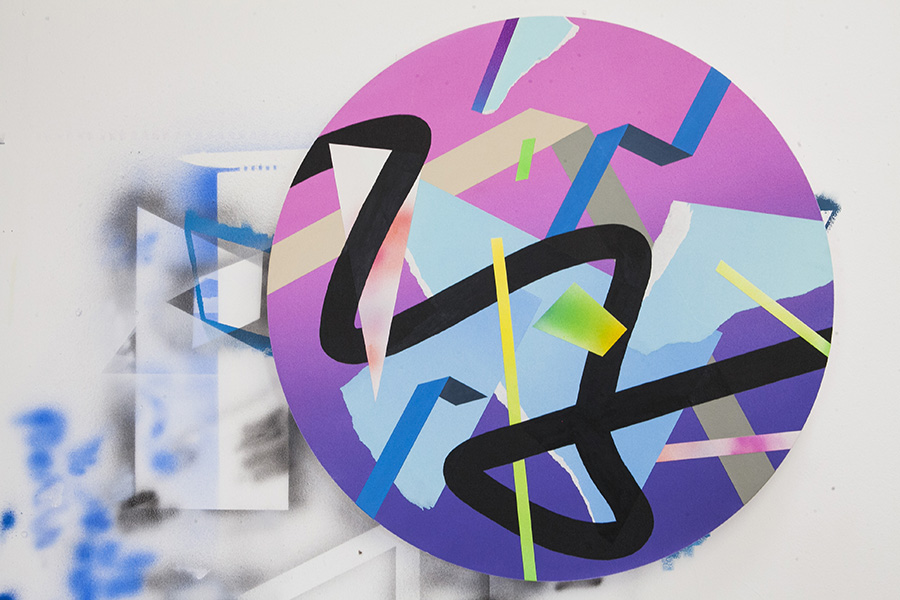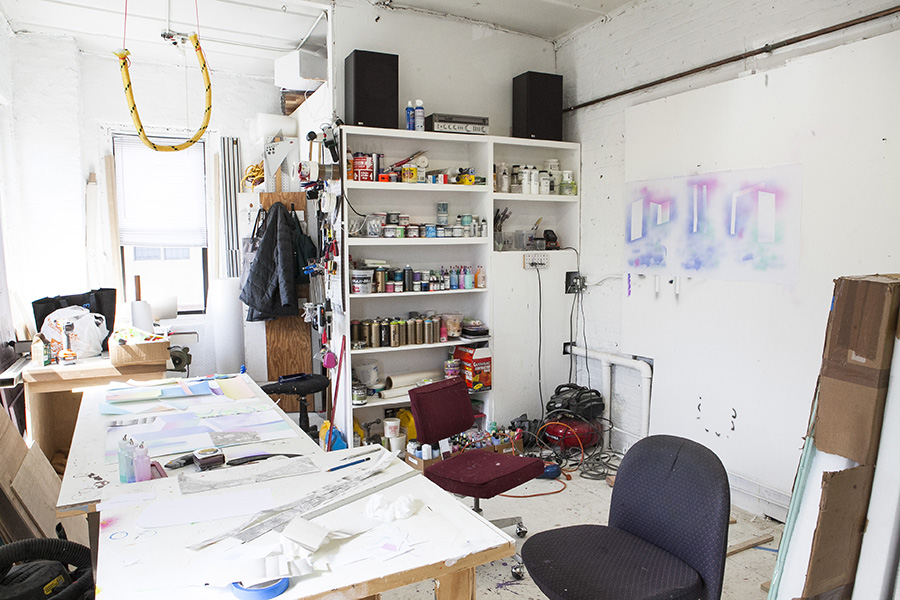 Sculpture was a focus of your work for a while. Do you think that phase of your career helped push you even further into Abstract painting? More sculptures in the future?
Sculpture is still a part of my practice, but it has always been a smaller part compared to painting. Unfortunately, I'm pretty slow in the studio, especially when it comes to sculpture. It takes me so long to complete a piece that I just end up doing less of them than I'd like to. I am working on a new piece with Casey Gray for our upcoming show this October at Circuit 12 in Dallas. As far as sculptures influencing my painting, I actually think it's the other way around. I feel like my sculptures are looking more and more like my paintings.
[Do you] still consider yourself a culture sponge? What does that mean exactly when describing yourself and your work?
Yeah for sure. I just soak up everything around me. I think a lot of stuff finds its way into my work subconsciously. My work overall is about lots of stuff smashing together, so I guess it makes sense.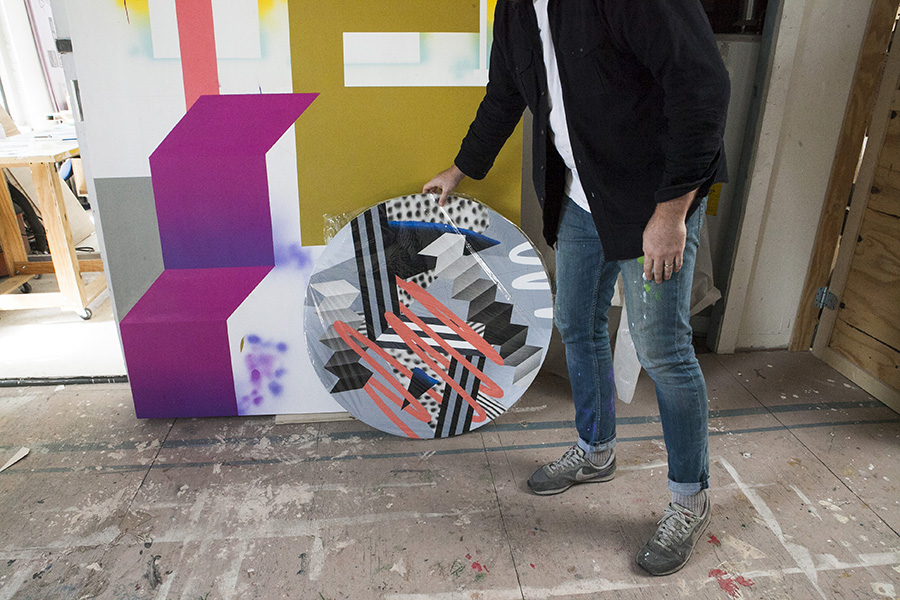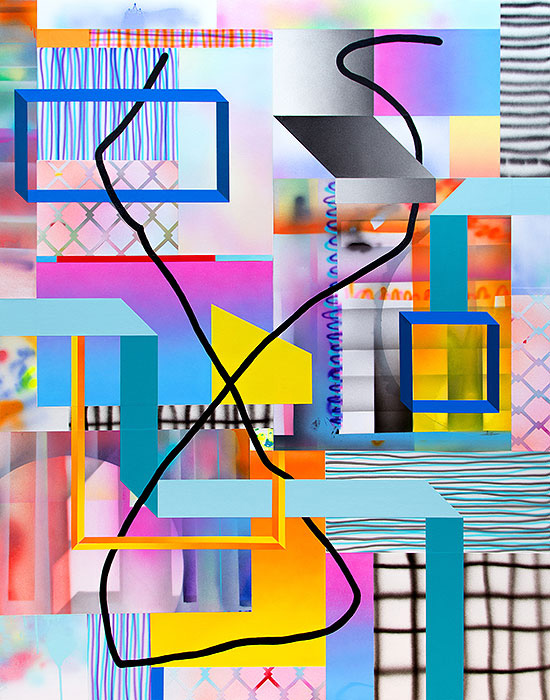 "This, That, The Other, and Then Some" Acrylic and cut paper on canvas over panel 56 x 44″
How would you say your techniques have evolved over the years?
I feel like my work keeps getting tighter and tighter over time, and most of my new techniques revolve around making things come out cleaner. One big thing I've added is airbrush. I'm still by no means an expert, but I've learned a lot of tricks to make things come out better. I've also taught myself a bunch of stuff like marbling paper for my collage materials.
Having a kid let alone two can be quite the balancing act. As an art dad how do you stay inspired to be creative, while maintaining an active role as dad?
It's not easy. It's definitely a lot of working at night when the kids are asleep. It's been a wild ride with two kids in the city, but I have a very supportive wife, so I've been able to balance it pretty well.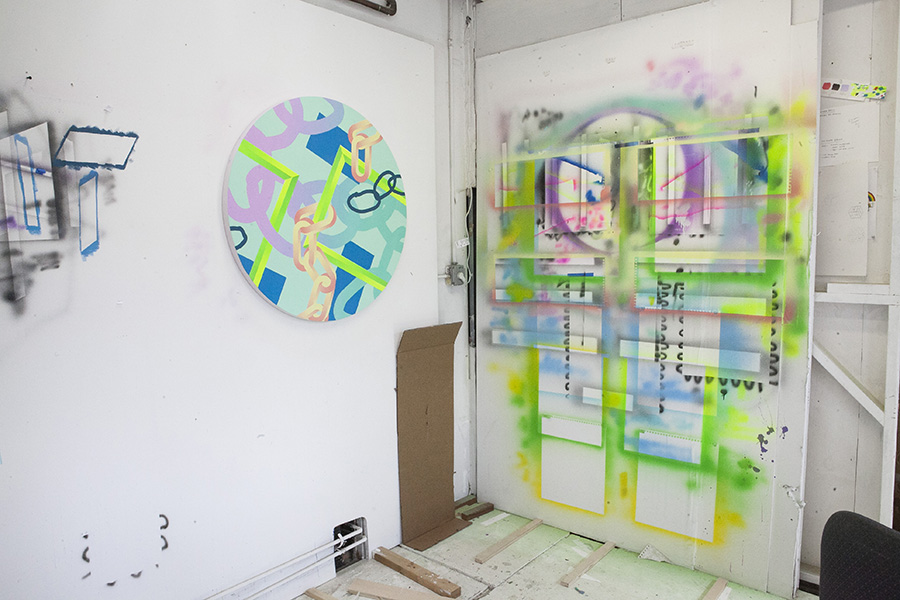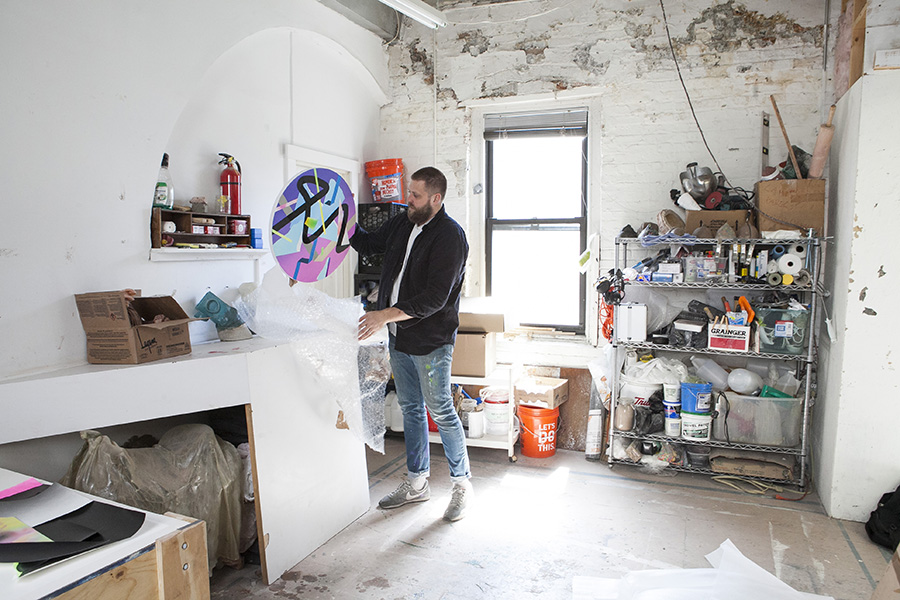 Our peers can be very useful tools when it comes to critiquing work and discussing the possibilities of how work can evolve into its next "phase." Do you seek the critique or are you a little more of a recluse and like to keep to yourself?
I definitely love to talk about work with peers. However, the last couple of years, I've been in a weird schedule thing where I don't overlap much with my studio mates. So, I've been a bit more of a recluse. I also feel like I've recently gotten more comfortable with the work I'm making. I feel like I'm a little bit more sure of what I'm doing, so maybe I don't need as much reassurance as I did when I was first starting out.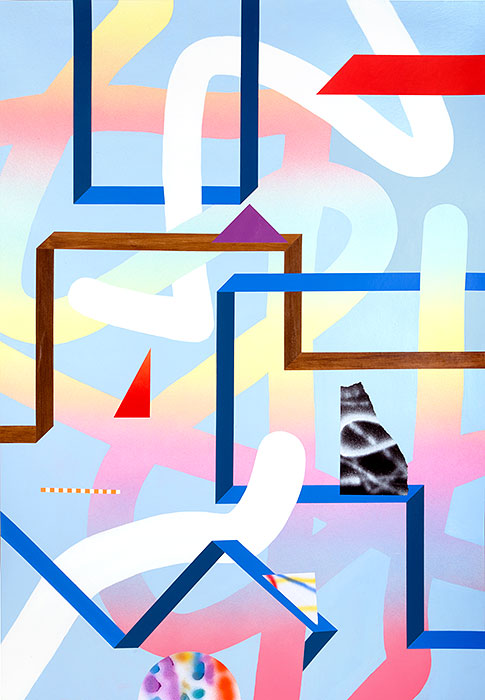 "Some Things" Acrylic and cut paper on paper 39.25 x 27.5″
What's up next for Clark?
I've had a crazy busy year. I had two solo shows in March, and have an upcoming two person show with Casey Gray in October. I'm currently working on paintings, and a large installation/sculpture for that show. I've got about 12 paintings planned and am trying to stay on top of them so I don't get slammed at the end.
***