Christoph Ruckhäberle's paintings have been described as figurative, lying in between realism and fantasy, and there for you to view in their entirety. They can be devoured on a first level of visual pleasure – figures and patterns created with bold intense colors – or they can be used as an excuse to go deeper, as they give you the opportunity to make up your own stories. They are open to interpretation, but without imposing the burden of the over-complicated artwork, and without being light either. Ruckhäberle manages to balance the weight of his artwork, making it accessible and intriguing at the same time.
Christoph gives equal attention to human figures as well as interiors, focusing to every detail in his work, while his large-sized paintings offer viewers a sense of satisfaction and fulfilled-ness. Based in Leipzig, Germany, he has exhibited throughout the world in the 2nd Prague Biennale, LIGA Gallery in Berlin, and Marianne Boesky in New York.
His publishing house LUBOK offers a wide range of books by artists, curated by Christoph and his girlfriend Henriette Weber. The imprint also works in the same manner as the artworks. Nothing is seen light-heartedly, and it is evident that Christoph will look very attentively and professionally towards all the activities he's involved with. Impressive linocut books, side-to-side with offset printed books, his publishing house now counts over 120 books. The same goes with the cinema house, decorated and run by Christoph and his friend Michael Ludwig, all run seamlessly producing a cultural experience framed by art, cinema, illustration – a surplus of creativity and artistic production.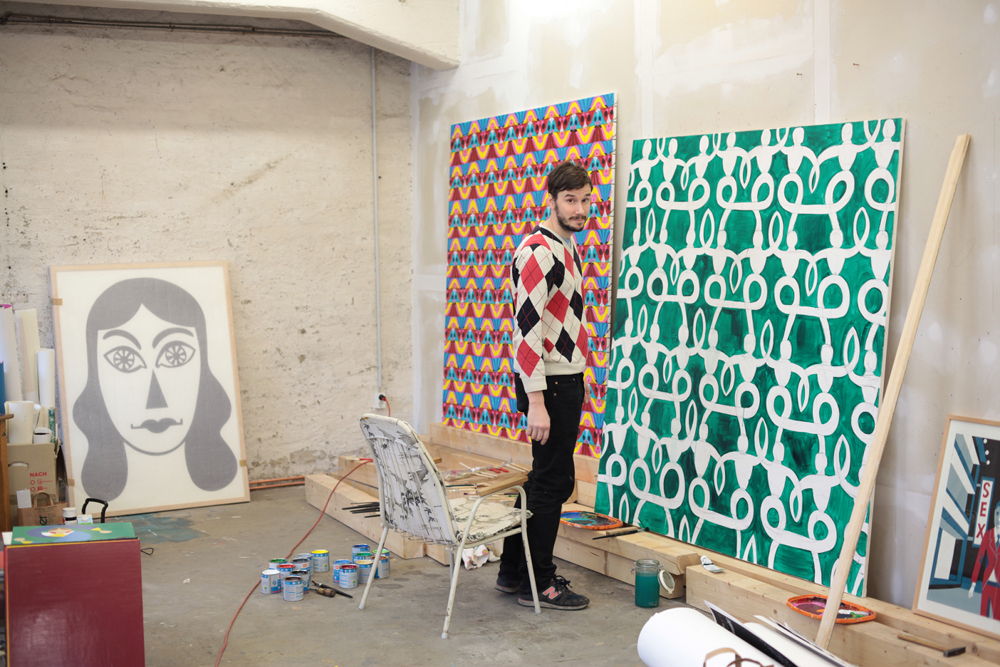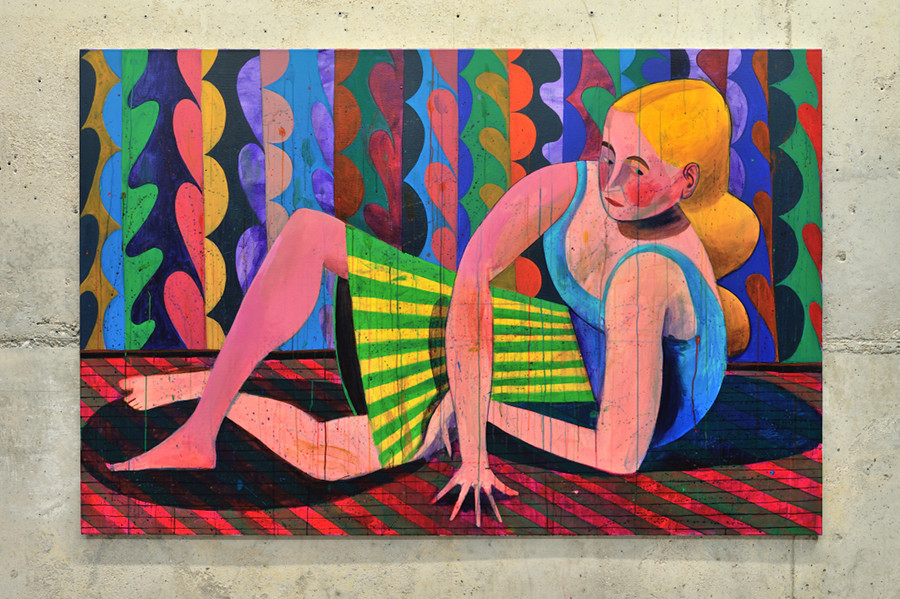 TASOS & MARINA: How many hours a day do you spend painting?
There is really no rule to that. I'm dividing my time between different projects: my art, a small publishing house I run with my girlfriend Henriette and a movie theater I am running with a friend. Some days I don't paint at all, some days all-day (and night, if necessary). Right now I am working on a set of linoleum-cuts, so I spend a lot of time at the print workshop. All these interruptions included, I need about 3 month to complete a group of paintings for a show!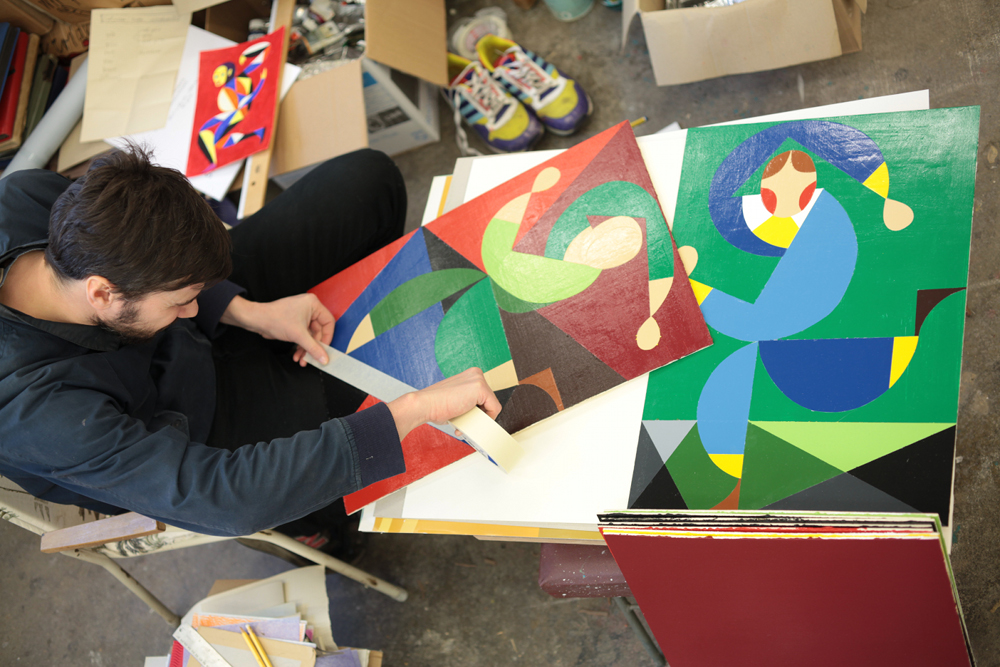 Can you tell us about your own imprint, Lubok, how did it all start?
I met the printer and graphic designer Thomas Siemon in 2005. I had my studio close to his print-shop and he started to print my linoleum cuts. That soon expanded and we produced larger and larger prints (2m x 3m in the end, printed in pieces and put together as puzzles). When at the printshop, I could watch him work on his small edition poetry books he used to do at the time. So we came up with the idea to print linoleum cuts in a higher edition and bind them into books. This became addictive very soon, and I started to invite friends to make books with us as well. What is special about it is that they are original, artist-cut linoleum plates, but printed on an old letterpress machine. So what you get is original prints, but for a reasonable price. That in mind, we called the publishing "LUBOK" after the Russian 19th century popular prints that people could buy at the market. LUBOK – art for the people!
Since 2007, we published more than 120 books with a great variety of artists. In addition to the original graphic, mostly linoleum-cut books there are a lot of artist catalogues, photo books and zines. In 2010 Henriette joined the publishing. She takes care of the business side of it; press and distribution and makes the whole thing work!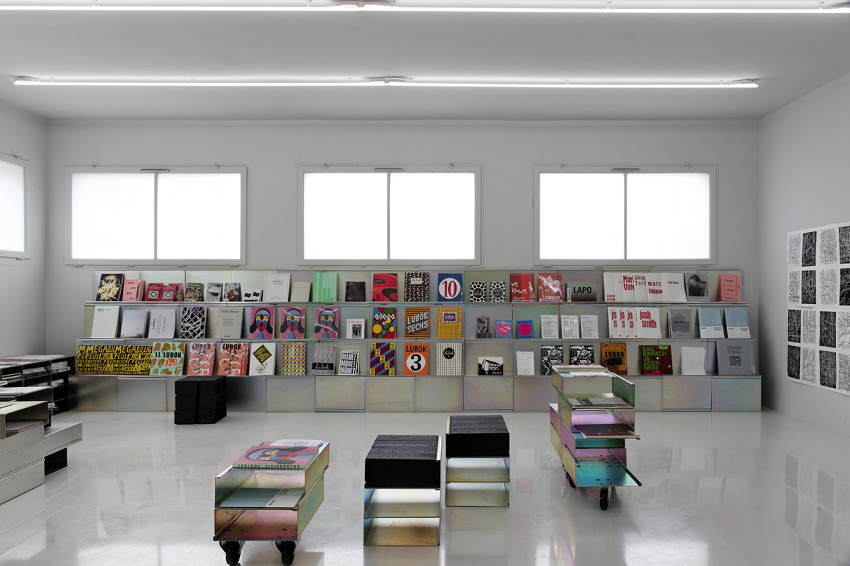 How often do you travel and how does this inform your work?
Leipzig is the perfect place to work and concentrate. To keep things from getting stale though, we use bookfairs and shows as an excuse to get away once in a while. This has a big influence. it's always good to get a different perspective...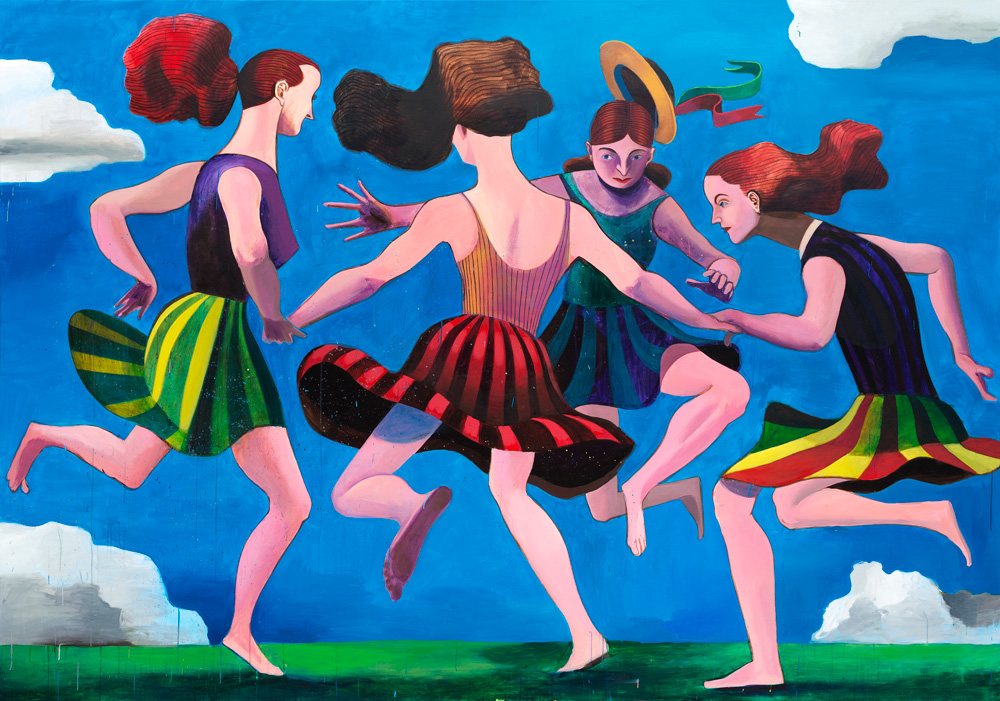 You are running a movie theater 'LURU-Kino", how did you decide to work on such a project, what's the idea behind it?
A friend of mine, Michael Ludwig ran the movie theater of a Leipzig off-space. They were also doing theater, concerts, etc., and there was also a bar in the building. In 2006, they were selling out the different parts to raise money for the place. Michael knew my passion for cinema and asked me to buy the movie part with him and I did. We soon had a fallout with our landlords (we didn't pay the rent – for good reasons) and had to move out. The only place to store the equipment at was my studio, and after a short time of looking for other places, we turned my studio into our new movie theater LURU- kino. This was in 2009 and we have been there since.
I love the place very much! I had to find a different studio to paint, of course! It's a regular arthouse cinema with some video-art specials and '70s horror-nights that we are doing. Michael is running it on a daily basis and I'm more involved in the specials, trying to dig out 35mm copies of forgotten gems of '60s and '70s ex-/ and sexploitation cinema.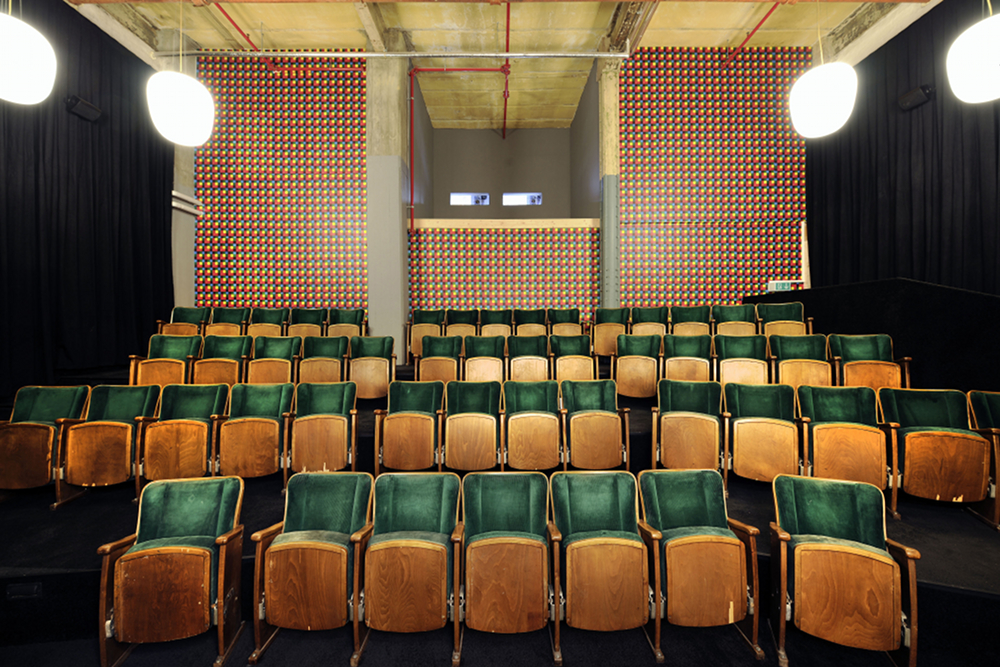 What are the themes that you wish to explore in your work?
Usually, my painting is perceived as figurative and narrative and of course there a lot of theatrical elements, references to art history, etc., but in retrospect, looking back on my development in painting, I would like to see it as a succession of spacial concepts. It started with theatrical boxes, very stage-like, that I furnished with props and personnel. Later I started to distort the spaces, moving into or above the scenery, so that the floor became one with the picture plane, for example. In the next step, I singled out the figures, almost like sculptures in small niches. Then I blended the figures into the backgrounds, almost becoming indistinguishable patterns. That is something I am working on right now, although I do enjoy doing quite contradictory things at the same time! To me, these things are constructions within a parallel reality in painting, with and through the possibilities of painting. Naturalism and illusionism never were of any interest to me!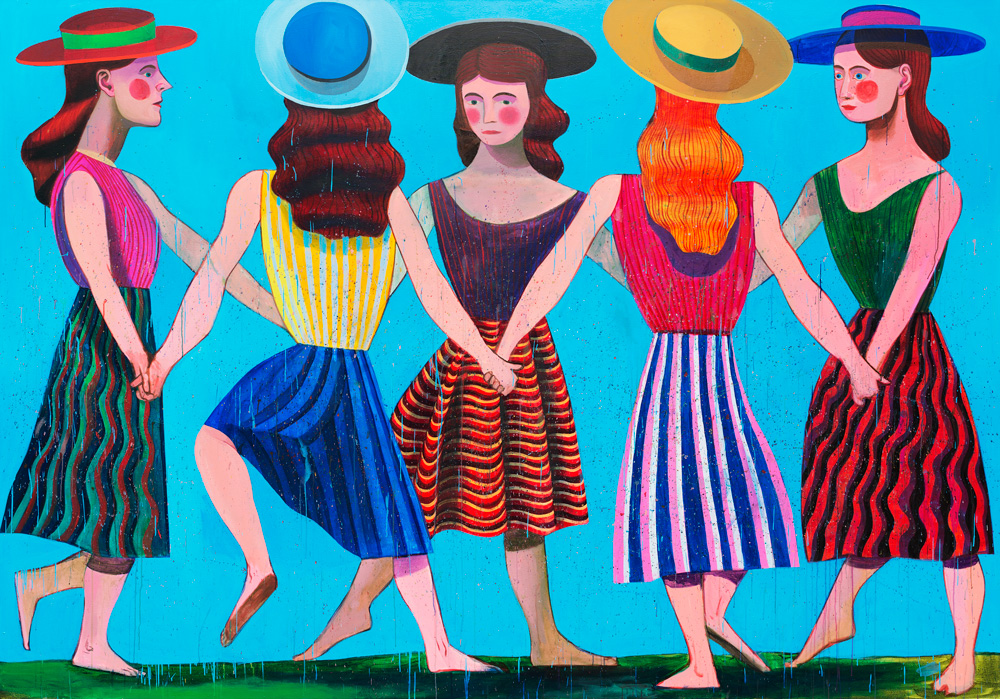 How early on do you remember yourself painting?
Not different from other kids, I liked to draw and paint early on. I think I got known as the kid who could draw well in school and I got encouraged.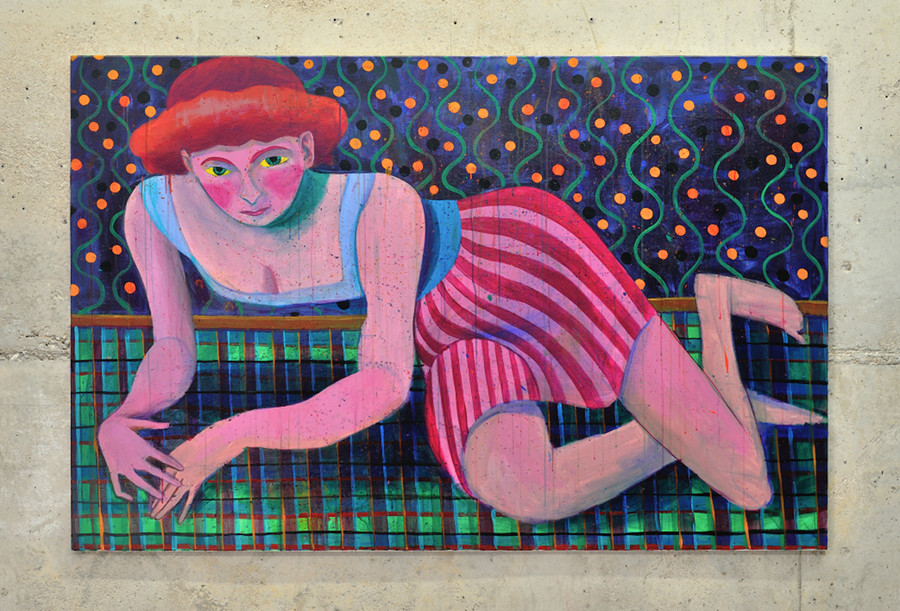 You are based in Leipzig, where there is a long tradition of painting. Do you feel like you are part of a group of painters, and how does that affect your work?
I'm originally from a small town close to Munich in Bavaria and came to Leipzig to study, not really knowing about the city and its art scene. I "grew up" with a group of other painting students which later became labeled "the new Leipzig" school. We became very successfull with it, so there is nothing to complain about, but of course we would like to think that our work is quite individual and unique and very different from each others! Not really part of school.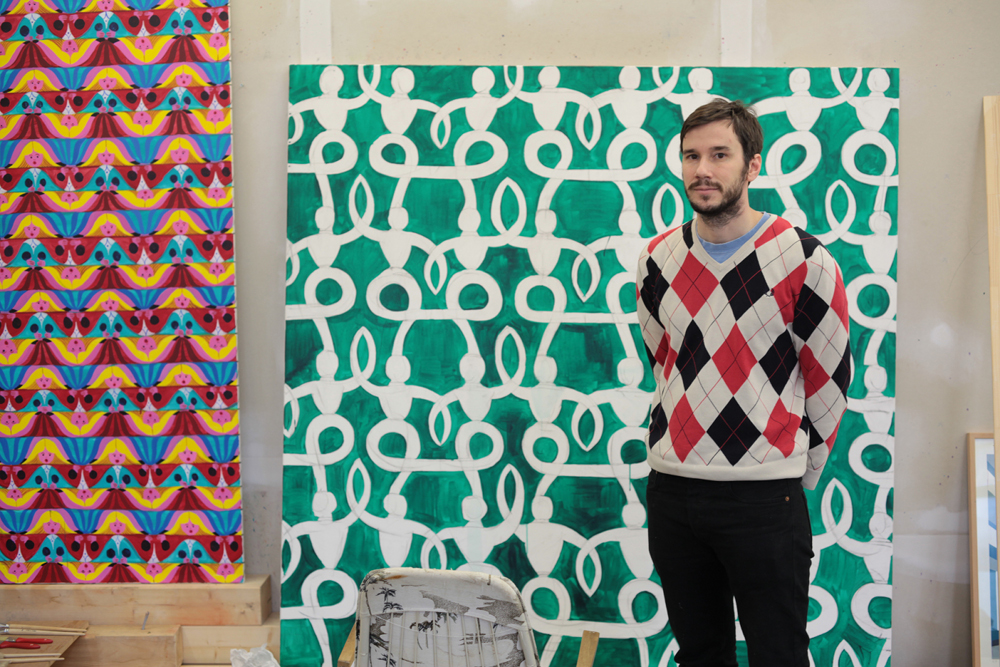 What was the last piece of music you listened to? When and where was that ?
My musical taste is rather crude and embarrassingly underdeveloped, so I'd rather not talk about it. The last film (35mm film not DVD) I saw was Fellini's City of Women.
My girlfriend hated it, but although admittedly dated, I found its imagery and aesthetics, and the dream-logic of its narrative extremely interesting.
::