You may not know Chi Modu, but if you love rap, you love his photography. 2Pac, fists to his forehead, exhaling smoke from a dwindling cigarette? Modu. A lithe, stone-faced Snoop Doggy Dogg standing beside a Route 187 sign? Modu. The Notorious B.I.G., rondure figure cloaked in a technicolor Coogi sweater, backgrounded by the Twin Towers? Modu. Mobb Deep, shrouded in baggy winter wear, standing on a rooftop in the Queensbridge Projects,? Modu. The covers for Mobb Deep's The Infamous, Black Moon's Enta Da Stage, and Method Man's Tical? Modu.
As the Director of Photography for The Source, Modu not only captured some of the genre's seminal figures, but often captured rare moments of youthfulness and vulnerability. Because The Source was the rap magazine of record, and because he took great care to create a rapport with his subjects, Modu was granted access to discrete bits of Americana. Staten Island's Park Hill Projects, Houston's 5th Ward, a dice game in Cleveland––Modu was there, camera at the ready.
I caught up with Modu on a warm weekday at Los Angeles's HVW8 Gallery. Between August 25 and September 23rd, the gallery is hosting UNCATEGORIZED, a retrospective of Modu's rap photography. It's been two decades since the photos were taken, and many of his subjects have since passed, but Modu, whose dreadlocks have grown long and speckled with white, remains enthusiastic about the work. With a sometimes giggly candor, he spoke about his career, his photos, and his practice. And, using a trick likely gleaned from hours with reluctant rappers, he asks the first question.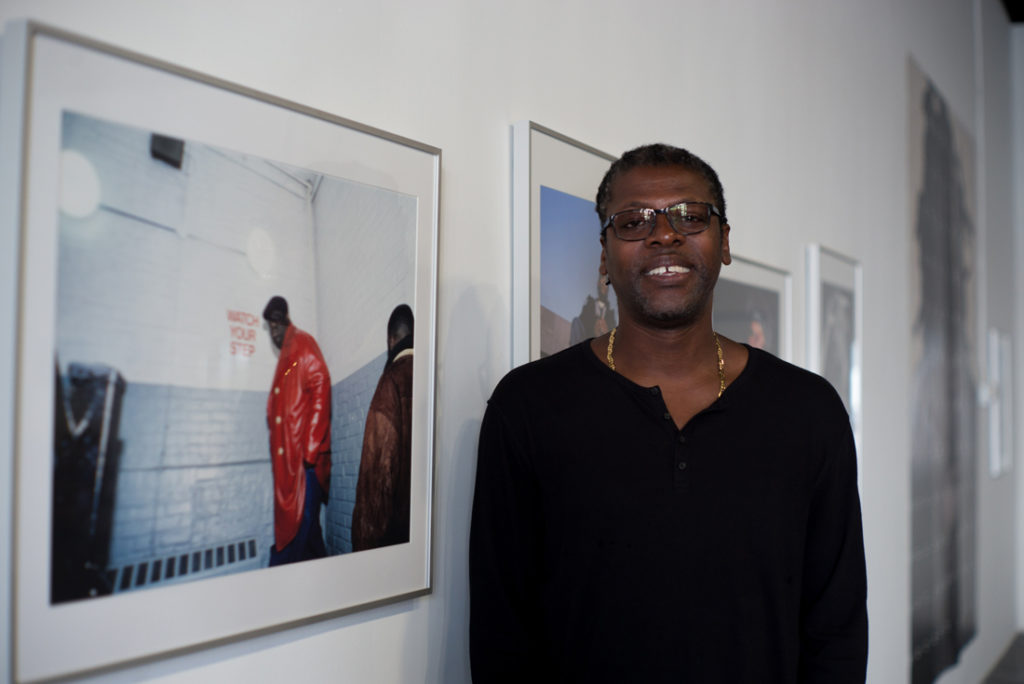 CHI MODU: How old are you?
TORII MACADAMS: I'm 28. Why do you ask?
I'm always curious about the ages of people that are fans. It's interesting how young it skews. I ran into this girl at my hotel on the way to breakfast wearing the picture [of Snoop Dogg standing in front of the 187 highway sign] and she's 14. I shot this picture in 1994! That's why I'm curious about the age sometimes.
I think a lot of your photos are iconic and definitive. I know, when I look at your photos, it feels like you capture the essence of a lot of people in interesting, vulnerable ways.
I think that's my approach to photography. I think the subject matter helps, but like I said in my talk last night, I still have to see you when you're cool to press the shutter, so i'm still making a decision. And sometimes people forget that. We're the ones watching you, and looking at you. That's the skill of the photography.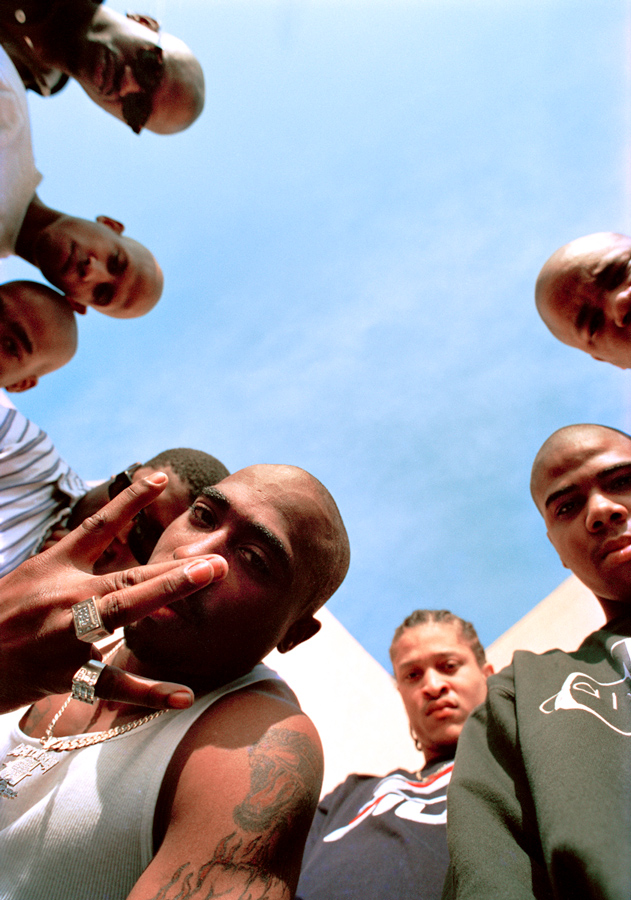 I was reading another interview with you, and you were talking about how 2Pac was very aware of the camera, which isn't surprising because he was an actor and trained in a manner a lot of rappers aren't.
He understood the importance of visuals. And I think what's happening now, as you're seeing with technology today, people are really starting to understand visuals a bit more. So, think about that: that was 24 years ago that we did these 4×5 portraits in a studio. That's a long time ago, and a pretty high level of quality. He knew enough about how it works and the importance of it, to make sure to be documented properly.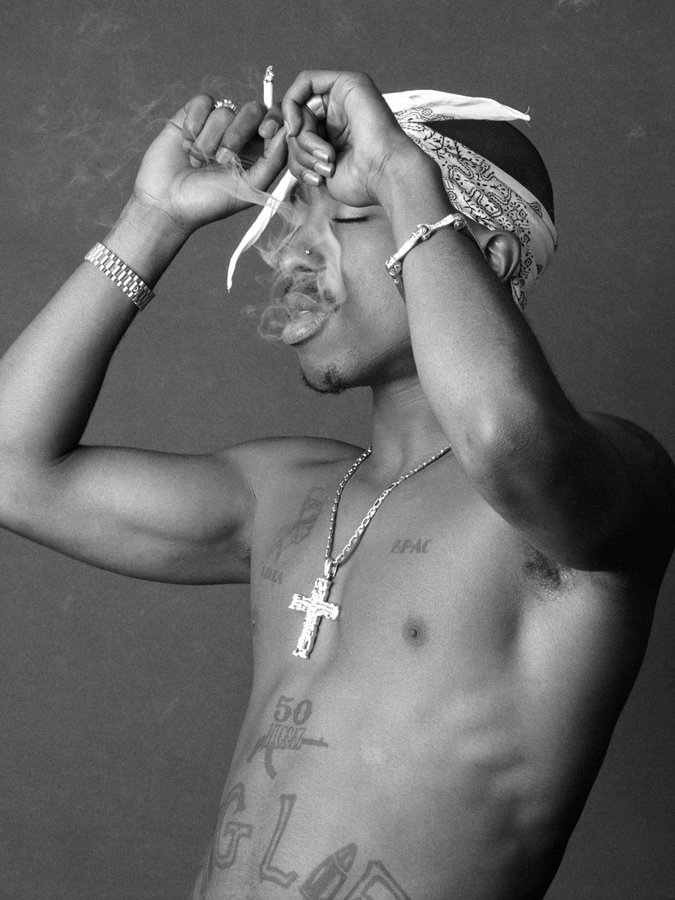 I cover a lot of young rappers, and I don't know if the quality of their photos and videos is a professional, high quality, but they are cognizant of documenting things. Or they had inchoate ideas about their place in history.
I'd say yes and no. I'd say yes, they are documenting, but they're doing it in a more snapshot format, and I think that's the one thing that's missing. If they really dive in and do true storytelling, it would really be great to get a look inside the world of today's modern rap star. Not just the good times, [but] who this person is, because I think that adds layers to people. And why some of these people are so iconic is because they have layers.
Something I saw recently, when XXXTentacion passed away, his Instagram account only had one photograph on it. Because a lot of people have this idea of wiping your account, not really understanding the importance of your history.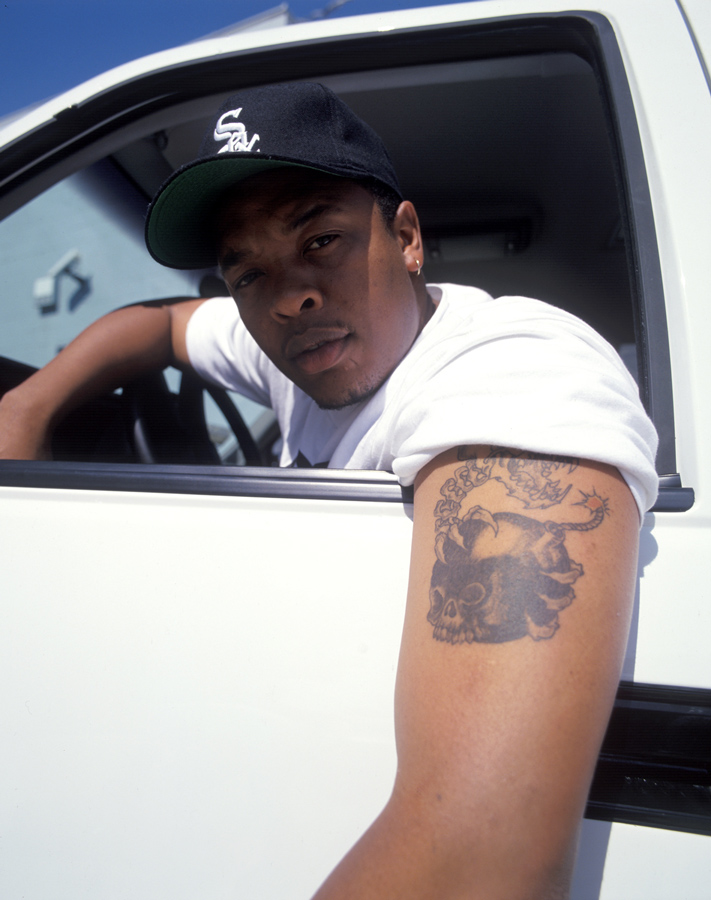 That's actually one of the reasons I try to write about a lot of lesser-known artists, because they're less guarded and they don't have that same whitewashed aesthetic. I don't like when people delete the old photos on their instagram.
It's really––and I'm not being corny––it's really bad because in today's world, that's how we know you are here. Deleting a photo does not delete the fact that you are here. Maybe the thing is that what you're putting there you like, but you're deleting it every 5 or 6 months, so that means you're not really that sure of yourself. What attracts people is when people are sure of themselves. So you have to be careful. I know you're a big star and all that, [but] there's nothing about you that's interesting and that would give a little more insight into your world for your fanbase that you control? I think there is.