I could be completely content the rest of my life listening only to the music I already own, no lie. Many of the tapes, CDs, and records have been with me for well over 20 years now, with a handful of them worth decent money due to scarcity. Others hold priceless sentimental value, taking me back to more carefree, simpler times.
This is my tape collection… or most of it anyway. I have plenty more, but haven't gotten around to putting them up on display. Plus, the wooden storage crates are getting harder to come by these days, unless you want to pay top dollar for them on eBay. I also own about 800 CDs and 50 or so records.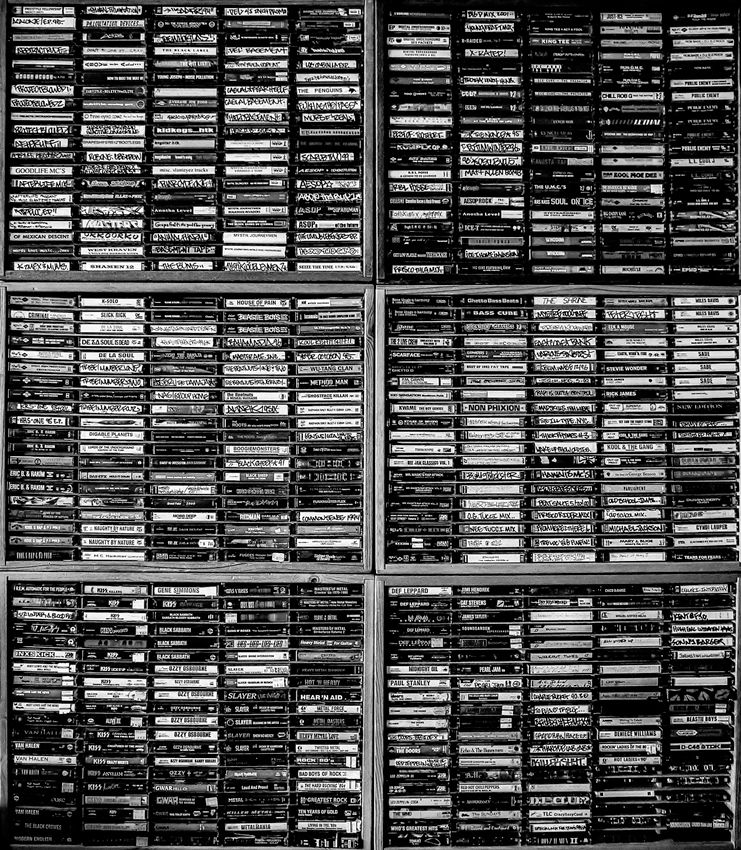 I'd guesstimate that roughly 80% of my collection consists of '80s through '90s hip-hop and rap—both East Coast and West Coast: pre-millennium hip-hop, gangster rap, underground/backpacker rarities, OG Dirty South shit and the like, with the remaining 20% being a healthy blend of R&B and classic soul, classic rock, metal, punk and jazz. Man, I got everything from Huey Lewis And The News to rare Mystic Journeymen tapes with handwritten labels that I bought directly from the crew in Berkeley back in the mid-to-late '90s.
I don't download music—mostly due to time, but frequently listen to playlists on both Youtube and Spotify, mostly a mix of stuff I already own, or artists and albums that I've discovered since I stopped buying music years and years ago. I never felt the need to digitize my music collection as there's something special to me about holding the tapes, CDs, and records in my hands, examining the artwork, pictures and text while listening to the album. Sometimes I'll throw an album on at random and think,  "Damn, I'm probably the only person in the world listening to this right now…"
In conjunction with Delivery 1 of The Hundreds Fall 2014 Collection—a nod to '80s and '90s West Coast hip-hop and rap culture—I've decided to highlight six related albums from my collection that have helped shape and influence my own life.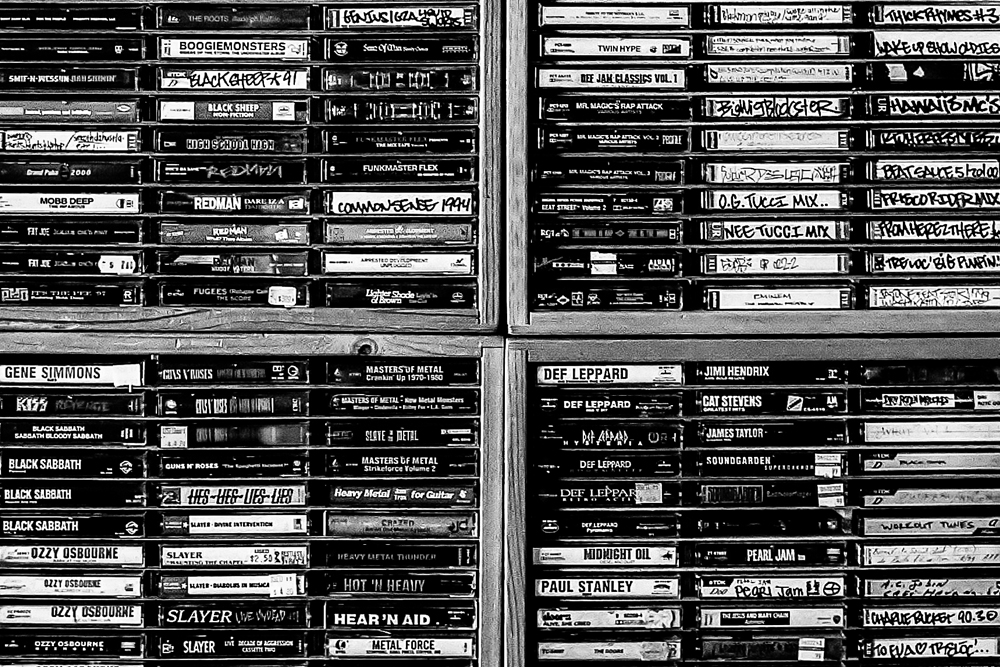 My connection to this era goes way, way back. I'm talking '86/'87 here. I was living in Denver and my older neighbor across the street—the same dude that got me into skateboarding—introduced me to Eazy-E's debut album, Eazy-Duz It. I remember feeling lightweight scared of the album upon first listen, yet wildly fascinated at the same time. It was like nothing I ever heard before. And yes, I later rocked a Los Angeles Raiders Starter hat and may or may not have false flagged some gang signs on one or two occasions. Denver was kind of a crazy place back then…
Fast forward to the summer of 1992, Plan B Skateboards had just released their premier video, "Questionable," a gem that not only changed my life but skateboarding as a whole. In addition to next level skateboarding, the video introduced the skate world to an underground hip-hop crew outta Oakland, California, known as Hieroglyphics, consisting of Souls of Mischief, Del tha Funky Homosapien and Casual—artists that are now recognized as true pioneers of West Coast Hip-Hop. I credit Mike Carroll for helping put Hiero on the map, using their songs in two of his trailblazing video parts.
::
Souls of Mischief – '93 Till Infinity (1993)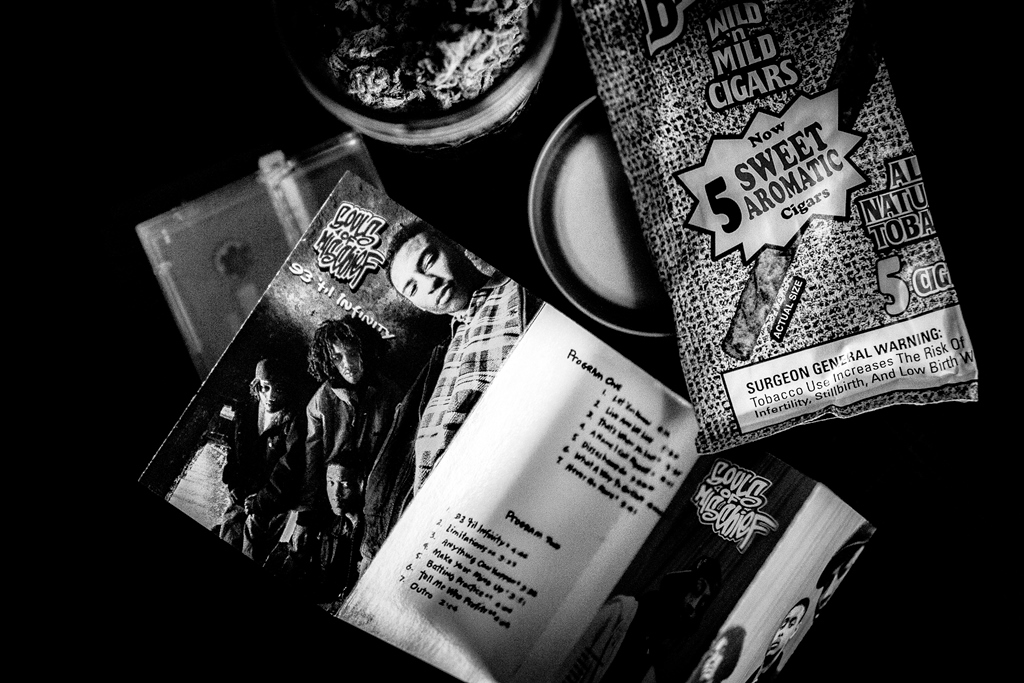 This album dropped when I was in the 9th grade, with this tape right here being a true original... well, the cover is anyway. I listened to the tape so many times over the years that my tape deck eventually ate it up, forcing me to settle with a dub from a friend. But even this dub is from '94/'95.
'93 Till Infinity truly changed my life. In fact, I'd argue I've listened to the album more times over the last 20 or so years than any other tape in my collection. Every song slaps and reminds me of my high school years, spending days and nights skateboarding around town with my friends, followed by lurking random house parties at night.  This album, coupled with some good herb, never fails to put my head in the right place, even today...
Top three tracks: "'93 Till Infinity", "Never No More", and "Tell Me Who Profits".
::
Freestyle Fellowship – Innercity Griots (1993)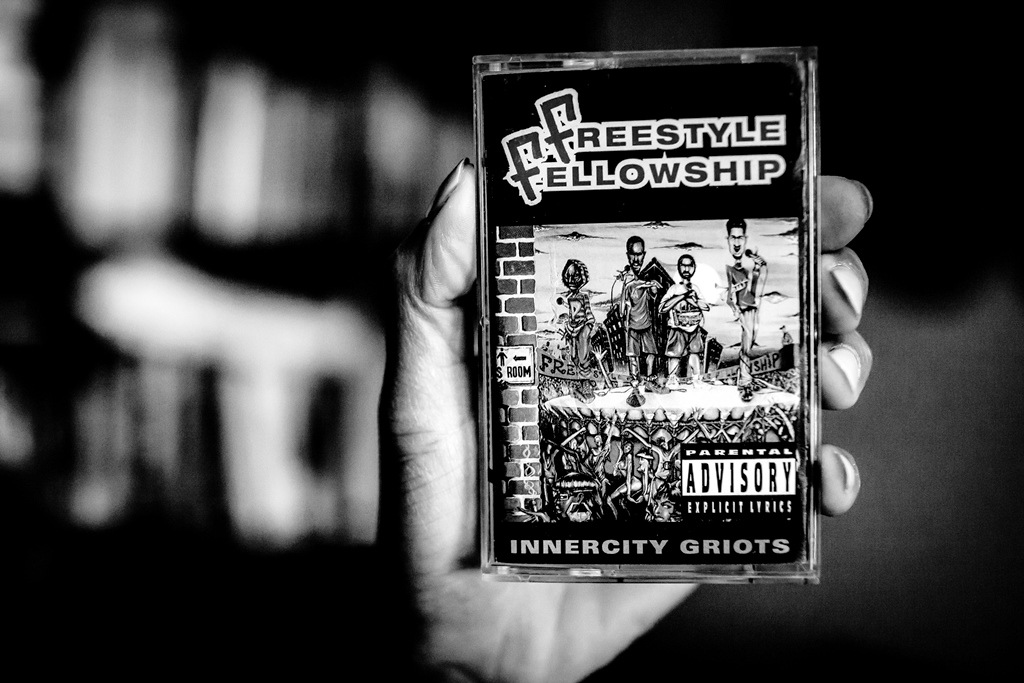 Here's another classic that dropped in '93, though I didn't get my hands on it until '95-ish, give or take. I remember being in high school, smoking bammer blunts with some friends, when out of nowhere someone tossed this album on, starting with the song "Mary," a beautiful homage to the ganja plant.
The first thing that comes to mind when trying to describe LA-based Freestyle Fellowship's sound is "urban symphony." The beats are a perfect bouquet of boom-bap, traditional g-funk and jazz, matched with incredibly fast, intelligent spoken-word influenced lyrics—all with a style and delivery that's unlike anything you've ever heard. They also sing a little, too...
I was immediately hooked on the sound and the album later introduced me to a whole new type of music, the west coast underground scene, including folks like Ellay Khule "The Rifleman," Abstract Rude, C.V.E. (Chillin Villain Empire), and the like, some of whom I'm good friends with today.
Top three tracks: "Six Tray", "Mary", and "Park Bench People".
::
A mixtape by OG graffiti writer TenseOne containing the following: Hobo Junction E.P (1995), Dereliks E.P. (1995), Blackalicous E.P. (1995), the Hobo Junction Single (1995) and a single by Tariq Islam called Mic Control (1995)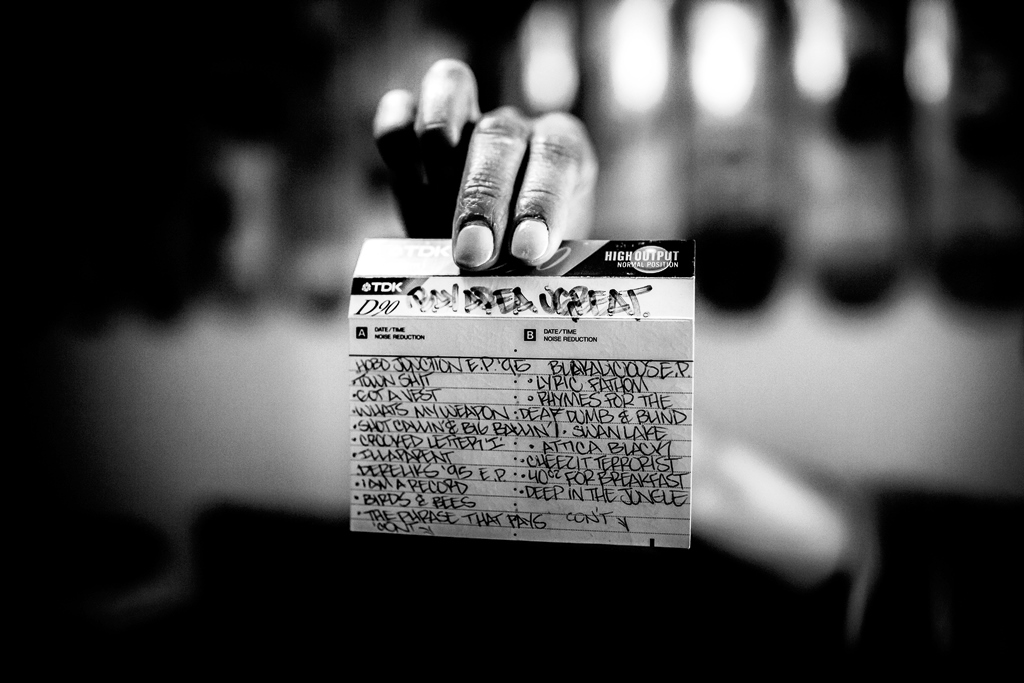 This album is right up there with '93 Till Infinity, as far as how many times I've listened to it. I acquired the tape on accident, meaning I borrowed it from some friends— the same cats that introduced me to Freestyle Fellowship, and was supposed to just have it for a few days to make a dub, but it eventually ended up in my permanent collection. You know how that goes. Believe me, it wasn't intentionally lifted. I let them borrow something of mine and we never got around to trading back. I hated loaning out my tapes for that very reason, but it worked out in my favor in this particular situation.
These three albums right here fully embody the spirit of the Northern California underground scene in the mid-'90s, especially the Hobo Junction E.P. No other hip-hop artist in the Bay came harder than Saafir, in my opinion. I always thought he and his crew, Hobo Junction, were the hardest underground rappers out The Bay. Period. Saafir's debut album, Boxcar Sessions (1994) is a fucking true gem in my book.
Remember when Saafir and the Hobo Junction battled Casual and Hiero on Show and Tech's Wake Up Show back in '94/'95? I still think Saafir won, but that's very much open to debate. What do you think?
I'm going to use three tracks off the Hobo Junction E.P. as the other albums, though definitely important, are not my faves: "In A Vest", "Shot Callin & Big Ballin", and "Heir Apparent".
::
Cellski – Canadian Bacon and Hashbrowns (1998)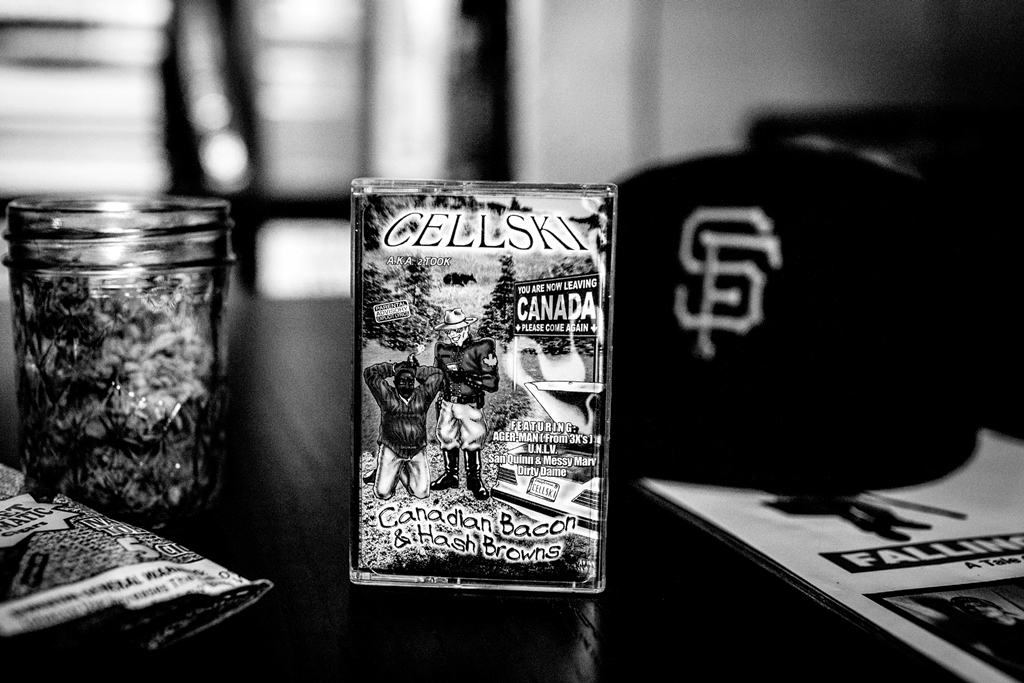 This isn't my favorite Cellski album—I'm still partial to Mr. Predictor—but it's special to me as I got it directly from Cellski in '98. I was working in a mail room in the Financial District of San Francisco, roaming around on my lunch break one day, when I bumped into Cellski selling cassettes out front of the Embarcadero Hyatt, where there was some hip-hop and rap conference going on inside. I don't remember the name of the conference, but all the big names at the time were in town.
Though Cellski was selling the tapes, he ended up giving me one for free as I was local… Ironically, we're friends now. We met through other circumstances back in the early 2000s, and although he doesn't remember this particular incident, it's something I'll personally never forget.
And similar to Hiero, having professional skateboarders like Rob Welsh and Stevie Williams using Cellski's songs for their video parts in the late '90s and early 2000s, helped introduce the artist to a whole new audience, a scene that Cellski is still very much a part of today with his clothing company, CBC (Chemical Baby Clothing). Check him out.
Top three tracks: "Big Mafia", "Cali", and "West Bay 'G'".
::
RBL Posse – A Lesson To Be Learned (1992)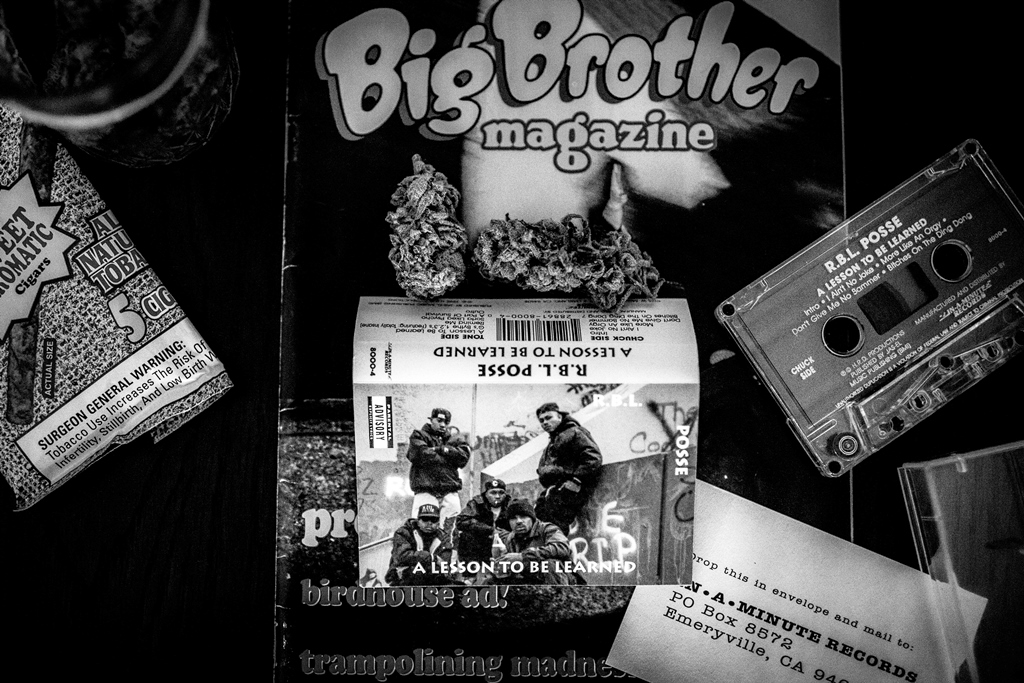 I'd argue that this might be the most important and influential rap album out of San Francisco. Ever.
I also think it's safe to say that the sale of bammer weed (dirt weed) plummeted in Northern California considerably with the group's premier single, "Don't Give Me No Bammer Weed", a track encouraging people to put down the dirt and invest in some of that good-good. Though that fire weed was as rare as a $3 bill where I grew up, I definitely adopted this motto shortly after moving to San Francisco in the mid-'90s.
Sadly, group members Mr. C and Hitman are now deceased—both victims of senseless violence, but their music still very much lives on today. It's not uncommon to see a group of OG's smacking around The City in an old school, slappin' RBL.
Top three jams: "Don't Give Me No Bammer Weed", "G's By The One, Two Three's", and "Remind Me".
::
X-Raided – Xorcist (1995)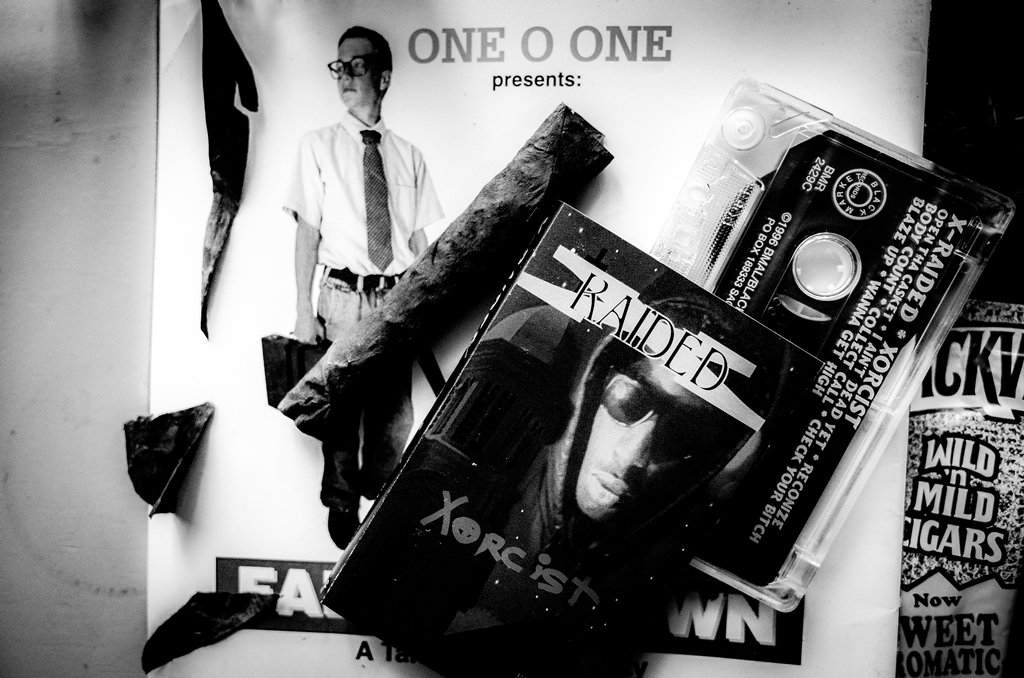 This is, without question, the hardest gangster rap album in existence, in my opinion.
Released in '95, the entire album was recorded over the phone while X-Raided was serving time in the Sacramento County Jail, on trial for a 1992 gang-related homicide, a crime in which he was later found guilty of. The quality of this album isn't the best, obviously, but the over-the-phone raps make it all the more haunting and authentic. This here is a staple in all gangster rap collections, right up there with RBL Posse's debut album. If you fancy gangster rap and don't have this one in your collection, you're slippin… hard.
The former Garden Blocc Crip gang member is currently serving 31 to life in a California State Correctional Facility and is slated for release in May 2015.
Interesting fact! I had an opportunity to ghostwrite a book about X-Raided and Black Market Records back in the early 2000's, something I was very much interested in doing at the time, but it somehow fell through the cracks. Thinking back now, I'm not sure if that's a good or bad thing. I have to say, I was a little nervous about the whole thing... wouldn't you be?
Top three slaps: "Check Your Bitch", "Deuce-5 To Life", and "Liquor, Niggaz, and Triggaz".
::
I hope you like this list I've assembled. I know there's some people out there reading this that are cut from the same cloth and have similar musical interests as me. Be on the lookout for a subsequent piece down the road, when The Hundreds Fall 2014 Delivery 2 drops, highlighting some of my favorite East Coast gems.
Be Easy. Be Safe.