Hundreds of Earth Day enthusiasts, primarily from the D.C., Maryland, and Virginia (DMV) area took to the trails along the east side of the Anacostia River on Saturday, April 23rd for the 4th Annual Broccoli City 5k run. In previous years, "Run Green" was held the same day as Broccoli City's festival. But the crew—comprised of friends Darryl Perkins, Brandon McEachern, Jermon Williams, and Marcus Allen—realized that hosting both events consecutively posed a problem.
"Anyone who's been to the festival understands that fashion and aesthetics is very important to a lot of the men and women who attend," says Perkins, B.C.'s Director of Community Engagement. "People were caught in the mix: 'Do I want to run or do I want to attend the festival, because I can't go home and change?' What we did is, we gave the run more attention—centered it around Earth Day weekend—and I think it came out perfect."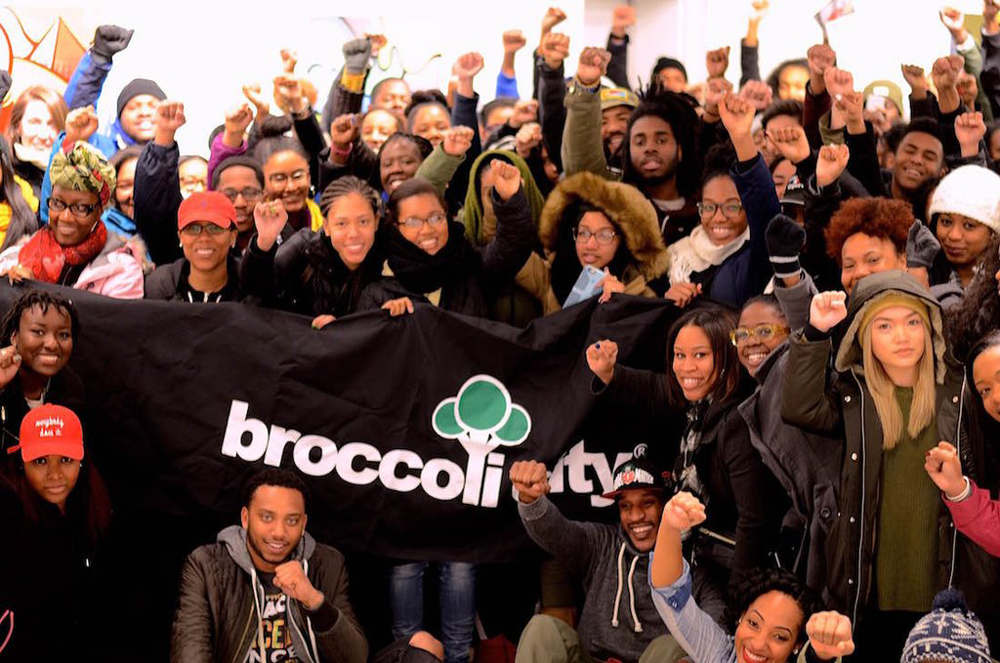 Photo: Mass Appeal
The sight of this year's run, Anacostia Park, has carried negative connotations for years due to the rampant crime that plagues the southeast area of the district. According to SpotCrime.com, there have been over 30 assaults and shootings in the Anacostia area in the past two weeks alone.
"You got a lot of marathons that happen near the river; seldom do they happen east of the Anacostia River," says Williams, B.C.'s communications coordinator.  "To be able to bring something to D.C. that changes these narratives... Now you're sparking the idea for other people to do it."
In conjunction with the D.C. Running Collective, which hosts weekly runs for locals, Broccoli City helped organize the event to engage the young, urban community and motivate them to exercise and take literal strides towards a healthier lifestyle. During the past few years, B.C. and its budding group of believers have volunteered over 10,000 hours of service, planted 150 trees, and fed at least 1,000 underprivileged kids and homeless.
For Brandon, Darryl, Jermon, and Marcus, each of their respective journeys towards improving the environment, educating others, and consuming fresh foods is initially what brought the clique together. Since 2010, they've been promoting health, wellness, and sustainability as a unit via engaging music-oriented events.
"I was living in Los Angeles and I was working in Santa Monica and I would get my haircut and things in South Central's Crenshaw district," recalls McEachern. "I started noticing the differences in the people when I went to Santa Monica. Everybody seemed to be chipper and happy all the time. I would see old men riding bikes and things of that nature. Then, when I would go to Crenshaw to get my haircut, I would notice it seemed like folks were a little sadder, like the world was on their shoulders. I started noticing [that] when you go to Santa Monica you see salad bars. When you go to [the] Crenshaw district, you'd see liquor stores and McDonalds. I thought that it would be cool if we could kind of mix-and-mash those messages. How can you bring people or make them aware of the different healthy food options without being preachy? That's kind of where the festival came in."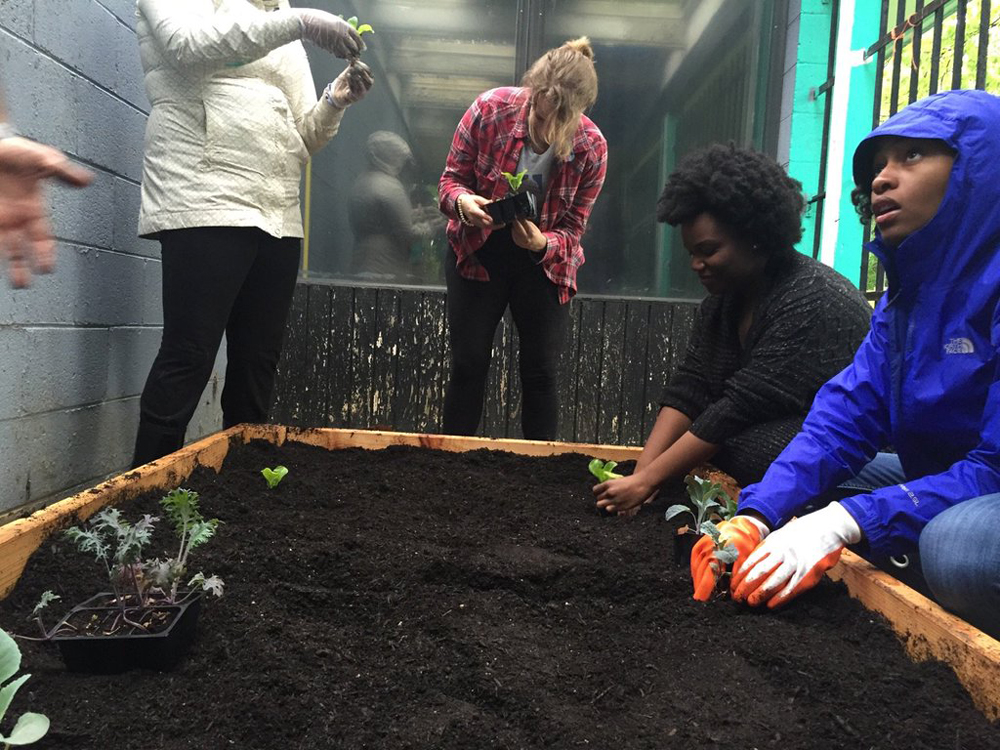 Photo: Broccoli City Twitter
Like McEachern, Allen noticed that his community lacked healthy food options. He says, he was living in a "food desert" and didn't even realize it. "I really got hip to what the concept of what a food desert is much later when I left where I'm from in Greensboro, North Carolina," he says. "I grew up living in a food desert my entire child-life. I was in a situation where my parents could drive and go get other option but a lot of people, they can't obtain those options. They're pretty much shit-out-of-luck. They have to deal with whatever is in their neighborhood, whatever is on their corner. For me, that made me realize, even if you want to help yourself you can't even do anything because people don't have the means or resources and that made me realize the effect Broccoli City can have on people's lives."
Both Perkins and Williams were pointed in the right direction by family at an early age. "My father was in public health," says Perkins.  "I remember he would get frustrated because so much of the money was going to HIV/AIDS, disproportionately. I was young but he would say what's really killing us is hypertension diabetes and we would never focus on that. As I got older, we see how our communities are so disproportionately affected by hypertension, heart disease; these are preventable things that we can do things about. It's about the choices that we are making. Our culture wasn't always as healthy... It's something that's inherent. It's important that we're bringing our generation, millennials—especially folks of color—into this conversation and engaging in it in a way that's fun."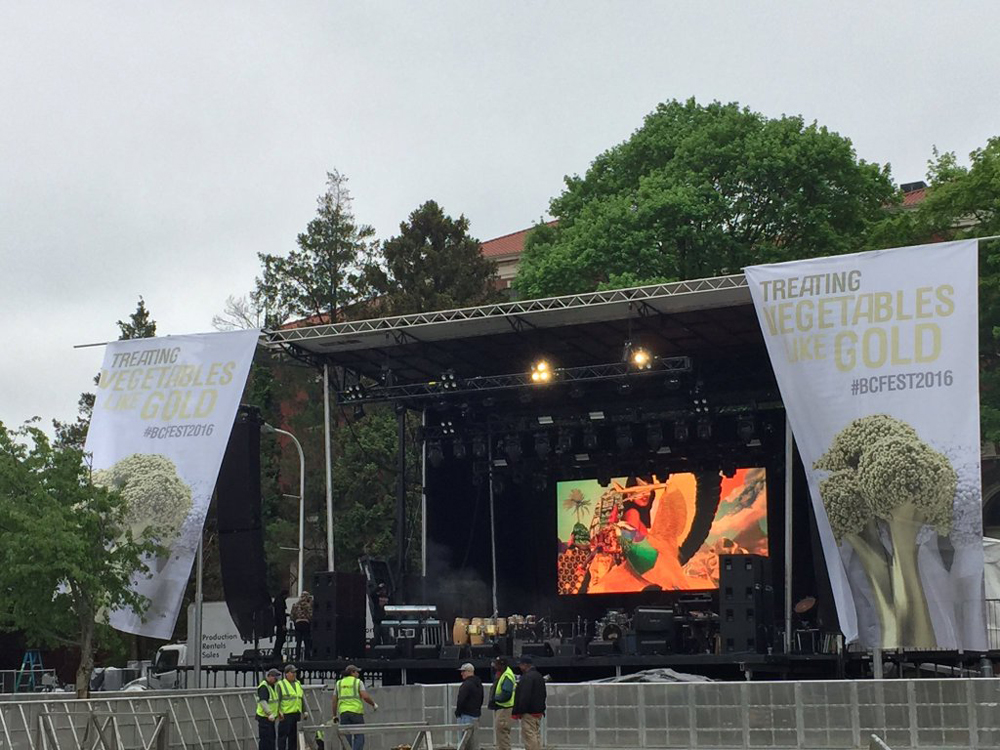 Photo: Broccoli City Twitter
"What really got me inspired to do more within the health space is when my mom and dad both got diagnosed with diabetes," adds Williams. "Here, you have two educated people, both obtained masters degrees. When they got it, we had that conversation and we started looking at the things we were eating that contributed to their diagnosis. My mom didn't eat a lot of junk food but she drank a lot of sugary drinks and things that she wouldn't have imagined that could've led to it. Around that time more studies came out about diabetes not being genetic but being a matter of a diet. So, when I met these guys, that was one of the things that came to mind—being a voice and being a conduit that can push information out to people who wouldn't otherwise know information on how to live healthier."
The American Diabetes Association states that nearly 13% of African-Americans are diagnosed with diabetes. Compared to other ethnicities, only Native Americans (15.9%) are at a higher risk of contracting the disease.
Hip-hop and big-name artists have helped promote the foursome's cause further. "Music brings the type of energy that makes you want to be a part of things," says McEachern. "When the music draws you there, then you get hit with the education and the awareness on what you need to put in your body and these different healthy options."
Future, the codeine and Sprite sippin' rapper, who often slurs his lyrics, is the headliner for the 2016 Broccoli City Festival. While his lifestyle may not align exactly with the concepts B.C. stands for, Williams says the collective selects artists "that can reach the most people at once."
"Future does that," he says. "You're bringing in people who believe in these [shared] beliefs and you're touching people that don't."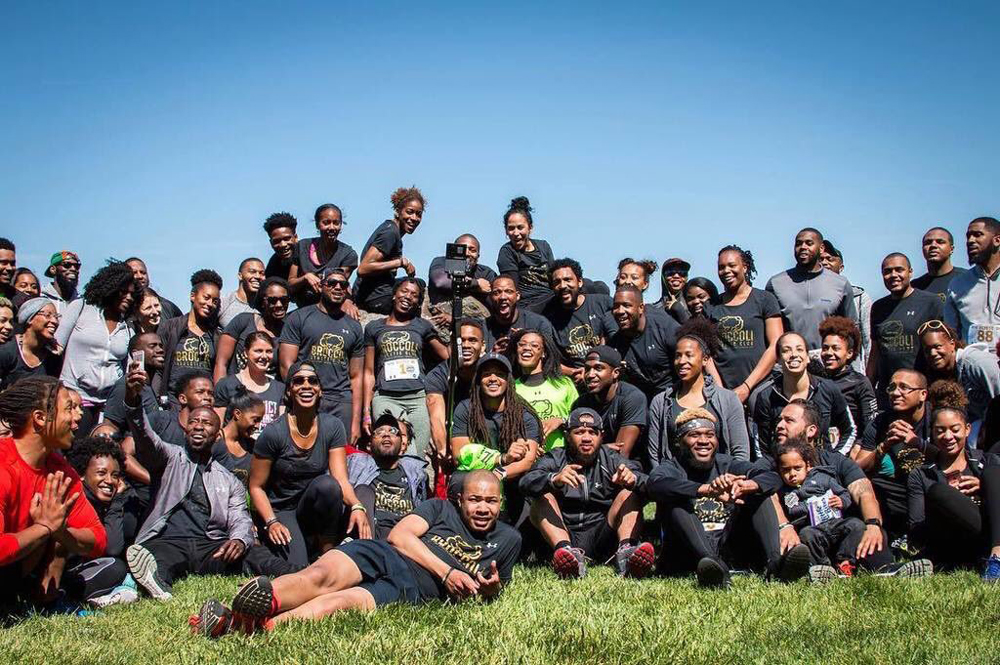 Photo: Broccoli City Twitter
Tickets are sold out for the 2016 Broccoli City festival. In addition to a headlining performance by Future, Jhene Aiko, The Internet, B.J. The Chicago Kid, Anderson Paak, and more are expected to hit the main stage on Saturday (April 30) at the St. Elizabeth East Gateway Pavillion. Local acts like go-go band Rare Essence and Reesa Renee are slated to rock the One Love Massive second stage.
Aside from the music, festivalgoers are encouraged to take part in yoga, zumba, and visit the variety of wellness booths—strategically placed near the stages.
McEachern, who derived the name of the nonprofit company and its coinciding festival from his hometown of Greensboro, North Carolina, is quick to remind the skeptics: "Even though we talk about sustainability and culture, we're still cool! Don't get it twisted."
***