Since speaking with Entrepreneur.com and Full Size Run about his new book, This Is Not a T-Shirt, which arrives next Tuesday, June 25th, the Bobby Hundreds Book Press Tour Extravaganza has made stops at Forbes and High Snobiety.
You can read a conversation between Bobby and writer Kaleigh Moore today on Forbes, where the topics range from retail experience to relevancy in the streetwear space. Here's what Bobby told Moore about where he found inspiration in naming the book This Is Not a T-Shirt:
It's actually based on a Fugazi t-shirt, which wasn't made by the band. They took an anti-merch stance, so fans made their own. It's a nod to my days in the hardcore punk scene and a play off the Magritte painting The Treachery of Images, but really it gets to the heart of how for The Hundreds, our brand is not about the t-shirts we sell.
Read the rest of the interview on Forbes
Then, Bobby stopped by Highsnobiety to play a little game of Cop or Drop, where he gushes over Spam and throws shade at private jet owners like Drizzy Drake Graham. For anyone wondering what to get Bobby for a gift, don't say he didn't give you some clues.
If you're in Paris for Fashion Week, come meet Bobby and the rest of The Hundreds team on June 19th for the This Is Not a T-Shirt release party. It's your first opportunity to get a physical copy of the book, as it doesn't arrive on bookshelves globally until June 25th. Plus, you get to check "seeing Blondie Beach in Paris" off your bucket list.
If you can't make it to Paris, don't worry, we're throwing a banger at a book store on the 25th. That's right, Bobby's US release party is going down at Barnes & Noble in The Grove. The first 200 attendees that buy a copy of This Is Not a T-Shirt will receive a free commemorative This Is Not a T-Shirt T-Shirt (no typo), plus everyone that buys a copy of the book will have a chance to meet Bobby and get their book signed. Bobby's guest moderator for the evening will be the legend Wale, so make sure you get to Barnes & Noble early to get a good spot for their conversation.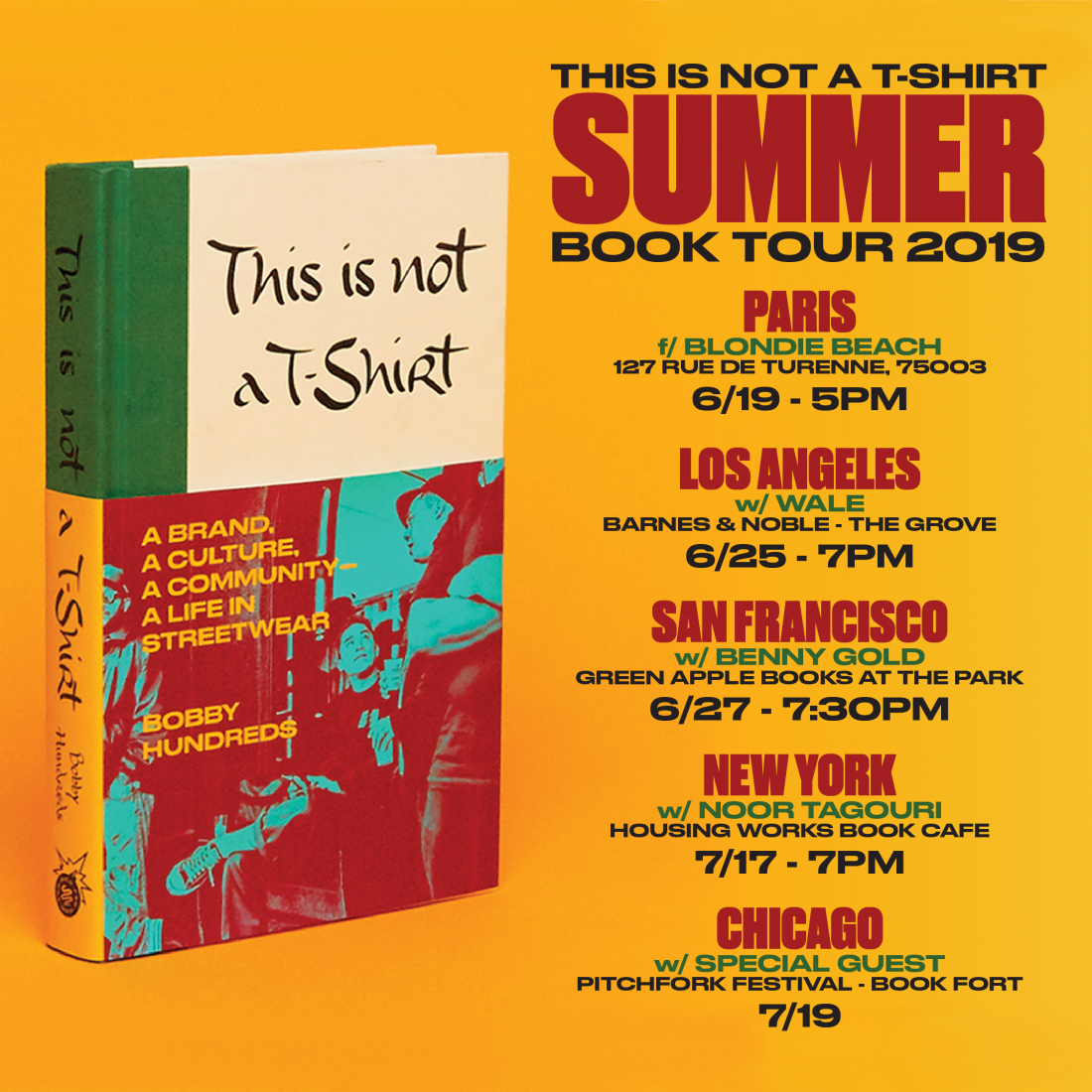 ***