Recently, Bobby and the rest of The Hundreds Team went to Universal Studios for a preview of their annual Halloween Horror Nights celebration. It was the perfect way to kick off Spooky Season and a new collaboration we've been dying to tell you about.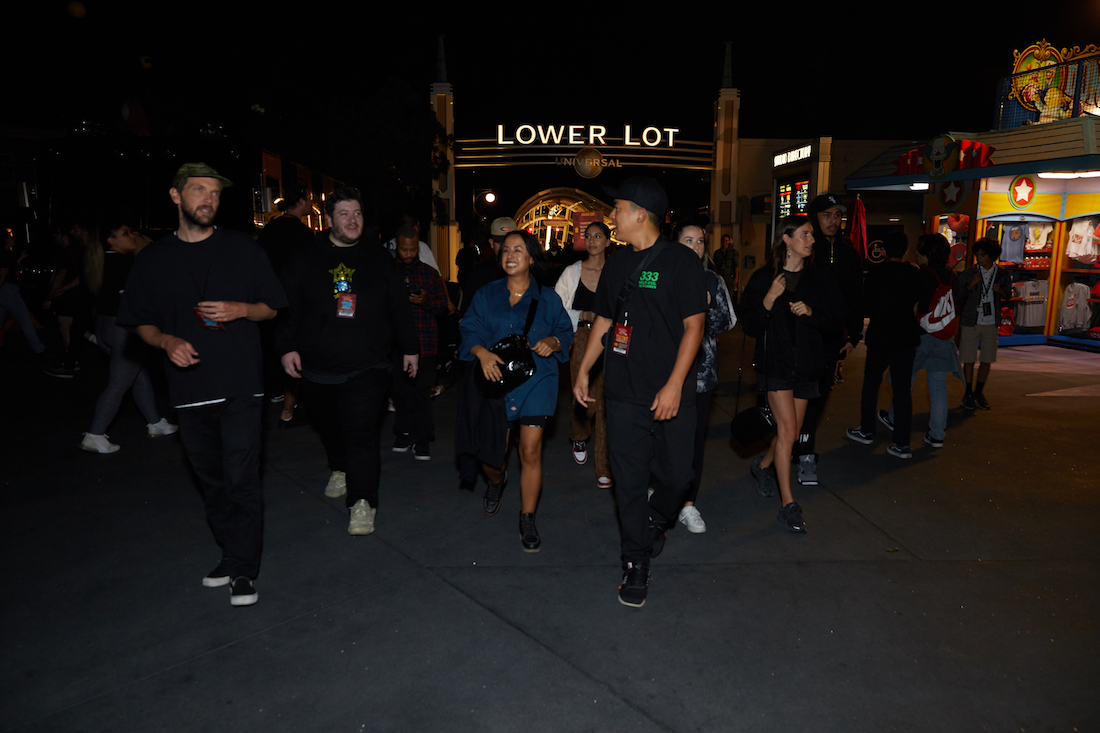 So, before we get to the fright fest, some background. If you've been on the Studio Tour at Universal lately, you've probably seen the huge mural that was just finished, featuring five of Universal's most iconic Monsters: Dracula, the Bride of Frankenstein, Frankenstein's Monster, the Creature from the Black Lagoon, and the Wolfman.
These legendary characters were the pillars upon which Universal Studios built their expansive collection of Monster Movies over the course of three decades. These films ushered the world into a new age of cinema, transitioning from silent films (early Universal Monster movies like The Hunchback of Notre Dame and The Phantom of the Opera) to full-fledged blockbuster franchises (there were six films each for Dracula and The Mummy, eight for Frankenstein). Actors like Boris Karloff, Bela Lugosi, and Lon Chaney Jr. became household names for the nightmares they gave the entire nation.
Now, as Universal celebrates the legacy of these classic Monsters and gears up to bring them back to life on the big screen with new movies and new stars, the mural is an amazing way to move forward while looking back. Our favorite.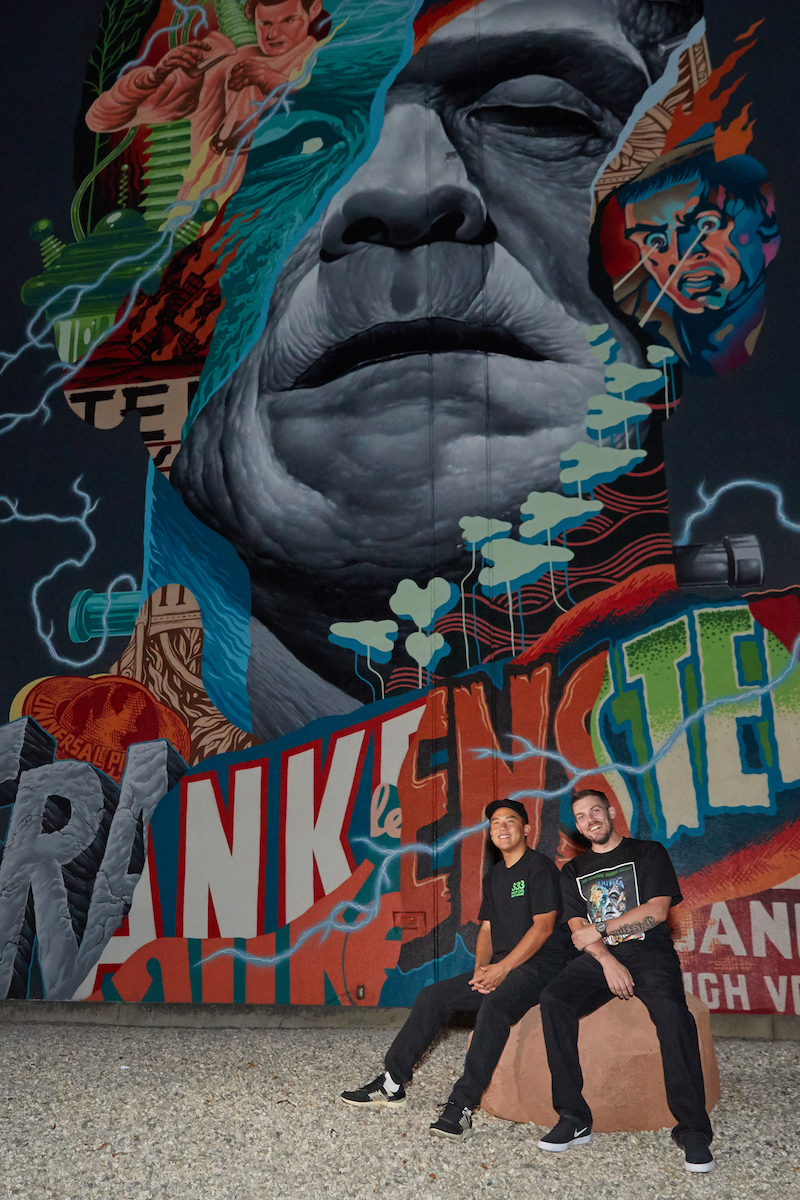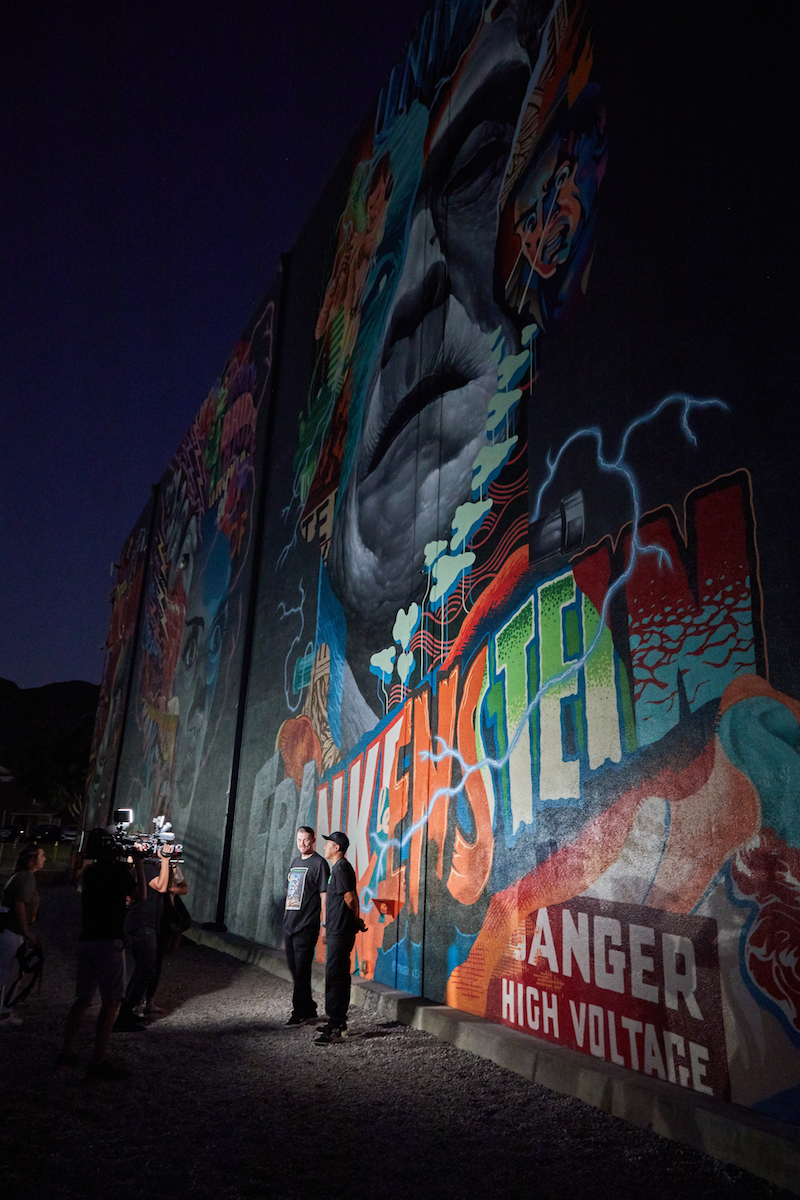 World-renowned muralist and graffiti artist Tristan Eaton was tasked with the challenge of pulling off this massive piece of art. A longtime friend of Bobby and the brand, there had been talks of a collaboration between The Hundreds and Tristan Eaton for some time. Given our love of films that touch a nostalgic nerve, we were thrilled to turn Tristan's mural into a limited edition Collection of Universal Monsters gear, including Graphic T-Shirts, Hoodies, Tote Bags, and Skate Decks. In fact, this marks the very first time an outside brand has sold clothing inside Universal Studios' shops, and we couldn't be prouder to blaze that trail.
To celebrate the opening night of Universal's Halloween Horror Nights and the early release of The Hundreds X Universal Monsters by Tristan Eaton, the park invited Bobby and like ten of his work children to the festivities to test out the horror levels. Results were varied depending on who you ask.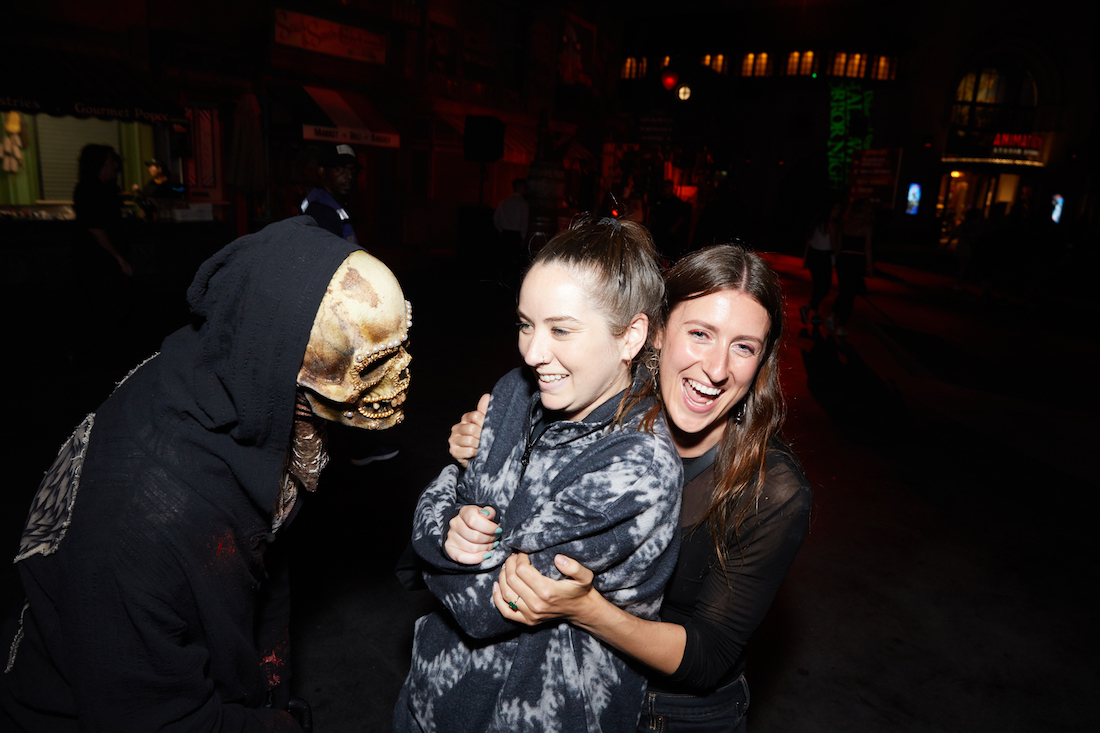 First, Bobby and Tristan hit the red carpet, sandwiched in between the goat Rob Zombie and the little girl from Us. Yes, we met Jordan Peele. No, we didn't fan out. The key to fitting in on the red carpet is acting like you've been there before. Can't be asking for selfies. However, he was there with Dan Akroyd, so I almost freaked out.
After getting their photos taken and doing a quick interview, Bobby and Tristan were escorted to the Haunted Mazes area of the park, where their itinerary read: "get the bejeezus scared out of you."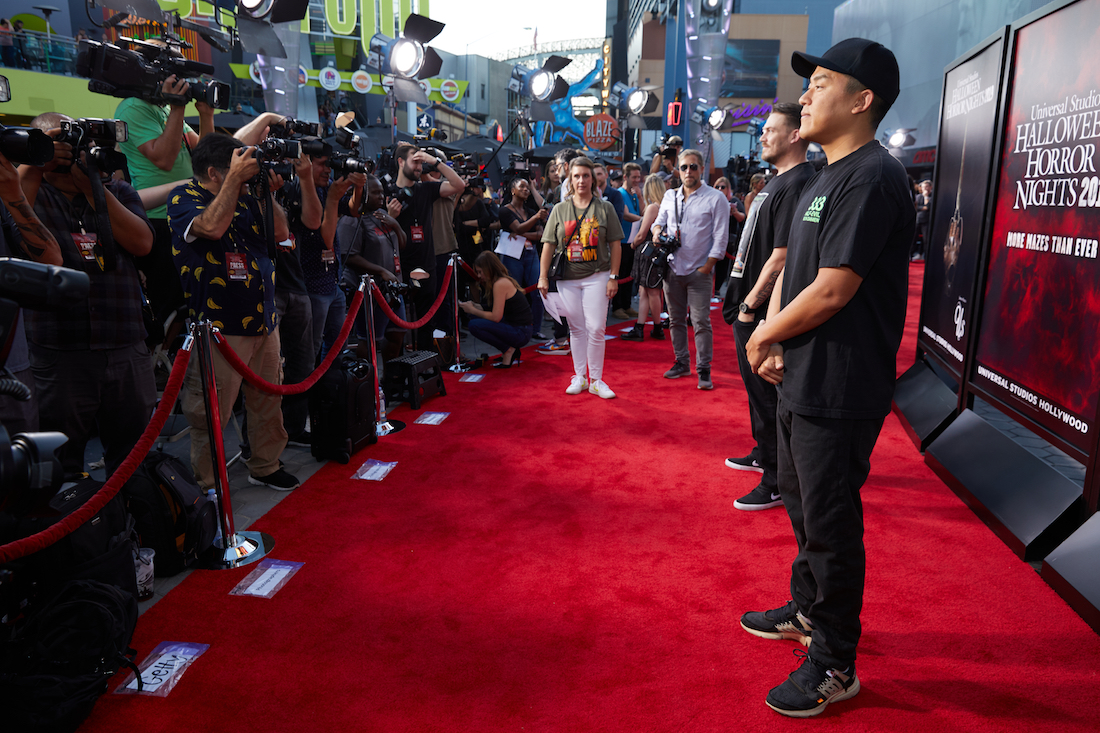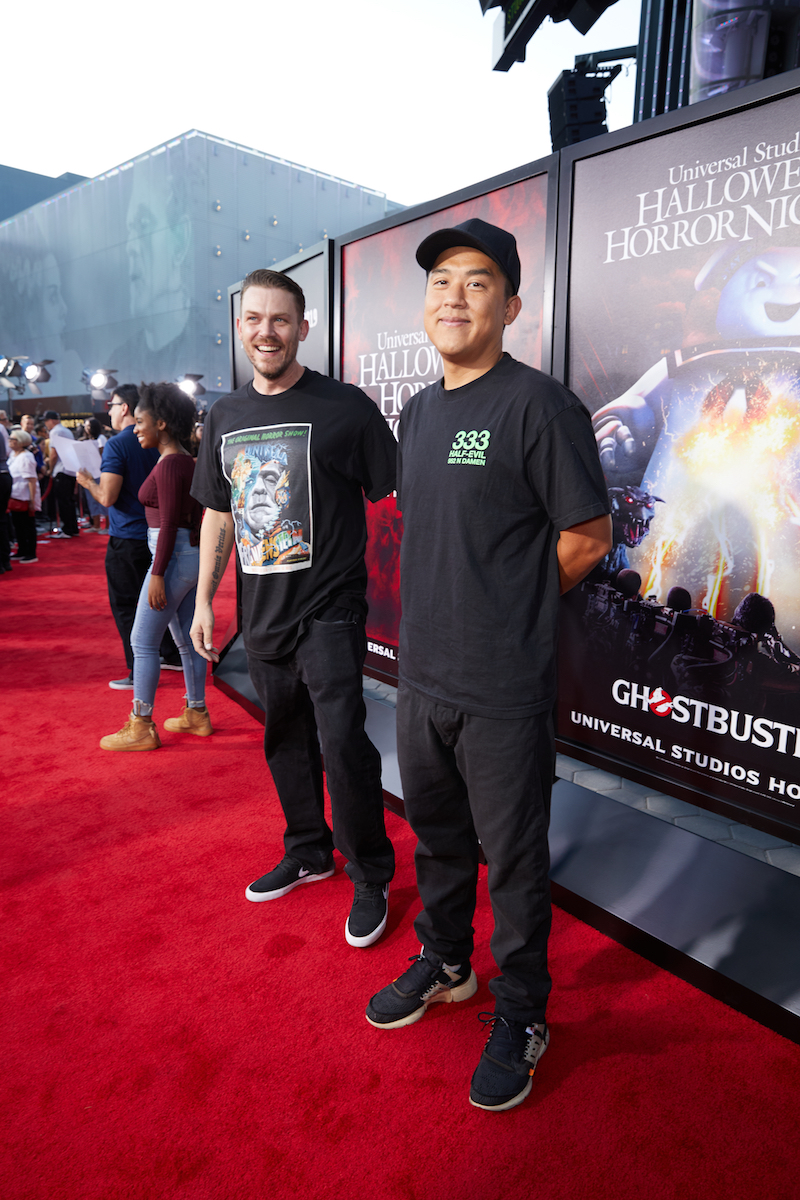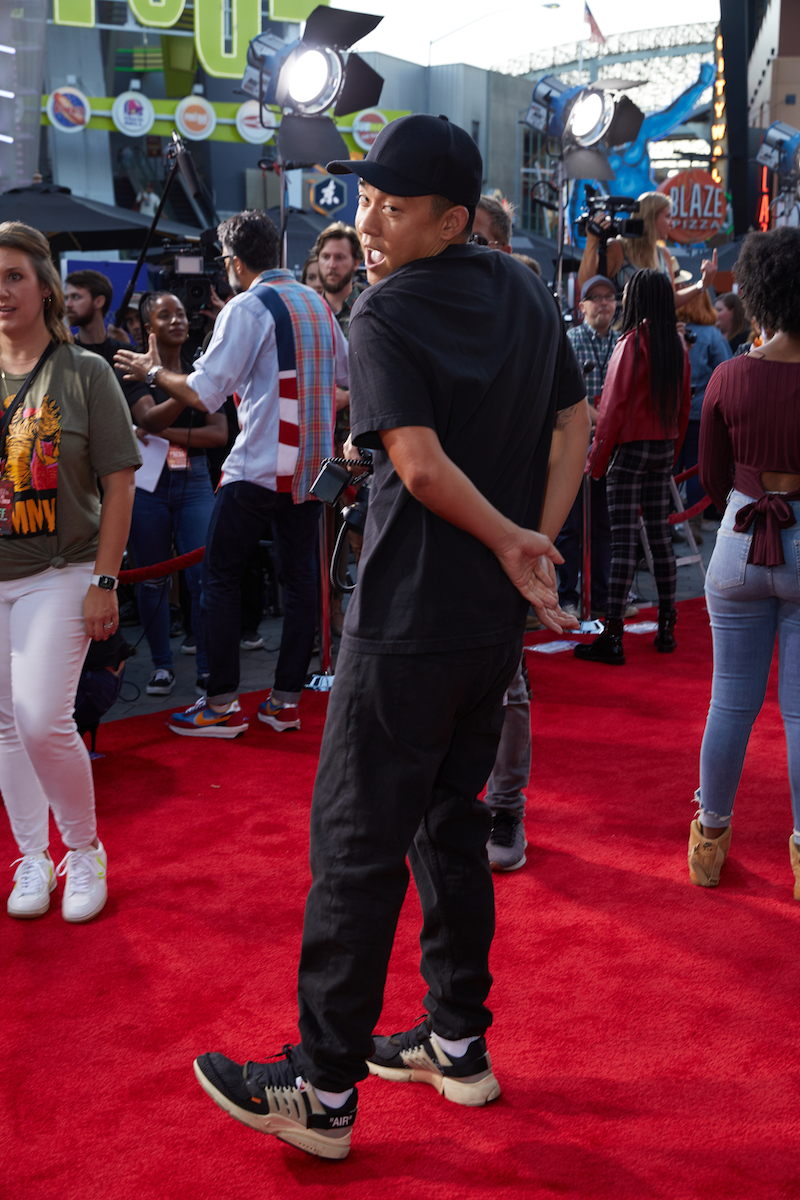 Walking through the spookified streets of Universal Studios, ghouls and goblins of all shapes and sizes were running through the crowd with chain saws and other various murder tools. Until it happens, you forget how much of an adrenaline rush getting scared to death is. Kind of refreshing.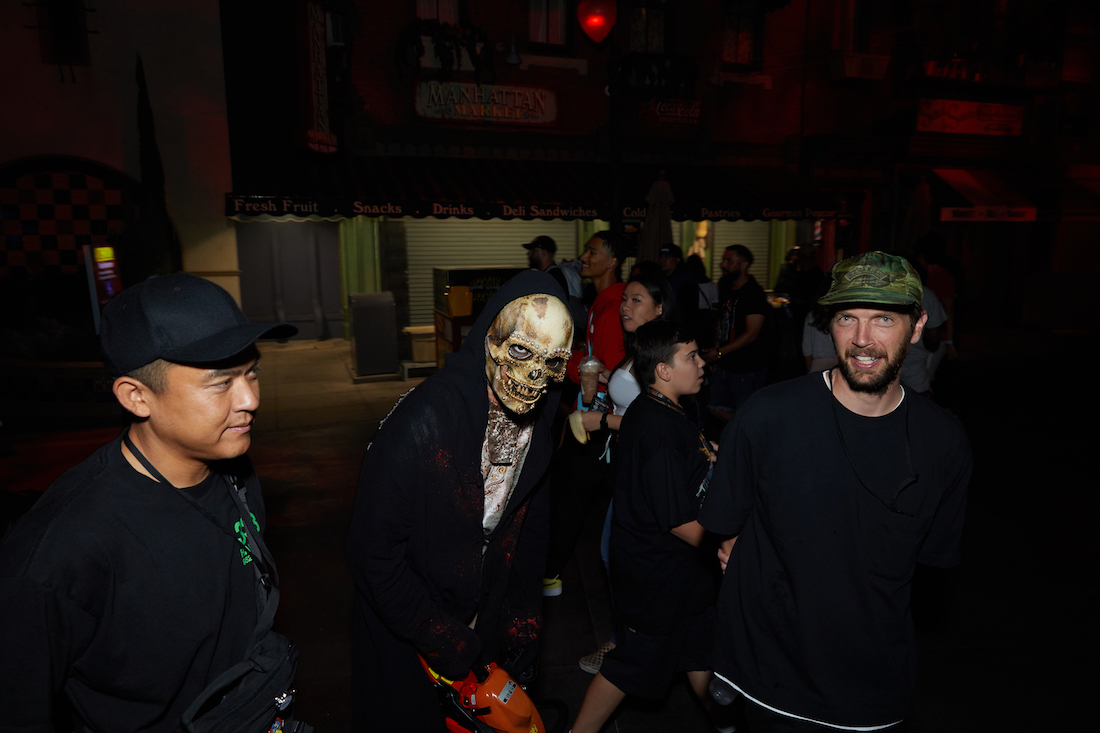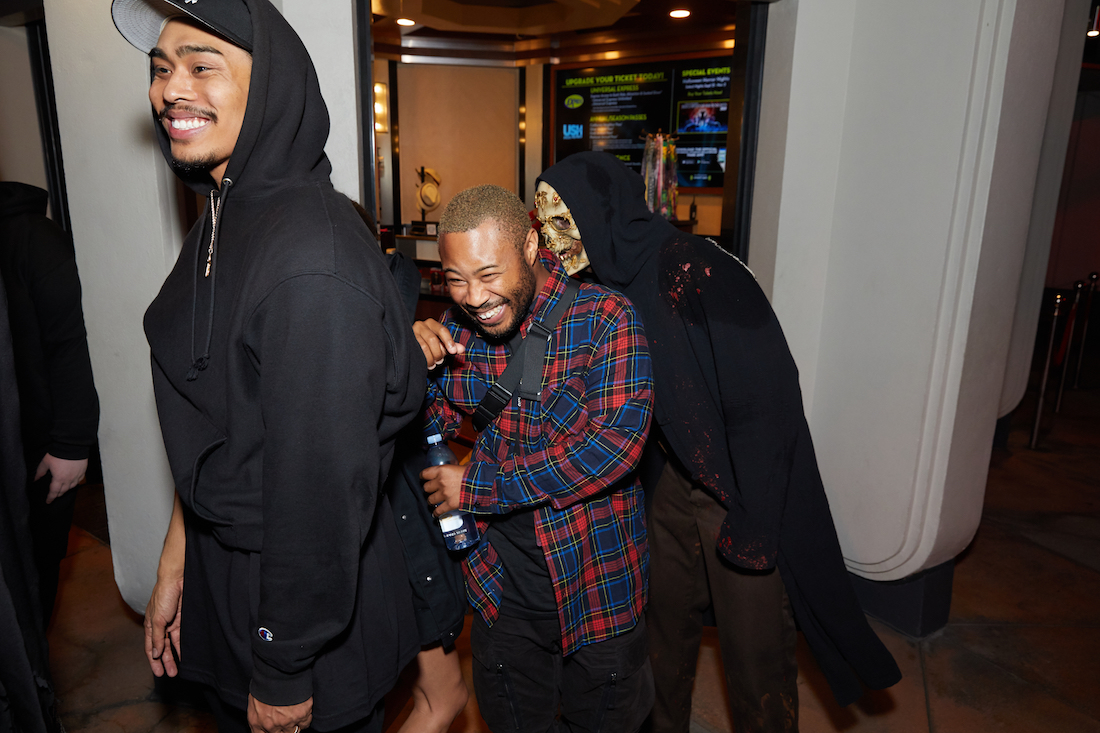 Bobby and Tristan filmed a video going through the Frankenstein Meets Wolfman Maze while the rest of us hit the Stranger Things Maze and The Mummy ride. Then, we all met up and hit the House of 1,000 Corpses and Us Mazes. The Us one took the prize for most terrifying experience of the night, Universal did an incredible job putting it together. It also answered our question about why Jordan Peele was hanging out with us normies in the first place.
We took a break from getting terrified so we could let our pants dry and made our way to one of the gift shops inside Universal. It was surreal seeing The Hundreds displayed in there, let alone as the huge main display right in the entrance of the store. As the night went on, we started seeing more and more people walking around with one of the T-Shirts. Have to give it up to Tristan for creating such amazing new art using these timeless characters. Hopefully, this Collection and this mural will introduce an entirely new generation to the magic of those original Monster movies.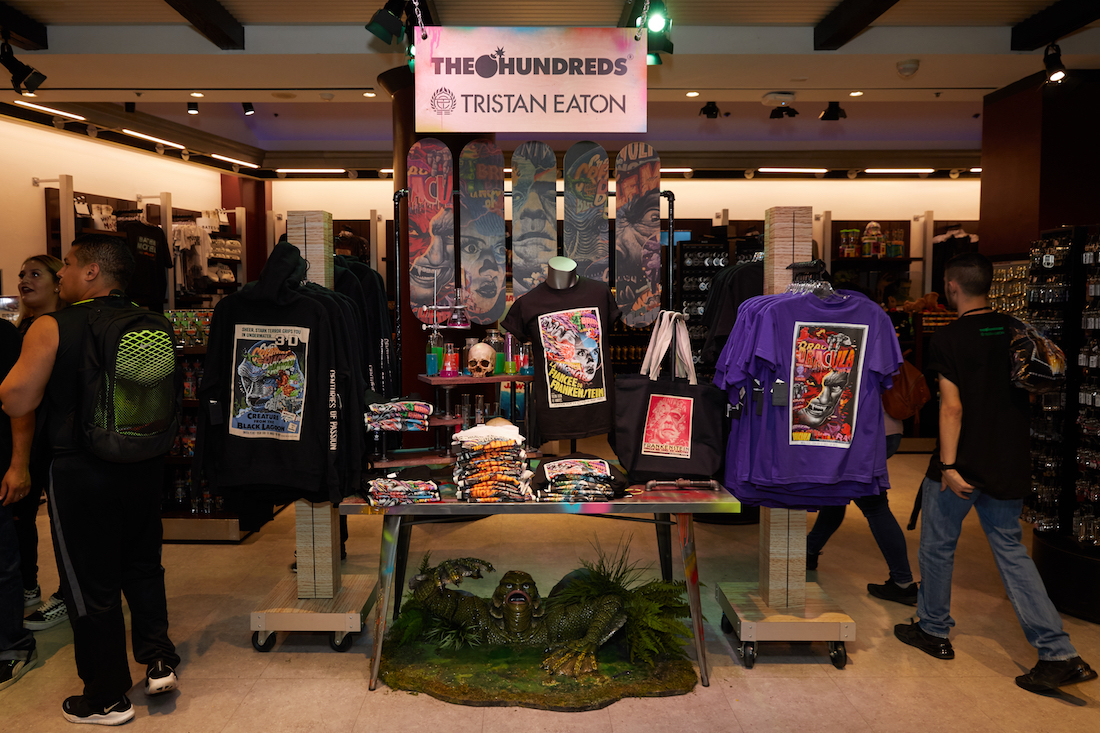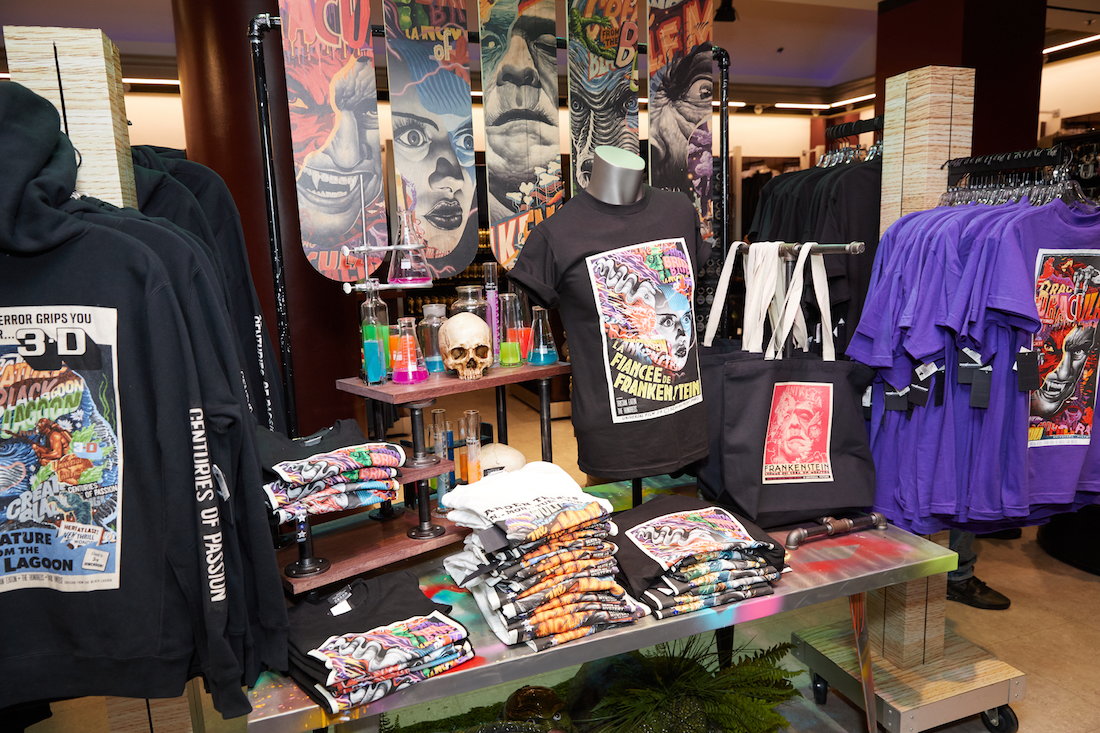 Then, it was time for the big meet and greet. Hundreds of fans had been waiting in line to meet Bobby and Tristan and get their hands on limited edition prints of the Monsters mural. There were just 100 prints of each individual Monster and some people waited in line for over seven hours to get one of them signed by the guys. It's easy to forget how much impact these classic monster movies have on people's lives because of how old they are but it's evident in the way people are supporting this project.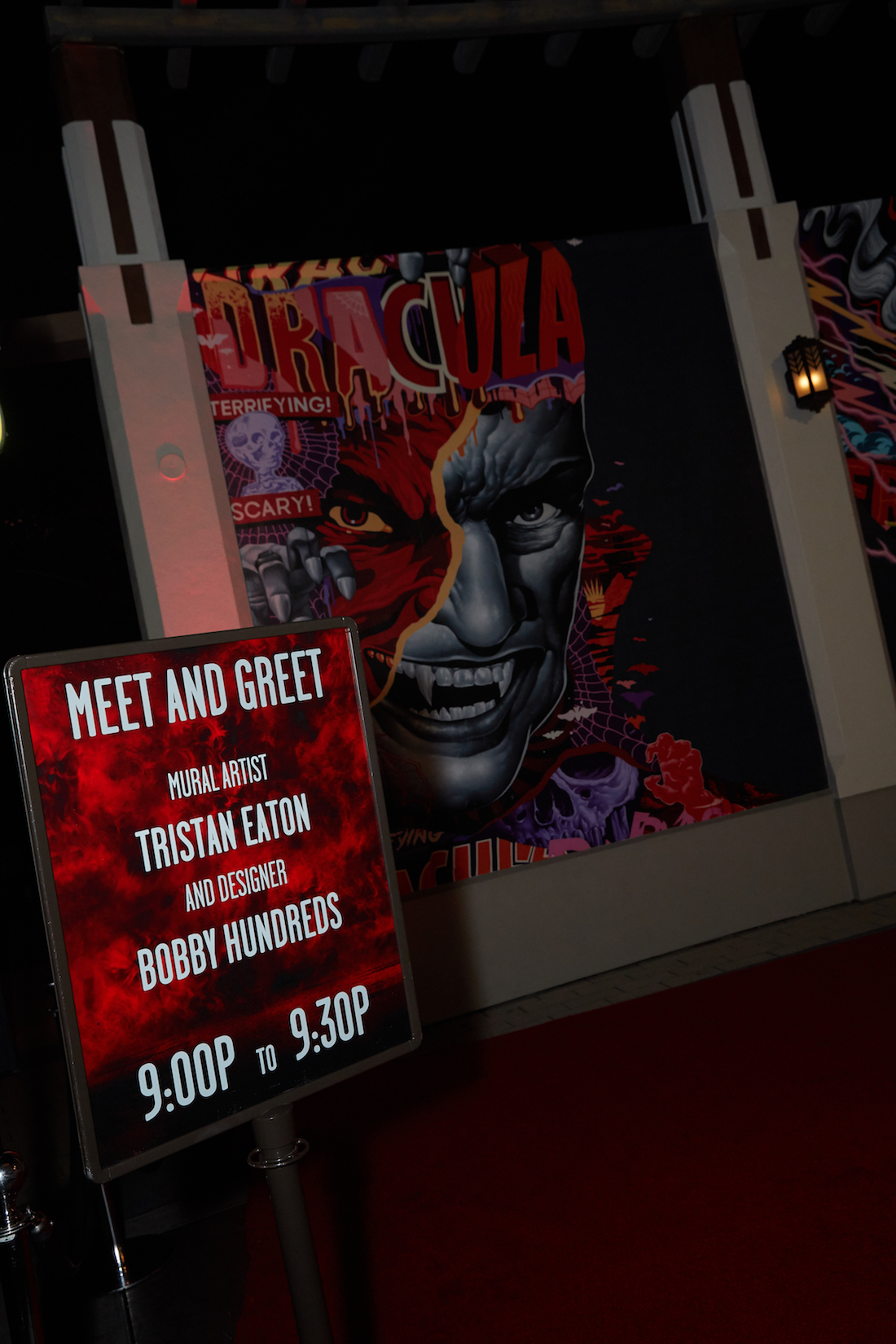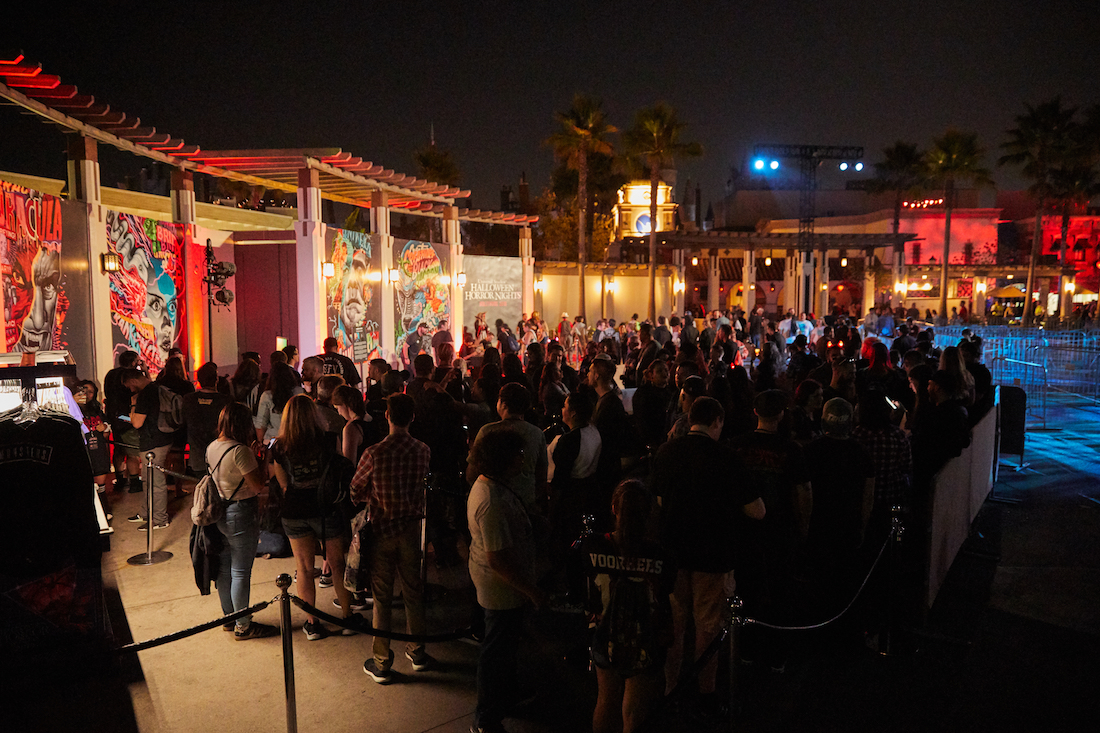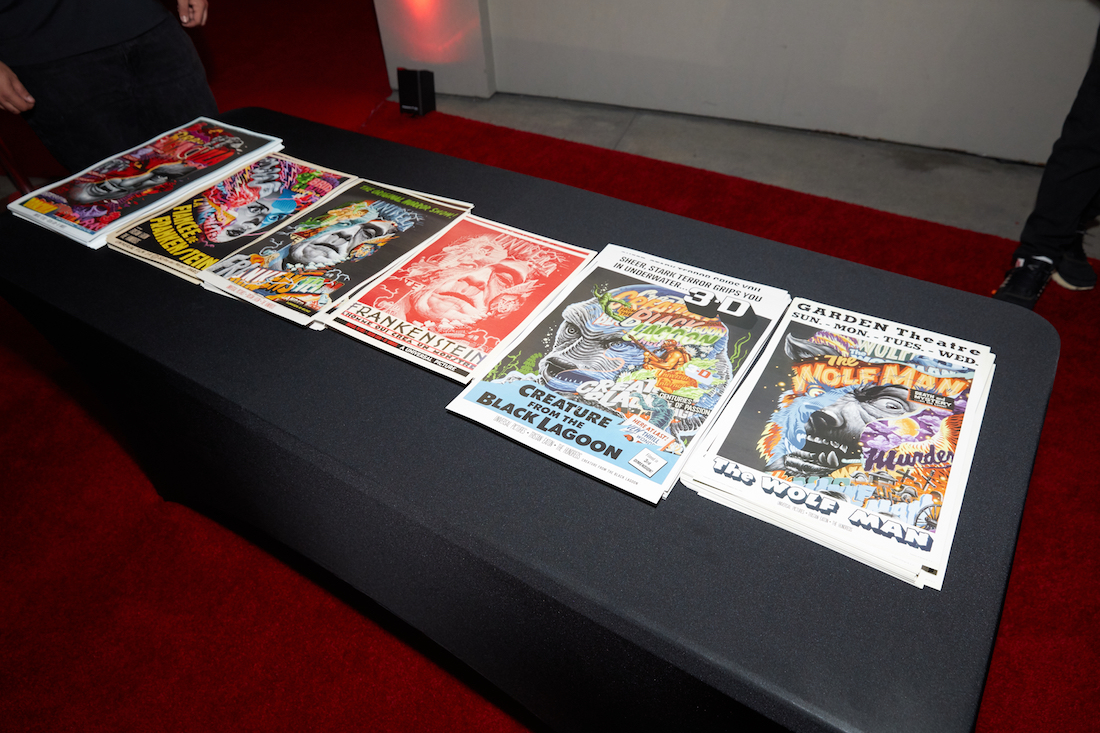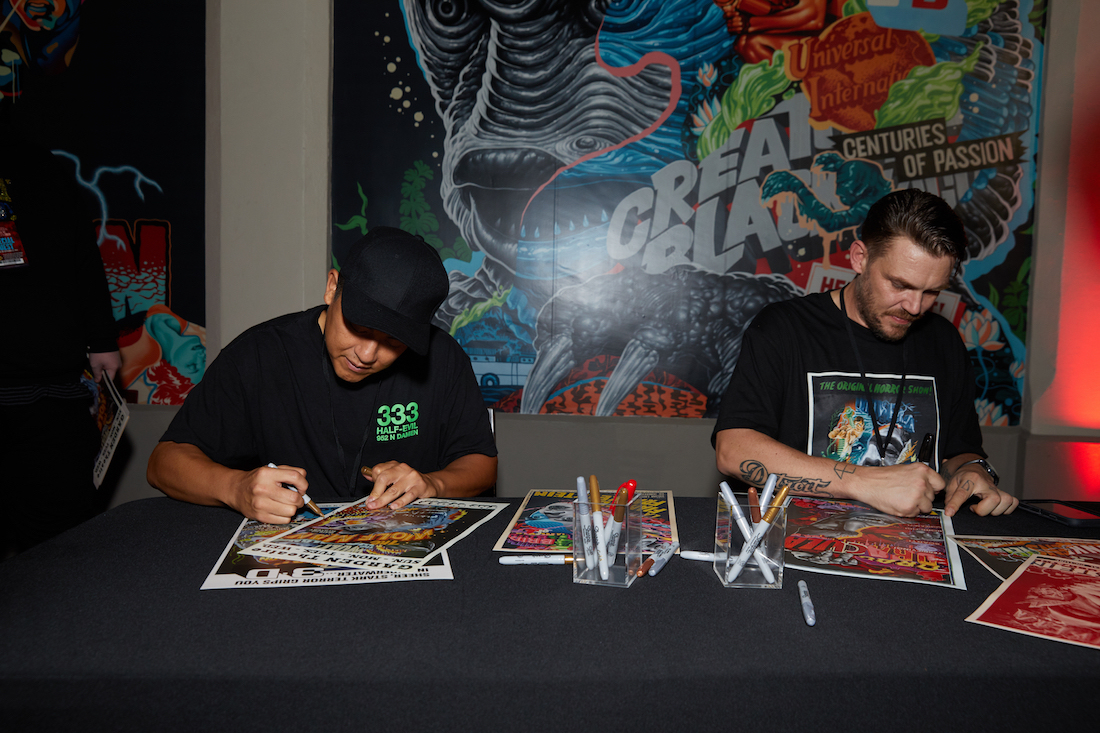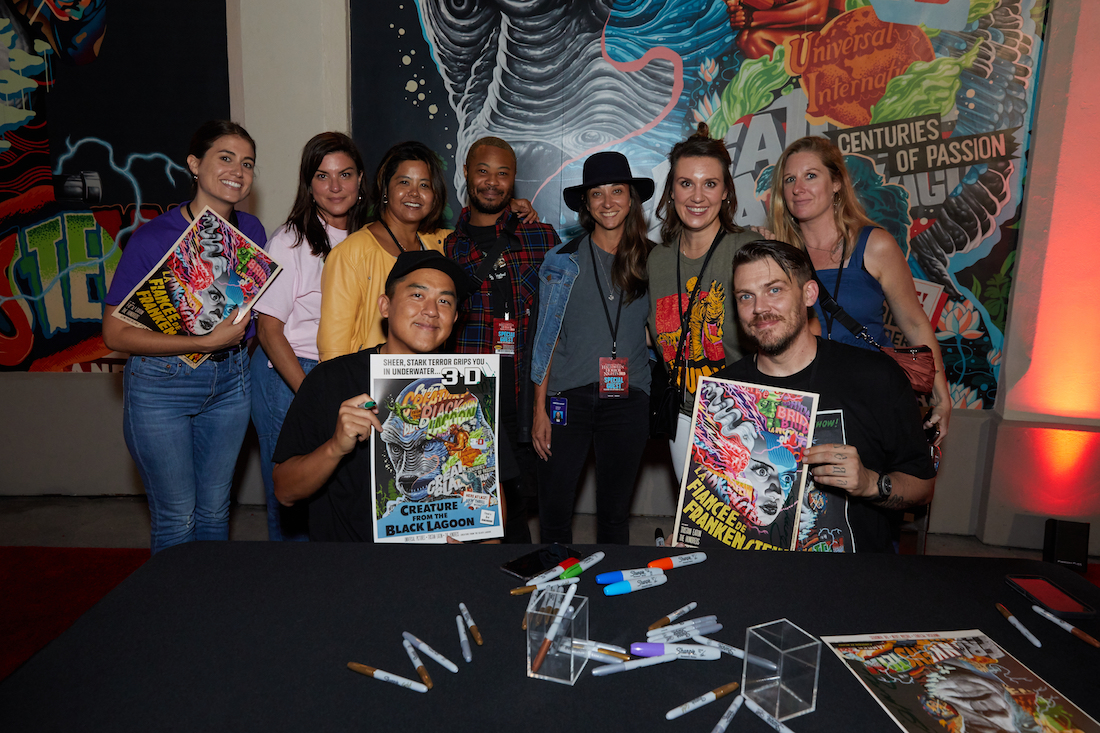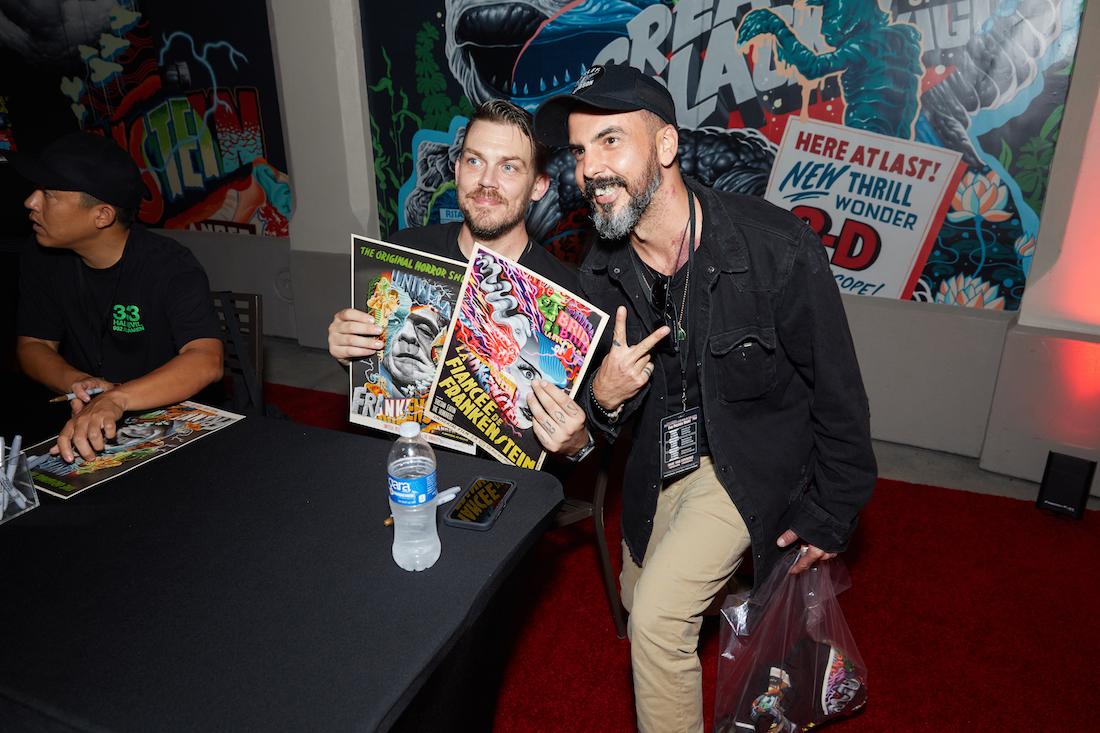 If you're going to be at Universal Studios, you can still grab all of the pieces from The Hundreds X Universal Monsters by Tristan Eaton Collection early in their shops around the park. For the rest of you around the world, you can get your hands on the Collection next Thursday, October 10th on The Hundreds App and Online Shop, meaning you'll get it just as Spooky Season is really heating up. Big time fright flex at work or school.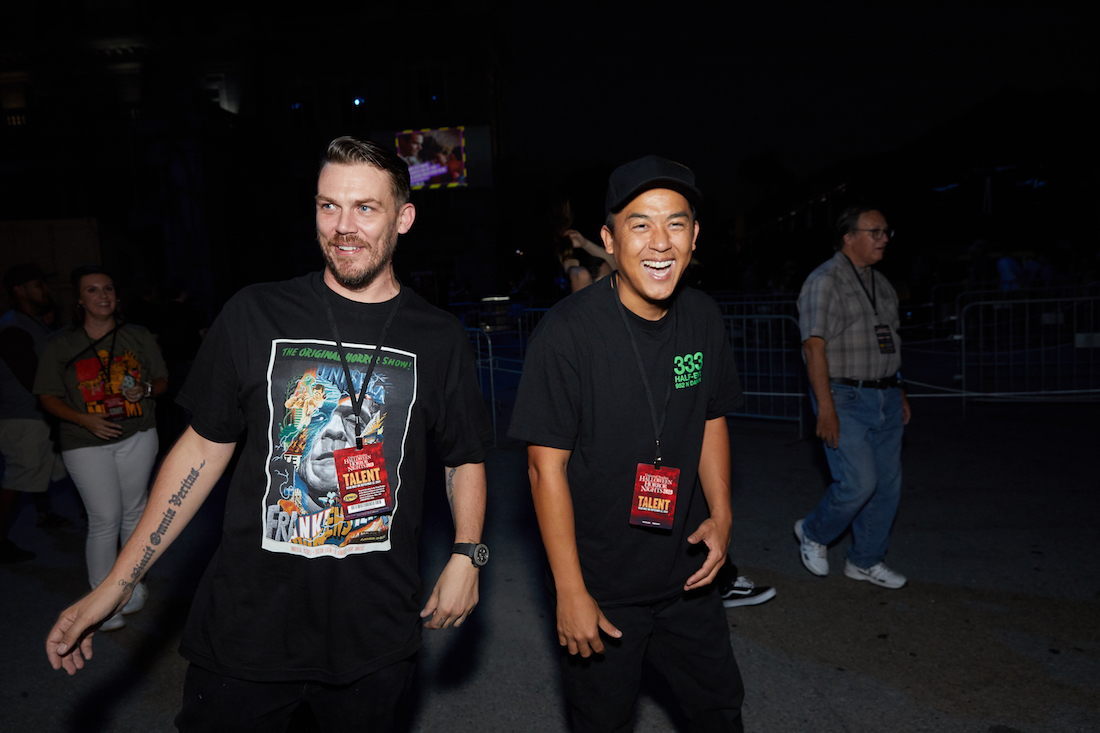 Thank you to Tristan Eaton for working with us on this amazing project and thank you to Universal Studios for bringing our dreams to life. Everyone bring your friends and family to Halloween Horror Nights!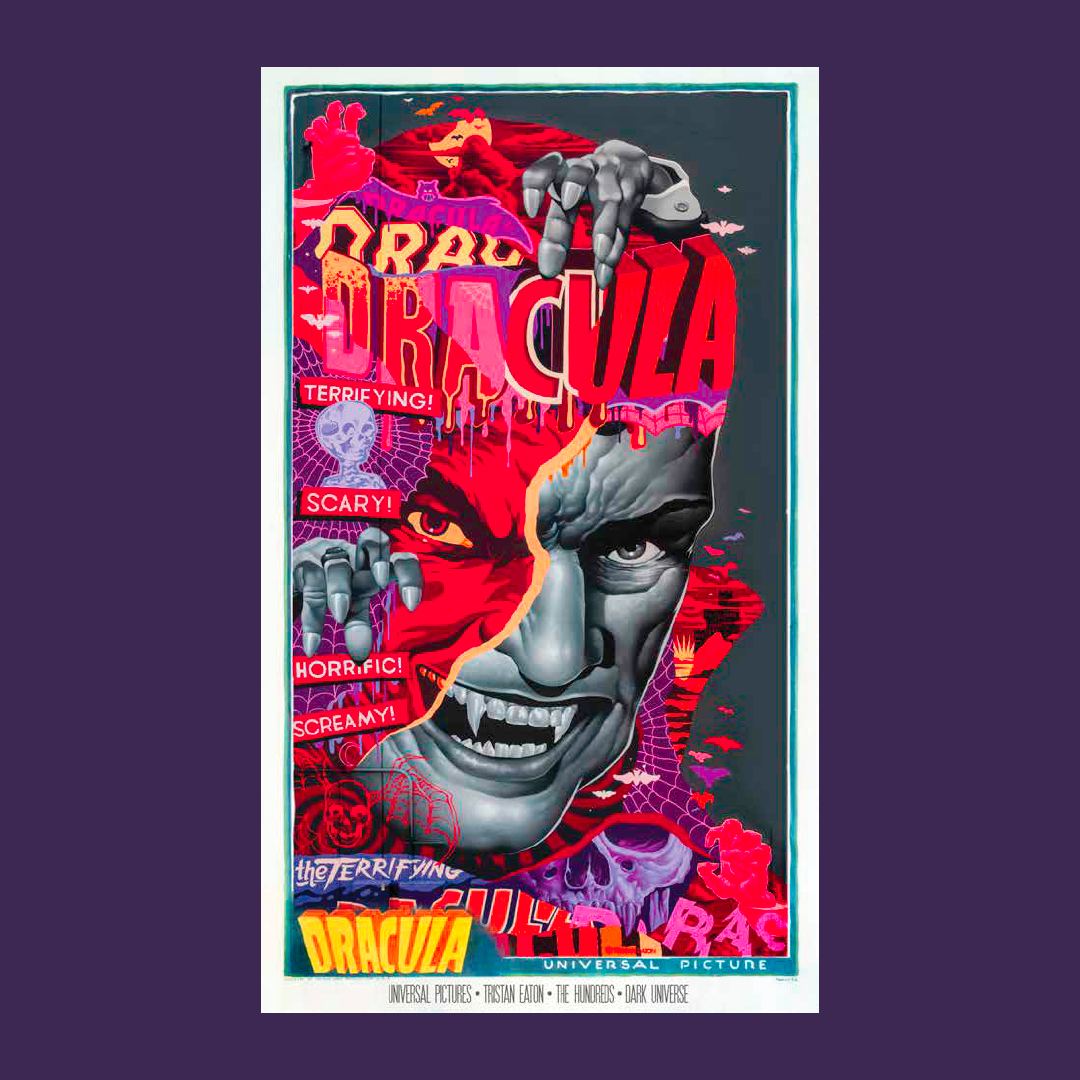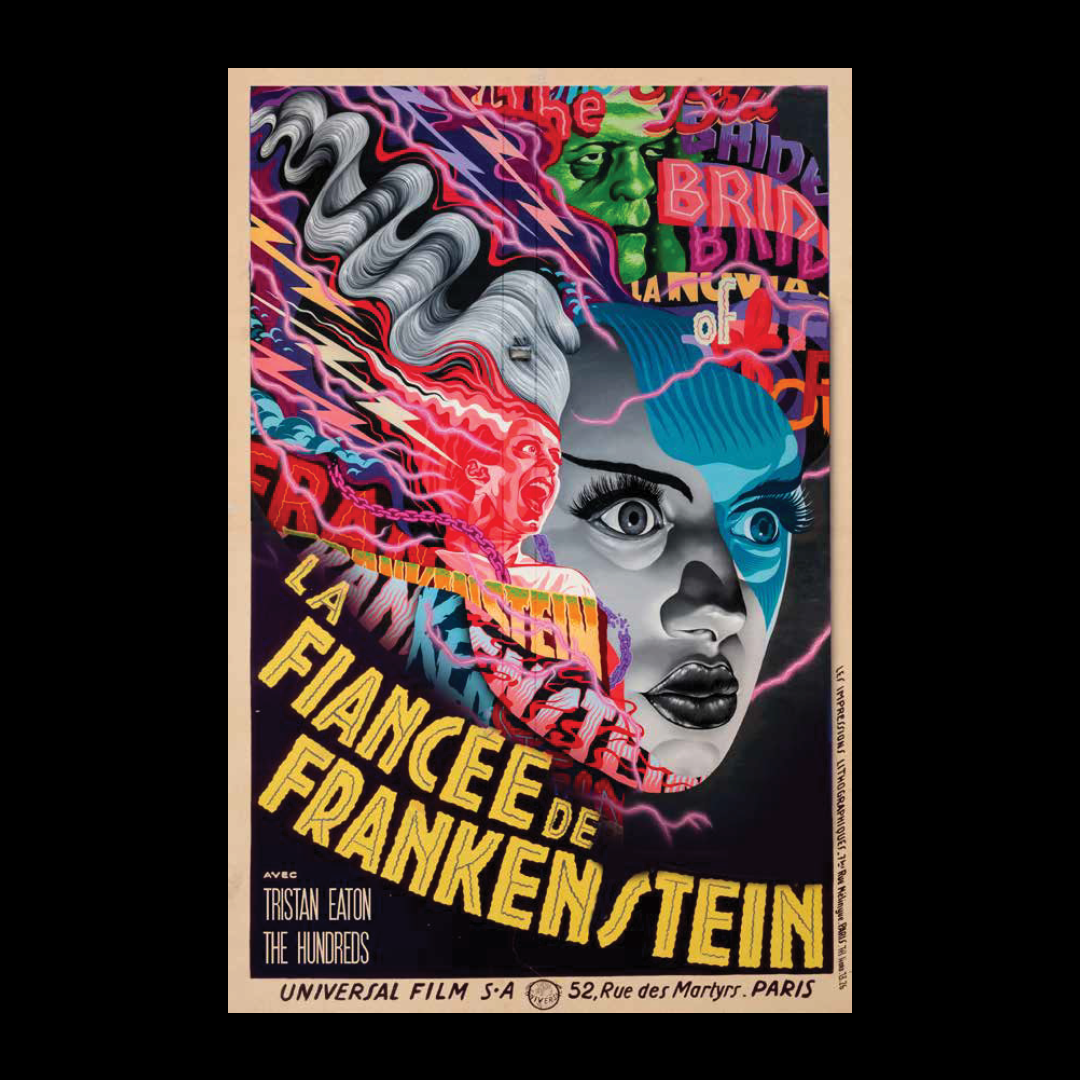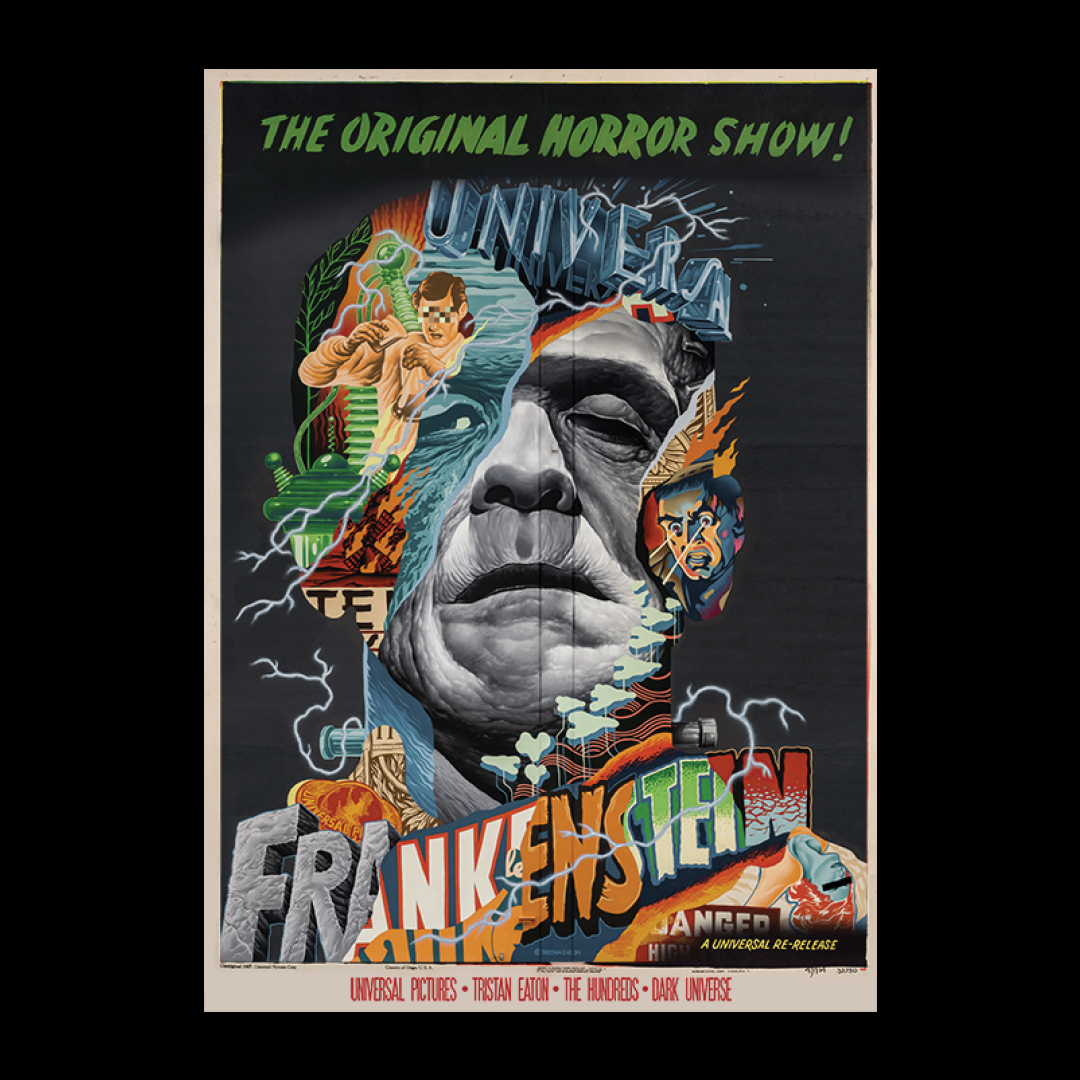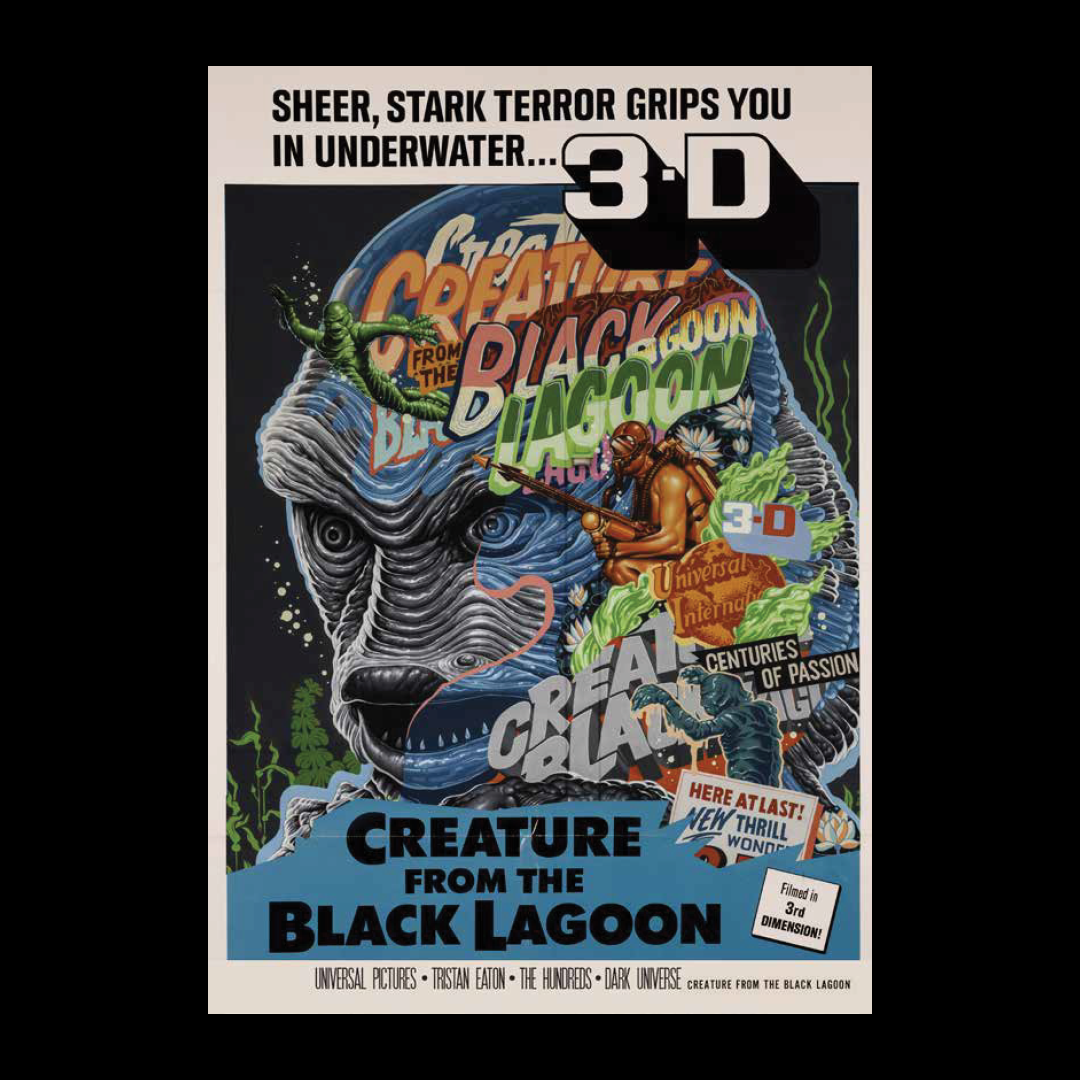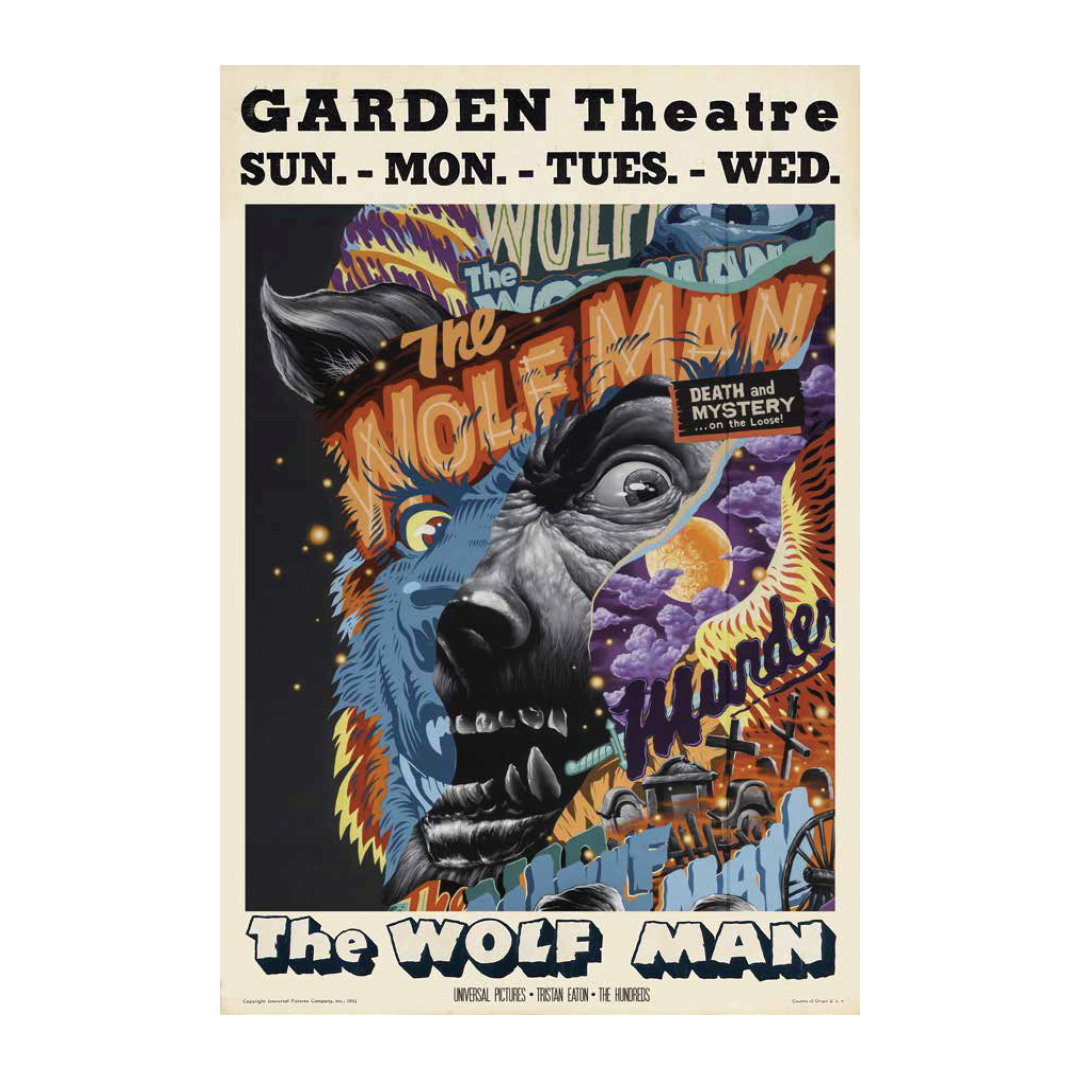 ***