While driving nowadays, I usually find myself listening to Hip-Hop Nation on my Sirius/XM radio, a station that seems to be one of the only avenues where new music can break in 2014. Their commercial-less format is obviously conducive to this type of freedom, at least when compared to terrestrial radio, an industry that now seems just fine with just playing Pharrell's "Happy" until we forget who Chad Hugo is. This past week, while listening to Green Lantern's show, I was exposed to a new name, and in turn a new song, exhibiting an uncanny amount of talent and respect for rap music, usually ignored in tracks where the radio DJ has to annoyingly yell "NEW SHIT" at the beginning. The rapper's name was Boaz and the song was called "Like This." I was impressed enough to Google him immediately and hope I didn't get a texting while driving ticket. I quickly learned more about the Pittsburgh native, whose debut album on the buzz-heavy label that brought you Mac Miller and Wiz Khalifa – Rostrum Records – is set to release this summer, and immediately reached out to see if we could all learn a little more about the artist I hope can soon dethrone that "Happy" song. I sent him some questions and in return he sent back some answers. Let's learn more about Boaz...
"Like This" was my first introduction to your music, which honestly, after finding your prolific mixtape catalog, I'm embarrassed about. How'd you start rapping? 
I got my start rapping from just having a love for hip hop. My family loves music. I grew up on the grooviest of tunes. Eventually a buddy of mine discovered an old Karaoke set in his grandfather's funeral home that they weren't using anymore. The rest is history. I don't think I put a mic down since. That was a long time ago. We were 12 or 13 then, just fucking around having fun and cutting tapes for our own listening pleasure. It wasn't until about 2003 I actually produced my first mixtape, Intent to Deliver, and began to see music as a possible career move.
Obviously Pittsburgh has gotten hip-hop's attention for the past few years, but before that it was widely ignored by the mainstream. Does not having a local hero break through affect your hopes of making it yourself at any point?
The fact cannot be ignored that at this point the city has produced two major stars [Mac Miller and Wiz Khalifa] under the one umbrella of Rostrum Records, so I feel as though we've had break-through heroes now. With the design of the industry, it kinda skips PGH. We're not a big entertainment town, we're more blue collar. The city produces citizens more likely to work regular gigs. We're the era of rebellion, wanting to do bigger and better things than our parents. Parents aren't really the only role models anymore. People wanna be like Jay Z, Lebron James, [Andrew] McCutchen and people that are just bigger than life. So given the level of opportunity, there should be no discouragement in achieving whatever. I think now is my time to reach those heights, and keep these up-and-comers inspired!!
One of the coolest things about hearing "Like This" on Sirius/XM as your first track with radio play, is that you're 29 years old. Hip hop is usually considered a young man's game, but you seem hungrier and more focused than in your earlier work. It's like you're hitting your prime now. Do you think you're at an advantage or disadvantage based on age? And did you have to go where you've been to be where you are now, skills wise?
I'm laughing at you quoting my age. Hearing that makes me sound old, given I've been doing this so long. As art reflects life, I still feel young in my journey. All my favorite artists didn't reach their peak until they were well over 30. I feel like I'm just reaching a level of artistry to be able to touch millions of people. The message is strong, the music is diverse, and my delivery is so well practiced. I mean it wasn't easy getting my flow this nice. It requires constant practice, so I work like I wanna be here a while! So yeah, lots learned along the way. I feel prepared for the next step. These young guys can learn something from an artist like me. I've seen artists have impactful singles and disappear into the wind. I'd rather keep building constant momentum, and when that single does take off, I just want it to be clear that I never withered and stayed true to myself!!
You signed to Rostrum Records back around 2011/2012. A lot of people have the misconception that when you sign a deal, the next day the machine starts and you're off to the races. What's the real process?
People have to realize that the music industry is like a fraternity. You're privileged to be in a position where someone believes in you enough to invest. The machine starts with you. Your support system can only go as hard as you do. So in turn, you make yourself the machine. The label merely mirrors your passion and stands by it. Being a professional requires a lot of legalities, as I've been doing this a while, but I also did a lot of freestyling with my career, which seems to be the pattern with aspiring artists nowadays. Just looking at TV or hearing the radio and saying " I can do that." Trust me, it's much more than a bag of cash and going into the studio to cut some music. Buying your way is LAME and insincere, and deprives you of making money in the long run. People will see you as a walking check before you've even made some money. Dirty money is a far way from the billions being made in hip hop. You cant impress the big wigs with phony accessories and think they're gonna believe you! So if you're doing what you're supposed to do, someone will recognize and show you what it takes to get to the next step. It takes time if you wanna produce a good album. That's what we set out to do at Rostrum and within the Point Blank team. We want to give you our best now and forever.
Has having to wait ever made you want to give up? If so, what kept you in it?
In making shit happen, you don't wait for anything. Nothing comes to you and you have to be passionate in your pursuit. I've never quit anything until I felt successful. There's nothing to discourage me, but me. Artist development is real, and it's perpetual. So like I said, I'm never discouraged and I'm always pushing to be better. The chips fall as they may.
How important is authenticity in hip-hop to you?
Personally, I think authenticity in music is everything. If someone is fabricating the very music that inspires you, what does that make you? When you like an artist you stand by them personally. It's something about their journey that reflects yours. It's more than just music.
I was so impressed by the maturity and confidence I heard on "Like This" – and I assume you get this a lot because you mention it in the song, but you have a real young Nas vibe to your style. Was he an influence? Who else do you feel shaped your sound?
Yes, Nas, of course. He's one of the greats. I am influenced by just about everyone from that golden era of Hip Hop: Hov, The Lox, No Limit, Dre, and Snoop. Honestly, I don't think I missed a Tuesday in the record store! My parents were big on soul music and jazz, so before I took to my own listening I was instilled with the classics: Motown, MJ, Reggae. Inspiration just came from everywhere.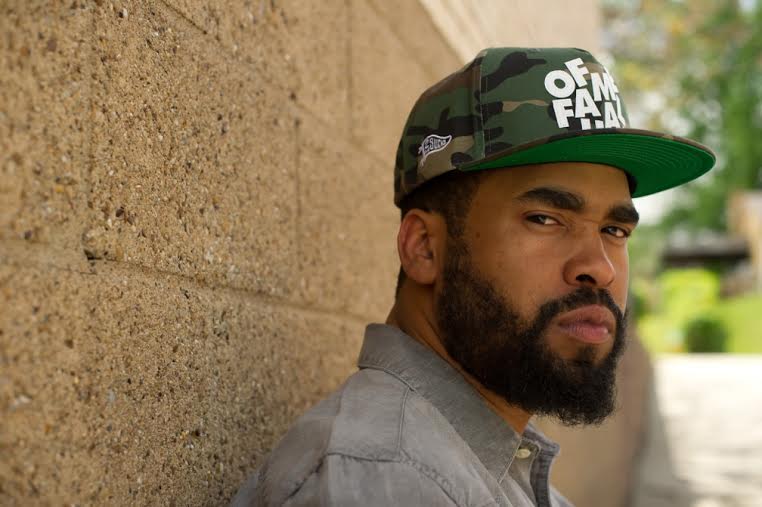 Your debut album is right around the corner, what can people expect? Also, after hearing another Pittsburgh dude, Girl Talk, and his track with Freeway, I want to pretend I'm an A&R and have you guys get in the studio.
Yeah, that would be great. I've actually worked with both those guys. Freeway in the studio, and I've played live with Girl Talk. As far as the album, I'm just trying to give that feeling of authenticity. My album is everywhere. It's basically like a movie of the past few years of my life, and the subjects I'm inspired by daily. Expect to hear street tales, love stories, and the rationale of my consciousness. You can feel the transition from [early mixtape] Bases Loaded to now. I just want my fans to feel like they're in the music.
I read that you have a song with Scarface, which is one of those real credibility endorsements that mean a lot. Between him and Junior Reid, it seems you're also reaching back and paying tribute to some of your favorites. How'd both of those come about and what do they mean to you?
That's the thing about me; I like what I like. I feel I have good musical sense. Those guys are legends and have been so impactful on music, so  when the opportunity presented itself, how could I say no? I was introduced to JR Reid in NYC at Quad Studios through a mutual friend, producer K Salaam. I've always admired JR's ability to crossover into hip hop and when he heard the beat, the magic just began to flow. We damn near freestyled the hook just vibing out. With Face, he was elsewhere in the country and we connected through friends as well. Like JR, he liked the music and was willing to fuck with me. It was a privilege to get OGs like Reid and Face to co-sign me.
You're a wordplay/lyrics focused rapper, so do you find the climate of rap music right now, where the focus is on repetitive, less imaginative/strip club lyrics to be counter productive? Or do you think there's room for both?
I think there's room for both. But warning to those rappers, I don't stay in my lane. The versatility is real, so they just going have to keep up!!
When the record comes out, what's the best possible reaction you could get from Pittsburgh? I feel like rappers always look to their hometowns first, cause that's when you know it's hot.
The best reaction I could get from my city is for everyone to come out and celebrate the album's release with me and actually BUY the album in its entirety.