I initially came into contact with Bryan Blue aka Blue the Great, during the Nike Football Society LA Draft. We were both drafted on the same team, but I was unfamiliar with many of my new teammates including Blue, so I naturally looked him up on Instagram and got a first glimpse at his work. What caught my eye were the vivid colors and stunning imagery of his art. He often takes popular subjects and makes them his own with his signature "mummy wraps."
Through the weeks of the flag football league, I got to know Blue a bit more. He was often one of the first to show up before the game and we would warm up together. I came to learn what a truly genuine and humble person he is with high aspirations for his career that is just now starting to take form. His motivation and attitude are a great example for any young creative looking to create a name for themselves.
When the season ended, Blue was selected to participate in the league's Pro Bowl, which wasn't a surprise considering how athletic he is. During the game, he had a head-on-head collision with an opposing player, while going for a touchdown catch (I heard he managed to catch the ball and score), but got the worst of it. The other player received stitches to the top of his forehead and Blue was knocked unconscious and also received stitches to close a hole in his chin.
After I heard the news, I was shocked and reached out to make sure he was okay. Good news is that after waking up in the ambulance, he felt fine and was still looking forward to this interview and photoshoot.
I sat down with Blue at his studio, located right around the corner from RSWD, to talk about making the leap as a full-time artist, how Instagram helped jump start his career, and what inspires him.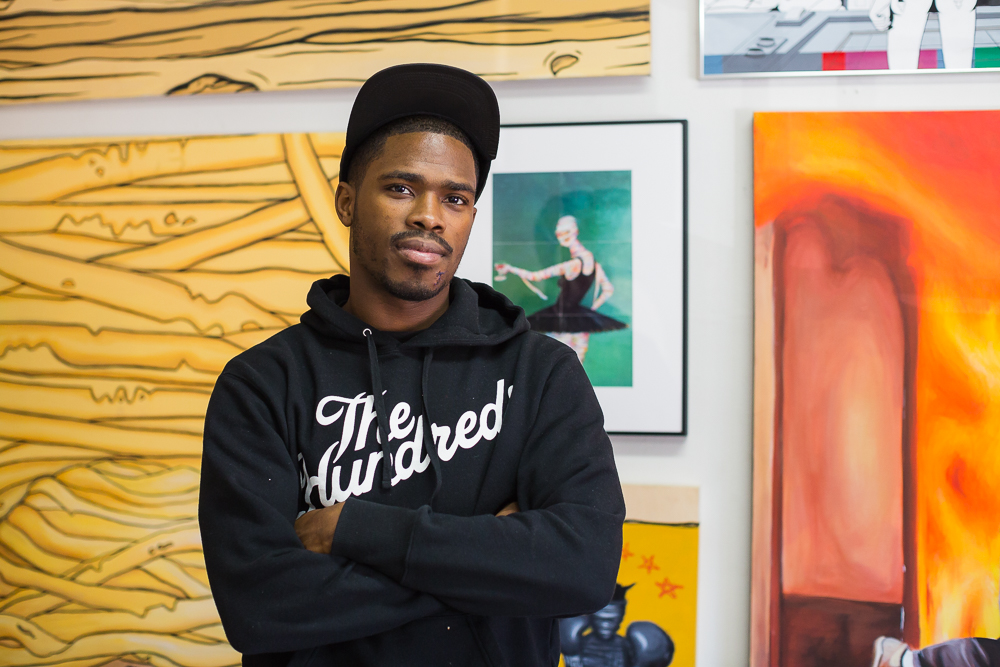 JOHN PANGILINAN: Tell me about these custom mummy shoes I saw on your Instagram feed.
BLUE: I did a pair I did for Arian Foster [NFL running back for the Houston Texans]. He really liked them. It was crazy. They were one of my favorite pairs I've done thus far. Then Converse randomly hit me up asking to post on IG.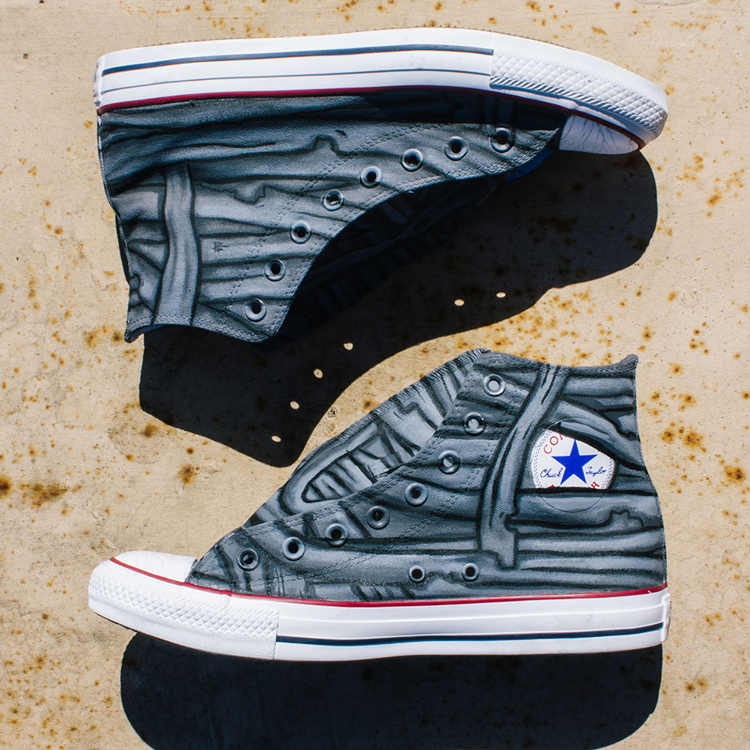 Where in Texas are you from?
I was born in California, but grew up a little in Vegas 'til about the third grade, but then moved and stayed in Dallas through high school and college.
How did you get into art initially?
I've been drawing my whole life. My mom always encouraged it. I made this bear soldier when I was a kid and my mom really fucked with it.
I was actually pushed back into drawing. You know when you grow up, you kinda just stop doing the fun stuff, the stuff you really enjoy doing. I was working at Journey's Kids as an assistant manager and this was right when I got into Instagram. I started drawing again at the store – just little doodles with highlighters and whatever else was around in the place and started posting them on Instagram and got a huge response. This was when 50 likes was big on there for me. That pushed me back into painting. People were like, "Put that on a shirt and I'll buy it." I then started to make T-shirts.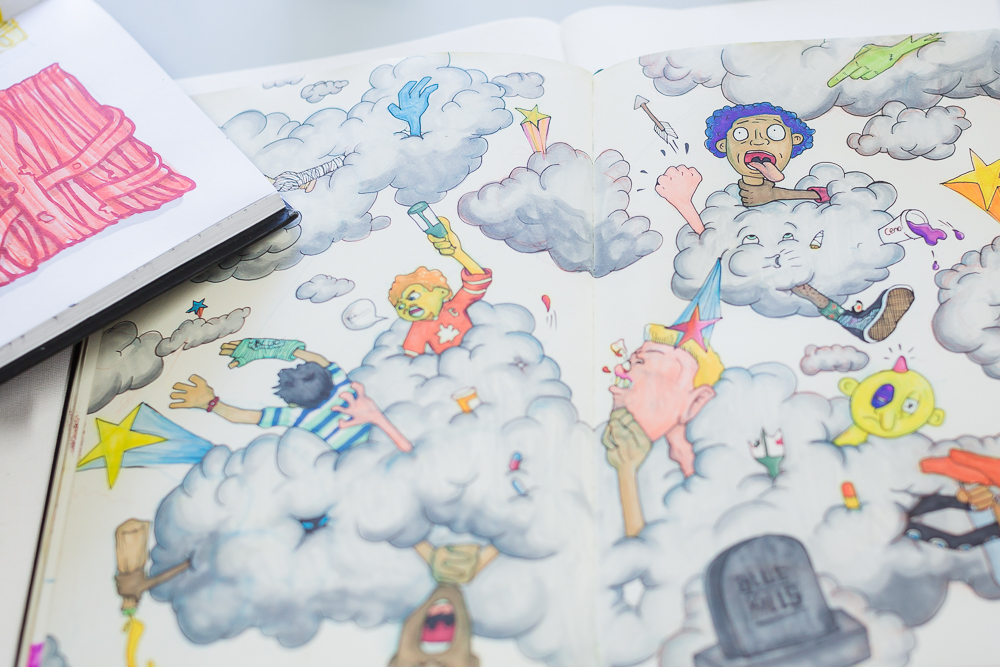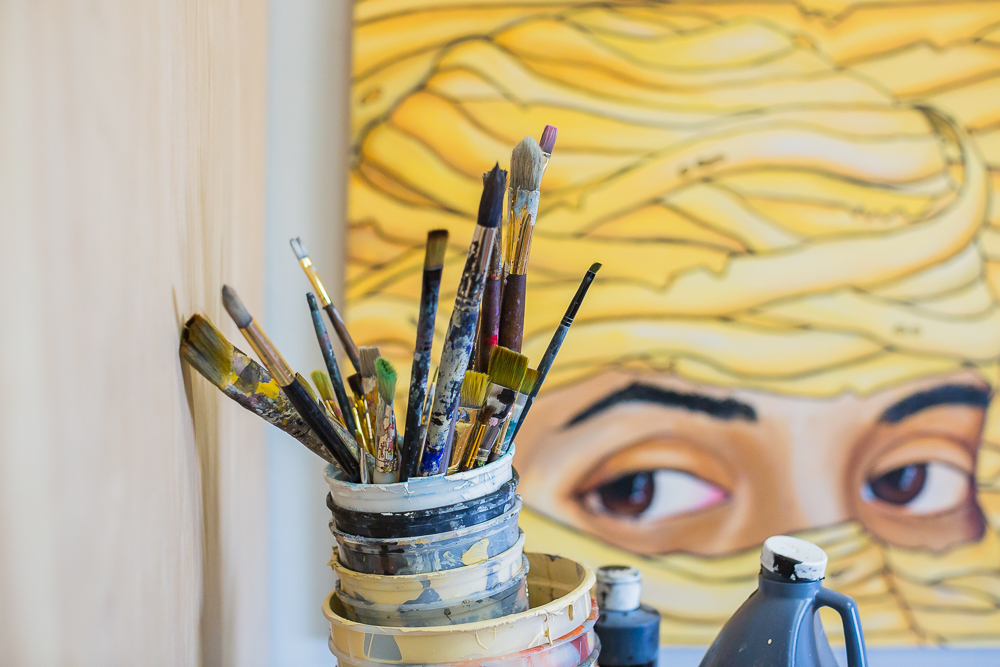 Instagram is fairly new, only having launched in about 2010. So you only got back into art in the past 3 to 4 years?
Well, I was doing more design before. I was learning Illustrator and Photoshop and I was still drawing, but it was more like digital drawing. So I was still sharpening up my skill set.
Where do you find your inspiration for your work?
Some of it is very pop art. Some of it has a very popular subject and I apply my design to it. A lot of it is from music and just living. I got a Tupac painting I sold that is pretty much my memories of the epic moments of Tupac. It's just things I've seen over time and a lot is from music. I listen to music all the time in the studio.
What are listening to currently?
Everything. N.E.RD. I feel like Pharrell is doing a lot of great stuff. I like to experiment with rock. It has to be a certain type of rock and roll. I listen to Gnarls Barkley, Outkast, all the TDE dudes, Travi$ Scott, Kendrick.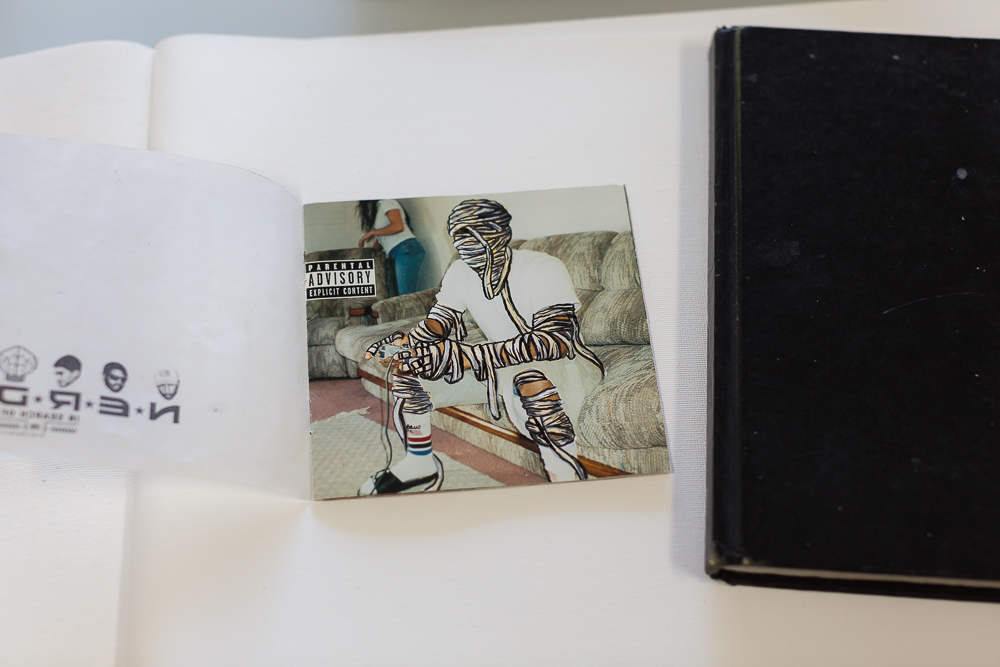 Was there a specific moment or work of art you did that helped you define your career thus far? What made you think that this is the path you were gonna take for your career?
The first piece, which was technically the second piece, while I was out here [to Los Angeles]. I've been in LA since 4/20 of last year, so almost two years. I didn't really paint canvas while I was out in Dallas, I was doing so much other creative shit, selling hella t-shirts, but I never sold a painting. I never painted on a canvas consistently, but I made stuff people said, "I would buy this." Making shirts is like selling art.
So when I came here, I painted these Mickey Mouses, and I sold my first painting for like $700. To me, $700 was a lot of money for something that I took some time to paint. It was good money. I sold the mummy Mickey Mouse I did and people were bidding on it and it was a crazy thing for me.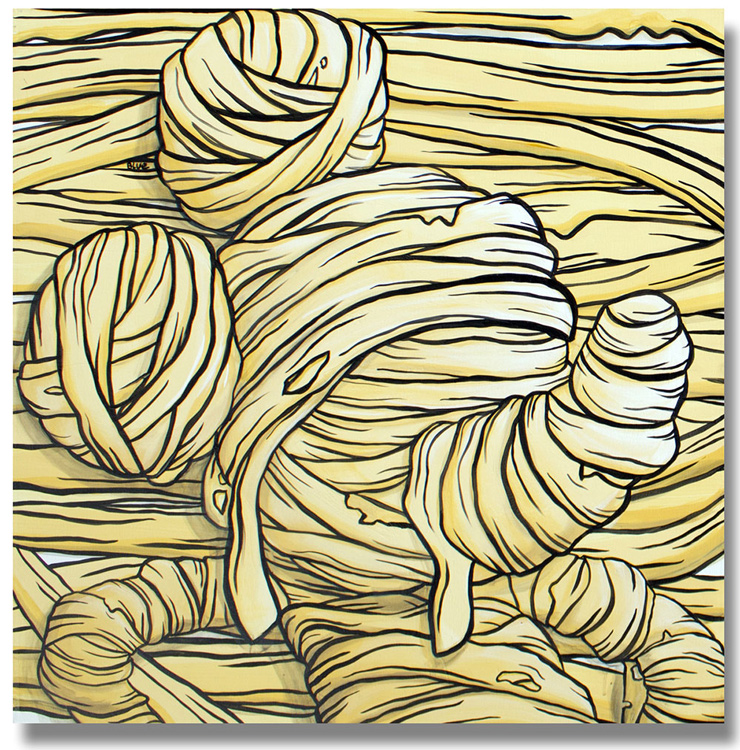 Where was this sold?
I did a joint show with my dude, Mark Peace, he lives out here as a photographer. We did this show at this studio. I just asked a few people I knew in LA to come through and the studio knew a bunch and I sold that painting and realized this shit is real. I knew I could do this now.
Then after that I sold a few paintings on Instagram. I sold a painting to Arian Foster which was super cool seeing I'm also a fan of his.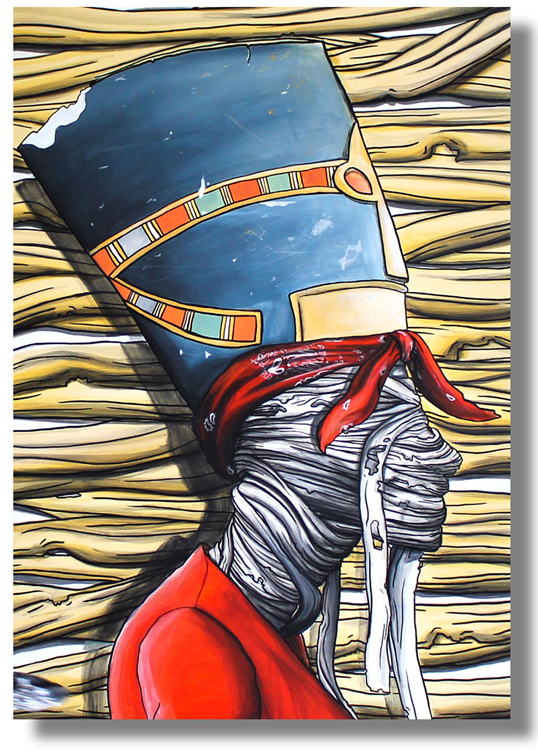 How did he find you on Instagram?
I really fuck with people. I really like to meet people and become friends with them potentially or at least be cool enough to help each other out. I've lived life like this, so I know a ton of people. He found my out just being on Twitter. Someone retweeted something I had posted on Instagram and he found me on there.
Then I started getting flown out to places. I was flown out to New York and Portland just to paint stuff in people's living rooms. As big as I wanted to paint and whatever I wanted to paint.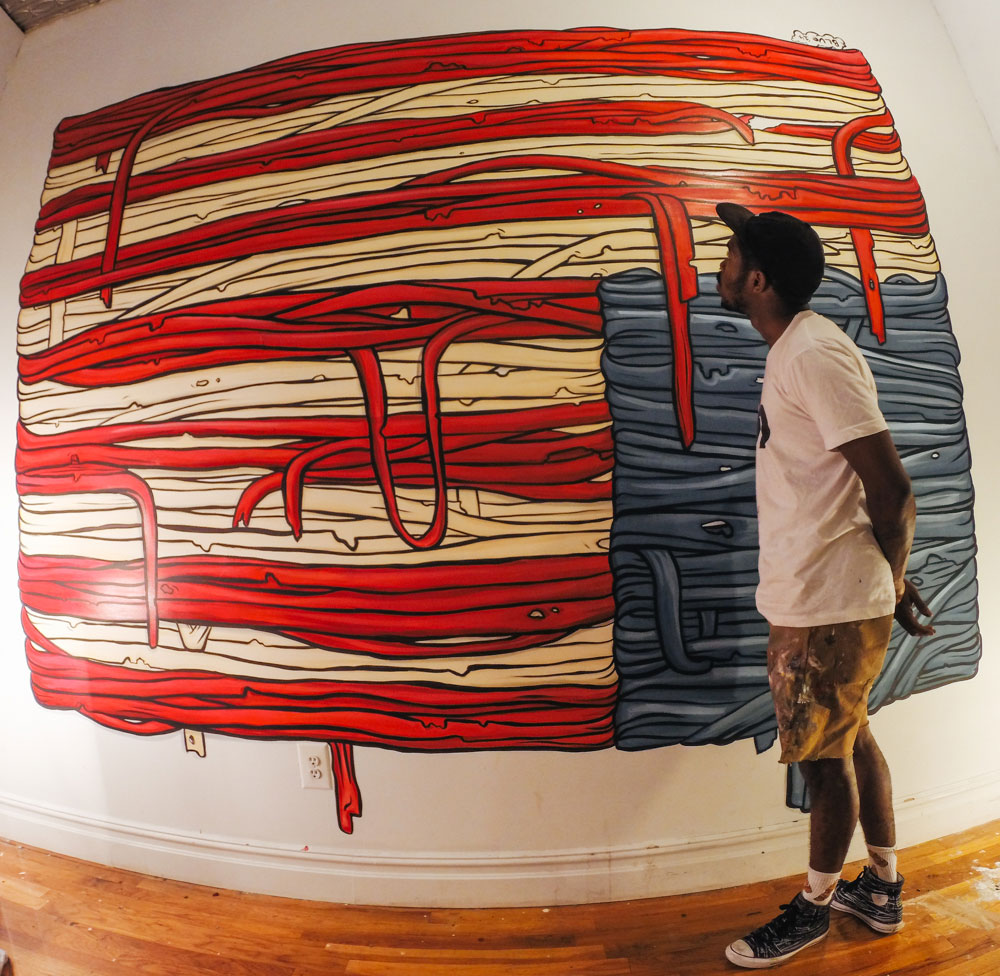 Tell me about the flag in your art?
The flags are cool. I like the flag incorporated in my work. I like the motif of it mixed with the wraps and it means so much more. It has a real meaning about something. I'm really black – [I like themes] about being black and [being] very confused about being black in America, like I feel like any black people should [know] where you come from. It's always an interesting topic to paint. Even now with all the stuff going on. It's on topic with how I'm living.
And the mummies or wraps, how did you come up with this concept?
Really it was about having something that was mine. I wanted to make something aesthetically pleasing and of my own without anyone else's influence. And I believe that when I do it there is some meaning behind it, not just something that looks cool.
How do you pick your subjects that you're going to wrap in your artwork?
It's gotta be something that I like. Something that can be very classic. A classic topic or a subject matter it just really depends. It can also be aesthetic. It's like a song, sometimes it's not about some shit. It just sounds tight. Sometimes it's that, but most of the time there is meaning behind it.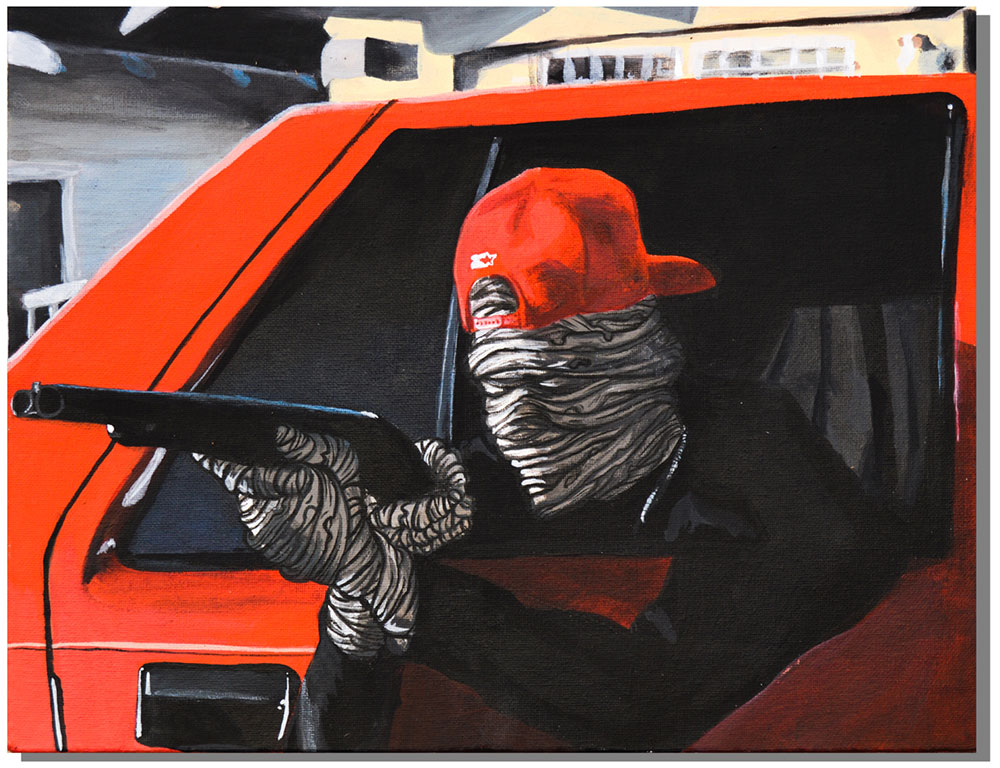 I hear you have a big project with an unnamed brand coming up. What other say corporate brands have you worked with in the past?
I did a project with Honda and Complex. It was cool. I did a digital mural of LA. That was my first big brand work and it went really well. It was a cool opportunity and it gave me first bit of press and notoriety.
What brands would you like to work with?
I feel The Hundreds is the easy answer, but honestly not that many streetwear brands. It would be so easy for me as I already know what I would like to do. Of course, it would also be nice to collab with Bape or Supreme. The big guy would be Nike, but that's hard though. They work with like APC and super-established brands. Heineken or Hennessy would be tight as well.
I'd like to do a skateboard, but it has to be the right opportunity. It can't cheese me out the game. I'd rather be Retna. He's made that jump where he's considered a gallery artist. He's on some Keith Haring shit.
I'd love to collaborate with artists on some music projects. Not really mixtape covers, but album covers. I have a couple on the table that I'm hoping to get that would put me in a really cool position to say I touched that.
Who else is on your radar?
I have an art direction background. I want to be a hybrid artist. There are two people I feel have done that well. There's Kaws and Keith Haring. Keith Haring is in this lane where he can just be like Keith Haring. He could sell shirts for like $24 dollars. I don't want to sell shirts that are like $90 dollars or $100 dollars, 'cause I don't wear that. I want it to be affordable for the people that pay attention to this shit. He could do anything he wanted to.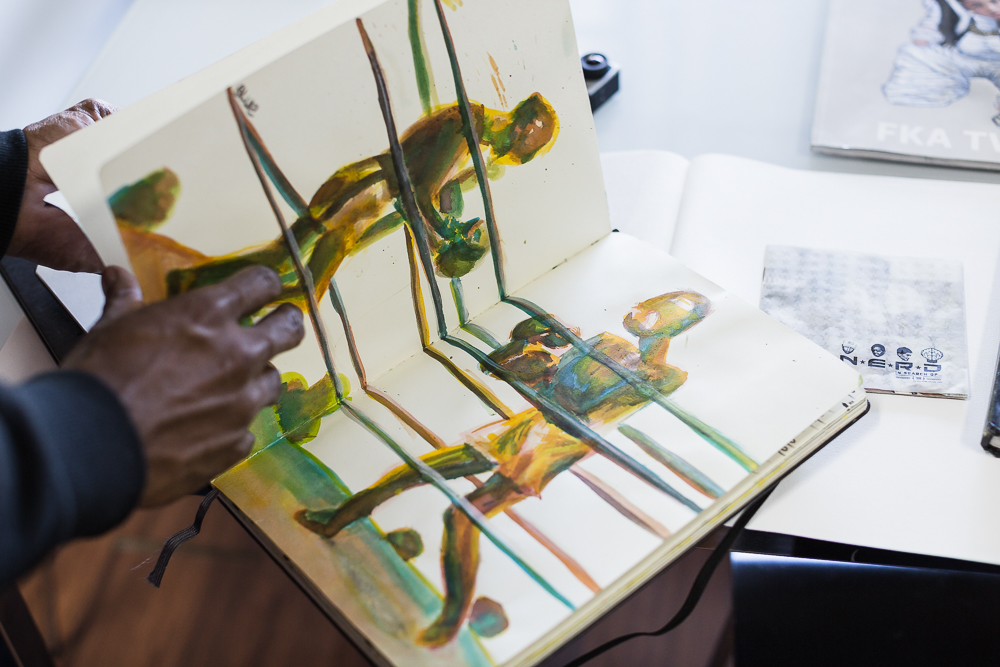 What did you do out at Art Basel this year?
Revolt and Mountain Dew followed me with my first experience at Art Basel. I checked out the galleries. On Saturday, they held an event and I painted at that with some other people.
Mountain Dew has supported artists for awhile now with their Green Label campaign. I won that New York contest they held. I won first place. It was like two months ago. I got the most votes via their contest on Instagram. They partnered with The Marcus Graham Project to get me out to Art Basel for the first time. That's how I got the invite.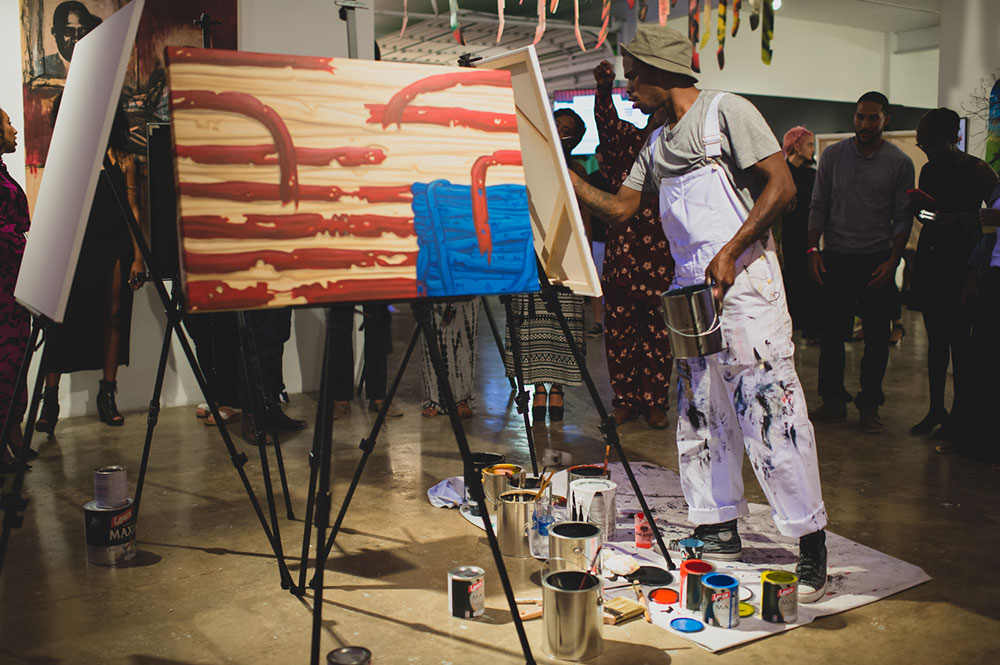 Instagram has done some wonders for your career, it sounds like. Do you follow other artists on there?
There's a few people that I follow that I know, but for the main part I try not to follow many artists so that I'm not subconsciously using their work. It's like if you were to make an album, you wouldn't listen to a bunch of other artists albums 'cause it may sound like you were listening to them. I don't know, I think you store away a bunch of other people's stuff that you like whether you are conscious of it or not. So I really don't try to do that.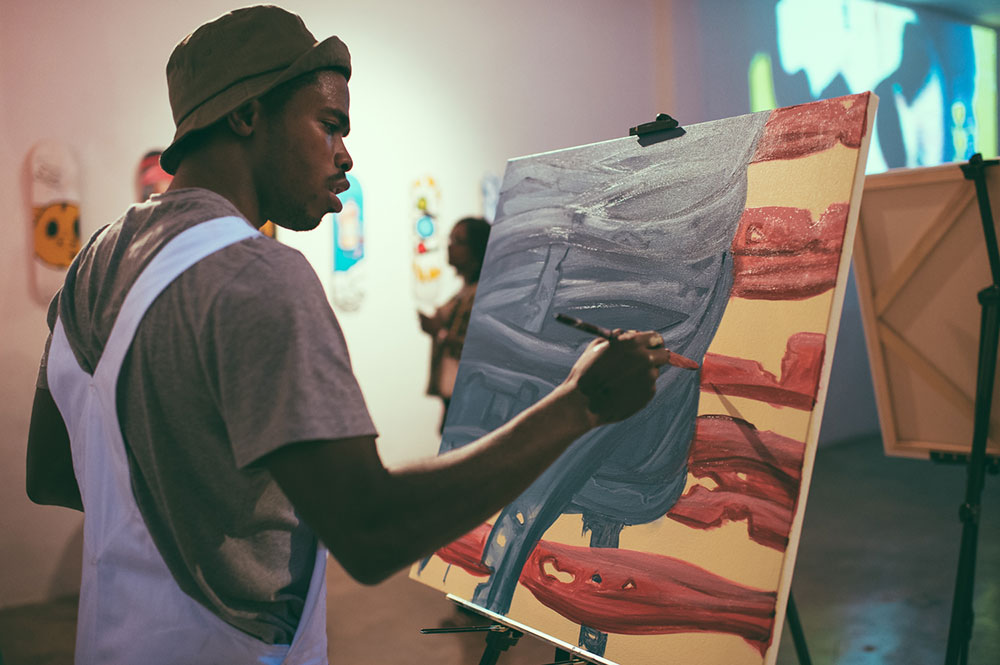 So whose work would you say you admire the most?
I think Retna is tight. Kaws is like super crazy. That James Jean dude is nice. I've always been a fan of Kenny Scharf's work. I've been a Keith Haring fan since forever.
Do ever feel pressure to put out a specific number of pieces a week or month?
Not that I feel pressure, but now that I'm trying to be in competition with these guys that have a large body of work, it's something that I'm concentrating on. I look at the amount of paintings I did last year to this year and I'm way behind. I've had [opportunities] to do other stuff this year.
I treat art like rap. If you look at the guys you can consider great, they have like a billion songs. Like Tupac died and he still had songs coming out. Lil Wayne has a million songs. Everyone that is in their field just doing it, has a body of work so I feel I need to have more paintings.
That's interesting so you just want to keep putting out work. Do you feel you'll lose the creativity or inspiration at some point?
Not necessarily. I don't think I'll run out. I'll just have to do something new.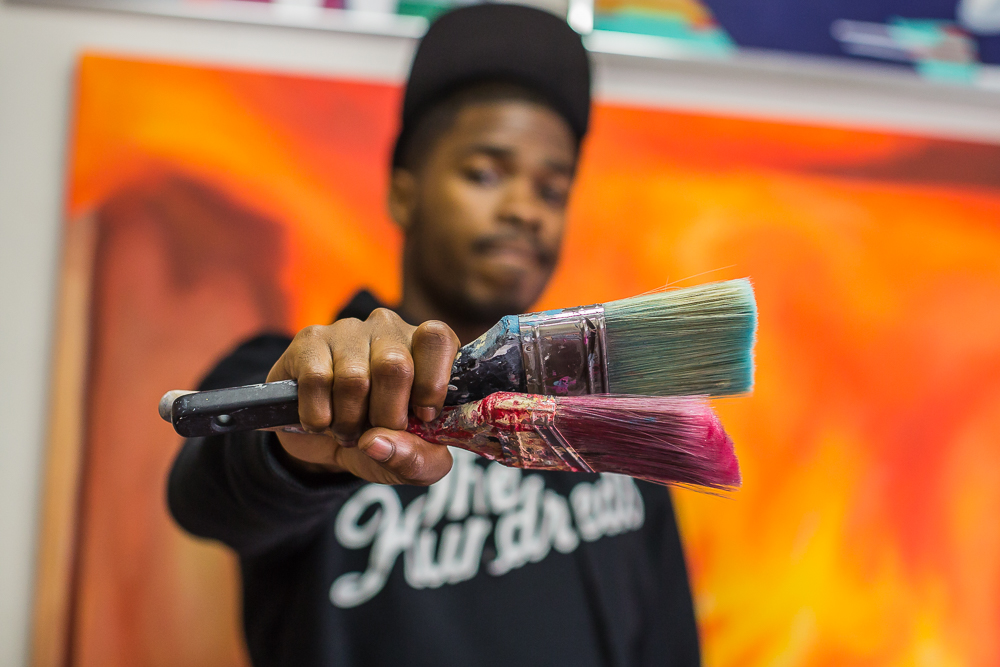 Right now your medium of choice is acrylic. Is that what you're going to stick to?
Right now it is, but its what I can afford. It's what is realistic to me. I never tried oil painting. Acrylic is something I'm used to working with. I feel I'm taken more seriously by people because I still use paint brushes. It's kinda weird. I would like to try spray paint more.
You're already on that right path in your career man.
I'm gonna be on The Hundreds blog. That's tight. I feel like I made it now.
::
@bluethegreat
www.bluethegreat.com
Additional photos provided by Blue and @drives