Successful art communicates something salient about the world it was created in. Creating a bond between an idea and the time it was unique to is one of humankind's true talents, and one of the hardest to master or even dabble in. This is especially true in New York City, where art does represent its temperature. In the mid- to late-'80s, New York City's ugly beauty was translated into everything from Public Enemy to Swans to every hardcore band on a CBGB matinee. Though fans love to dissect every thread of hardcore punk from its inception, NYHC's early waves make a run at the title of most colorful. What's awesome about how academically we can break it all down, is how dumb hardcore is. It's the complete opposite of Sonic Youth, but so sublime in its innocence and potency that it's subconsciously more highbrow than art rock. The intention of the music is to make you go insane and that reaction is more powerful than a psychedelic, yet rarely discussed.
In 2018, it takes supreme effort to seek the obscure—people make entire lives out of trying to find the last sounds and sights that haven't been digitized, plagiarized, and mashed up into some passive aggressive trope that retains none of its DNA, but looks cool on an enamel pin. As part of Revelation Records' early roster, Side By Side are hardly obscure, but they remain mysterious, especially lead singer Jules Masse who broke up with hardcore via the Alone In a Crowd 7", then became a seaman, and Brian "Billy" Clark, whose bio on Discogs reads: "Brian Clark on bass who was also in Mr. Clean an early straight edge band from Brooklyn. AKA – Billy Sidebyside, Billy Clean, Big Billy Bitter."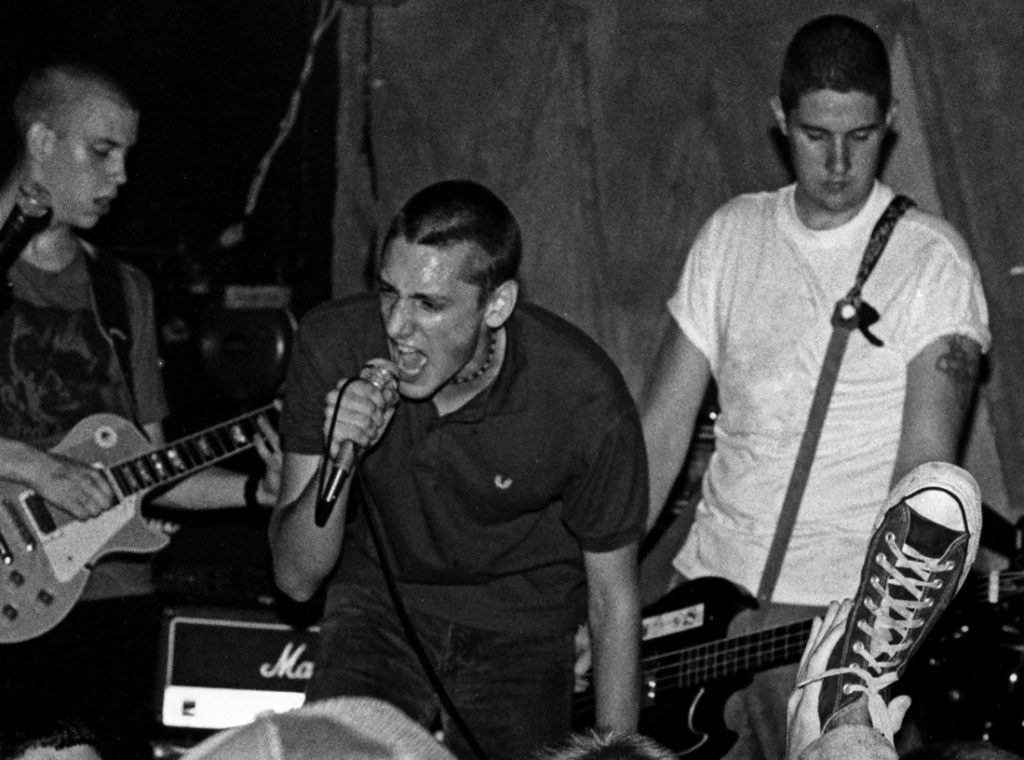 The thing is, you know Big Billy Bitter's work... very well. Mr. Bitter is responsible for several fetishized hardcore handbills, those very strong-looking fists that adorned the cover of Schism Fanzine, and most importantly, his line work became the actual face of the legendary Gorilla Biscuits. Post-Side By Side, he's gone on to illustrate comics, including Bad Moon, Fly In My Eye, and King of the Dead, before taking his skills to the WWE as Senior Art Director and most recently adidas, where he spent a decade as Creative Manager. He's also worked on the MTV's Celebrity Deathmatch and The Tick animated series. He's currently resurfaced on Instagram as well as contributing artwork for the 30th anniversary edition of the Gorilla Biscuits' debut seven-inch EP for Revelation Records, as well as this artwork for a new The Hundreds X Gorilla Biscuits collaboration, dropping this Thursday.
Give him a follow @billysidebyside, as he's going to be launching a Kickstarter offering art prints of classic work, as well as the forthcoming Gorilla Biscuits work.
"We all loved Billy's artwork and expected he'd come up with something cool for the cover but when he came with the gorilla drawing my jaw dropped. A giant straight edge gorilla, in a Champion hoodie, arguably not wearing pants, on a cross armed rampage toward Tompkins Square Park and Ave. A, I recognized immediately that Billy had just made our job a lot easier. The gorilla's expression is both ferocious and kind, intimidating and comical, our music would always sound better with that image in your head. I'm forever grateful and in awe of Billy's talent and vision." Walter Schreifels (Gorilla Biscuits, Quicksand, Warzone, Youth of Today, Rival Schools)
"Big Billy Bitter and I played in Side By Side together. He lived with me for a little while when his leg was broken—he lived in a walk up apartment on Pitt Street and we had an elevator. I loved his primal caveman approach to hardcore. You see it in the artwork he created as well for us—basic as fuck, but to the point and the way great hardcore should be in my opinion. He somehow ended up with a broomstick-looking white, Devo-style Steinberger bass. That along with his height made for a real unique stage presence. The gorilla he created for GB and the unreleased SBS song he wrote called "Good Clean Fun" really sum up his personality." Sam Siegler (Side By Side, Project X, Youth of Today, Judge, Gorilla Biscuits)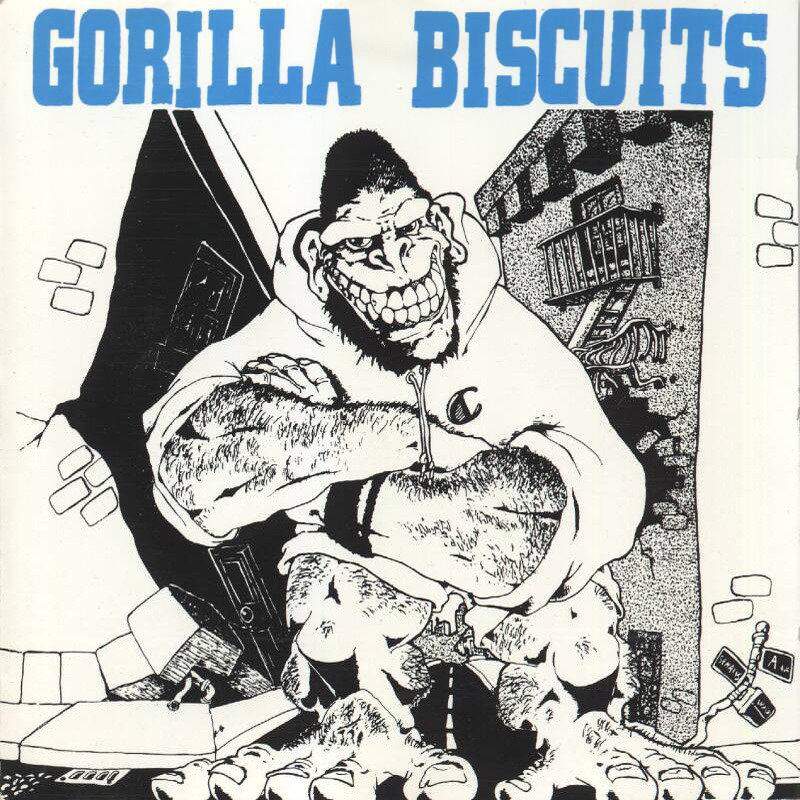 The first pressing of Gorilla Biscuits' self-titled 7″ (1988) featuring artwork not many know was done by Billy Sidebyside
ANTHONY PAPPALARDO: I think you're kind of a mystery man—even to the true nerds.
BILLY SIDEBYSIDE: No, nobody has any idea of anything that I've done. Like a lot of people, I tell people I did the Gorilla Biscuits cover and they're like, 'Really you did that? I didn't know that!' That in and of itself is a bit frustrating, but yeah, I guess the first thing out there was the "skinheads"— we did that for Side By Side. That artwork was originally a line art, drawing that I did for a sign that we put up at Some Records. Looking for people to play when it was just me and Jules (Masse)... a couple of kids with a dream. We made it into the demo cover and then had a screen made at Pearl Paint. We would screen shirts before shows and throw out a handful of them into the audience.
There's the Schism fists—that's taking on a life of its own too, a lot of people have used those over the years for a variety of things. That's another piece of artwork that people really remember and there's a ton of stuff. I've been digging through my basement ever since I talked to Brian Flynn, who's in charge over at Super7 Toys., so he was encouraging me to dig through.
I've got a giant ridiculous pile, pre-digital, literally like a quarter of my basement is covered with massive piles of paper. I've been digging through it, and pulling out, there's different little nuggets here and there. I've got a handful of flyers that we did … the one that I've actually got, some of the original Xerox copies of flyers that didn't actually get up on walls for a show of Side By Side with Altercation and Breakdown. I don't know if people even remember those bands. Hopefully they remember us…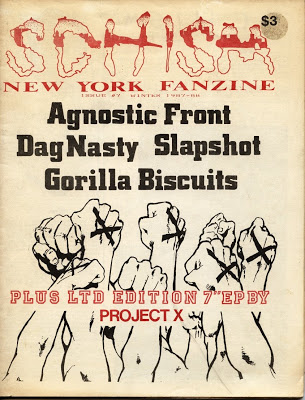 Schism Fanzine cover, 1987-1988. Photo: lancedawes.blogspot.com
Ha, of course they do. New York hardcore has always been so admired and infamous and now, with how available everything is, a lot of things that were just rumored recordings have surfaced. Growing up in Boston, I never heard the Altercation demo, because no one I was trading tapes with had it. Now you can not only hear that on YouTube, but there's live footage that was barely floating around. A band like Altercation is pretty stock at this point, which is crazy to me.
Actually, before I nerd out too hard about 30 year old drawings, where are you from originally?
I grew up in South East Asia, actually, but mostly the D.C. area. My mom was with the government, so whenever we moved back from overseas we would be in the Boston and D.C. area. I grew up mostly in Maryland, when we weren't actually posted overseas. I went to the Corcoran School of Art in Washington D.C., actually with Cynthia Connolly. I always joke about the fact that the girl that did the black sheep from Out of Step and the guy that did the Gorilla Biscuits "gorilla" went to the same art school for two years.
I got kicked out of Corcoran and I moved up to New York to go to Pratt Institute out in Brooklyn. I ran into Jules and like every other kid that I ever met in the hardcore phase, one of the first things he said to me was 'I'm starting a band.' I was like, 'Yeah, sure okay.' He kept knocking on my door. He found my apartment, which was fairly dangerous because it was on Pitt, south of Houston—it was not a safe neighborhood then and this 15-year-old kid from Weehawken, New Jersey would show up randomly and knock on my fricken door and be like 'Yeah, man. Let's write some songs. That's how Side By Side started. We wrote a few songs and I had been in a band called Mr. Clean before that, so I had a couple of those songs and we retooled some of that.
Wow, I don't know anything about Mr. Clean. What's the background on that band?
Mr. Clean was me and my best friend from suburban Maryland, Tommy Munden. We were together from '83 to '85 and we only played one show in Brooklyn. The cops or fire department had shut down A7, so we volunteered our loft as an alternate venue. We had a rotating line up of bass players and drummers. The only musical legacy Mr. Clean can claim is that we wrote the original version of what became the Side By Side song "Good Clean Fun" which in itself may never have made it onto a record.
Ah, cool to know. So back to Side By Side coming together…
We found Eric Fink and he had a whole set of songs, so that was the beginning of it. We finally found Sammy (Siegler). We were desperately looking for a drummer and he had done, I think a few gigs with Gorilla Biscuits, before Lukie-Luke started playing with them. He was around and super young. He was 14-years-old at the time, just super talented. I've often said he's the best musician we have in the whole band.
That was that. We started playing and practicing and getting kicked out of practice spaces. We got kicked out of so many practice spaces in New York, and I don't know why. We couldn't possibly have been worse. We got kicked out of Giant Studios, then we started rehearsing in a rehearsal place that Warzone was using. We were there like three or four times and after the fourth time they said, 'You guys can't come back.' We were like, 'What? You let Warzone play! We can't be worse than Warzone. There's no way we're worse than Warzone.'
We got together in '86. Then we started putting it out in '87. We did our first gig. Youth of Today was the headlining band, but we were way down the list [Ed. note: flyer here]. It was actually between us and Altercation. We were the two that had never played before. The two bands that had never played anywhere before, so we flipped a coin and we lost the coin-toss so we had to go on first. We opened the show at CBGB and nobody was there. Altercation went out in front and started making people actually come in and listen to the band.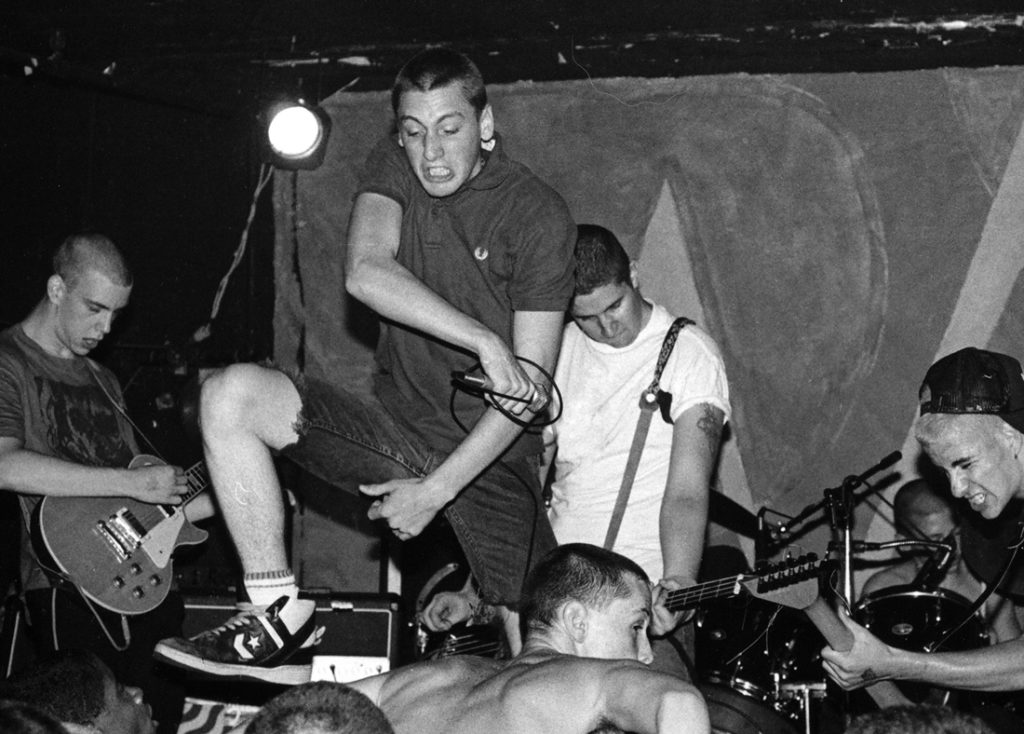 How quickly did you feel like the band took off?
We got really lucky. Right after our first show at CBs, somehow we ended up going out with Youth of Today. We went to Philly, we drove down to Philly and played a show in Philly with Youth of Today. That was our first on-the-road gig. Like I said, we got super lucky that we ended up getting to go out with Youth of Today and driving around with those guys. Riding around with Ray, you know? He gave us tons of advice. That was always super cool.
We got banned a couple of different times. Us and Gorilla Biscuits got banned because of stage-diving and stuff. We got banned from CBs for a little while. We played The Pyramid Club. There was a ton of places.
There's a big shift from the cartoon skins on the demo to the 7", which is much more streamlined and bold. How come you didn't illustrate the cover?
We all decided as a band that Alex [Brown] had a tighter graphic style than my illustrations. I don't know when it got out that Alex had used LL Cool J for the poses of the figures, but it was just looking for a cool attitude for the pose—it had nothing to do with LL Cool J as a performer or artist. we all liked the attitude of the covers and art of the hip-hop artists in NYC at the time. Public Enemy particularly had great visuals.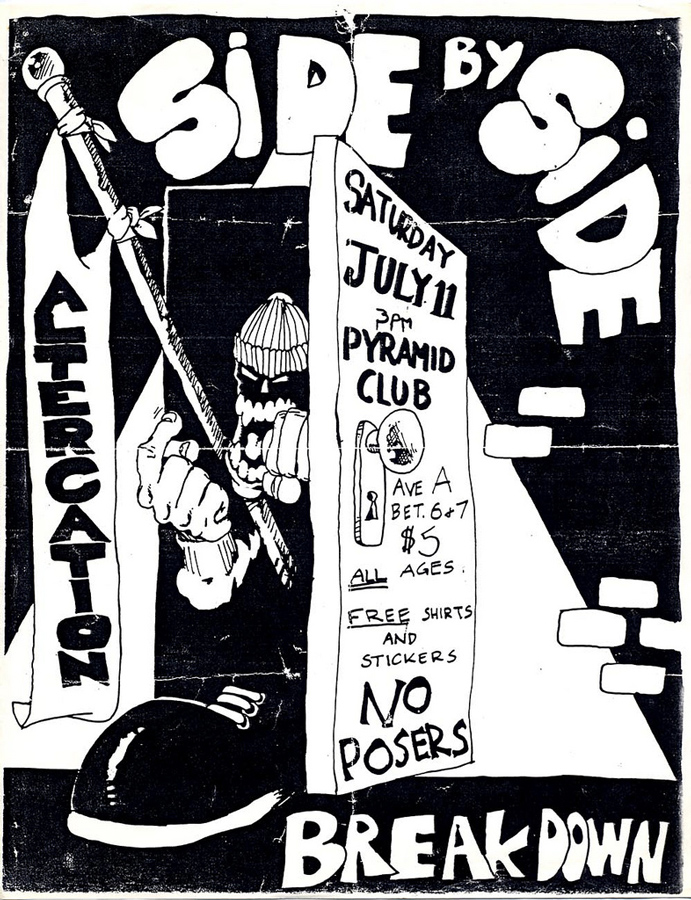 Flyer by Billy Sidebyside circa 1987.
Side By Side left everyone wanting more, so why did it flame out so quickly?
Everybody kind of wanted to go in different directions. Eric was actually looking at college, so he almost had one foot out the door. After a while, playing with the same people you kind of get frustrated with the situation. Sam and Alex [Brown] kind of wanted to do more militant kind of straight edge stuff—what they did with Project X. That was the kind of music that, at that time, the tail end of Side By Side, they were already working on that and writing music for that and working with Porcell.
That was the thing, towards the end of the Side By Side-era, the big joke was, we'd go off on tour with five bands and there'd only be like four guys in the van because half of Judge was in Gorilla Biscuits, you know? It was just people swapping out instruments. That was kind of already going on. Everybody was doing their own projects—Porcell and Mike Judge.
I love Judge, I'm not downing on any of that stuff. Judge was one of my favorite bands ever from New York hardcore. Towards the end it was people going in different directions. Me and Jules had originally started Side By Side with the idea that we weren't gonna pander necessarily to any one group of people. We were straight edge, but we didn't wanna do the Project X-type songs. Alex and Sam obviously did. I'm assuming Alex got the offer to play with Gorilla Biscuits in that same timeframe. Things just ended up falling apart, which is too bad. Then Jules did his own project, Alone in the Crowd. That was his farewell to the hardcore scene. He went off to Maritime College, and Fink went off to study at Sarah Lawrence. They were still in the city, but they were way up in the Bronx. It was different.
Did you slide into comics right after the band?
Absolutely. I moved back to Washington D.C. to work with my friend Steve Niles, who nobody ever knew. He did 30 Days of Night. He was a friend of mine from the punk days in D.C. He was writing and he was writing comics and I was illustrating comics with him. He had his own publishing company and everything called Arcane Comics. I was in D.C. for a few years. Steve ended up selling off the company, because he was in dire financial straits. At that point they were just riding out some of the bigger contracts that he already had with different people to adapt books. He had some contracts with Clive Barker, and they were doing book adaptations. It was just part of what was going on. They didn't have a need for me anymore. I actually moved back to New York from Washington, but at that point things were completely different.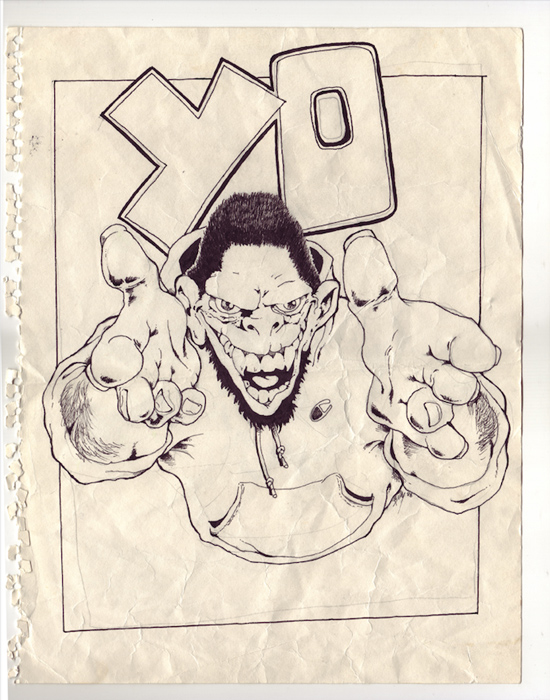 Billy Sidebyside sketch, circa 1988.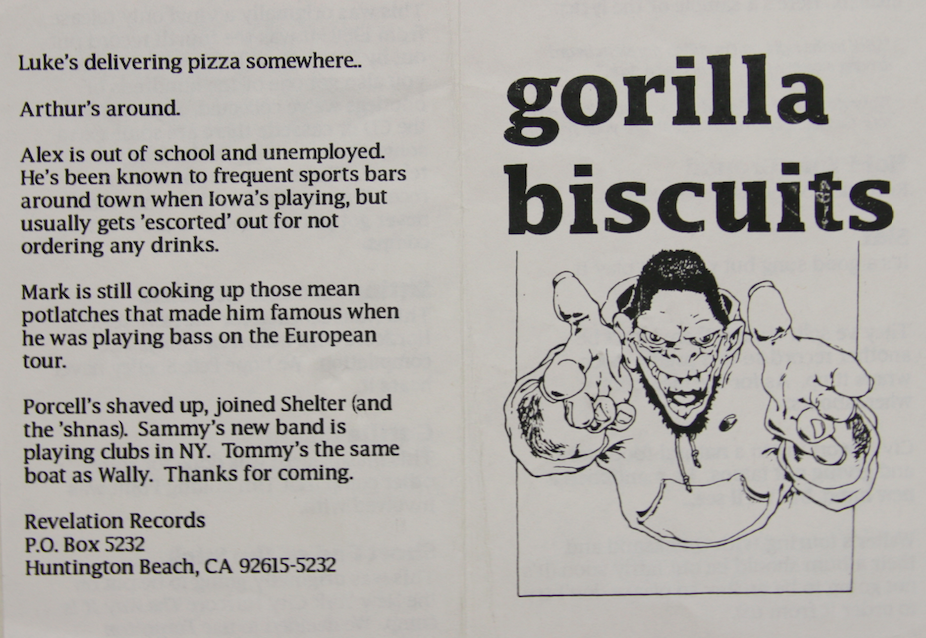 Part 1 of an insert included in the 1991/1992 reissue of the 7″ on vinyl and CD from Revelation Records with Billy's art.
The aesthetic that people really associate with New York hardcore is a lot different than any other scene. It wasn't "skull"-based and of course there's the graffiti element, but in a lot of ways, the flyers and sleeve art were almost like comics. Especially Sean Taggart's work. What influenced your style?
I love Sean's stuff. The stuff I really enjoyed was honestly Was Robert Crumb. That's what I was looking at. Everything is hand-drawn. All the lettering is hand-done. Everything is in that kind of vein. A lot of my stuff was super cartoonish. That's the thing is I had a couple different styles. I always felt really bad because the guys from Supertouch, Mark Ryan in particular, approached me to do a basketball player for the New York City Hardcore 1987 – Together compilation. After working for adidas for 10 years, I've done like a million basketball players, and I felt so bad because that one was horrible.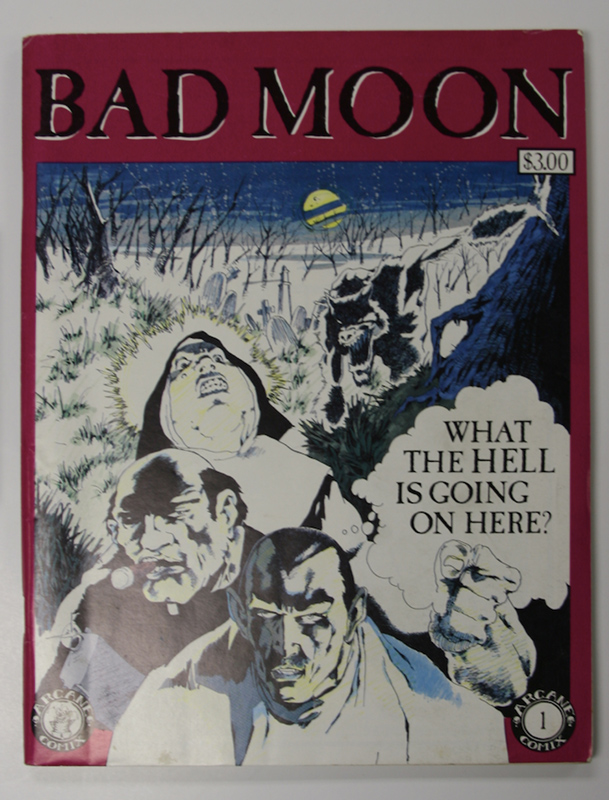 Billy's Bad Moon comic book.
I'm sure you weren't thinking about it at the time, but citing Crumb's twisted take on things isn't exactly a logical fit for straight edge hardcore. [laughs]
Yeah. He did a lot of weird drug stuff, but that was thing was, he was never that hippy-ish. The irony is that a lot of that stuff really did turn me off to Crumb, until I saw the Crumb documentary. And then I realized that he wasn't going out of his way to purposefully be a freak. He really was that crazy. He was that freaky. I've kinda had more respect for the work after that. I kinda get where he was coming from. He did a couple of Mister Natural things. Mister Natural was the most heinous comic I ever read, and I was just appalled by it. But then I got the backstory. I kind of understood that for years, people were telling him, 'Oh, you gotta do a comic book with Mister Natural. He's so great. Do a Mister Natural comic book,' thinking that it would be this thing where this weird Mister Natural guy would impart this hippie wisdom to all the love children. He set out to make the most offensive comic book ever, ever drawn in the history of comic books. And he did.
A very punk approach in comics.
I mean, that more than anything appealed to my punk sensibility. The fact that… It wasn't the drugs, and it wasn't any of that. It was more the fact that he kind of pushed the whole idea of not doing what's expected of you. Not doing the normal kind of thing.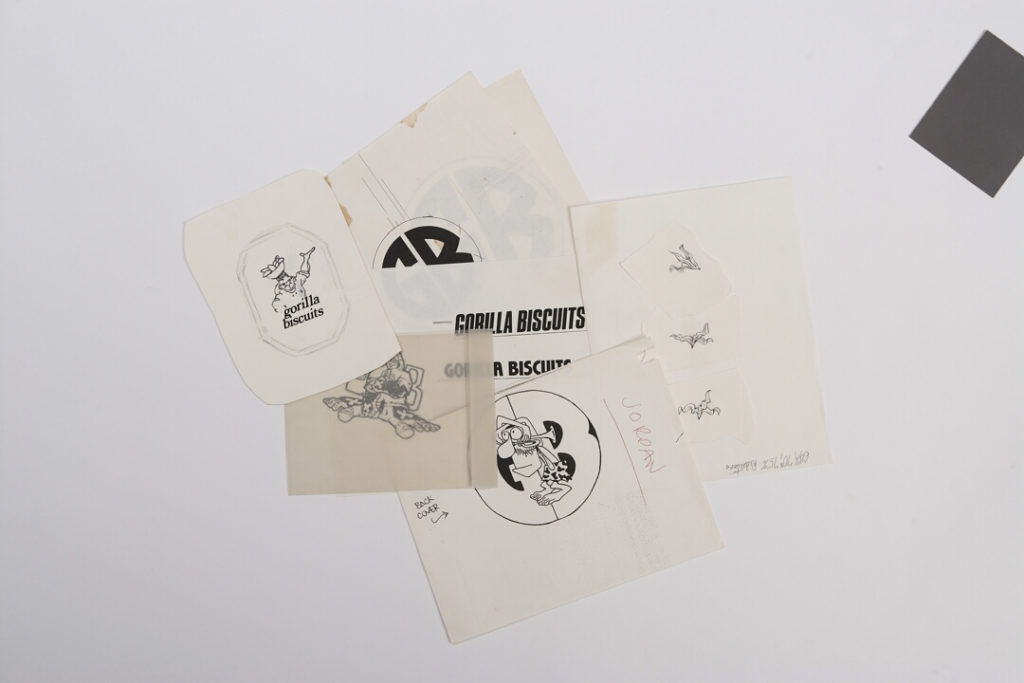 I've seen mock-ups and I believe even a print ad that was probably a placeholder that used an old image of King Kong clinging onto the Empire State Building for the Gorilla Biscuits single. Were there other versions out there? I mean, think about it, that would have been terrible.
I never saw any of that. Basically, somebody [from Gorilla Biscuits] just said, "We're doing this seven inch. Can you do a cover for us?" And I penciled out a big gorilla and I inked it all in on the same page because we didn't have Photoshop, and you couldn't do layers. I didn't have a light box, so I couldn't even take my drawing and light box it on to another piece of paper, and preserve the original pencil. I just drew over it. And I gave it to them.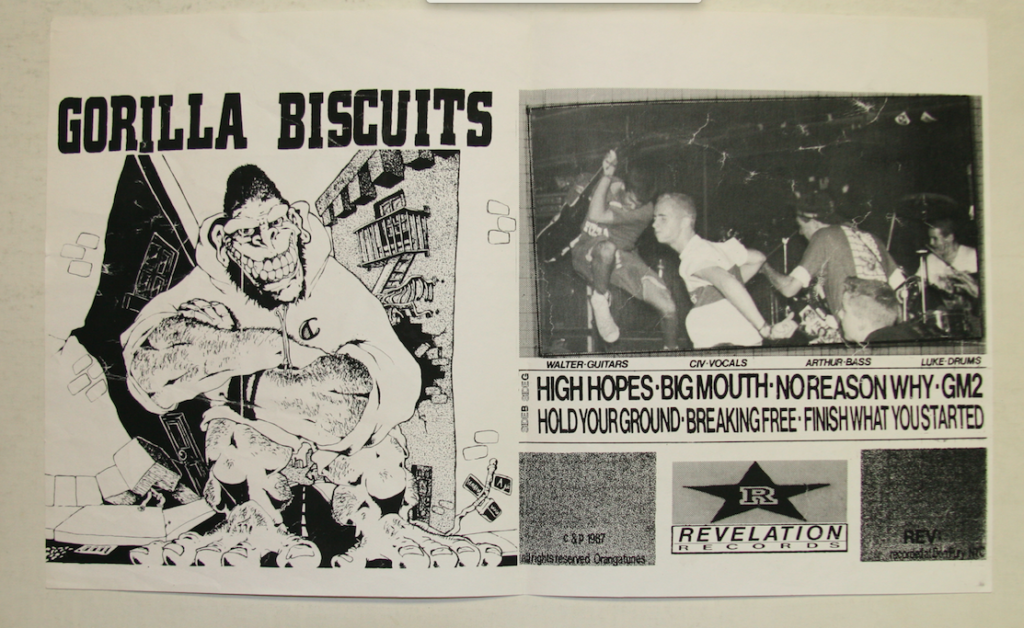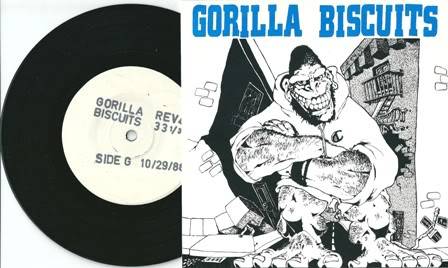 First pressing of Gorilla Biscuits self-titled 7″ (1988) with cover art by Billy Sidebyside. Photo: revcollectors.proboards.com
I don't know where the original is, but there was more artwork. There was sky above, and there was a road underneath, and there was a lot of stuff that got cropped off in that square thing. Dylan actually, Walter's little brother, was the one who did all the paste-up and lay-out and all that stuff. We took the big drawing down to Kinko's or whatever, and shrank it down on the Xerox machine, and cut it and pasted it together so it all fit together on the smaller format. That's the last I remember of it, honestly. There you go.
They said, "Do you want to do the label art?" So I did the label art, and I actually did that on a piece of tracing paper. I  drew the original sketch and then took that down to the copy shop and just copied a whole bunch of them and gave them to Dylan. That's the last I saw of it. He added all the lettering, and I think he was actually using Letraset—all by hand.