Successful art communicates something salient about the world it was created in. Creating a bond between an idea and the time it was unique to is one of humankind's true talents, and one of the hardest to master or even dabble in. This is especially true in New York City, where art does represent its temperature. In the mid- to late-'80s, New York City's ugly beauty was translated into everything from Public Enemy to Swans to every hardcore band on a CBGB matinee. Though fans love to dissect every thread of hardcore punk from its inception, NYHC's early waves make a run at the title of most colorful. What's awesome about how academically we can break it all down, is how dumb hardcore is. It's the complete opposite of Sonic Youth, but so sublime in its innocence and potency that it's subconsciously more highbrow than art rock. The intention of the music is to make you go insane and that reaction is more powerful than a psychedelic, yet rarely discussed.
In 2018, it takes supreme effort to seek the obscure—people make entire lives out of trying to find the last sounds and sights that haven't been digitized, plagiarized, and mashed up into some passive aggressive trope that retains none of its DNA, but looks cool on an enamel pin. As part of Revelation Records' early roster, Side By Side are hardly obscure, but they remain mysterious, especially lead singer Jules Masse who broke up with hardcore via the Alone In a Crowd 7", then became a seaman, and Brian "Billy" Clark, whose bio on Discogs reads: "Brian Clark on bass who was also in Mr. Clean an early straight edge band from Brooklyn. AKA – Billy Sidebyside, Billy Clean, Big Billy Bitter."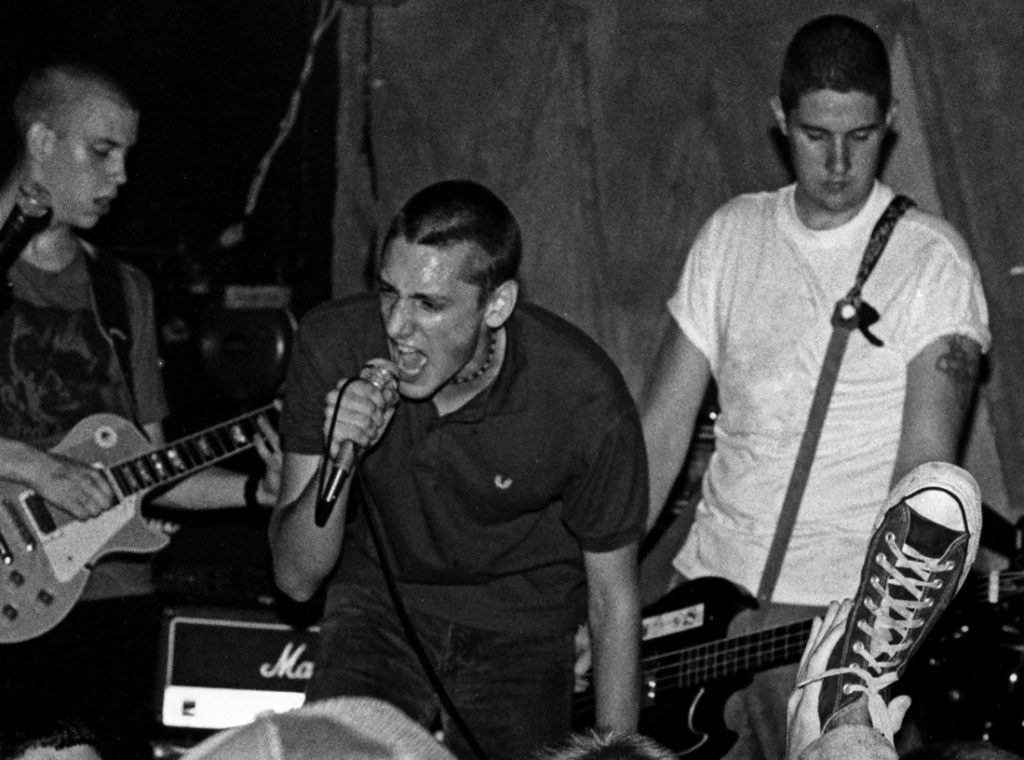 The thing is, you know Big Billy Bitter's work... very well. Mr. Bitter is responsible for several fetishized hardcore handbills, those very strong-looking fists that adorned the cover of Schism Fanzine, and most importantly, his line work became the actual face of the legendary Gorilla Biscuits. Post-Side By Side, he's gone on to illustrate comics, including Bad Moon, Fly In My Eye, and King of the Dead, before taking his skills to the WWE as Senior Art Director and most recently adidas, where he spent a decade as Creative Manager. He's also worked on the MTV's Celebrity Deathmatch and The Tick animated series. He's currently resurfaced on Instagram as well as contributing artwork for the 30th anniversary edition of the Gorilla Biscuits' debut seven-inch EP for Revelation Records, as well as this artwork for a new The Hundreds X Gorilla Biscuits collaboration, dropping this Thursday.
Give him a follow @billysidebyside, as he's going to be launching a Kickstarter offering art prints of classic work, as well as the forthcoming Gorilla Biscuits work.