The graphic T-shirt is the definitive streetwear staple. Multi-million dollar empires have been built with doodles etched on cotton tees. With that in mind, let's take a stroll through some of my personal favorites for spring 2015 season. In no particular order, of course. Everyone is number one, everyone gets a gold star.
Concepts Ice Cream – This is one of the most ridiculous graphics I've ever come across. We all know ice cream cones don't have bulging biceps, and they most definitely do not bear arms. But what Concepts has done here is created a secret club. The graphic is so stupid that only those that are really down with Concepts will spare the thirty six bones to throw down. Or maybe it's something esoteric to locals around the Concepts store. Who knows? Interests have been piqued. Of the 100 printed, I bet most went to friends and family, and instead of making money off of this graphic T-shirt, it further develops the brand – the lore if you will – of a small independent shop that gives no fucks, saddled in Cambridge, Massachusetts.
Source: Concepts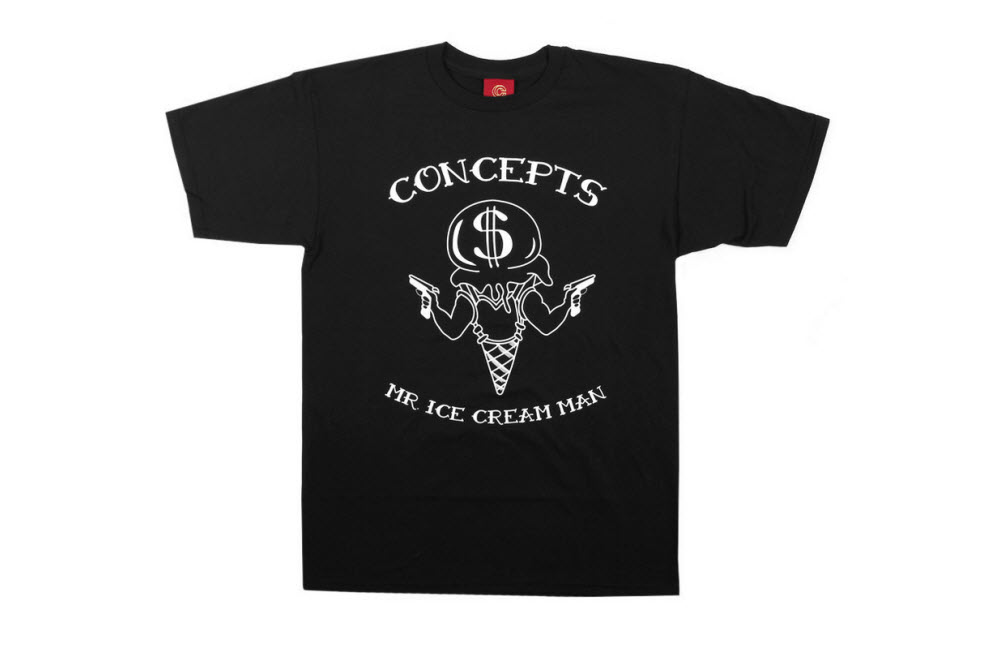 Stussy x UNION Allied Forces – I think Stussy and UNION need to check their history books because I'm pretty sure Japan was part of the Axis, but whatever. The shirt is just dope because flags waving in the wind together is just awesome. It reminds me of people working together, instead of screwing each other over. It's a reminder to be a good person, and not some cool dipshit asshole. It's hard to believe I got all that from a graphic T-shirt, but what can I say – "I Loved APUSH."
Source: Stussy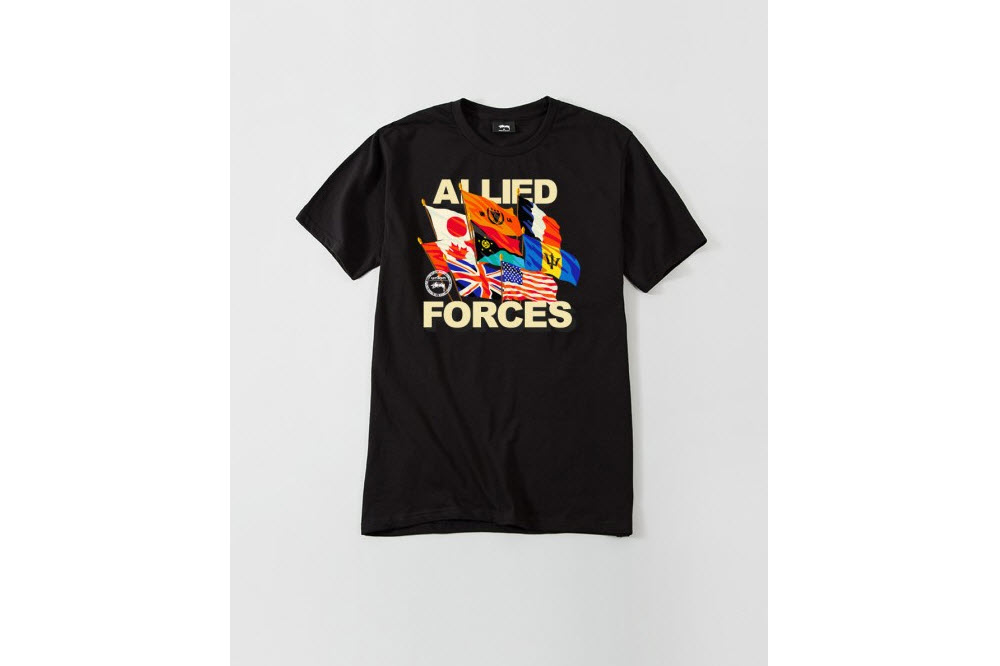 10.Deep Race Day – About three miles down the street from my pad there is a badminton gym (for real) where birdies are flying nearly all-day every-day. Wagers are being made, jokes are being shared, and friendships are being built, but do you know why I don't go down there? 'Cause I don't fuckin' play badminton! So why is streetwear fucking with motorcross??!?! I honestly can't answer that, but 10.Deep is the one brand that gets a pass because their graphic is not merely replicating the sub-culture. The Race Day long-sleeve remind me of a generic graphic off of a motocross racing video game. A couple of familiar fonts, but the colors are wholly their own. Peep the other brands' motocross graphics and it's apparent they're ripping off entire designs – near carbon copies with a few lazy flips of the logo. 10.Deep's version is in a lane of its own.
Source: 10.Deep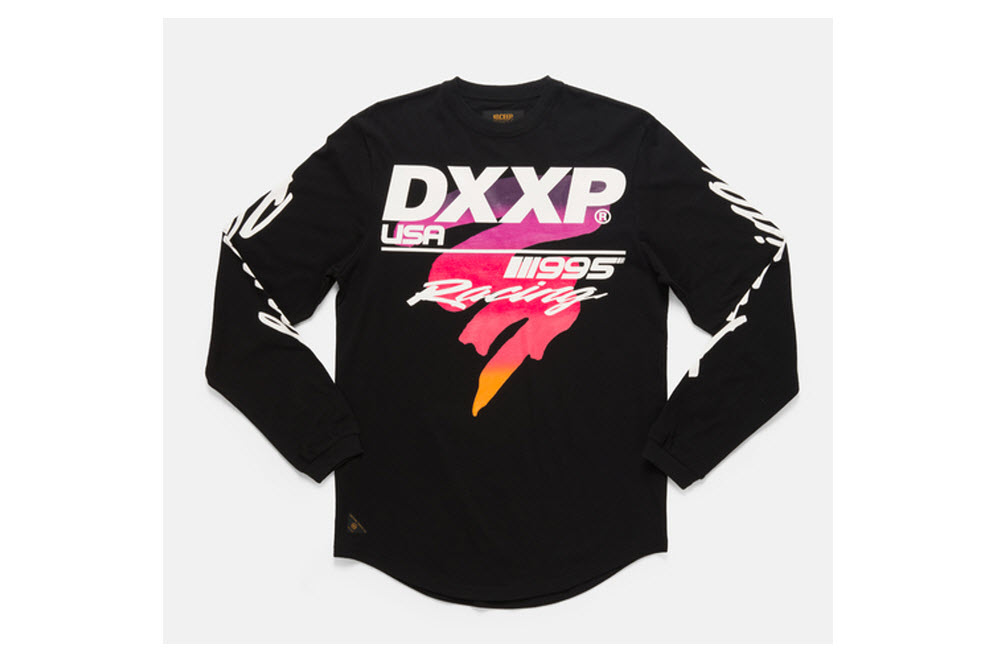 The Hundreds Buddy Satan – Did you really think there wasn't going to be a The Hundreds graphic T-shirt? Whatever, this tee is dope because Buddy Christ needs his arch-nemesis and the graphic is uncanny. Taking the whimsical approach, Kevin Smith's Dogma took to the Buddy Christ character The Hundreds gives Buddy Satan a similar ridiculousness that the movie tried to convey; which, IMO, is pretty fucking hard. Most won't get the graphic, but I don't wear tees for most. I wear them for me.
Source: The Hundreds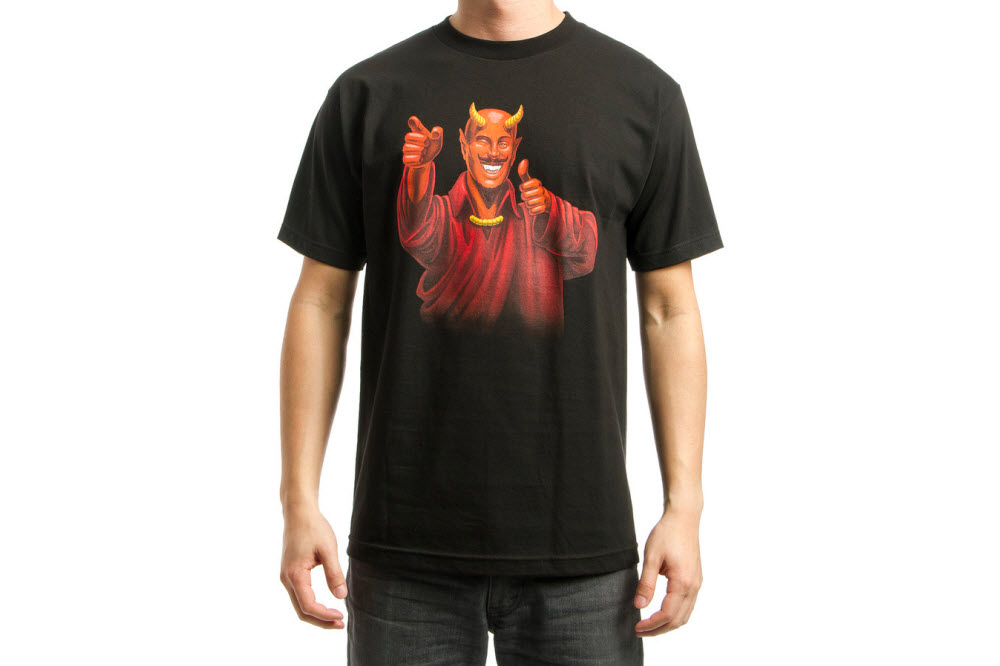 Visual by Van Styles x Crooks & Castles x Tianna Gregory – I'm too old to be caught with half-naked girls across my chest, but I do have an appreciation for what Van Styles and the Crooks & Castles team has done with the photo of Tianna Gregory. Just when you thought that Crooks has exhausted every design perspective to the Medusa graphic, they managed to create a new approach. Using Van Styles' careful eye the grayscale photograph is blended with a cartoon bandana of snakes. It looks like Crooks still has some tricks up their sleeves, and it's good to see these guys with some staying power.
Source: PacSun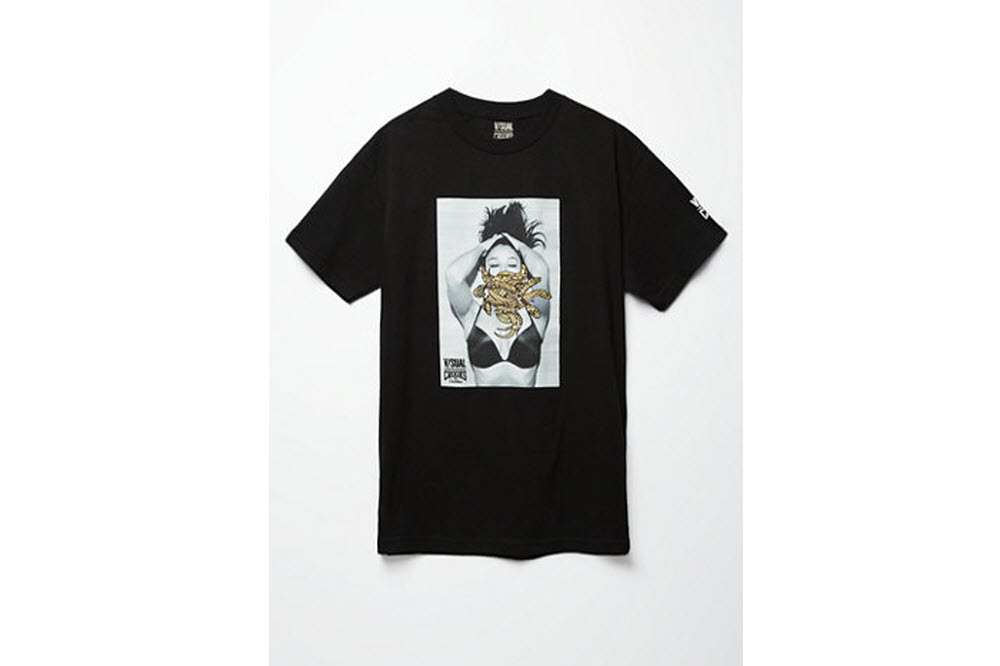 Bodega Shottas – My pops was the only Asian in a white company during the eighties. It's one of the largest plumbing services in California, and that meant a whole lot of fat white dudes that watched sports. The company had season tickets to everything, and while Bill and Cal got to catch the Lakers battling the Pistons, my dad got tickets to the Clippers and Bullets. I could recognize this Bodega flip of the old Washington Wizards logo after 10 shots of Tito's; epic battles between the two worst teams in the NBA are my fondest memories. This is a parody done right, and props continues to go out to Bodega.
Source: Bodega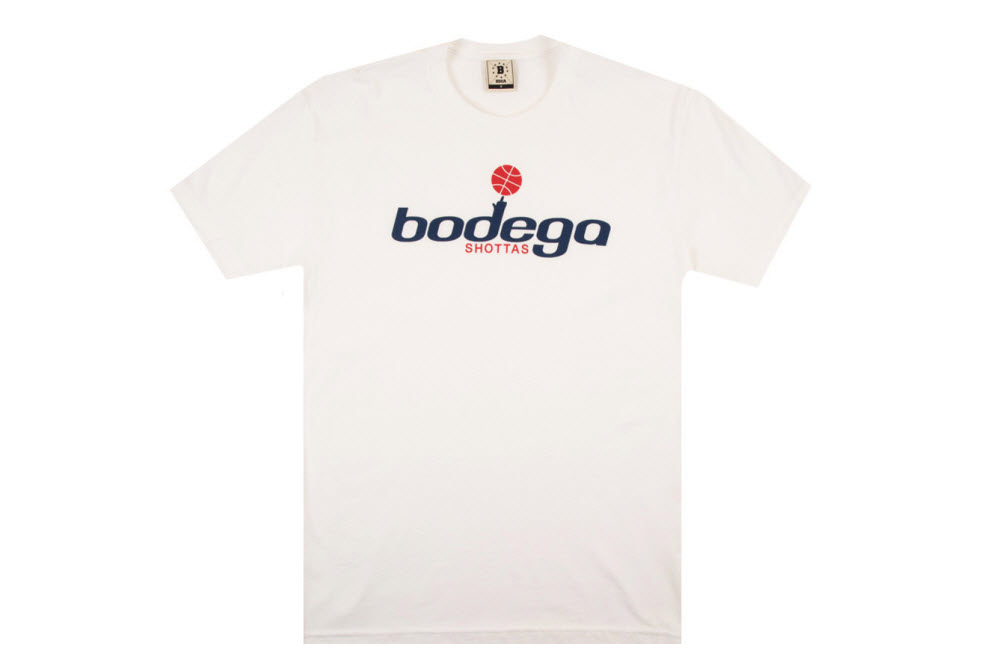 Acapulco Gold Los Times Tee – Acapulco Gold continues to be the sleeper in the streetwear game. These guys have that Supreme pedigree and that East Coast swag has always been on point. They knock another one out of the park by simply taking the "Los" from the familiar Los Angeles Times daily and plaster it across the chest. It's simple, clean, and to the point.
Source: AcapulcoGold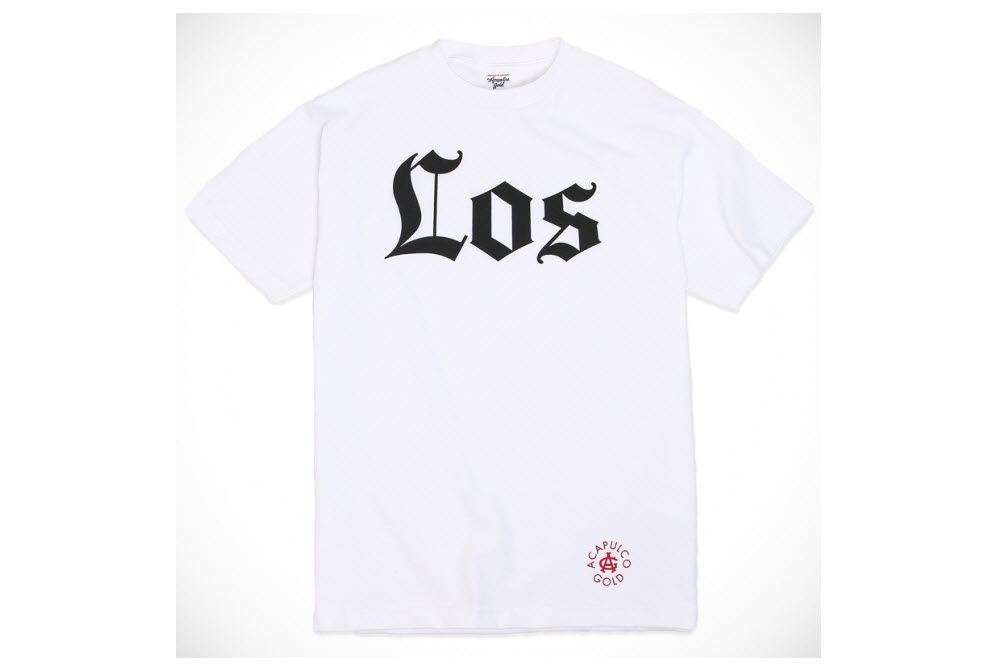 CLSC Attitude T – Go ahead and pretend you don't know where this image is from. Straight Outta Compton is a groundbreaking album to revitalized music, it gave birth to a genre that is revered, studied, and lived till this day. With a few colors, CLSC has payed homage to a classic album without ripping off the original album art. If it helps, the graphic is also completely hand drawn – definitely not MS Paint.
Source: CLSC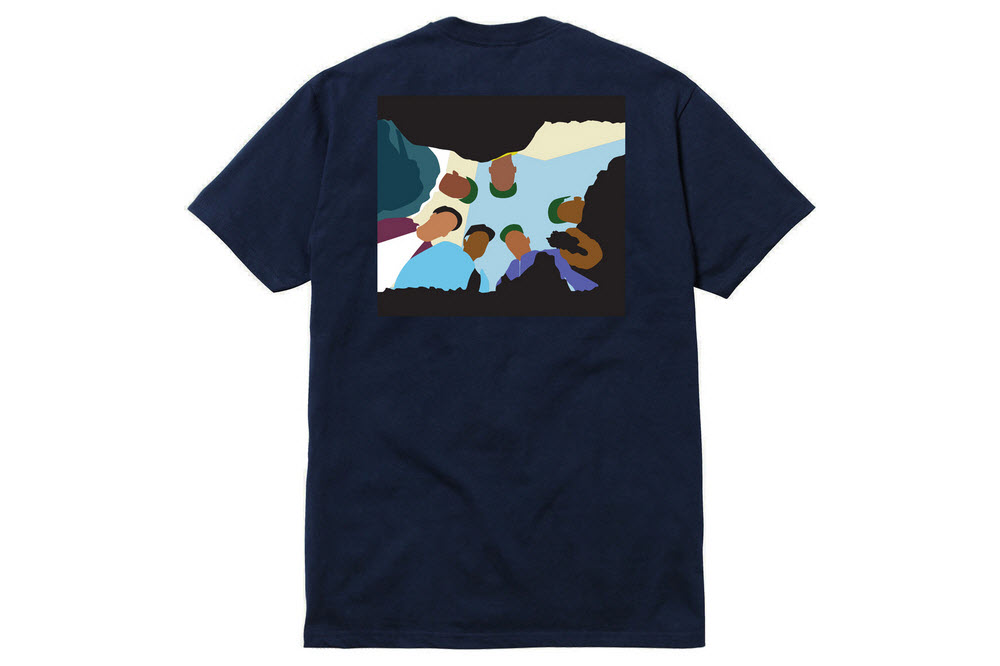 Supreme x KIDS – BUTTERSCOTCH! Larry Clark is a perverted fuck that captured a brief moment of teen life in the mid-nineties. He made an eye-opening movie, and a little skate shop in SoHo was right there along for the ride. As KIDS turns 20 this year, that independent boutique has turned into a celebrated international brand, and familiar scenes from the iconic movie are re-printed across a series of graphic T-shirts. All three photographs are excellent, and capture the surreal life these kids lived. It's been a long time since Supreme has released something that's a must-have, and I hope the kids on eBay are kind on me.
Source: Supreme