Nike Free Flyknit Court Purple – With over fifty pairs of sneakers it can be hard to pick the right pair, right? Wrong. I'm usually rocking the Free Flyknit because they are incredibly easy to put on and off. I don't even bother unlacing these puppy dogs because the Flyknit ensures a tight fit nearly every time. The stretch collar makes entry a breeze, and if I do plan on running a few miles I just lace'm up again. While I come to love the cushioning of the adidas Boost, the Nike Free sole is the one that I come back to the most.
Those that cannot decide between the knit construction of the Flyknit Racer or the comfortable Free sole can have both with the Free Flyknit. The third iteration of the popular runner was a big hit this year, and the latest edition in Court Purple come with extra support in the quarter panels. Instead of simply borrowing from a previous Free model and changing the textiles to knit uppers, the Free Flyknit is re-designed from the ground up. I simply like them because they're incredibly easy to slip on, and the Flyknit ensures a tight fit every time. For casual runs and the usual gym session, it's hard to ignore the appeal of sneakers that fit excellently and offer cushioned balance.
Source: Livestock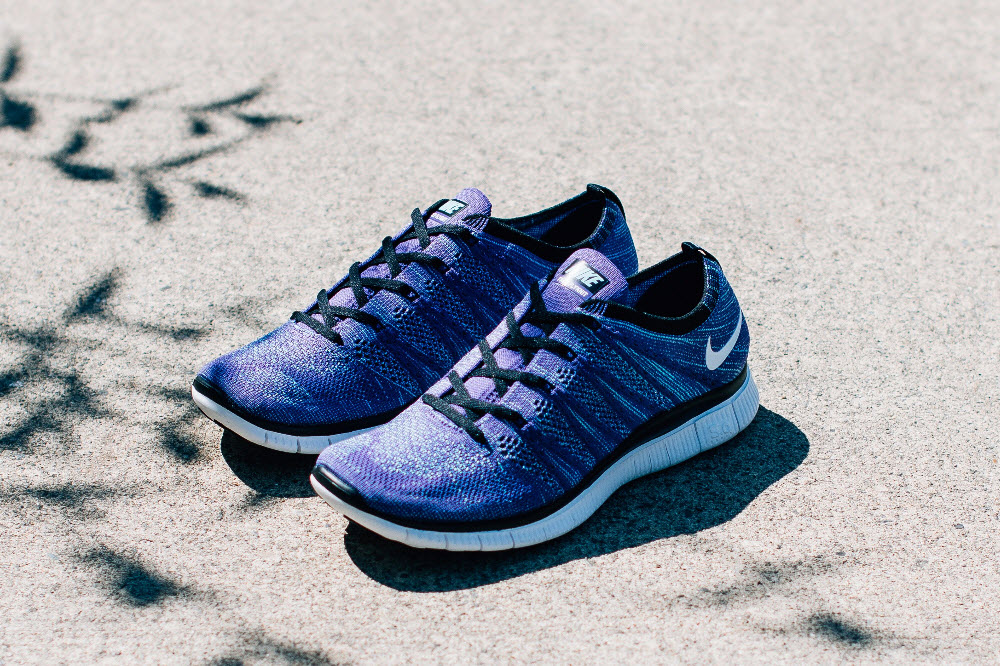 Miir Pint Cup – I've lost count how many pint glasses that have been broken at my poker games. I really don't even mind the cost of replacing them, its having eight drunk dudes all trying to clear up pieces of shard and glass that can get disconcerting. This stainless steel pint cup from Miir is a godsend, and the only shortcoming is you can't see the frothy color of beer.
Here's a pint cup that can take on the shenanigans of your drunkest friend. The Pint Cup by Miir is machined from medical grade stainless steel and can hold 16 ounces of glorious beer. In addition to being nearly bulletproof, the Pint Cup is also BPA free and dishwater safe. Your purchase of the Miir Pint Cup doesn't stop there because the good people of Miir will donate proceeds of the sale to ensure that one person in need is provided a year's worth of clean drinking water.
Source: Miir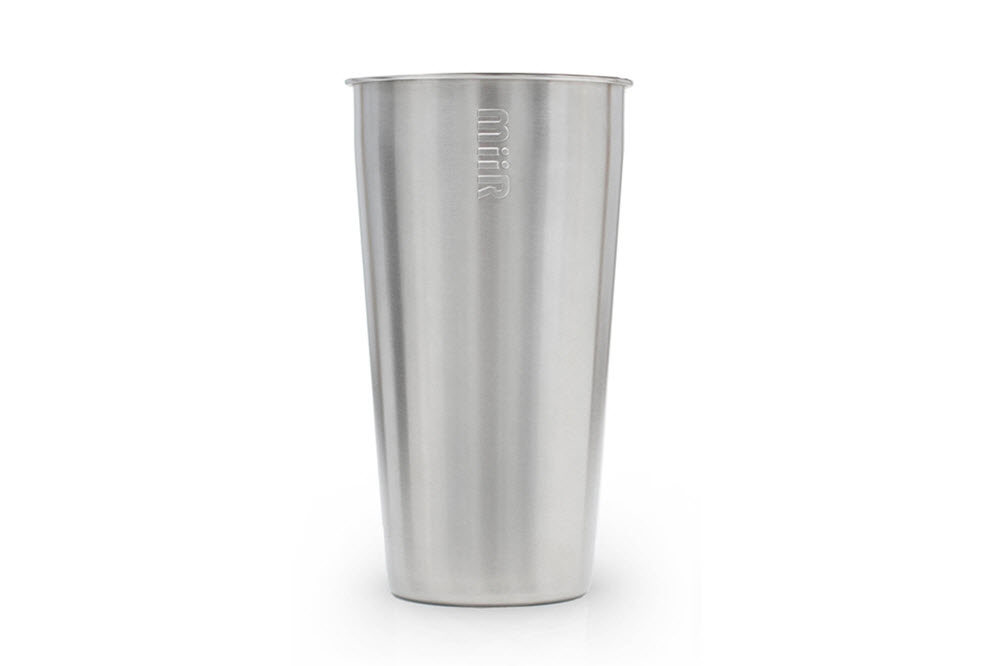 DSPTCH Fidlock Collection – I have the Fidlock on one of my camera bags, and can tell you that it is legit. If you were hesitant about how secure it may be, then don't be. The Fidlock is a secure and quick closure system that fits in nicely with DSPTCH's minimalist approach to accessories. This new collection comprises of a trio of compact bags that are intended for the seasoned traveler. Made entirely in the US the bags use the highest quality CORDURA, and comes with the peace of mind only Fidlock can guarantee.
DSPTCH has built a reputation on carefully constructed goods, and this tradition continues with their latest release for spring 2015. Keeping things lightweight and durable this season is a trio of bags that are ready for anything. The Waist bag, Shoulder bag, and Bookpack are made from high density Cordura, mil-spec webbing, and Germany's Fidlock® magnetic closures for quick access. These magnetic fasteners instantly secure your goods, and a quick tug and twist for release. Look for the Fidlock collection to be available at DSPTCH retailers, or directly through their online store.
Source: DSPTCH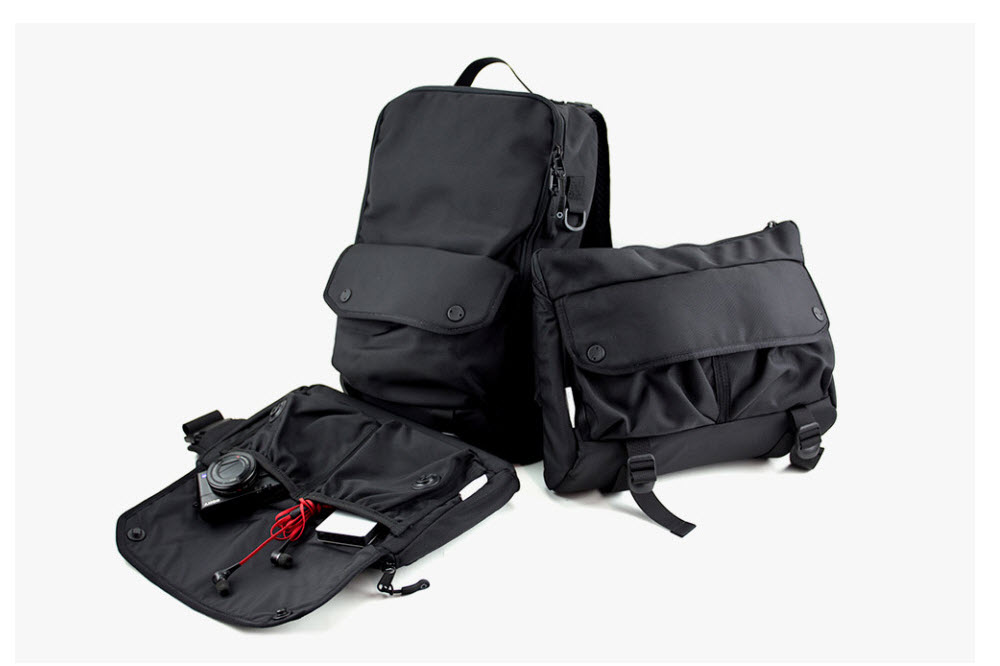 Voltus Portable Macbook Charger – Sometimes you just want to say "fuck the world," and be left to your own devices. Sadly, I need my computer to get anything done, and having a charger that can power a laptop and smartphone is going to come in really handy. The Voltus takes the same concept you find in external batteries, and optimizes it for the USB-C port found on the latest devices. The USB-C is capable of importing much more power, and conveniently serves as an extra charging port. The Voltus is still priced fairly high, but the release shows that more portable power is on the horizon.
Voltus takes you one step closer to saying "good-bye" to civilization with a charger capable of powering your Macbook. By taking advantage of the new USB-C port, the Voltus is a pint-sized charger that can power your laptop for up to 9 hours. It can charge your Macbook about as fast as a regular wall charger, and it comes with traditional USB ports to power two additional devices. The Voltus is priced at $149, and is currently available for pre-order.
Source: Kickstarter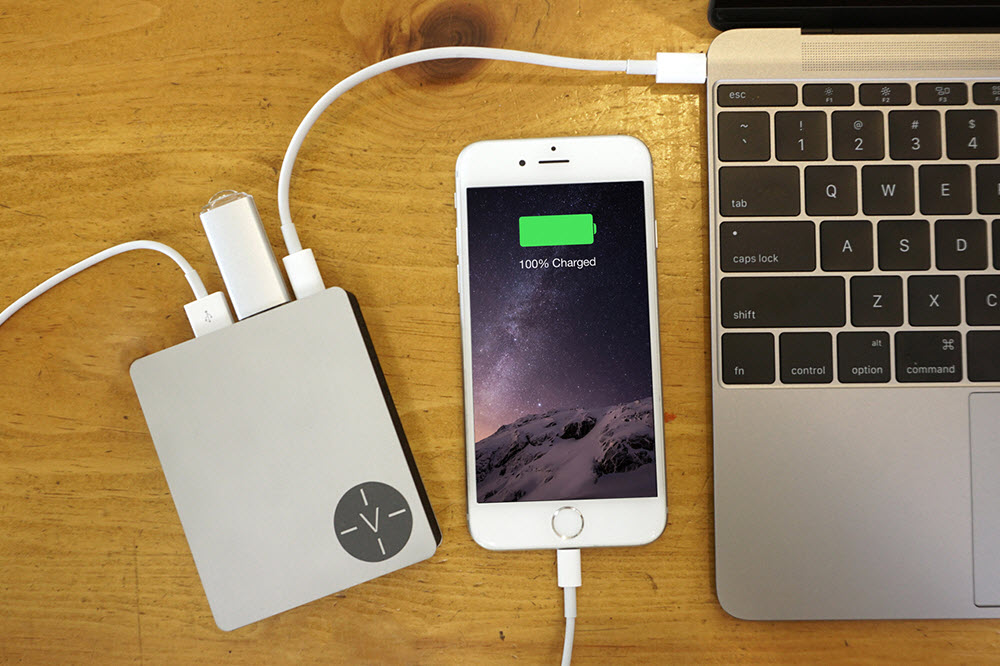 LG 1MM 55″ OLED – A bendy television that doesn't need two dudes to move? Awesome! The latest OLED from LG starts at 55-inches, but what makes it remarkable is its 0.97 panel width and its svelte 1.9 kg weight. In addition to the incredible advantages in size, the television uses a magnetic mat for mounting. No more television stands or oddly shaped VESA mounts because this thing can simply latch itself on to the wall. Production is set for 2016, so it looks like I may get a new tv in 10 months.
LG is changing the game with a 55-inch television that is nearly paper thin. The OLED panel measures under 1mm at 0.97 mm, and weighs just about 1.9 kg. Besides the incredibly light weight and the svelte size, the LG television has a revolutionary hanging system. Instead of relying on the universal VESA mount, this flagship tv set is hung on the with a magnetic mat. Removal is incredibly easy, and making moving the television set a breeze. This super thing television is set to arrive in stores 2016 in 55-inch, 66-inch and 77-inch options.
Source: YonhapNews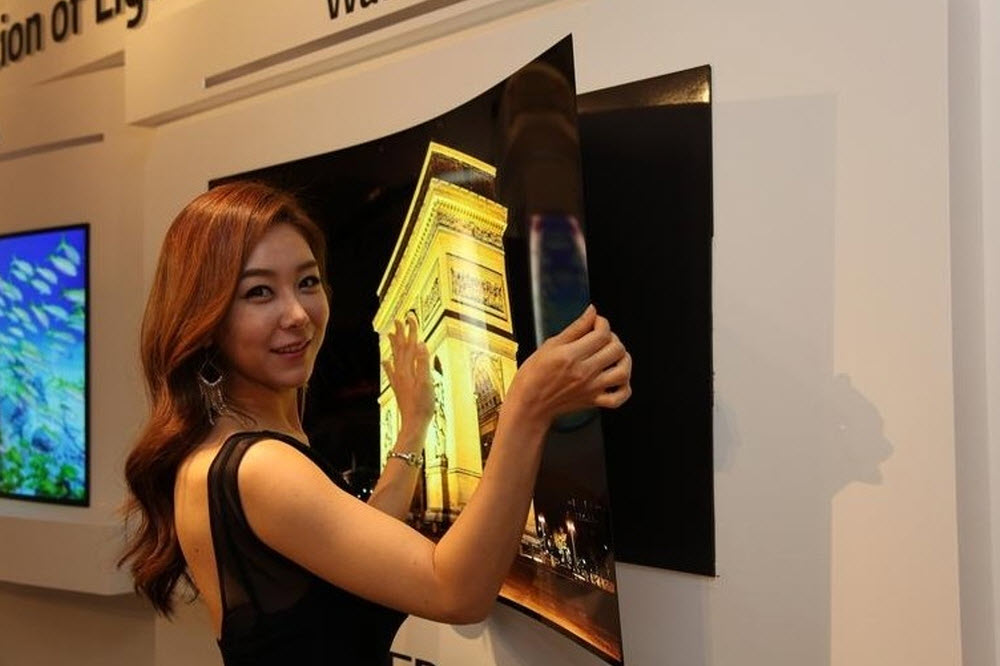 Supreme x Larry Clark's KIDS 20th Anniversary – Since the collaboration with Geiger, there hasn't been much from the Supreme camp worth coppin'. Supreme has become routine with The North Face and Vans, and I could barely stomach the White Castle collab, but this one is ill. KIDS was a landmark picture, and a few of the film's grittiest scenes are captured and printed across graphic T-shirts, long-sleeves, hoodies, and a series of skateboard decks. The collection is long sold-out, but there's always eBay.
If Supreme turned 20 last year, then that only means Larry Clark's KIDS hits twenty in 2015. The famously edgy movie about a bunch of downtown latchkey teens was heralded for its use of unknowns and its perspective of drugs and sex. The cult film is remembered fondly in streetwear for a single red box logo in the beat down scene, but enough has resonated to justify an entire collection. Packaged in small collection of photo T-shirts, hoodies, and decks are famous scenes from the movie. Look for the collection to drop online and in-store this Thursday, May 21.
Source: Supreme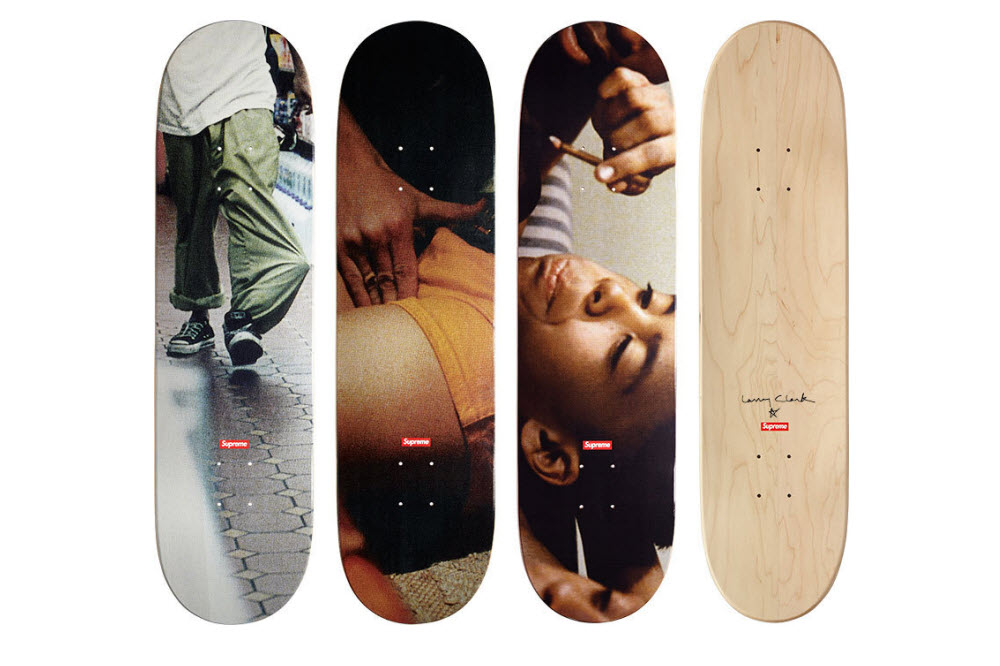 CLSC Summer 2015 – CLSC has been keeping it simple since day one, and for summer it's back to basics. The collection is overrun by graphic T-shirts, but that's not a bad thing when it's crisp and clean. In addition to the range of casuals, CLSC also has an array of athletic fleece, and the reliable coaches jacket also makes an appearance.
With a solid mix of street and surf, CLSC gears up for the summer heat. This Los Angeles-based brand has been a fan favorite for its simple and clean designs. The warm weather brings for an array of graphic T-shirts, long-sleeve prints, and the trusty coaches jacket. Like any streetwear brand, the collection isn't complete without an array of headwear. CLSC's latest collection is shipping to stores now, and should be on stockists' shelves soon enough.
Source: CLSC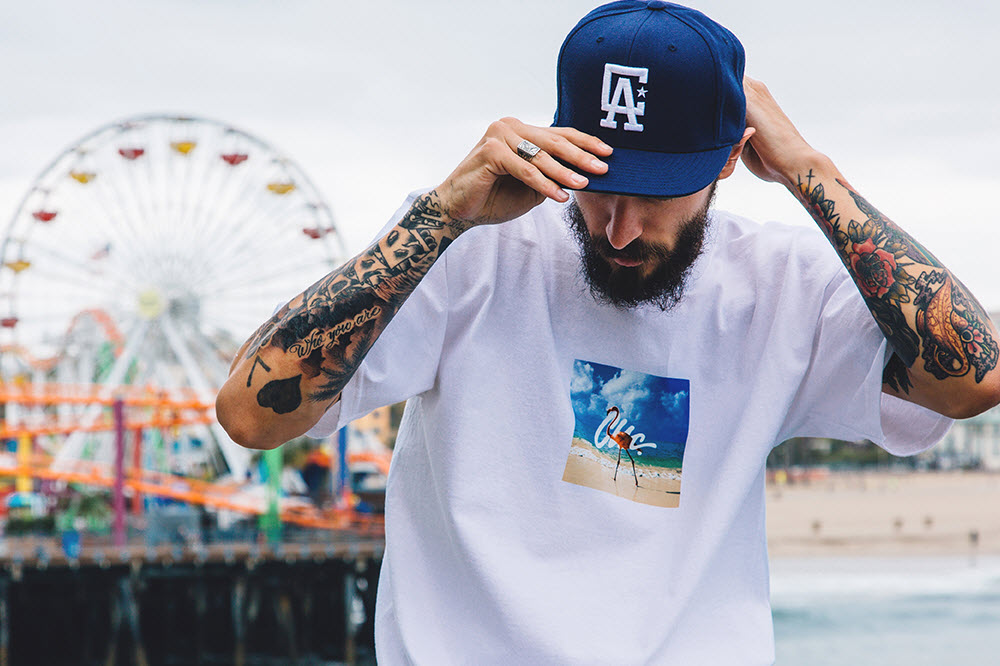 Aether Summer Swimwear – Snowboarding has made me appreciate technical fabrics, and while I usually recognize their use in the cold, it is refreshing to see its application during the summer. Aether is trying new things with their swimwear line, and while stretchy quick-stretching shorts are nothing new, the idea of adding welded seams to swimwear is. Aether is one of those few brands that will go the extra step, and their simple color-blocking patterns can stand the tests of time.
Aether is best known for their technical outerwear, but as their popularity grows, so does their ambitions. This summer Aether introduces a collection of swimwear and flexes that flexes the brands technical prowess. The shorts in the collection all use the latest microfiber fabrics from Schoeller. They're quick-drying, stretchable, and arrive with welded seams. Aether even went through the trouble of covering the metal eyelets to ensure they don't tarnish or scratch your surfboard.
Source: Aether