New Balance 577 "Napes" – This special "Napes" pack from New Balance kicks ass. The colors can light up and room, and the details are amazing. I particularly like the little triangles toward the front of the midsole, but the entire design is a knockout. Both colorways kill it, and the 577 silhouette works perfectly with the design.
Drawing upon vintage mountaineering is New Balance and their new "Napes" pack. The Napes Needle is one of the most challenging rock pinnacles and New Balance throws some 577 runners that capture the aesthetic of those who brave the mountains. Arriving in bold colors and high-quality suede and ripstop are a pair of running shoes that are ready for your next run in the woods. New Balance picks some solid colors and accurately captures the sort of whimsical wackiness that comes with mountaineering fashion.
Source: SneakerNews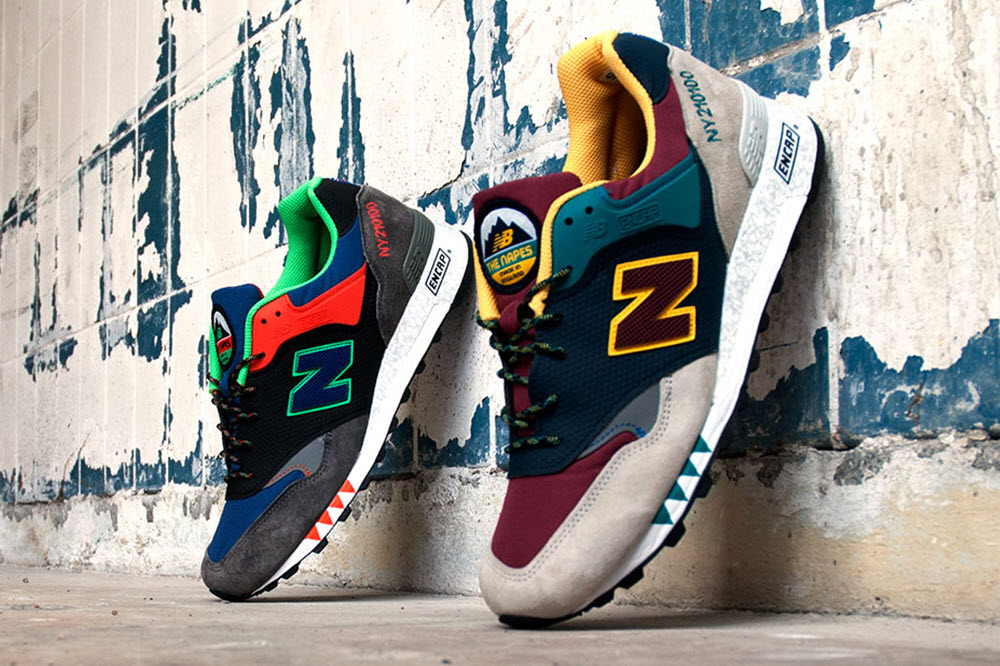 BAIT x Medicom x Huy Fong Foods – This is a nice project for BAIT and Medicom, but the real winner is Huy Fong Foods. In addition to making one of the tastiest hot sauces in the world this little brand from SoCal has become a worldwide phenomenon. From graphic T-shirts at Urban Outfitters to a collectible Japanese vinyl figures this affordable hot sauce is hitting its stride. Look for the special Bearbrick to be available in two sizes this week at Comic Con.
Besides being a purveyor of sneakers and street fashion, BAIT has also become a home for vinyl enthusiasts. The Southern California-based boutique has been knee deep in the collectible toy community since its inception and have had years partnering with Japan's Medicom. For Spring, BAIT has invited Medicom to help create a special Bearbrick for one of the world's most famous sauces, Sriracha. The Huy Fong Foods hot sauce also share their home in SoCal and the iconic bottle is mirrored across the familair silhouette of the Bearbrick. Releasing in both the 400% and 100% size the collectible figures will launch at Comic Con next week.
Source: BAIT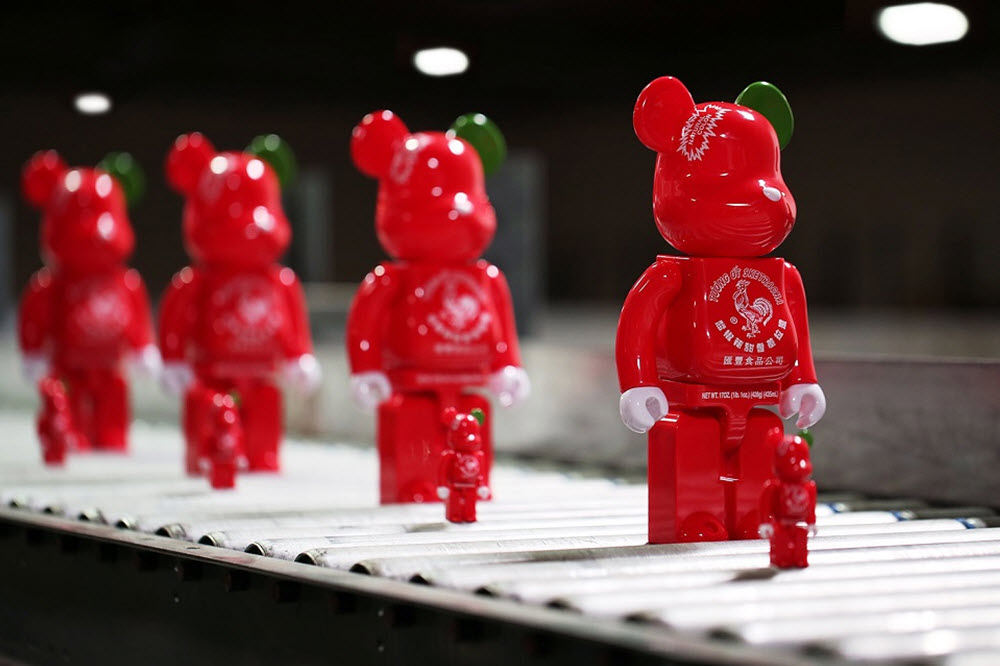 BlackBerry Venice – As an older dude I remember when BlackBerry ruled the world. That keyboard just fucking worked, and I'm glad that they have decided to move on from their muddled operating system and adopt Android. The new BlackBerry Benice will arrive on Lollipop, and come with a slide out Qwerty keyboard. In addition to this trademark BlackBerry feature the Venice will come with a top of the line processor, and a sharp 4K display.
It looked like RIM was never going to embrace another operating system other than their own, but the new Venice says otherwise. The new smartphone from the Canada-based communications company is the first phone in the company's history that does not use their own proprietary software. The new Venice will come with a Snapdragon 808, 3GB of RAM, 18 MP camera and a sharp 4K display that measures 5.4 inches. The smartphone is slated to run Andoid's Lollipop and will arrive with a familiar keyboard that slides out.
Source: Fut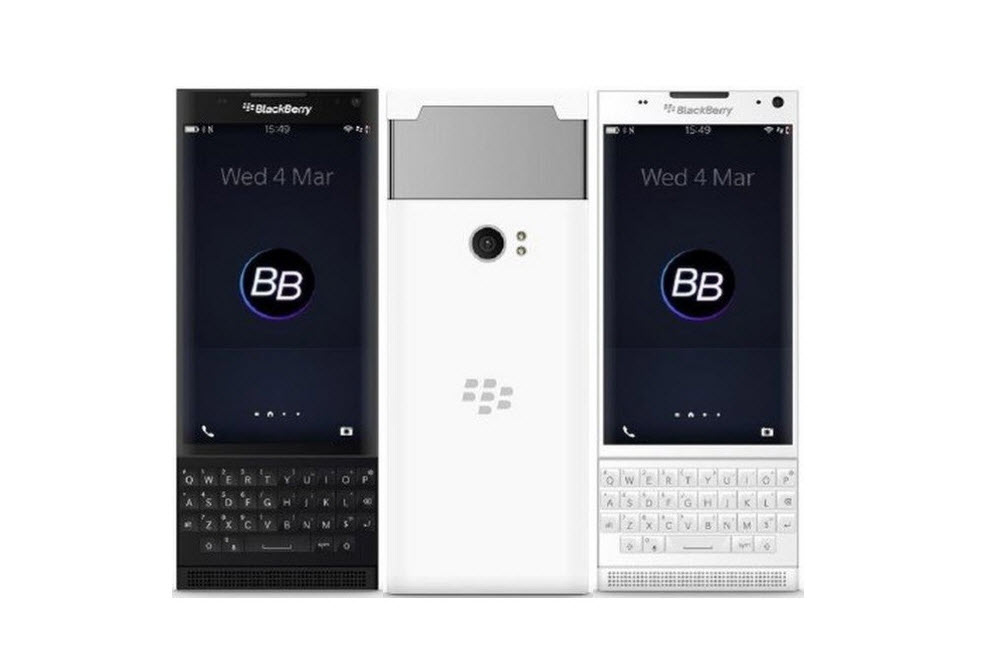 BAPE Luggage Collection 1st Camo Print – Most of the time BAPE is nothing more than a played out joke to me, but I'll be lying if I said I don't love the 1st Camo. BAPE's take on woodland camouflage is ill, and using it across their luggage collection is genius. BAPE also employs heavy duty Cordura through out the bags, and throws in some useful travel accessories, too.
What better way to kick off your latest luggage collection than with one of the most iconic prints in your library of patterns? BAPE is using their 1st Camo print across some heavy duty Cordura to kickoff their luggage collection. The durable textile will be used across a rucksack, travel wallet, weekend bag, and roller holdall. Besides the robust range of bags, there are a range of travel accessories such as a universal plug convertor and USB dock.
Source: BAPE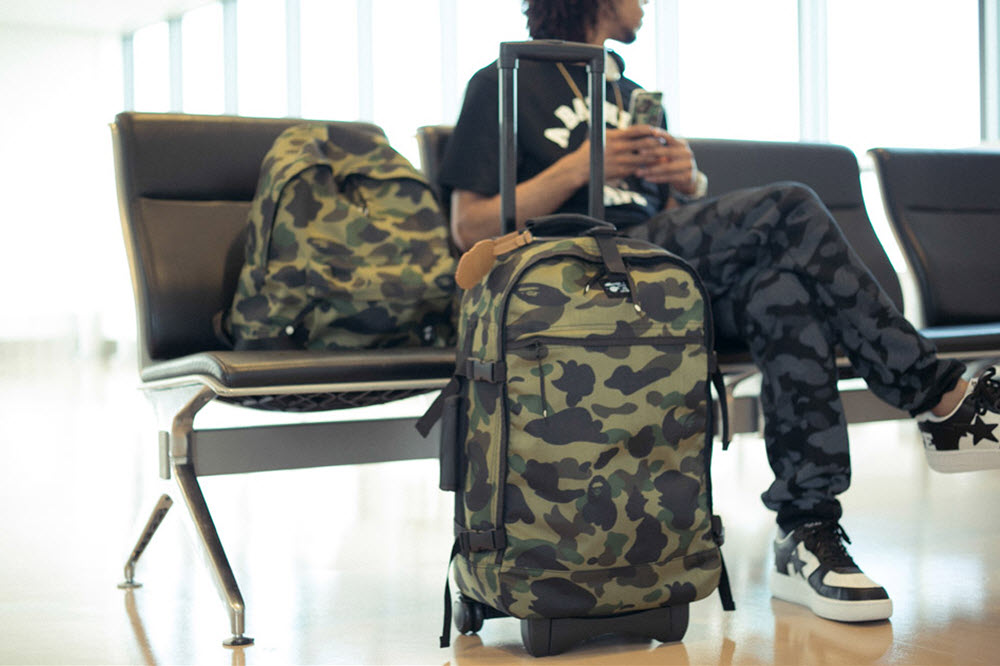 Diamond Supply Co. Fall 2015 – Streetwear is becoming more than just graphic T-shirts, and Diamond Supply Co. is definitely stepping up. Fall is the time for layering to shine, and Diamond's latest lookbook drops some clean looks. There's a lot of casual sportswear in the collection, but Diamond brings some nice details into some seemingly simple pieces. This is a just a taste, and I'm excited to see what the rest of Fall will hold.
With summer underway, the big guns are already thinking about fall and winter. Diamond Supply Co. gives fans an idea of what is due out with their latest 2015 Fall Season lookbook. The streetwear brand strips the graphics for fall and creates a collection of pieces that are more contemporary and mature. Among the range of apparel is an attention to detail and small embellishments like the diamond-quilted pattern across athletic jackets, and the embroidery along the cut-and-sew pieces. Diamond Supply Co. looks to grow their look, and will start with this fall.
Source: Diamond Supply Co.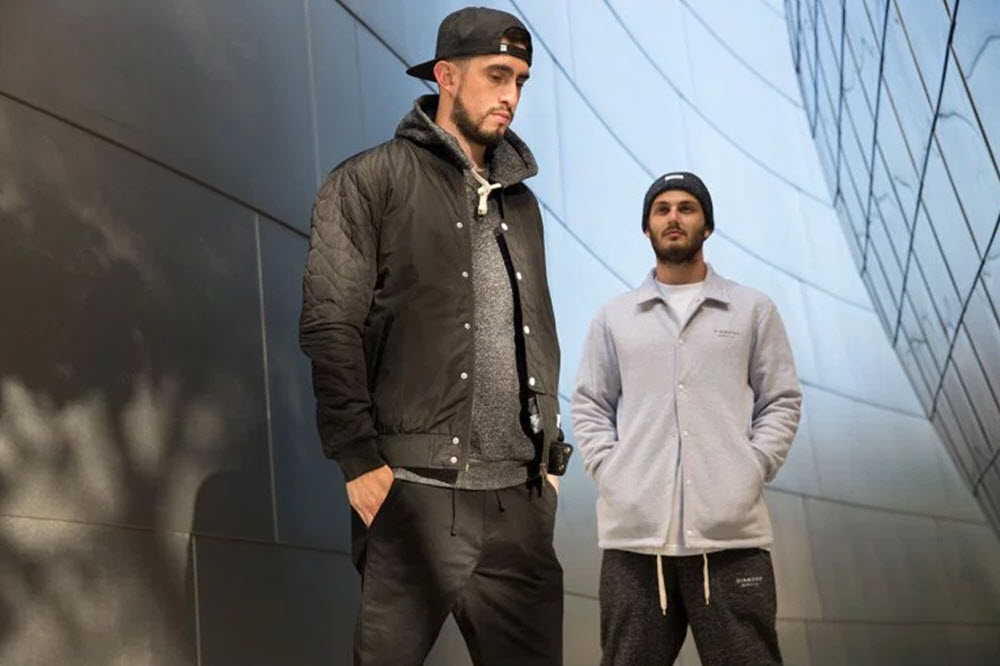 Kendrick Lamar x Reebok – I've never been a fan of the Ventilator, but this special make-up by Kendrick Lamar is quickly getting me to change my mind. The kid from Compton can add design to that resume, and he did Los Angeles right by repping both "BLUE" and "RED." With Los Angeles's marred history with gang culture this aesthetic is particularly poignant. The creme uppers pair nicely with the crispy white midsole, and that rubber gum outsole?!!?? CLEAN AS FUCK!
While everyone is wondering which sneaker brand signed the biggest athlete, I always felt Reebok had the biggest impact when they swooped up Kendrick Lamar. The kid can spit, he's young, connected with Dre, and did I mention he can rhyme? This hotly anticipated sponsorship has finally resulted in a limited pair of Ventilators. The classic Reebok runner arrives in a seemingly innocuous cream suede, but the heel accents tell a different story. With a bold "BLUE" and "RED" across the back Kendrick pays homage to his Compton roots, and the rubber gum sole is the icing on the cake.
Source: Sneaker Baas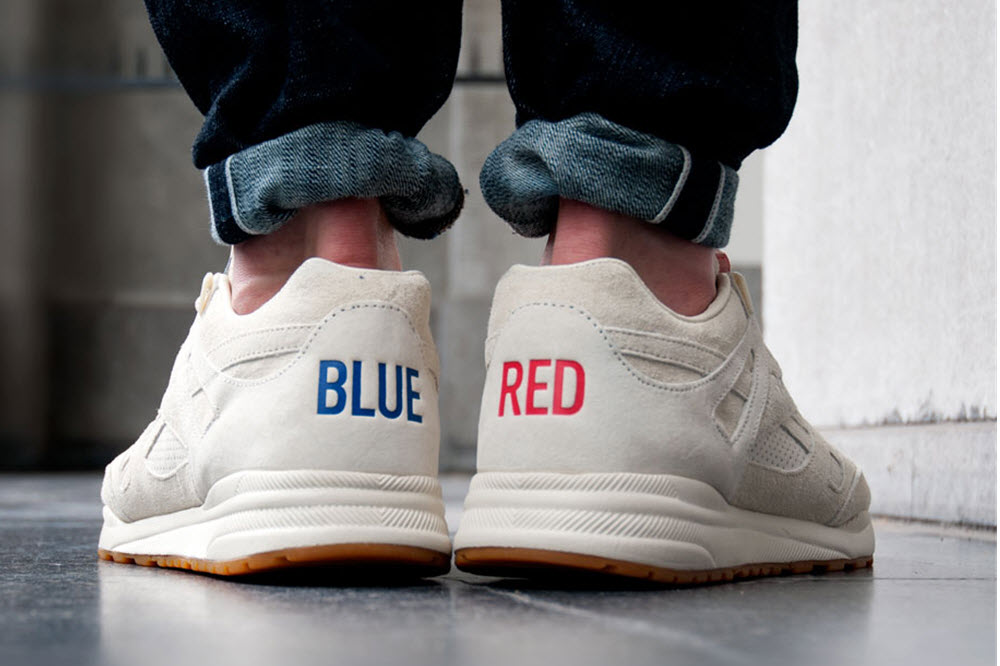 Lego Ferrari F40 – As a eighties baby there was nothing that was more beautiful than a Lamborghini Countach, but you know what came second? This beautiful F-40 right here. I KNOW that I will never, ever, own one of these things, and a Lego build is the closest I will ever get. Thankfully, Lego when in on the details and gave this F-40 a beautifully replicated engine, pop-up headlights, and those super sweet 5-point star rims.
While the '90s were the heyday for basketball, I look at the '80s as the golden age of super cars. The Ferrari F40 typified the excess during the '80s, and the last car designed by Enzo Ferrari has become one of the most collectible cars. It may be impossible to get your own, but Lego is going to hook you up. Arriving in the classic Ferrari red, the F40 arrives in all its high spoiler glory, and even have working pop-up headlights.
Source: Lego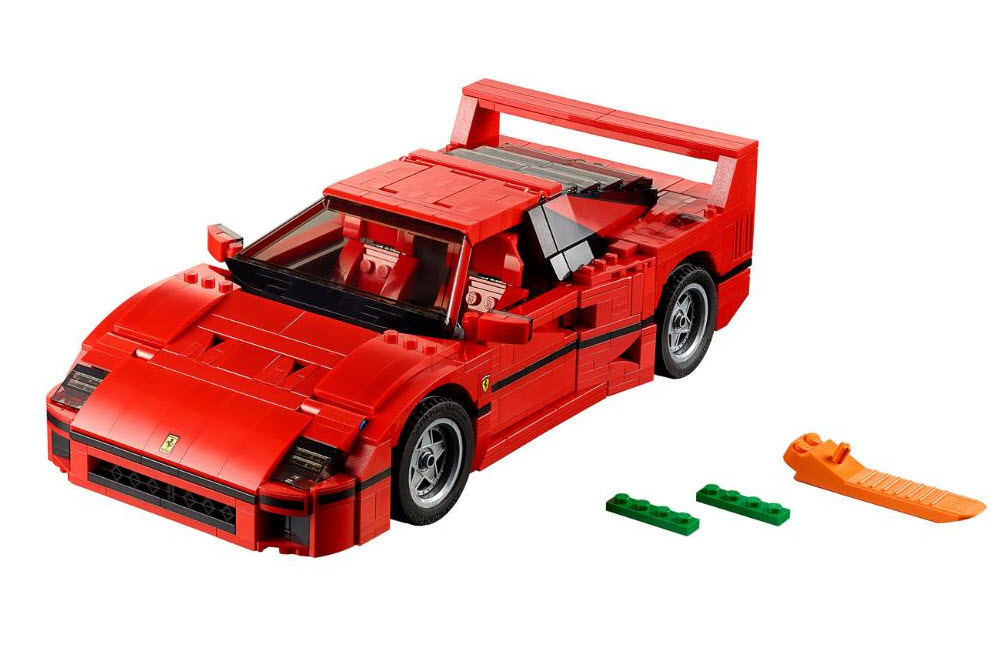 CHIP – This means kids in developing countries get access to computers. In order for technology to flourish this digital divide can no longer exist. A working computer processor at $9 is revolutionary for the world because it gives nearly everyone access. With it's ability to run a web browser and enough processing power to code the new CHIP is going to level the playing field, and I love it.
Besides genius there is another reason why Steve Jobs and Bill Gates are where they are – Access. They lived in affluent computers with easy access to computers, and the playing field is slowly being leveled. CHIP is the latest company to come out with a pint-sized processor that will rival the Raspberry Pi. For $9 the CHIP packs a 1GHz Allwinner R8 Cortex A8 processor with a built-in Mali400 GPU, 512MB of RAM, and 4GB of flash storage. There's enough power in this little chip to run LibreOffice, a Chromeium browser, and allows the enthusiast to do some programming.
Source: Ardevon