Redux Courg Titanium Watch – This is one fine looking watch, and with allowing four dials to choose from Redux allows the Courg to have a personal element not found in other timepieces. The case remains the same, and the movement is a reliable Seiko, but the dial and strap options mean an endless array of options. The Courg is also reasonable priced and built with quality materials such as the titanium case, and an Anti-Reflective crystal.
As a watch fanatic, I recognized right away Redux's Courg took a big bite out of Sinn's U1. Using that diving pedigree, the Courg is an affordable alternative with an aviation-inspired dial. The case is made from lightweight and durable titanium, and they use a reliable automatic movement by Seiko. Measuring in at 39mm, the watch is smaller than most modern timepieces, but there's no doubt it's still a looker. Available in four variants, the watch is available now with a reasonable retail price.
Source: Redux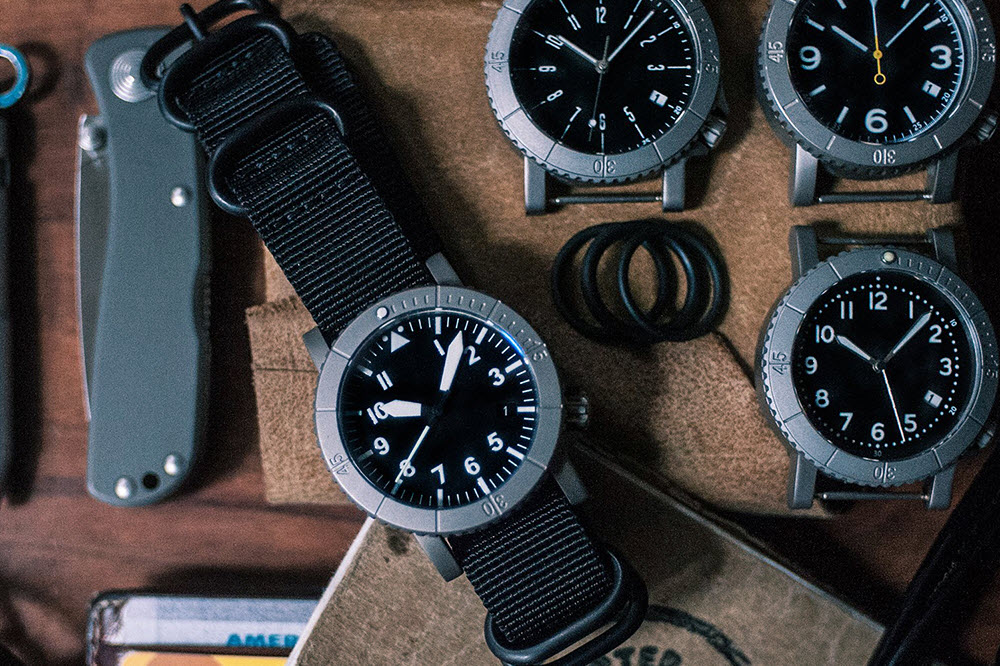 Tanner Goods FW15 Salt and Pepper Collection – Kind of hard to believe this unique textile stepped foot outside of Sweden's military, but according to Tanner goods this unique salt and pepper woven material was strictly used only in Sweden. The Portland-based brand takes this gorgeous textile and has created a premium and detailed collection of accessories. Besides being durable water repellent the bags look and feel different from the competition. The Salt and Pepper Collection has a slick individual appeal, and the fact that it's made by Tanner means it will age beautifully.
Tanner Goods got its start with leather, but by the looks of their latest fall and winter drop, they have a way with textiles too. Look for the Portland-based brand to drop the Salt and Pepper collection with a series of bags that blend a unique salt and pepper woven with premium leather. Engineered to original Swiss military specifications, the durable woven is made from flax and nettle divers that is then coated with DWR (Durable Water Repellent).  This is the first time this textile is issued out of the Swiss Military, and is set to hit stores soon.
Source: Tanner Goods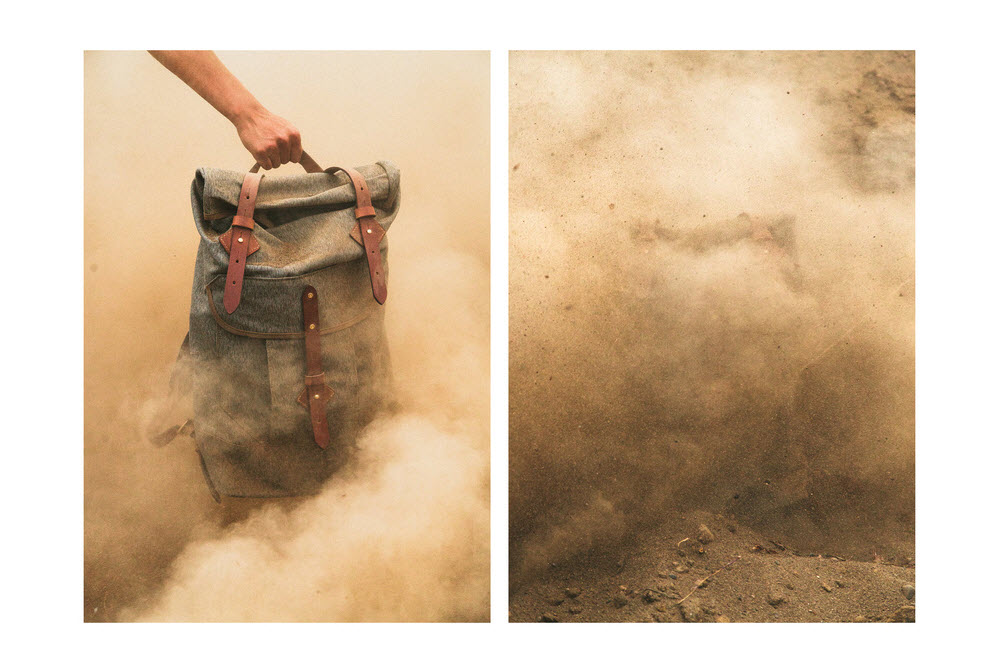 effulgence Summer 2015 – Coming out of San Francisco is another young brand that takes its graphics seriously. effulgence shows off their Summer collection with influences that stretch from anime to hip-hop. The small collection is centered around the graphic T-shirts, but effulgence managed to find the time to go into long-sleeves, fleece, and a coaches jacket. The collection is simple, clean, and to the point; pretty ill combination to beat.
Independent brands are the hallmark of streetwear and out of San Francisco comes a bright burgeoning brand that kicks things off for Summer. Effulgence enters another season and goes in with graphics inspired by music, anime, and different subcultures. Using traditional colors along with unconventional bright ones the T-shirts are accompanied by long-sleeves and coaches jackets. Go out there support the small brands, and check out the rest of the collection.
Source: effulgence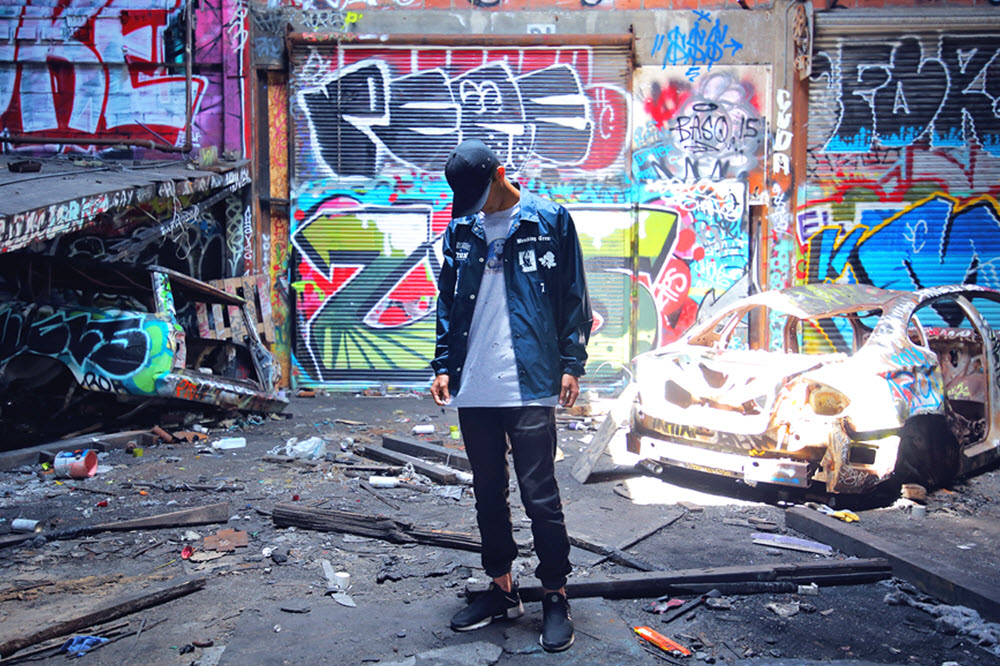 Lexus Hover Board – You're literally staring at the future. I don't know how it works, but I want one. Maybe two.
A lot of cool things exist only as prototypes and never make their way to the production line. The Lexus Hoverboard reveled earlier seems to be cost feasible now that a delivery date has been announced. August 5 marks the day Back to the Future nerds get closer to reliving their favorite Marty McFly scene. The Lexus Hoverboard isn't going to be as think as the pink Mattel number, but the fact a board that hovers is being made for the public at large is so interesting news.
Source: Lexus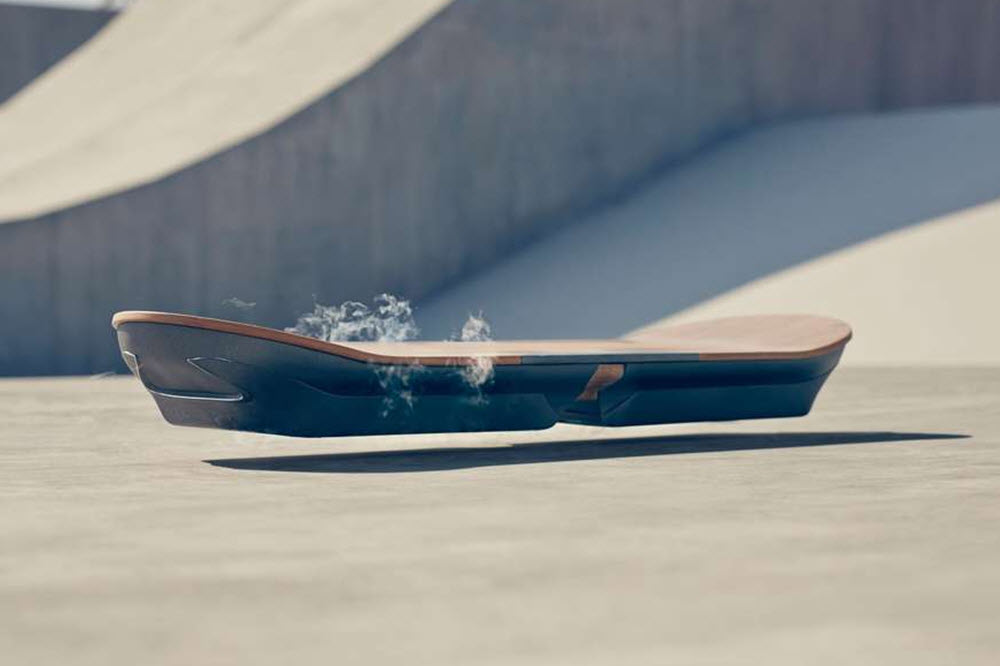 Supreme x Air Jordan 5 "Bred" – Jordan and Supreme? Hypebeasts are about to have a stroke with the announcement of this project. Besides the camouflage colorway previewed last week, there is also a more traditional colorway that uses a sleek black combined with a bright red. The 23 on the heel is replaced by 94, and the Supreme logo is subtly placed on the quarter panel. This is going to be a Supreme exclusive that will attract streetwear fiends, and sneakerheads alike.
After the leak of the chip camouflage colorway for Supreme and Nike, there has been additional information regarding other colorways. Besides the Desert Storm-inspired colorway, there is one that uses the iconic black and red. The Bred colorway uses a black nubuck upper with bold red detailing across the interior collar and the midsole. The Supreme logo continues to appear on the plastic quarter panel, and a special "94″ embroidered across the heel. Supreme fans can also expect to see a special Supreme lace lock to accompany this limited sneaker.
Source: SneakerNews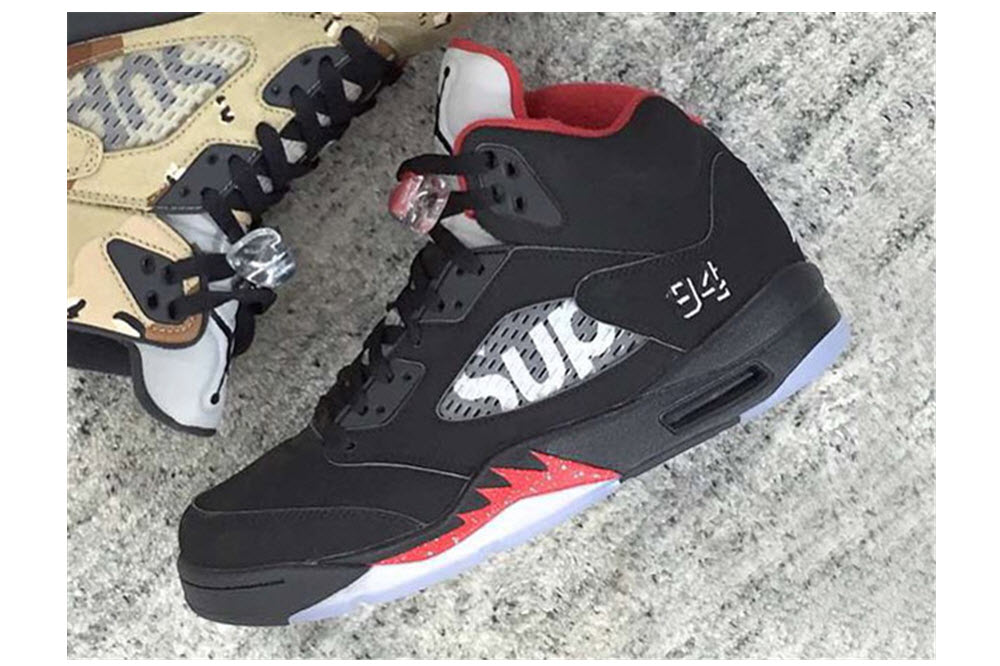 Sandisk Connect Wireless Stick – With pictures and videos taken in higher resolution, there is never enough room on the phone. Sandisk provides a real answer for those with anemic memory space with the Sandisk Connect Wireless Stick. Using a local Wi-Fi network the Connect Wireless Stick is a portable flash drive that connects with any. You have a personal wireless server in your pocket, and saving those large videos, pictures, and media becomes a breeze.
For those of you with puny hard drives on their iPhone, the latest USB stick from SanDisk will be a godsend. Using local Wi-Fi, the SanDisk Connect Wireless Stick is a portable flash drive that can double the memory of your phone, tablet, or computer. Install the app on your device and the USB stick can wirelessly save photos, videos, and files, and allows you to share it with other devices in the room. Its a basically a wireless server that fits in your pocket.
Source: Sandisk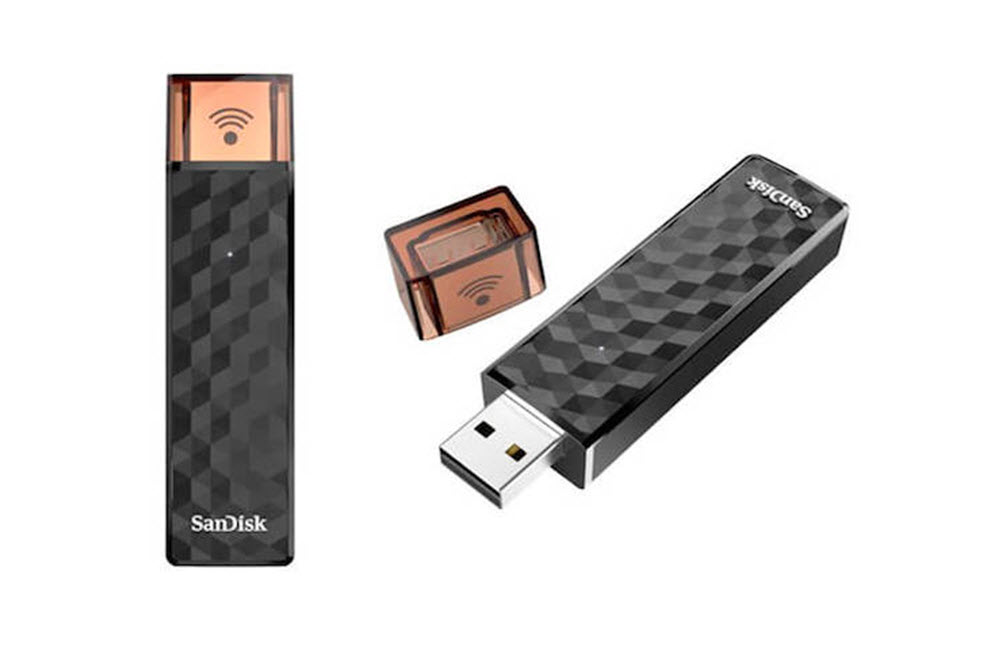 Crooks & Castles Fall 2015 – I can't confirm the premium quality, but one thing Crooks nailed this time with their collection is the luxury aesthetic. Using the "Luxplorer" title the collection combines the spirit of outdoor sports with an air of opulence. Starting with a flip of the Moncler logo the collection also uses rich textiles such as jacquard fleece, melton wool, and various types of knits. The collection also arrives with a complementary selection of accessories.
Crooks & Castles is slowly moving aspects of their brand closer and closer into luxury, and nothing like a Moncler flip to kick Fall 2015 off. Under the aptly titled "Luxplorer" name, the series uses premium material such as jacquard fleece, wool melton, and poly knits to create casual sportswear pieces. From sweats to quilted jackets the collection is a clean, yet bold. In addition to the collection of menswear, Crooks also comes correct with a nice assortment of accessories, backpacks, carabiners, and duffle bags.
Source: Crooks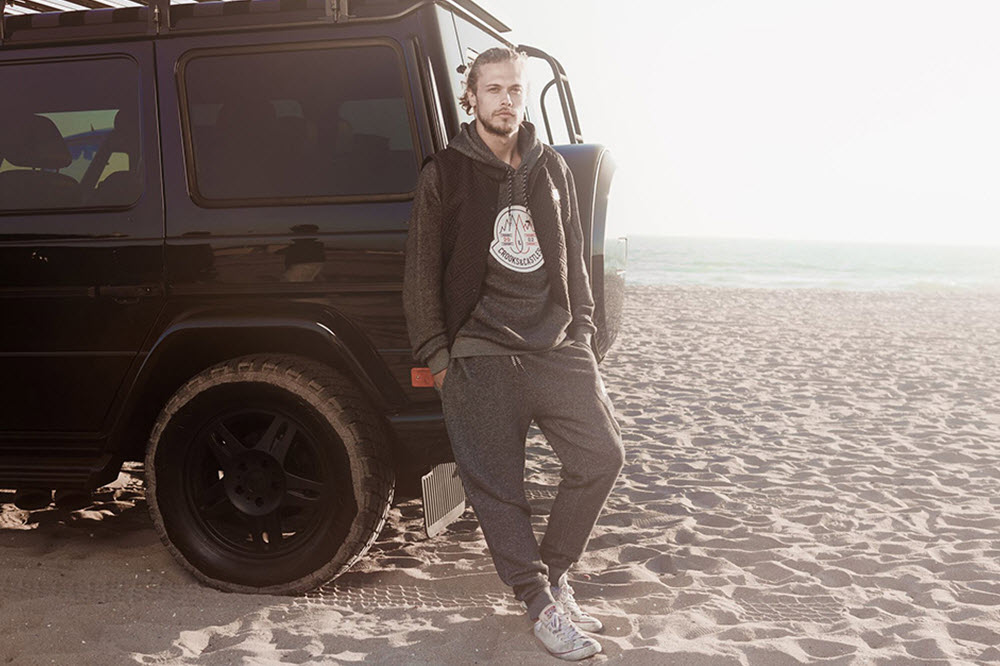 Reebok Question OG – I don't think anyone will ever match the swagger of Michael Jordan, but Allen Iverson got pretty damn close. AI would skip practice, but still have handles that could break Jordan's ankles. It was always a mystery why Iverson signed with Reebok, but the Question Low was undoubtedly one of the highlights in sneaker culture. Here, they return with the tumbled white leather, red accent, and the tint of blue in the outsoles.
It's been two decades since Allen Iverson rocked the Question in the exclusive 76er colorway. The Reebok Question Low in red/white is back in all its original greatness. Using white tumbled leather uppers, the sneaker sports just a hint of red and is highlighted by the icy blue outsole and the unmistakable "3″ on the heel. The Reebok Question OG is available now at select Reebok stockists with a retail of $115.
Source: Reebok