Shinola x Benchmade – I like how Shinola is showing off the abundant talent we have here in the United States. Benchmade is one of those companies that take care of you. The clip on my Benchmade loosened about a year ago, and Benchmade sent me one for free. No questions asked, they just asked for my address. That's quality service from a reputable brand and this custom 485 Valet is not only gorgeous, but backed by the same no frills guarantee. Using a unique Dymondwood handle the knife has a beautiful grain and finish that is different on every knife. The blade is no slouch either, the M390 steel is razor sharp, and holds a nice edge for ages to come.
I've had a Benchmade in my pocket since my days at UCSD, and it's probably still my favorite blade. Shinola feels the same way about the quality of this Oregon-based company and they head to the Pacific northwest to create a collaborative knife. Based off of the recently released 485 Valet this pocket knife uses a rugged Dymondwood handle that has a unique grain and pattern. No two are alike and it comes with the renowned AXIS folding mechanism, orange G10 spacer, and a razor sharp M390 steel.
Source: Shinola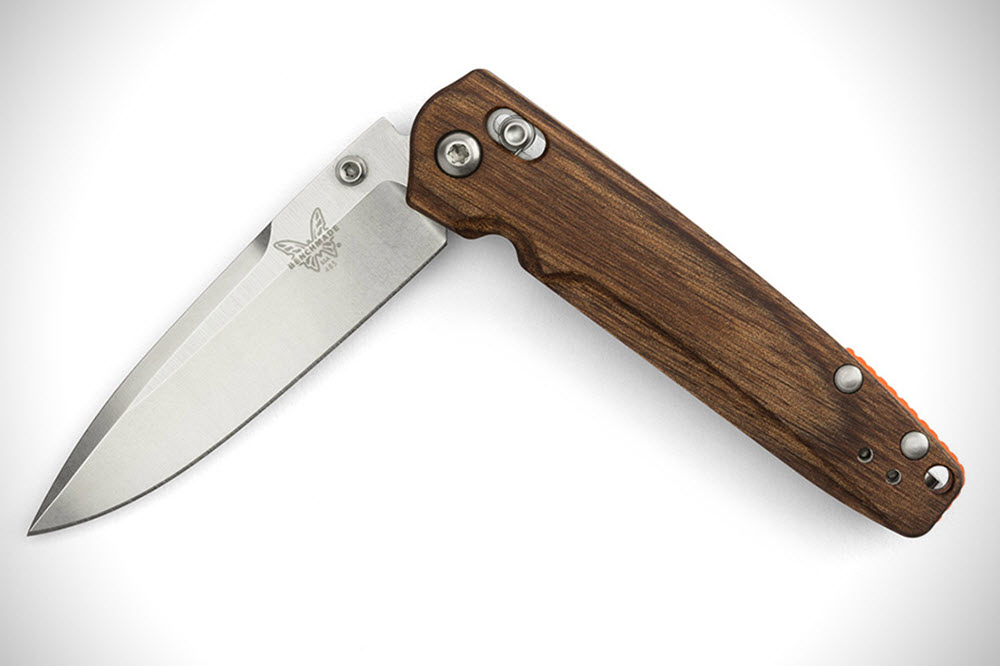 Best Made Warm Weather Trench – I've been stuck in some nasty showers while traveling in Asia, and this trench looks like it would've been real handy. Using a Japanese made material called SAITOS the jacket has a triple-laminate to keep the water away, but also intelligent enough to regulate temperature. Like Gore-Tex the material is breathable, and allows your body heat to slowly dissipate. Another big plus of the Warm Weather Trench is that it is packable and fits nicely into a daypack.
The Warm Weather Trench may seem like an oxymoron for those that live in California, but rain during warm temperature does exist. Those who've been to Southeast Asia can definitely attest to that and Best Made wants to give you a packable solution. Their Warm Weather Trench is made from a high-tech Japanese material called SAITOS. It possesses some heavy duty qualities, but excels at being light and water resistant thanks to it's triple-laminate. In addition to protecting you from those spring showers the jacket can also regulate temperature, and can keep you from overheating and sweating.
Source: Best Made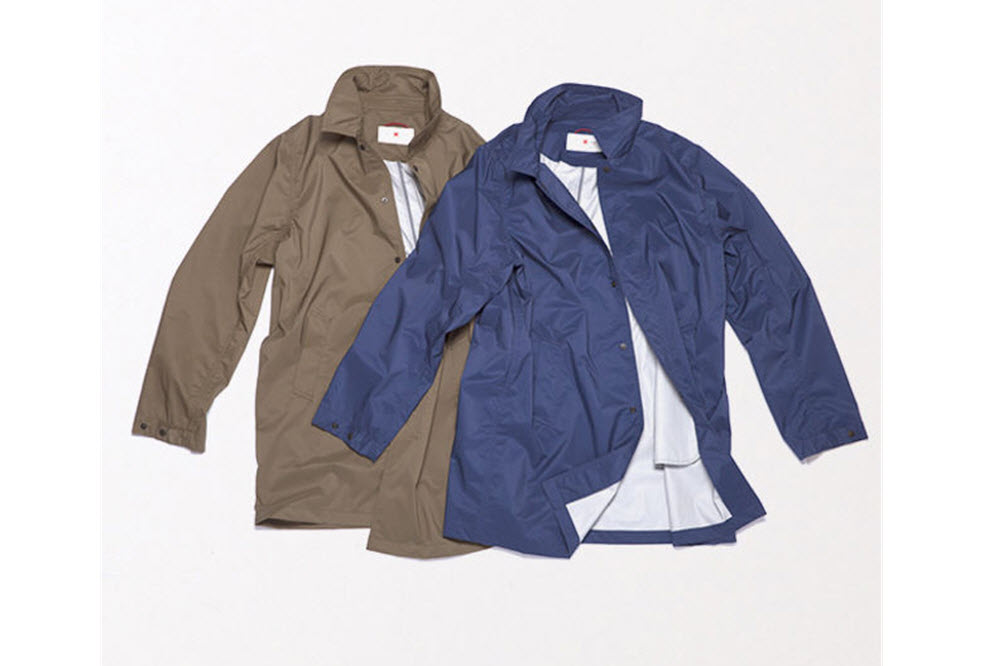 Beckett Simonon Leather Jacket – Besides being an attractive and affordable leather jacket the bomber from Beckett Simonon does a whole lot of good. The jacket is handmade in Columbia and Simonon sources not just the leather locally, but they also hire Columbian leather craftsman to make the bomber by hand. Traditional details like the ribbed wool cuff and waist is present, and the cut seems to be nicely tailored. The bomber jacket is a timeless look, and at under three hundred, the price is perfect.
Finding a leather jacket can get pretty tough, and when you consider the cost then things can get pretty overwhelming. Beckett Simonon looks to solve these concerns with a leather jacket made from premium materials, and costs a little under three hundy. Using the timeless bomber design the jacket uses quality leather from Columbia, cotton-linen lined, and YKK zippers from Japan. The ribbed wool detailing is along the cuffs and waist, and the bomber is handmade by expert leather craftsman in Columbia.
Source: Beckett Simonon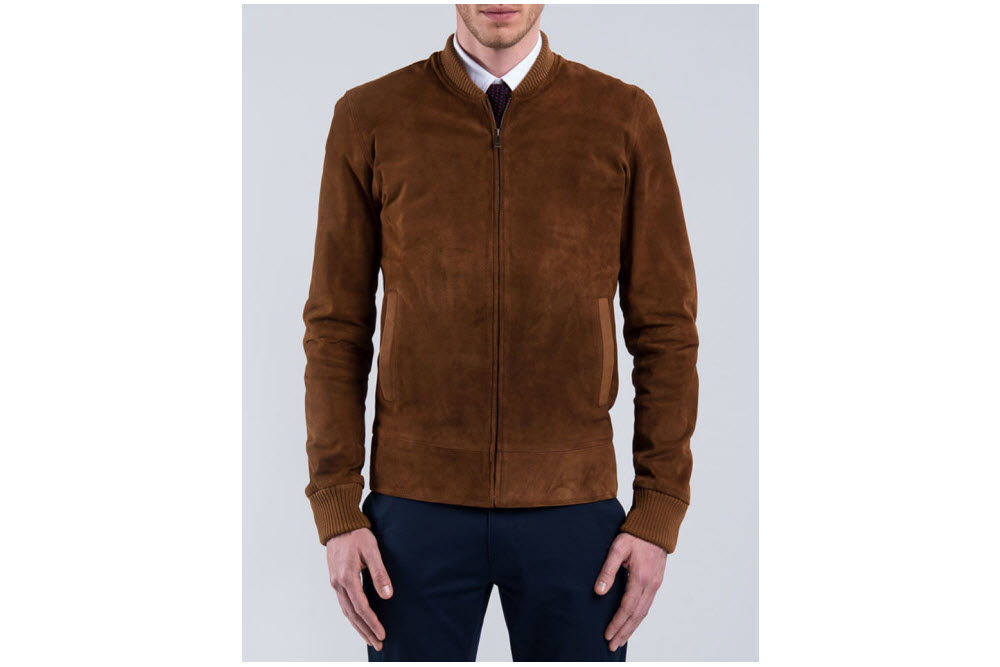 Mophie Juice Pack H2PRO – I don't own an iPhone, but I can definitely see how this new H2PRO case is a game changer. Instead of just offering an extended battery the H2PRO now makes your iPhone 6 waterproof. With an IP-68 rating the H2PRO allows your smartphone to be immersed in 1.2m of water for half an hour. That's pretty impressive considering your iPhone would have been worthless had you dropped it in 3 inches of shallow toilet water.
Some smartphone users have the benefit of a waterproof phone, but this technology is lost on Apple users until now. Mophie is giving you accident prone iPhone users a case that that not only boosts battery power, but also protects your phone and gives it the added benefit of being resistant to water. It all starts with a rugged mil-spec case that Mophie manages to jam an extra 2,750mAh of battery into. With an IP-68 rating, the H2PRO is not only shock and dirt resistant, but it can also be immersed in 1.2m of water for up to 30 minutes. Singing along to YouTube videos in the shower just got a whole lot easier.
Source: Mophie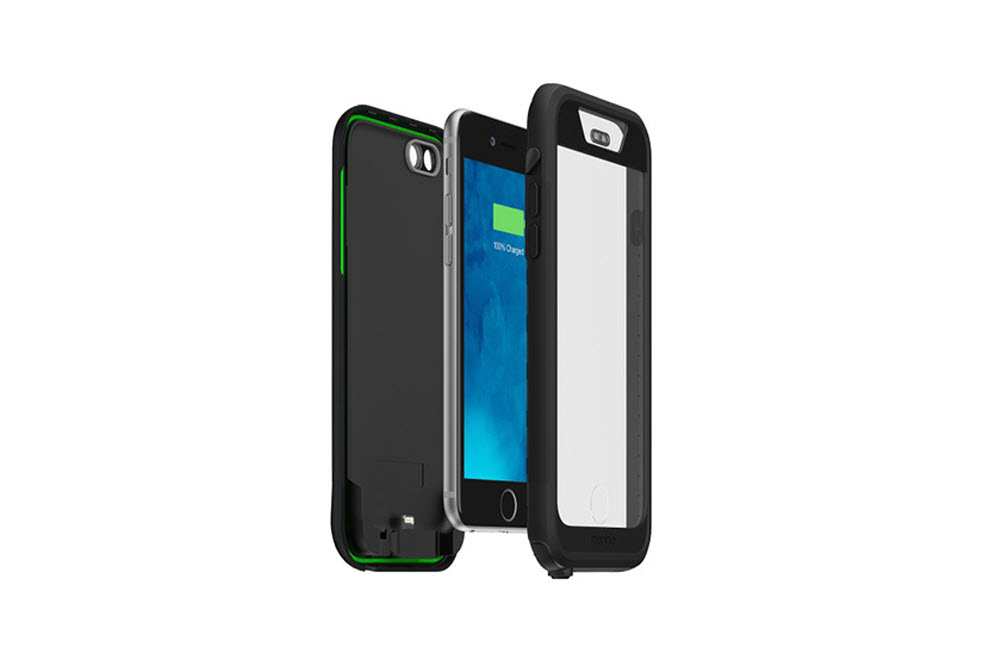 G-Shock x HUF – I kinda forgot all about G-Shock and their endless colors and collaborations until this came out. HUF kills it on this collaboration with the quake print embossed across the watch's rubber straps. The flat matte color and the minimalist approach aligns itself well with how HUF approaches their apparel collection, but the print is a nod to sneaker culture. HUF doesn't try to get fancy, they just got it done. And now they're all SOLD OUT. :(
One of my favorite runners to come from the world of streetwear are the Nike Air Max 1 Hufquakes. As a renowned sneakerhead, Keith Hufnagel did this one right with the dark cracked cement print and the gum outsole, and I'm happy to see that HUF is following up with a G-Shock that matches almost perfectly. Using a flat matte black case and minimalist face, the watch is a seemingly innocuous mil-spec case, but look closer and the details are all there. The cracked cement "Quake" pattern is embossed across the straps, and the LCD read-out shows a HUF logo when activated. The watch is a clean, simple, and able to take a beating.
Source: Highsnobiety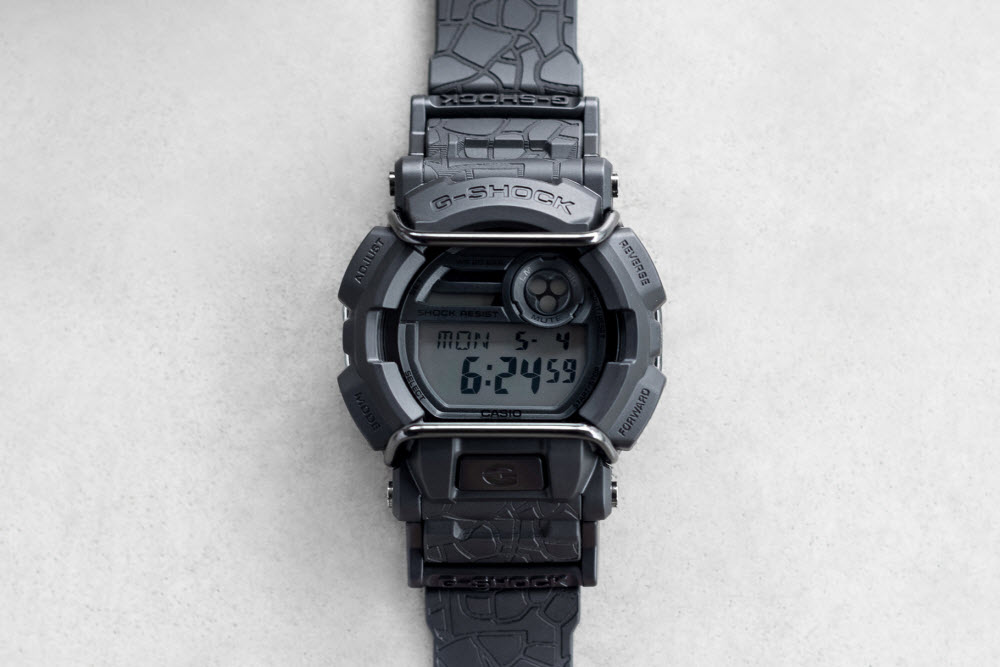 PARADISE3 – I wear T-shirts nearly every day of my life. Sometimes they're the plain white Kirkland Costco tee, and other times they have graphics. T-shirts have a special place for me and I have a profound appreciation when these simple pieces of cloth mean something. The small PARADIS3 collection is an extension of Sean Pablo and his cultural roots in Los Angeles. It says something about him, and it piques my interest. I'm curious about that part of Los Angeles, and clothes rarely does that.
At its core, streetwear is graphic T-shirts, and Sean Pablo gets it. The Los Angeles-based skater was featured in Supreme's Cherry video and has gone on to create his own fledgling brand. PARADIS3 is an extension of Pablo's roots in Los Angeles skate culture and he kicks things off with a small run of tees and long-sleeves. With only a handful of graphics the small collection makes some big statements with a blend of gritty and whimsical. The collection and a selection of stickers are available now through Pablo's website.
Source: SeanPablo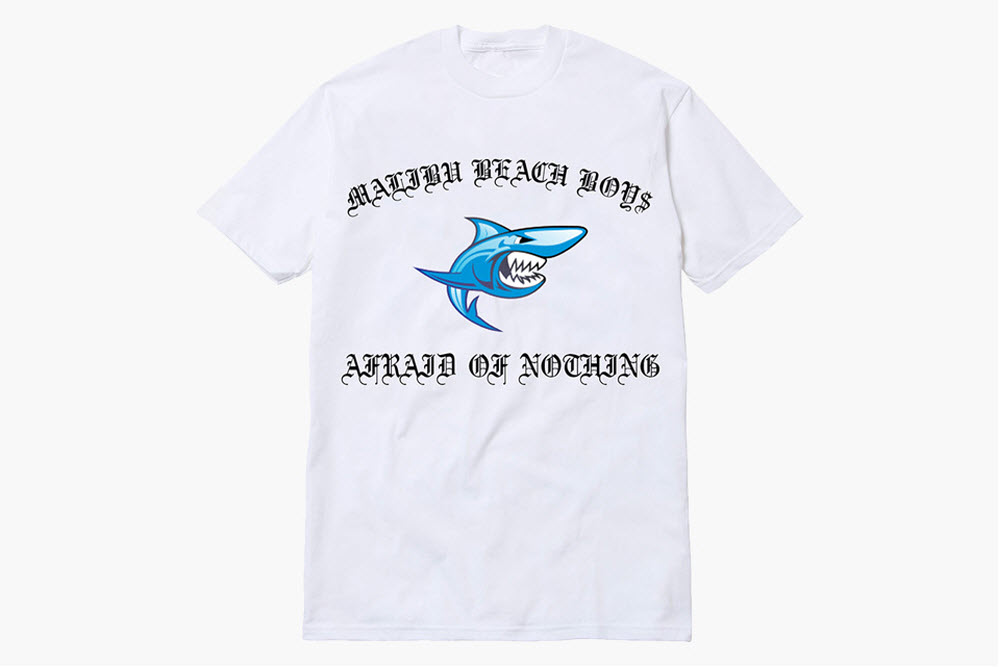 Herschel Supply Co. x Clarks – This project was executed really well, and quite unexpected. For the record, Herschel Supply Co. makes one of the worst, overpriced backpacks in the world. Their prints and color-blocking is always on point, but the quality is abysmal. So I was really surprised to see how well these came out. I guess most of the heavy-lifting was done by Clarks, but Herschel nailed it with the color choices. That deep blue is beautiful, and the red-tipped laces nails it.
If there was any doubt the Herschel Supply Co. was on their way up, then just take a look at their latest project. The Vancouver-based accessories company is teaming up with Clarks. The British shoemaker has been lacing dudes up since 1825, and this time they take the beautiful Desert Boot and allow Herschel to switch out the tan suede uppers for a deep blue. The crepe sole is also updated to a dark grey, and the shoes arrive with a tasteful chambray lining.
Source: Clarks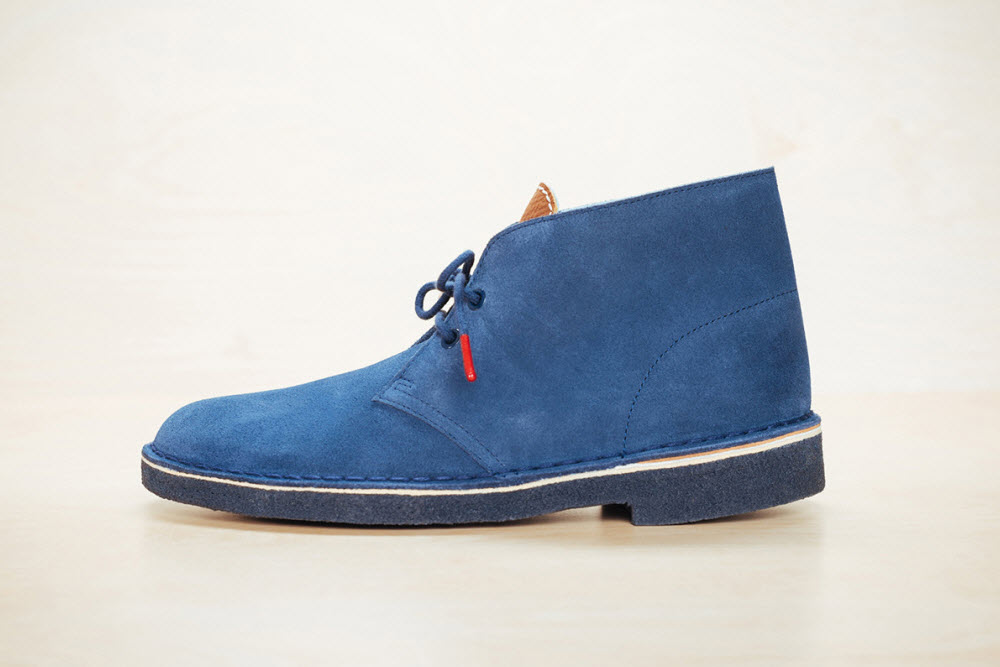 PacSun x Star Wars – When I saw the byline "PacSun x Star Wars" I was ready to laugh, but the lookbook was actually pretty good. I've since looked up the collection and I really like everything. I think a few of the floral patterns are too much, and the all-over Stormtrooper baseball jersey is played, but everything else is money. Ewoks popping out the of floral bush? That's pretty ill. Most of the pieces probably work better on their own; any all-over Star Wars top and bottom combo will resemble pajamas.
Damn, the Star Wars licensing team really has no chill. In anticipation for The Force Awakens, the Star Wars universe is teaming up with PacSun and On The Byas for a collection of streetwear casuals. The collection is surprisingly good, and features notable and archaic Star War characters along all-over patterns, floral print, and sportswear jerseys. From Darth Vader to the Ewoks, the whole squad is in this first drop. Two more are coming soon, but this initial one is in stores now.
Source: PacSun